12 Incredibly Beautiful Eye Makeup Styles for Your Wedding
A gorgeous eye makeup style can help you fetch all the attention and compliments on your big day. Captivate with your eyes on your wedding by opting for these stunning looks!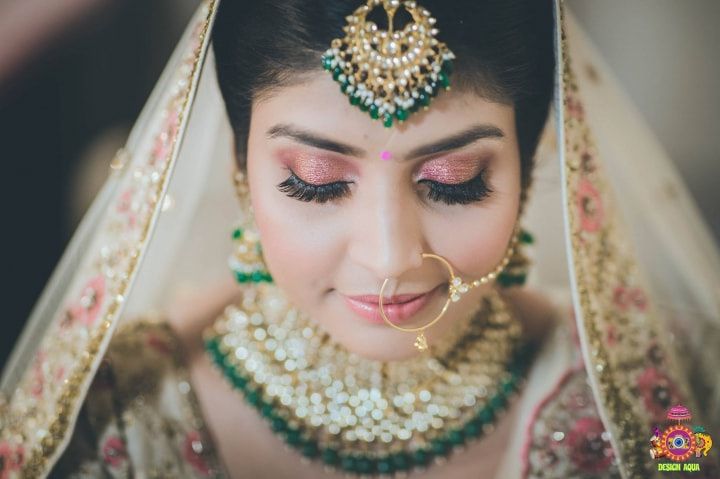 It is important to look like a prettier version of yourself on your wedding. Eye makeup is one of the easiest ways to play and glam up on weddings and even a little experiment can make a big variation. Here are some breathtakingly beautiful eye makeup styles that you can pick for your ultimate bridal look. These styles suit all eye colours, eye shapes, outfits and personalities. Explore all 12 and pick one for yourself! Look at these 12 eye makeup styles and get inspired.
1. Well-Defined Cut Crease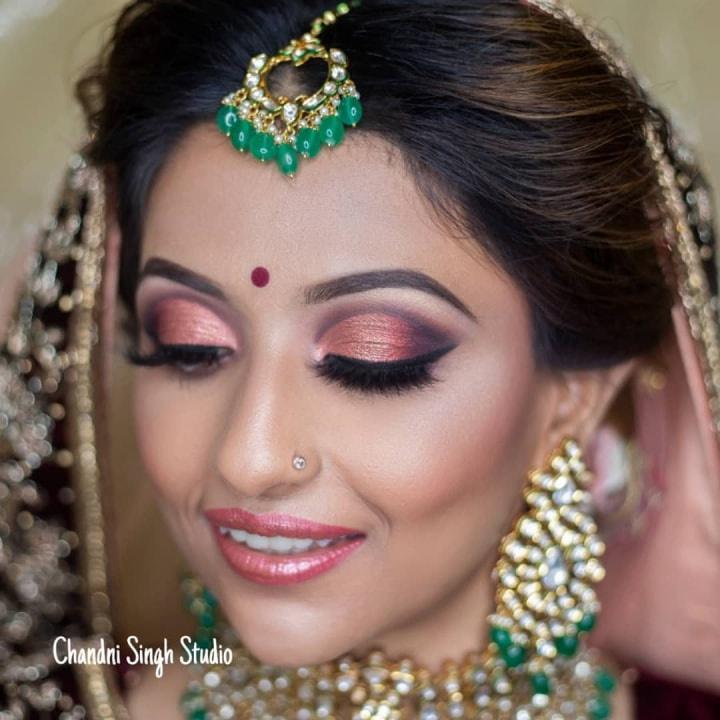 The cut crease eye makeup style is an excellent choice for small, slanted and hooded eyes. This style helps define the crease, extending it a little with a few methods. It gives your eyes a doe shape, making them look wider and prettier. It also creates an illusion of depth.
2. Sexy Black Smokey Eyes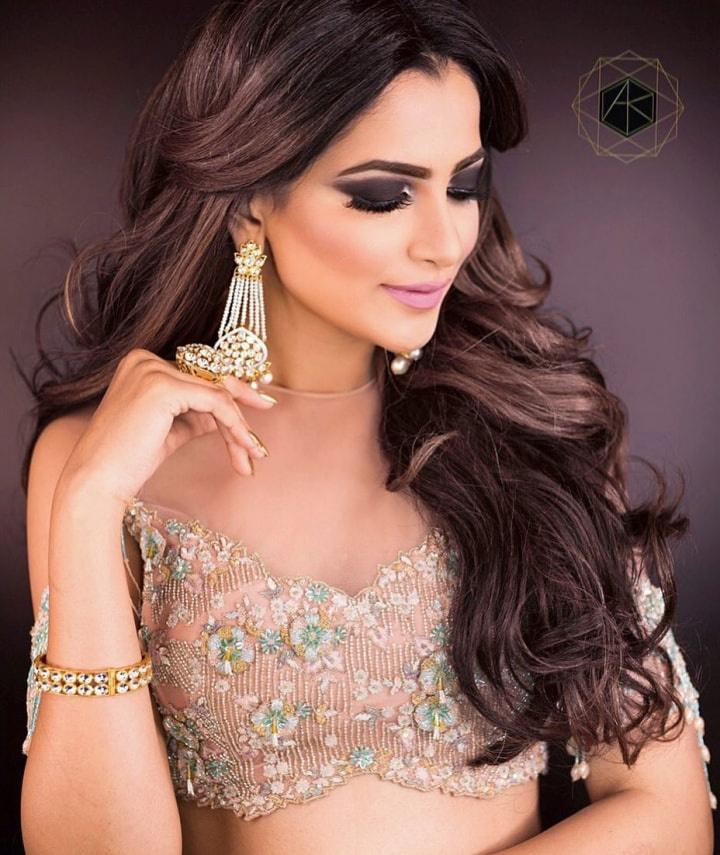 You might have never imagined black smokey eyes for your wedding but it's one of the sexiest eye makeup styles to try! If you want to entice your partner, opt for this smouldering, sultry eye makeup style. Make sure the artist uses excellent waterproof products; else you might end up with racoon eyes even before your Vidaai. we hope you enjoy our listicle on eye makeup styles as much as we enjoyed writing it!
3. Sultry Brown or Bronze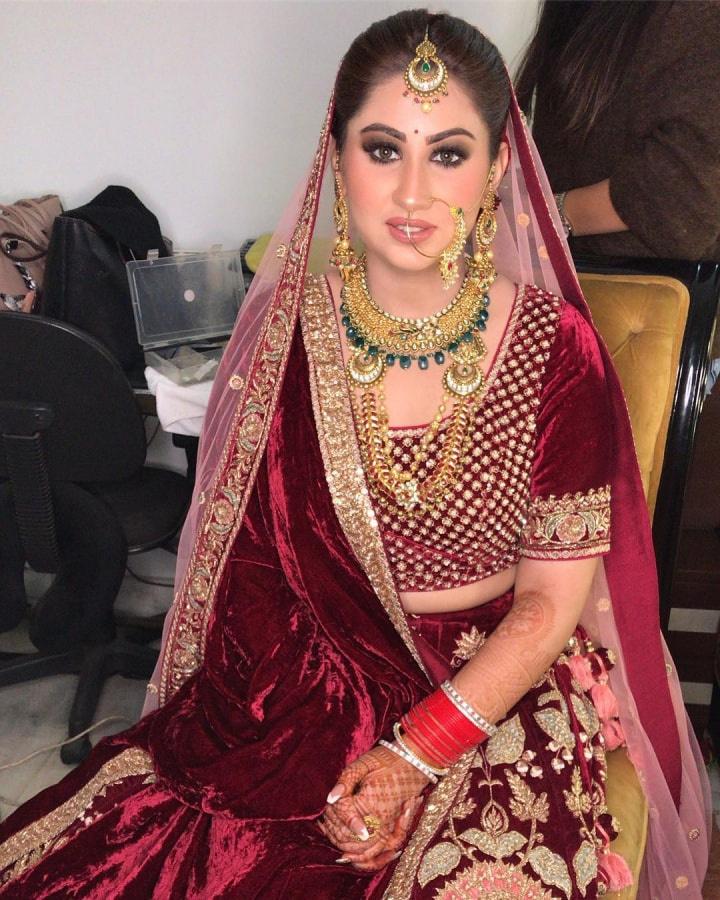 Desire a sultry eye makeup style but black seems too intimidating? Well, then pick a brown or bronze smokey eye look. These shades complement all skin tones and outfits beautifully. You can also experiment by going bold or subtle, keeping your personality and outfit in mind.
4. Glittery Glam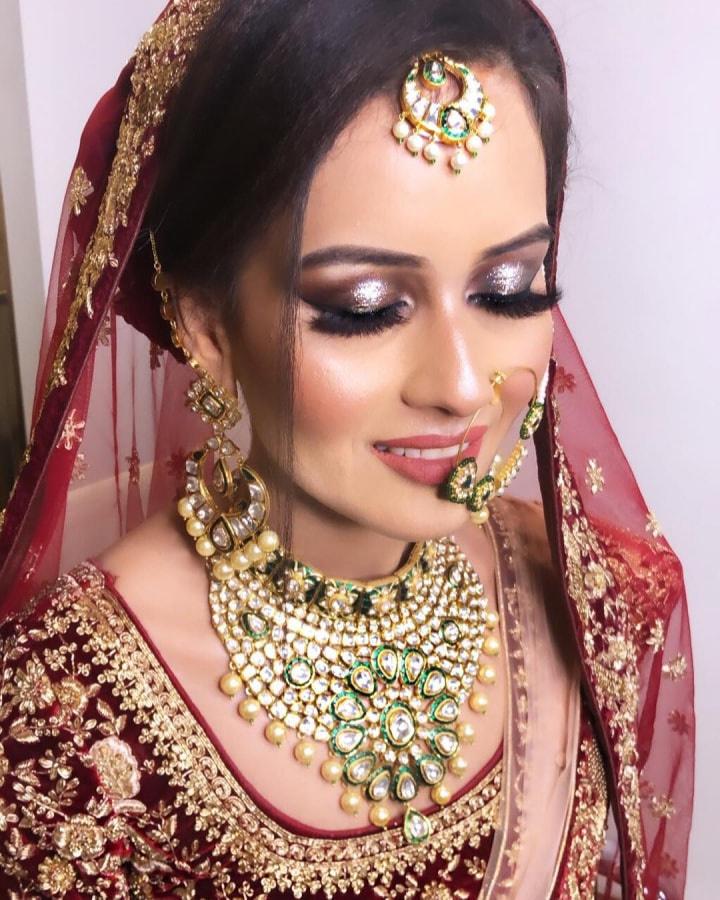 What's a celebration without a little (and by little, we mean a lot) of glitter! Gold, silver, bronze, metallic, the options of glitter are endless and can help you add drama to your eyes. Make sure the makeup artist uses an excellent glitter primer else the glitter will smear all over your face and go inside your eyes by the end of your function.
5. Playful and Colourful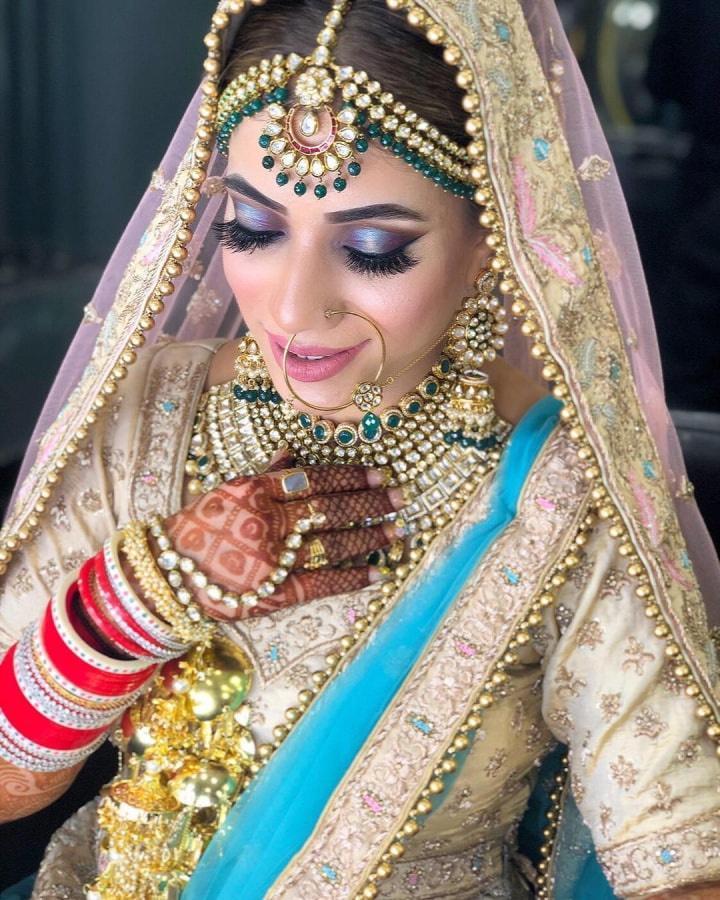 Keep other makeup details basic but don't forget to experiment with your eye makeup style. Colourful eyes have made a comeback and you have to try them. Step out of your comfort zone and let your makeup artist take over. They will analyse and choose colours based on your outfit, theme and skin tone.
6. Classic Gold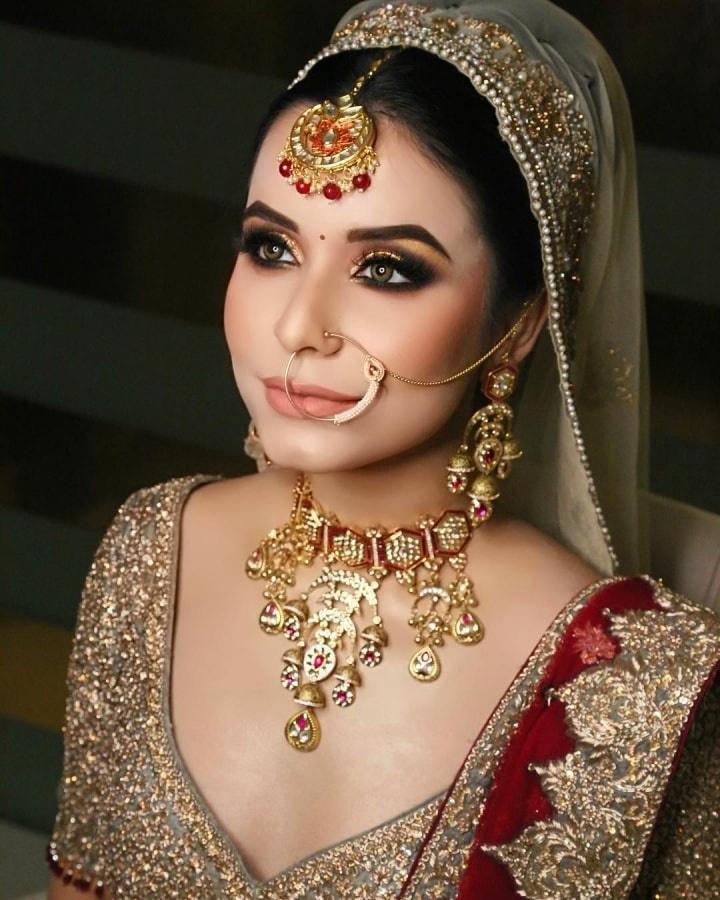 Indian brides and their obsession with gold can take a beautiful turn with golden eye makeup. This style is understated yet fantastic and gives brides a royal look. It also gives you a chance to play with other makeup elements, such as your lip colour.
7. Colourful Lower Lashline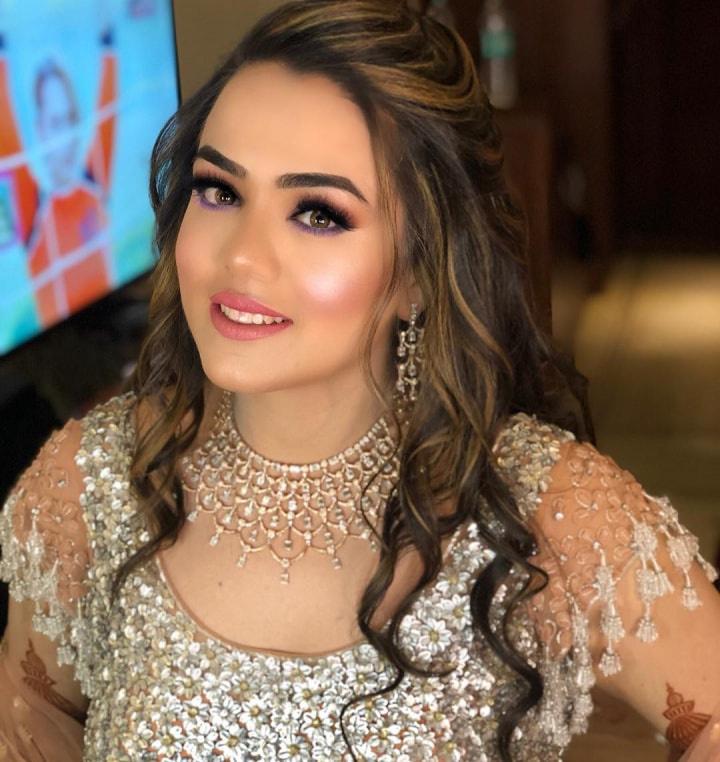 Too scared to go for full-on colourful eye makeup but want your eyes to look glamorous? This style will rescue you! Keep the rest of your eye makeup neutral but add an unexpected hint of colour to your lower lashline. Pick a colour that complements your eye colour the most or the one that contrasts with the colour of your outfit.
8. Jewel Toned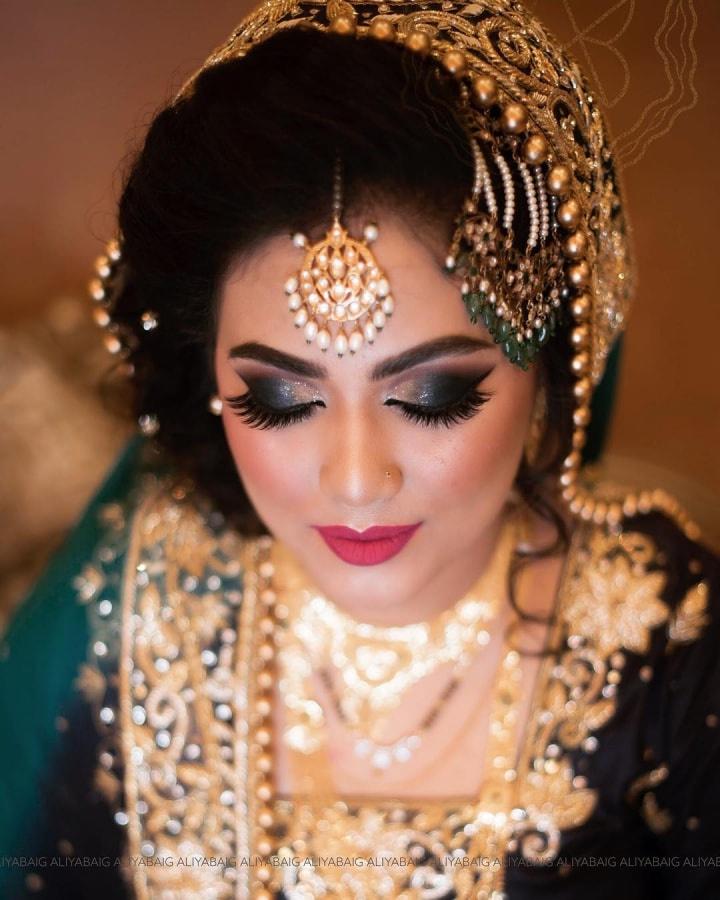 Jewel-toned shades mean the colours that resemble the colours of precious gemstones. Amethyst, emerald, and ruby are the most commonly used jewel tones in makeup and they complement almost every eye colour so beautifully. These shades can be used in styles such as the cut crease or Arabic eye makeup to add an alluring sparkle to the bride's makeup.
9. Dramatic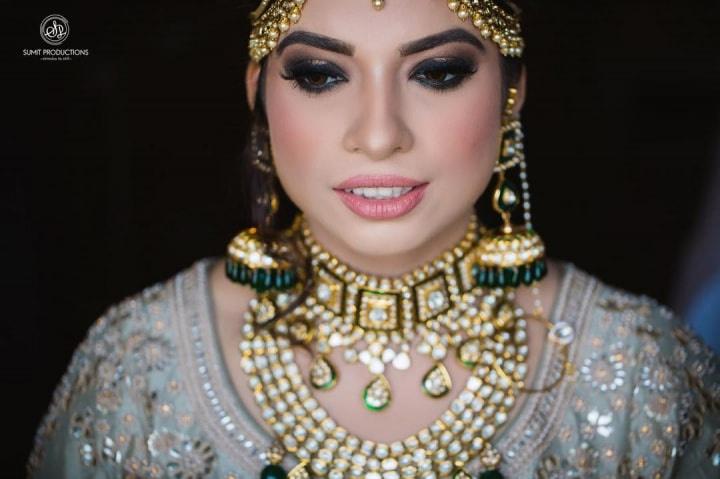 What's an excellent makeup look without a hint of drama! Our everyday makeup looks are simple and basic, that's why dramatic ones stand out on weddings. Bold eyeliner, fluttery lashes and deep kohl are the must-haves for this look. Let your eyes do all the talking by keeping the rest of your makeup toned down.
10. Simple and Minimalist
Day wedding, heavy jewellery or dramatic lehnga call for a simple and minimalist eye makeup look. Creating such looks isn't as easy as it seems, though. Such looks require intricacy and attention to detail but the end results are worth it. Complement simple eye makeup with clean base makeup and a pretty lip colour.
11. Eye-Brightening Halo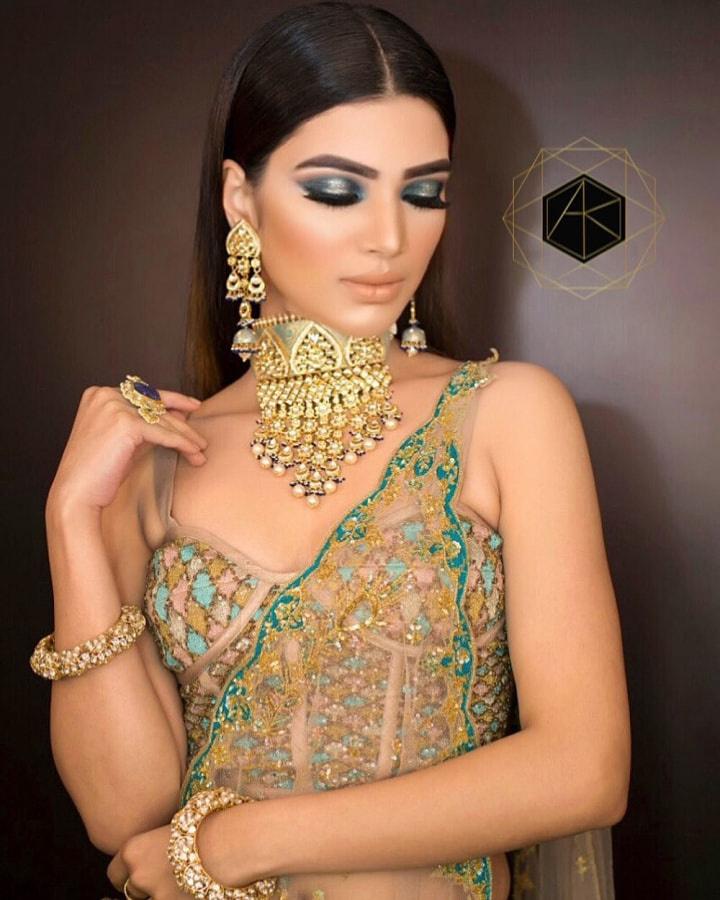 Halo eyes or spotlight eyes are having a moment right now and brides are taking full advantage. This statement eye makeup style involves decisively placing eye shadow around your eyes to make the eyes appear bigger and bolder. The eye makeup is done as usual and then a contrasting shade, mostly glittery, is swiped on the middle to create a halo effect.
12. Magnificent Arabic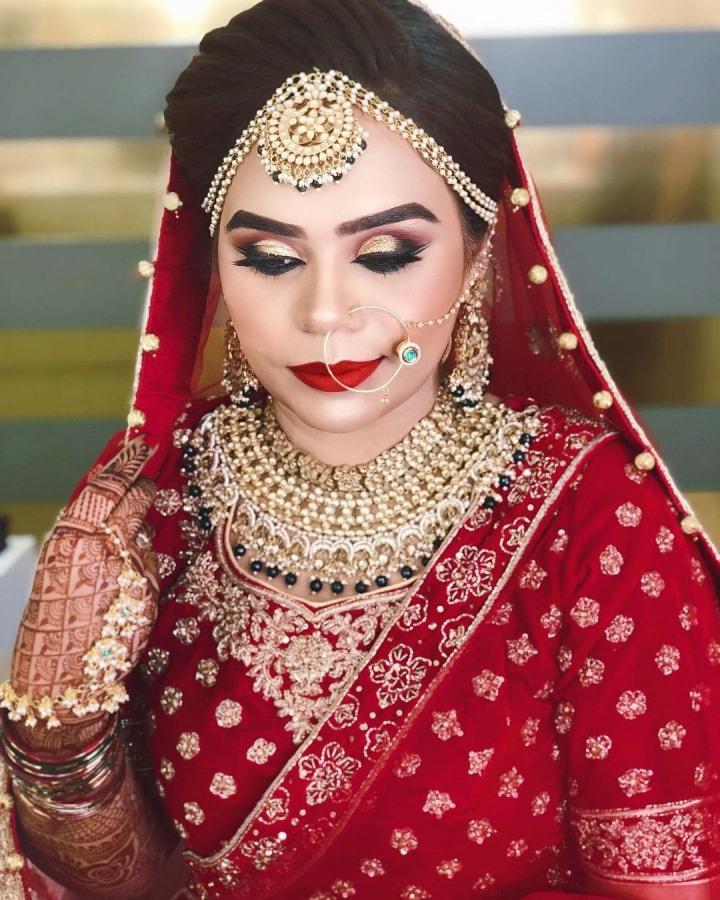 Meet the queen of dramatic eye makeup, the Arabic eye makeup. This makeup look involves bold colours, heavy wings, fuller lashes and flawless brows. This style lets you play with eyeliner on both upper and lower lash line. Since this style is all about going OTT, you can complement it with a gorgeous blush and statement lips. Wedding makeup needs to be chosen with care as it can make or break your look.
We hope you could find your dream eye makeup style in this list and would love to flaunt one of these on your wedding. Take a consultation and/or a trial session with your makeup artist to zero down the most flattering eye makeup style.
Don't forget to explore our extensive list of amazing makeup artists!