7 Breathtaking South Indian Bridal Look for Revelation
South Indian brides always look extravagant and drop-dead gorgeous. Do you want to know the secret? Let us decode the South Indian bridal look.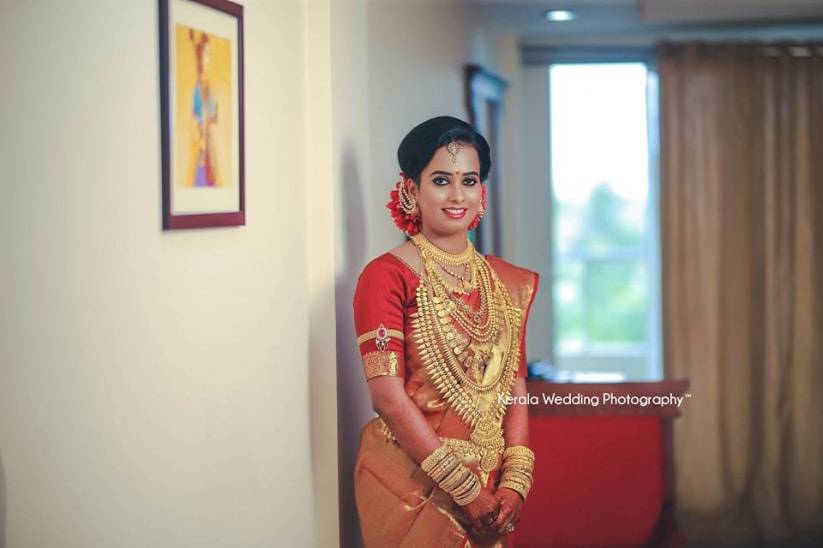 Graceful, elegant, beautiful, diva; these are some adjectives that perfectly go with a South Indian bridal look. Embellished in gold and traditional saree; the bride truly looks like a fairy straight from heaven. The South Indian bridal look is nothing short of a deity and clad in gold that is intricately designed with a saree that has broad borders and the right amount of sheen on it, the bride is a pleasure to look at. Prominent eye makeup with bold kohl and the bridal blush is everything that enhances the glam that the brides carry with them as they walk down the aisle. The aura of the South Indian bridal look is unmatchable and is unique on its own that evokes "wow" from everyone who gets to witness it.
Proud as we are for India being a culturally diverse nation, the South Indian bridal look is unique and each state and culture in the south itself has a diverse look as well. Bride from every South Indian state has something distinct about them. Be it the accessories or the way they drape their seven rads or the hairstyle or even the jewellery that she chooses to adorn, all of it is deeply rooted in their culture and each of their unique ways represents their culture very evidently.
For you, we have decoded the South Indian bridal look. Meet the South Indian brides hailing from different South Indian regions who have each set a trend to follow and get inspiration from.
1. Kerala Bride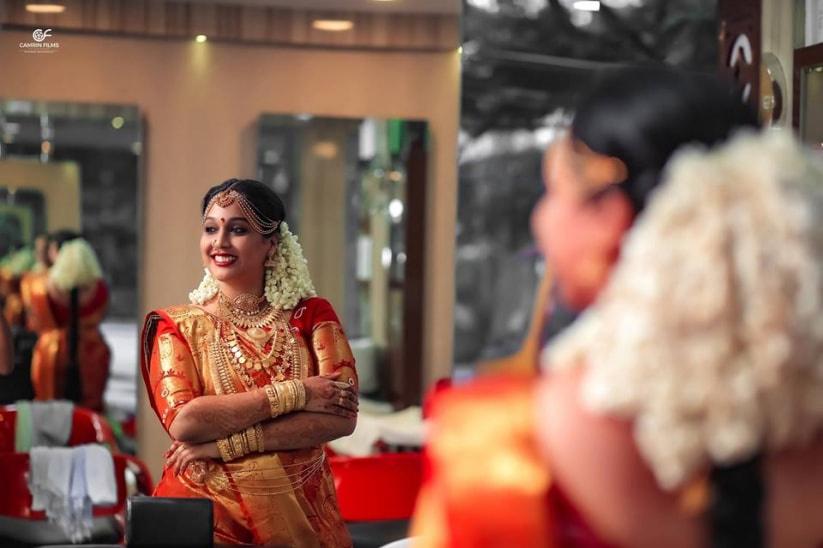 Think about a Kerala bride and you will visualise a beautiful girl dressed in pure white Kasavu saree, wearing heavy gold temple jewellery, and beautiful white flowers adorning her hair. This is the most popular South Indian Bridal look.
Attire: A Malayali bride wears Kasavu, a traditional Kerala saree. Many brides prefer to go with pristine white saree having golden border while some like to experiment with colour. The other colours that the brides flaunt are mostly bright and beautiful like crimson, purple and so on.
Hair: A Malayali bride either braids her hair or ties some strands and leave the rest of the hair free. She adorns her hair with jasmine strands (Gajra) or hair accessories.
Jewellery: Malayali bride wears heavy South Indian temple jewellery in gold. Palakka, Kasu Mala, Kamarband, and Matha Patti are the favourite pieces of jewellery of a Malayali bride.
2. Kannadiga Bride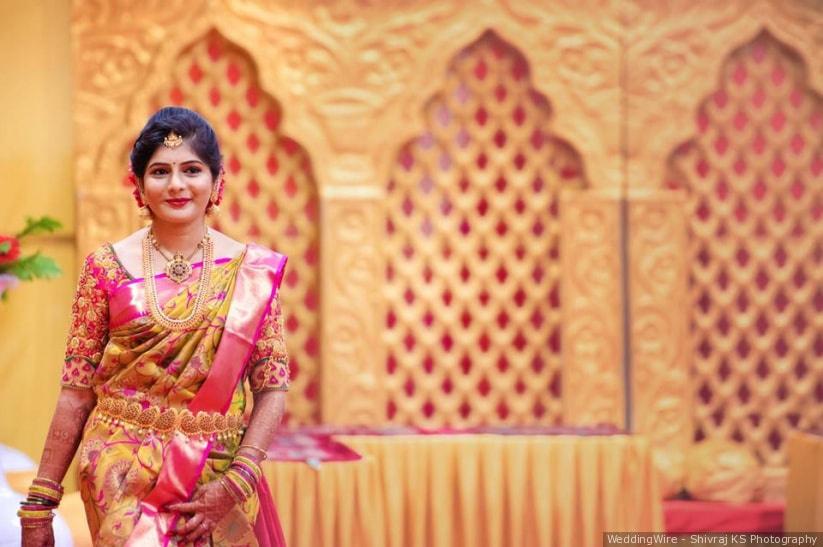 Just like a Kerala bride, the Kannadiga brides are also fond of heavy gold jewellery. The beautiful Kannadiga bride dresses up like a Maharashtrian bride.
Attire: A Kannadiga bride wears a nine-yard long traditional Naavari Saree.
Hair: A Kannadiga bride ties her hair in a traditional high bun and plait. She decorates her hair with heavy bejewelled hair accessories. Many brides also like to decorate their bun with flowers.
Jewellery: When it comes to jewellery, a Kannadiga bride cannot do without heavy gold jewellery with temple-inspired design, Kamarband, green bangles (just like a Maharashtrian bride), Matha Patti, Jhumkas, and Maang Tikka.
3. Coorgi Bride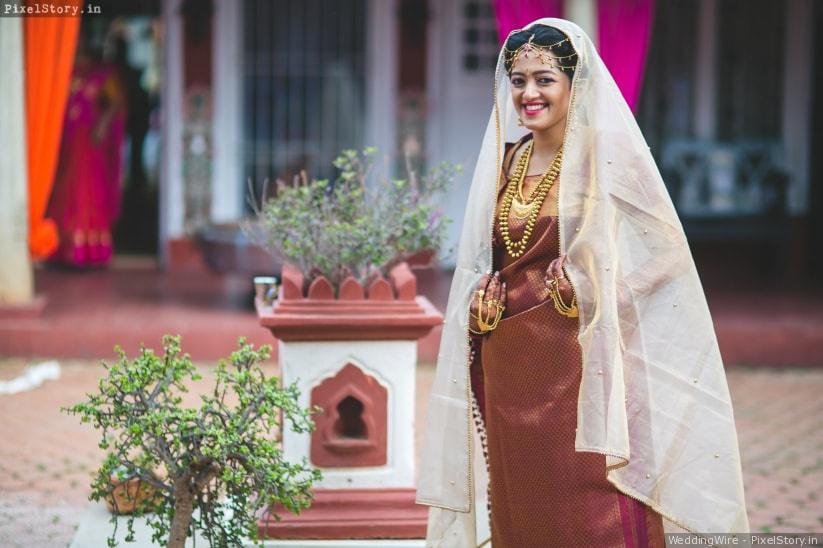 A Coorgi bride is also a Kannadiga bride hailing from Coorg region. The Coorgi South Indian bridal look is different from the Kannadiga bridal look. With distinct attire, she looks breathtakingly gorgeous.
Attire: A Coorgi bride wears brocade or Zari saree in bright colours or a white cotton-silk saree. The saree is draped in a typical Coorgi style. The front Pallu is tucked over the shoulder. The pleats are pushed backwards. The style is also known as Kodava Attire or Kodagu Style Saree. The bride covers her head with a veil, called Vastra. She matches her Vastra with the colour and design of her saree.
Hair: She covers her hair with Vastra.
Jewellery: Temple-inspired jewellery designs dominate the bridal jewellery preferences in the Coorg region too. The bride wears a heavy gold necklace, Kamarband, bangles, earrings, and Maang Tikka.
4. Hyderabadi Bride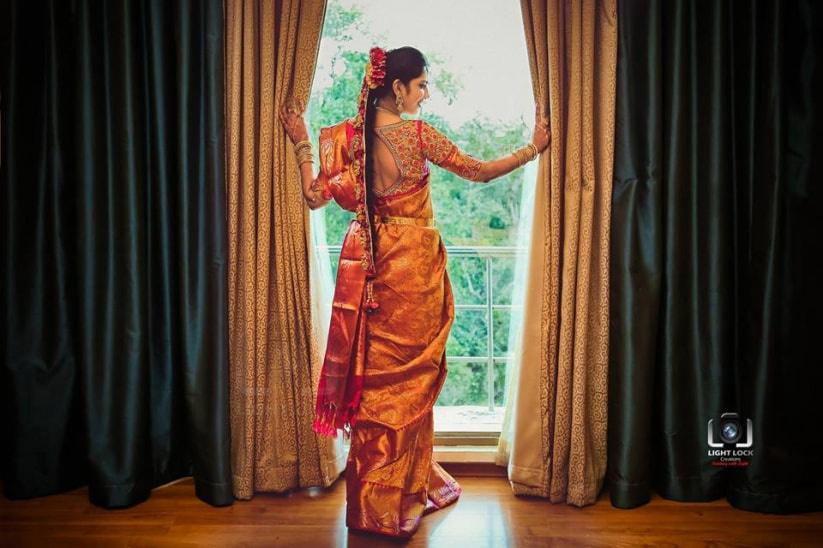 The Hyderabadi bridal look can be categorised into Reddy Brides, Andra Arya Varsya, and Nizam brides. Each South Indian bridal look has a distinct appeal and beauty.
Reddy Bride and Arya Varsya Bride
The bridal attire of Reddy brides and Arya Varsya brides are almost similar.
Attire: Both Reddy and Arya Varsya brides wear a Zari saree or a white cotton-silk saree with gorgeous thick gold and red border.
Hair: She neatly ties her hair in braid or bun.
Jewellery: They wear temple-inspired jewellery on their wedding.
5. Nizam Bride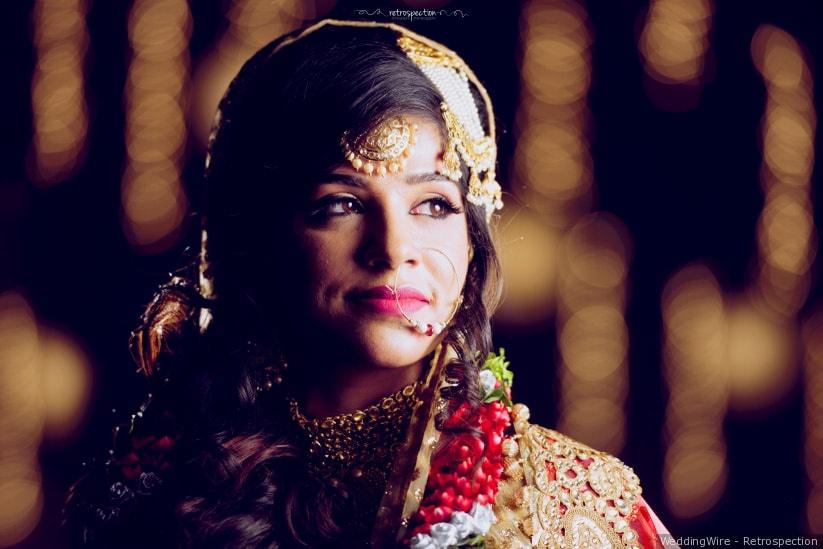 A Nizam bride is a Muslim bride hailing from Hyderabad, the city of Nizams. She looks elegant and gorgeous.
Attire: A Nizam bride wears the traditional Khada Dupatta on her wedding.
Hair: She is very experimental when it comes to hair. From soft waves to curls, open to braided, she tries anything and everything.
Jewellery: The bride wears heavy Jadau jewellery. Jada Huwa Lachcha is a kind of choker that the bride wears along with Satlada necklace. Many brides also wear Tirmani made from gems or pearl jewellery. The most important pieces of jewellery, however, are a Paasa, which is a traditional hair accessory and a large hoop Nath.
6. Chennai Bride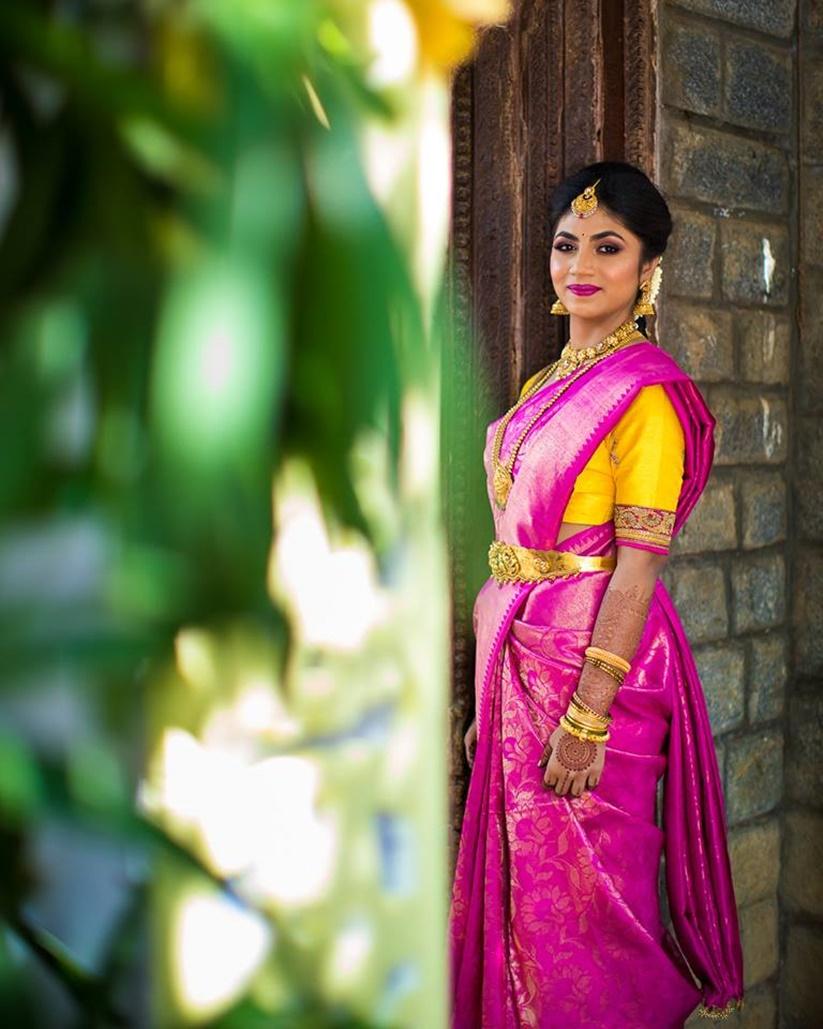 The Chennai bride or Tamil bride gives a new definition to charisma, elegance, and beauty.
Attire: A Tamil bride wears the traditional Kanjeevaram silk saree in bright colours. The Brahmin brides wear a 9-yard saree, whereas the non-Brahmin Chennai brides wear 6-yards saree. The brides wear the saree in the traditional Madisar way.
Hair: The bride ties her hair in elaborate bun and plait. She adorns her hair with beautiful flowers in orange and white colours. Jadai Nagam, which is elaborated gold and stone jewellery, beautifully decorates her hair.
Jewellery: A Tamil bride wears gold jewellery on her wedding day. Oddiyanam, a waist chain in temple-inspired design, Tamil Maang Tikka in gold, stone and pearls, Nethi, an ornament worn on both the sides of hair parting, necklace, bangle, and earrings are the jewellery pieces that a Tamil bride wears.
7. Mangalorean Bride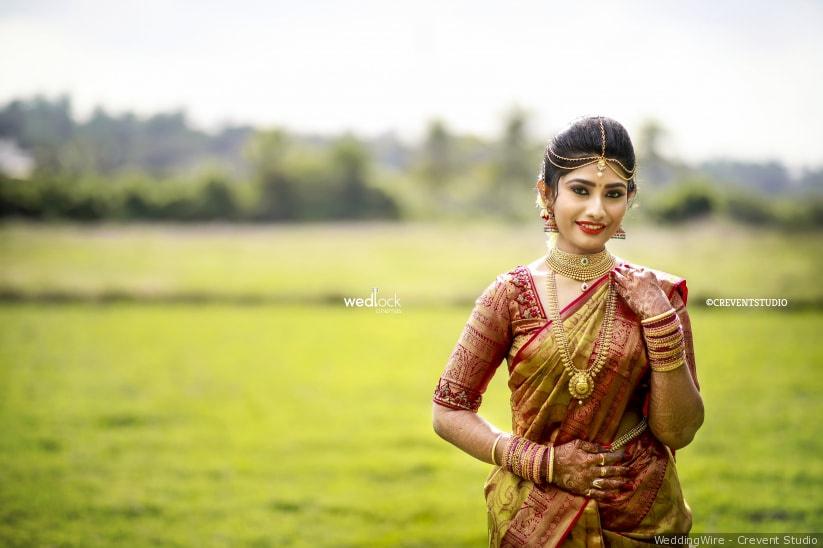 A Mangalorean bride wears very distinct attire on her big day. Filled with thrill and joy, she looks absolutely gorgeous.
Attire: With ages, the bridal attire of a Mangalorean bride has changed a bit. Earlier, a bride would wear "Kirgi" and "Baju" at her wedding. Kirgi is a four feet long and three feet broad piece of cloth that is wrapped around the bride's body, waist down. Baju is a sleeved jacket that the bride would wear in order to cover her body's upper part. She would also wear a V-shaped veil.
After the wedding ceremony, the bride would wear a "Sado". The modern Mangalorean bride wears Kirgi Baju in their roce ceremony. The brides usually make Kirgi from their mother's Banarasi wedding Sado. Many brides also opt for a white saree. They wear either a Zari saree or white cotton-silk saree on their D-day.
Hair: Like other South Indian brides, a Mangalorean bride also ties her hair in braid or bun. The braid or bun is neatly adorned with white floral strands.
Jewellery: A South Indian bridal look is, literally, incomplete with glittery gold. A Mangalorean bride makes sure to stick to her traditional bridal getup and hence, wears heavy gold jewellery on her big day.
She generally wears a beautiful necklace, earrings, Kamarband, Maang Tikka, bangles, and Matha Patti.
Now that you know all the popular bridal looks that have taken the South and the country by rage, tell us your favourite South Indian bridal look.