7 Kinds of Wedding Saree Images (With Price) Which You Need
The nine yards are an evergreen style if you choose them as your bridal outfit. Here are 7 wedding saree images with price, to fit into your trousseau.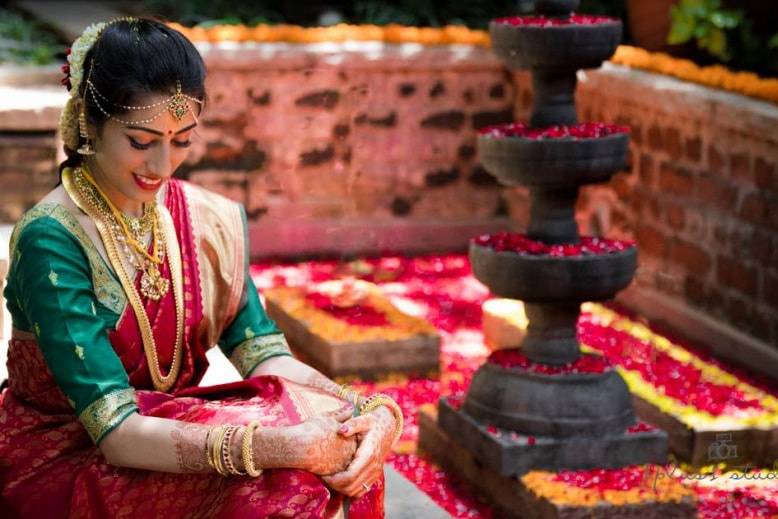 Hey, you gorgeous bride! We know that you are already beautiful and need no adornments. But if you want to try a new and gorgeous look to woo your future husband, you have landed on the right page. Explore beyond a bridal lehenga, by saying "yes" to a bridal saree. Take a look at these lovely wedding saree images with price and get some inspiration for the D-day.
Beautiful Wedding Saree Images with Price
We realize how important it is for you look drop-dead gorgeous on your wedding day. After all, this is the day you have been waiting for so long. This is the day when every eye, especially your soon-to-be husband's eyes, would be set on you.
And, so you need to look like a fairy straight from heaven. As you walk down the aisle you will not only be draped in elegance and a graceful stride, but the wedding saree you choose to flaunt should be nothing less than 7 yards of royalty. Let these wedding saree images with price ideas help you get a clear picture of what you want for your big day.
We have a compilation of the best wedding sarees for you. Ranging from the traditional Banarasi sarees to the south staple Kanjivarams, we have ample options for you in wedding saree images with price.
1. Kanchipuram / Kanjivaram sarees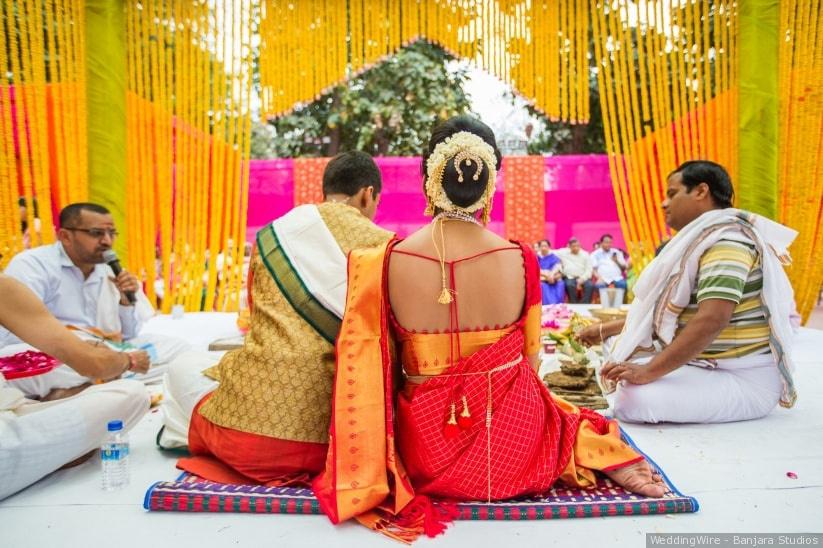 Kanchipuram sarees, also called Kanjeevaram sarees are a kind of silk sarees. These handloom sarees are made in the Kanchipuram region of the southern state of Tamil Nadu and hence, the names. They form an essential part of any South Indian bride's trousseau and can even be what she dons on her wedding day.
What kind of drapes works for you? Traditionally, red and white Kanchipuram silk is a safe idea. If you want to keep things a little modern, you can play with the colour or drape. Opt for a bright colour Kanchipuram saree with modern motifs and drape it with a modern twist.
Wear a colour that looks gorgeous in your wedding pictures. A crimson orange with gold will look regal with the sheen on the threads to add to the glamour that the drape carries with you. They make for a great wedding saree images with the price being within your anticipated budget.
Need more inspiration for Kanjivarams? We've explored a see range of blouses for Kanjeevaram wedding saree (images with price) earlier.
Tentative budget: ₹3500
2. Banarasi Sarees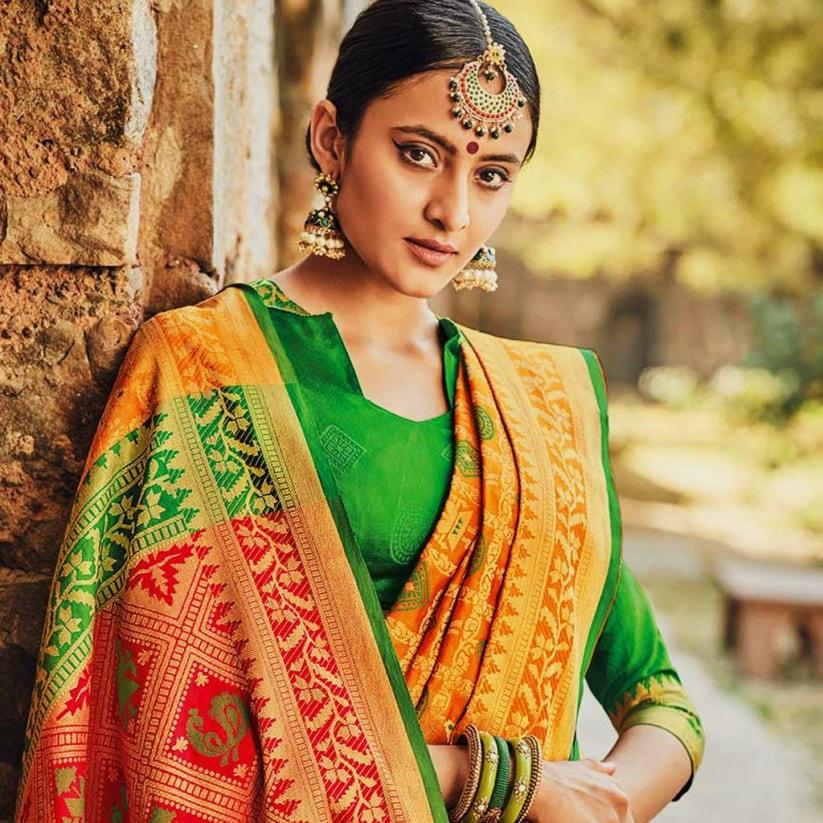 You can never say a "no" to Banarasi sarees. Their opulent golden and silver zari work and fine embroidery make them a perfect pick for your wedding.
The gold work on the saree adds a regal touch and the elegant design patterns like small floral motifs, Kalga and bel, etc enhance the overall look. The Jaal pattern, mina work and metallic visual effects on the saree make sure that you look like a million-dollar bride. Bengali brides mostly opt for the traditional red Banarasi saree for their big day when they take their vows with their better half.
Like with Banarasi lehengas, the look for Banarasi sarees should be kept subtle, so that the drape can be seen and heard. Opt for these wedding saree images with price ranges beginning from ₹ 3000.
3. Paithani saree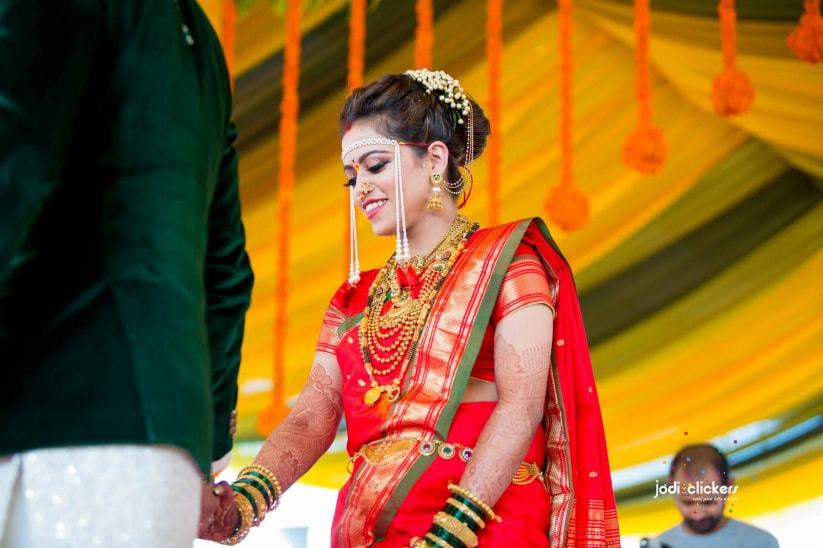 Originating from Aurangabad, Maharashtra, the Paithani sarees seen on a Marathi bride are synonymous with richness and grace. The best feature about these sarees is their vibrant colours like magenta, lavender, peacock, brinjal, pearl pink, and others.
Even the conventional red gets a new look with a shade of green in the saree border or plant and animal motifs in the pallu. Upholding the traditional essence of the cloth, the Kamarbandh is just the right addition for accessorising this gorgeous piece. These will make sure that the bride can cherish wedding saree images with price that will be unbelievable!
You can play with your overall look by adding adornments to the saree. Wear dramatic jewellery and glamorous makeup to complete your bridal look.
These sarees are a perfect option for functions like Mehndi, Haldi, etc.
The cost range varies on the quality and the work of embroidery or print from ₹ 2000 to ₹ 20,000 or above.
4. Assamese silk saree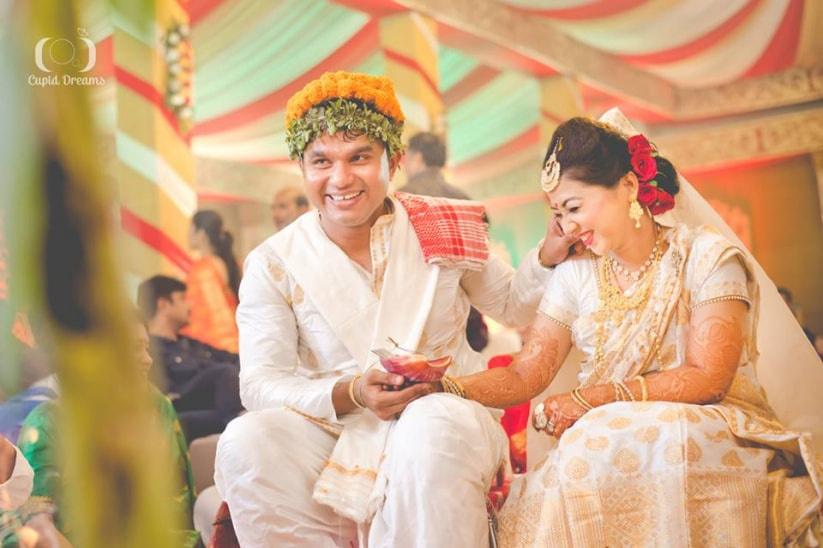 You need not be an Assamese bride to wear the elegant and pretty Assamese silk saree on your wedding day. Though white or pale in colour, there's nothing humbling or sober about these drapes. And that begins from the wild silk used in weaving them.
The traditional Assamese bride will wear it in a Mekhla chador style for her Juron or even for the main wedding. White and gold are the most preferred colours, but the bright threads of silk used to weave these sarees will make it a great choice for your night time celebrations too.
These Assamese silk sarees are woven from three kinds of wild silk - Pat, golden Muga, as well as warm Eri silk. The weave is interspersed with golden thread so that the motifs come to light.
For a non-Assamese bride, the traditional drape can be worked as a perfect day outfit. You can amplify your look by opting for bold accessories and makeup.
5. Odissi saree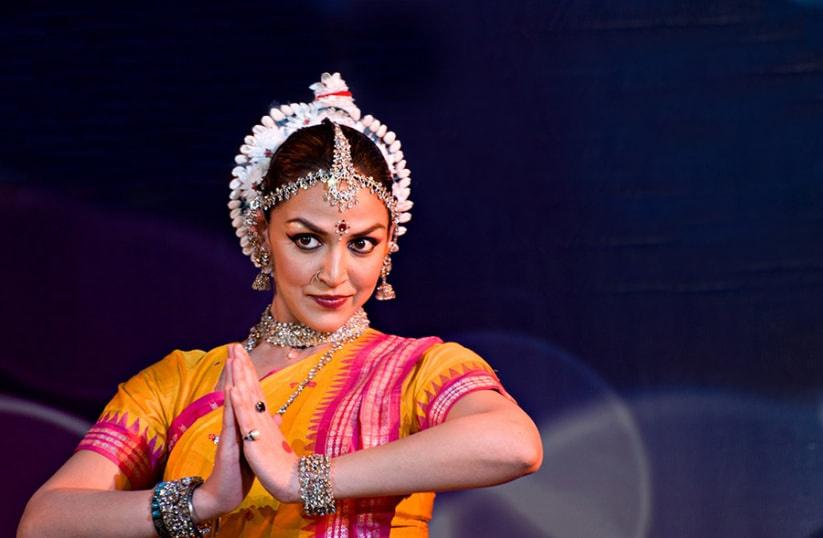 Image courtesy: Flickr Creative Commons
Odissi sarees are typically worn by Odissi dancers but now these sarees are becoming popular among the brides who love experimenting with their bridal looks.
Made from the local Pattasari silk, these sarees are an epitome of grace. Their bright colours and traditional prints and embellishments add immensely to their beauty.
The sarees are mostly made of bright colours that pop up in the fabric because the basic idea behind these sarees was that they were meant for the stage shows with lights and cameras flickering. They make for the right outfits for the night.
Invest in these on a budget which begins from ₹3400 onwards.
6. Pattu Saree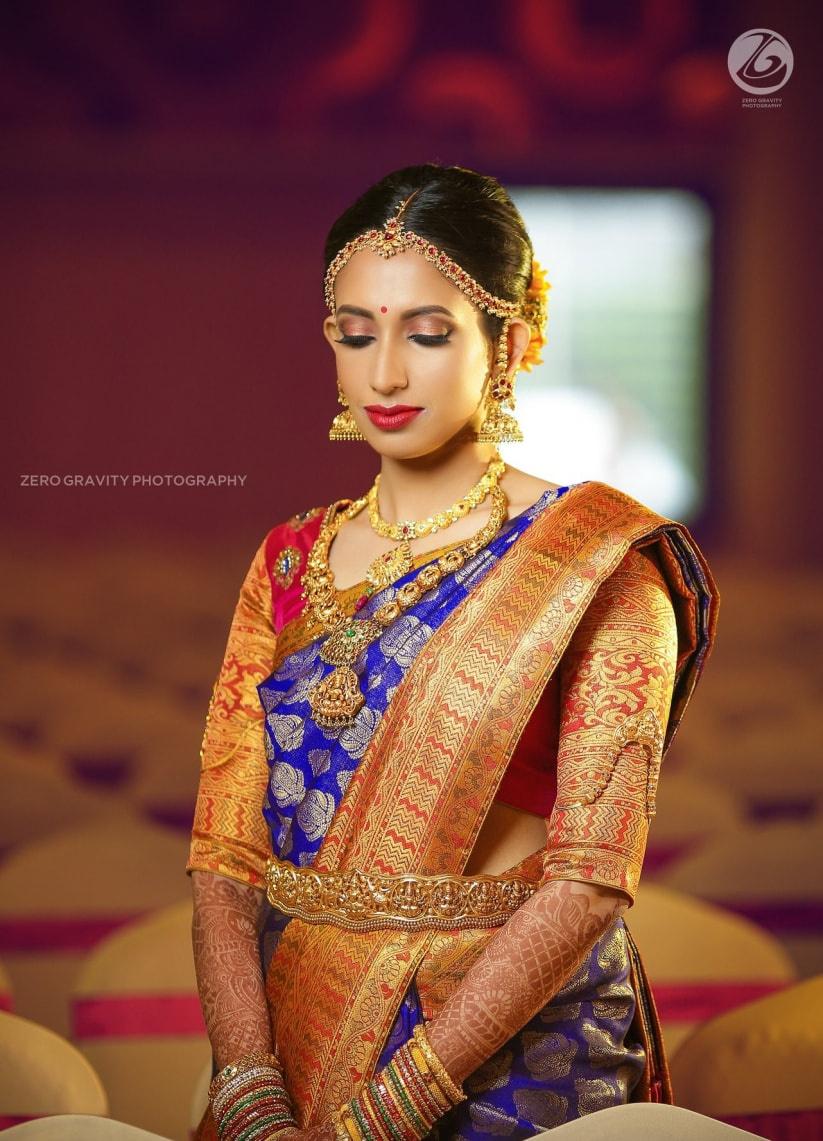 Pattu sarees are basically rich, South Indian silk sarees. You can single out a Pattu saree for your wedding day to give out major bridal outfit goals. Depending on the weave, the amount of effort required and the density of the print, you can be charged as much as ₹3000 to ₹30,000 for these sarees.
These intricately designed wedding saree images with the price that is worth paying for the art are a great choice if you are looking for one for your wedding.
Some of the styles you can opt for include the traditional Mysore silk, Kanjeevarams and even the pale cream, gold that we often see on brides during Kerala wedding ceremonies.
7. Zardosi saree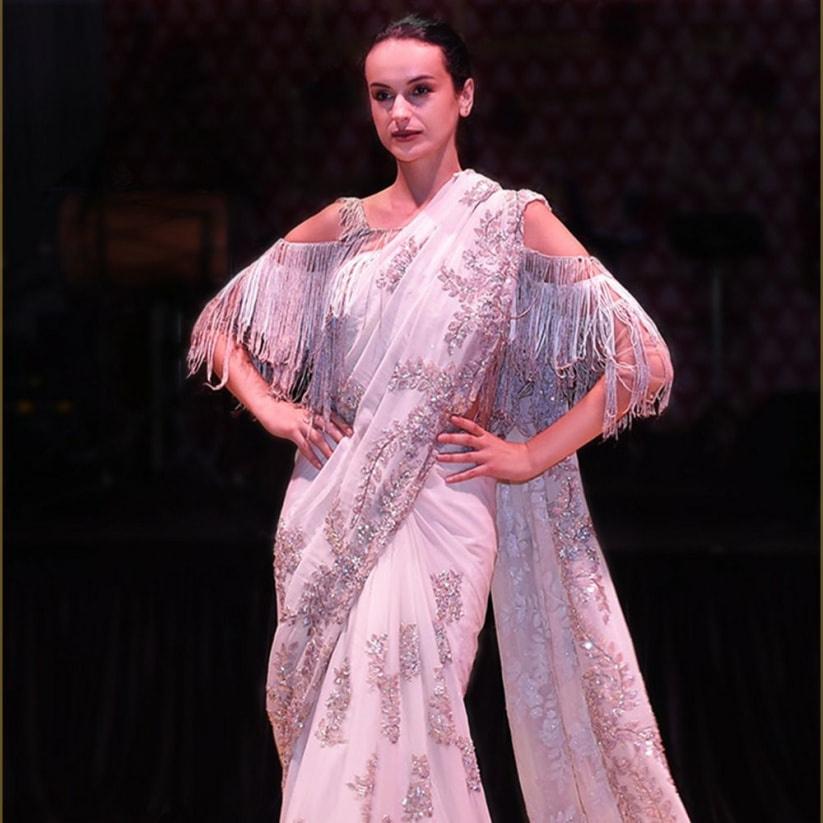 Image courtesy: Manish Malhotra
Zardosi sarees have always been a favourite amongst the brides not just as a trousseau option but also, as a wedding outfit.
The delicate metal embroidery, typically in gold and silver, looks very flamboyant and opulent. Opt for Zardosi saree in velvet or other rich textiles, completing it with elegant bridal jewellery. You can begin adding them to your collection at ₹5000 onwards.
There are many other beautiful choices to make for your wedding day. Take a cue from these wedding saree images with price for your wedding. Also, add gorgeous bridal jewellery to glam up your entire look.
Decide your makeup based on your wedding outfit. If you are going with a sober wedding saree, go bold with makeup and jewellery and vice versa. You could, as we explored earlier, also try your hand with different ways to wear a saree.
So, give a break to the bridal lehengas and take inspiration from the wedding saree images with price and be the most gorgeous bride.