6 Stores to Buy Swoon-Worthy Kanchipuram Silk Sarees for Wedding with Price
Few bridal outfits carry the classic elegance of a saree, especially southern silk sarees from Kanchipuram. To fuel your wedding shopping experience for one, here is our guide on Kanchipuram silk sarees for wedding with prices.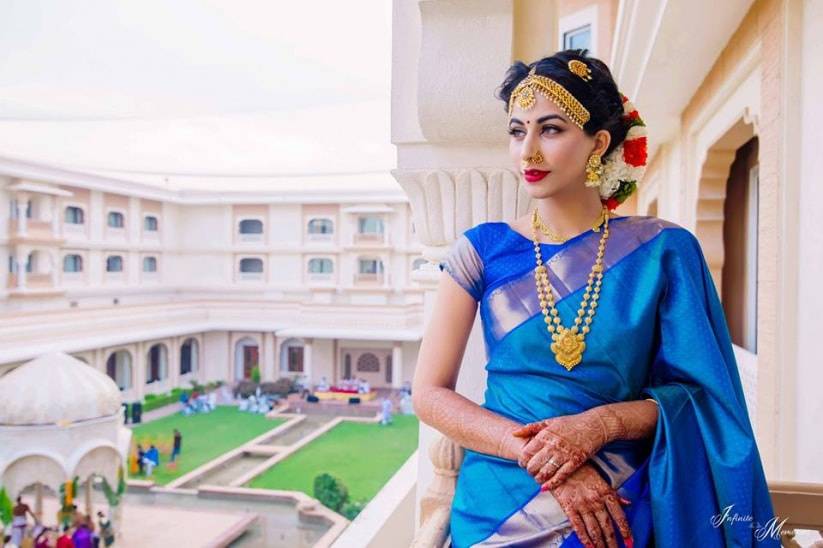 A quintessential South Indian wedding statement, Kanchipuram silk sarees are an integral part of wedding and pre-wedding festivities. And why not! Known for gold borders and the rich weave, these sarees are rated among the best silks in the world.
If you are on the lookout for Kanchipuram silk sarees for wedding with price and are unsure about how to begin your search, then go by our curated list of saree vendors. Keep browsing and make calls accordingly!
Kanchipuram Silk Sarees for Wedding With Price
1. Sudarshan Silk Palace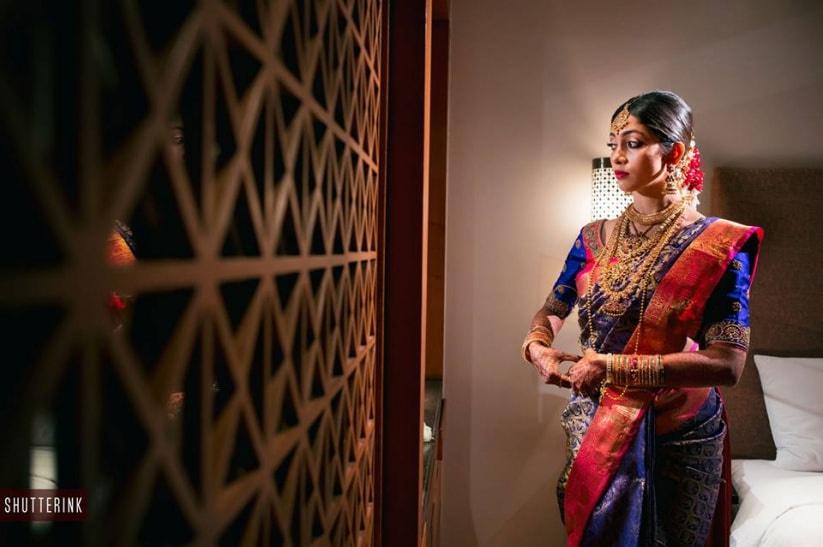 Based out of Bangalore, Sudarshan Silk Palace deals in an exquisite line of Kanchipuram Silk Sarees. You can either walk-in to their offline store or purchase from a variety of sarees from their online portal.
Complete your bridal look with layered Gold necklaces which will not only accentuate your neckline but also enhance your overall look. A necklace is the first thing to be noticed and you can choose a perfect one depending on the shade and design of your silk saree. You can choose from trendy diamond and Kundan accessories but you can never go wrong with traditional gold jewellery in temple style.
Saree Price: ₹ 10,500 onwards.
2. Samyakk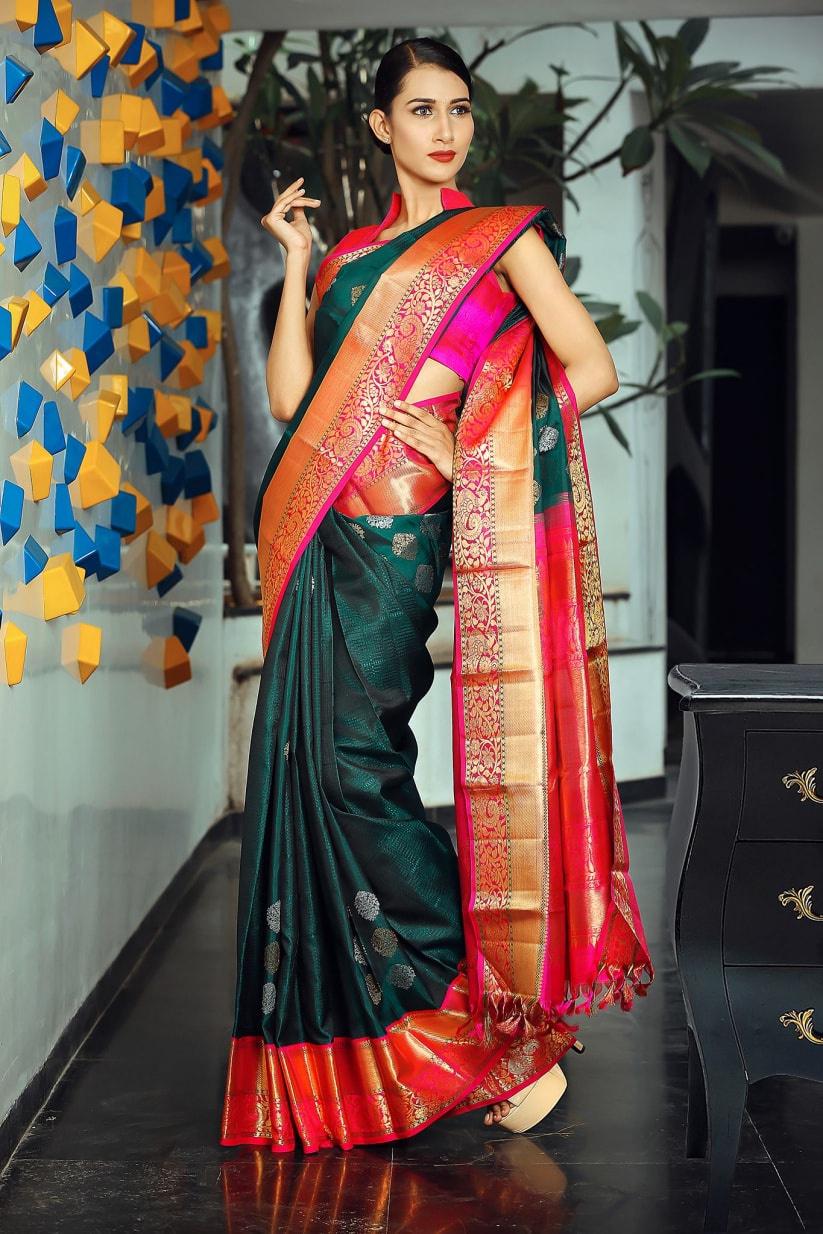 Whether you are looking for a saree for the bride, for the bridesmaids, or for the entire family trousseau, Bangalore-based Samyakk will not disappoint you. Here you can find a variety of pure Kanchipuram silk Zari and half-tone sarees.
You can complete your bridal look with a minimalistic approach as well, where the attention would be on the beautiful saree that you have chosen to adorn on your big day. You can choose to wear light jewellery and accessories while enhancing your natural features with a traditional bridal makeover while keeping your hair tied up.
Saree Price: ₹ 10,000 to ₹ 150,000
3. Mirraw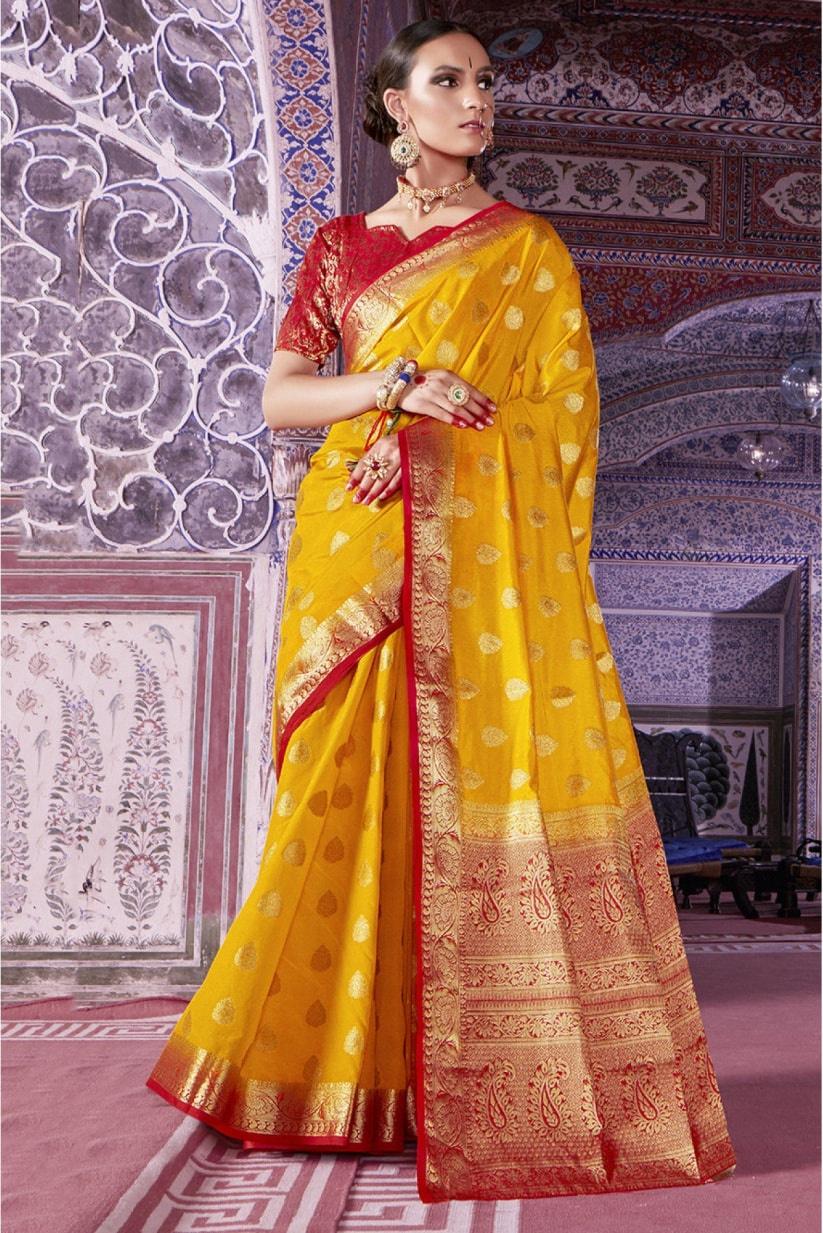 Claiming to be a link between the India we all aspire for and the authentic version of it, Hyderabad City-based Mirraw is known for the most alluring range of silk sarees, including Kanchipuram silk sarees for wedding with price. For those looking for a budget, variety can find sarees here. If you are on the lookout for Kanchipuram silk sarees for wedding with price within this range, then this is the place for you.
One thing that you can never go wrong with while wearing silk sarees is pairing them up with a pair of statement earrings. While being available in a plethora of designs, you can choose from the ones that go best with your saree, as per its colour, texture and style. It is not only feminine but can increase the beauty of your outfit to a hundred times.
Saree Price: ₹ 10,000 onwards.
4. Badsha Stores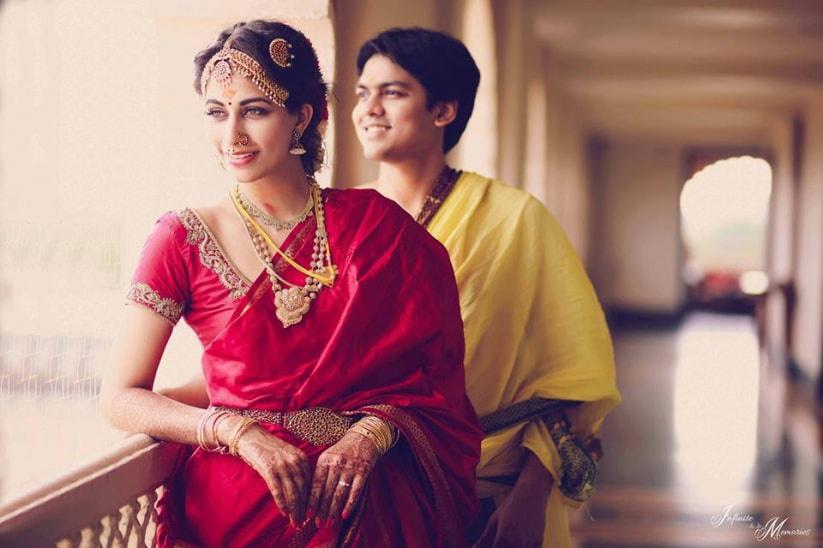 Need a plethora of exquisite silk saree designs in Bangalore. Mark Badsha Stores as one of your pit-stops. Here, you can find 100% pure Kanchipuram silk sarees for wedding with price most suitable for your wedding day festivties and celebrations.
The chicest element to include in the list of accessories that can complete your bridal look will surely have to be a waist chain. Also known as Kamarband, it can not only accentuate your curves but also bring a unique and traditional feel to your overall bridal appearance. Pairing a gold or Meena Kamarband with you silk sarees will surely be a perfect accessory choice to go with.
Saree Price: Price on request.
5. Sudarshan Family Store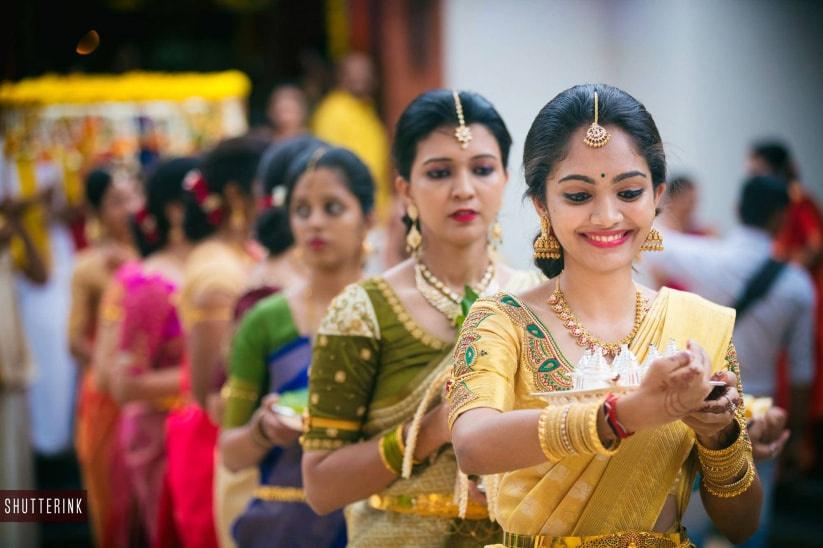 Trousseau shopping for everyone is made easy with the Sudarshan Family Store range in Bangalore. If you are looking specifically for quality Kanchipuram silk sarees at affordable and attractive prices, then this is the place for you. They also offer free shipping of the sarees worldwide. Contact the vendor directly for more information on the prices.
Bangles are another accessory that goes hand-in-hand with any traditional outfit that you choose to wear. You need not deck up your hands with a variety of Bangles but wearing the right ones will surely do the trick. Going for gold bangles with your silk sarees will surely make you look traditional, royal and ready for your wedding day celebrations.
Saree Price: Price on request.
6. Needle Eye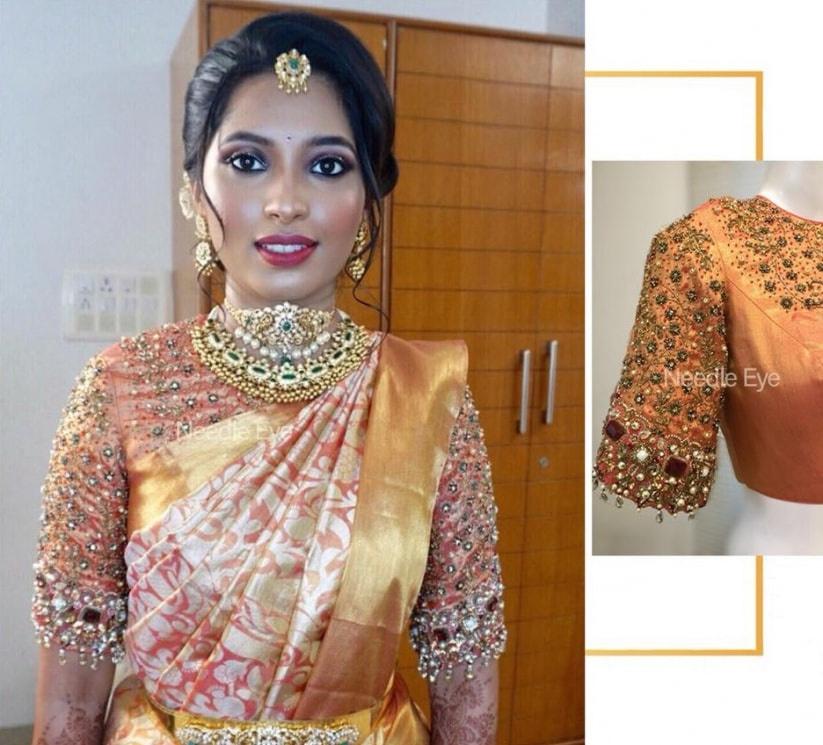 Needle Eye is a Bangalore-based embroidery boutique run by designer Sakina Ahmed. Apart from the extensive work which they do on bridal blouses, they can also enhance the appeal of traditional Kanchipuram silk sarees, by working on custom embellishments for them. If you are on the lookout for Kanchipuram silk sarees for wedding with price within this range, then you can get in touch with this boutique, with a set in hand.
You would also need to choose a perfect bridal blouse to go with your traditional attire, in this case being the silk sarees. You can choose to go or an ornate or heavy embroidered blouse paired perfectly with your silk sarees to exude a royal look. This would also give you an option to choose the style, length and design which would be perfect for your wedding outfit as well as your overall bridal appearance.
Saree Price: ₹ 15,000 onwards.
The Weaving Process of Kanchipuram Silk Sarees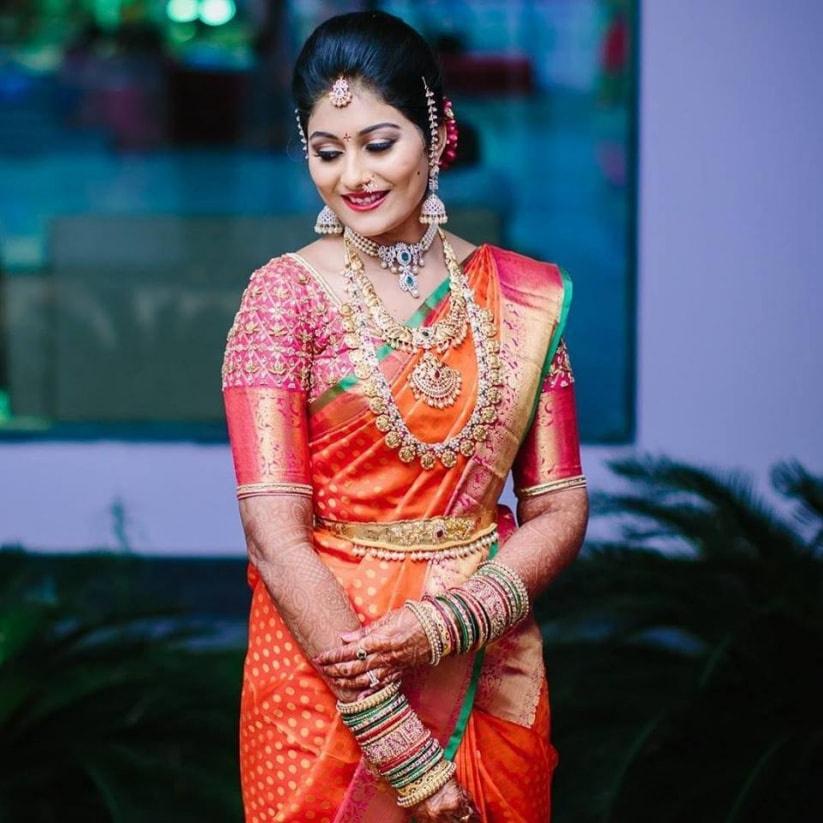 Image Courtesy: Kanchipuram Silk Sarees Facebook
The entire process of weaving a Kanchipuram silk saree is quite intricate and consumes a lot of time. Each piece is woven from pure mulberry silk, which is first dipped in rice water and then sun-dried. This process enhances its thickness and stiffness.
The main weaving technique for a Kanchipuram silk saree is called the Korvai and requires two weavers at one time. The silk thread is interlocked using a thin silver wire and then woven through the piece. In most cases, the pallu, the body and the border of the Kanchipuram Saree are woven separately and then are stitched together with the utmost care and precision.
Must-have Kanchipuram Saree Designs for the Modern Bride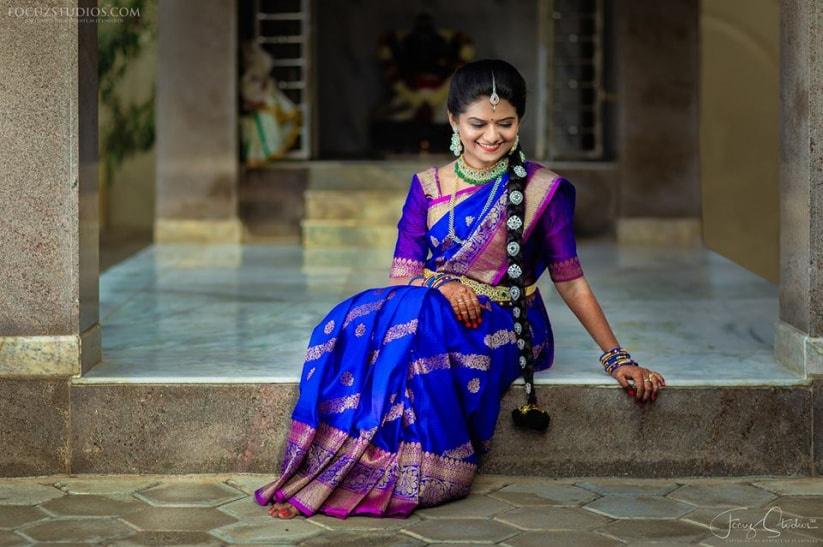 1. Geometric pattern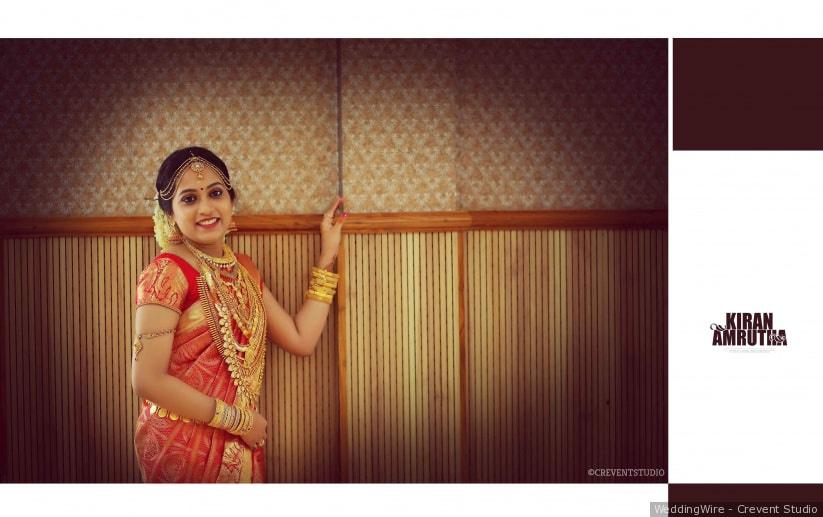 One of the latest trends in Kanchipuram silk sarees is a single geometric element like triangle and checks throughout the saree or a blend of different elements. Wear it with a single coloured blouse with a golden border to complete the look!
2. Half-white saree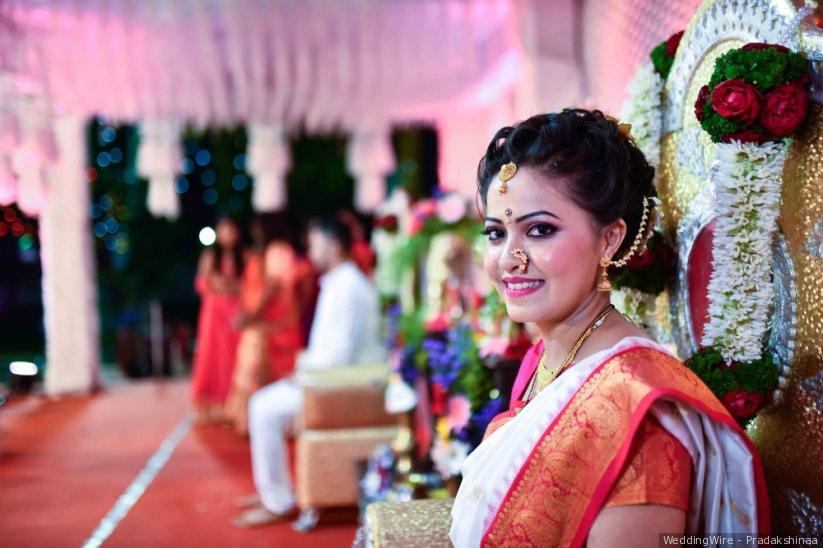 For those who crave for simplicity must opt for a half-white design. It is a combination of different fabrics like silk-net, silk-georgette etc in which half of the saree is white in colour with minimal embellishments whereas the other half has bright colours with motifs of silk.
3. Chequered Kanchipuram saree

If a plain silk body with a heavy zari border is not your style, think chequered Kanchipuram silk saree. Complete the occasional look with a heavy blouse and statement accessories.
Overall, there is something about Kanchipuram silk sarees that holds your imagination. Known for vibrant colours and eye-catching designs, one cannot go wrong with them in their wardrobe.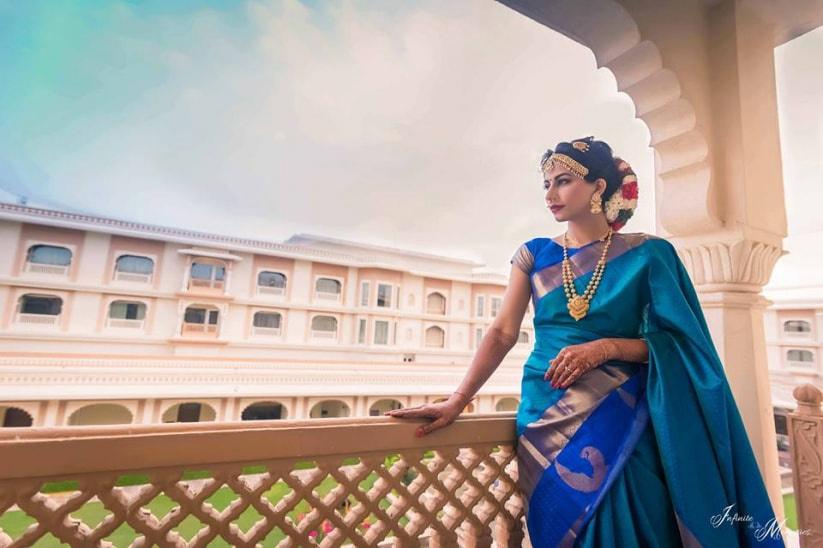 We hope you found something inspiring from Kanchipuram silk sarees for wedding with price. Check out some of our Kanchipuram silk saree vendors in town and connect with them for prices. Share your story with us through comments and snapshots.