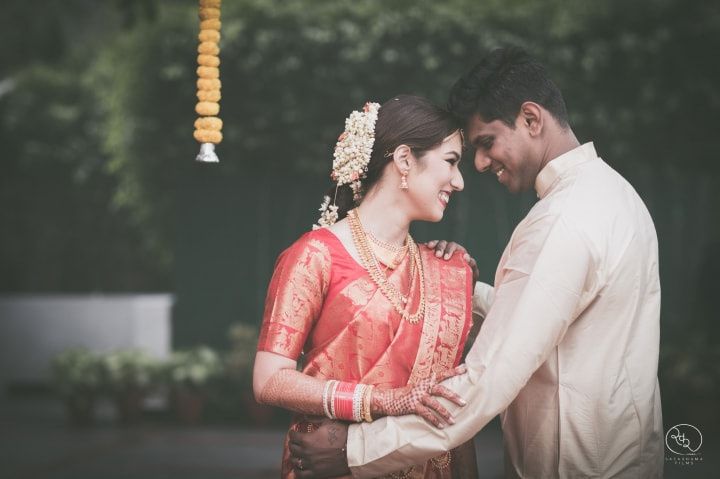 All the South Indian brides sport the signature South Indian bridal hairstyle on their wedding. These hairstyles mainly consist of buns, braids and doughnuts. If you are a South Indian bride, you must have decided that signature hairstyle and bridal makeup to be done on the big day. And if you haven't, we have got you covered. Here are some easy hairstyling tips to take your damn simple hairstyle to glam bridal hairstyle.
Popular South Indian Bridal Hairstyles For Brides
Here are some of the more classic South Indian bridal hairstyles for you. Do not that we're only looking at how to bundle your hair for the big day, which is why the more unconventional styles may not work:
1. The authentic, heavy bun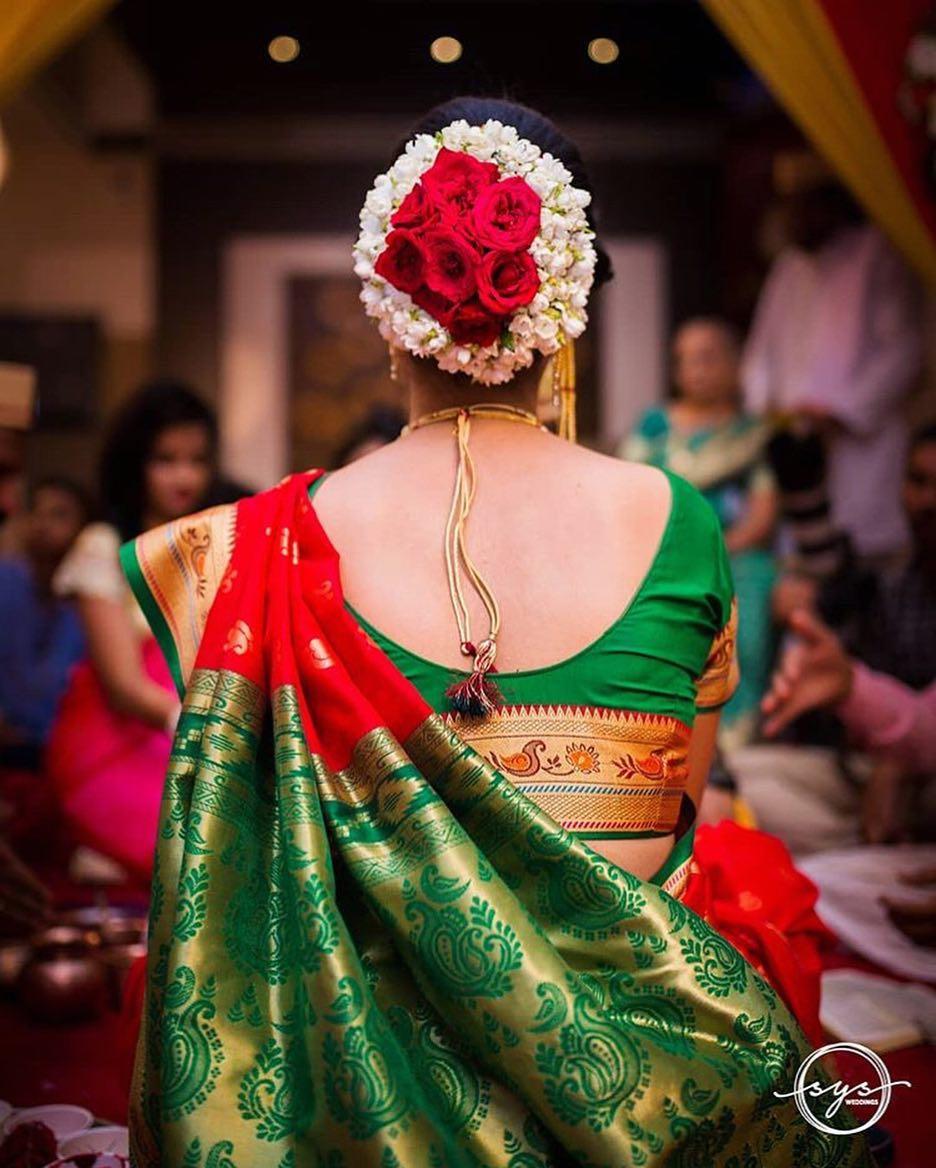 The neat, no-fly hair strand look often seen on Southern brides is best seen in this mid-height bun, often made larger with an intricate floral arrangement, either with a Poola jada, gajra or pinned in petals.
2. The bun-braid combination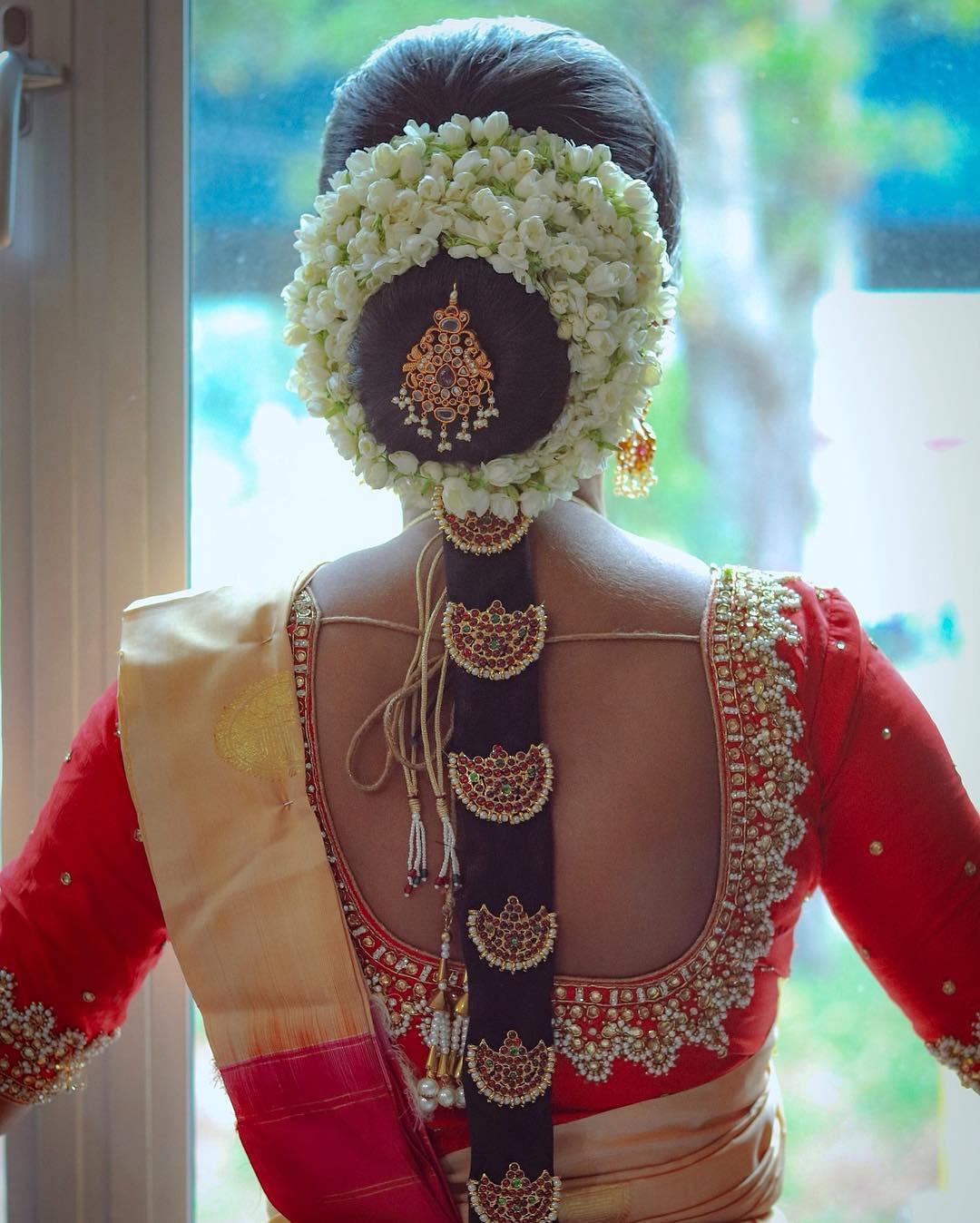 Image courtesy: The Styles By Sha Hair
Hair length does not matter in the land of extensions if you're set on this combination amid south Indian bridal hairstyles for your big day. Get a neater look like this or shroud them all under trails of floral tendrils - both are absolutely okay.
3. The side bun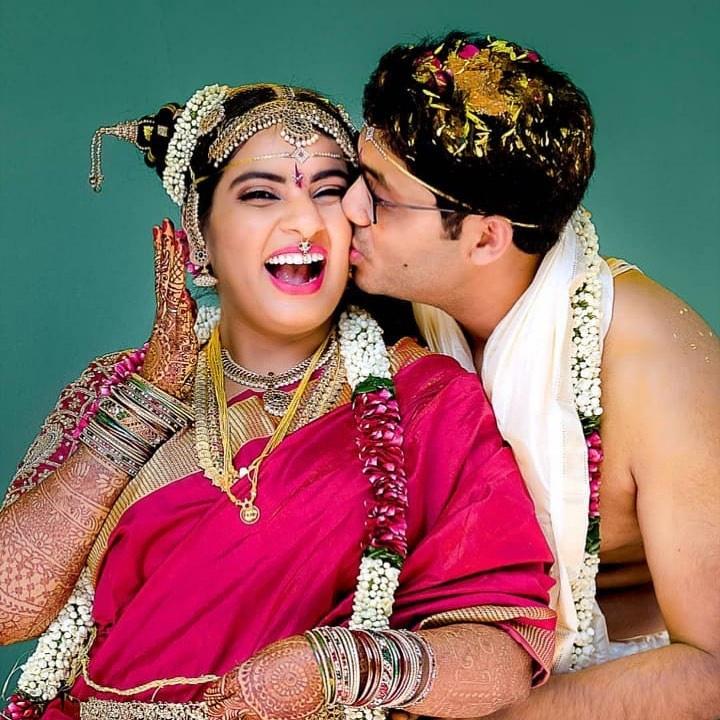 Tight and up - that's the best way to go about describing this tilted top and side knot. It's accentuated by tightly put in ornamentation and makes for a quirky dose of tradition by a sporting bride.
4. The long, trailing braid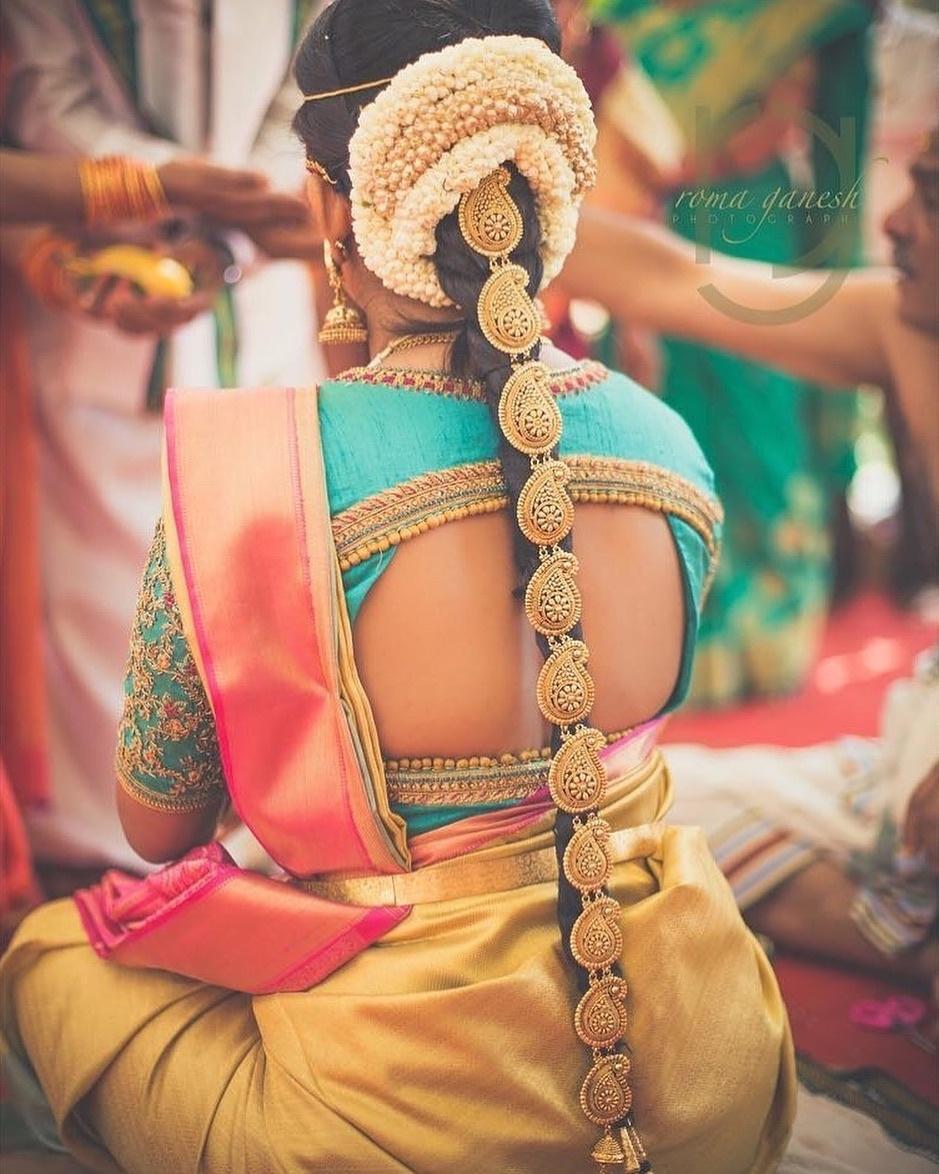 Naga Jadai in place, this long and straight braid is as disciplined in look as the traditional look it invokes. Pair this right with a perfectly pleated and pinned saree.
5. The low bun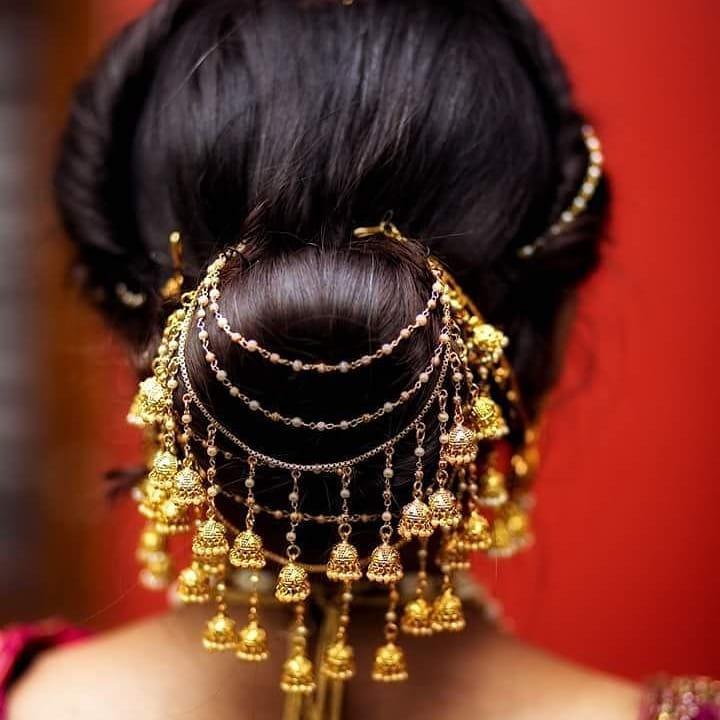 A lower bun on the head, held and accentuated with hanging chandelier accents, floral arrangements and more makes it a good idea indeed. Just ask all of the brides-to-be who're still looking for Devasena earrings.
Now, that you're aware about these South Indian bridal hairstyles
1. Choose the Right Hairstyle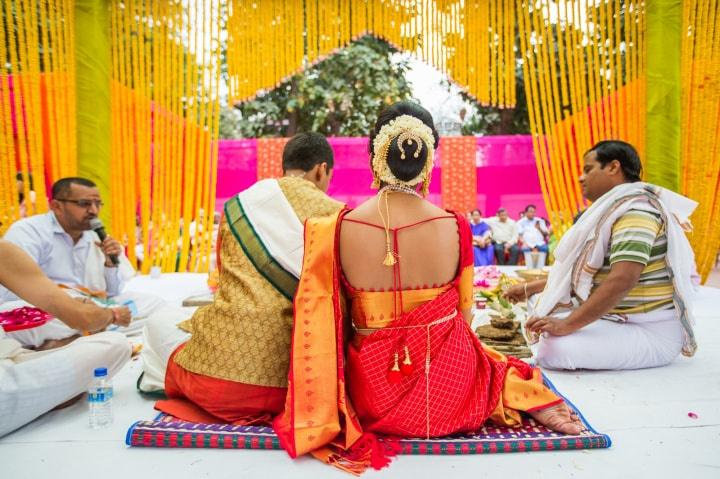 Thumb rule – balance out your wedding silk saree and hairstyle. Most of the Indian brides have heavy wedding sarees. So, it is always better to keep your hairstyle simple. Also, consider the shape of your blouse's back. If you have a deep back neck blouse, you can twist the traditional straight braid and go for a side braid or even a bun. Choosing a right hairstyle entirely depends upon the look you are opting for your wedding. It may be retro, traditional or inspired by some other culture. Usually, all the South Indian brides go for a traditional look. Hence, a traditional South Indian bridal hairstyle goes well with their outfit.
2. Hair Length and Face Cut
Everyone has a different quality and type of hair. Some have curtly some have super straight. Choosing your hairstyle according to your hair length and hair type is one of the most important things when it comes to South Indian bridal hairstyles. Hairstyles for long hair will be different than the ones for short hair. Wedding hairstylist in South India goes with a basic plait and traditional accessories over it. You should also pay attention towards your face cut. Buns and high up-dos look good on brides with round face whereas brides with an angular face can opt for soft and wispy bridal hairstyles.
3. Weather and location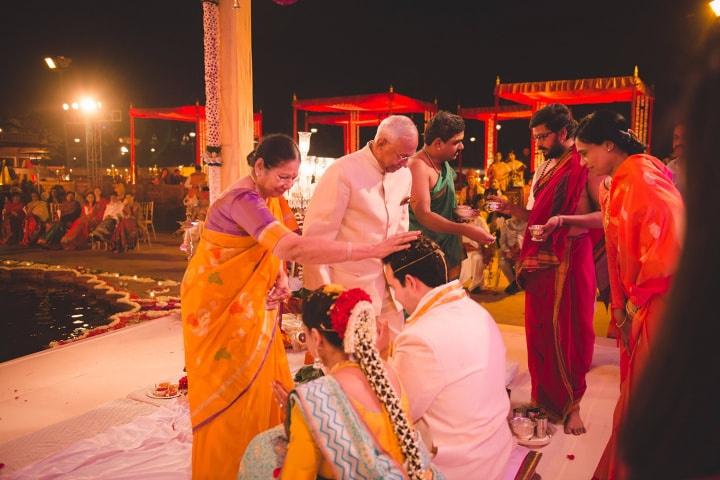 When you are choosing the perfect South Indian bridal hairstyle for yourself you should also pay attention towards and the location of your wedding. If you getting married in an outdoor location it is possible that with the wind your wedding hairstyle will get disturbed or while dancing to the popular Tamil wedding songs, your hair might come loose. Hence, it is best to go for a hairstyle where you can tie your hair in a bun or in a braid. When it comes to hair styling weather also plays an important role your hair tends to get sticky in summers and super dry during winters.
4. Do a trial run well in time – various braids you can try
A lot of brides tend to avoid the trial session for hairstyle and makeup offered by the hair stylist. But when it comes to South Indian bridal hairstyles, it is utterly important to go to a trial and try out various hairstyles that suit your hair texture and your outfit as well. Without a trial even, the hairstylist won't understand how to go about your hair and the entire experience can turn into a nightmare if your hairstyle goes wrong. While you are at the trial, keep in mind that it is your wedding. The stylist may suggest you various South Indian bridal hairstyles but you can always stick to one that has caught your eye.
5. Accessories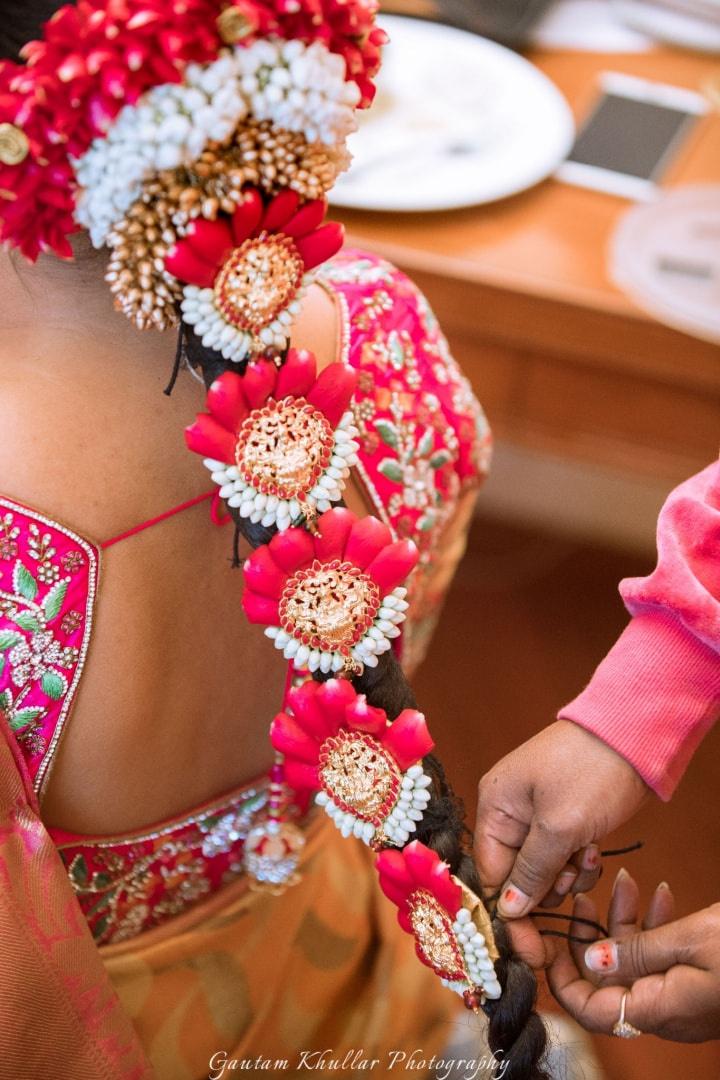 South Indian bridal hairstyles include lots of accessories. Traditionally, the bride wears embellishments made in gold or imitation on her braid. These days brides like to decorate their hairstyle with plenty of jasmine flower garlands.
Keep all these tips in mind if you are opting for a traditional South Indian bridal hairstyle for your wedding. Your bridal hairstyle and wedding saree can pull your entire look together and make you look like a queen who would shine royally in your wedding photos.
Believe us, when we say our hair at times have a mind of their own, we totally and completely mean it. Haven't you ever woken up with hair that is frizzier than the usual or smoother than they generally are? Well, happens to the best of us. therefore, it is essential that every bride-to0be indulges in some hair masks and spa treatments a few months prior to her big day so as to improve the quality and texture of her hair. The silkier the better! Also, you must ensure that you have a balanced diet if you want some beautiful long tresses. If you are a healthy person from within then the same will reflect on how your skin and hair look on the outside. Ditch the carbs with some green and leafy legumes and fruits and see the difference it brings to your hair in terms of volume, length, texture and quality. Follow these easy tips and be prepared to rock on your big day!
What did you think of these easy tips for getting some of the most stunning South Indian Bridal Hairstyles? Tell us through comments as to how you prepped to get one of these head-turning South Indian Bridal Hairstyles before your wedding day through the comments!