Dupatta Saree Magic: 9 Breathtaking Draping Styles That Will Weave Perfection for Your Wedding Day
A Dupatta Saree has become a modern choice for wedding functions. Brides today like to experiment and this is one that has definitely become a hit. Here's how you can get this stylish new look too.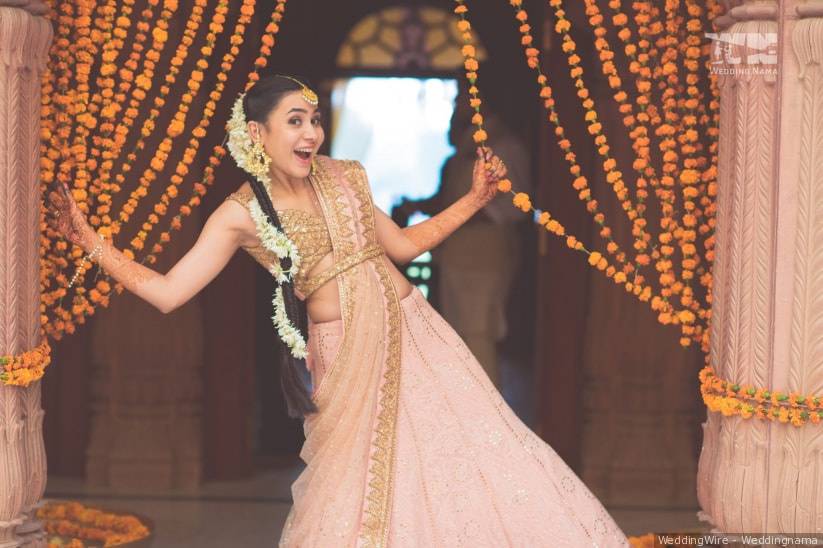 A Dupatta Saree is a modern-day trend that has been made popular by brides these days. Most brides look for a twist to tradition, be it the Bridal Lehenga, jewellery, makeup looks, hairstyles or other accessories. It's simple, while everyone wants a touch of tradition, at the same time brides seek a little experimentation, personal statements and stylish accents. The best way to do that is to blend the two together.
What is a Dupatta Saree?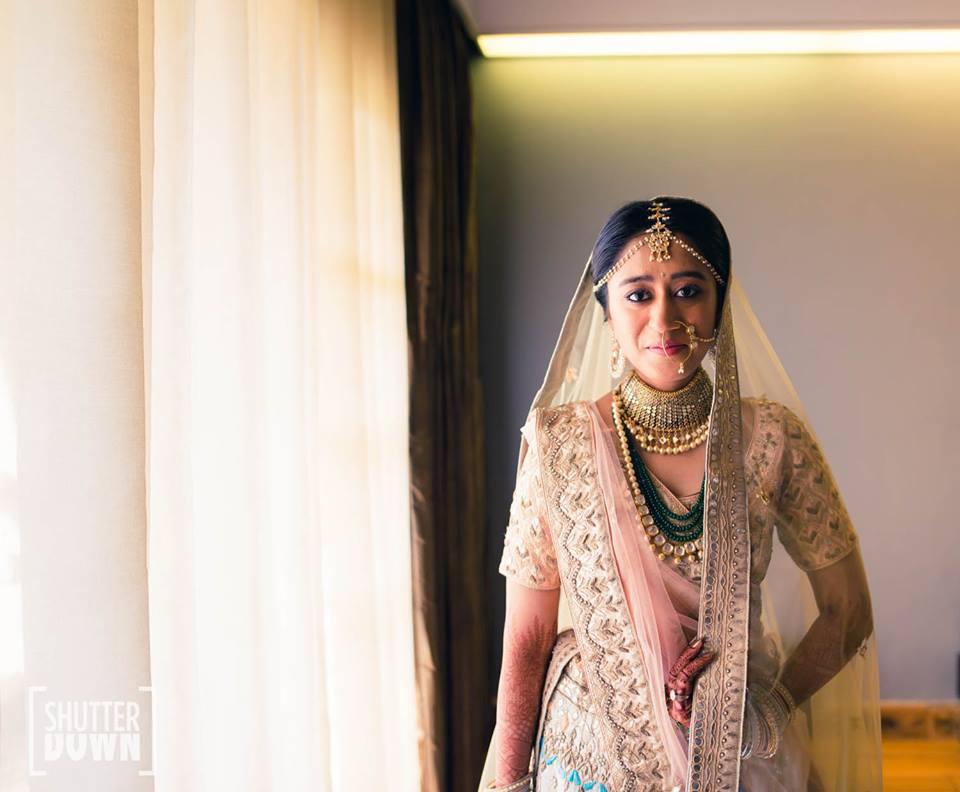 Let's not complicate things here! A Dupatta Saree is an attire where one uses a Dupatta and drapes it like a Saree Pallu (the long tail end of a Saree). The Dupatta, just like the Pallu, can be draped in different styles and more interestingly with different kinds of attires. Whether you wear a Lehenga or even slim pants; you can turn it into a Dupatta Saree look with just a few tucks and pins!
If you are a soon-to-be bride, looking for fashion inspirations, you might want to give this trendy Dupatta Saree a try. Here's how:
1. Dupatta Saree: Seedha Pallu Style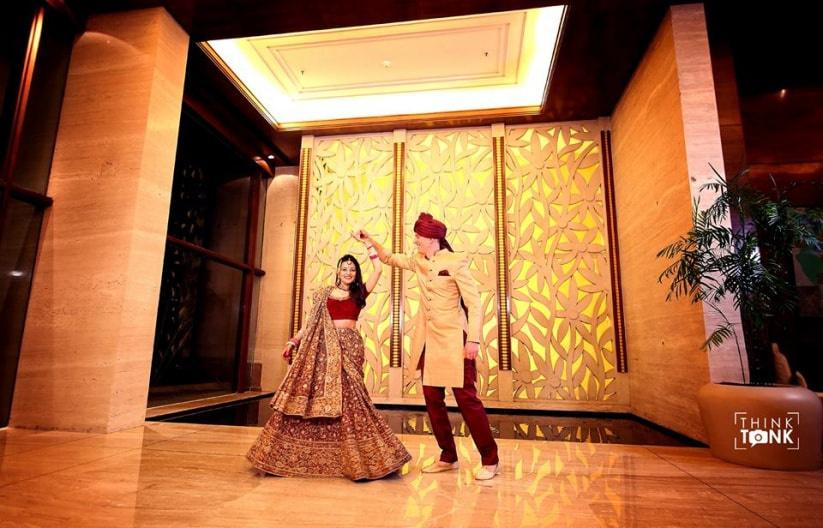 A popular style of draping a Saree in Gujrat, the Seedha Pallu, or the Pallu in the front, can easily be styled with a Dupatta over a traditional Bridal Lehenga. Pleat the Pallu and drape it back to front, hanging over one shoulder to achieve this look. You can use the Lehenga's matching Dupatta or even use a contrasting Dupatta to add to the style.
When: Since most brides cover the head for the wedding ceremony, this look is great for the Reception or the Sangeet Ceremony.
2. Dupatta Saree: Traditional Pallu Style
Probably one of the most popular styles of a Dupatta Saree, the traditional Pallu look gives an elegant and hassle-free look. Use the Lehenga Dupatta and pleat it across a shoulder, just like a Saree. You can use a second, lighter and different shade of Dupatta to cover your head. This also allows you to remove the second Dupatta easily, post the traditional wedding ceremony and be more comfortable.
When: This Dupatta Saree style is perfect for the wedding ceremony. It helps you look traditional and also easily switch to being stylish and comfortable.
3. Dupatta Saree: Blended with a Gown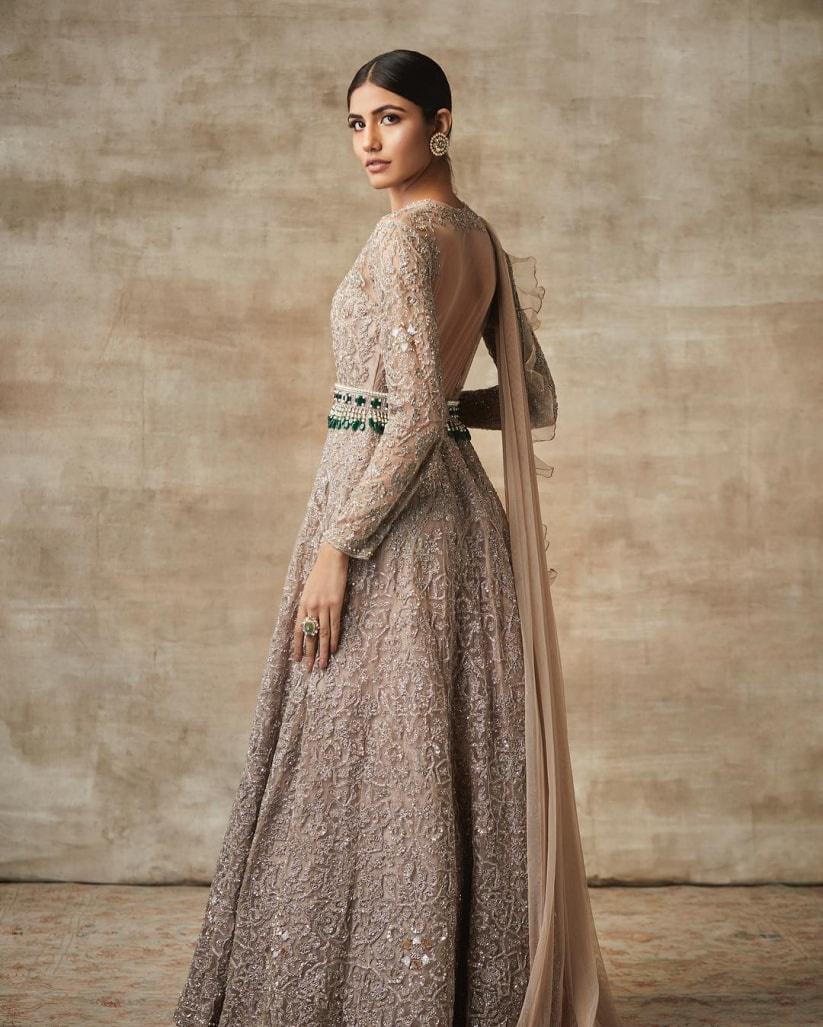 Image courtesy - Ridhi Mehra
A\have you always wanted to wear a beautiful, stylish and princess-like gown for your wedding, but wondered how to make it traditional? Well, wear that gown and just add a Dupatta to add that flow, grace, a touch of tradition and a trail-like look. Pick the Dupatta in the same fabric as the gown and just pin it along your waist, flowing back on one shoulder.
When: A Dupatta Saree with a stylish gown is perfect for Cocktails, Engagement Ceremony or the Reception.
4. Dupatta Saree: A Simple Skirt and Blouse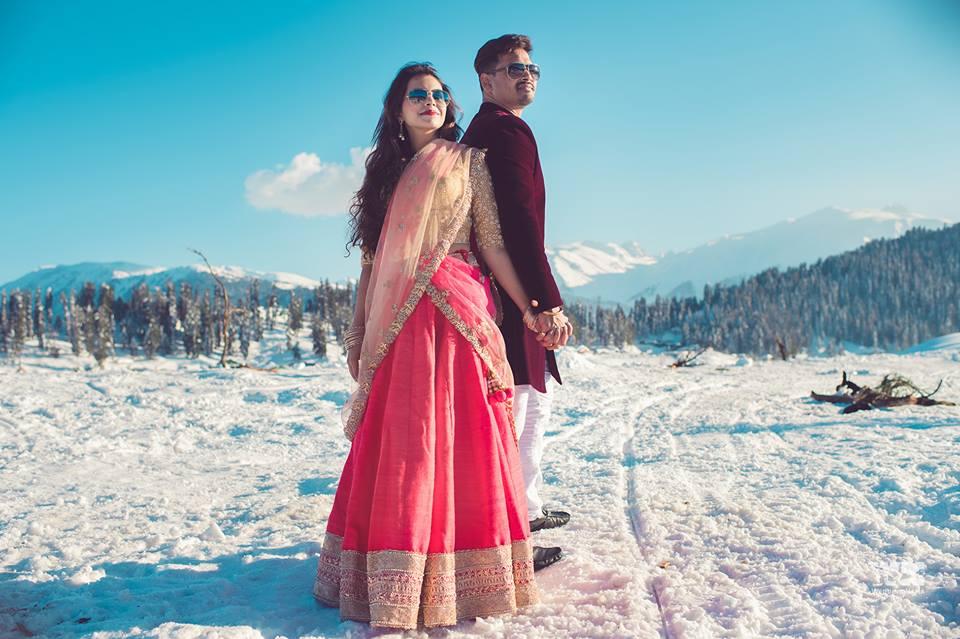 You can dress up a simple skirt and blouse and give it the sexy twist of a Dupatta Saree. This style best works with broad border Dupatta's and makes for an easy-breezy yet chic outfit.
When: This makes for a great outfit for the many pre-wedding functions like a Puja, Chura ceremony, Haldi or Mehndi. You can also add the grace and charm of this attire to your pre-wedding photoshoot.
5. Dupatta Saree: Simple Lehenga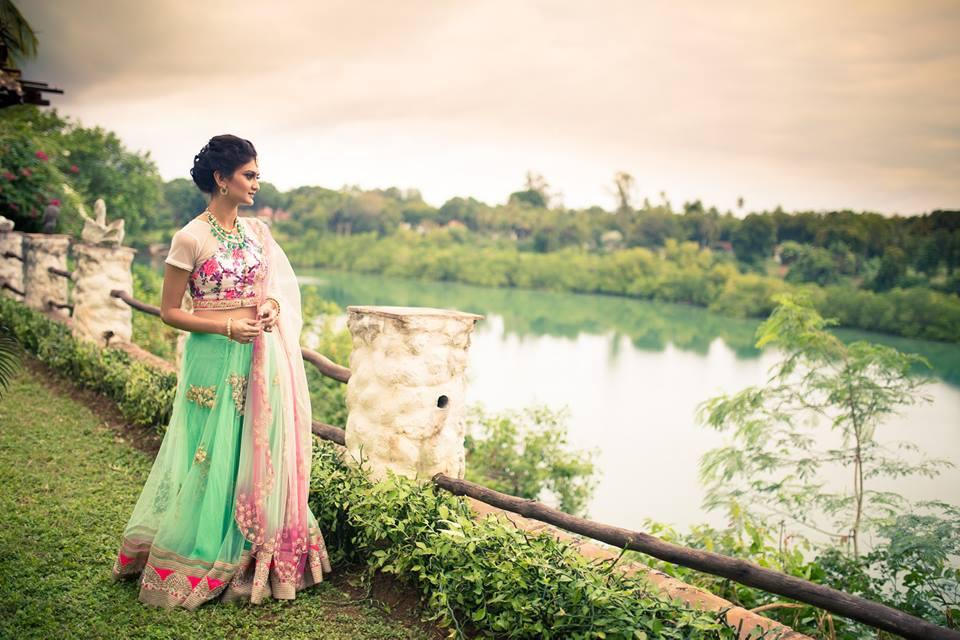 If you are planning to wear a simple Lehenga for any of the wedding functions, turn it into a Dupatta Saree. This way you can easily dance around and have fun, while the Dupatta stays in place.
When: The perfect simple yet stylish outfit for a Mehndi or Haldi function.
6. Dupatta Saree: Lehenga with a Veil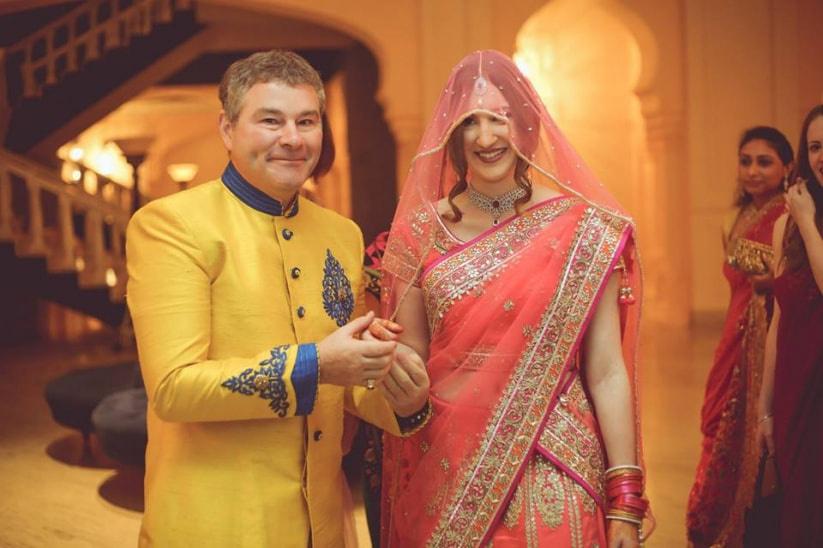 If you have always dreamed of wearing a veil or do the traditional Ghoonghat on your wedding day, a Dupatta Saree is the way to go. The bridal Lehenga usually comes with a very heavy Dupatta that may not be very easy to carry as a veil or a Ghoonghat. Instead, drape the Lehenga Dupatta like a saree Pallu and use another light, sheer and matching Dupatta as the veil/Ghoonghat. Two dupattas will give your outfit a traditional touch.
7. Dupatta Saree: A Classic Saree Style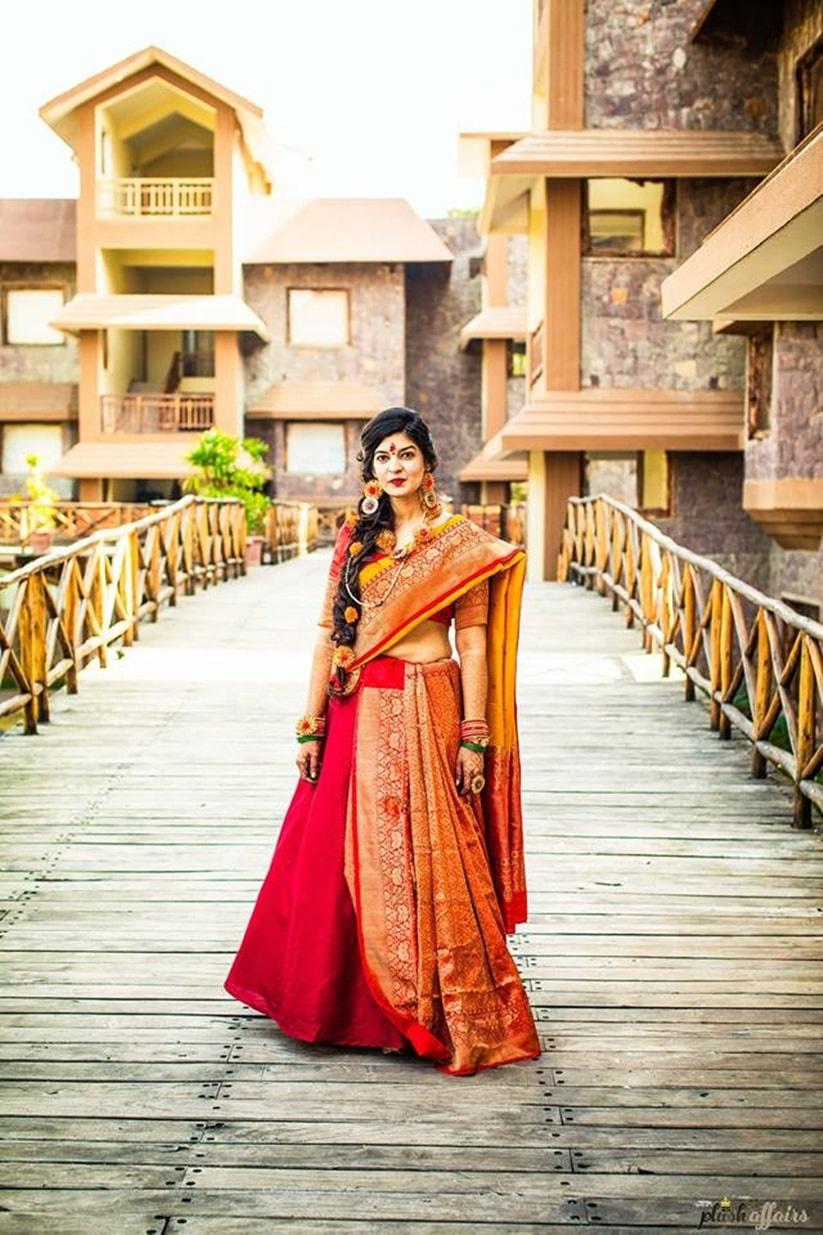 Just look at this bride's traditional yet super trendy bridal attire! All you need is a plain skirt and blouse in rich silk fabric and team it up with a heavy embroidered or beaded Dupatta to drape it across like a Saree. For your dupatta saree, you can choose to go the traditional way and drape the dupatta of your bridal lehenga just like a saree, giving it pleats on the skirt and draping it over your shoulder.
When: A great attire for traditional ceremonies like Haldi, Mehndi, Roka and even the Engagement function.
8. Dupatta Saree: Dhoti Pants and Blouse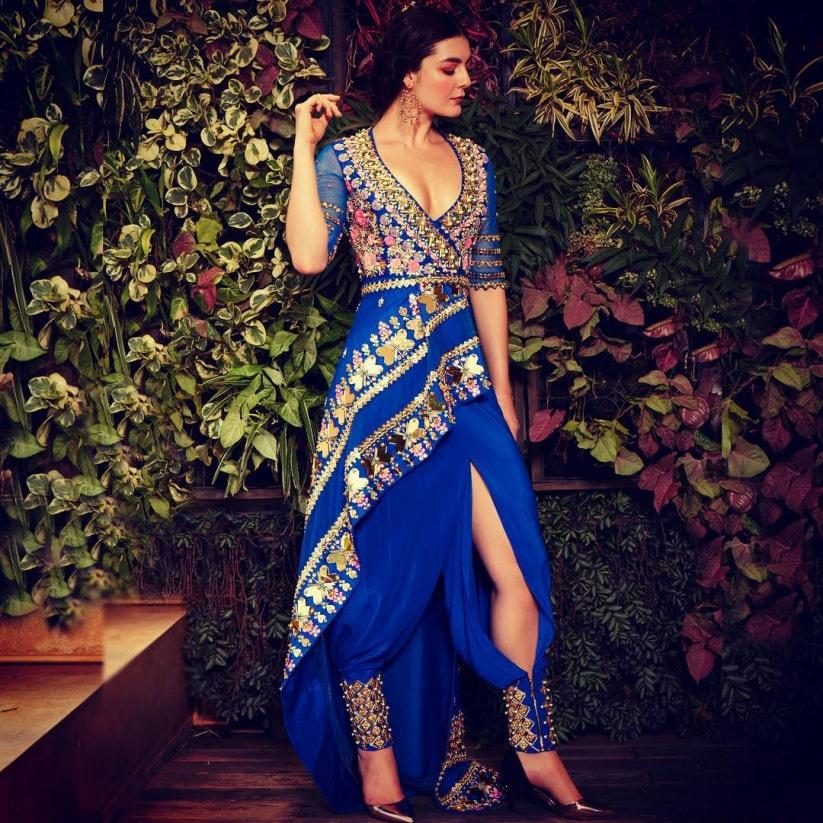 This stylish bride makes a trendy statement in this blue attire. Dhoti pants are a rage and team them up with an embroidered blouse and a Dupatta draped across like a Saree Pallu and you are all set to make heads turn. Or you can go for a Dhoti outfit that incorporates flares that look like a dupatta draped in a trendy new manner.
When: A stunning attire for your pre-wedding functions like Cocktail, Sangeet or even Haldi ceremony.
9. Dupatta Saree: Chic Saree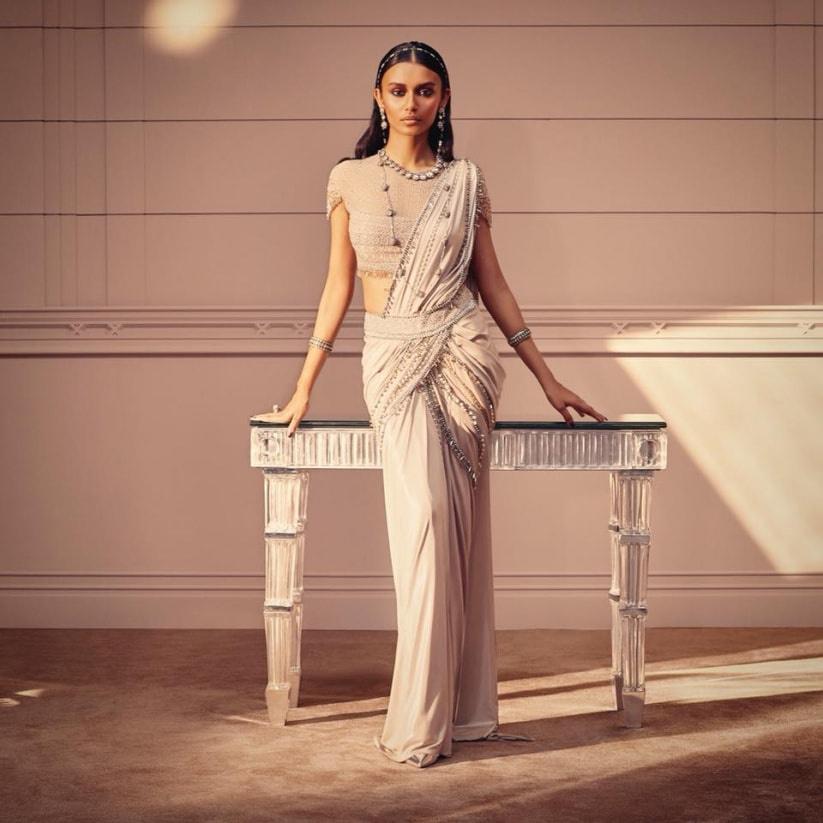 If you are a fan of nine yards, but looking for something unique and one of a kind, then this beautiful creation is just for you. It is a traditional saree with a modern twist that would look beautiful for each and every one of your wedding festivities. It is a pre-stitched saree so that you do not have to go through the hassle of draping it if you don't know how it does it. It fits like a dress but looks effortlessly classy and elegant. With a range of colours and designs to choose from, you can opt for light colours or pastels just like this one, which is worn with a contrasted with a lace blouse and modern jewellery.
When: You would look an epitome of beauty adorning this stylish outfit for your Engagement or Cocktail party.
A Dupatta Saree is a versatile and stylish way to dress up different kinds of bridal attires. All it takes is one simple (or heavy!) Dupatta and you can completely reinvent an attire. Will you try the Dupatta Saree trend?
Do you know of any other Dupatta Saree styles? Share them with us and other brides-to-be in the comment section.