15+ Latest Sangeet Outfits Ideas for bride
Not sure what to wear for your Sangeet ceremony? Browse through our tutorial on how to Dress for Ladies Sangeet, including all the options that you may wear, how to make your choice and add expert notes to get the perfect look.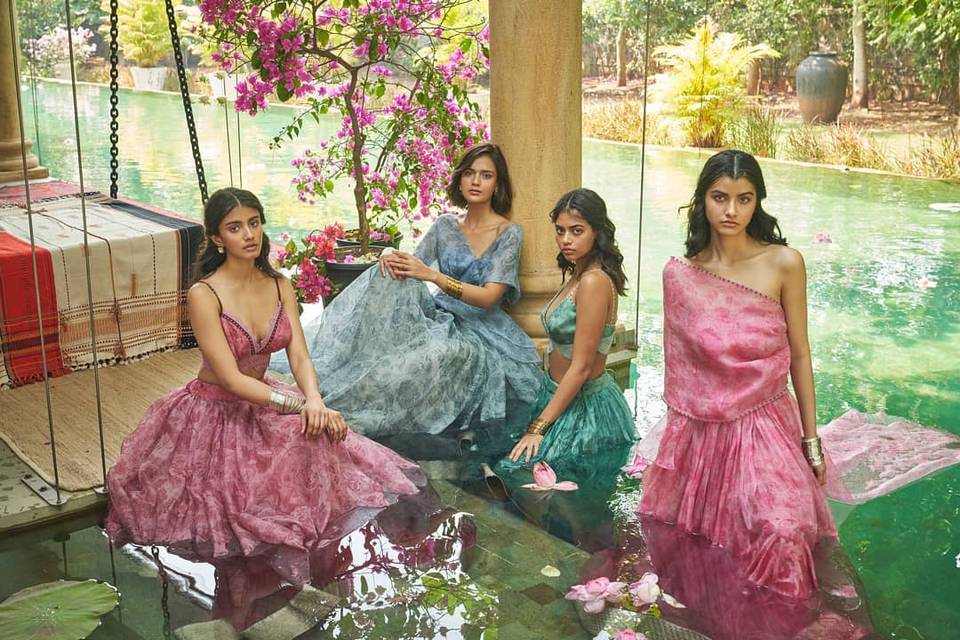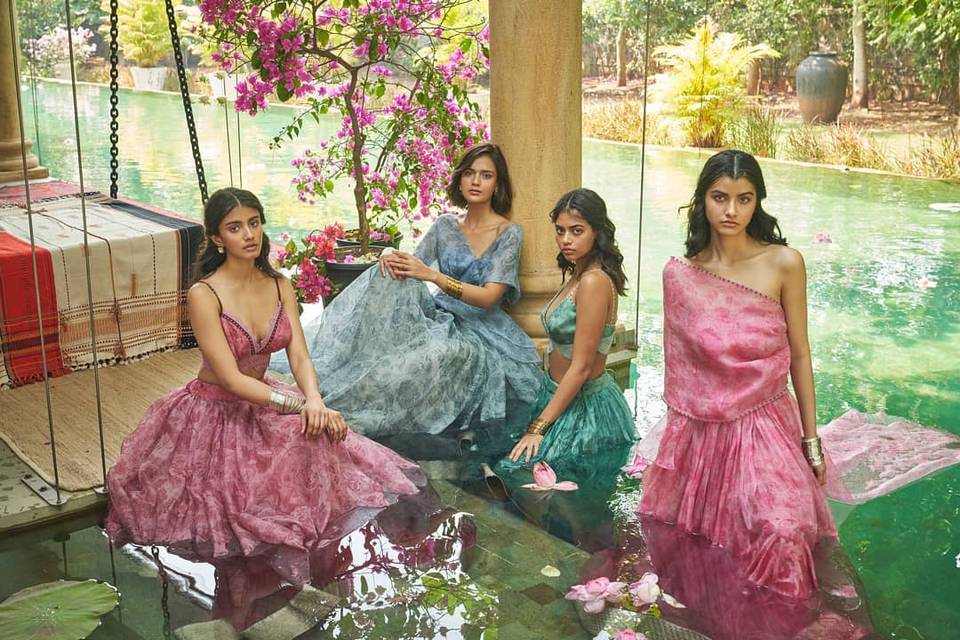 Image Credits - Jade by Monica & Karishma.
A Sangeet ceremony is one of the most-awaited pre-wedding functions for everyone. From the fabulous dance performances to trendy outfits, it is a flexible event with no strict rules. The couple, their families, and friends can experiment with the dressing style and reflect their personal taste. From traditional wear to stylish Indo-western outfits, a Sangeet night is the time to play dress up. Still, haven't found a dress for ladies sangeet? Well, that is why you must have a look at this find and bookmark the dress for ladies sangeet which will make you look like an absolute vision out for serving some looks.
In this article -
1. What to wear for Sangeet function as a Bride
2. Dress Code for Sangeet and Mehndi for friends
3. Styling Tips for Ladies Sangeet
What to wear for Sangeet function as a Bride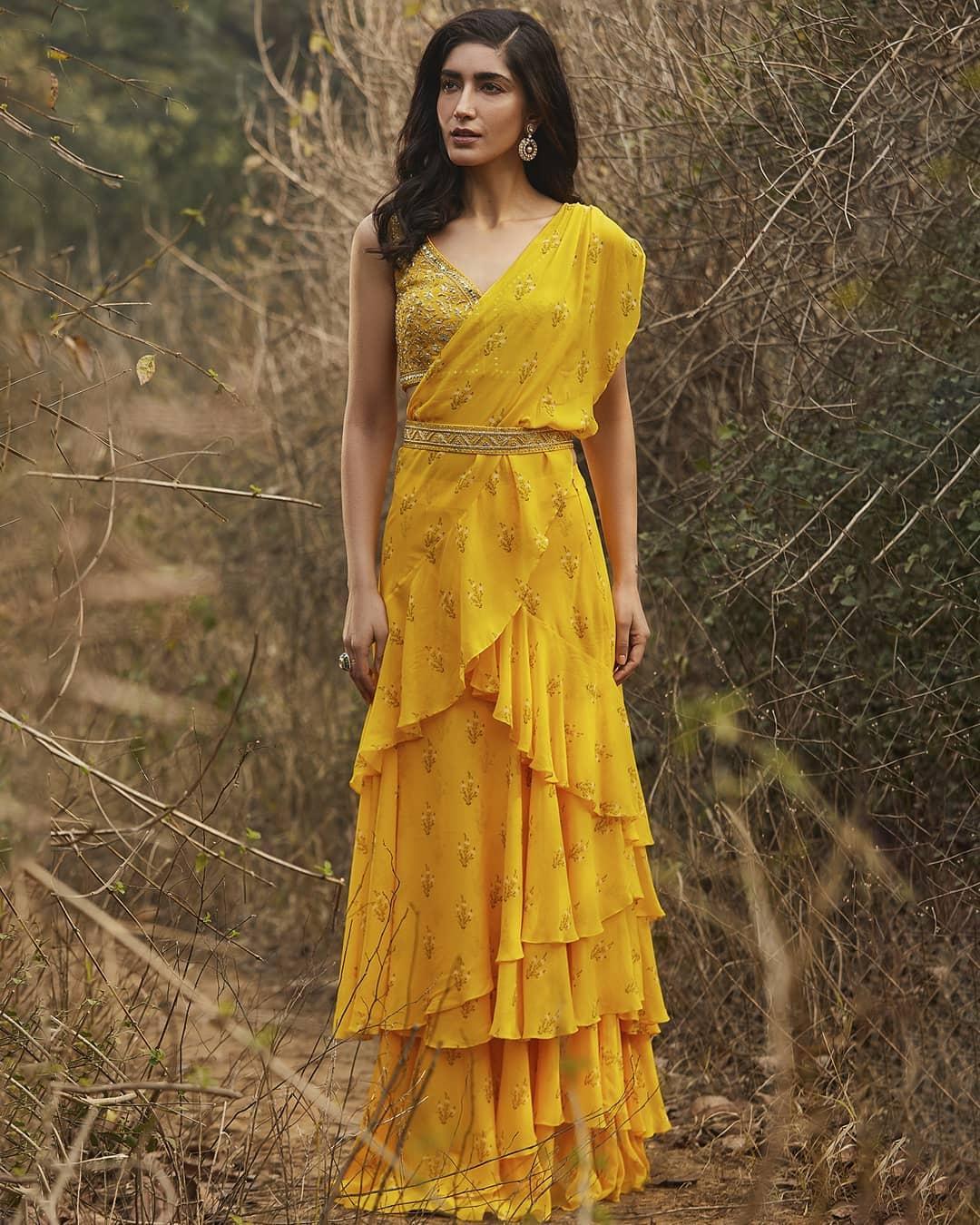 Image Credits- Sana Barreja
What to wear on a sangeet function is a daunting task for a bride. Here we have curated some trendsetting ladies sangeet dresses for brides which are creating a stir in the market. Check and steal some inspiration to dazzle on your most important day of your life. Find out if it is a more cocktail party kind of an event or is it a relaxed Sangeet cum Mehendi kind of a ceremony. This will help to narrow down your list better and plan your outfit wisely. For a cocktail based Sangeet, consider ditching the traditional outfits and go for an Indo-western fusion like an ethnic gown or lehenga with a modern peplum choli or a dhoti-choli. On the other hand, if you're combining the Mehndi and Sangeet together, you can enjoy the flexibility of wearing any kind of dress. Also, make sure to find out if it's a themed event, like a Bollywood theme party. So, get going and build your Sangeet wardrobe with this beauty!
Beautiful Lehengas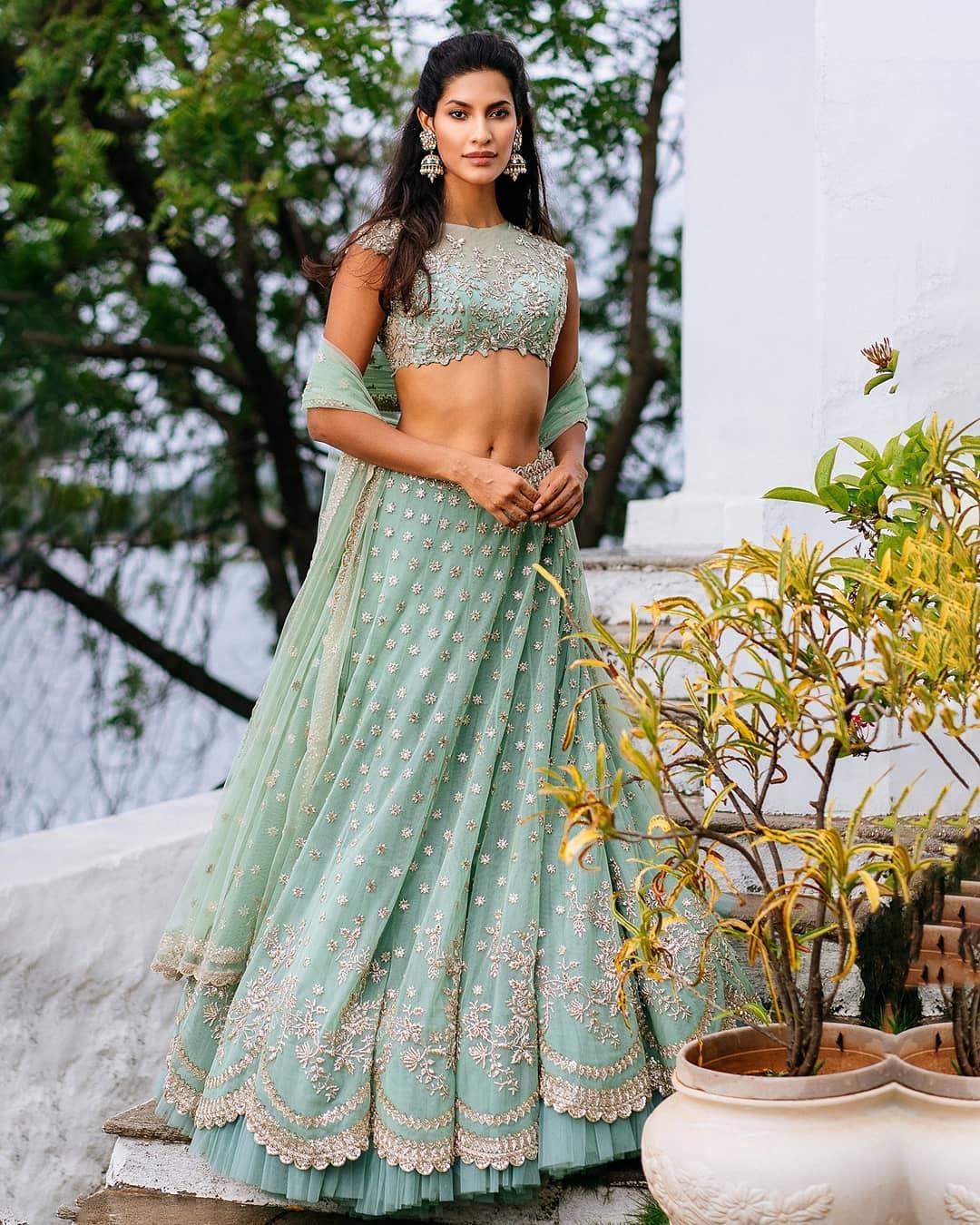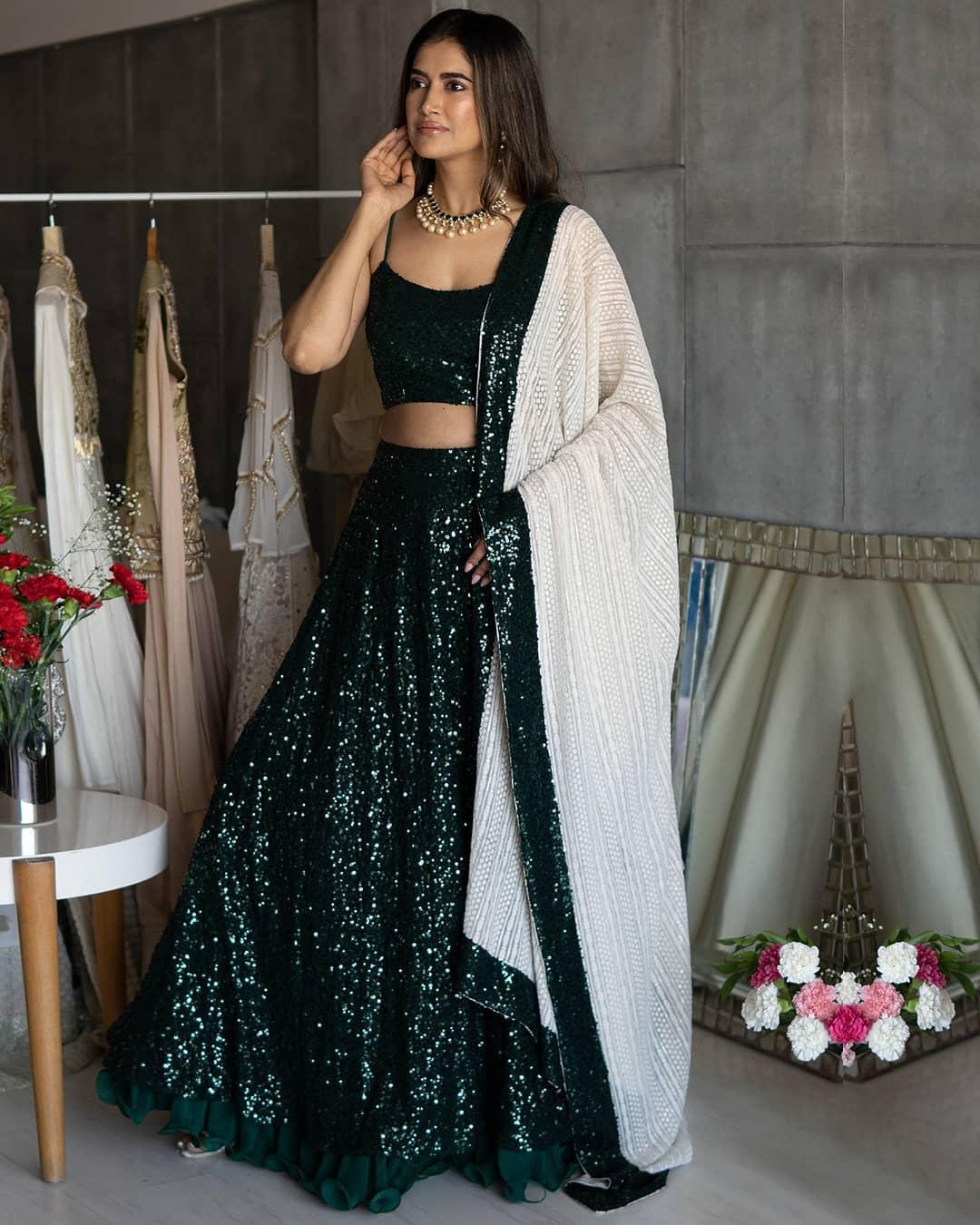 Image Credits - Rozina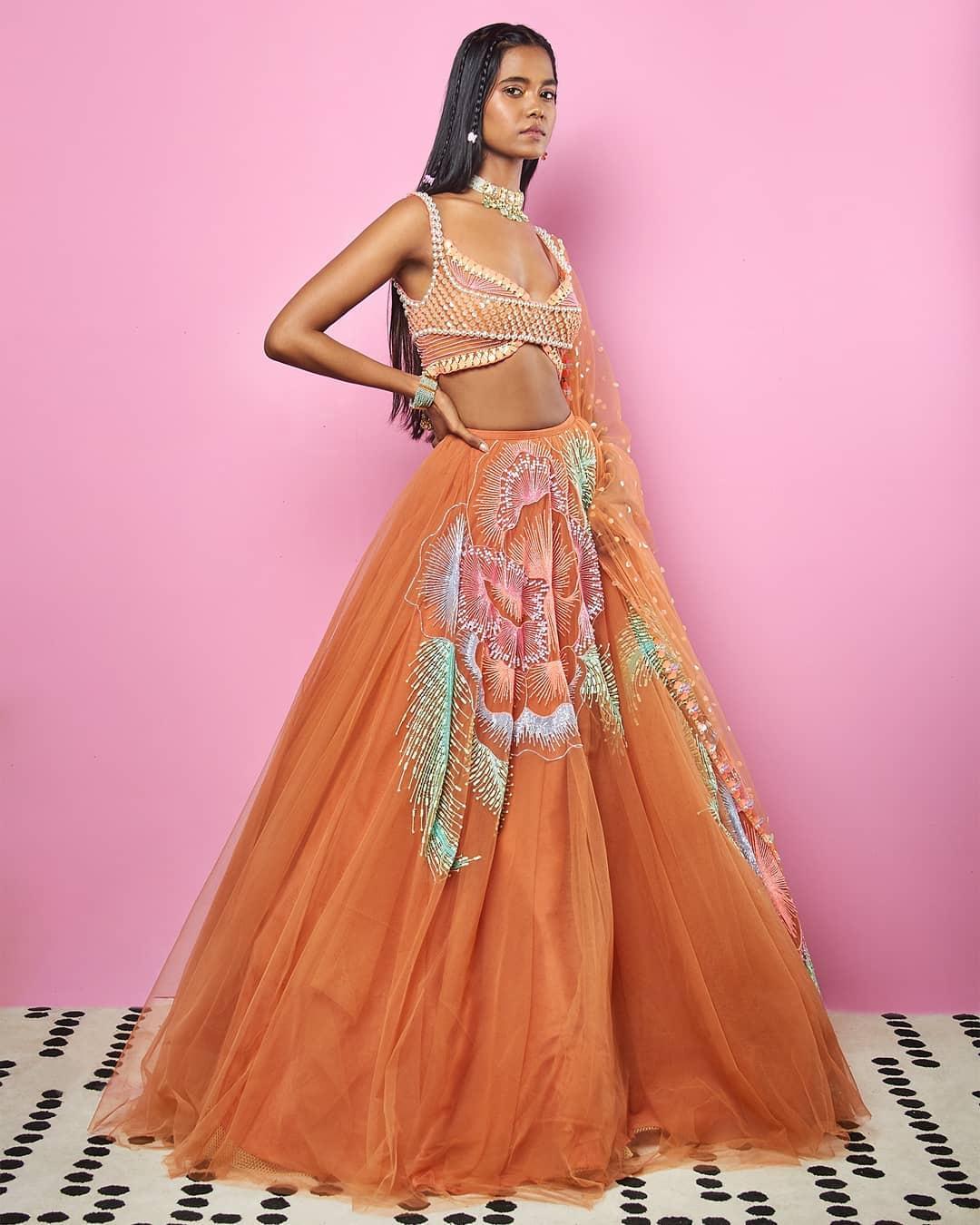 Image Credits - Papa Don't Preach
When it comes to wedding functions, you really cannot go wrong wearing a lehenga. It is one of the most graceful outfits that are perfect for an Indian celebration. Opt for a piece in vibrant hues for a festive look. Brides, bridesmaid, or guests can instantly grab all the attention wearing a chic lehenga. A chic lehenga is hands down one of the safest and trendiest dress for ladies Sangeet. Available in endless cuts and styles you can find a dress for ladies Sangeet as per your liking and taste without fretting much. A long floral skirt with a crop top is a versatile outfit that one can wear at any pre-wedding function. You can choose to cover it with a beautiful dupatta for a more traditional look or leave it as it is for an Indo-western appeal. Besides, having worn a long skirt you'll be able to swirl and twirl and get that perfect shot for all your social media accounts.
Price- On Request
Flowy Sangeet Attire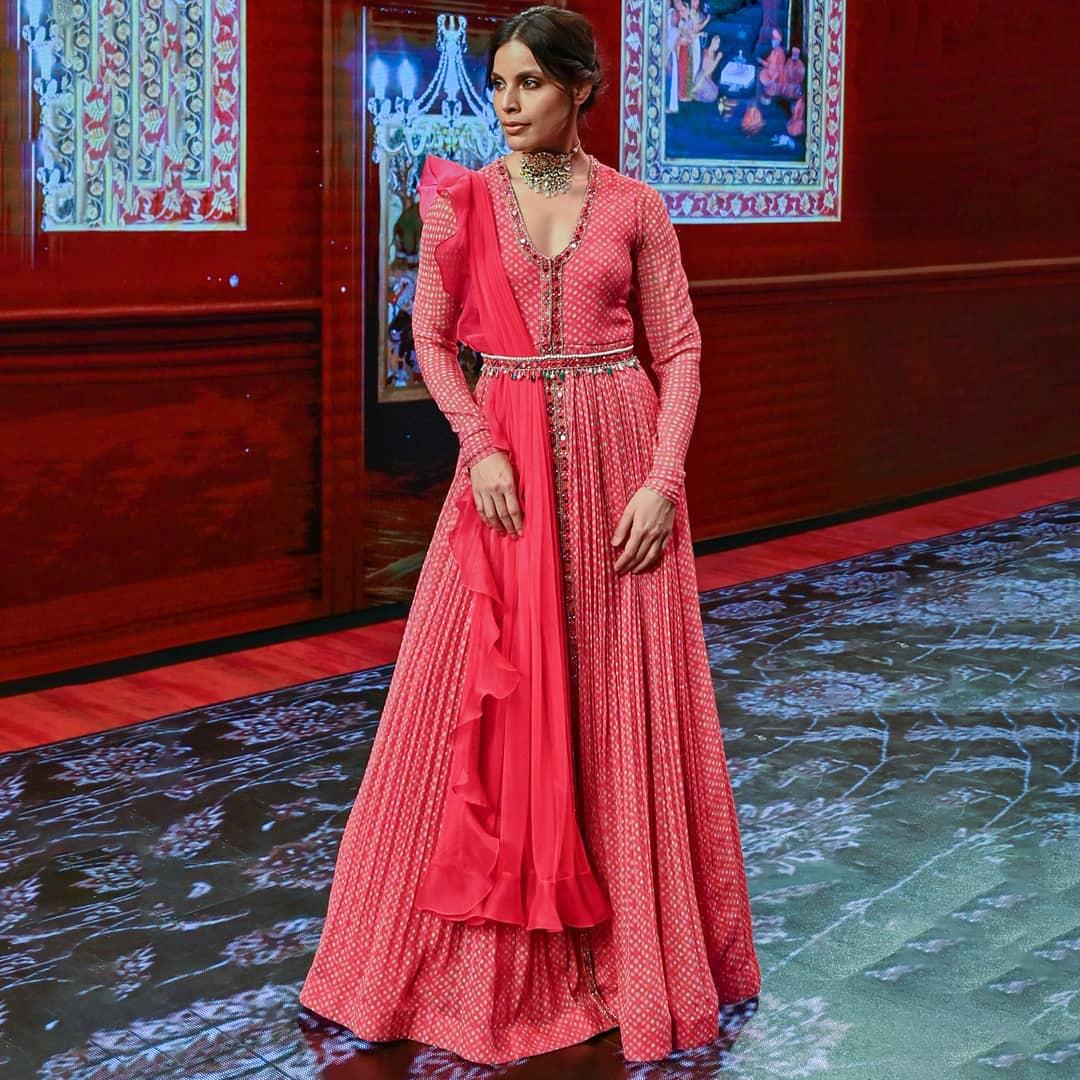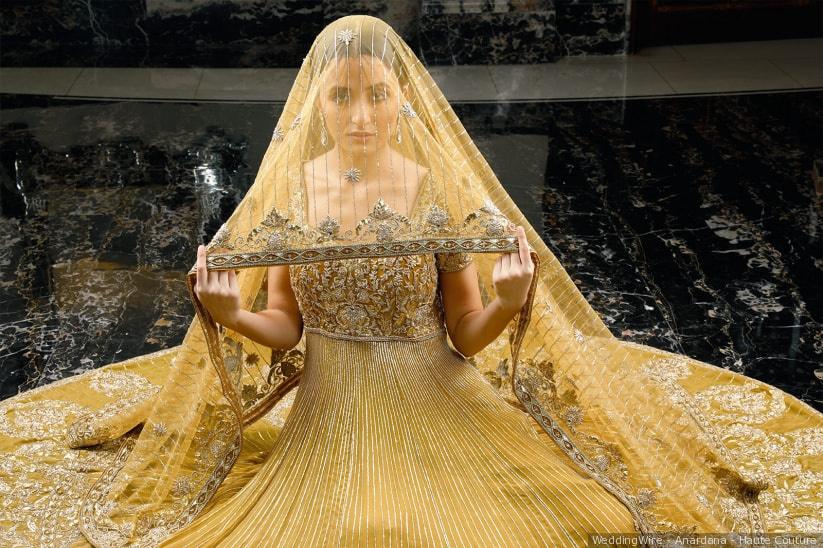 Although Anarkali dresses are suitable for any wedding occasion, they are a very comfortable choice of dress for ladies Sangeet. These dresses look very dressy and are quite hassle-free. Besides, you'll be able to bring to life your long dreamt moment of playing the real-life Umrao Jaan.
Price- On Request
Contemporary Dresses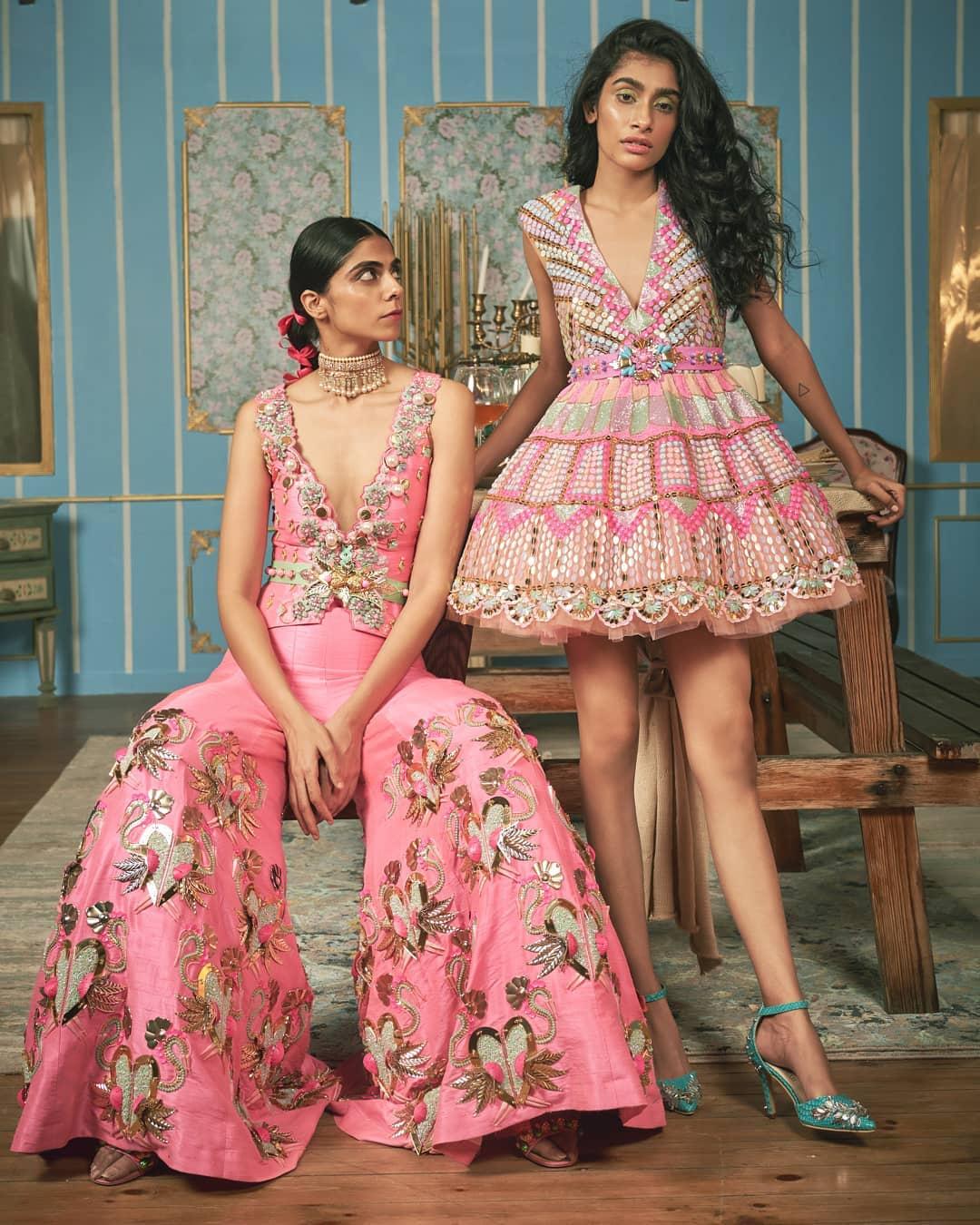 Image Credits - Papa Don't Preach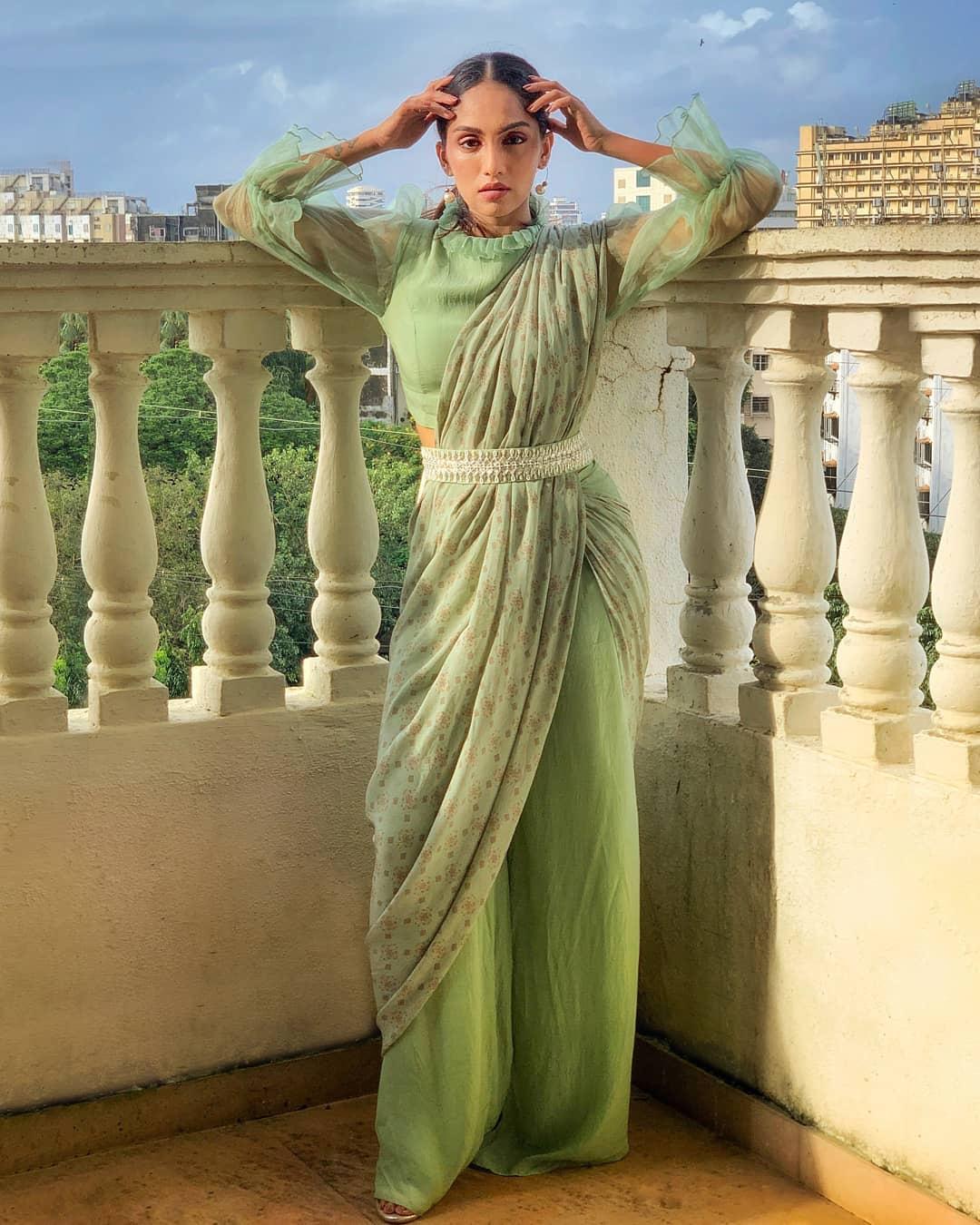 Image Credits - Chavvi Aggarwal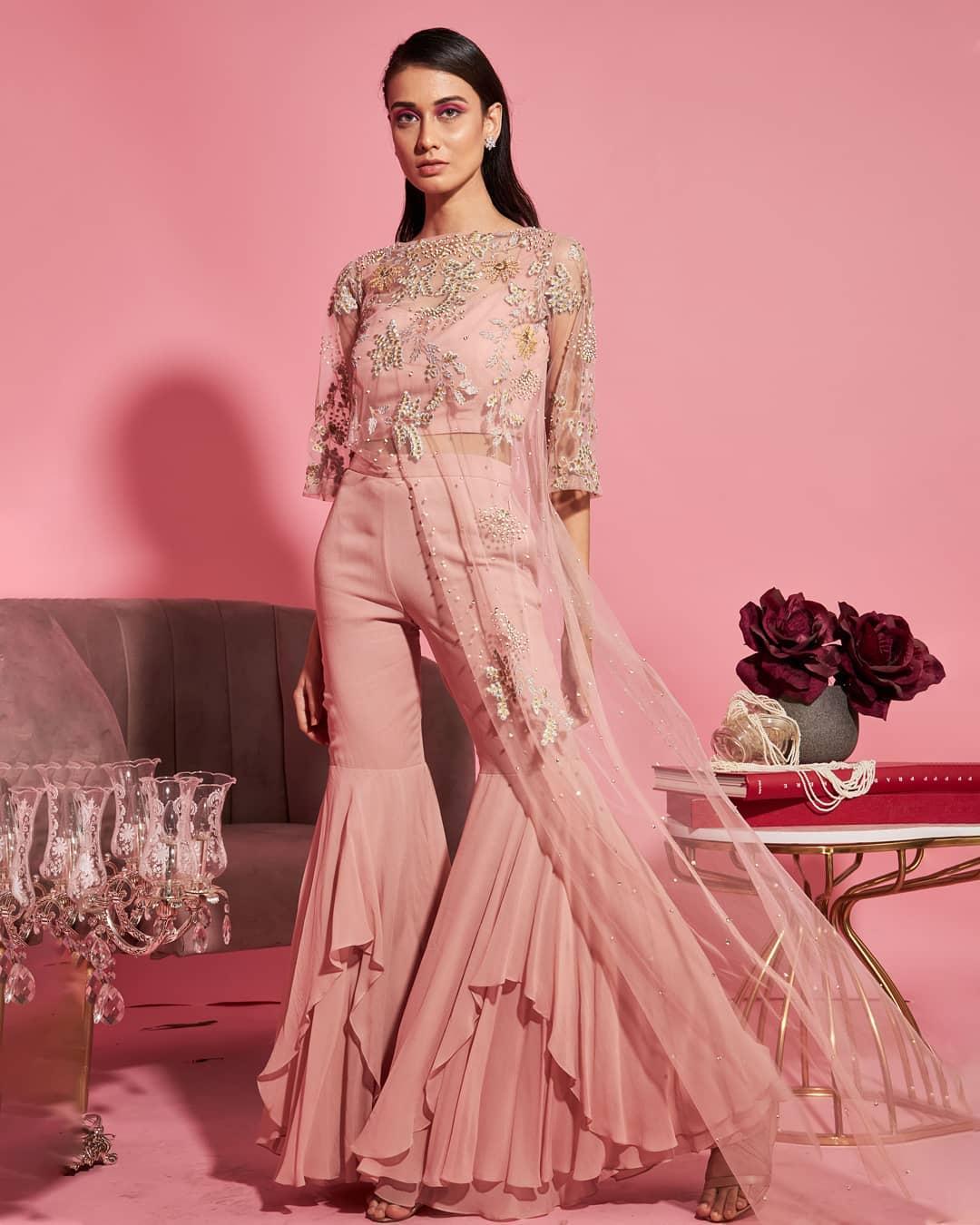 Image Credits- Saniya Gulati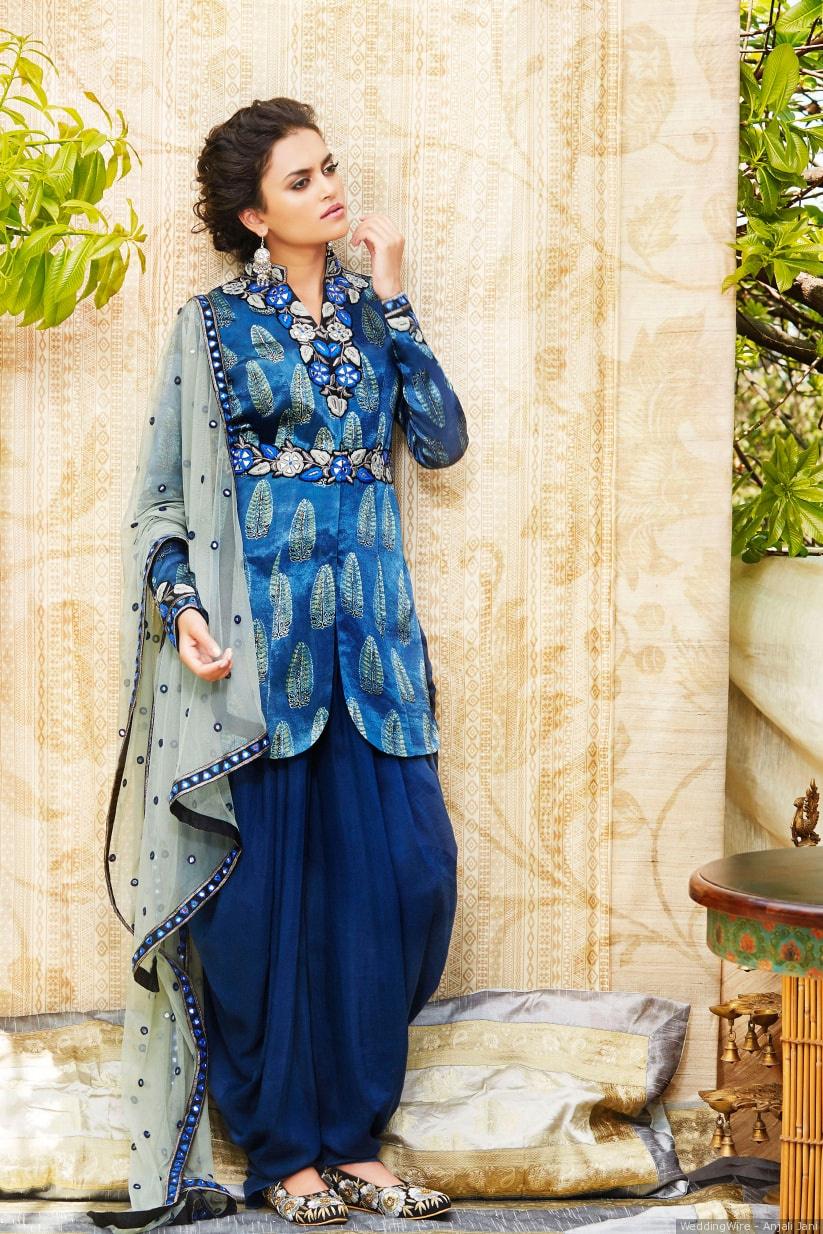 Contemporary dresses such as dhoti pants, sharara pants, shorts and classy skirts are a definite stylish throw for a Sangeet ceremony. It can be styled in different ways with crop tops, kurtas, and more. Pair it up with a floor-length shrug to make a bold statement. Further, you can accessorize these contemporary dresses with matching classical jutti, scintillating ear rings and then you are ready for a sangeet function.
Price- On Request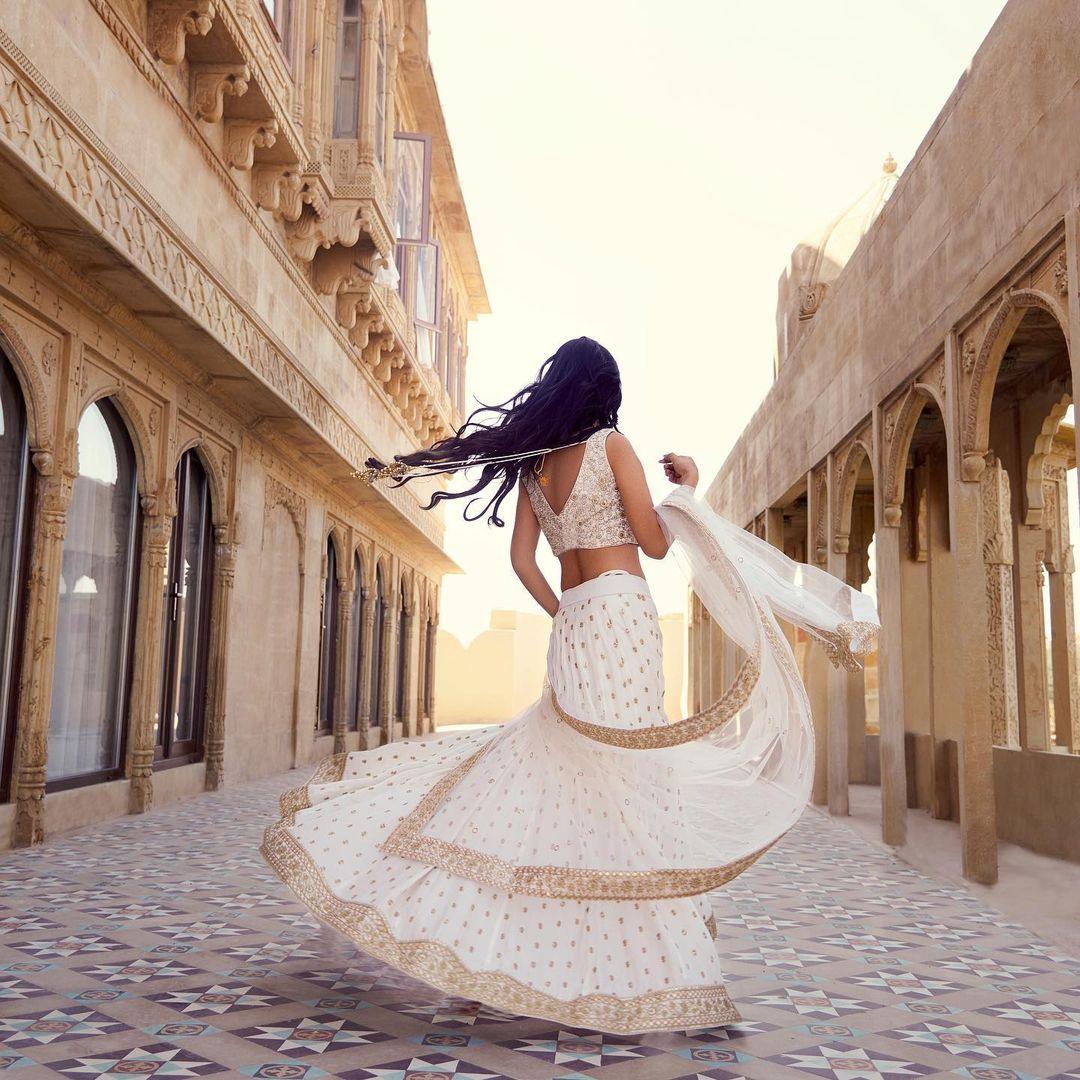 Image Credits - Date The Ramp
Ivory Lehengas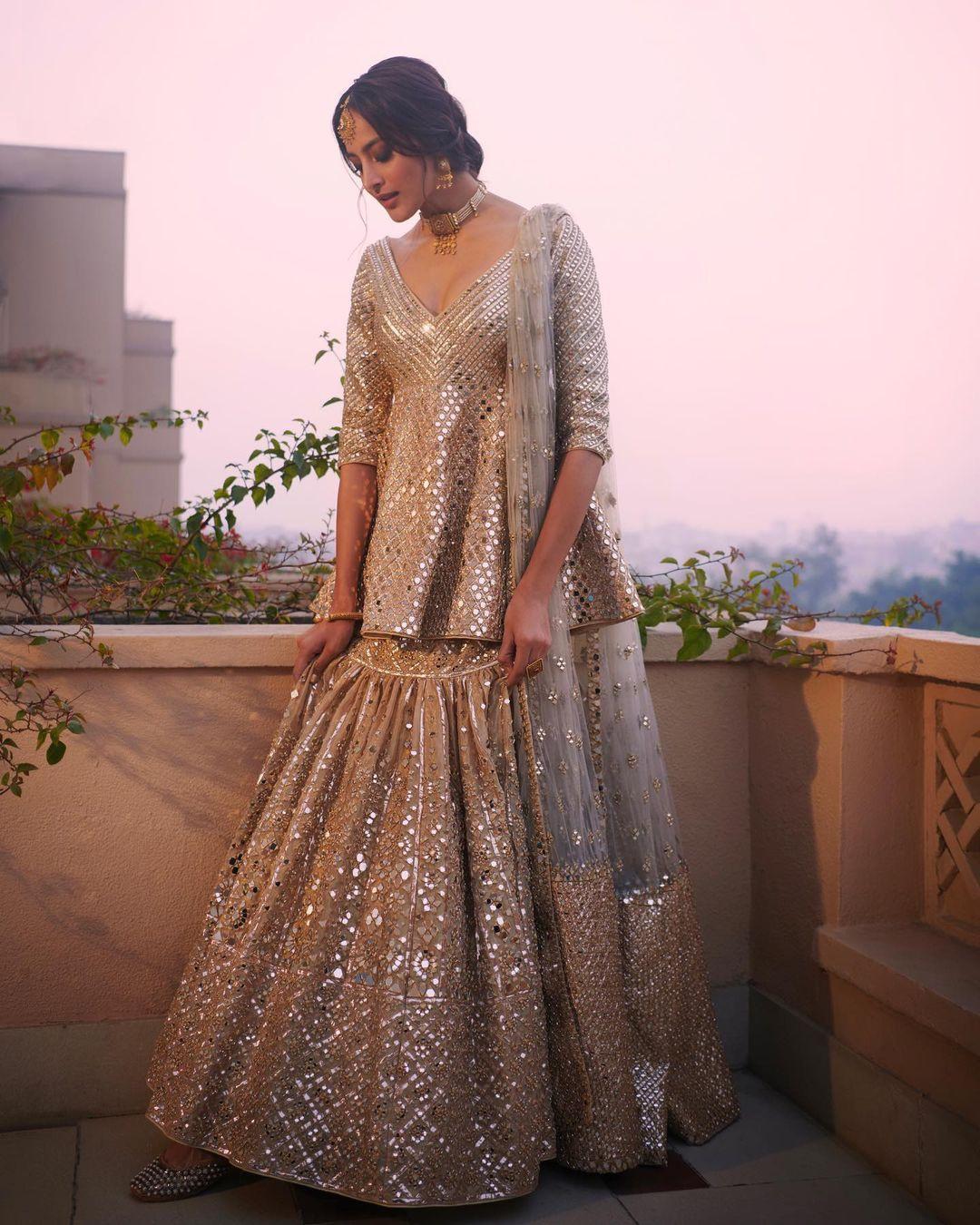 Image Credits - Abhinav Mishra
This ivory lehenga is the talk of the town nowadays. Being a unique colours it is a favourite amid the new aged brides who look for something exquisite and beautiful for their sangeet function. The lehenga by Abhinav Mishra is a reflection of the beauty of celestial space. Get ready to look like a fairy goddess with this beautiful dress.
Price- On Request
Glamorous Shararas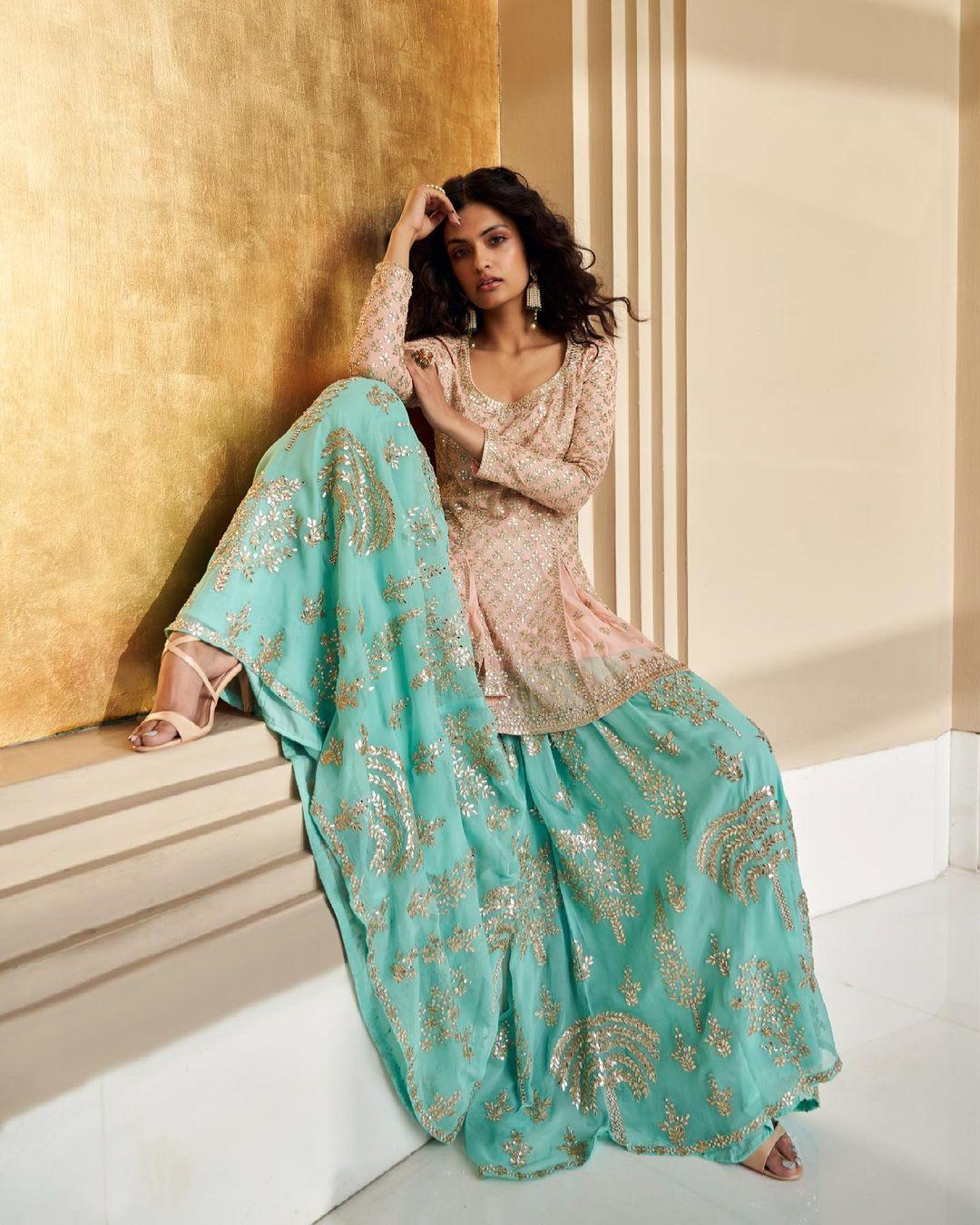 Image Credits - Seema Gujral
Shararas can never go mundane amid Indian brides due to its flowy patterns that matches the taste of Indian traditional brides. See how this sharara looks classy as well as traditional here.
Price- On Request
Shimmery Sangeet Attire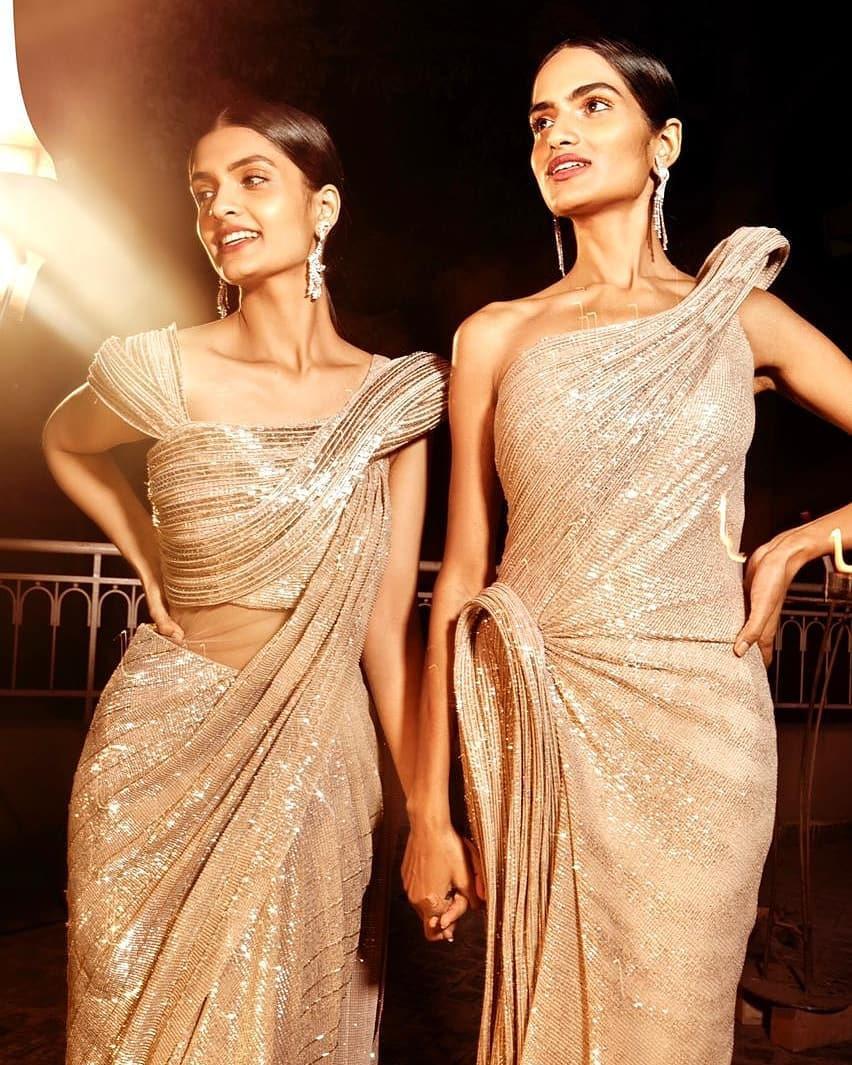 Image Credits - Gaurav Gupta
Who can't subdue the charm of glitter and sass as radiated by this sangeet attire by Gaurav Gupta. The winged side of this dress is surpassing the trend game too. So if you are a contemporary bride and you are looking to steal the limelight, then this kind of fashion wear is apt for you.
Price- On Request
Winged Saree Sangeet Attire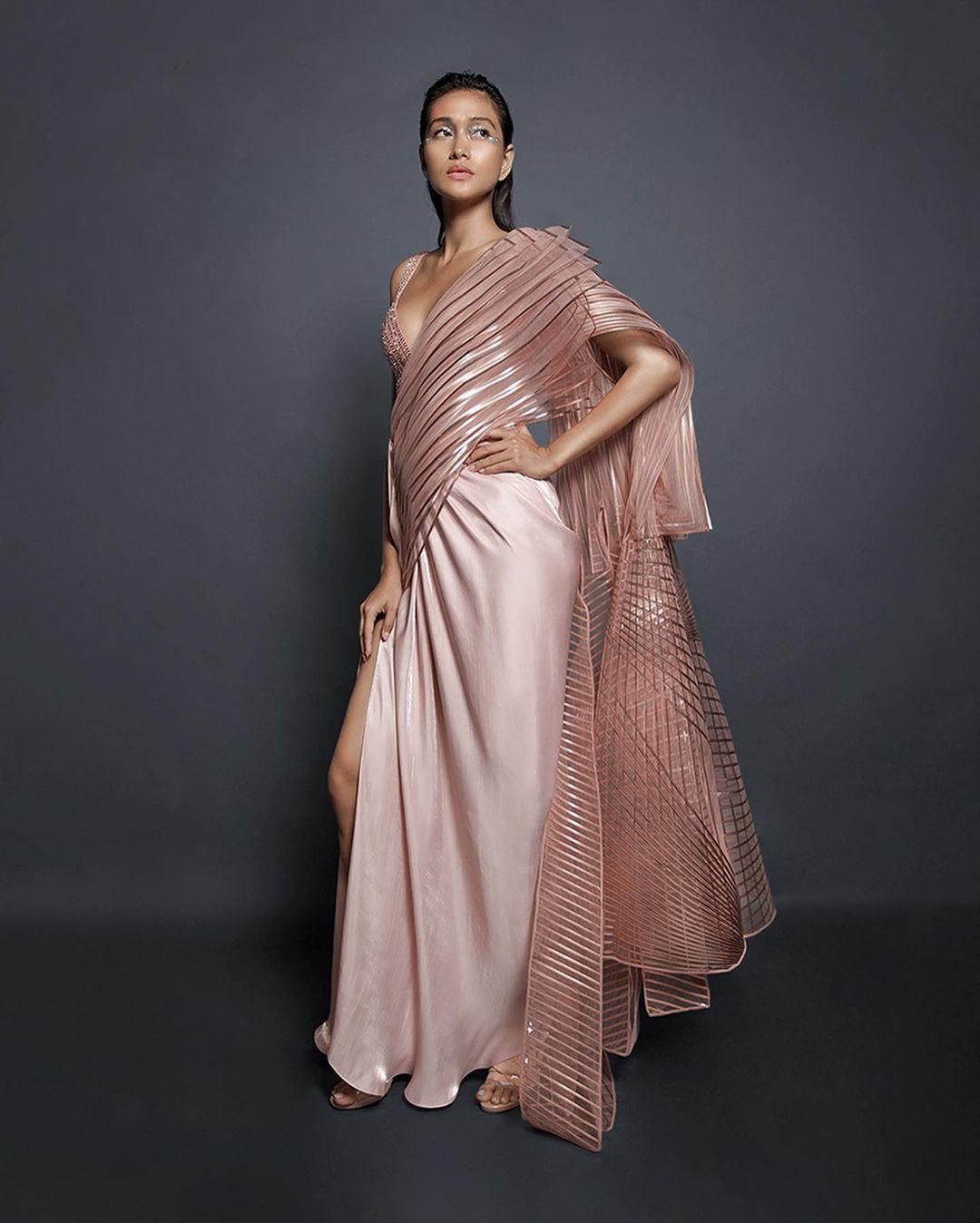 Image Credits - Amit Aggarwal
Time to mellow the traditional saree trend and follow this wing game by Amit Aggarwal. See how this modern bride is carrying this subtle colour and new style with oodles of panache and class.
Price- On Request
Dress Code for Sangeet and Mehndi for friends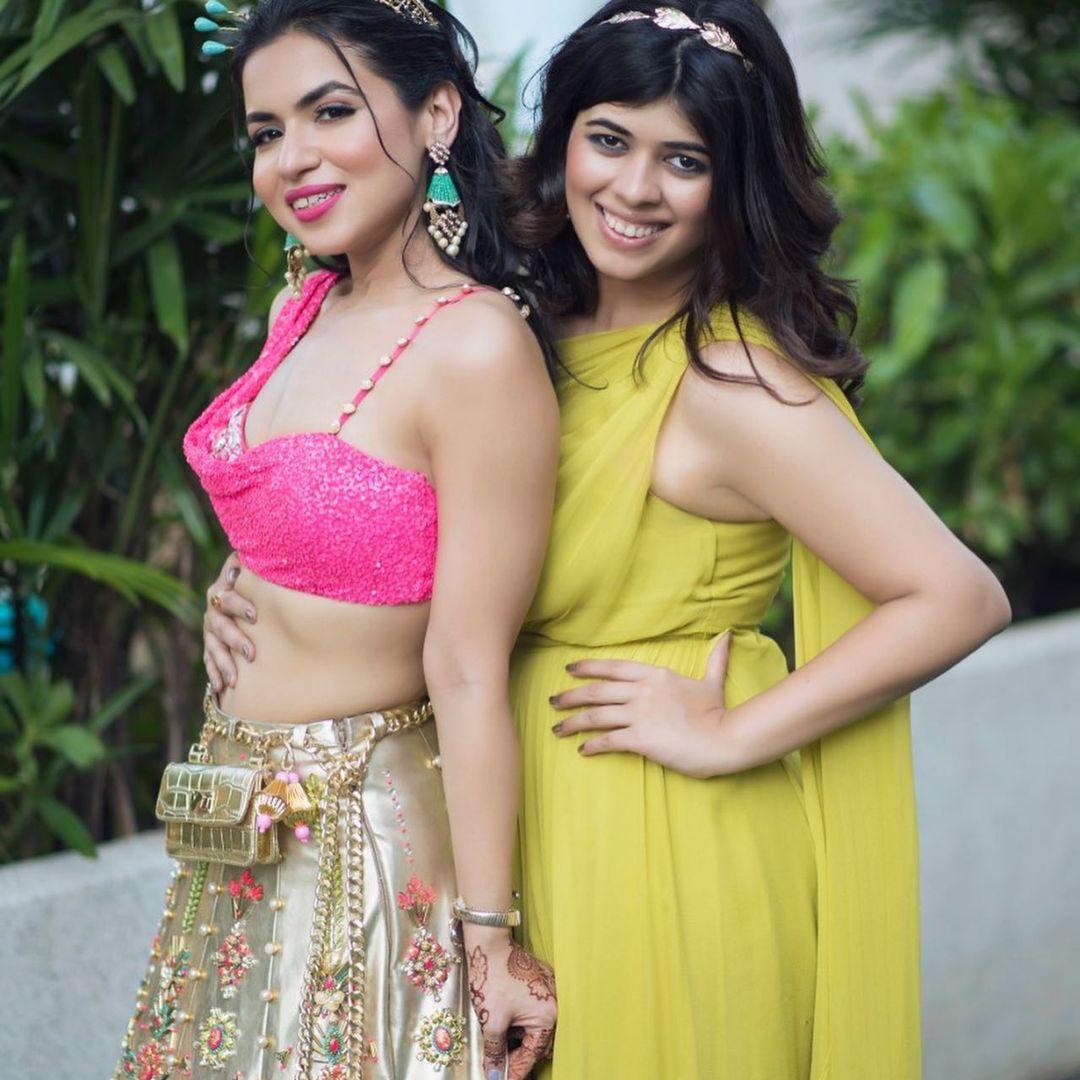 Childhood besties and first cousins are always elated to deck up in their best during the sangeet function. They know that they have to light up te evening with best dance performance, chitter chatters and charm. Along with that they have to assist the bride and be their as per the beck and call. So here are some trendsetting sangeet night dress fir your friends.
Quirky dress for sangeeth function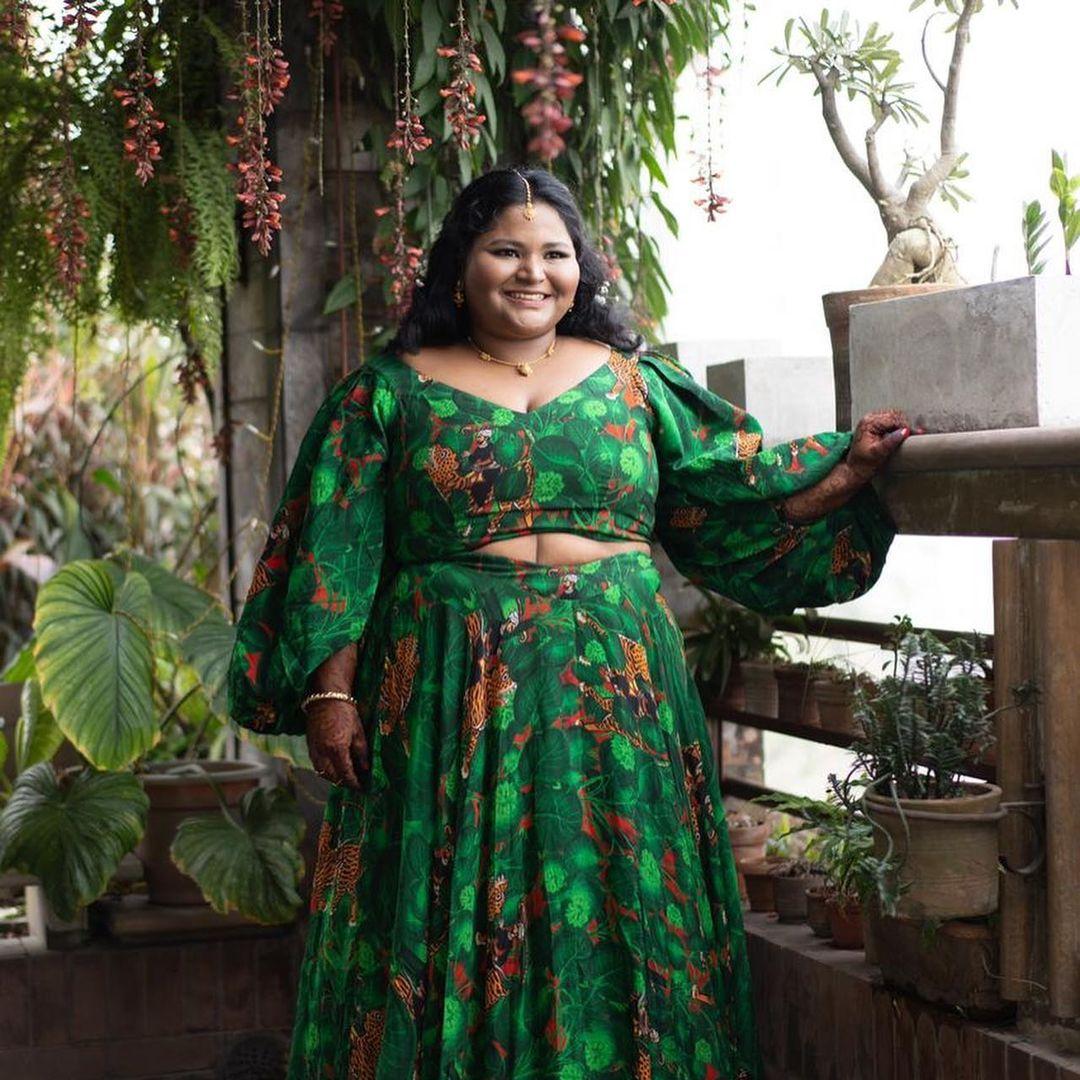 Image Credits - Masaba Gupta
Cut Out Dress as sangeet dress code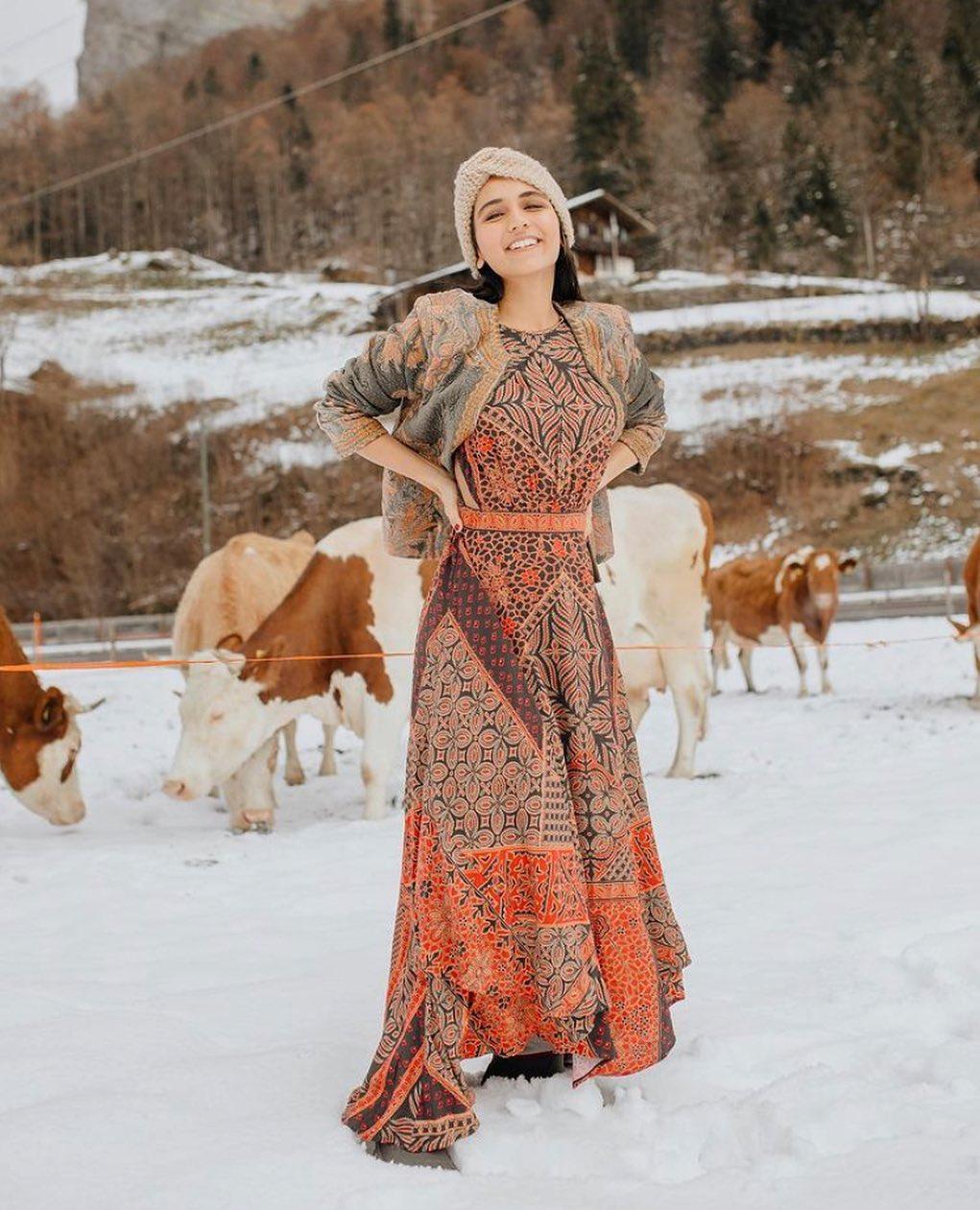 Image Credits - Ritu Kumar
With so many options available, finding the right dress for ladies Sangeet can be a daunting task. Irrespective of your role on the occasion, there are a few things to consider. This one is very important especially when it comes to a Sangeet ceremony. Outfits like a saree are not ideal if you are going to perform on the stage or plan to party the whole night. Opt for a free-flowing, comfortable outfit in which you can dance the night away. Go for a quirky skirt and crop top to slay in comfort.
Flowy Sangeet program dress
Image Credits - Anamika Khanna Bridal
Wearing something that's a little more attention-grabbing than the usual as all the eyes will be set on you. Add pireness to instantly uplift everyone's mood and light up the stage. Outfits that are heavily embellished are not necessary but a bit of glitter will add to the grace while performing for your friend.
Styling Tips for Ladies Sangeet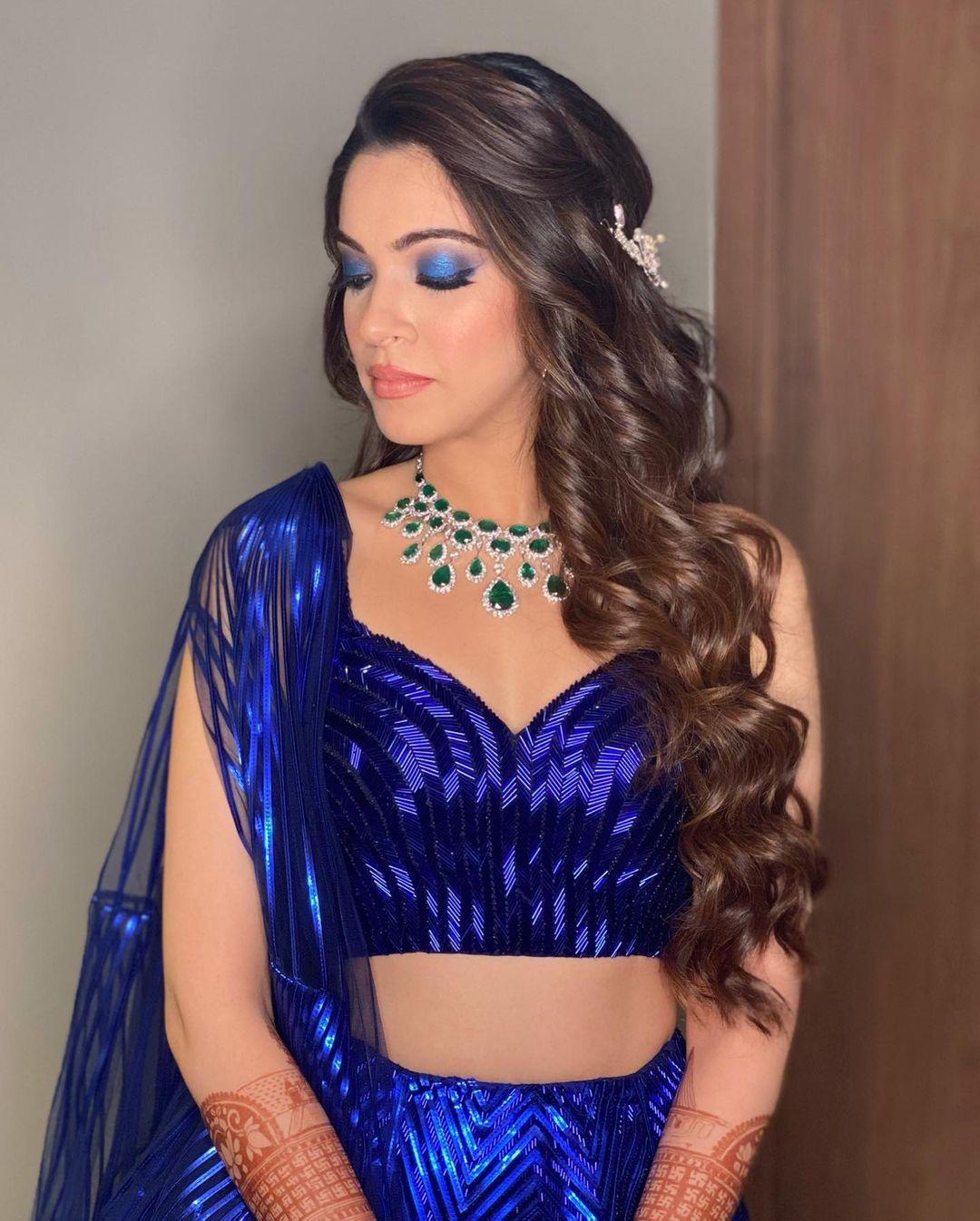 Image Credits - Ritika Hairstylist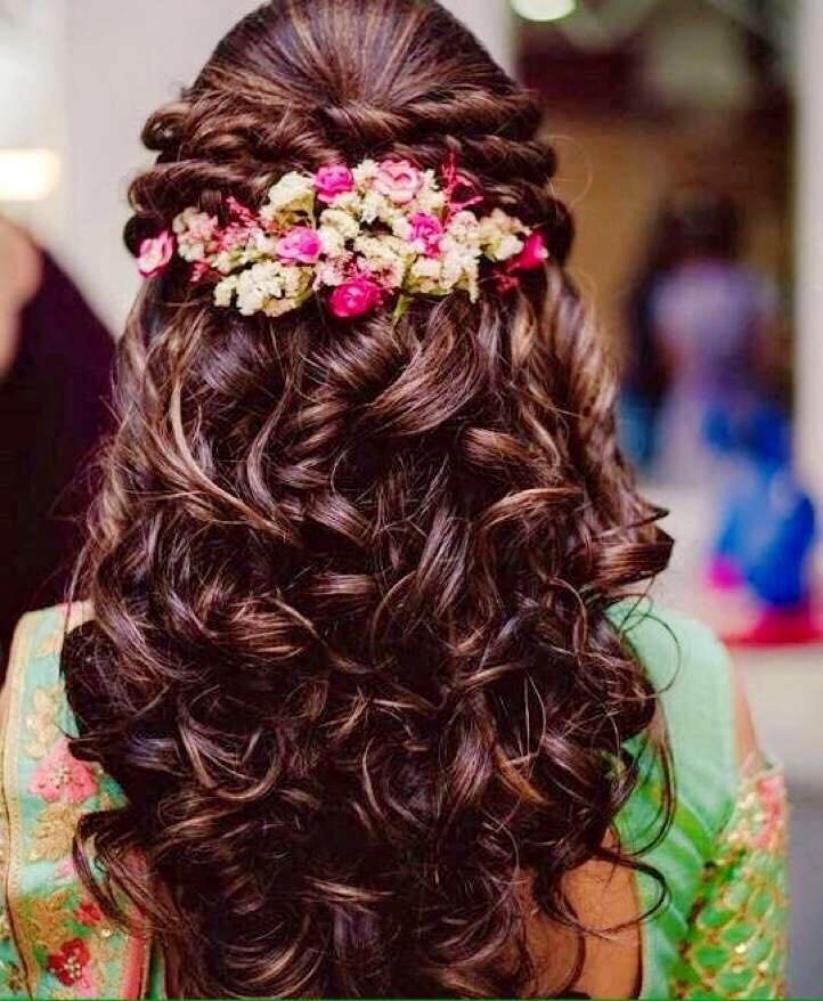 Wear a statement piece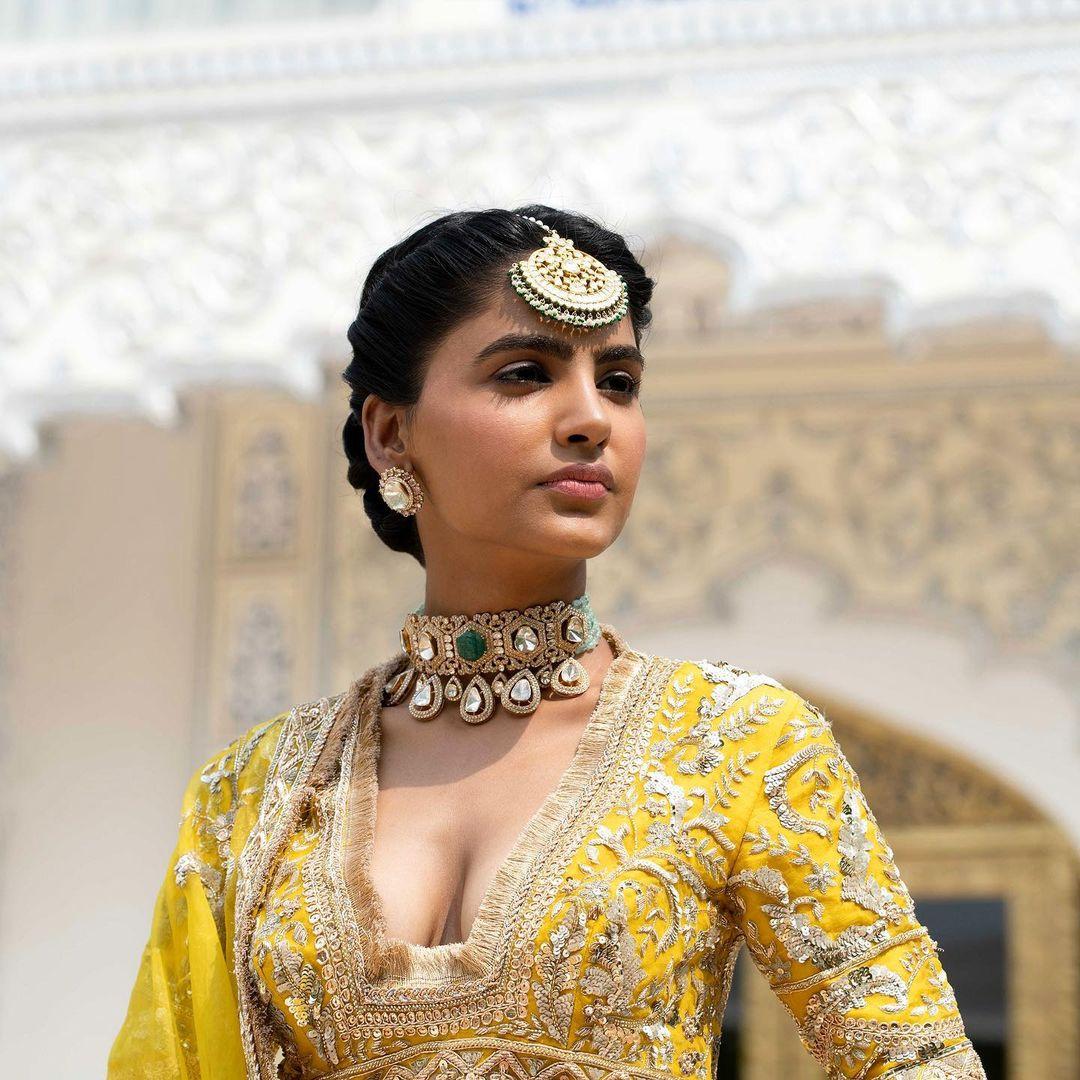 Image Credits - Manish Malhotra Jewellery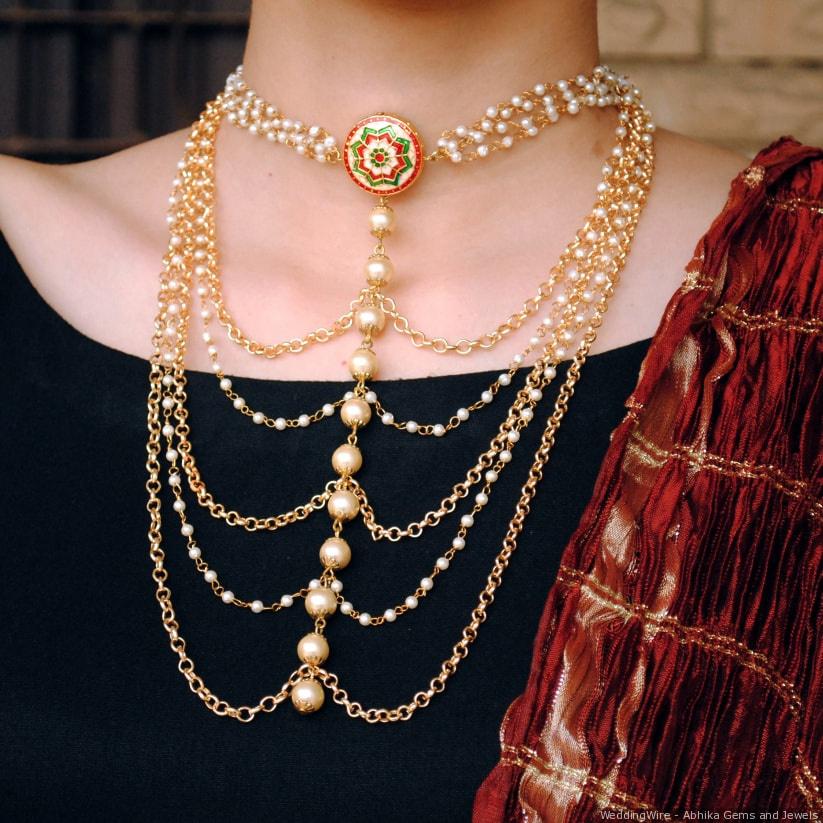 Add something to your look to take it a level beyond. Think of accessories like a headband, polka necklace or some other hair jewellery to make an impact. If you are the bride, one-sided Maang Tikka or a studded tiara is all you need to make you look like a princess!
Keep the makeup simple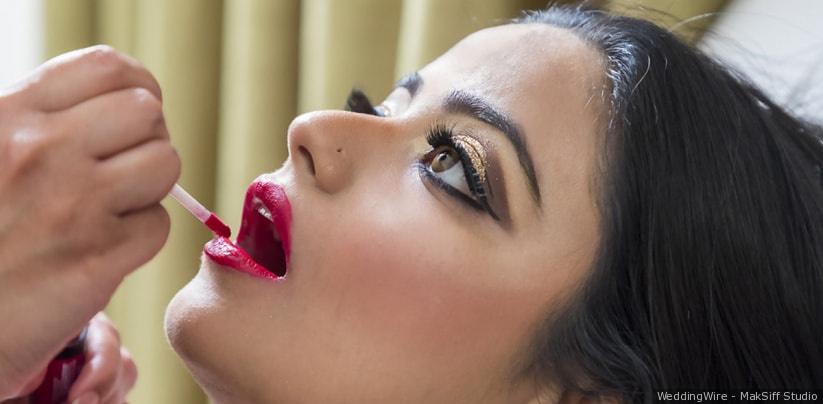 If there is only one occasion where the bride-to-be can opt for minimal makeup, this is it. Also, all your other girlfriends that are close to you will be most likely wearing heavy makeup on the big day and the preceding functions. So for the Sangeet ceremony, keep it to basic and let your dress do all the talking.
Style your hair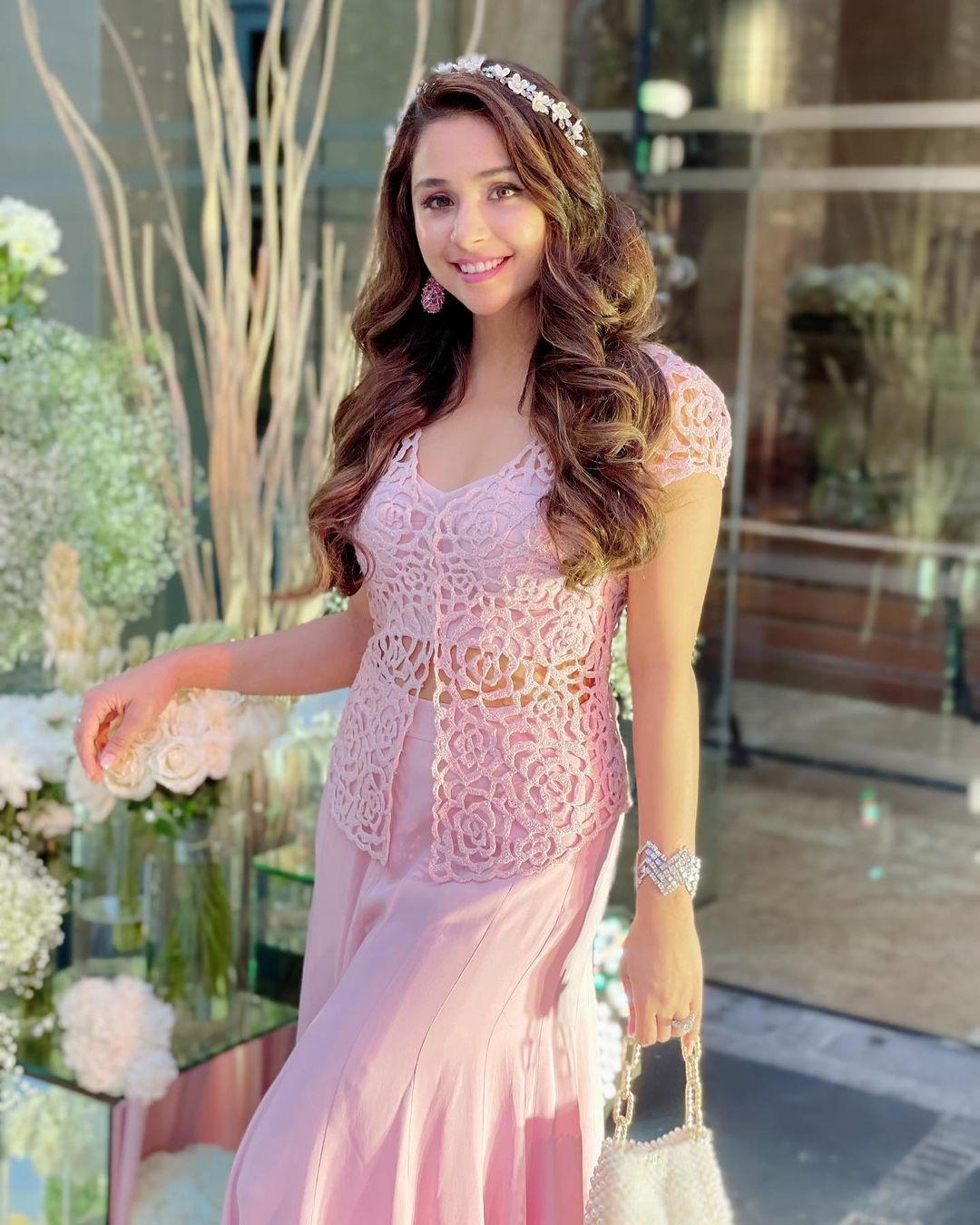 Image Credits - Floristaa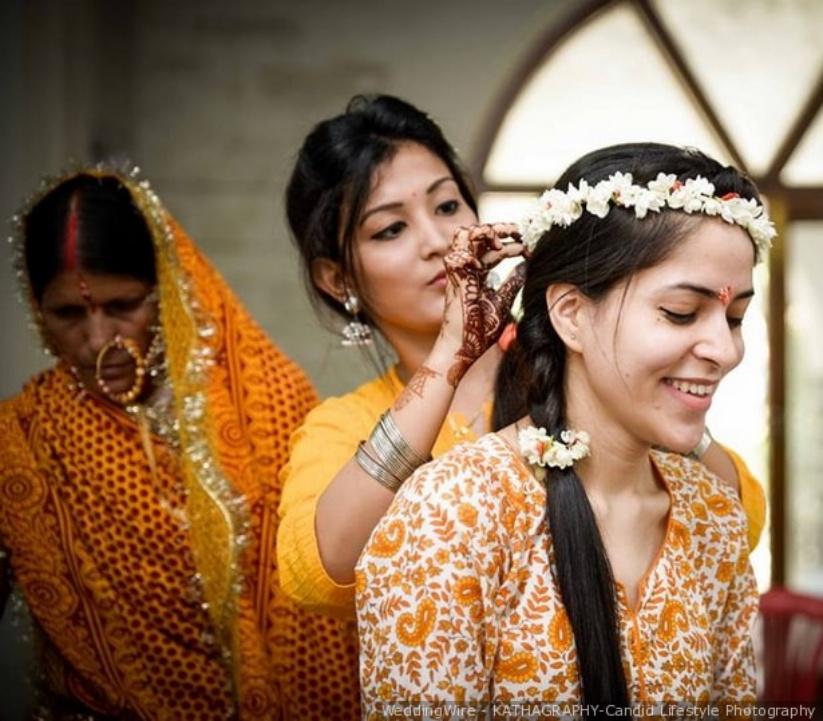 Although you have the freedom to choose any kind of a hairstyle, we recommend letting your hair loose, as a bun can get messed up while dancing. Depending upon the length of your hair, choose a hairstyle like a fishtail braid, waterfall plait, or simple wavy or straight hair. Just make sure whatever you choose, it compliments your looks.
Wear comfortable shoes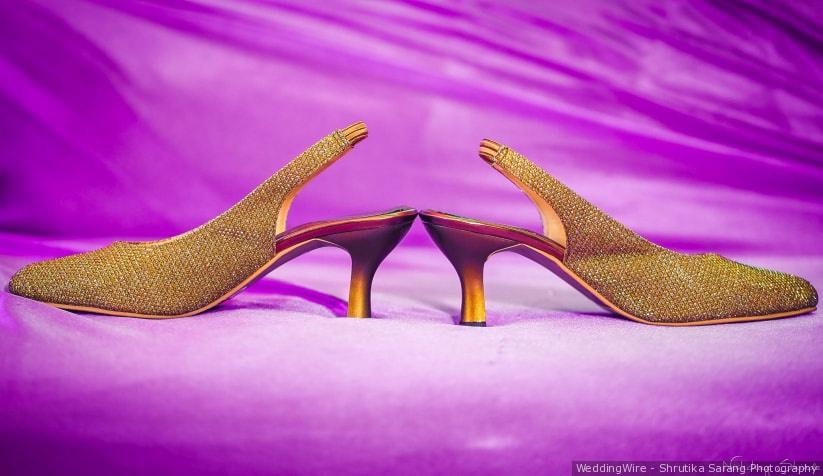 As obvious as it may sound, make sure to choose footwear for your Sangeet ceremony that's as comfortable as possible so that you can enjoy the fun-filled event to the maximum. Opt for shoes like flats, wedges, low heeled or Jutis so that it does not slow you down on the dance floor.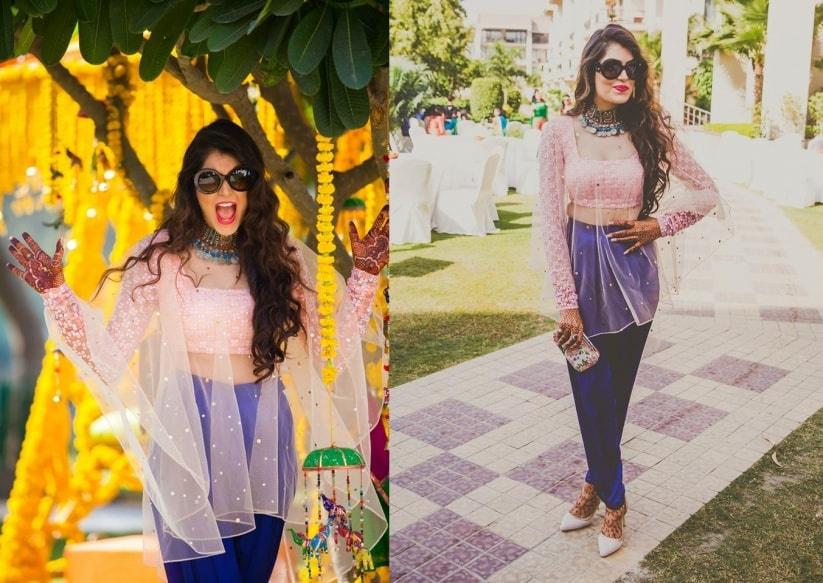 These are just some options for a dress for ladies Sangeet and believe us there are a lot more out there up for grabs. Trust your instincts and have a look at some outfits that are out of your comfort zone. You might just surprise yourself by looking more than just stunning in one of them. With so many options for a dress for ladies Sangeet, what's your pick? Would you like to go with an Indo-western fusion outfit or stick with something traditional?
Let us know in the comments section below which is your favourite mahila sangeet dress for the bride!
With Words By Aanchal Bhatia