110+ Wedding Instagram Captions for Couples to Take the Internet by Storm
Looking for creative wedding captions for couples to make your wedding photos trend on social media? Create a lasting impression by using our collection of fabulous wedding Instagram captions!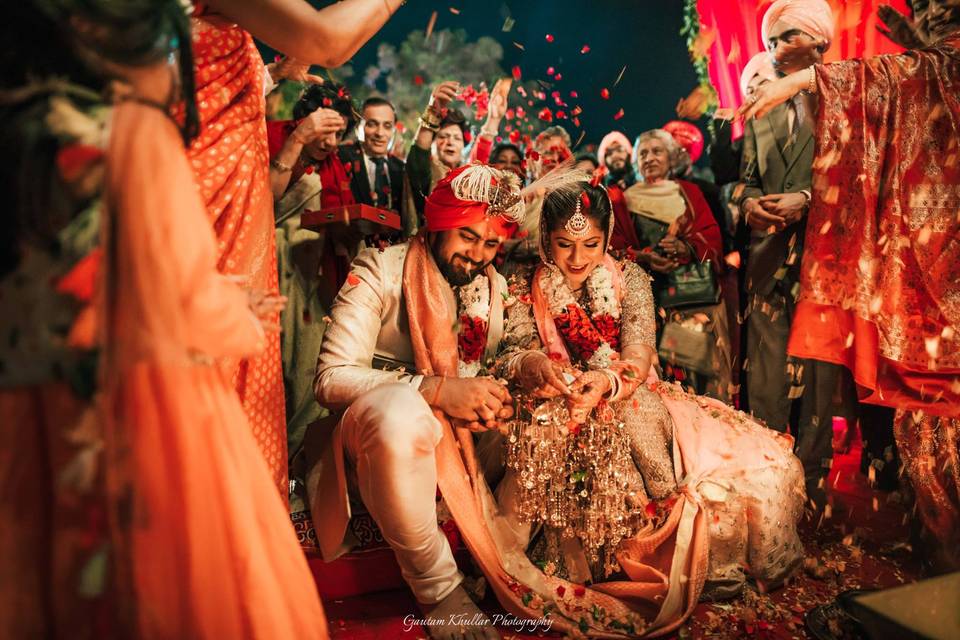 Weddings are by far the most fun and festive celebrations, not only for the couple but all of their friends and families. And one thing that everyone has in abundance after all the ceremonies are over, are tonnes of wedding photos that can be posted on the internet for the foreseeable future! From stunning bridal portraits to the shots of the groom getting ready and all the wedding rituals in between, your wedding photographers will not let even a single moment go unnoticed to provide you with everlasting memories.
We absolutely love wedding photos! The reality, purity and stunning aura that it encapsulates can provide major inspiration for your wedding albums. Millennial couples choose to post every aspect of their wedding day on the internet now, from wedding announcements to adorable honeymoon photos. And when you have so many gorgeous pictures waiting in your gallery to take the internet by storm and set some goals, there is a pool of creative and ingenious wedding Instagram captions that you can use for each one of them!
While your wedding photos can speak a thousand words in themselves, our list of beautiful wedding captions for Instagram will be the cherry on top. Deep dive into our collection of lovely wedding photo captions that will fit your stunning photographs to the T!
Emotional Wedding Captions for Couples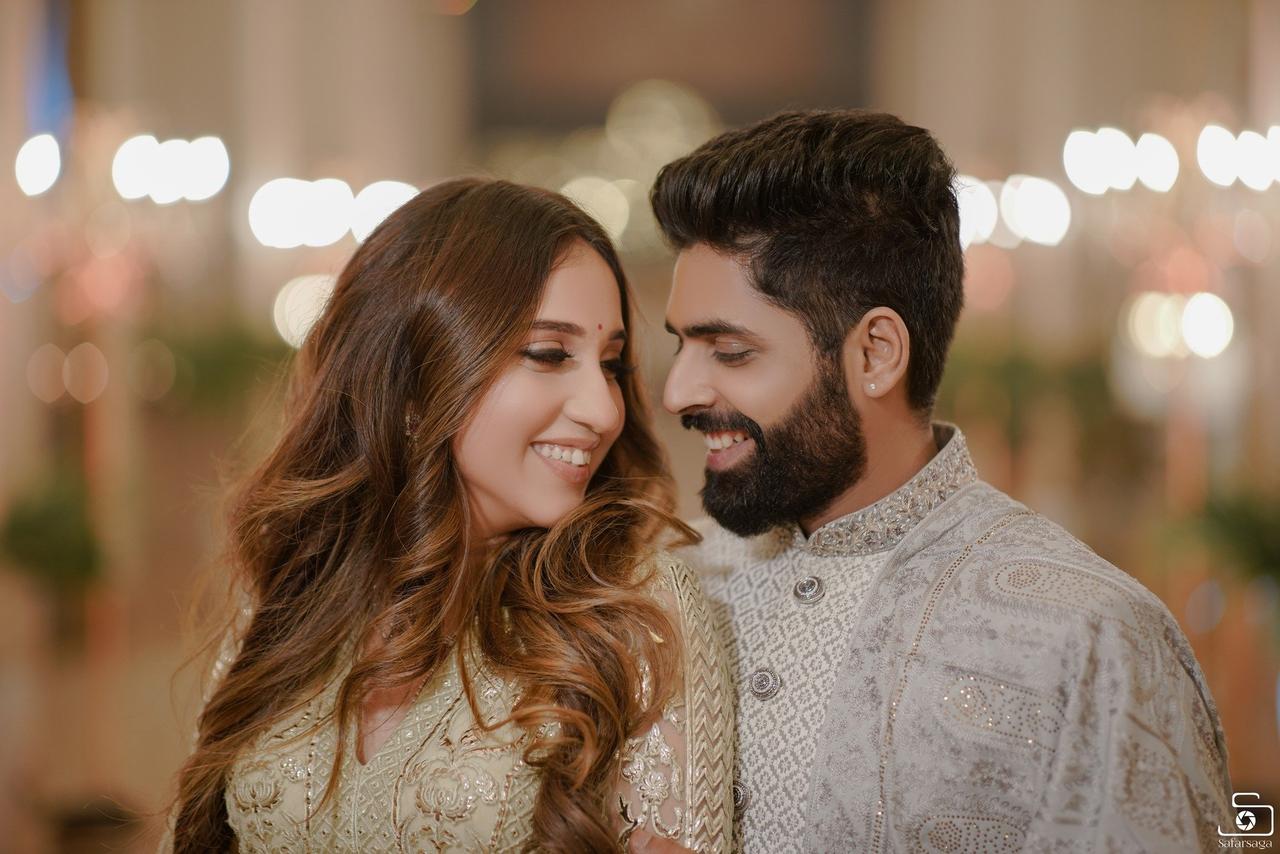 Indian weddings are a kaleidoscope of different vibrant emotions coming together. And your team of wedding photographers will strive to capture each one of them to perfection. For all the emotional moments with your partner on your wedding day, you would definitely need emotional wedding captions that can perfectly catch your feelings and articulate them in the best way. Make your touching moments shine bright with these wedding Instagram captions.
"When you know you are going to spend your entire life with someone, you want that life to start as soon as possible."
"Anyone can catch your eyes. However, it takes a special one to catch your heart."
"All I need for true happiness is you by my side."
"And suddenly, I knew that you were my everything."
"I will always be there to laugh with you and love you unconditionally through all our adventures in life."
"Forever is a very long time, but I don't mind spending it with you."
"My dream came true when I found you."
"True love stories never have endings, but they have beginnings."
"I want only two things in this world – I want you and I want us."
"We have tied not only the knot but our hearts and souls."
"To be your friend was all I ever wanted; to be your lover was all I ever dreamed."
"Love isn't something you find. Love is something that finds you."
"My love for you is a journey, starting at forever and ending at never."
"If I could give you one thing in life, I'd give you the ability to see yourself through my eyes, only then would you realize how special you are to me."
"There are only two times that I want to be with you: Now and Forever."
"I choose you. And I'll choose you over and over. Without pause, without a doubt, in a heartbeat. I'll keep choosing you."
"I know fairy tales come true because I have you."
"You have me. Until the last star in the galaxy dies, you have me."
"Sometimes I wonder if love is worth fighting for, but then I remember your face and I'm ready for war."
"The chances of meeting you on this planet are like finding a needle in a haystack – a miracle happened"
Romantic Wedding Captions for Couples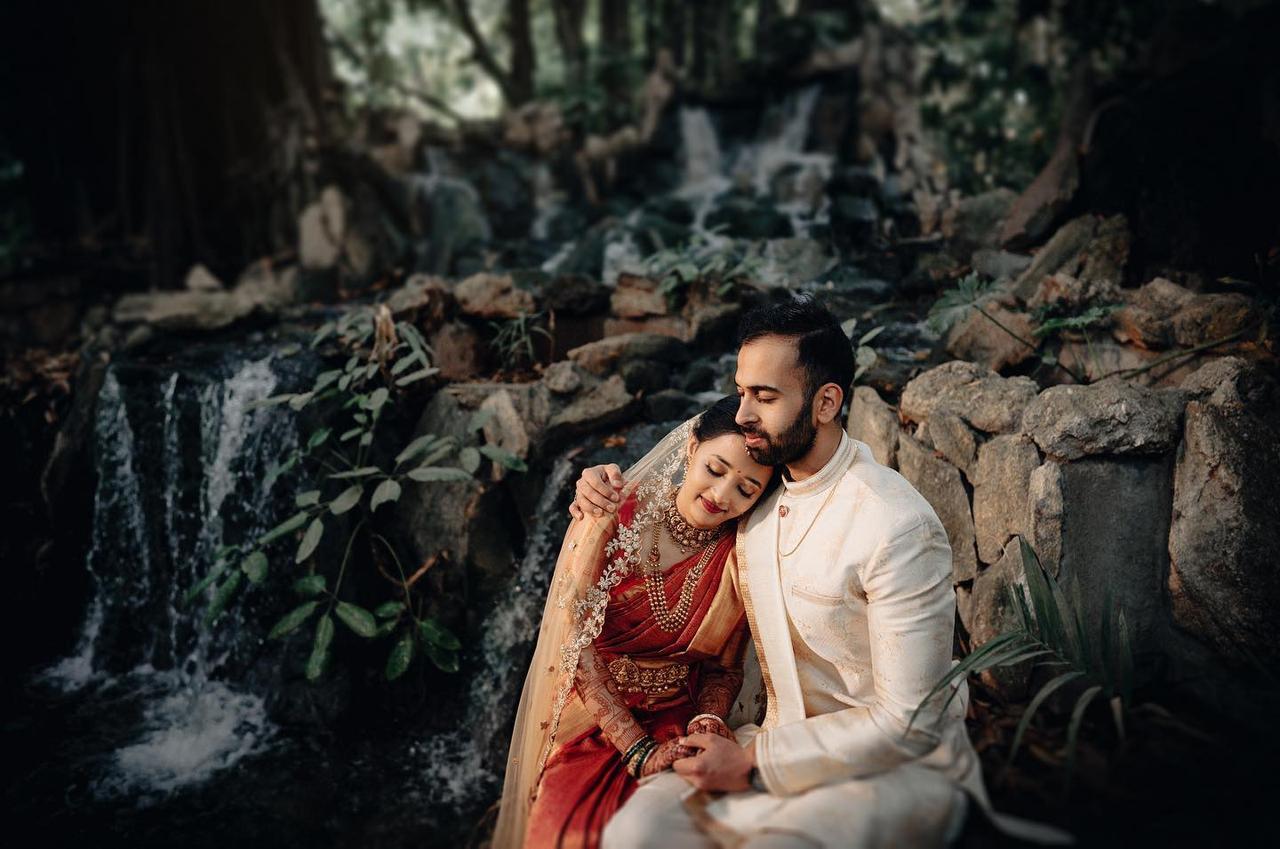 Breathe romance to your couple photo ideas by choosing the most cheesy and heartwarming wedding captions to post on your social media profiles! They are a perfect way, to sum up, your happy moments and provide inspiration to many couples out there. Find the perfect companion to your wedding photos with these beautiful wedding Instagram captions.
"You know you're in love when you can't fall asleep because reality is finally better than your dreams."
"I have looked at you in millions of ways, and I have loved you in each."
"You are the "every moment of my life" that I have always dreamt of it."
"Without you, my life would be incomplete."
"Our together is forever."
"Happiness is being married to your best friend."
"You are the person I'm destined to spend the rest of my life with."
"You're my person, forever."
"I'm still falling in love, even harder than before."
"Every day you prove to me that happily-ever-after really exists."
"We loved with a love that was more than love."
"I would rather spend one lifetime with you, than face all the ages of this world alone."
"It was love at first sight, at last sight, at ever and ever sight."
"My heart is and always will be yours."
"I want to be your favourite hello and your hardest goodbye."
"A hundred hearts would be too few to carry all my love for you."
"Till my last day, I'll be loving you."
"The best thing to hold onto in life is each other."
"Every Love Story is special, but ours is my favourite."
"You're my paradise, and I'd happily get stranded on you for a lifetime."
Funny Wedding Captions for Couples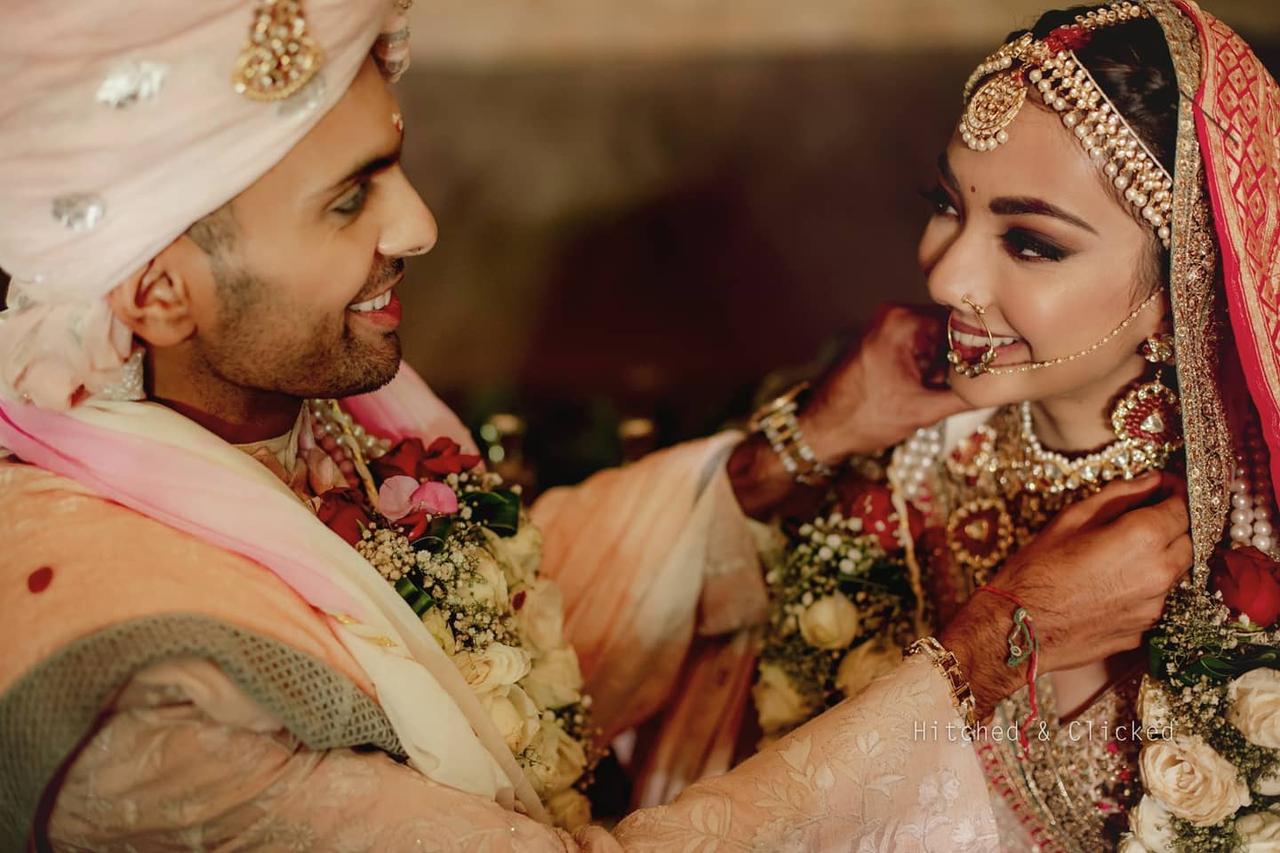 It's your wedding day and sure you will be clicking tonnes of cutesy photos with the love of your life. How about posting those gorgeous photos with witty and funny wedding captions to win your audience over? We have got you the perfect list of funny wedding Instagram captions that will work well with all the fun-filled and happy wedding photos you want to post with your hubby or wifey!
"Cheers to love, laughter, and happily ever after!"
"Achievement unlocked: Together Forever."
"Today, I got a piece of jewellery I never intended to take off."
"Now, you are stuck with me forever and always."
"I told him, "I do," but I didn't mean the dishes."
"This photo was taken *before* I started crying."
"Ready to start the adventure called marriage."
"Now we can hang out forever!"
"You're the peanut butter to my jelly."
"We made it o-fish-ial. Now, there are two fewer fish in the sea."
"Your hand touching mine. This is how galaxies collide."
"We are all a little weird and life's a little weird. And we find someone whose weirdness is compatible with ours, we join up with them and fall in mutual weirdness and call it love." - Dr Seuss
"If loving you was a job, I'd be the most deserving, dedicated, and qualified candidate. In fact, I'd even be willing to work for free!"
"If you were a movie, I'd watch you over and over again."
"Forget the butterflies, I feel the whole zoo when I am with you!"
To love, laughter and happily ever after!"
"Nobody is perfect, but you're so close it's scary."
"I always wake up smiling. I think it's your fault."
"Even though I'm unsure about most things in life, I am certain that I love you, and I will continue to love you forever."
"You wanna know who I'm in love with? Read the first word again."
Heartfelt Wedding Captions for Couples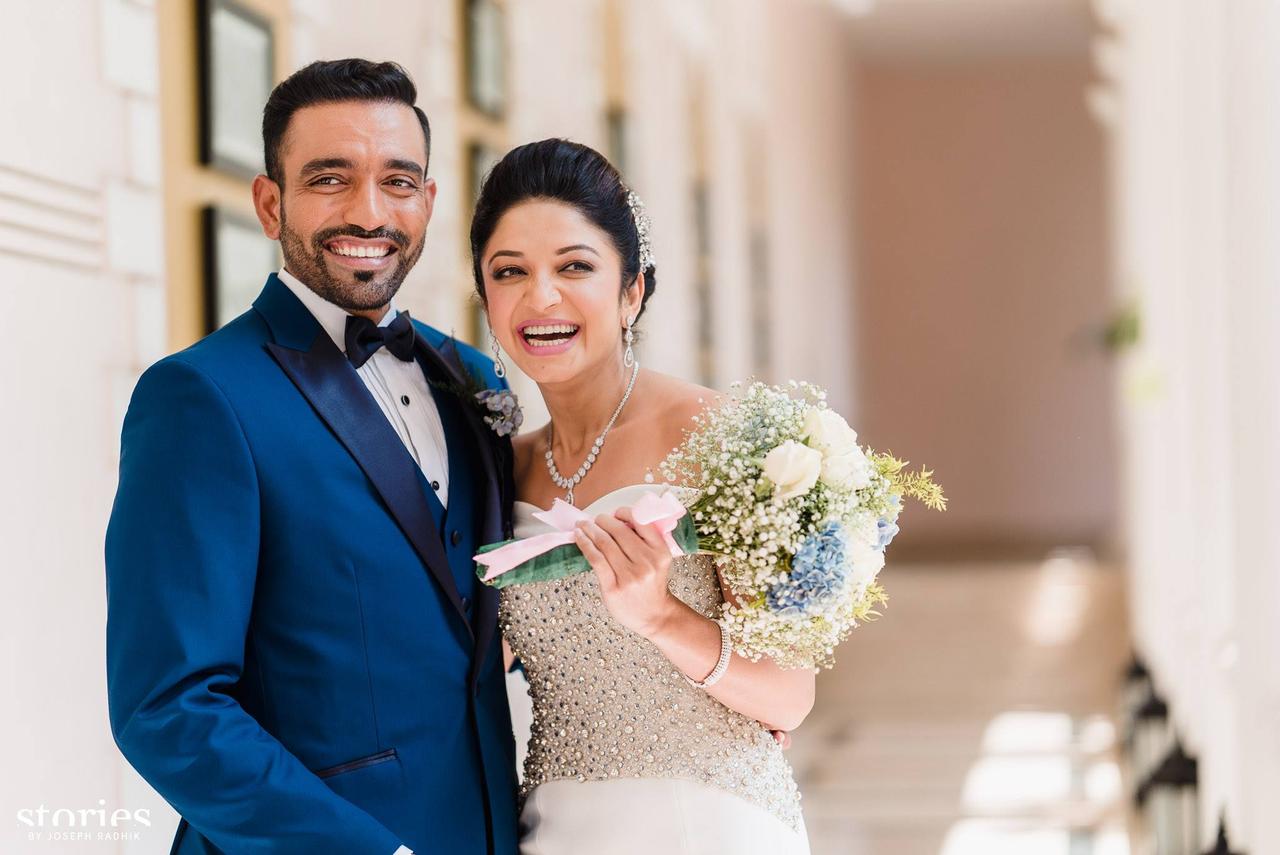 Image Courtesy - Stories by Joseph Radhik
Attending weddings in India is by far the most enthralling experience where you can collect heartfelt moments and beautiful memories that stay with you for the years to come. If you wish to find the perfect wedding photo captions for the Gram, look no further than our list of heartwarming wedding Instagram captions that will add glory to your pictures.
"Home is wherever I am with you."
"You're my person, forever."
"Dreams do come true. I found you!"
"With all my heart for all my life."
"My love for you is a journey; Starting infinitely and never-ending."
"My name is cuter with your last name added to it."
"Life is made up of such small, but precious moments."
"Just a few moments away from my forever."
"For the first time, I see what the rest of my life is like. And it looks a lot like you."
"I feel that everything in my life has led me to this, right now and right here."
"To the world, you may be one person, but to one person you are the world."
"I have found the one whom my soul loves." - Song of Solomon 3:4
"Two are better than one." - Ecclesiastes 4:9
"He's more myself than I am. Whatever our souls are made of, his and mine are the same." - Emily Bronte
"If I had to choose between breathing and loving you I would use my last breath to tell you I love you."
"I never want to stop making memories with you."
"Only once in your life, I truly believe, you find someone who can completely turn your world around." - Bob Marley
"When you look at me, when you think of me, I am in paradise."
"Walking with your hands in mine and mine in yours, that's exactly where I want to be always."
"The day my life changed forever… The day I first saw you."
Wedding Captions for Couples inspired by Love Quotes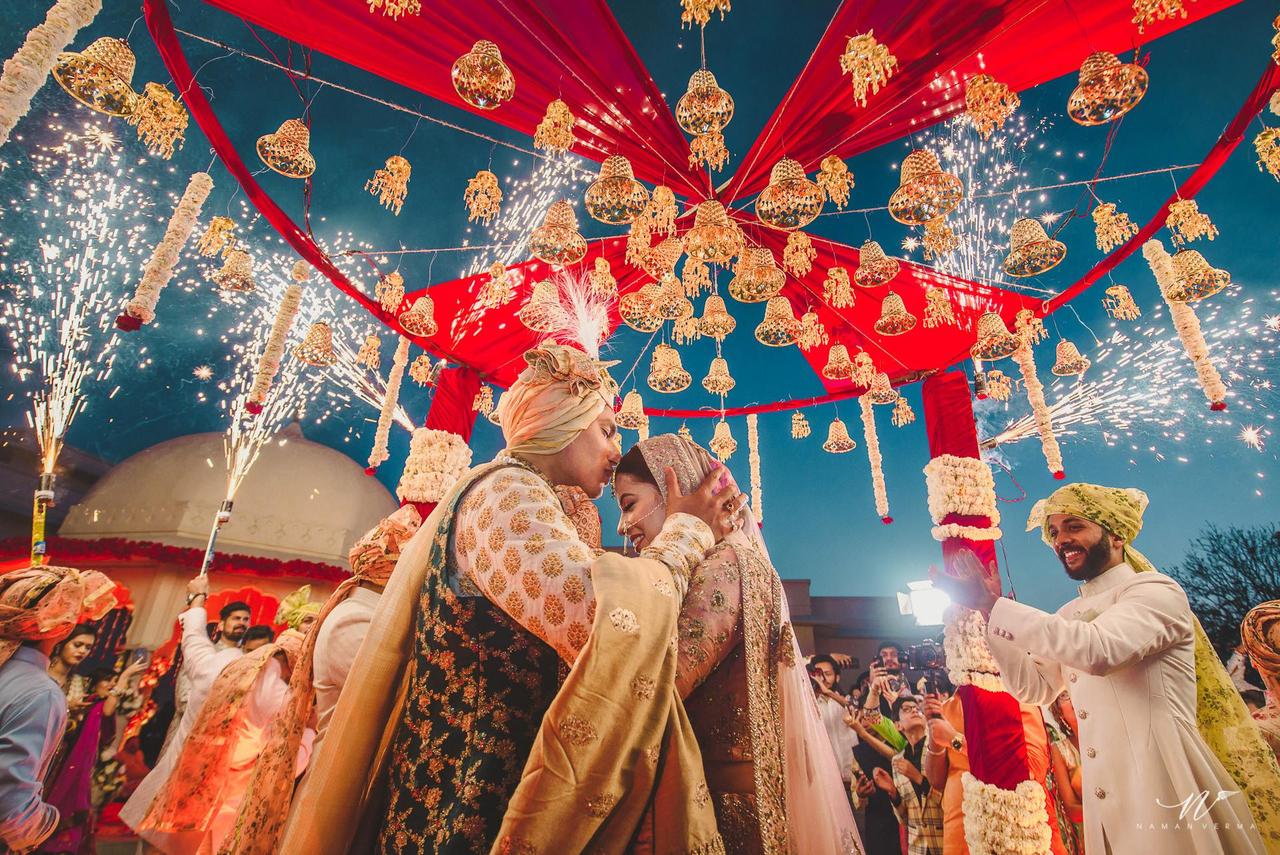 At one point in our lives, every one of us has come across a love quote that we relate to that we saved on our phones or in the back of our minds. Make your partner feel super special on your big day by choosing romantic love quotes as your wedding photo caption. Pick the beautiful lines written by talented poets and writers as your wedding Instagram captions and express your feelings with an edge.
"Every love story is beautiful, but ours is my favourite."
"I choose you. And I'll continue choosing you over and over again in a heartbeat. I'll always choose you."
"Once in a while, right in the middle of an ordinary life, love gives us a fairy tale."
"If you live to be a hundred, I want to live to be a hundred minus one day, so I never have to live without you." — Winnie the Pooh
"It doesn't matter if the guy is perfect or the girl is perfect, as long as they are perfect for each other." — Good Will Hunting
"I swear I couldn't love you more than I do right now, and yet I know I will tomorrow." — Leo Christopher
"It's amazing how one day someone walks into your life, and suddenly, you can't remember how you lived without them." — Anurag Prakash Ray
"When I saw you I fell in love, and you smiled because you knew." – Arrigo Boito
"All that we love deeply becomes a part of us." – Helen Keller
"I need you like a heart needs a beat."
"And I knew exactly how old Walt Disney's Cinderella felt when she found her prince." - Elizabeth Young
"For it was not into my ear you whispered, but into my heart. It was not my lips you kissed, but my soul" - Judy Garland
"I saw that you were perfect, and so I loved you. Then I saw that you were not perfect and I loved you even more." - Angelita Lim
"If I had a flower for every time I thought of you… I could walk through my garden forever." - Alfred Tennyson
"You are the finest, loveliest, tenderest, and most beautiful person I have ever known and even that is an understatement." - F. Scott Fitzgerald
"I've tried so many times to think of a new way to say it, and it's still I love you." - Zelda Fitzgerald
"It's always better when we're together." - Jack Johnson
"Take my hand, take my whole life too. For I can't help falling in love with you." - Elvis Presley
"My soul and your soul are forever tangled." - N.R. Hart
"You're the closest to heaven, that I'll ever be." - Goo Goo Dolls
Wedding Captions for Couples inspired by Movies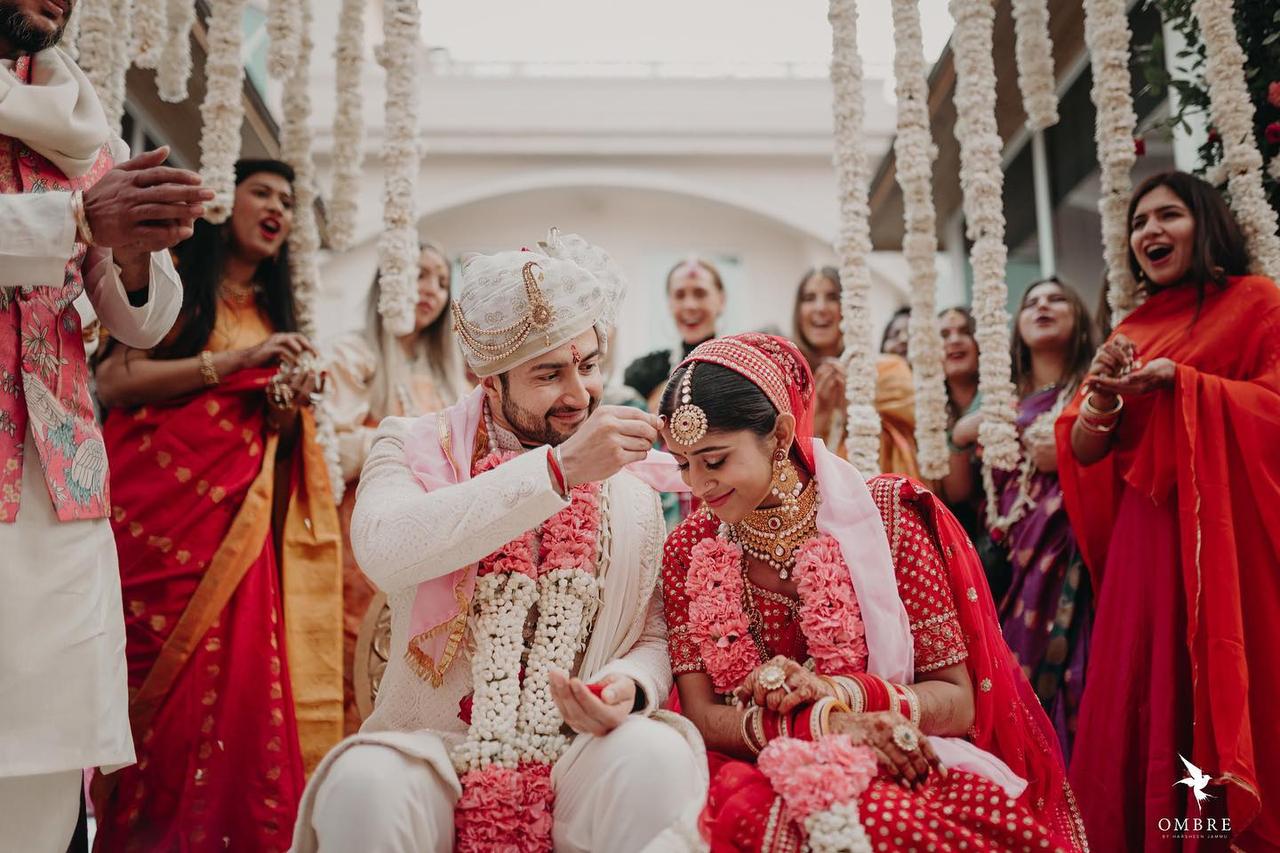 From grand gestures to eloquent admissions of love, romantic movies have a special place in our hearts and can make us all giddy. Take a page out of these popular Rom-Com movies to express your feelings to your partner by choosing iconic dialogues as your wedding Instagram captions! We make your choice easier by listing some of the popular wedding captions from the best romantic movies of all time.
"I want all of you, forever, you and me, every day." - Notebook
"This is true love. You think this happens every day?" - The Princess Bride
"You complete me." - Jerry Maguire
"Of all the gin joints in all the towns in all the world, she walks into mine." - Casablanca
"To me, you are perfect." - Love Actually
"You have bewitched me, body and soul, and I love, I love, I love you. I never wish to be parted from you from this day on." —Pride and Prejudice
"People do fall in love. People do belong to each other because that's the only chance that anyone's got for true happiness." —Breakfast at Tiffany's
"I'd rather die tomorrow than live a hundred years without knowing you." —Pocahontas
"The greatest thing you'll ever learn is just to love, and be loved in return." - Moulin Rouge
"I have crossed oceans of time to find you." - Bram Stoker's Dracula
"I am who I am because of you. You are every reason, every hope, and every dream I've ever had." - The Notebook
"Our love is like the wind. I can't see it, but I can feel it." - A Walk to Remember
"True love is putting someone else before yourself." - Frozen
"I think I'd miss you even if we never met." - The Wedding Date
"It was a million tiny little things that, when you added them all up, they meant we were supposed to be together… and I knew it." - Sleepless In Seattle
"I fell in love the way you fall asleep: slowly, and then all at once." - The Fault in Our Stars
"Do I love you? My god, if your love were a grain of sand, mine would be a universe of beaches." - The Princess Bride
"Once upon a time there was a boy who loved a girl and her laughter was a question he wanted to spend his whole life answering." - The History Of Love
"You make me want to be a better man." - As Good As It Gets
"I promise to love you forever, every single day of forever." - Twilight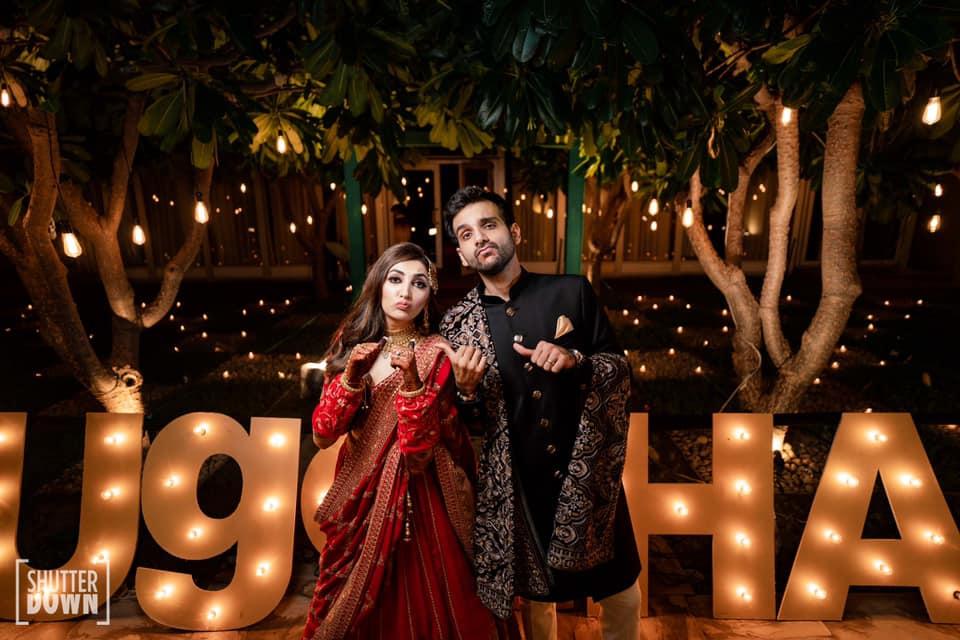 When all is set and done with your wedding festivities and you sit down to post your favourite photos on social media, these beautiful wedding captions will surely come in handy. Whether you want to add couple goal quotes to your wedding photos or the perfectly curated wedding Instagram captions, we hope this will help you choose the right wedding caption ideas to add charm to your memories and photos.
Which one of these wonderful wedding captions for couples will you be adding to your social media? Do let us know in the comments below!
Top Blogs on WeddingWire India