At-Home & No-Equipment Workouts for Couples That Are Worth a Shot
Give your snuggly blankets and mushy hugs a break and slip into your workout gear because these videos will make you jump out of bed and drip a sweat!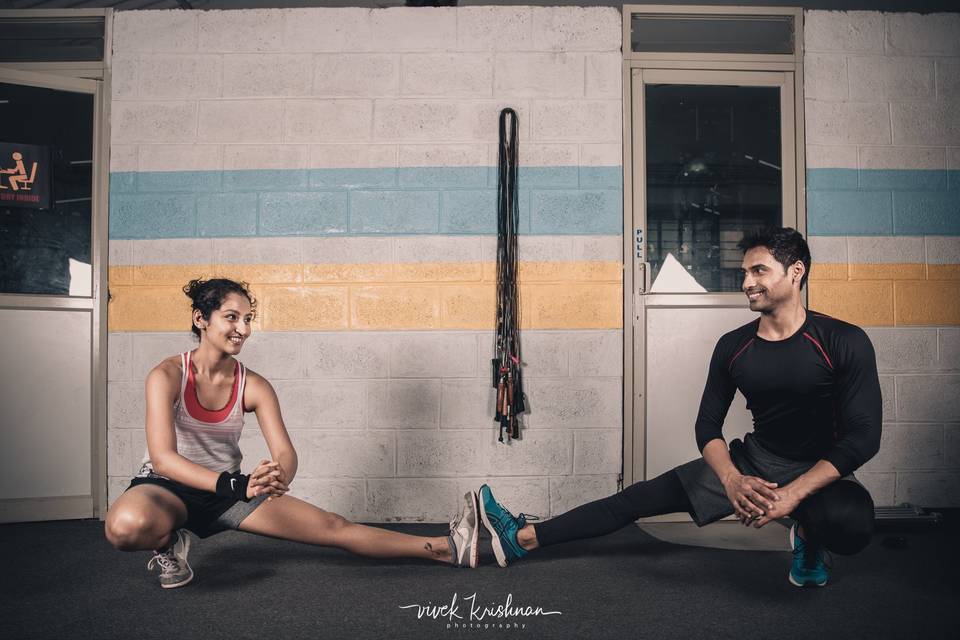 We know working out feels dreadful when all you wish to do is have breakfast in bed and spend endless hours watching Netflix & (also Chill maybe) *wink. As much as the quarantine is helping couples bond and families come closer, it is also making many of us lethargic and inflexible at the same time. Not only will this make it difficult for you to get back to your routine, it will also impact your health drastically. So what if the gyms are not functional and your yoga trainer cannot come to train you, don't let this temporary lockdown come in the way of you and your fitness.
We know exercising alone can be boring, so here are some no equipment couple workout ideas you and your partner can try out and then spend the remaining time lazing around and binge-watching Money Heist. What say?
Cutest Couple Workout
These are difficult times and it's normal to lose zeal and feel unhappy, the circumstances are to be blamed. But we can't just sit there idle waiting for the pandemic to lift and gyms to begin functioning again; practice self-care and feed your body with a good workout and hearty meals. You will feel a sense of accomplishment post the workouts like the above video.
Sweat It Out With Fun
Keeping your workouts fun is the first step to keep in mind when beginning to work out. You are sure to lose interest if your workouts are monotonous and repetitive. When working out with your partner, challenge each other and be competitive. This will help you push your limits and achieve hurdles together. To begin with, keep your workouts short but make sure to cover to focus on all body parts and activate them.
Also Read - Squats to Yoga, These Fitness Bloggers Help You Workout From Home
Strength & Cardio Couple Workout
The idea is to maintain the rhythm of the workouts from slow to fast with short intervals of active rest. This makes the body work harder as compared to steady cardio. Not only does it helps in shedding some extra calories but also reduces your chances of heart disease, lowers blood pressure and increases good cholesterol. What's better than having fun while keeping your body fit and healthy?
Intense Couple Workout
You will see that how this power couple has done these no equipment workout fluidly. These exercises are realistic to the core. Yo guys will be surprised to see that workouts can be possible without a pause too.
Feel The Burn With A Full-Body HIIT
There are two kinds of people: One who loves cardio, the other who dreads on the word of it. If you and your partner are these two people, you can do the HIIT (High-intensity Interval Training) workout on your own desired speed and timing or practice it one by one. But if you both love cardio, nothing like it. HIIT workouts are one of the best cardiovascular exercises with numerous benefits. It reduces fat, builds stamina, strengthens the muscles and tones them. HIIT workout duration can vary from person to person depending on their stamina and resistance. You can begin with 15 minutes and gradually go up to 30-45 minutes.
Do a Tabata Workout FTW!
Tabata workout is also a form of HIIT workouts. What makes Tabata different from HITT is the fact that it is only a 4-5 minute workout with lesser reps and less active rest time. Tabata workout takes 80-90 per cent of your power in the first 20 seconds with 10 seconds of the rest period. When you complete 8 reps you complete 1 Tabata. 1 or 2 sets of Tabata are enough to burn that stubborn fat and give your endorphins a good rush. It's not suggested to increase the reps of Tabata because it's the simplicity of the workout which makes it so effective and doable with least time spent in planning the workout.
Indulge in Some Intense Yoga
Yoga is one of the most beneficial exercises when you're dealing with emotional and mental ordeals. With the global crisis of COVID-19, losing sanity and flooding out with negative thoughts is normal. But, you'll be glad to know it is not something that cannot be overruled. Practising Yoga, one of the most spiritually healing exercises, will not just help you overcome the misery of the situation but connect deeply with your partner. From strengthening bones, reducing stress, improving balance and relieving depression, the benefits of Yoga are endless.
Keep It Easy With Zumba
Not in the mood for a serious workout? Make it fun with a session of Zumba. To the uninitiated, Zumba is full-body cardio and aerobic workout routine which focuses heavily on the elimination of calories and is one of the most fun workout routines. An hour-long Zumba session is said to burn about 300-900kcal which is super cool.
Which workout routine are you trying today with your beau? Tell us in the comments below.
With words by Meha Khera