10 Must-have Perfumes Every Modern-day Couple Should Invest in
Indulge in the sensuous whiff of scents to speak volumes about your demeanour. Our list of eternal favourites perfumes are a must-haves before and after you say 'I Do'!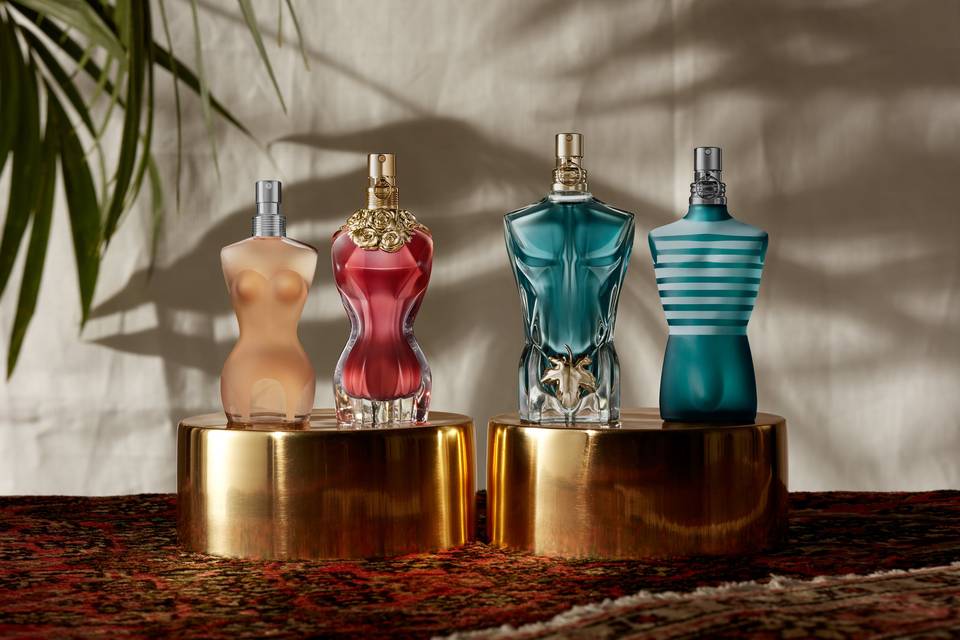 Image Courtesy: Jean Paul Gaultier
There's nothing more enticing than smelling good and just a spritz of perfume can hold immense power to induce a lingering desire for one another. It is true that some perfumes have aphrodisiac properties which help a person remember someone by the way they smell. Do you know what is sexier? Matching your scent with your partner. It is inexplicably attractive and helps complement each other to the maximum. Whether you are attending parties together or just spending a night with candlelit dinner, you can fill the room with a little feminine sexiness and some powerful liberal definition. Your scents will act as a magnet and bring you closer than ever. Try it if you don't believe us.
If you are someone who is usually attracted by smell more than anything else, you have you get your hands on these must-have perfumes for your partner and yourself. These are sure to remind you of your lover when they are away. You can thank us later!
Hugo Boss - The Scent for Him & Her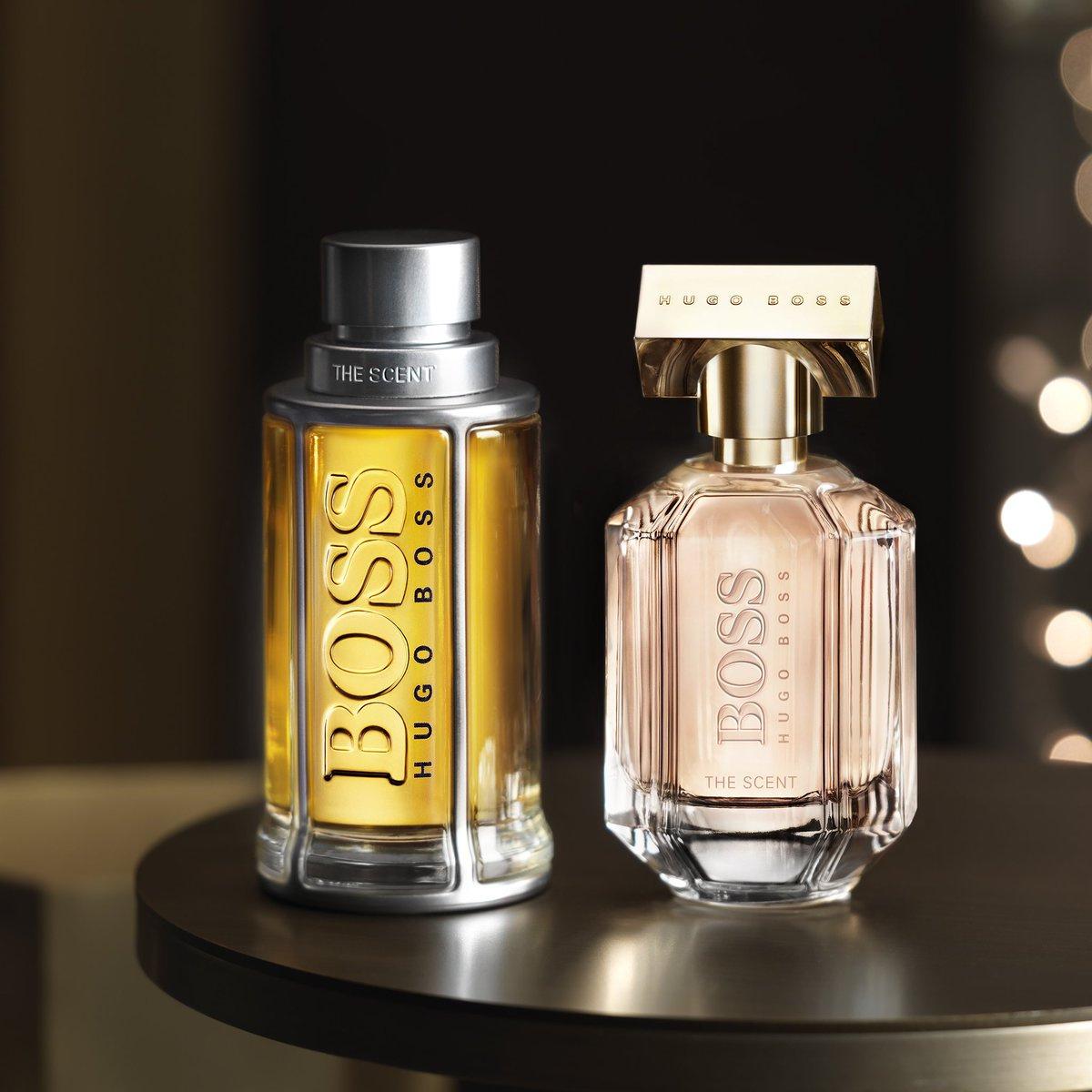 Image Courtesy: Hugo Boss
Hugo Boss's hottest perfume range 'The scent' has a base of the cocoa absolute which holds strong aphrodisiac properties. Each bottled in glass flacons, the scents are aimed at providing the experience of #AugmentedSensuality. Boss The Scent acts as the bridge between the virtual and real-world; bringing two people closer than ever.
NOTES FOR HIM: Spicy ginger, Maninka fruit and Mondia roots.
Scent Type: Leather, warm spicy.
NOTES FOR HER: Honeyed peach, coffee, vanilla, sweet mandarin, osmanthus flower and vetiver.
Scent Type: Vanilla, coffee, sweet
Carolina Herrera - Bad Boy & Good Girl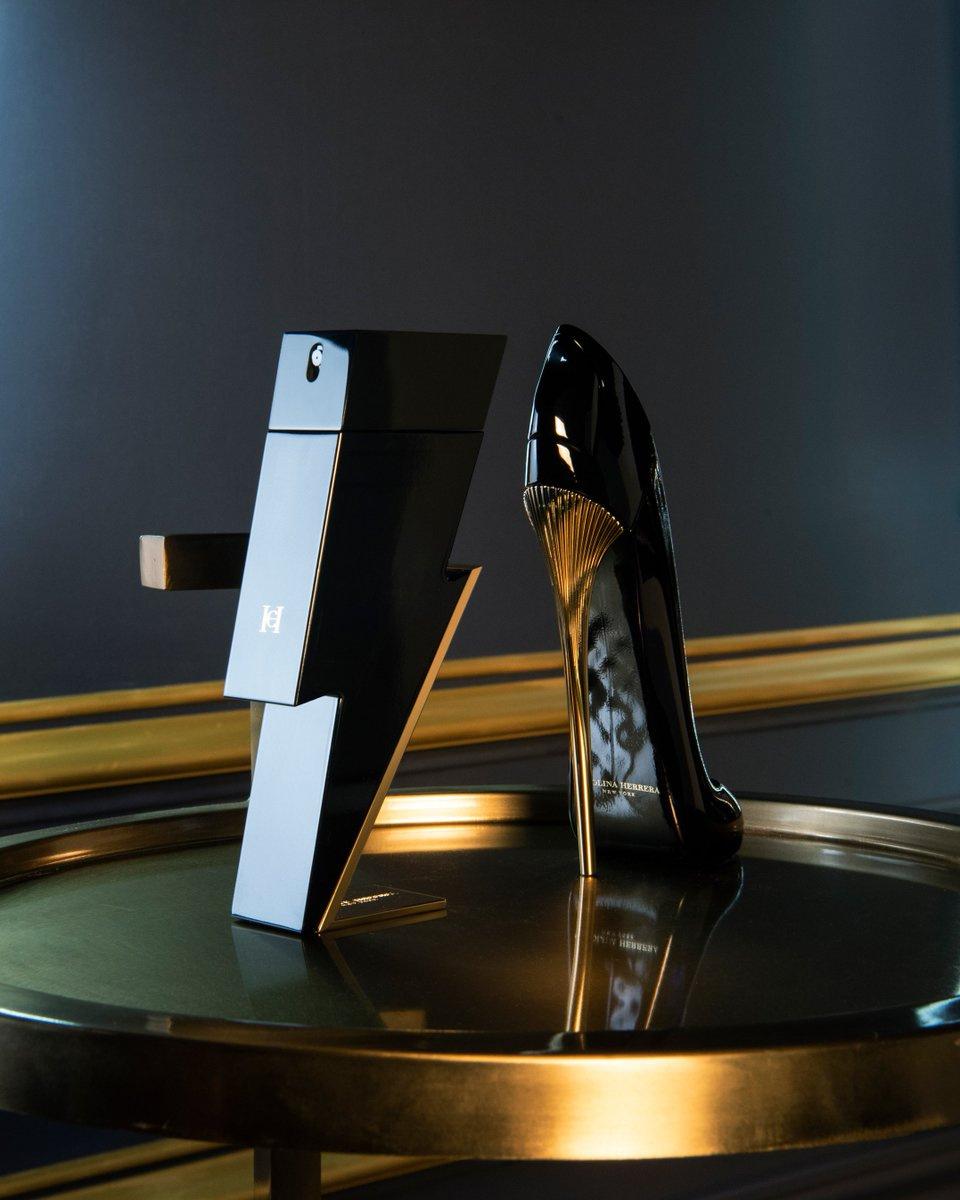 Image Courtesy: Twitter
Carolina Herrera's unique vision and expression of a modern woman and a modern man are stored in tantalizing bottles designed with sheer finesse. BAD BOY righty defines the contrasting characteristics of a man and his masculinity with a hint of edge. GOOD GIRL, on the other hand, elucidates the audacious, sexy and elegant modern-day woman who is ceaselessly pushing and crossing her limits.
NOTES FOR BAD BOY: Bergamot, Black and white pepper, Italian green bergamot, cedarwood and sage. The base of the scent is a tonic bean, amber wood and cocoa.
Scent Type: Oriental Spicy.
NOTES FOR GOOD GIRL: Almond, Tuberose, Jasmine Sambac. The base of the scent is roasted tonka beans and Cocoa.
Scent Type: Floral, fruity & oriental.
Jean Paul Gaultier - La Beau & La Belle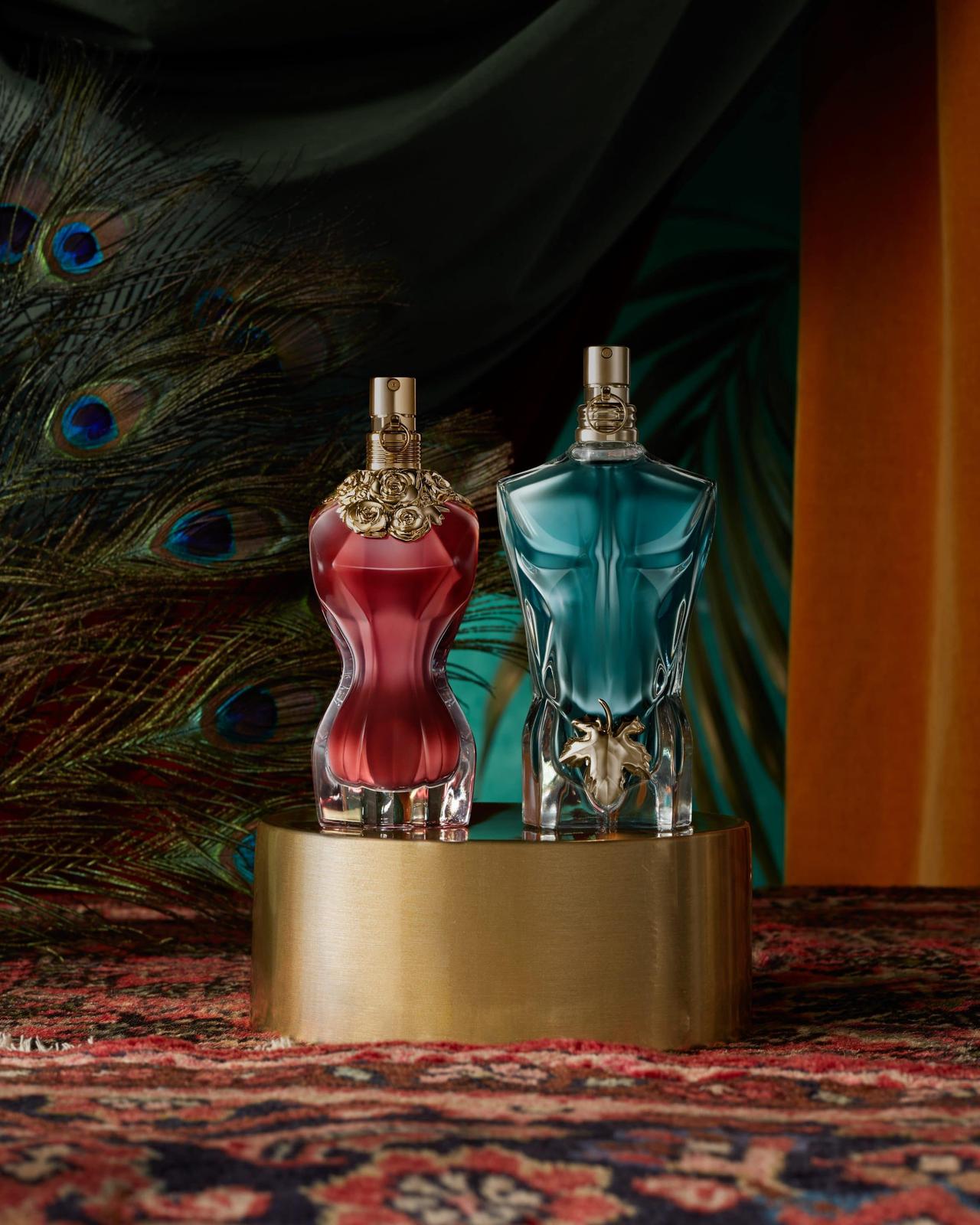 Image Courtesy: Jean Paul Gaultier
La Beau & La Belle are two modern yet sophisticated fragrances by Jean Paul Gaultier which hold the potential to bring about the ultra-sensual and attractive traits in a man and a woman with sheer ease. The temptatious aromas of these two iconic fragrances are sure to create a sensual aura around the two of you.
NOTES FOR LA BEAU: Tonka bean, coconut wood, bergamot.
Scent Type: Woody aromatic.
NOTES FOR LA BELLE: Vanilla pod, bergamot, pear.
Scent Type: Oriental Vanilla.
Moschino - Toy Boy & Toy 2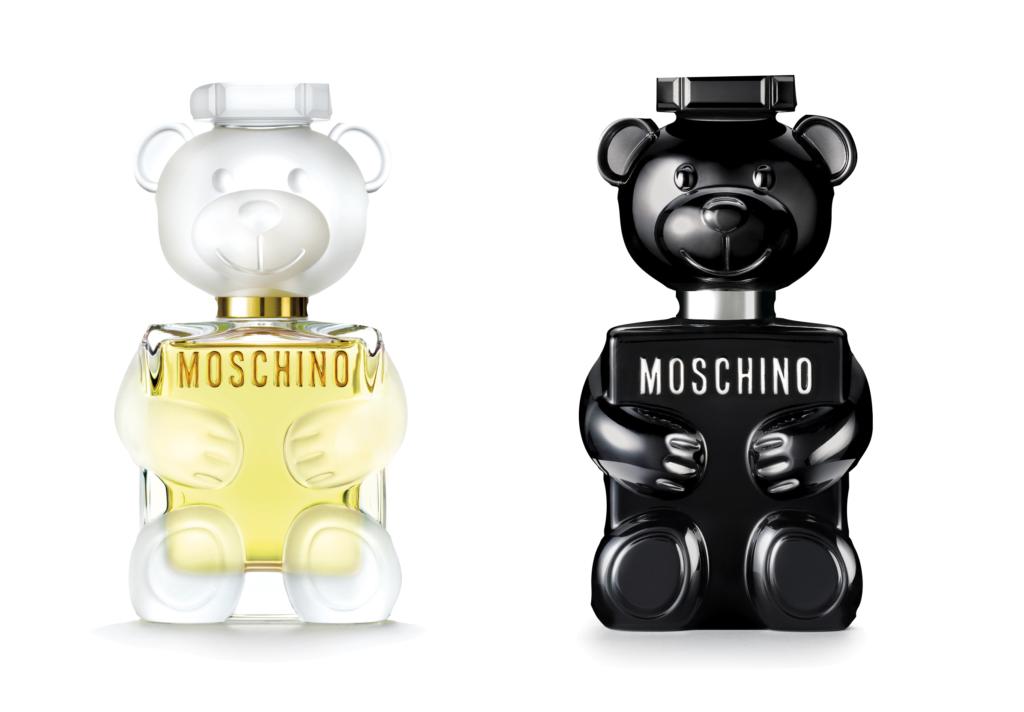 Image Courtesy: Pinterest
Packaged in irresistibly adorable Moschino Teddy Bear-shaped bottles, Toy Boy & Toy 2 are perfect fragrances for the confident and playful couple. Toy Boy is one of the hottest fragrances by Moschino which is an Avant garde and beautiful scent that lasts all day. It's a perfect blend of delicate florals and firm woody notes making it suitable for the new-age man who is tender yet masculine. Toy 2, on the other hand, is a marvellously fresh scent with woody notes. It radiates the elegance and softness of a woman who is immensely irresistible.
NOTES FOR TOY BOY: Italy bergamot, pink berries, elemi buds, Indonesia nutmeg, pear green, cloves, neo absolut Orpur rose, flax flowers, cashmeran, magnolia, vetiver Haiti Orpur, ambermax, sylkolide.
Scent Type: Spicy, Woody and Amber.
NOTES FOR TOY 2: Magnolia, Granny Smith apple, mandarin, white currant, peony, jasmine petals, sandalwood, musk, amber wood.
Scent Type: Flowery and woody.
Prada - L'Homme & La Femme
Image Courtesy: Prada
Expressing the multiplicity of a man and the femininity of a woman, L'Homme & Le Femme aim at accentuating the endless facets of a Prada couple. It brings about a vivacious positive aura around the couple alongside acting as an aphrodisiac.
NOTES FOR L'HOMME: Amber, Patchouli, Sandalwood, Roasted Tonka beans.
Scent Type: Woody, floral and powdery.
NOTES FOR LA' FEMME: Frangipani, Ylang Ylang, Tuberose Absolute, Orange blossom, Jasmin Sambac, Vetiver, Vanilla, Patchouli, Iris.
Scent Type: Oriental floral.
Calvin Klein - Eternity for him & her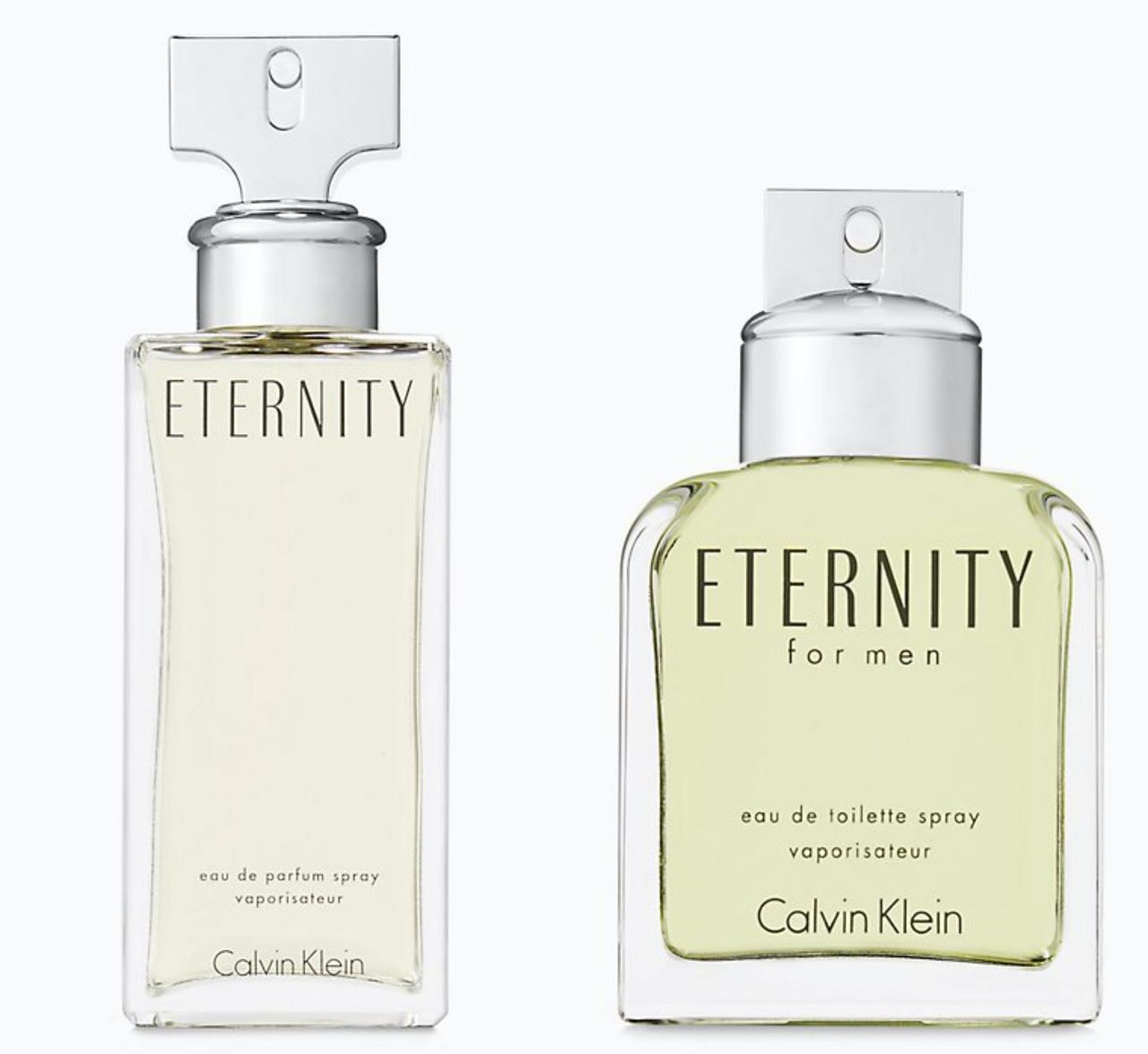 Image Courtesy: Calvin Klein
Calvin Klein perfumes are definitely a must-have in every couples closet because of its distinctive, luxurious & timeless traits. Eternity for men bares the sensitive man behind that masculine physique who is full of vitality and enthusiasm. Eternity for women is one of the best-selling scents in the market currently as it associates with every woman who is an old-school romanticist yet full of contemporary sense of style.
NOTES FOR MAN: Mandarin, lavender, green botanicals, jasmine, basil, geranium, sage, sandalwood, vetiver, rosewood and amber.
Scent Type: Aromatic Fougere.
NOTES FOR WOMAN: Freesia, mandarin, sage, muguet, white lily, marigold, narcissus, patchouli, sandalwood and amber.
Scent Type: Floral aromatic.
Chanel - Bleu de Chanel & Coco Mademoiselle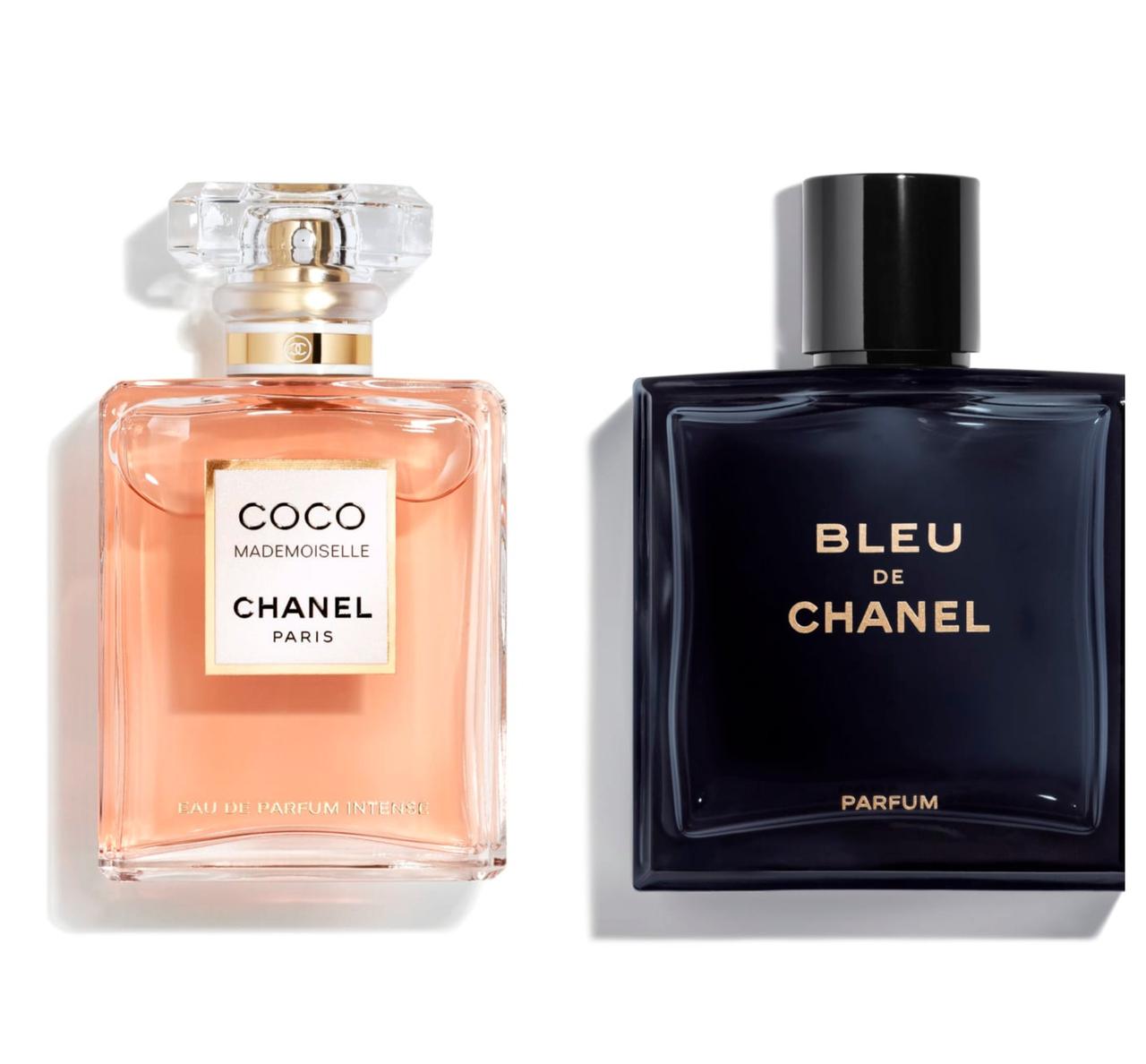 Image Courtesy: Chanel
Chanel is undoubtedly the connoisseur of tantalising fragrances and you & your partner are sure to stand out in the crowd if you're wearing one of these babies. These two fragrances–Bleu De Chanel & Coco Mademoiselle together define a couple who is assertive of their opinions yet have the ability to strongly harmonise their relationship despite the dissimilarities. They're determined, powerful and are drawn irresistibly towards each other.
NOTES FOR BLEU DE CHANEL: Labdanum, nutmeg, ginger, sandalwood, patchouli, mint, jasmine, grapefruit, citruses, vetiver, incense, cedar and pink pepper.
Scent Type: Woody aromatic.
NOTES FOR COCO MADEMOISELLE: Orange, mandarin orange, orange blossom and bergamot, mimosa, jasmine, Turkish rose and ylang-ylang, tonka bean, patchouli, opoponax, vanilla, vetiver and white musk.
Scent Type: Oriental, musk and floral.
Emporio Armani - Stronger With You & Because It's You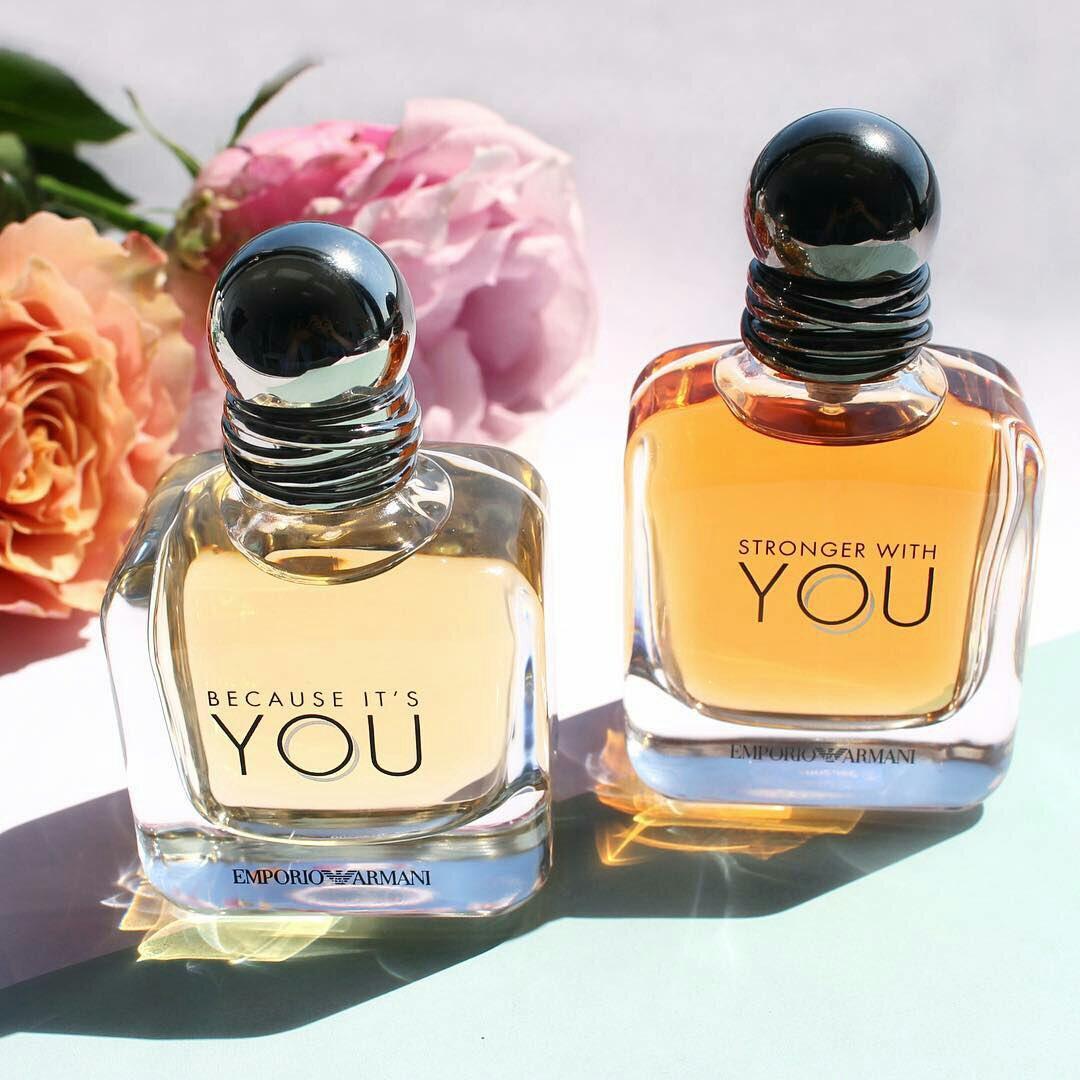 Image Courtesy: Twitter
Emporio Armani's irresistible fragrances 'Stronger With You' and 'Because it's You' are two absolutely addictive and sophisticated scents. Stronger With You is moulded by energy or modernity and originality of a man who is elegantly confident. Because It's You is unabashedly feminine and defines the tantalizing youth of a woman.
NOTES FOR STRONGER WITH YOU: Pink Pepper, cardamom, crystalized chestnut and sage.
Scent Type: Warm spicy and vanilla.
NOTES FOR BECAUSE IT'S YOU: Vanilla, raspberry and rose.
Scent Type: Fruity, sweet and vanilla.
Gucci - Gucci Guilty Homme & Femme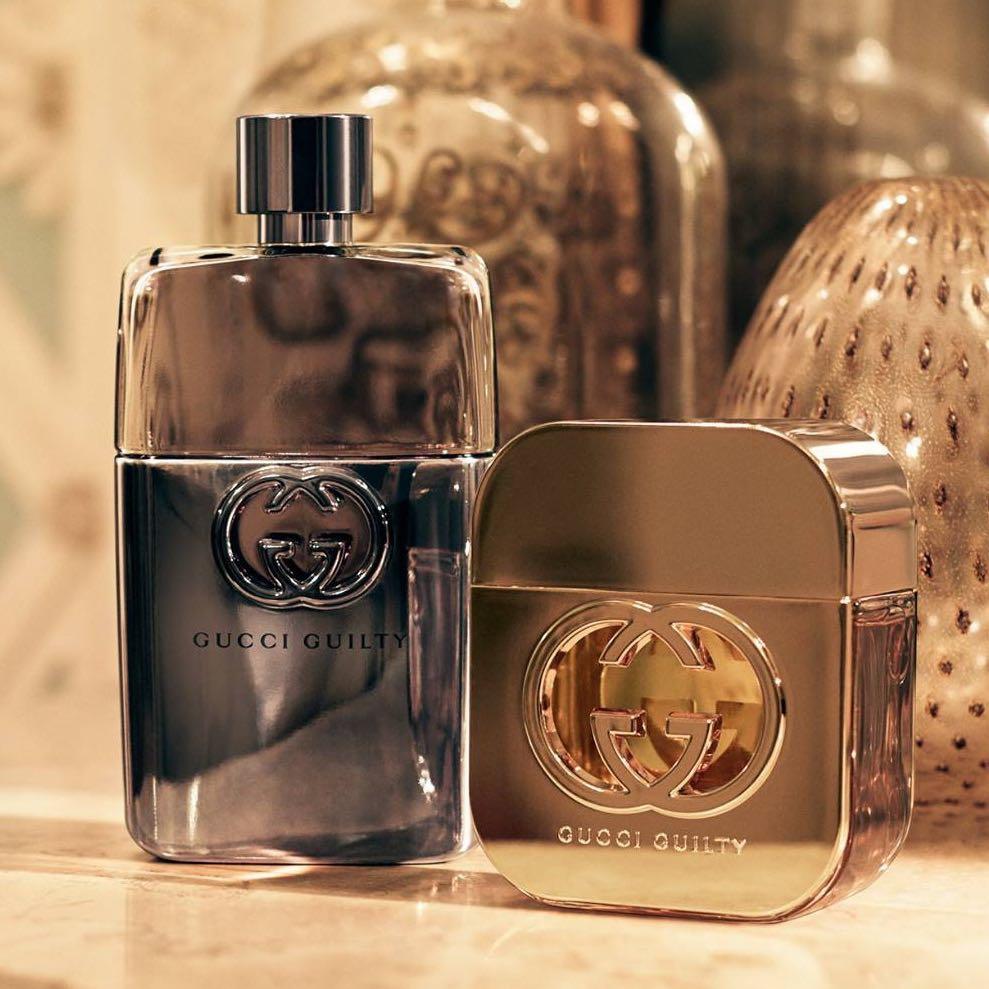 Image Courtesy: Pinterest
Gucci Guilty Homme & Femme is every scent lovers dream come true. Beholding true spirit of self-expression and fearlessness, the scents exude transformation and evolution of the new generation which is bold, fierce and unstoppable.
NOTES FOR GUCCI GUILTY HOMME: Pink Pepper, Italian lemon, orange blossom absolute, neroli, French lavender, patchouli and cedarwood.
Scent Type: Green Fougere.
NOTES FOR GUCCI GUILTY HOMME: Bergamot, pink pepper, lilac, geranium oil, patchouli and amber.
Scent Type: Patchouli, amber and floral.
Tom Ford - Black Orchid & Velvet Orchid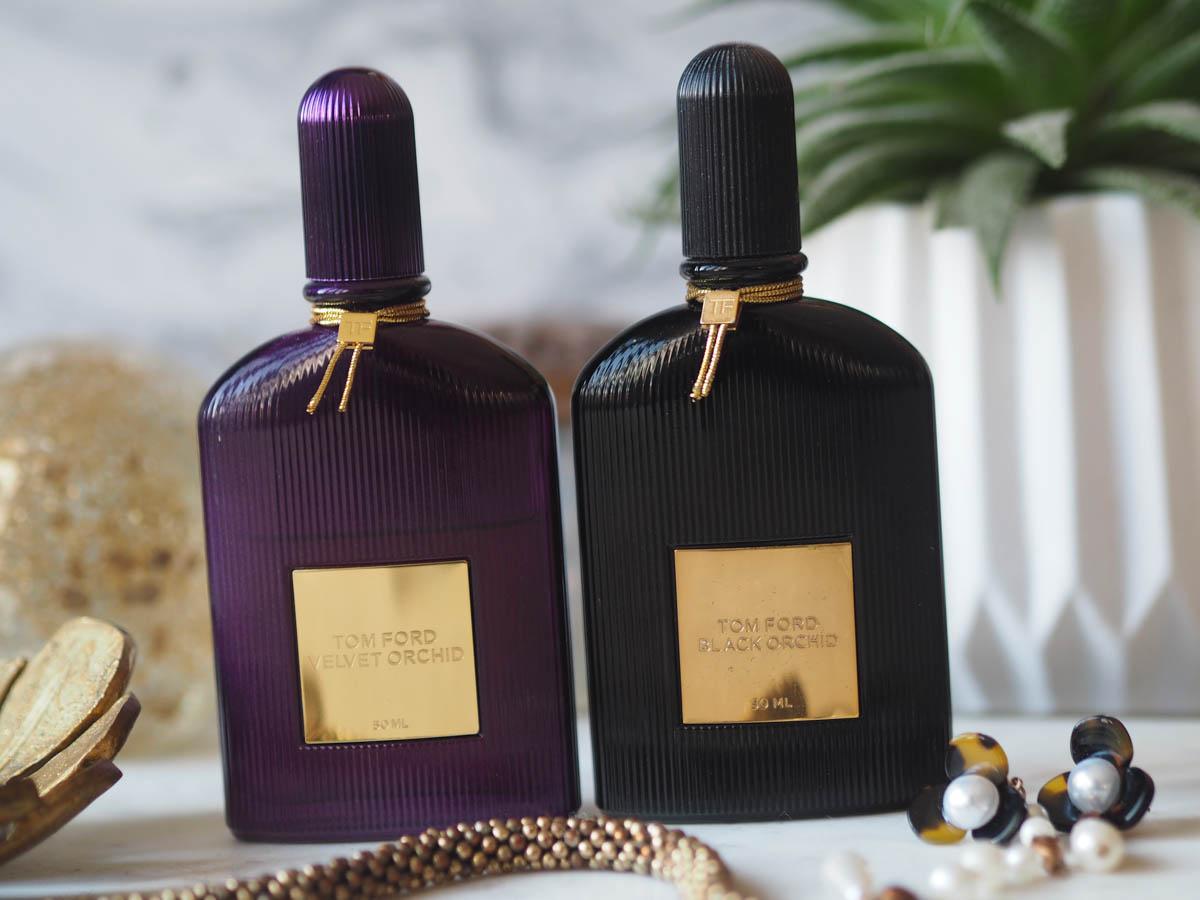 Image Courtesy: Helpless Whilst Drying
Words like iconic, elusive, seductive truly define Tom Ford's Velvet Orchid which is an uber-feminine fragrance. Whereas, Black Orchid is an alluring blend of modernity and timelessness. Unfurl unforgettable style and portrays an iconic statement through the worldly glamour contained in ravishing bottles.
NOTES FOR BLACK ORCHID: French jasmine, black truffle, ylang-ylang, black currant, citrus, patchouli and sandalwood, dark chocolate, incense, amber, vetiver, vanilla, and balsam.
Scent Type: Warm spicy & woody.
NOTES FOR VELVET ORCHID: Bergamot, mandarin, Succan absolute, and honey, Turkish rose oil, jasmine, purple orchid, orange blossom, rose absolute, narcissus, hyacinth, heliotrope, Peru balsam, myrrh, labdanum, sandalwood, suede and vanilla.
Scent Type: Oriental floral.
From spicy woody scents to fresh floral ones, we have covered all types of scent in this list, making it easier for every modern-couple to embrace a scent that defines them with ease and makes them stand out despite a full house. Indulge in the enchanting whiff of the scent and of love.
Which must-have perfume are you investing in for you and your partner? Tell us the comments below!