This Couple Celebrated Their Ten Years of Togetherness in Their First Year of Marriage
Did you always wonder how perfectly residential weddings can be planned? Take inspiration from the stunning wedding journey of Radhika and Ranu who planned their wedding chapter at a venue in the capital.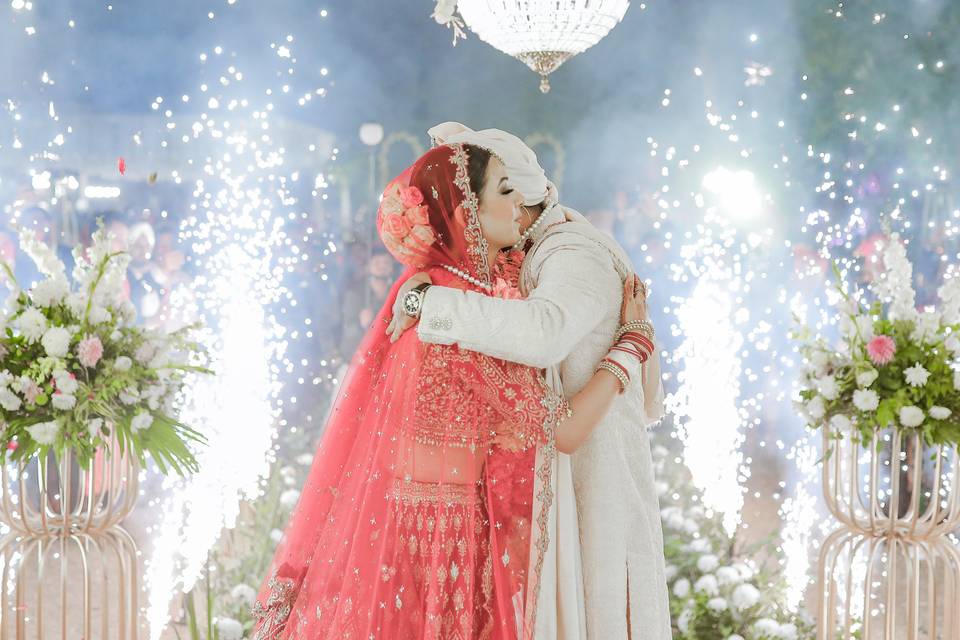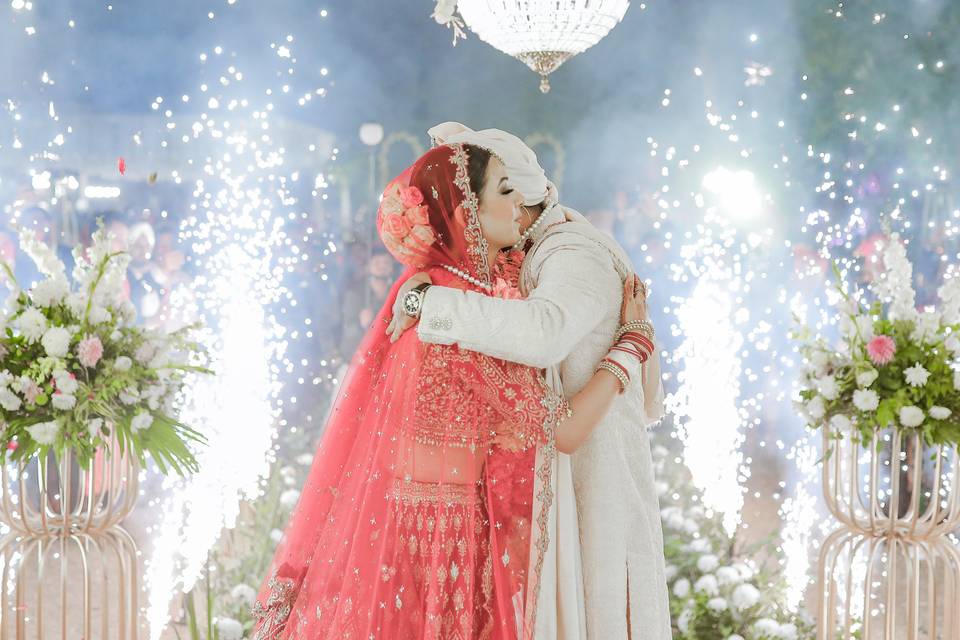 Photography - HappyFrames Photography
Indian weddings are beautiful celebrations that not only bring the two people together but perfectly blend the rituals and traditions of two families. While the couple vows to be with each other through thick and thin, their families stand by them through it all. The same strength of love is reflected beautifully through the love story and wedding journey of Radhika Agarwal and Ranu Gupta. Sometimes we are not looking for love but destiny has other plans and love finds us anyway. Their love story began on a similar happy note.
Giving us insight into how the beautiful journey of Radhika and Ranu commenced, she said, "Ranu and I were in the same school, and he was my senior. We always knew about each other in school but never really spoke to each other. It was at the end of 2nd year of college when a common friend made a plan to meet. That's when we both spoke for the first time. We both never really met each other with the intention of dating. But I believe it was all fate that one fine day, we decided to get into a relationship, and ten years later, we got married. Our wedding day was 4th December 2022, and we completed ten years on 11th February 2023."
Engagement Ceremony
The wedding journey of Radhika and Ranu began with a spectacular Engagement ceremony at The Grand, Vasant Kunj where they hosted their residential wedding with close friends and family, Talking to us about how Radhika wanted her wedding to be planned, she said, "Since our families and we both were clear that we wanted a hassle-free wedding day, we were looking for convenient hotel locations which met all our requirements in terms of the events. We did our engagement night in a hanging garden, haldi and mehendi function poolside, and wedding in an indoor-outdoor setting!"
Wedding Designer: The Design Atelier Weddings
Bride's Outfit: Seema Gujral Designs
All Photographs: Happyframes Photography
Haldi Morning Ceremony
The wedding functions for the couple were hosted for three consecutive days. The morning after the wedding, both Radhika and Ranu were drenched in yellow, and they celebrated their Haldi with full fervor. One thing that she remembers from her wedding was, "I can never forget the stress our families had to go through when we heard that alcohol was banned on 2nd and 3rd December, which were the main nights before the wedding for people to enjoy! But somehow, when I look back, I believe everyone still enjoyed themselves and had a great time, and we took the right decision of making everyone attend the wedding stay at the hotel!"
All Photographs: Happyframes Photography
Book The Design Atelier Weddings
Mehndi Sufi Night
After a fun and playful Haldi ceremony in the morning, the couple hosted their Mehndi and Sufi night in the evening where the Folk fusion band Raagdhaani performed to make their celebration much more memorable. Talking about what Radhika loved about planning her wedding, she said, "I loved the entertainment/ bands on Haldi, mehendi, and wedding day which really helped set the mood right for the functions! Also, Ranu did a surprise dance on the mehdni day which was really emotional! He was very adamant about the wedding decor and was the one who was taking care of everything related to it with the planners. I honestly had some inspiration in mind when it came to my wedding and engagement outfit but haldi and mehendi outfits were very last-minute decisions."
Jewellery: Suhana Art and Jewels
Groom's Outfit: Sawan Gandhi
All Photographs: Happyframes Photography
Wedding Ceremony
Choosing the traditional wedding colour palettes for their outfits, Radhika donned a beautiful red lehenga from Nitika Gujral, while Ranu looked ever the more dapper wearing a white sherwani from Divyam Mehta. Telling us about the inspiration around her wedding and the vision behind it, Radhika said, "I just wanted a convenient and happy wedding for my family and everyone else attending and was careful about the itinerary so that the guests didn't feel the pressure or feel too tired because of back-to-back functions. That is the reason why we both decided to do a residential wedding at a Delhi hotel where all friends and family could stay for three days and enjoy themselves to the fullest!"
Jewellery: Suhana Art and Jewels
MUA: Makeup by Cherryy
All Photographs: Happyframes Photography
When looking for luxury wedding venues in Delhi to host a spectacular wedding in the capital, Radhika gave us amazing advice and tips to plan a perfect Delhi wedding. "Start 8 months prior to your wedding date if you are getting married during the saaya. Don't be rigid about wanting a specific type of venue. Check everything available within your budget and location - you never know there could be a better and a different type of venue in store for you."
Dream Team
Venue: The Grand, Vasant Kunj
Planner: The Design Atelier Weddings
Photography: Happyframes Photography
Jewellery: Suhana Art and Jewels (Mehndi & Wedding)
Outfits for Bride: Seema Gujral (Engagement), Nitika Gujral (Wedding), Preeti S Kapoor (Mehndi)
Outfits for Groom: Sawaan Gandhi (Mehndi), Rohit Gandhi Rahul Khanna (Engagement), Divyam Mehta (Wedding)
MUA: Makeup by Cherryy (Wedding), Makeovers by Ridhi Verma (Engagement), Artisty By Reema (Mehndi)
Planning a destination wedding in the capital? Book spectacular wedding venues in Delhi with us.
Top Blogs on WeddingWire India