#WWIRealWeddings: This Couple Planned a Destination Wedding in Jaipur within 6 Weeks
Want your destination wedding in Jaipur to be nothing less than a fairytale dream? Take inspiration from the beautiful royal wedding of Saatvvika and Anshul to plan your big day!
Destination weddings are beautiful experiences where you get to spend quality time with your friends, family and loved ones, just like a fun-filled vacation away from the hustle-bustle of life. All the wonderful moments that you spend with your loved ones are transformed into heartfelt memories that you can look back at and cherish for the years to come. The same can be said for the beautiful wedding of Saativika and Anshul, which is filled with beautiful moments and eternal love. The couple planned their wedding ceremonies in the beautiful Pink City, organising a destination wedding in Jaipur that is glorious and awe-inspiring.
Giving us insights about how they two first met, Saatvvika said, "Well, both of our mothers are responsible for us meeting. I had no idea I would be moving to Jaipur from Delhi, and neither was I very enthusiastic about an arranged marriage. But we, as a family, made it into a road trip to go meet Anshul & his family. From the moment we met, we have been inseparable. It's always felt like we were it, there was no doubt about it. We decided to get married to each other within ten days of having met each other. We are the opposite gender versions of each other in the most beautiful way. We are both Leos; hence our hashtag- ASthelionsdo & our entire relationship is a very high energy and fun bond."
Find the Top Wedding Planners Near You
Mata Ki Chowki
The wedding festivities of Saatvvika and Anshul started on an auspicious note with Mata Ki Chowki. Taking blessings from the divine for their happily ever after, the families came together to shower them with good wishes and abundant love. For their first wedding function, Saatvvika chose to wear a gorgeous red suit from Saundh, while Anshul was also decked up in Indian attire by Label Kalash Parnami.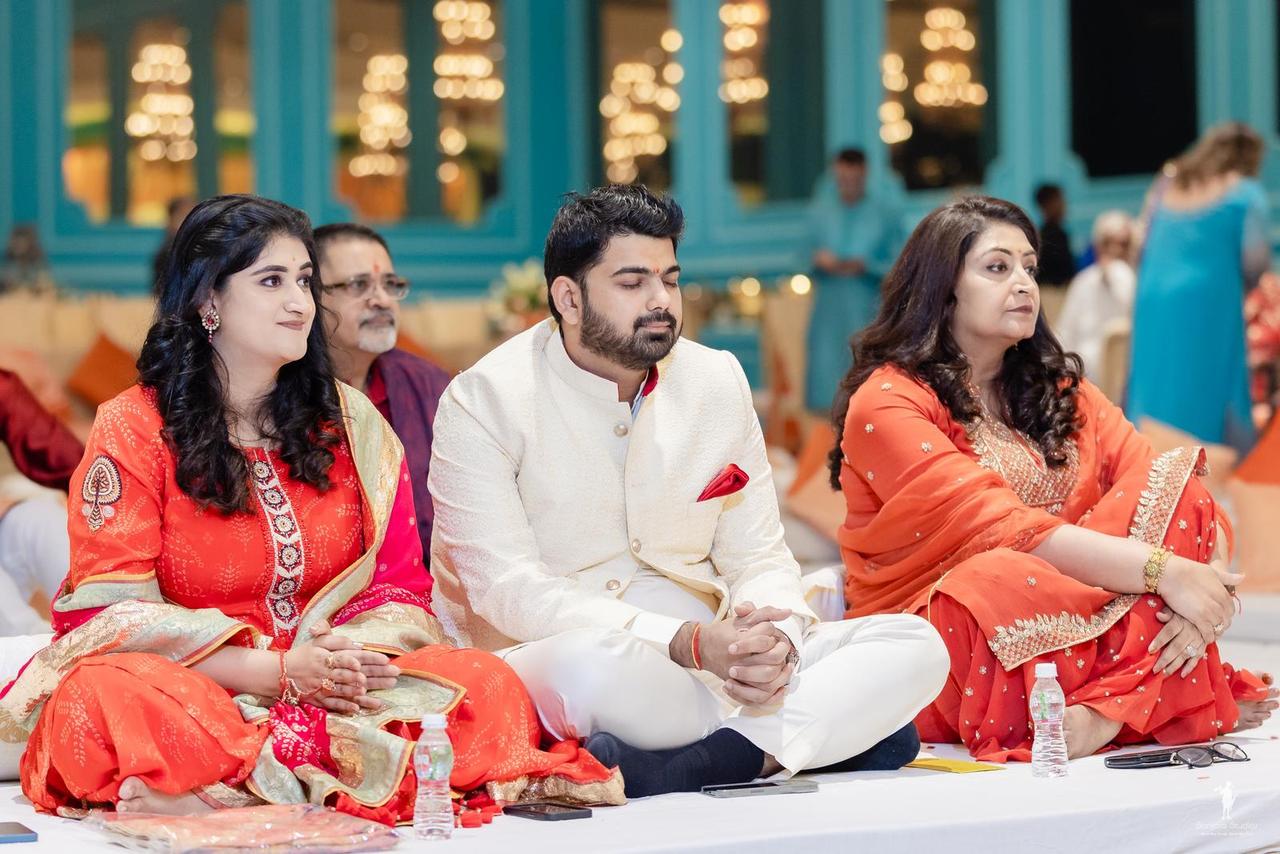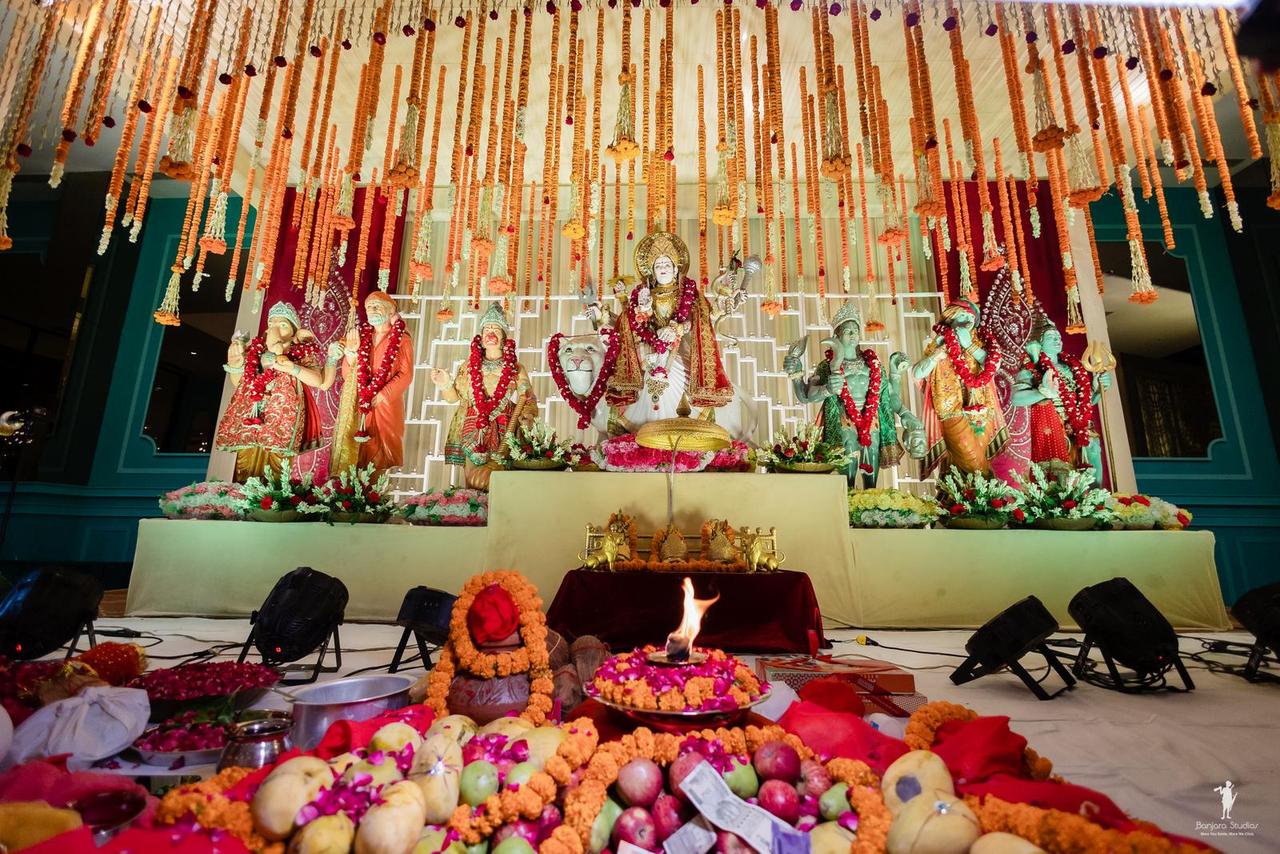 All Photographs: Banjara Studios
Mehndi Ceremony
The day both families arrived at the wedding venue, they were welcomed in the traditional Rajasthani style, which was followed by a relaxed Mehndi ceremony celebrated in full fervour with family and friends. To exude a laid-back holiday vibe, Saatvvika chose to wear Masaba Couture, which she later changed to a gorgeous purple lehenga from Kalista.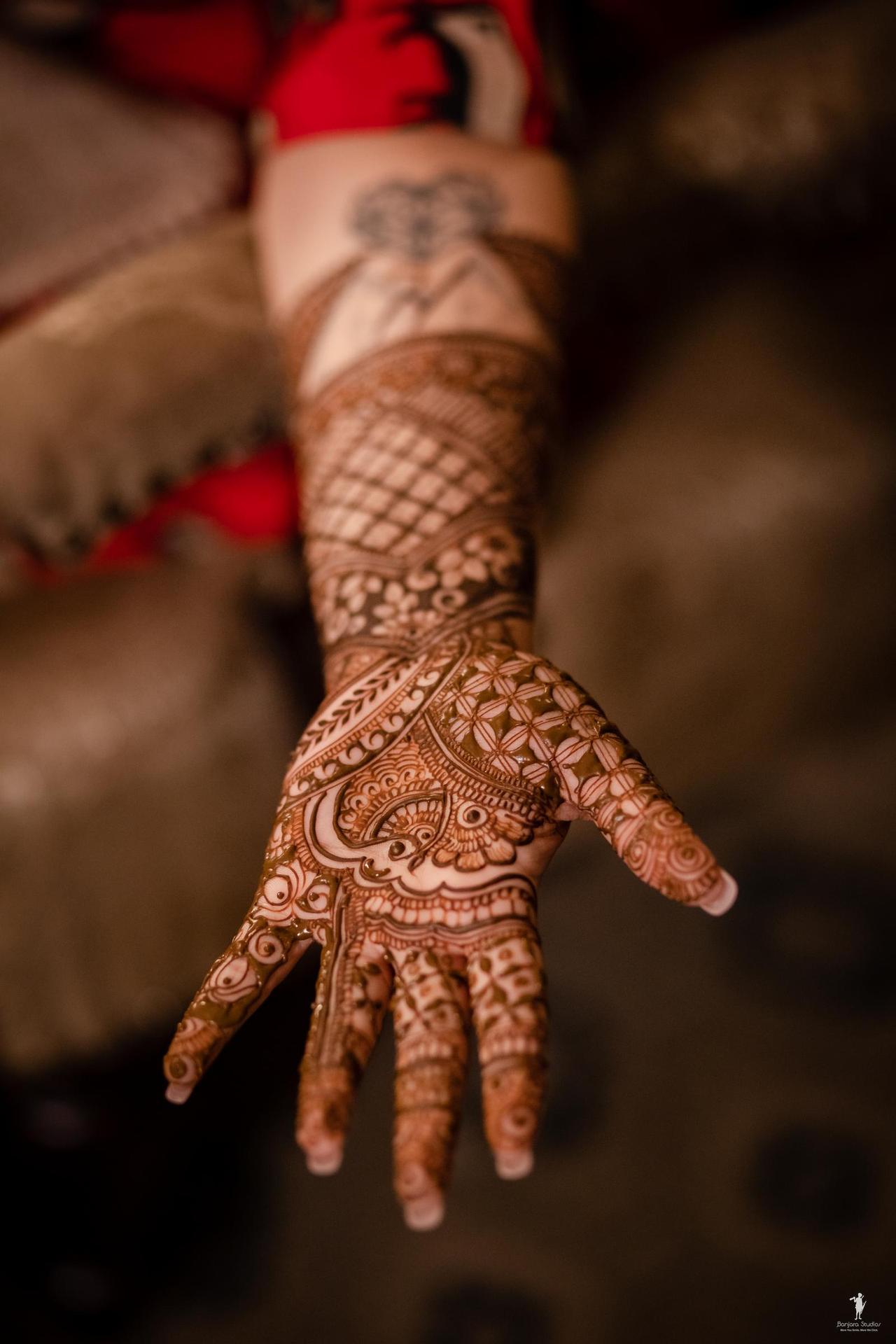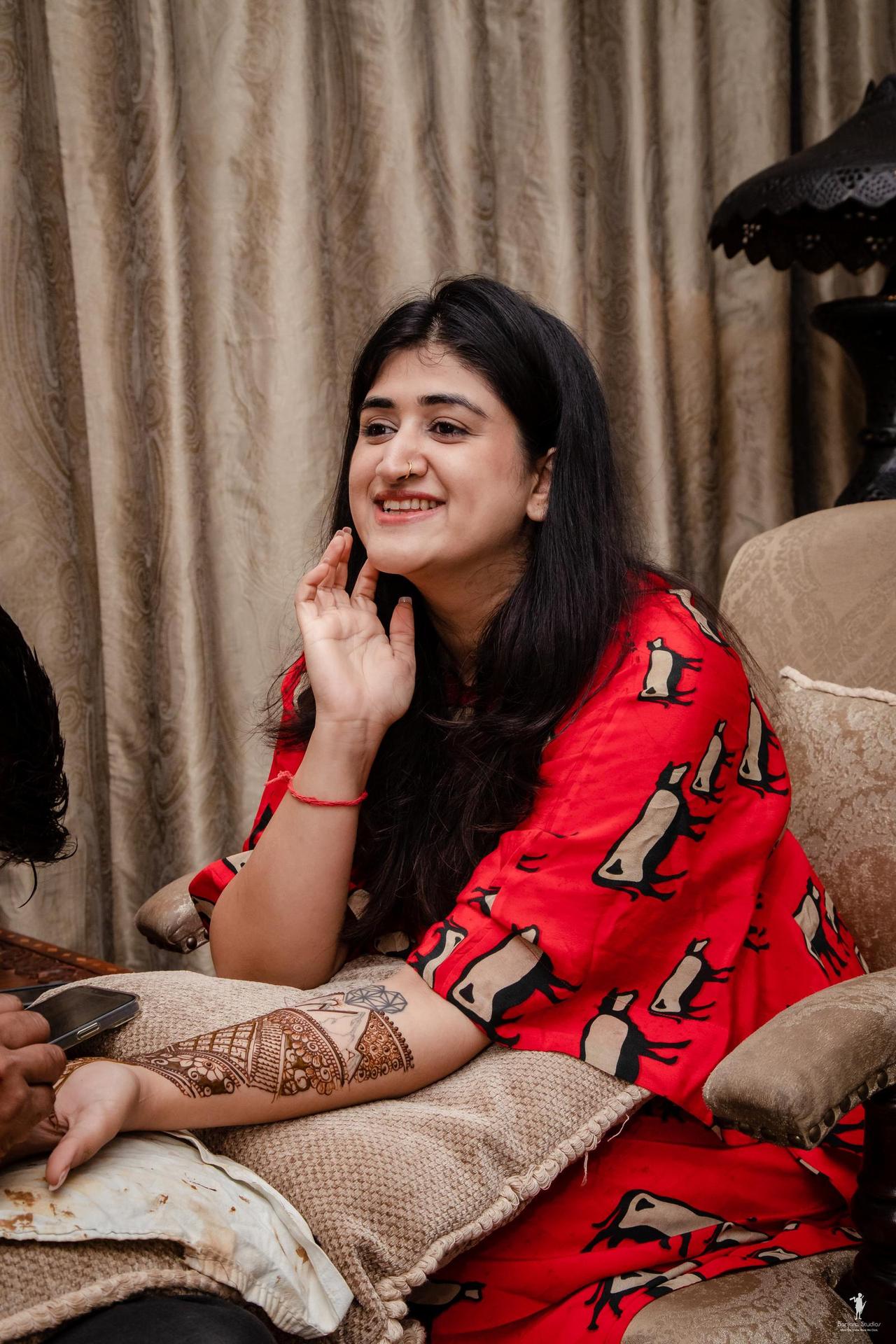 Groom Outfit: Ensign by Gautam Gupta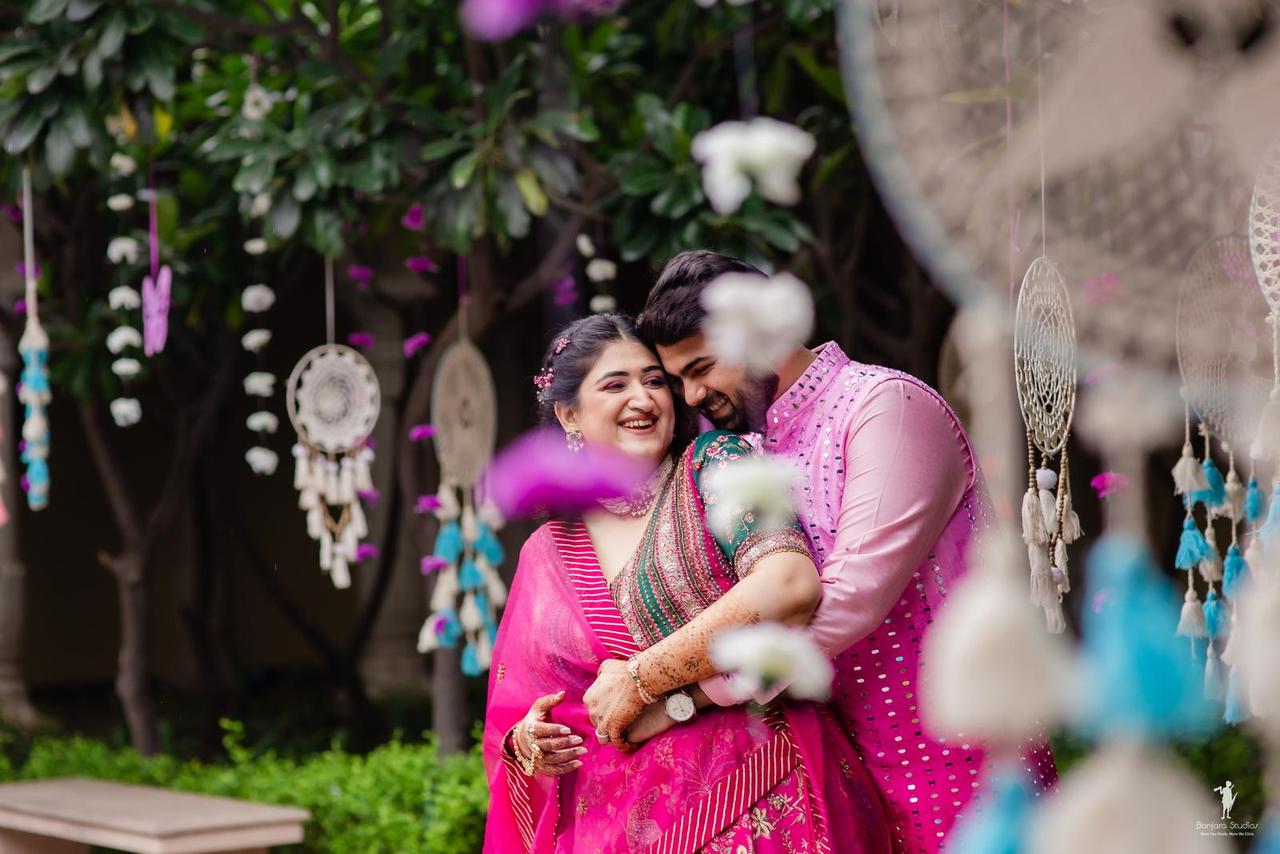 All Photographs: Banjara Studios
Sangeet Night
While exploring different royal wedding venues in Jaipur, Saatvvika and Anshul picked Fairmont Jaipur to host their wedding festivities. As per the couple, while finalising the wedding venue was a big choice, the beautiful hotel made the decision fairly simple for them. "Because of the short planning time, we rushed and enquired with almost all possible hotels in Delhi NCR and all drivable distances possible in Rajasthan. But the moment we stepped into Fairmont Jaipur, it seemed like 'the' property. We were given a gorgeous tour, and the venue ideas we liked for all our events just matched the vibe. Post a lot of back-and-forth trips to the hotel, we zero-ed in on it with the intimate gathering I had in mind. Honestly, the wedding destination and venue were exactly what Anshul & I had manifested", Saatvvika added.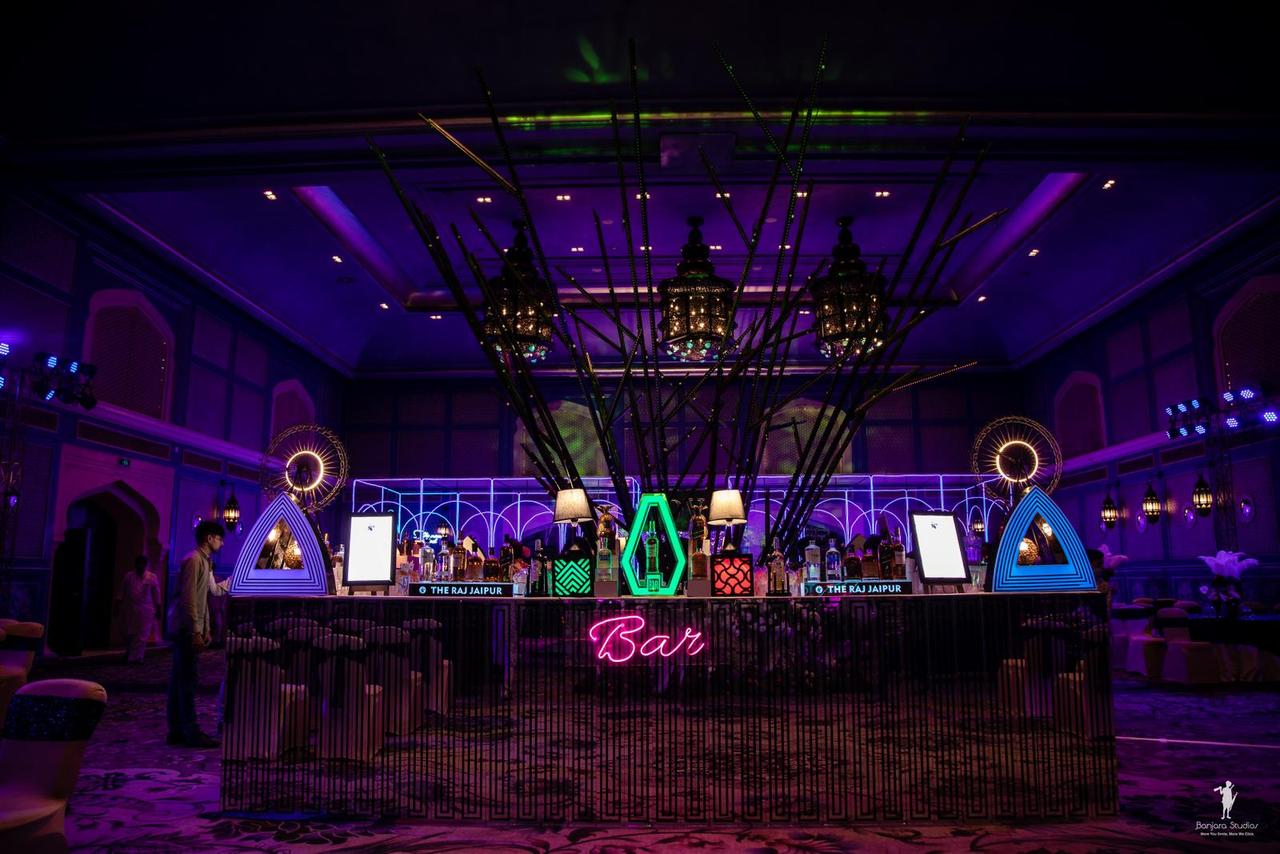 Bridal Gown: Pratap Sons, Jaipur
Groom Outfit: Ensign by Gautam Gupta, Bridal Gown: Pratap Sons, Jaipur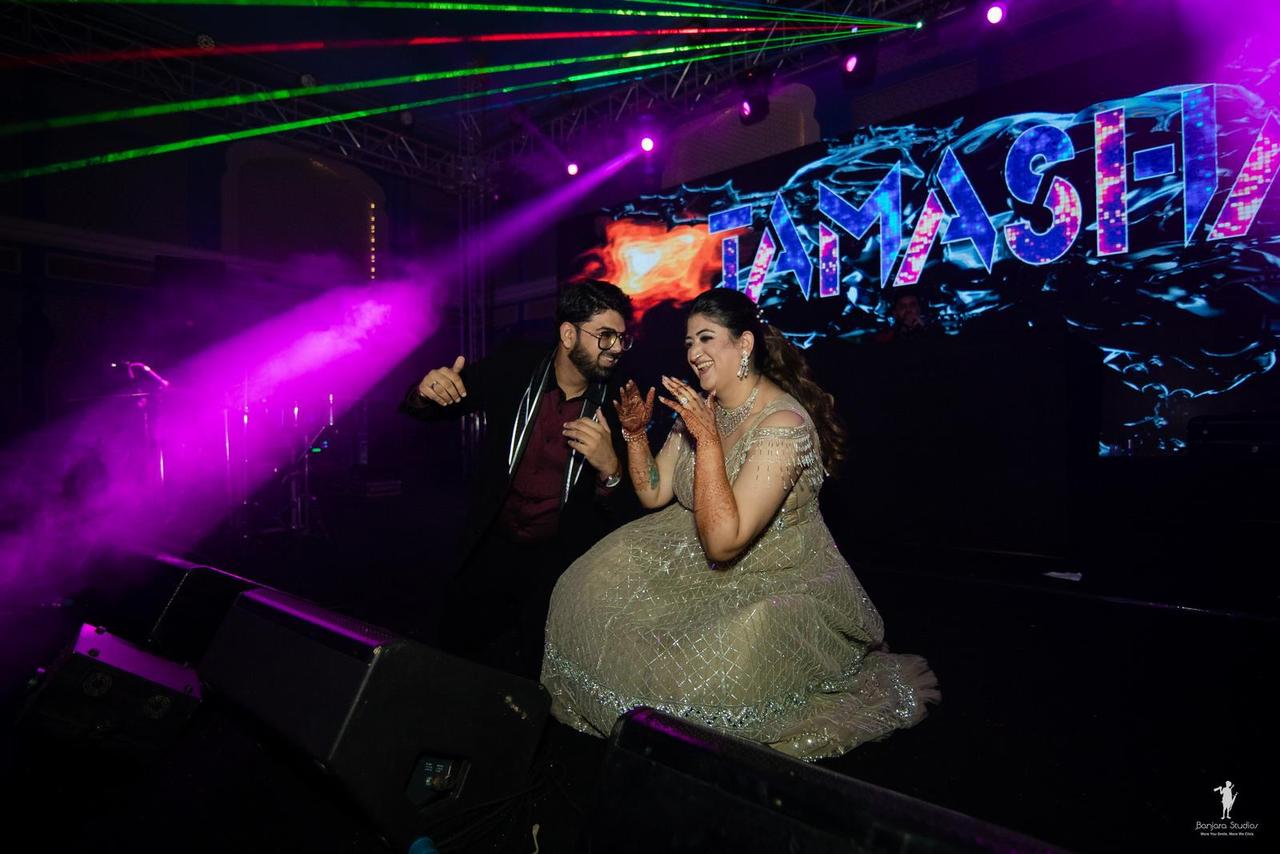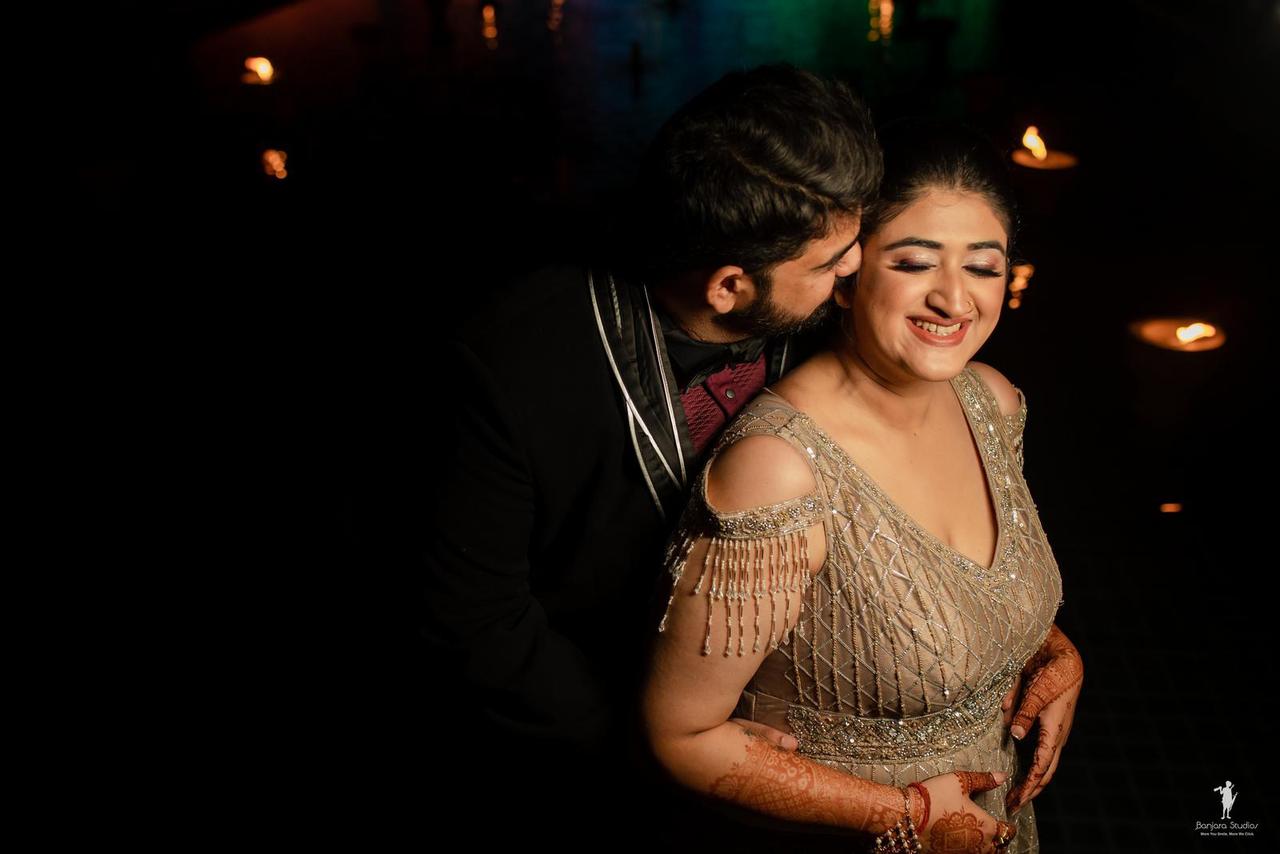 Groom Outfit: Ensign by Gautam Gupta, Bridal Gown: Pratap Sons, Jaipur
Haldi & Chura Ceremony
The morning of the wedding day, the families organised a beautiful setup for the Chura and Haldi ceremony for Saatika and Anshul. The ceremony started with a Puja where Saatvvika donned a gorgeous Dulhan Chura design. While everyone dressed beautifully in the shades of yellow, the couple enjoyed phoolon ki Haldi, where marigold flowers are showered on the couple along with the blessings of elders.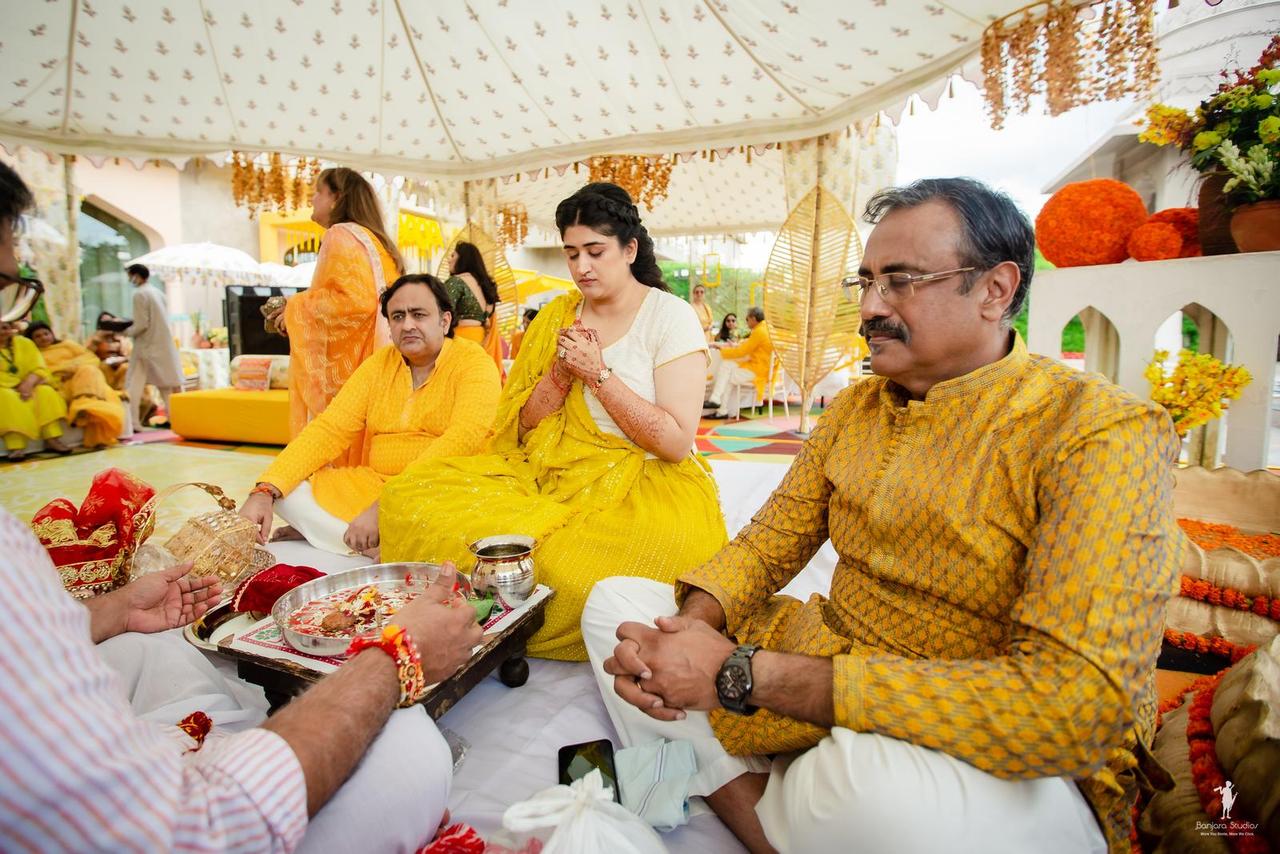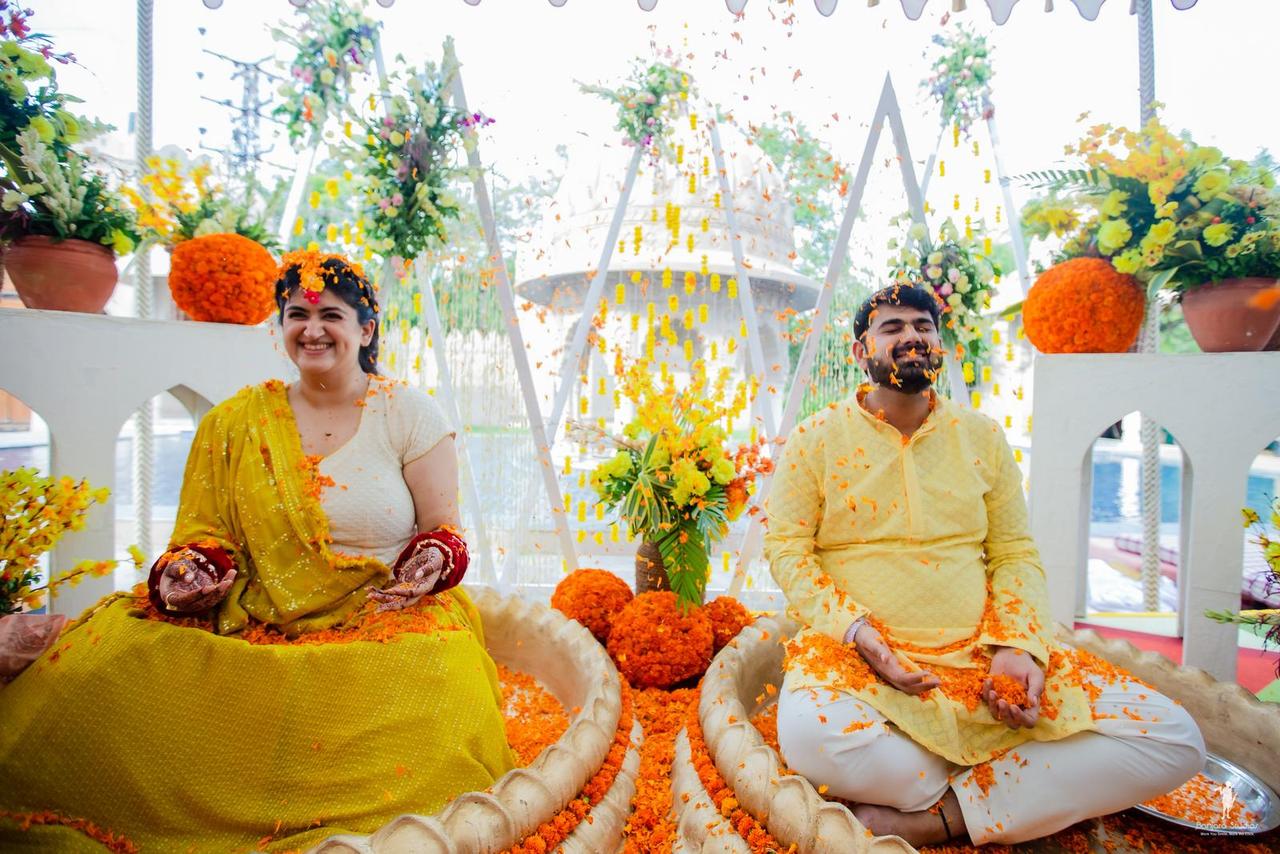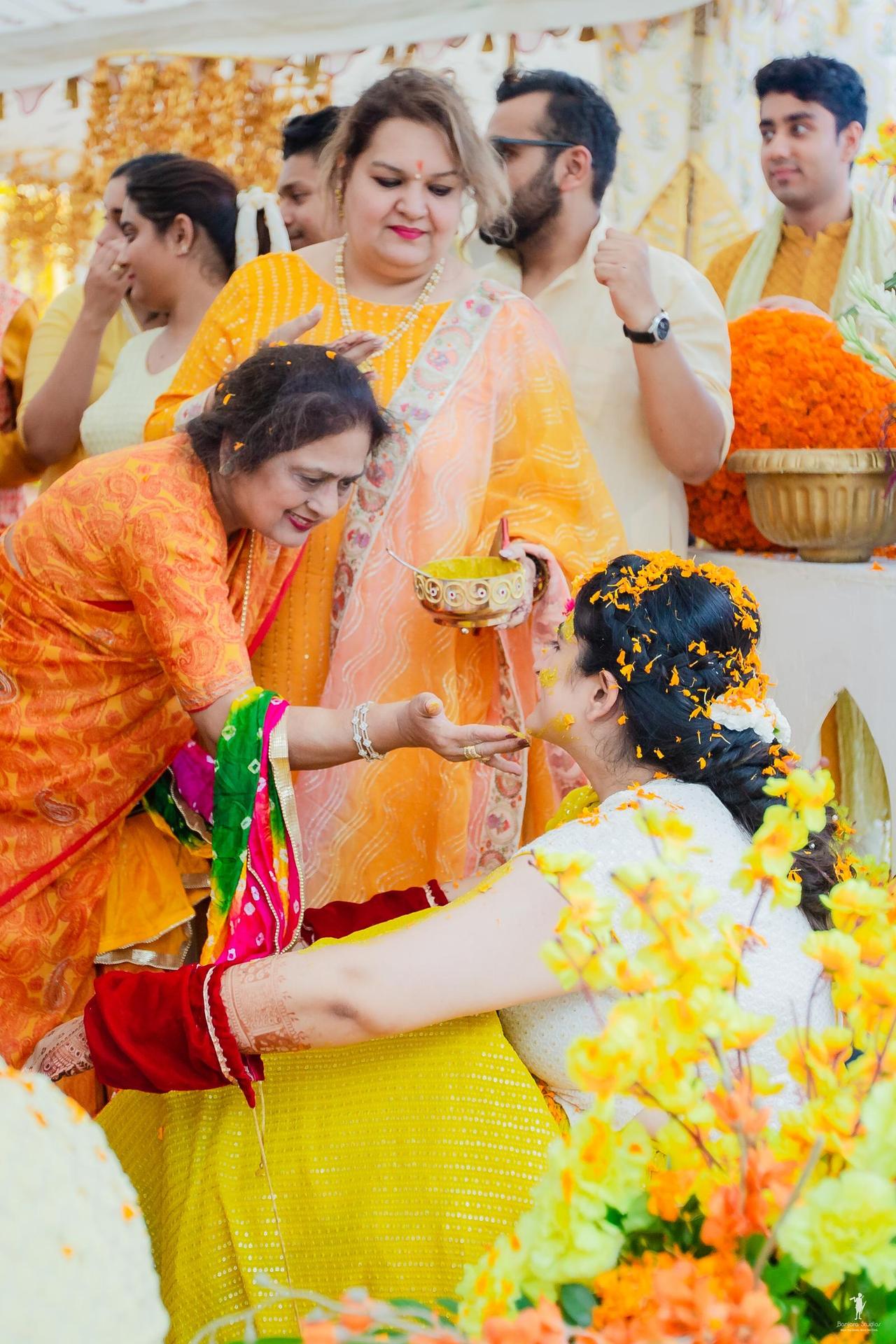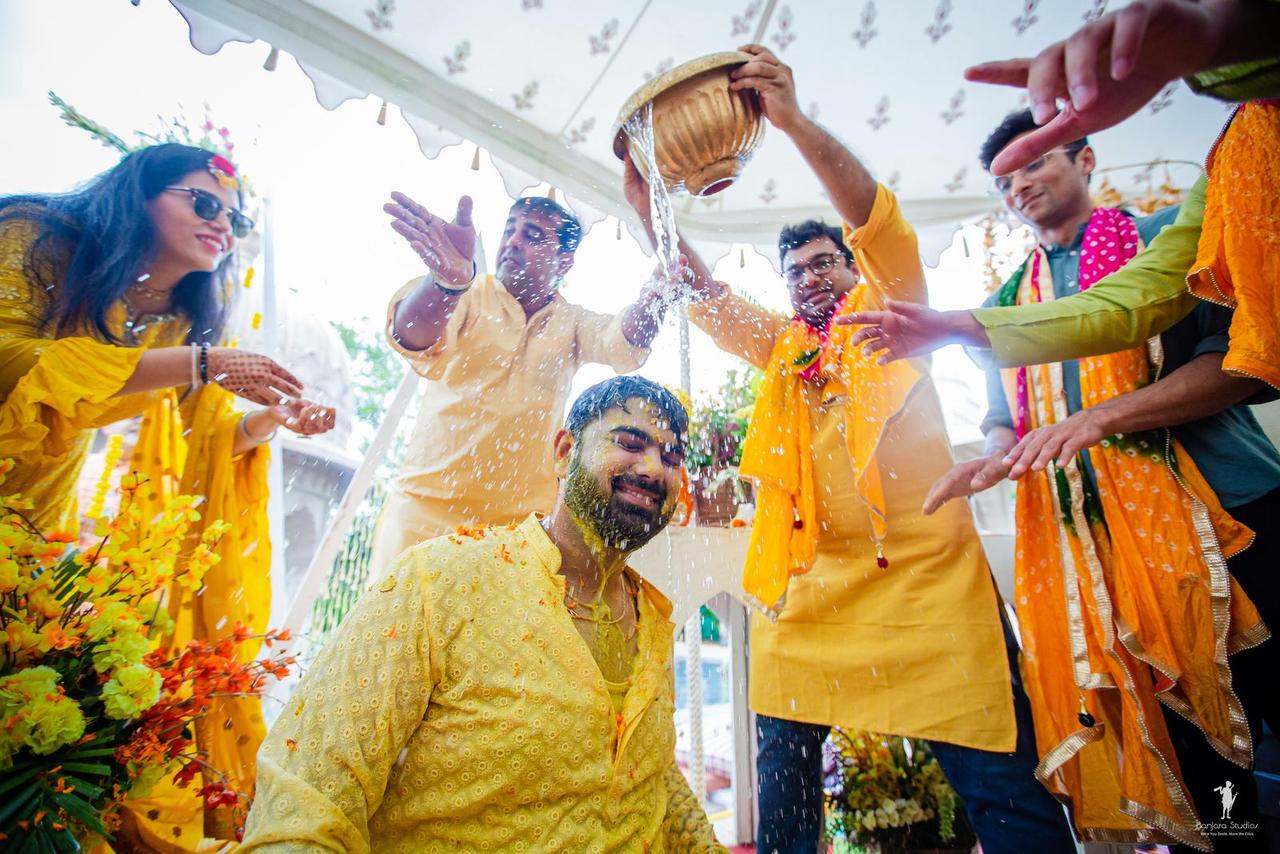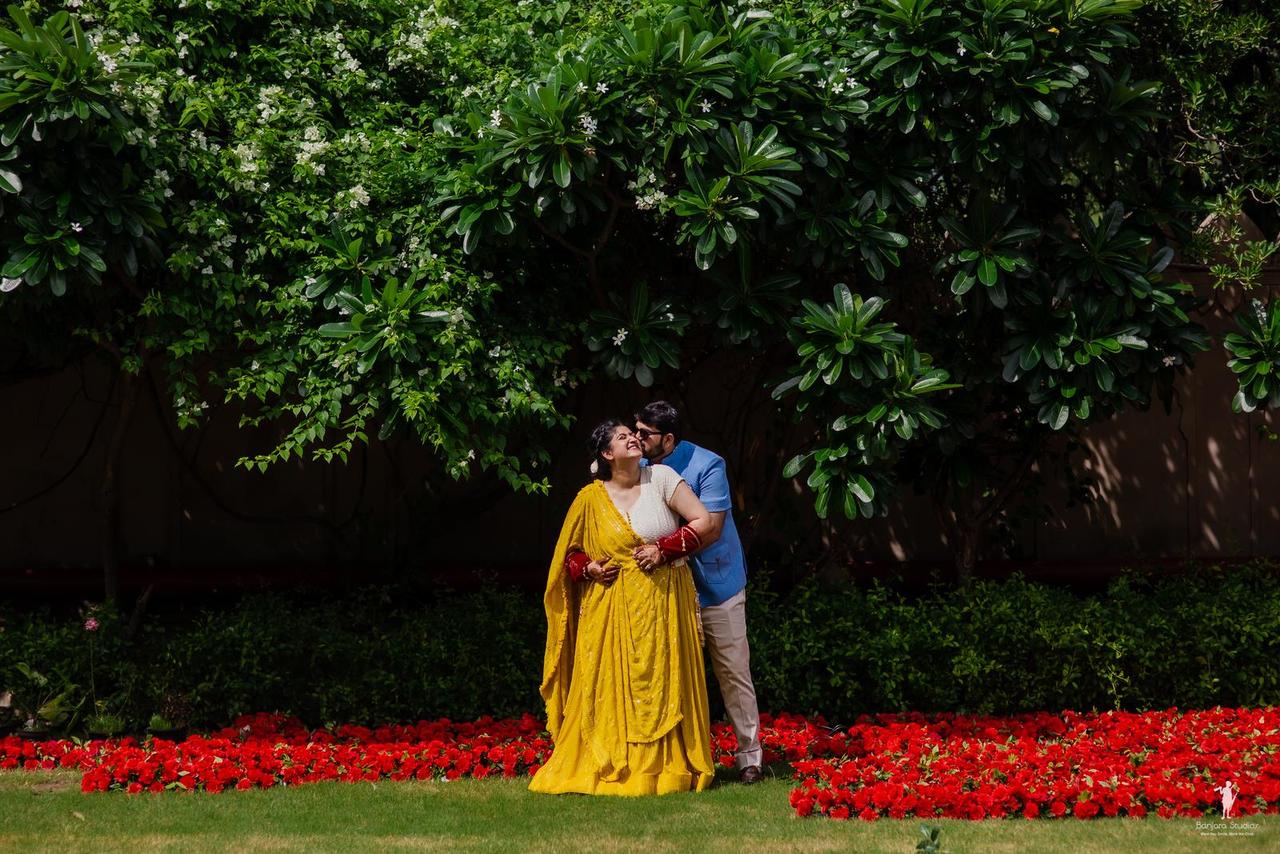 Photography: Banjara Studios
Wedding Day
Saatvvika wanted nothing less than a dreamy fairytale wedding filled with wonderful moments that she could cherish for life. Talking about her vision for her big day, she said, "Honestly, I always wanted a dreamy wedding with limited gatherings, but where both sides of the marriage are in the same hotel/ space. We got married in 6 weeks, and honestly, with that time frame, there's not a lot of planning that can be controlled. Thankfully, we had an event manager-Suraj Singh, who provided us with the vision we wanted. Urlis & open Haldi setup, beautiful white & red decor for the wedding, tiny details like hashtags imprinted on coconuts, skewers etc. These were all the things we thought of, and they made it happen."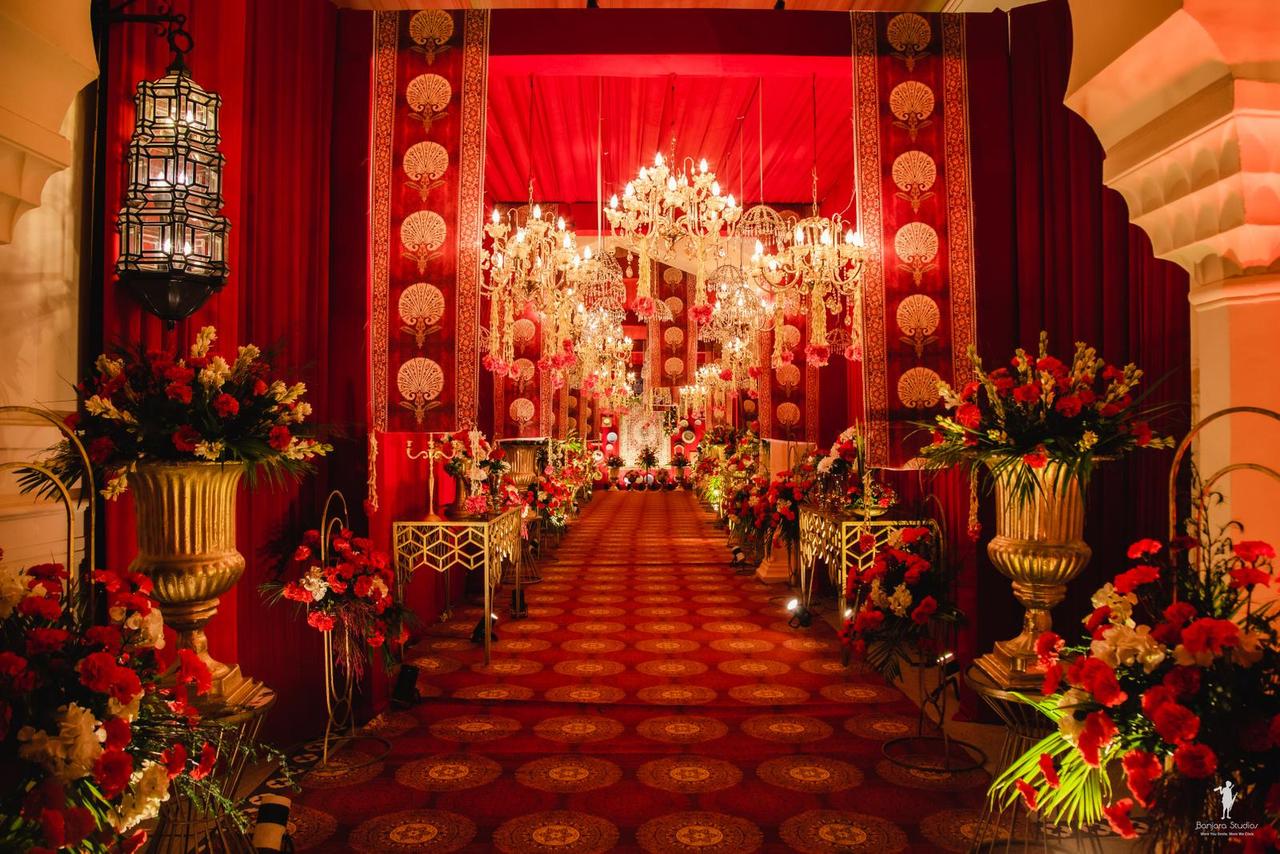 Groom Sherwani: Karan & Moin
Makeup Artist: Meera Bhandari Makeovers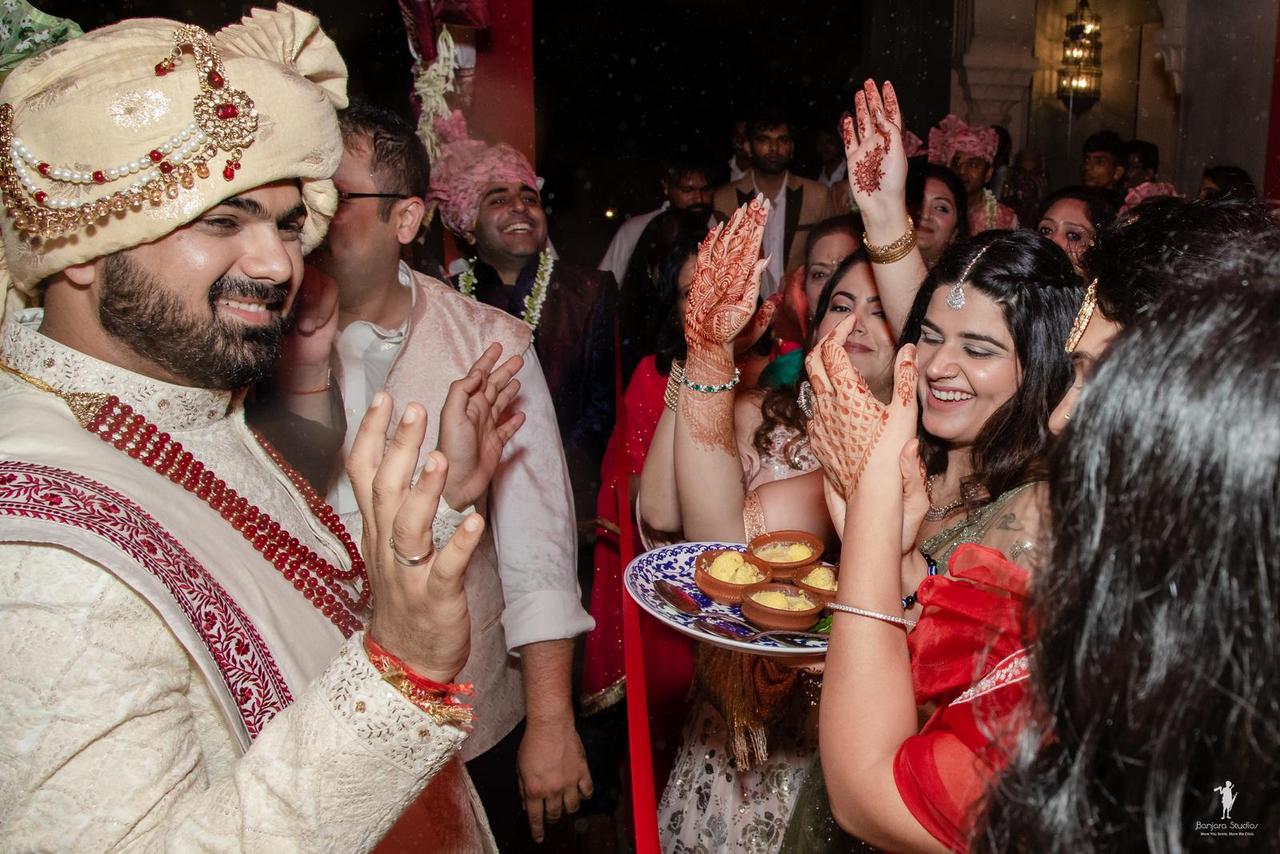 Bridal Lehenga: Frontier Raas
Groom Sherwani: Karan & Moin, Bridal Lehenga: Frontier Raas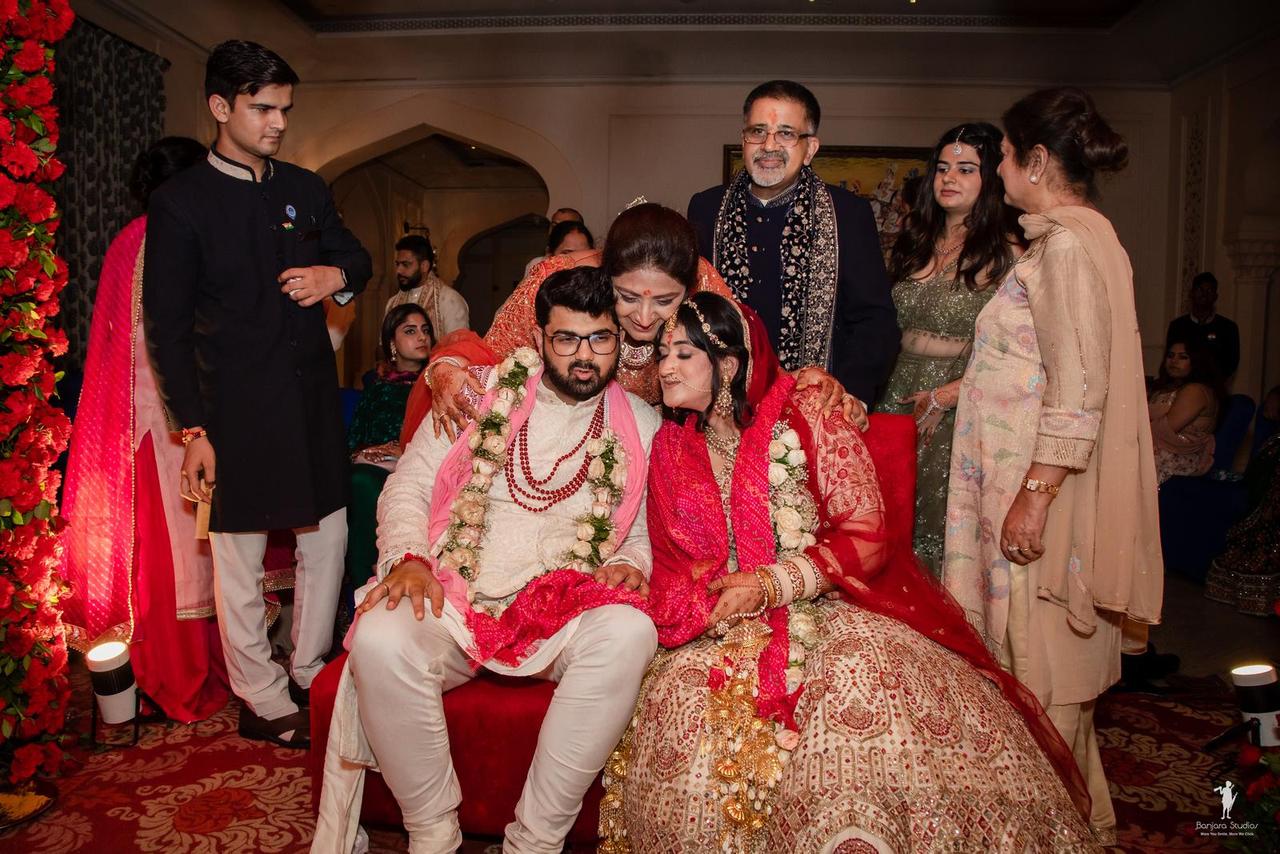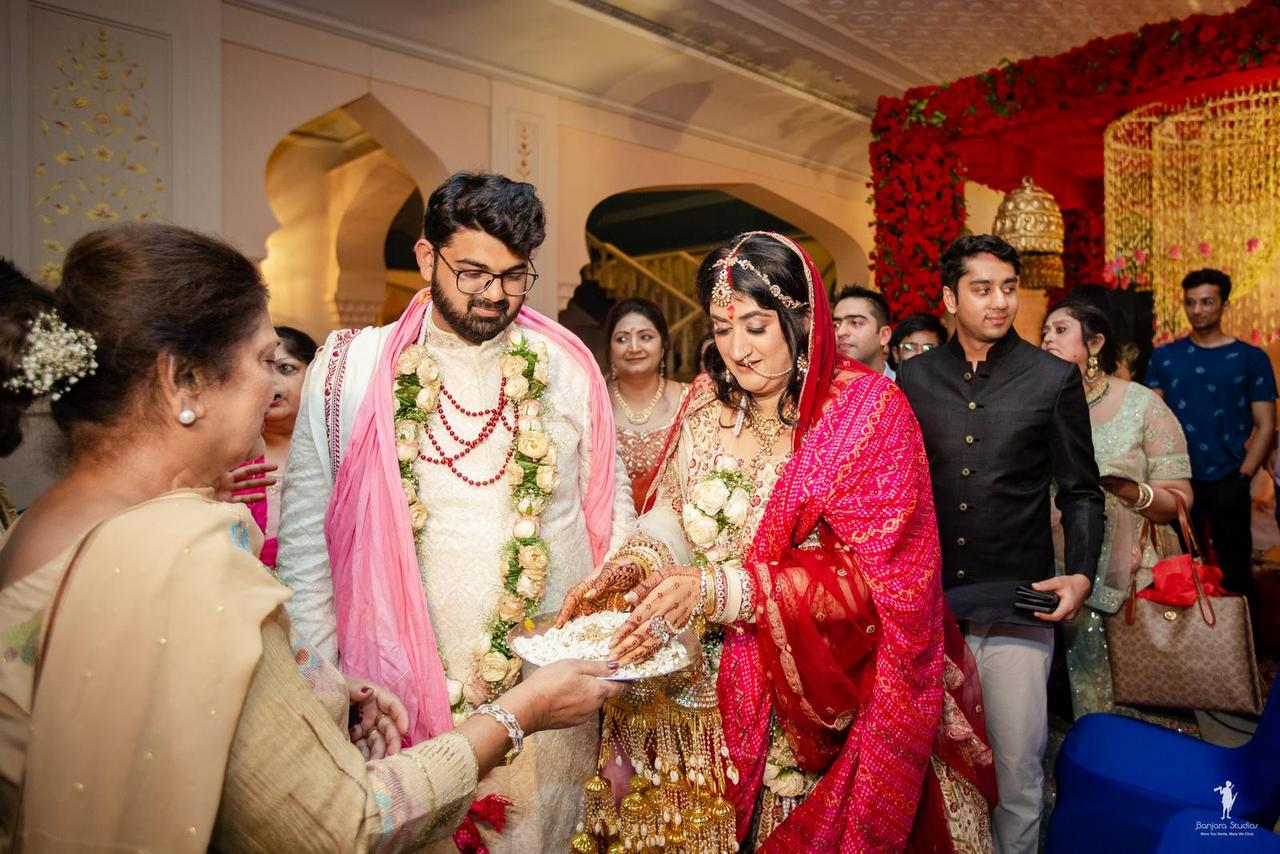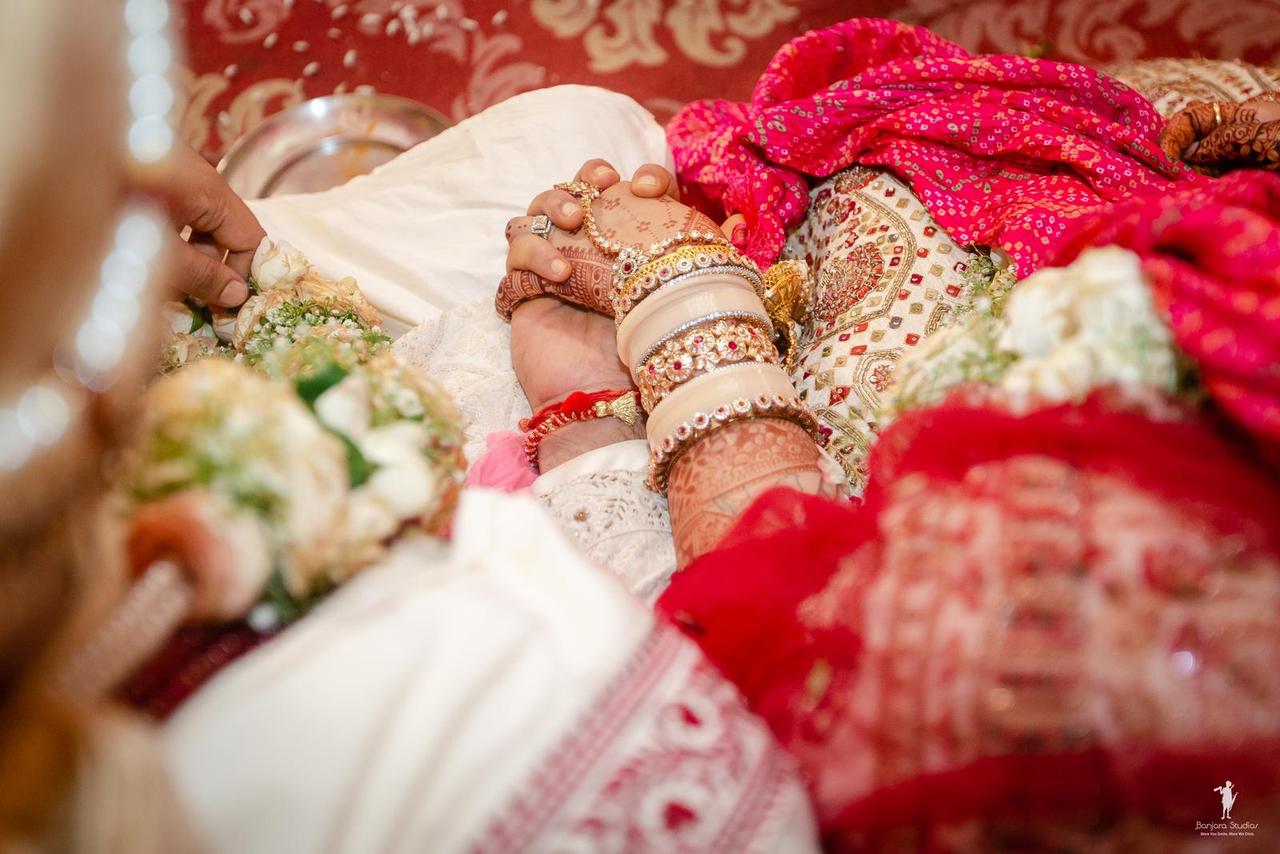 All Photographs: Banjara Studios
Planning an Indian wedding is no easy task as it comprises so many different functions, rituals, and ceremonies, while a destination wedding in India is another ball game altogether. While organizing different beautiful ceremonies around their wedding day, each moment of it was enjoyed to the fullest by Saatvvika, Anshul, and all their loved ones. Giving us tips on what we should bear in mind while planning a destination wedding in the city, Saatvvika mentioned, "Try to get a couple of months headstart on wedding planning instead of a few weeks, to begin with. Getting married in the off-season, i.e., from June- September, October gives you better rates overall and faster delivery time on the outfits. My outfits were the first things to be ticked off, and thankfully, they were ready in 5 weeks. I didn't want to do the very traditional colours for my outfits, so they all had to be properly fitted. Make sure that everything you absolutely desire at the venue or in any of the functions is fulfilled first, aka is non-negotiable."
Dream Team
Venue: Fairmont Jaipur
Photographer: Banjara Studios
Bridal Lehenga: Frontier Raas (Wedding), Pratap Sons, Jaipur (Cocktail)
Groom Sherwani: Karan & Moin (Wedding), Ensign by Gautam Gupta (Mehndi & Cocktail)
Are you also planning a destination wedding in Jaipur? Get in touch with expert wedding planners near you today!
Top Blogs on WeddingWire India