An Unconventional Wedding Story That Confirms #LoveTriumphsAll
In an intimate wedding ceremony with not more than 90 guests, Abhinav and Rumela celebrated their love that survived multiple storms of fate and fought against all odds.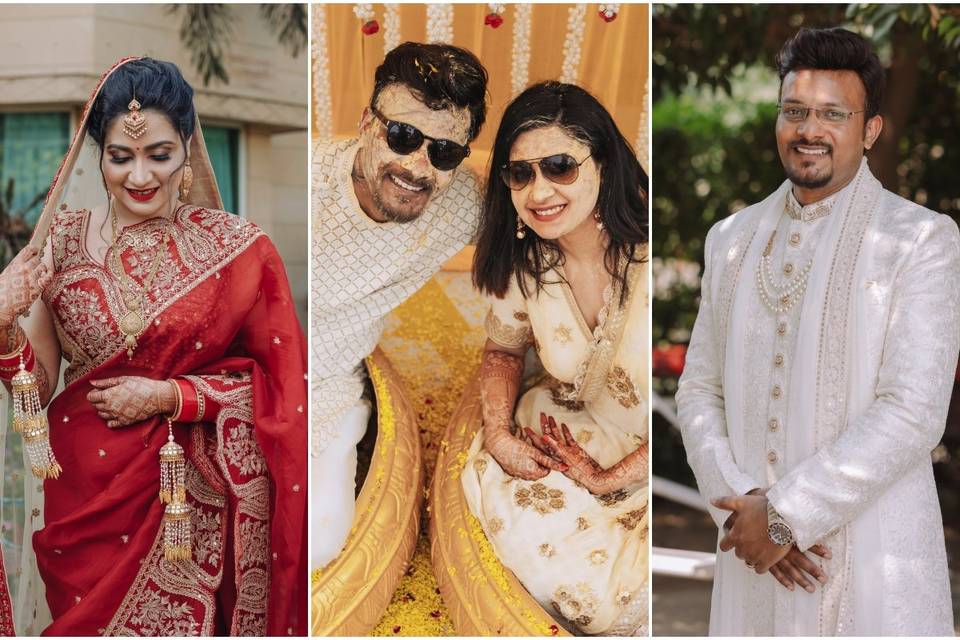 Photography - VideoTailor
Abhinav and Rumela started as friends before their love for each other grew as they battled the worst year of their lives together. Remembering the first time they met, Rumela shares, "It was a friends' get-together plan in CP and honestly I don't remember much from that night because I had a long and stressful day. The first time we met, we didn't even speak to each other, apart from the customary exchange of hellos. We met multiple times after that because we became part of a mutual group. I think we genuinely connected as friends during a trip to Manali in Jan 2018. Post that trip we became each other's first call about almost everything. I had a few close friends back then who were my ride or die, AB became one of them in no time."
The couple added the hashtag 'Love Triumphs all' in their wedding posts on Instagram to honor the journey they had together and the storms they dealt with. The bride reveals, "Our journey didn't start with romance at the core of it. Life took an ugly turn for me in mid-2018 when I suddenly lost my elder sister to breast cancer. I got diagnosed with clinical depression and PTSD and chose to quit my full-time job in Delhi and move back to my hometown for a few months. Abhinav's mom was diagnosed with cancer around the same time and she went through a severe surgery that year." Finding love wasn't the first priority for the couple, but they became each other's strength through the worst phase. "Regardless of the distance and our unavailability to any emotional commitment, we found a way to stand by each other through our worst year. To date, I struggle to identify when and how our relationship began. He says he realized his feelings for me when we returned from the Manali trip in early 2018. He kept his feelings to himself and honored my grief by simply being there as a friend and confidante for months. Before I met AB, I would often refer to Frida Kahlo's quote - 'Take a lover who looks at you, like maybe you are magic', as my manifestation of true love. In 2019, I realized I had manifested AB. With him, I wanted to live again and restart my life and career because I wanted a life with him. His love was my anchor through it all," she confabs.
A Close-Knitted & Intimate Wedding Chapter
Photography - VideoTailor
A love like theirs doesn't understand regional barriers, but in many Indian families, inter-cultural weddings are not the easiest unions. Coming from a Bengali and a UP Brahmin family, the bride and groom had to bridge many differences in their families to come together. When they finally made the decision to follow their heart and tie the knot, they wanted to make a big deal out of it. "The only way you can celebrate your love at your wedding and not fall prey to societal expectations is by inviting people who have known your journey and manifested this day for you. Our wedding was a 2-day long party, with family members and friends who have witnessed our journey from friends, to lovers and seen us fight all odds together," Rumela shares. To ensure that their friends and family could celebrate without the stress of traveling to and fro, they planned an intimate wedding on the 8th and 9th of March 2023 in Tivoli Heritage Palace - a heritage resort in the outskirts of Delhi, NCR and booked rooms and venues of the resort for different events. The couple planned the wedding themselves using the free wedding planning tools on WeddingWire India and looped in Fleur Stories to handle decoration.
Bura Na Mano Haldi Hai
Their wedding chapter started on the 8th of March. Holi was celebrated this year on the same day. "We gave our Haldi ceremony a #BuranaManoHaldihai theme and had organic haldi, fresh flowers, and water pichkaris to play with. We color coordinated and got off-white outfits customized to keep our haldi look simple & classic."
Sign Up to Plan Your Wedding Online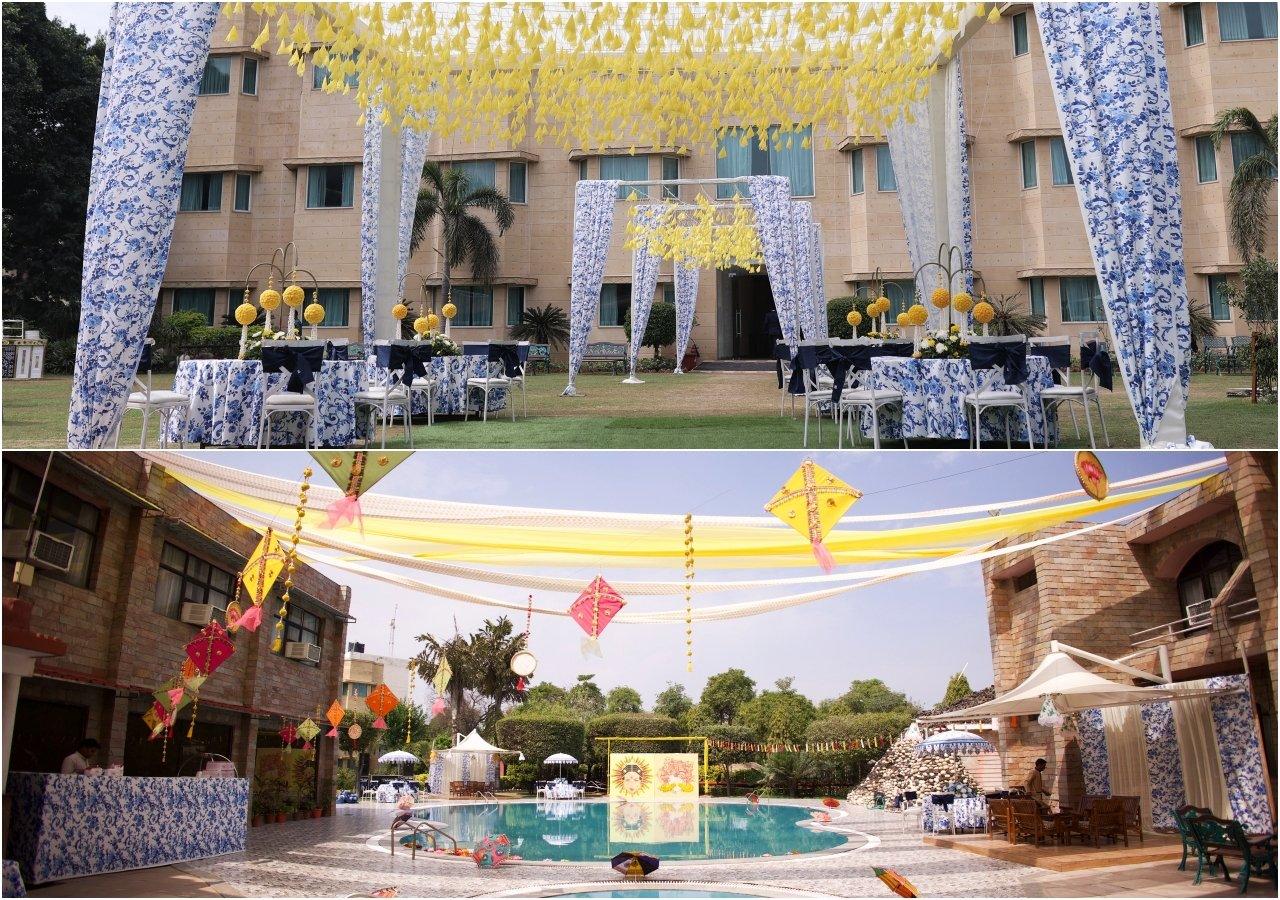 Venue - Tivoli Heritage Palace, Decor - Fleur Stories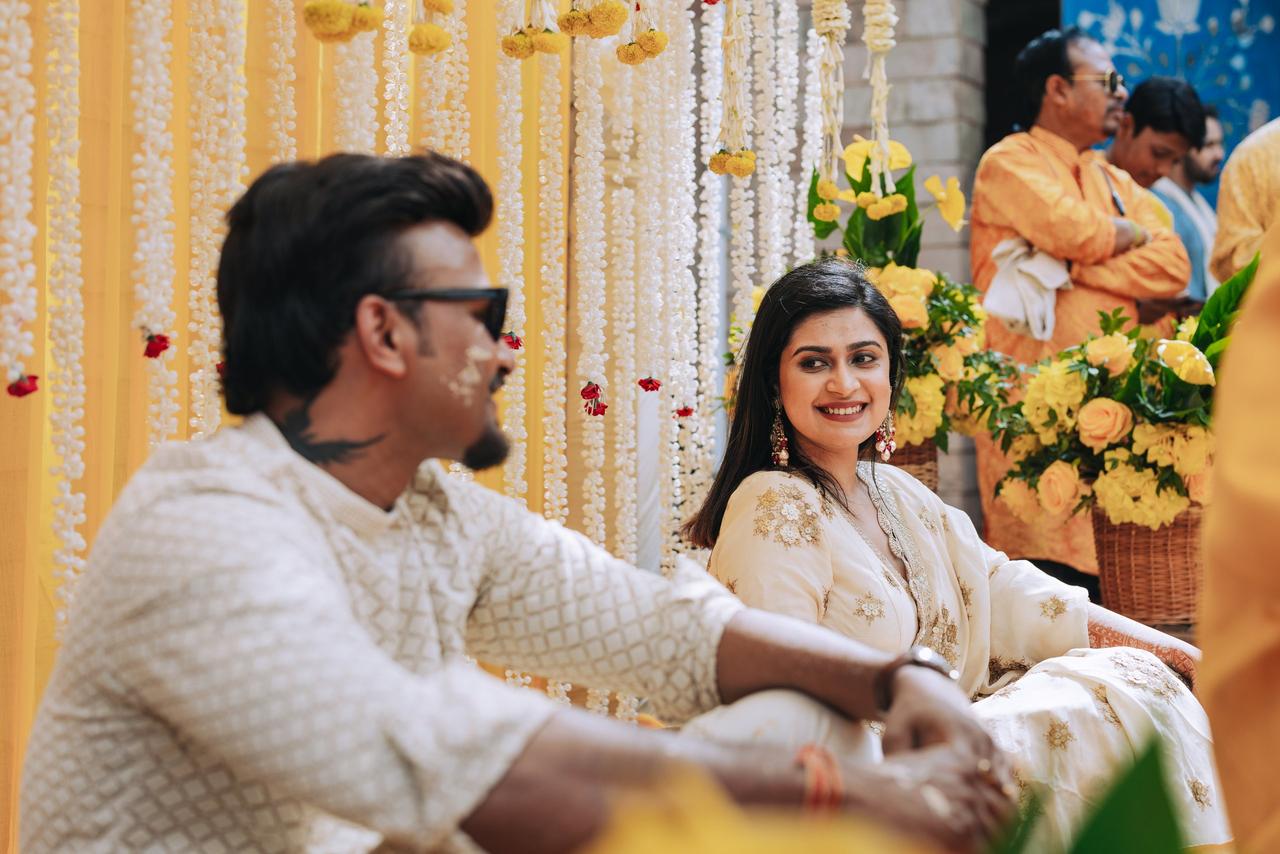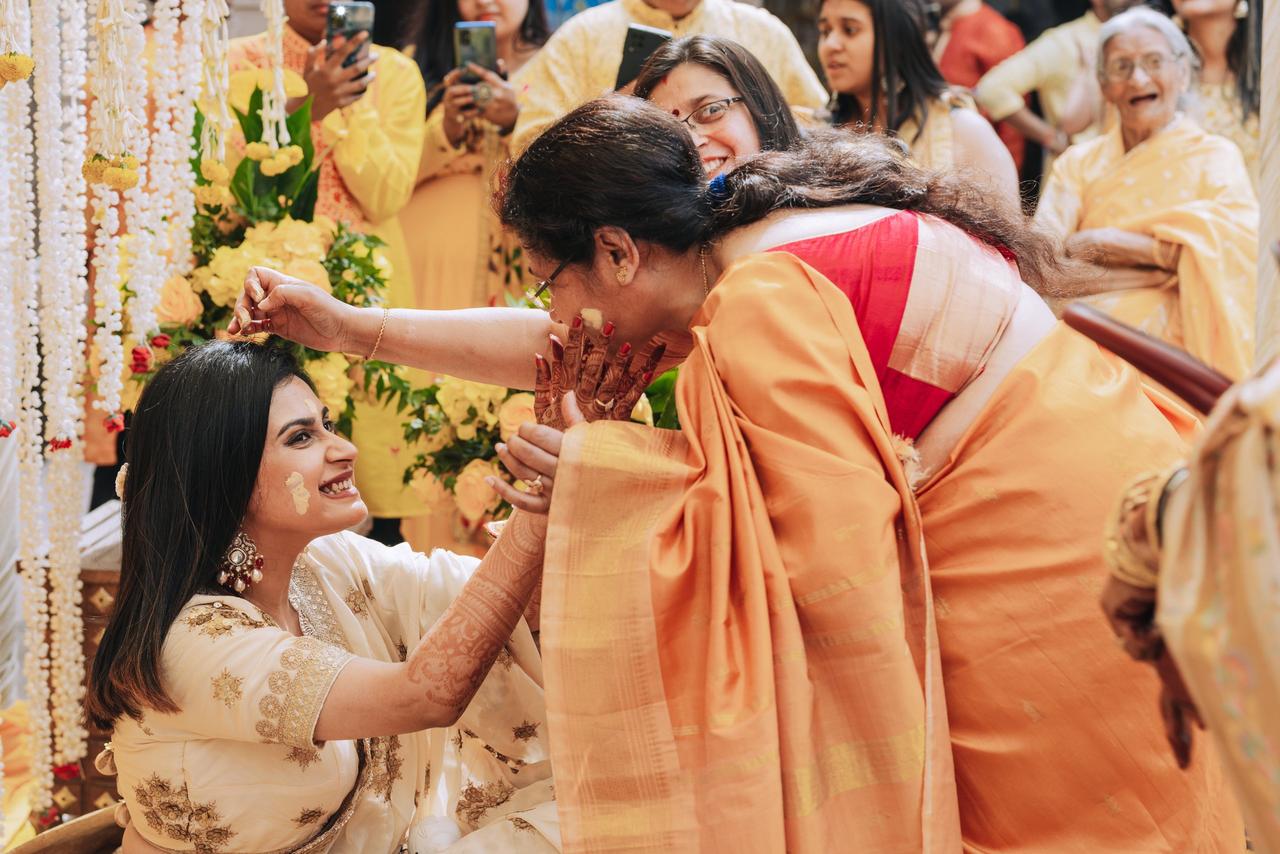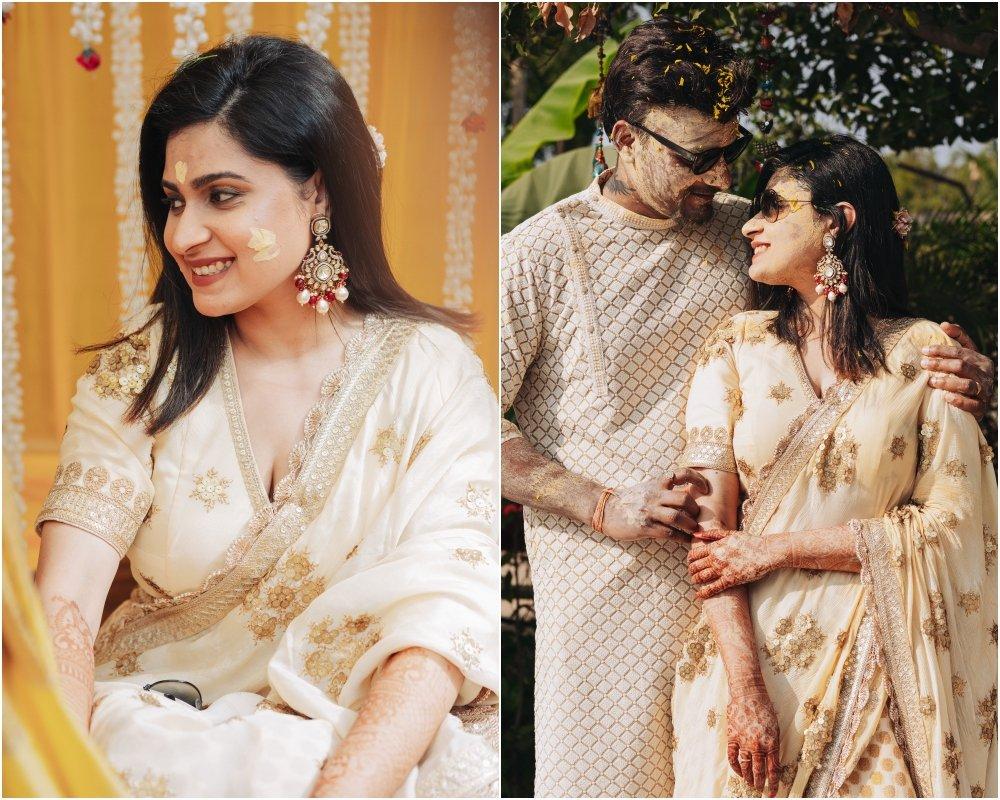 Jewellery - Soni Sapphire
Groom's Outfit - Manyavar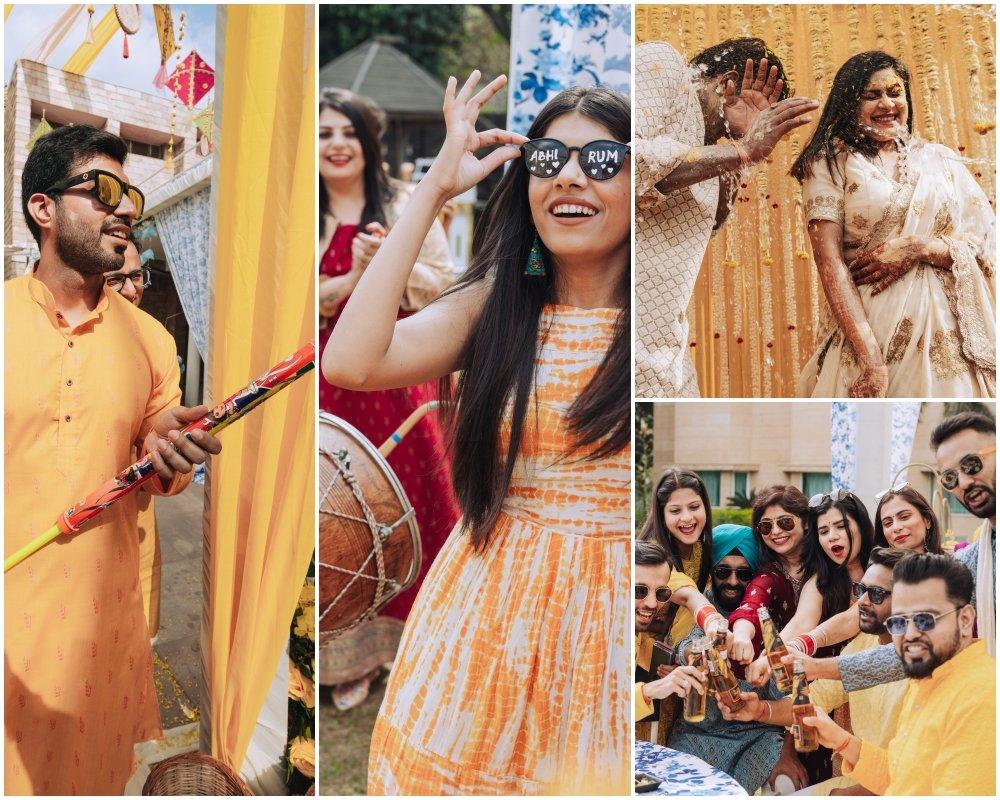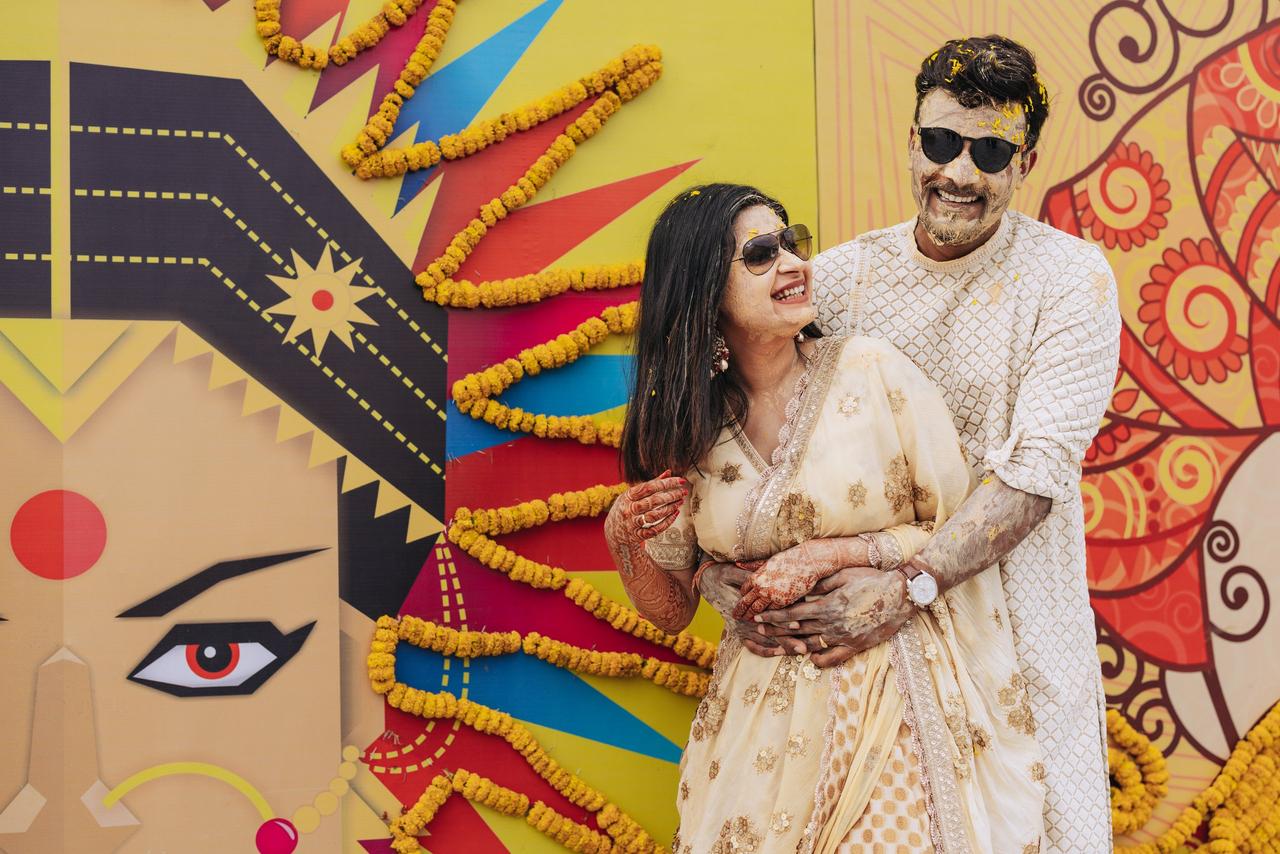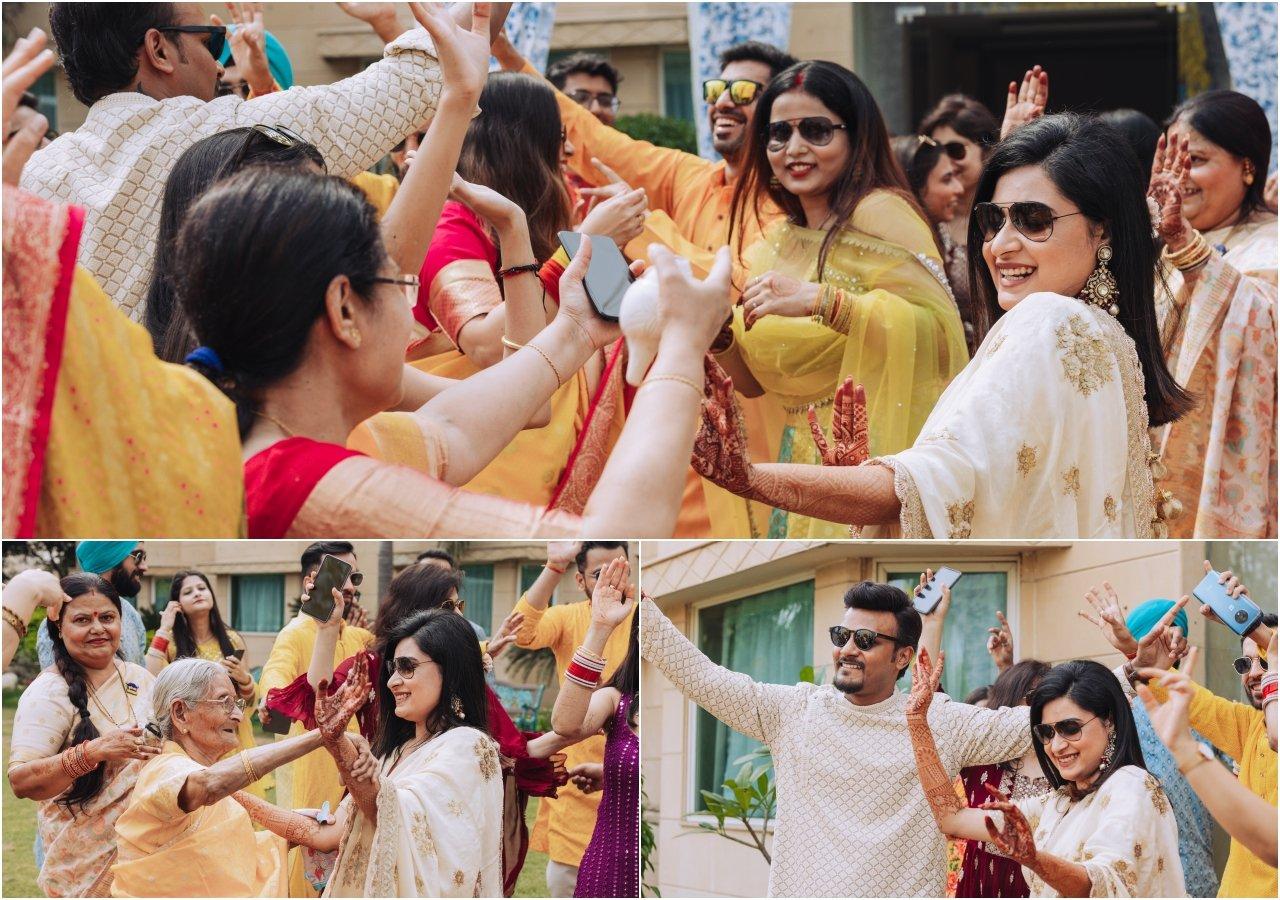 All Photographs - VideoTailor
#AbhiRumkeNasheMe - A New-Age Sangeet Soiree
The same night, the couple planned a pre-wedding cocktail + sangeet party. The night was inspired by an 'Under the Star-lit Sky theme' with a starry tunnel at the entrance of a glass house leading their close ones to the main venue. "This was a night of unlimited dance performances. Almost our whole guest list was on the stage dancing to Bollywood hits and we partied for as long as we could. I used to be a trained dancer in my school days but I had chosen to focus on pursuing higher education and build my career after I lost my dad in 2012. I was not sure about dancing in front of so many people after 11 years. I somehow mustered courage during the event and did an unprepared surprise performance for Abhinav on the song 'Aaj mere piya ghar aavenge' by Kailash Kher. He joined me on the stage for the last few minutes and we saw so many of our close ones in tears of joy from the stage. It was the most heartfelt and natural moment of celebration for us," Rumela shares. She opted for a blue wedding gown from Kalki Fashion and the groom brought a fancy twist to the royal look by wearing a new-age traditional ensemble.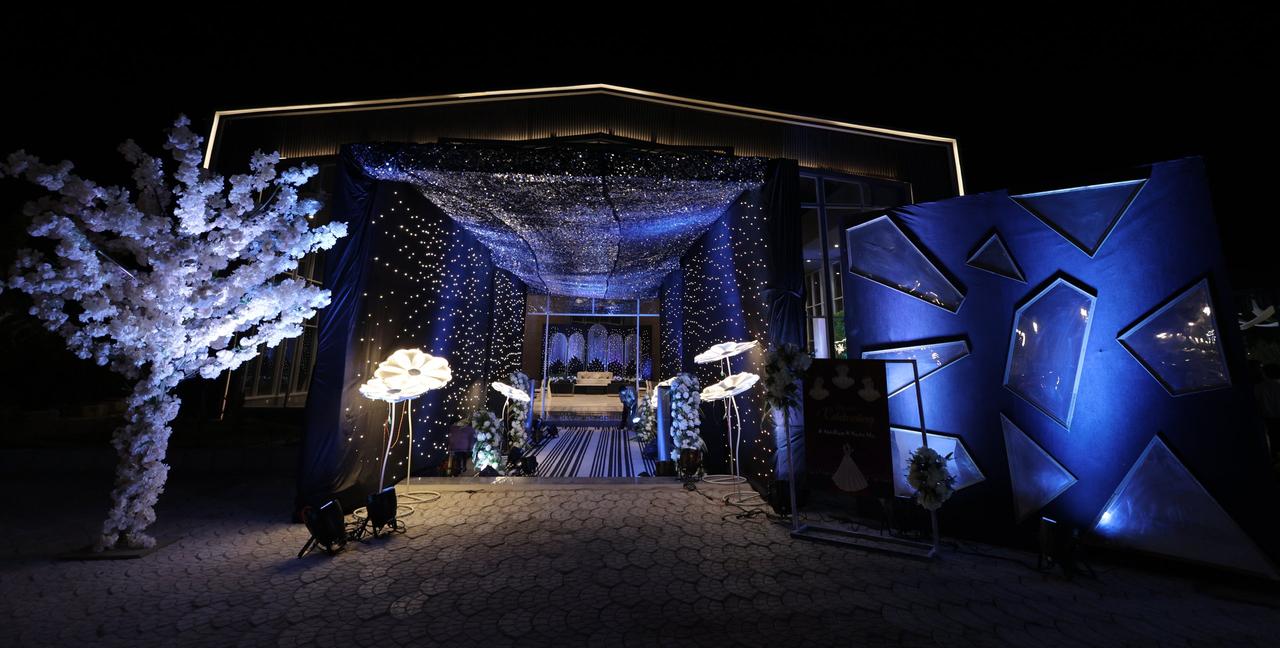 Venue - Tivoli Heritage Palace, Decor - Fleur Stories
Make-up Artist - Peachy Glow by Laveena Oberoi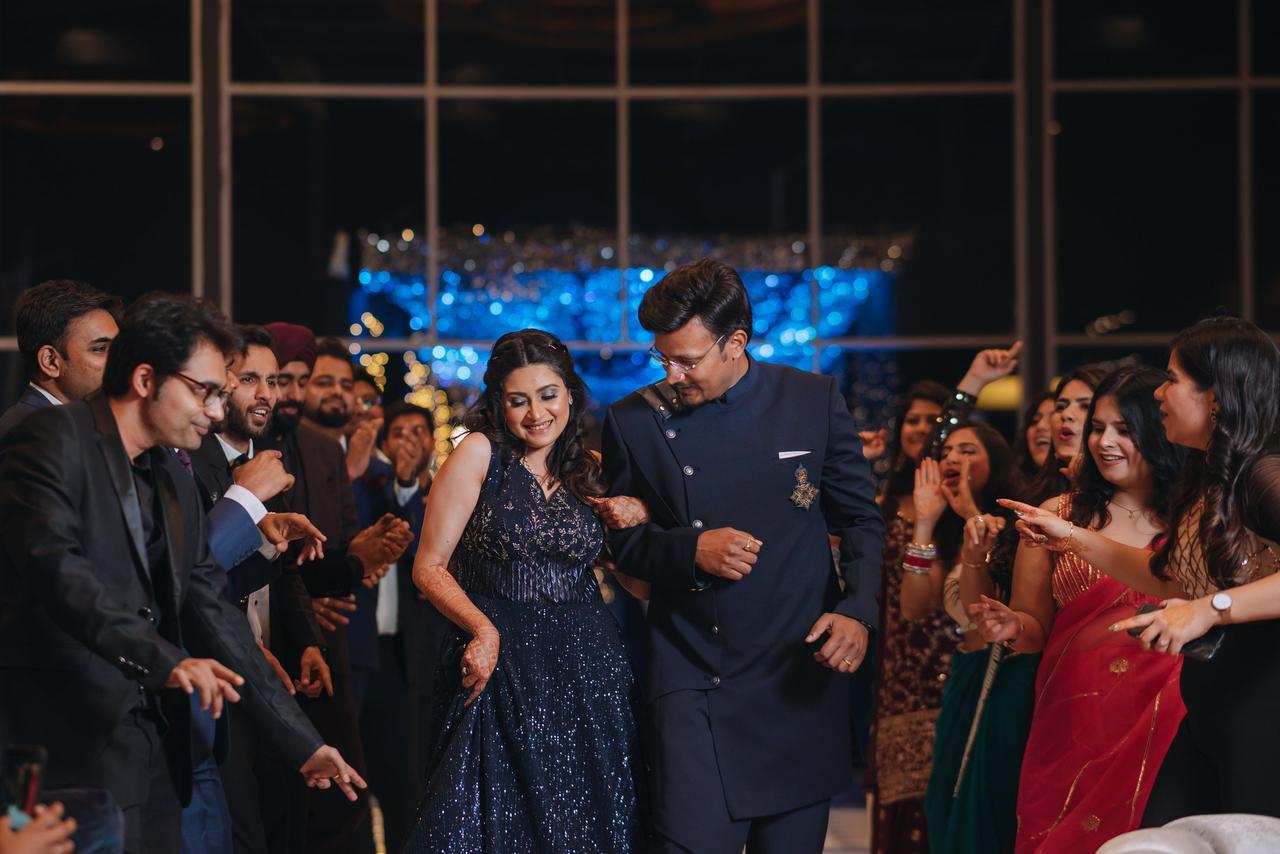 Bride's Outfit - Kalki Fashion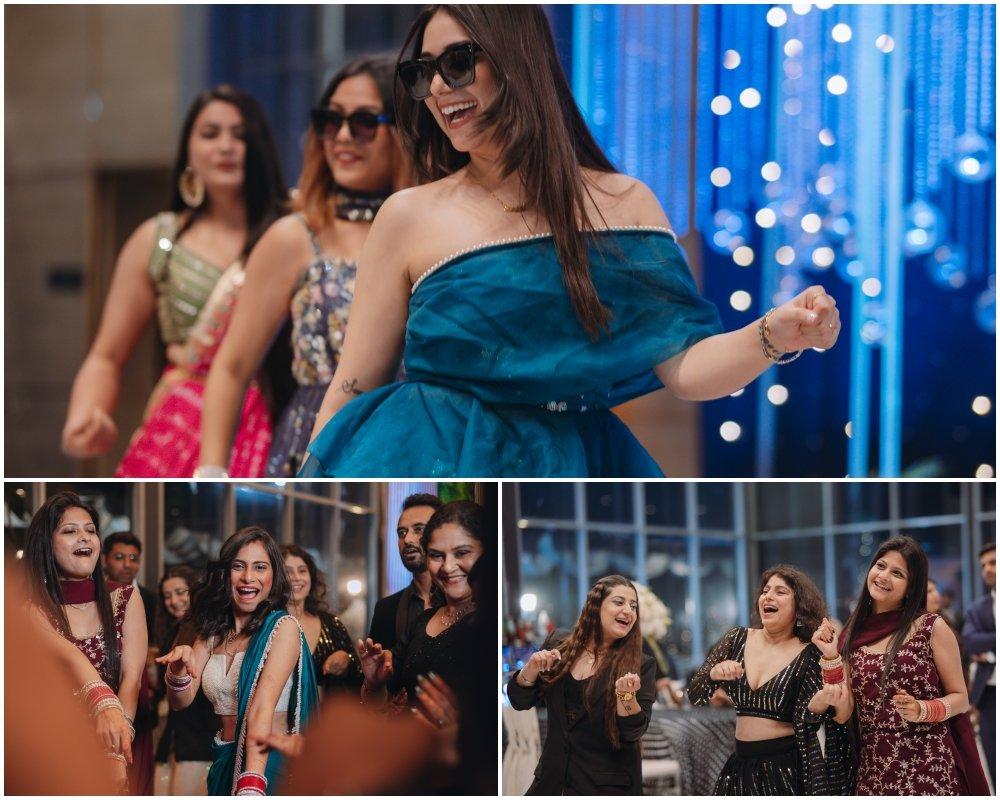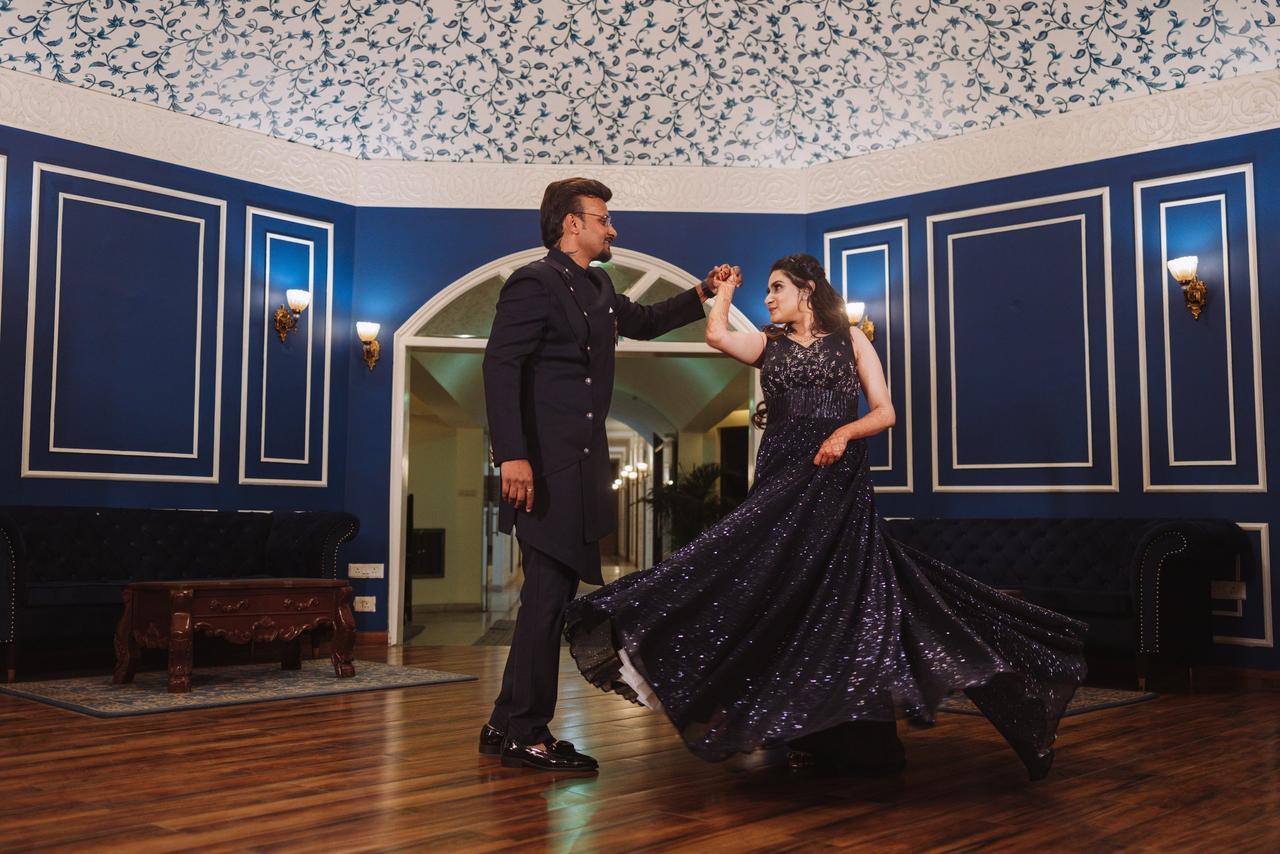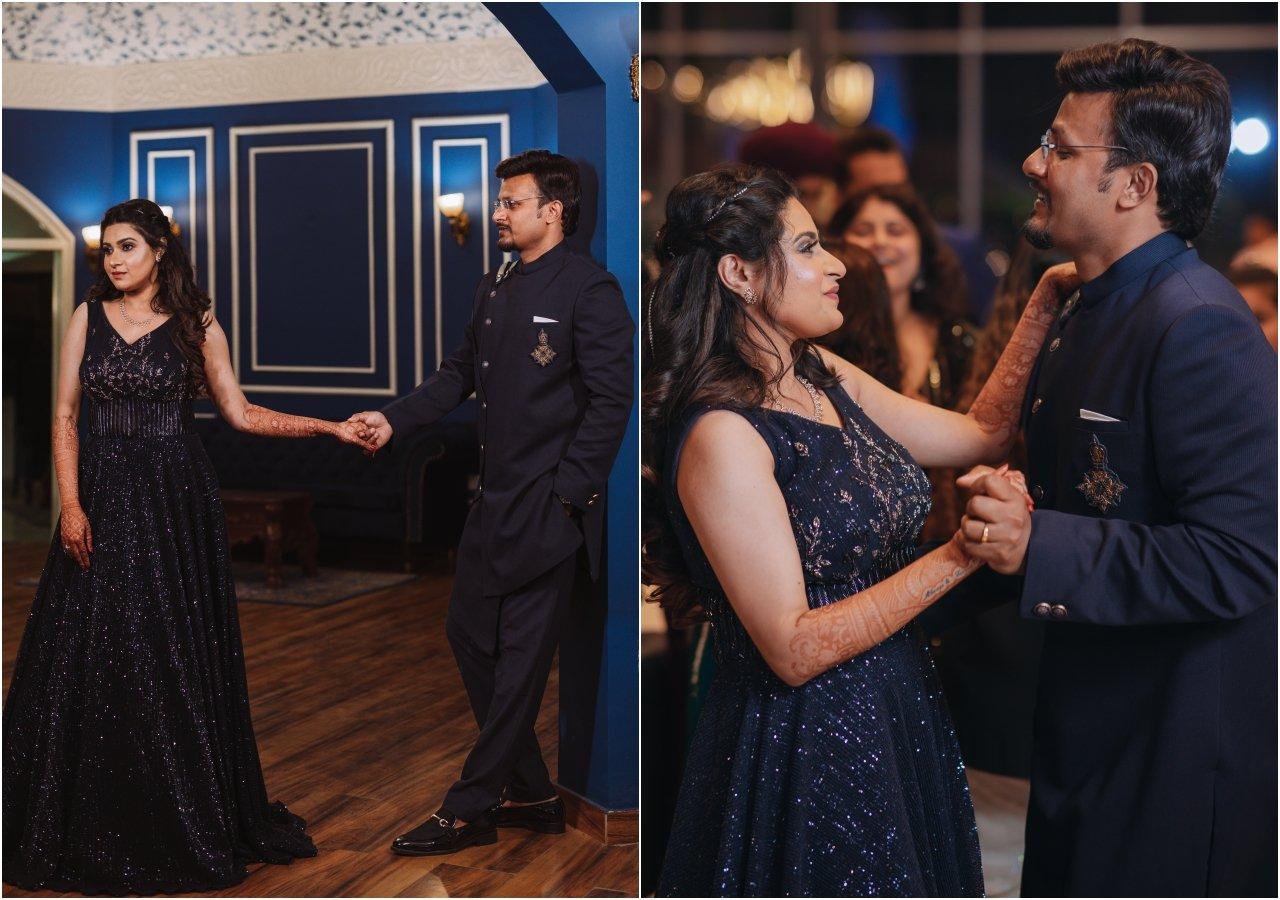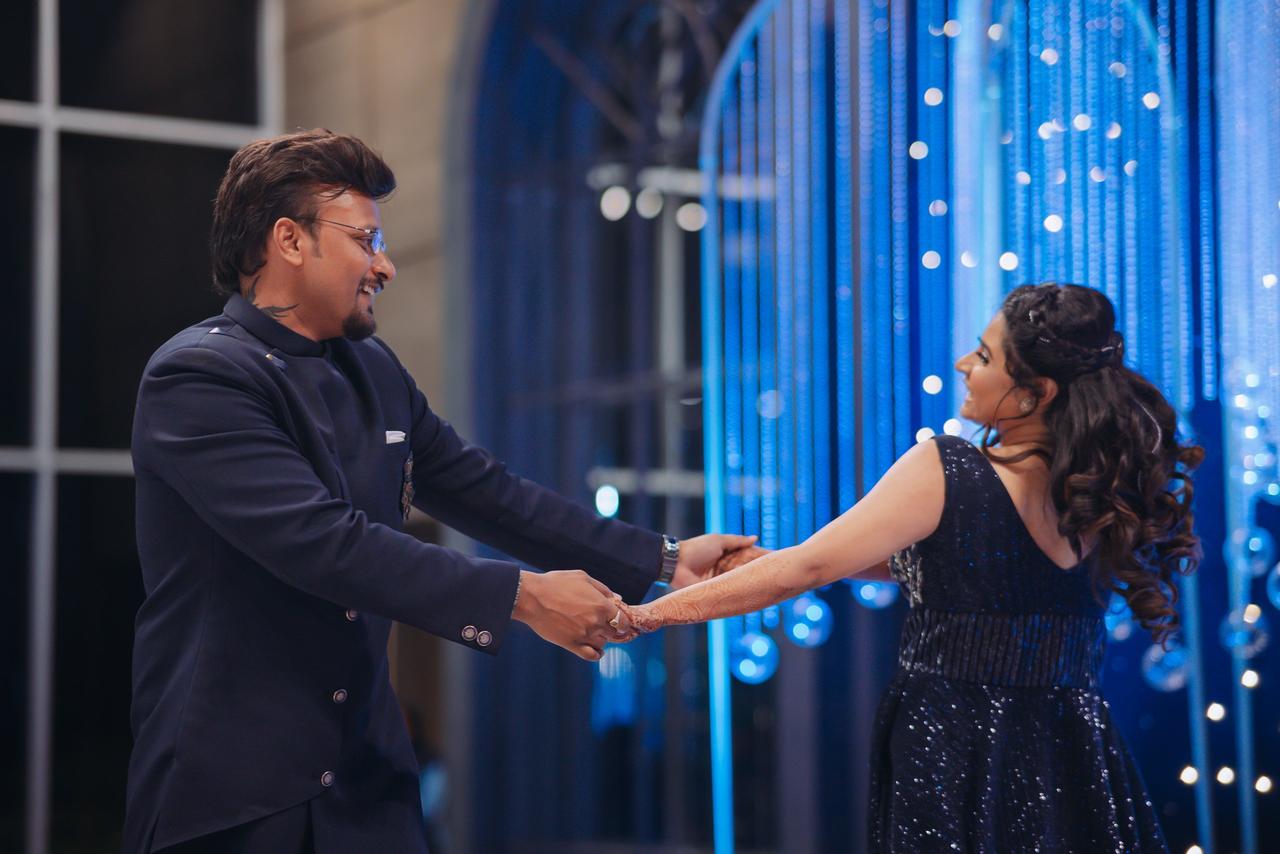 All Photographs - VideoTailor
A 2 States Day Wedding
On the 9th of March, the couple had a day wedding reception, followed by pheras during sundowner. To honor the divine presence and blessing of the bride's dad and elder sister, she had her sister and dad's photo printed on her bridal chaadar. "It was not an easy thing to do but it will always be one of the most powerful memories for me," says Rumela. The bride tribe looked gorgeous in white and gold outfits. The groom chose to wear an ivory sherwani from Manyavar. "It was love at first sight for him," said the bride. "He chose the outfit in a day. I wanted to complement his look in an ivory lehenga but I decided to stay true to my Bengali roots. I opted for a red saree from TORANI. The saree looked divine to me and reminded me of Durga Ma's powerful presence. I knew I was not going to dress up as a traditional Bengali bride as we had an inter-cultural wedding and we wanted to avoid following any one family's regional customs, but this TORANI saree was 'it' for my minimal Bengali bridal look," Rumela shares.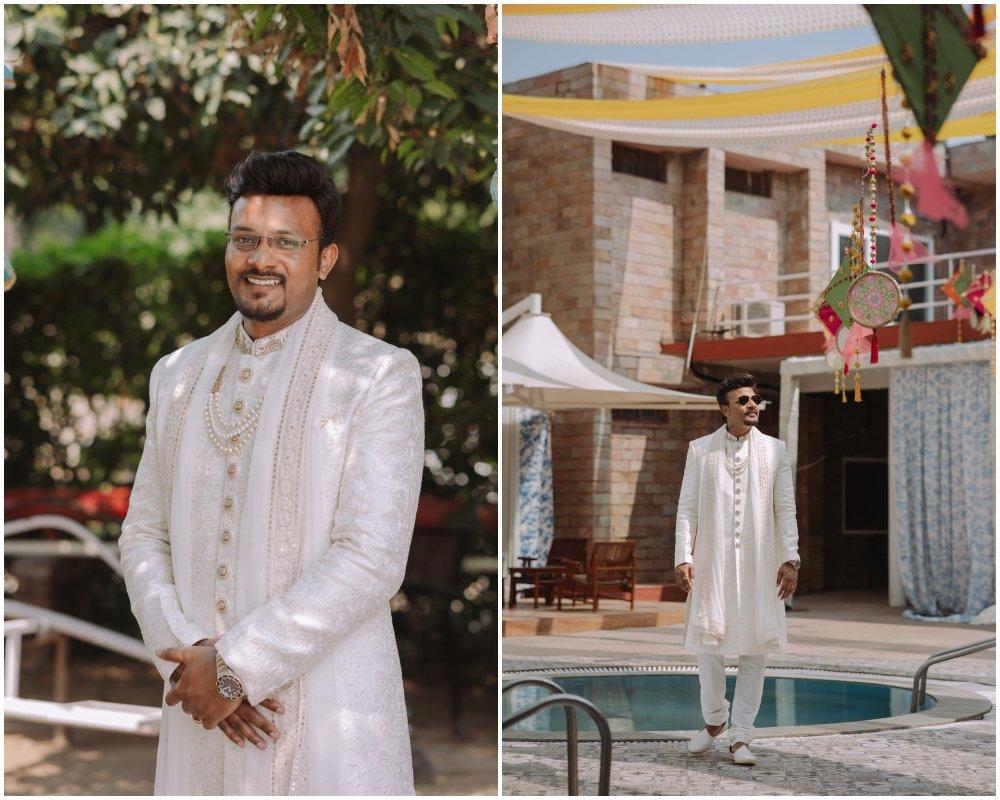 Groom's Outfit - Manyavar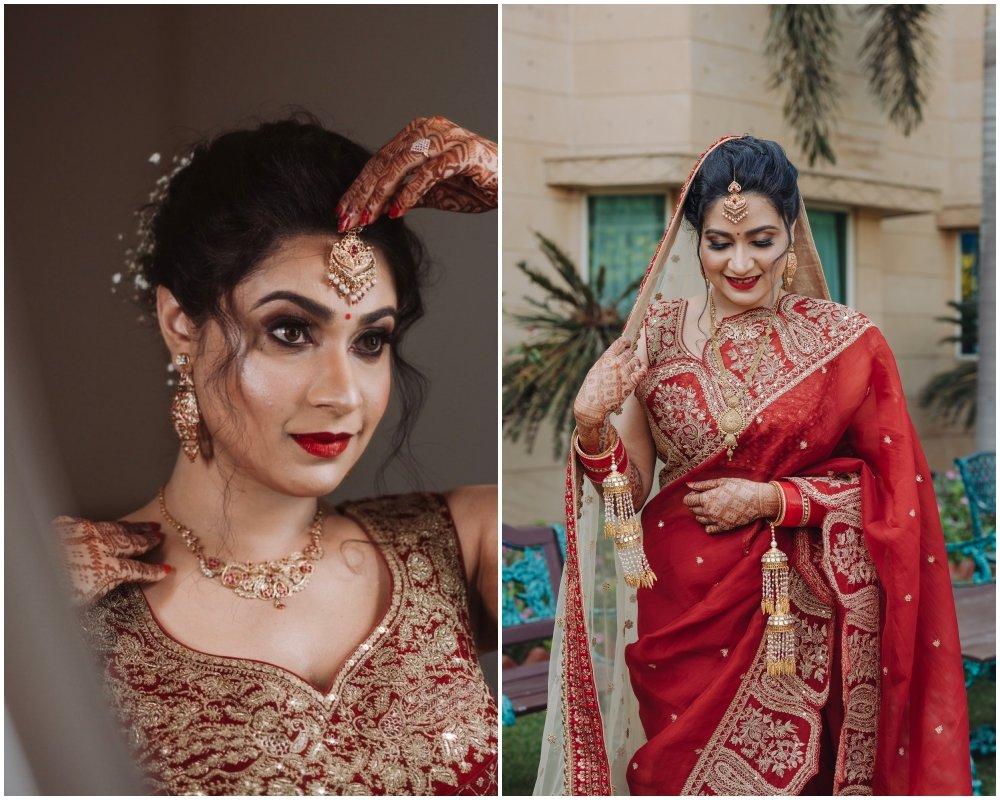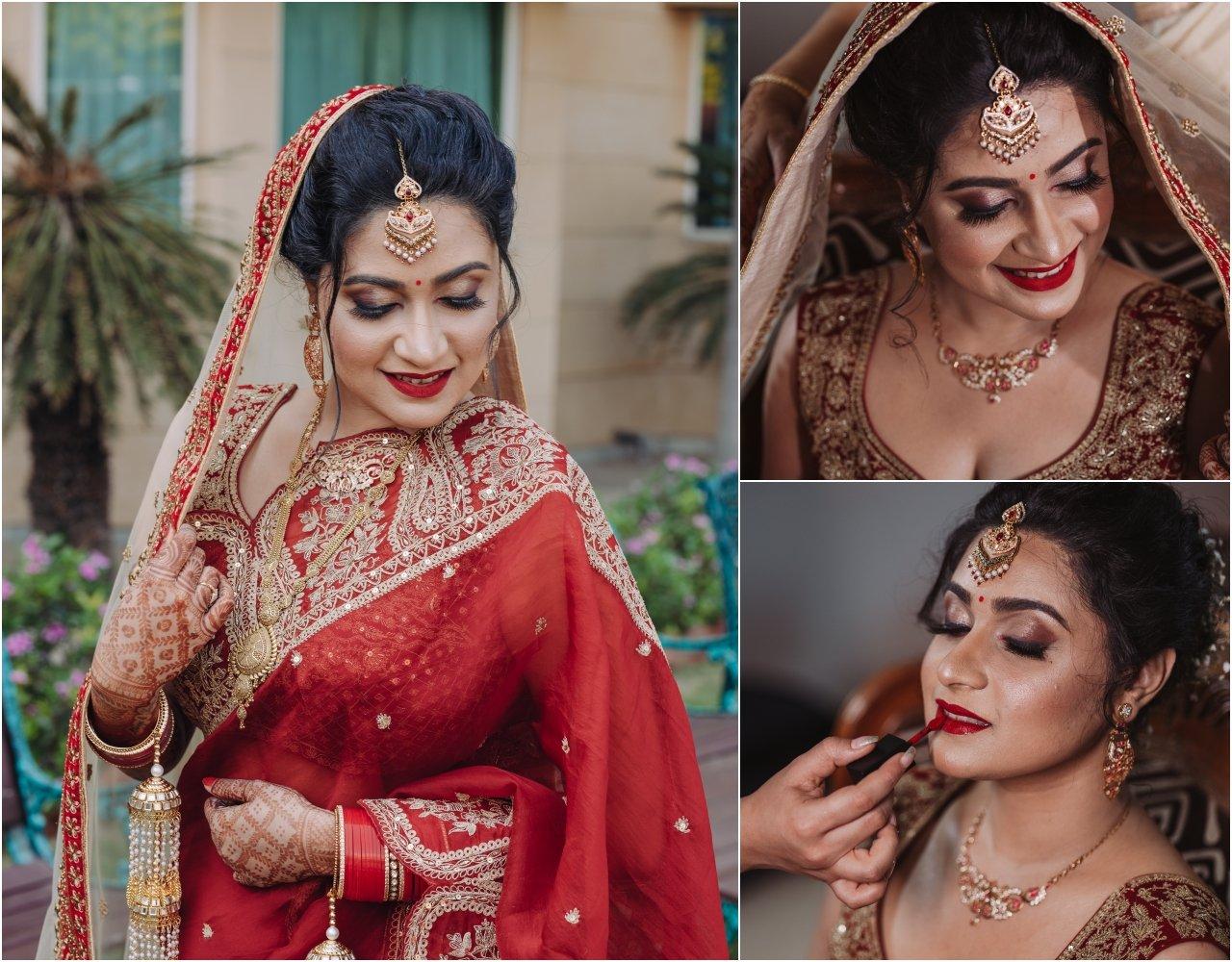 Bride's Outfit - TORANI, Make-up Artist - Peachy Glow by Laveena Oberoi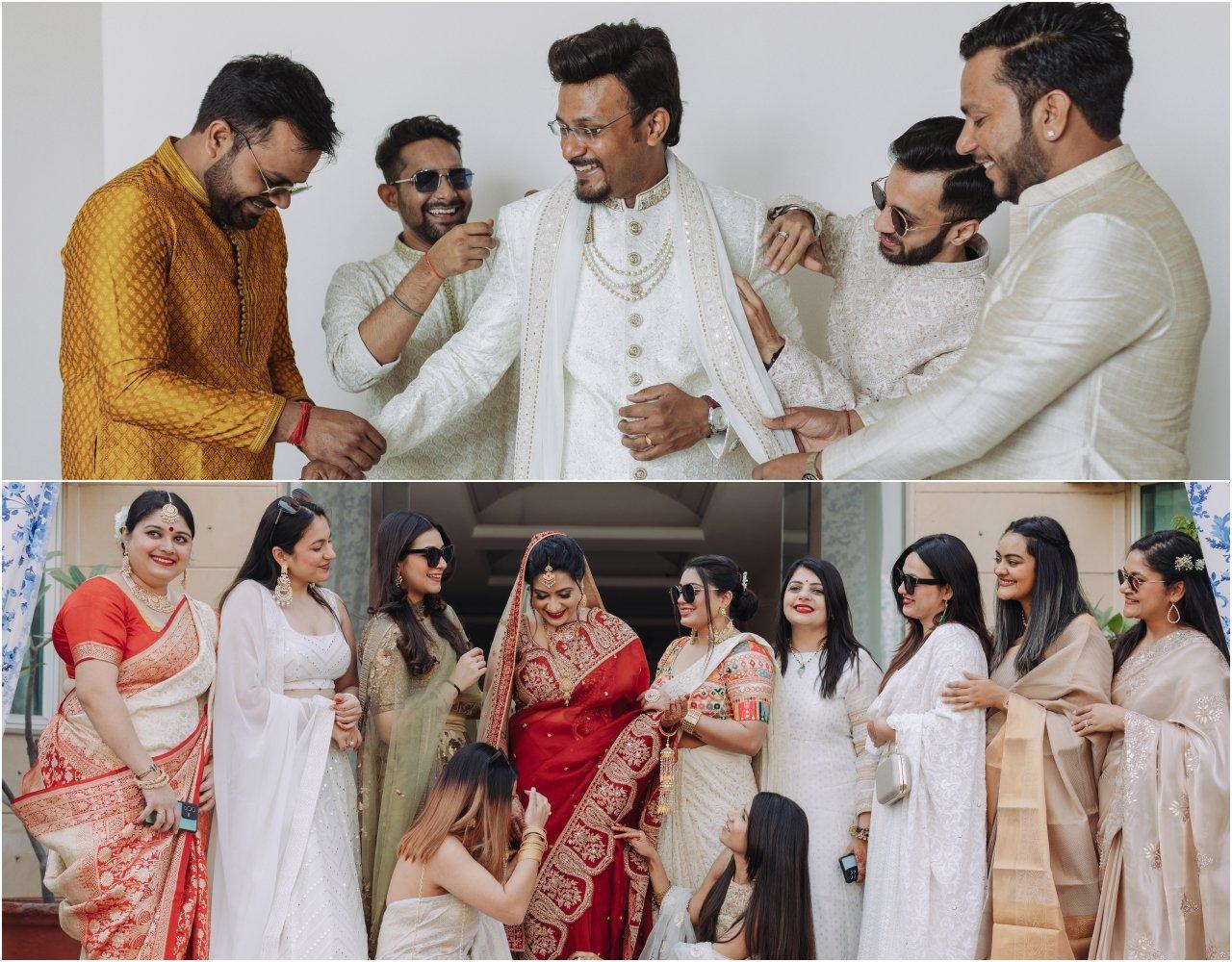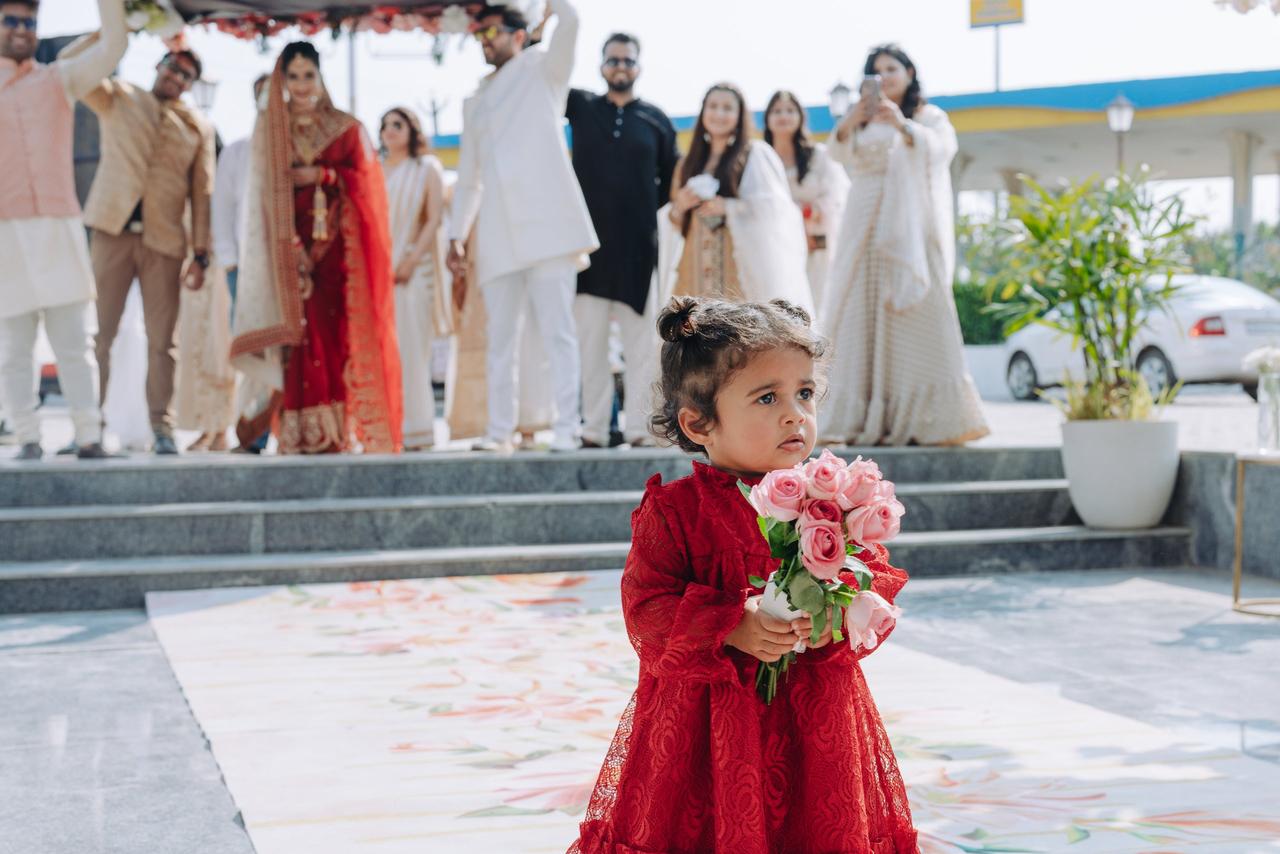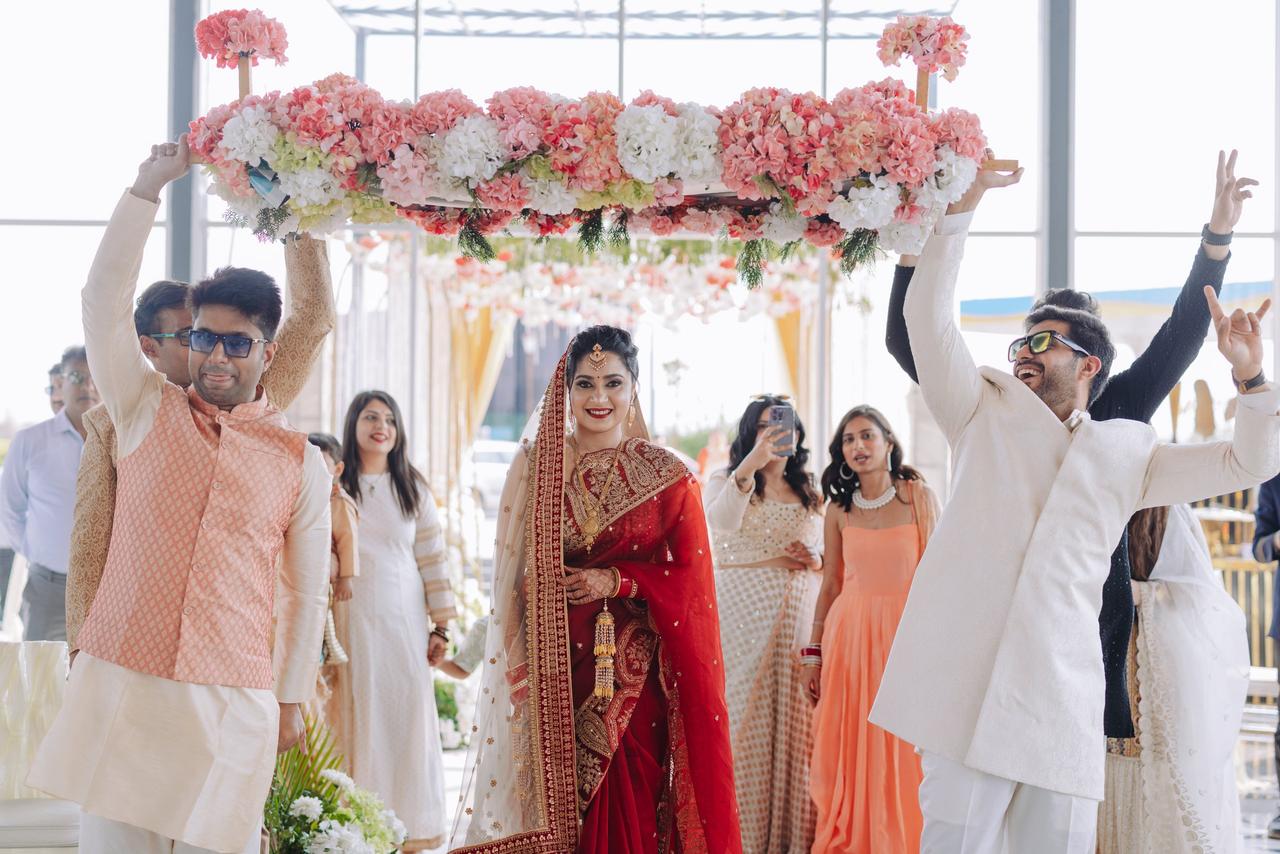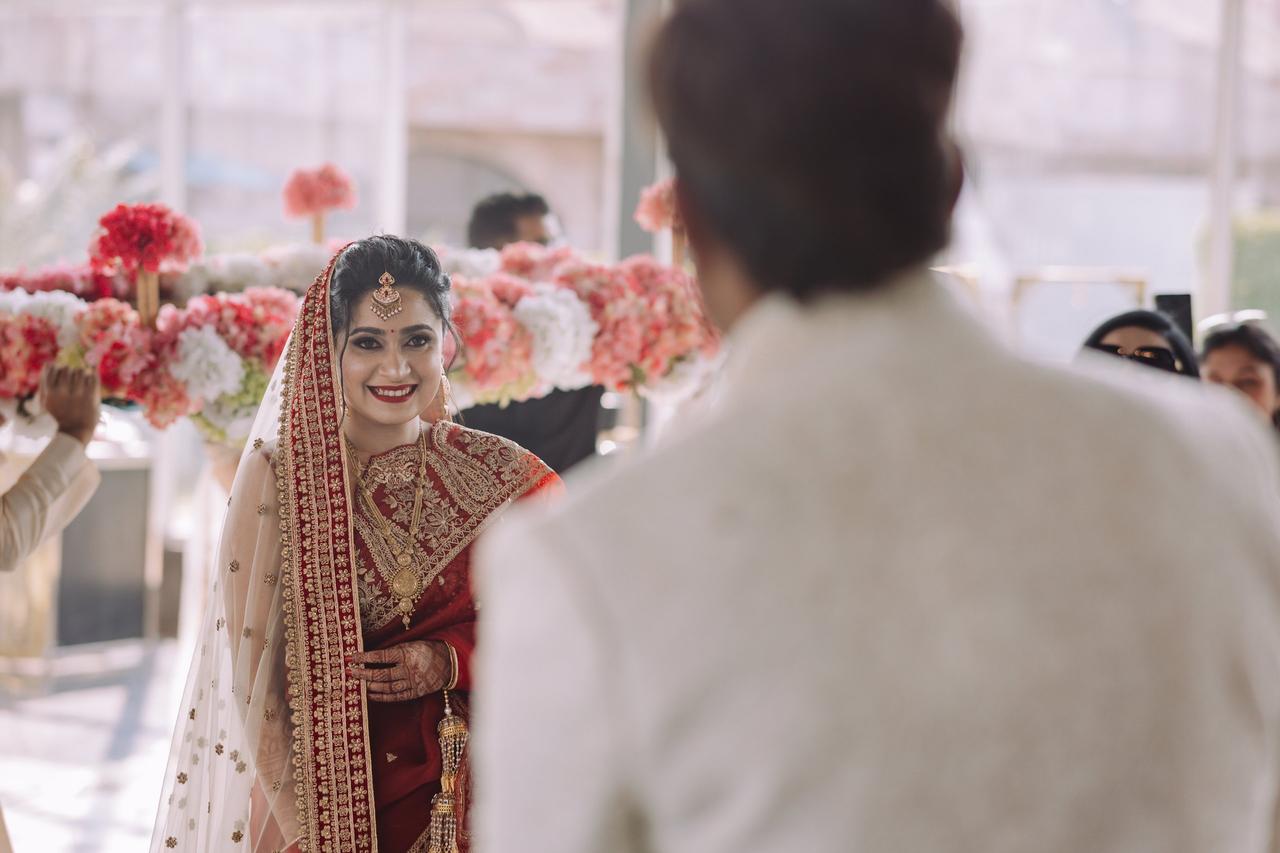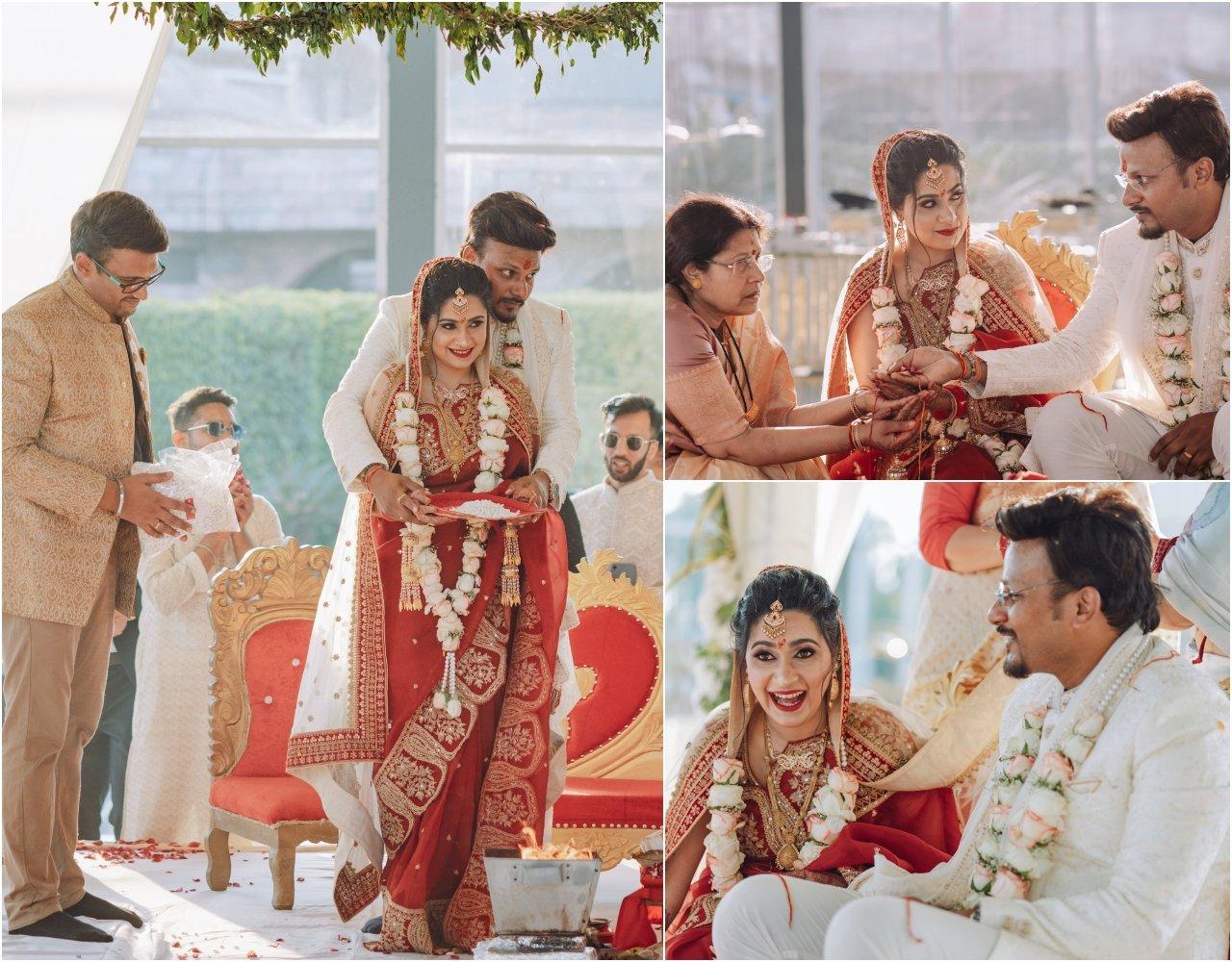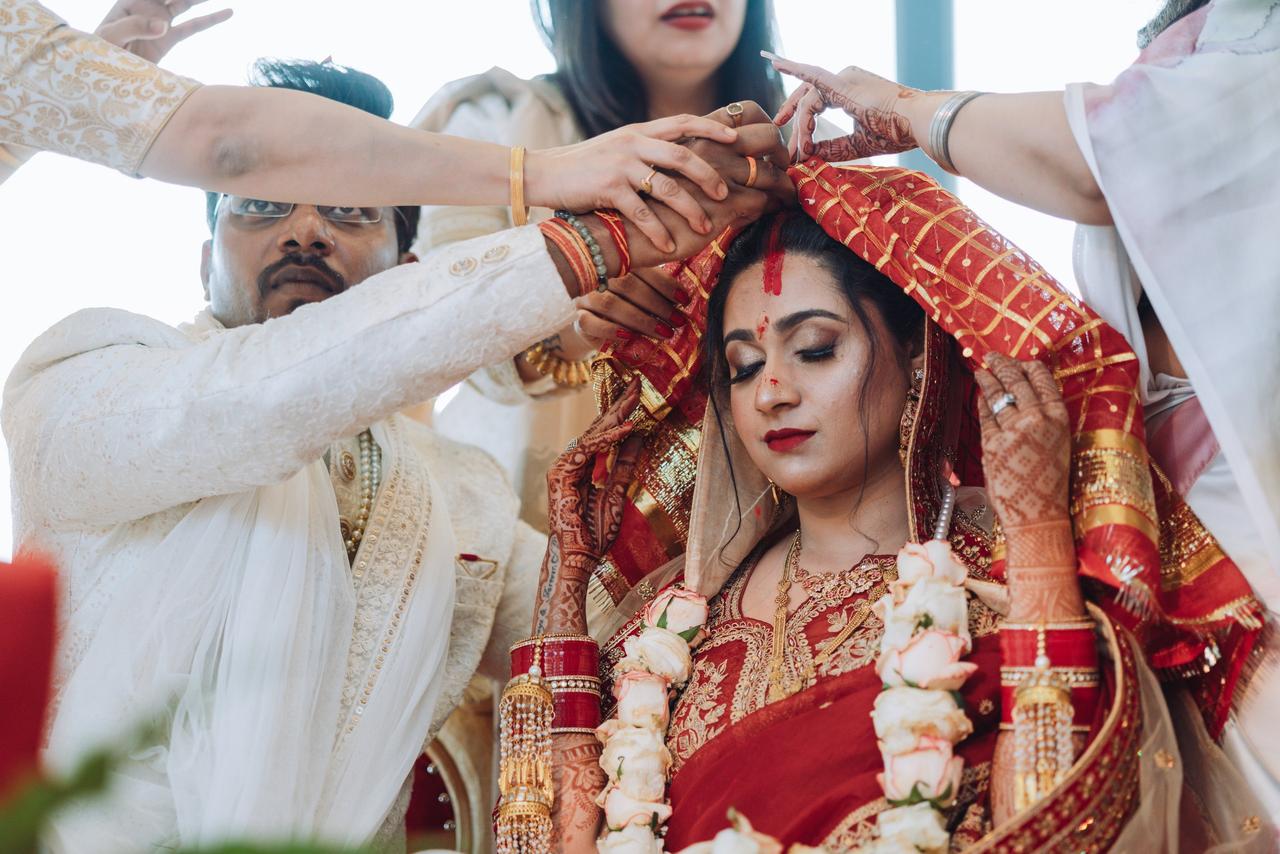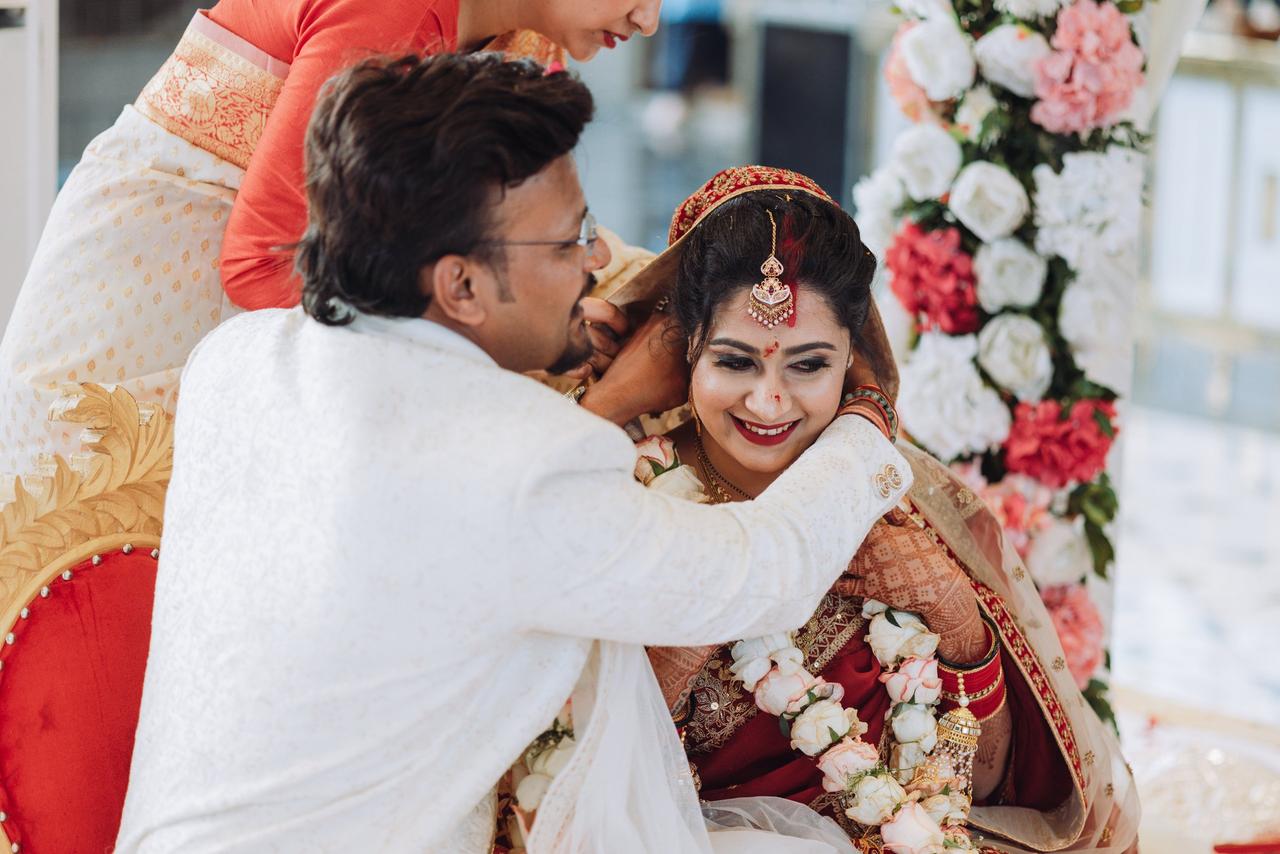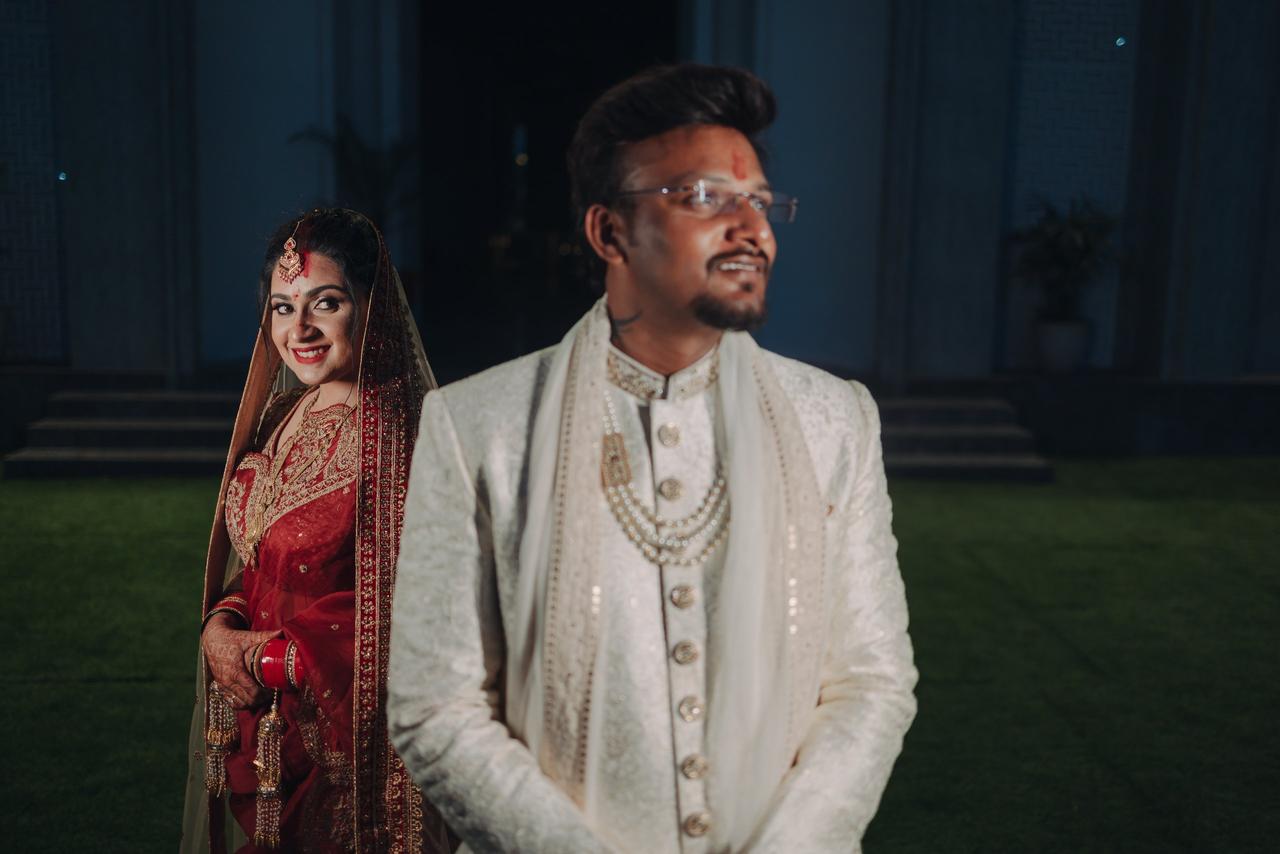 All Photographs - VideoTailor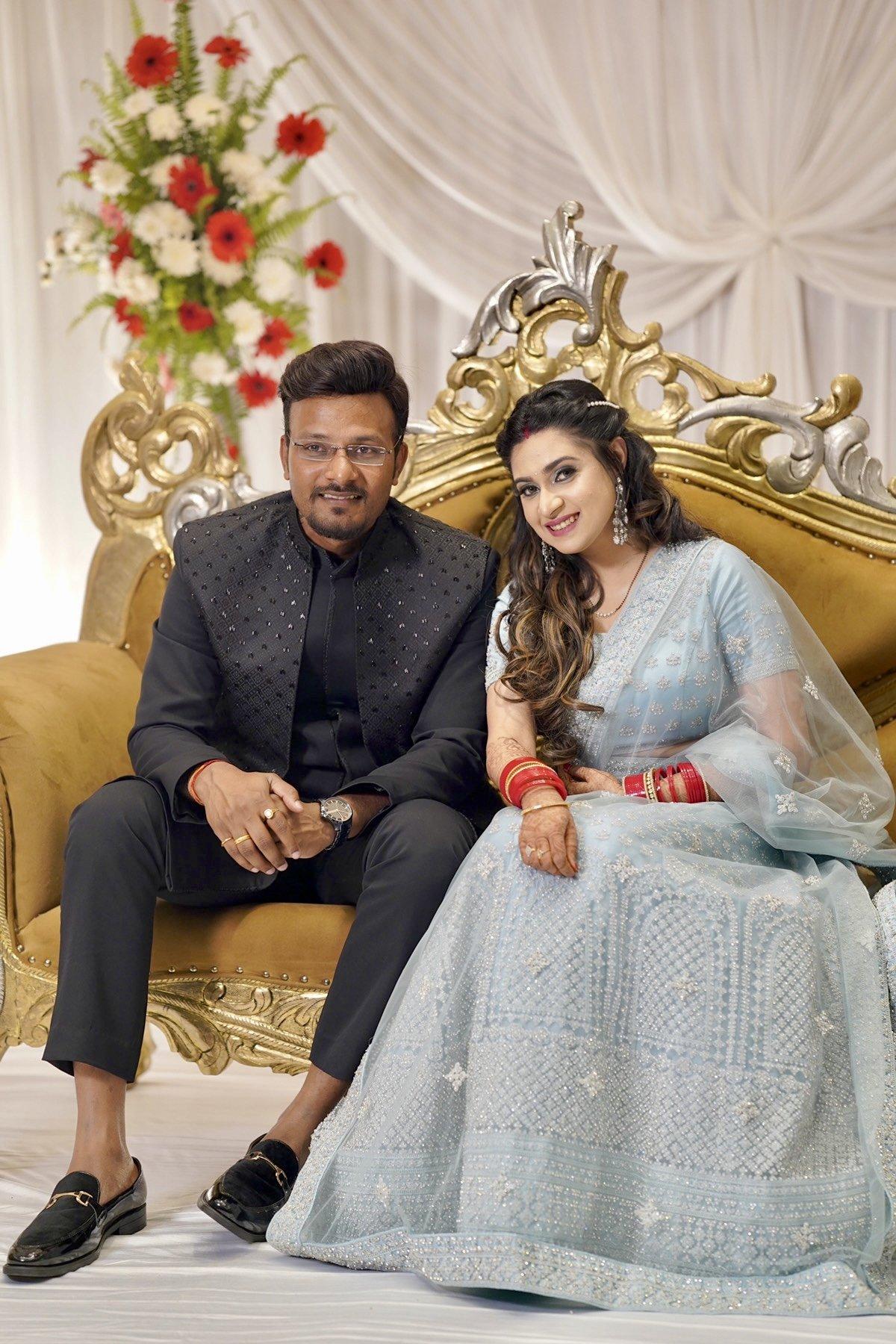 Photography - Kapoor Studios, Groom's Outfit - Manyavar, Bride's Outfit - Mohey
The Dream Team
Venue - Tivoli Heritage Palace
Photography - VideoTailor
HMU - Peachy Glow by Laveena Oberoi
Decor - Fleur Stories
Outfits -
Cocktail Outfit - Kalki Fashion
Wedding Day Groom's Outfit - Manyavar
Wedding Day Bride's Outfit - TORANI
Reception Groom's Outfit - Manyavar
Reception Bride's Outfit - Mohey
If you have an unconventional wedding story that you would love to share with us, send your story and wedding photos to social@weddingwire.in.