A List of 8 Unique Net Lehenga Designs for This Wedding Season
Net lehengas are all the rage amongst brides these days. If you want to join the bandwagon and are looking for unique designs, this is the right place.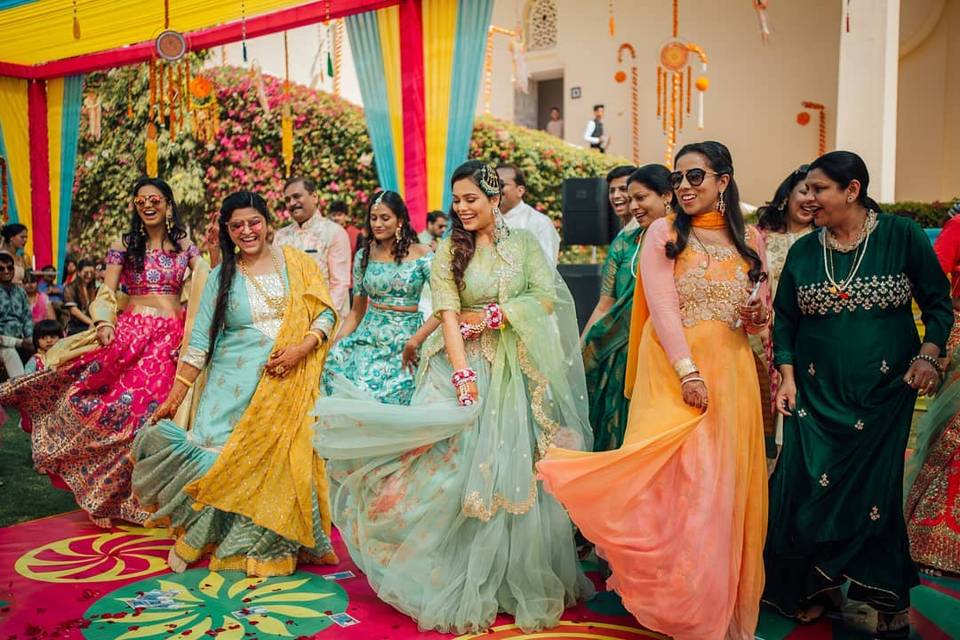 Net lehengas are definitely one of the most popular fashion trends amongst Indian brides these days. A layer of this delicate net fabric adds a lot of grace and elegance to the overall look of the outfit and takes the style quotient to the next level.
It can make even the most basic designs look gorgeous. We have seen even the most fashion-savvy celebrities don some unique net lehenga designs from the best of designers in the country.
So, if you also want to wear a beautiful net lehenga for your wedding, we have prepared this list of unique net lehenga designs to help you in your bridal shopping.
This turquoise lehenga with golden embroidery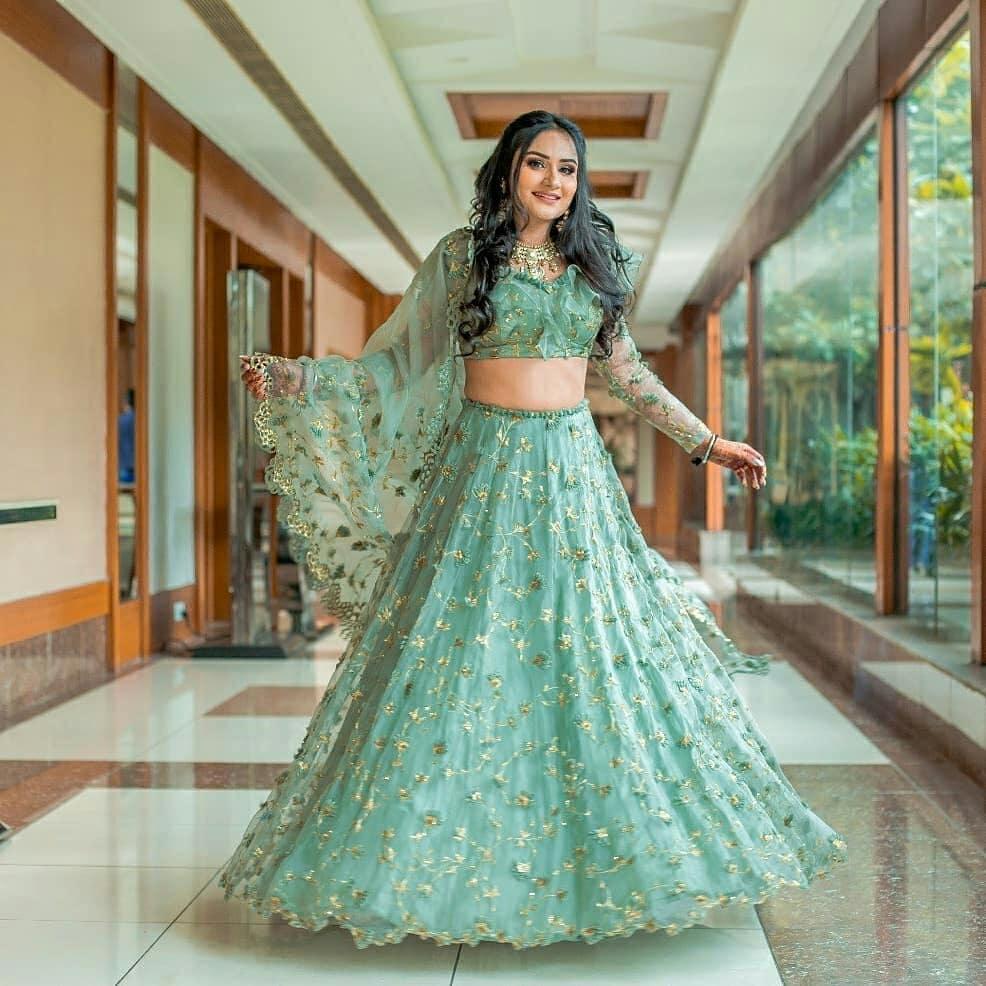 We start this list of net lehenga designs with this stunning turquoise lehenga that is perfect if you want to wear something different from the traditional shades for bridal outfits.
There is heavy use of net in this outfit; even the sleeves and dupatta are made of net and add a fine element of elegance to this outfit. The tasteful gold embroidery adds an element of bling and makes the look complete.
This understated blue lehenga with a silver embroidered border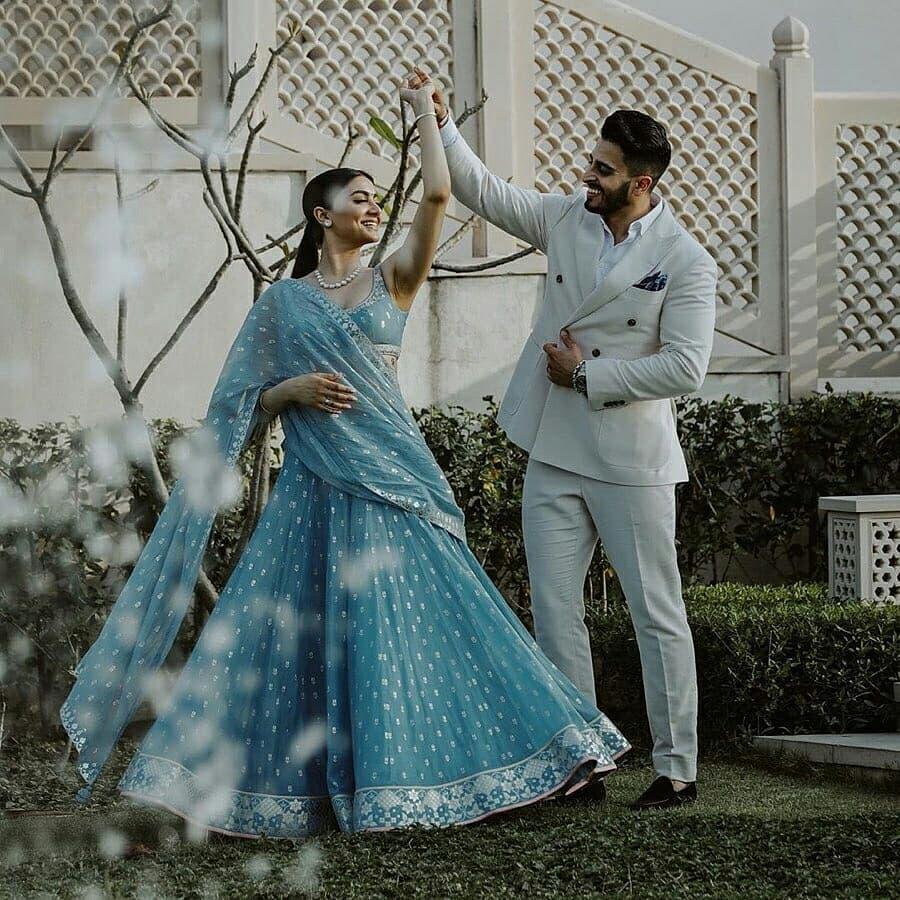 Here, we have an understated blue lehenga covered with a layer of net and well complimented by an intricately designed silver border that stands out on the blue colour.
This refreshing take on net lehenga designs can be your outfit of choice on a beach wedding and would also look very beautiful on a day-time outdoor function as well.
This bright green lehenga with a floral design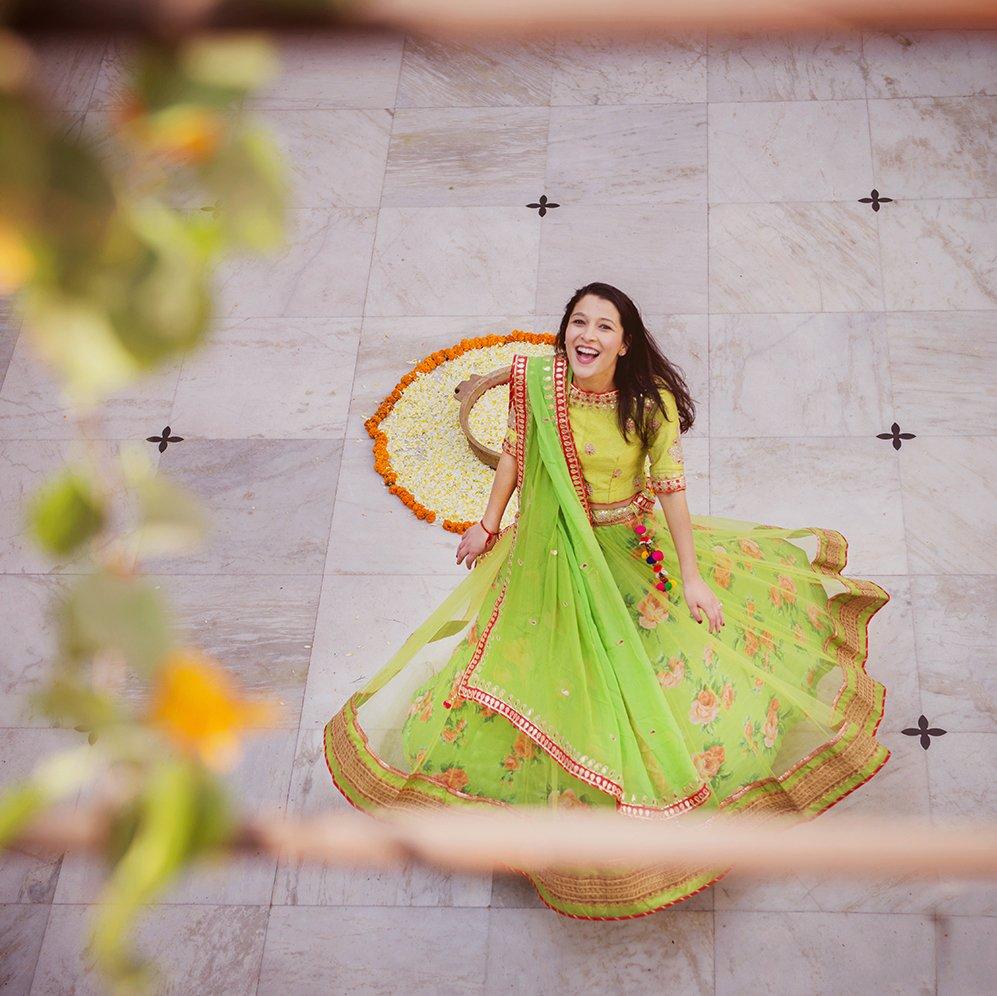 Next, on this list of net lehenga designs, we have this strikingly bright and a one-of-its-kind green lehenga with a layer of the net that has a thick traditional border to its bottom. The bold floral prints add to the femininity and beauty of the design.
We suggest you go for such designs for functions like the Mehndi ceremony and the Haldi Ceremony.
This peach coloured net lehenga with a heavy silver embroidery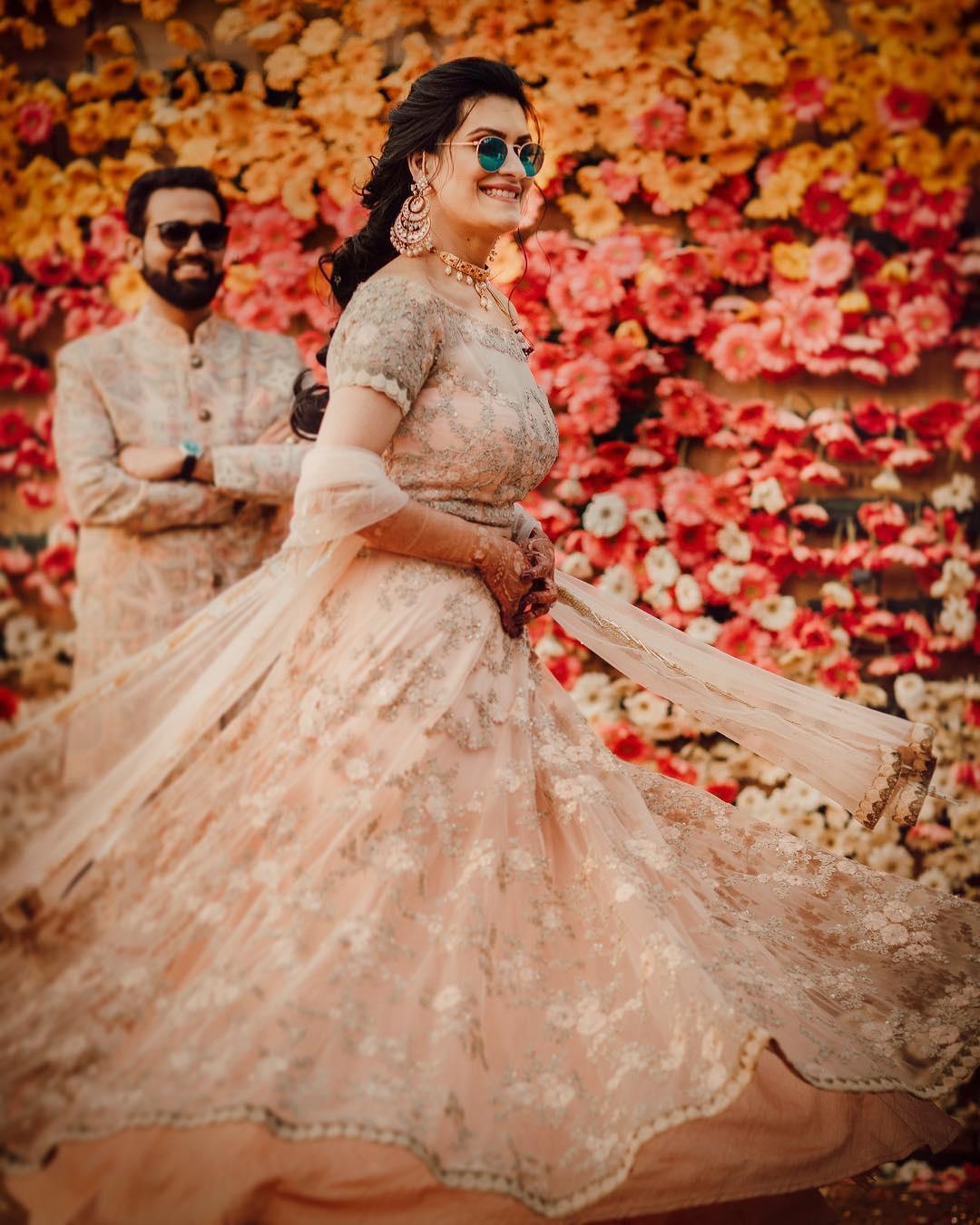 Here, we have a beautiful peach lehenga with a heavy embroidery work that is carried onto the layer of the net on the lehenga. The floral embroidery and the use of gold and white colours work very well and help in making this lehenga look so beautiful on the bride.
This bright blue Punjabi wedding outfit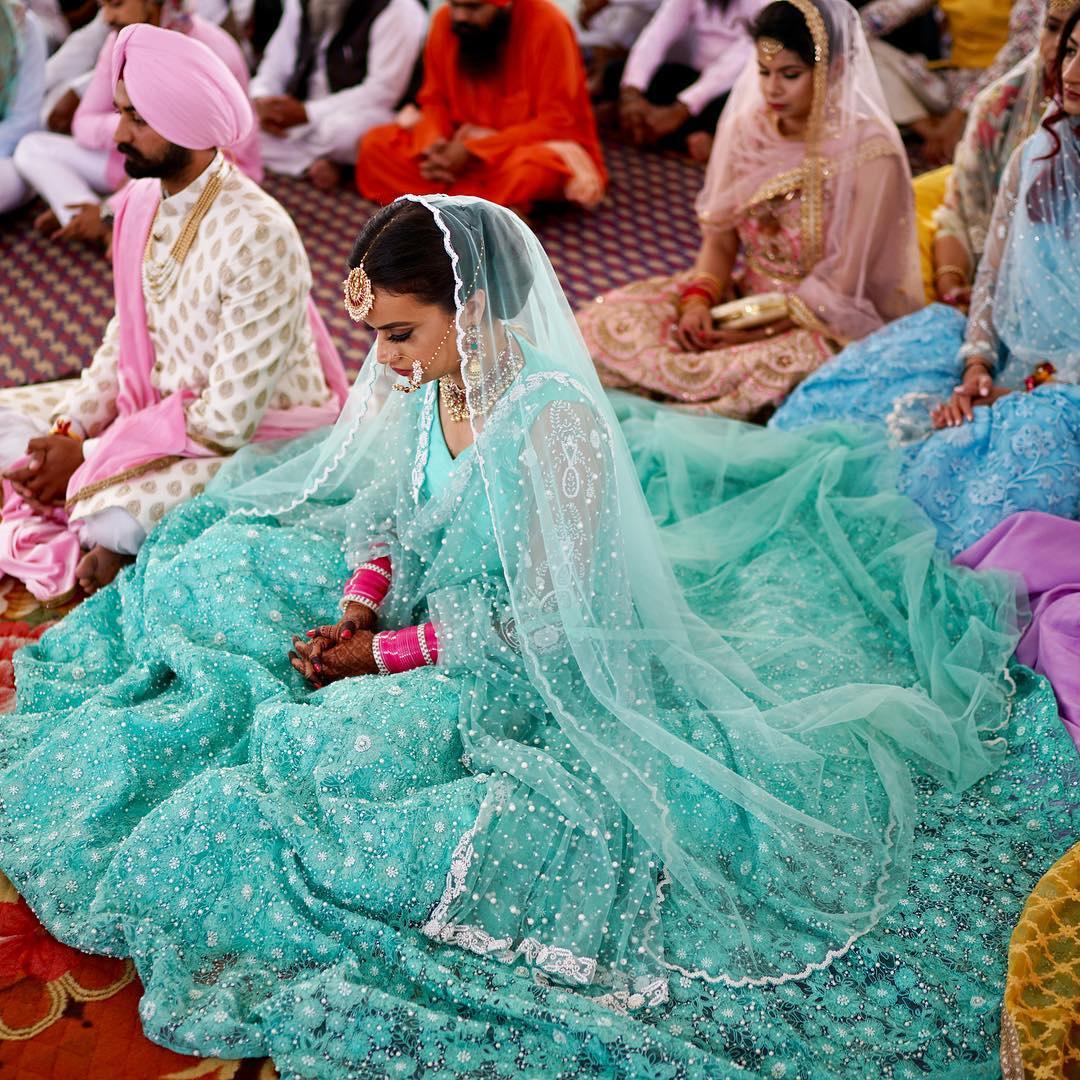 Image Courtesy: Harkiran Basra Photography
Next, on this list of net lehenga designs, we feature another bright lehenga in a unique shade of blue. This flowing lehenga is adorned with a very intricate design and is studded with white pearls that make for an extravagantly gorgeous lehenga design.
The net dupatta with a minimal design adds the right amount of balance to the heavy outfit. You can take some inspiration from this photograph and go for such an outfit that will leave your guests in awe of its beauty.
A minimal peach net lehenga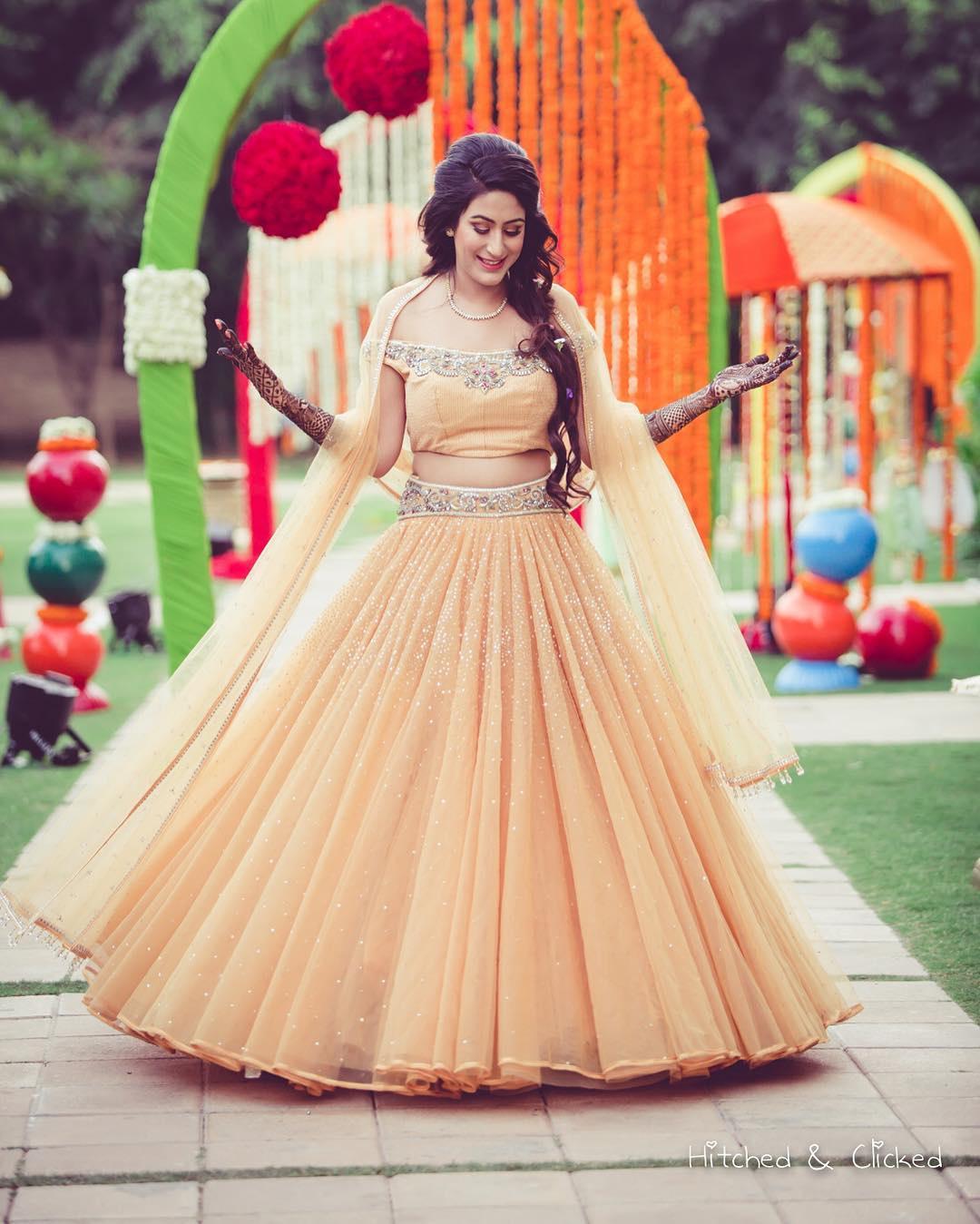 If you want to keep things subtle and classy this wedding season, you can take inspiration from such net lehenga designs and get such an effortlessly beautiful lehenga for this wedding season. The off-shoulder blouse, the grace of the net fabric and the sheer visual appeal of this colour are what make this lehenga so special.
This traditional red and white combination lehenga with a layer of net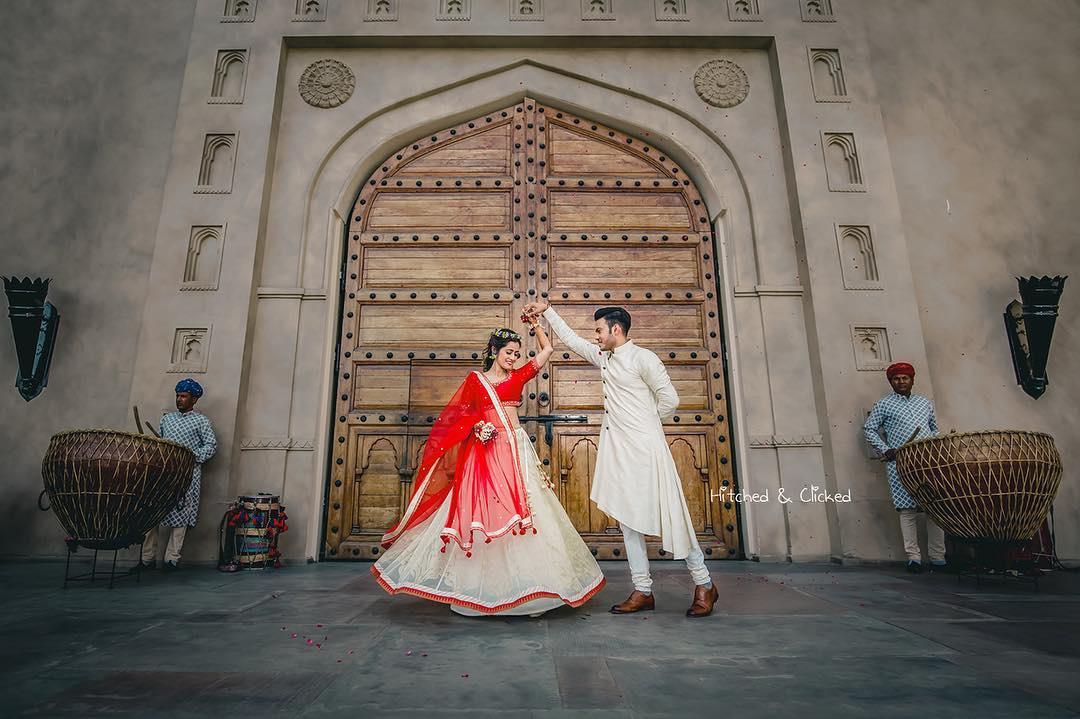 Red and white is a classic combination that is one of the most popular combinations of choice for brides who want to go for a traditional bridal outfit. The otherwise light and minimal design of this bridal lehenga is made a lot more beautiful with the use of the net fabric that makes the design look so much more elegant and adds to the wow factor.
This leaf green lehenga with a sequined border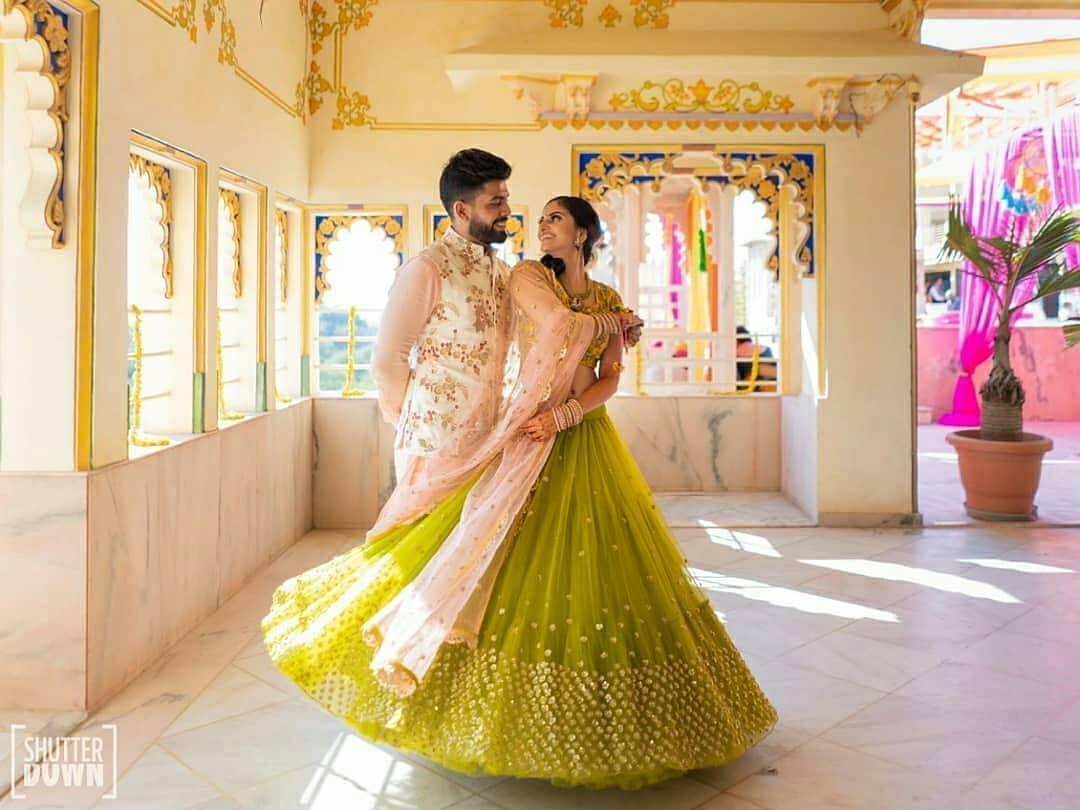 To conclude this list of net lehenga designs, we have another bright flared lehenga in a unique shade of green. The layer of net has a number of gold sequins studded on the border of the lehenga adding to the bling and providing a striking contrast to the outfit.
You can go for such net lehenga designs on the Mehndi Ceremony or the Sangeet Function before the wedding and impress the fashion police at the wedding with such beautiful outfits.
This concludes our list of net lehenga designs. We hope that this list of lehenga designs celebrating the beautiful net fabric helps you get inspired and find the right outfits for your wedding festivities. Feel free to share your thoughts in the comment section below!
Check out these amazing bridal lehenga stores near you to find the perfect outfit for your big day!