Add a Dose of Never-ending Laughter With a Funny Script for Wedding Sangeet
Is it your brother's wedding and you're wondering what would be the best way to anchor the Sangeet? Here are some ideas and inspirations to write a funny script for wedding Sangeet. Rock your brother's or friend's Sangeet ceremony with these ideas.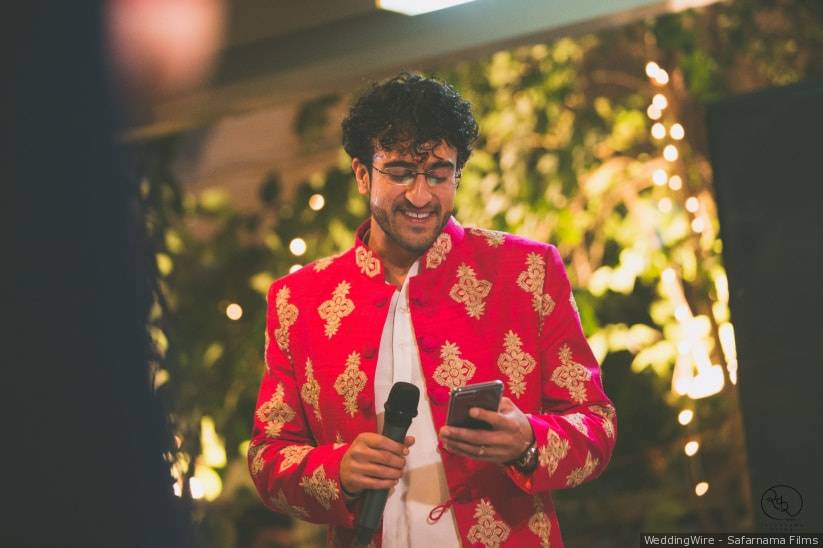 What's a wedding without an all-night Sangeet filled with music, dance and thunders of laughter among the guests? You know it's a super hit Sangeet when you see all these three things happening at one night! So are there any hacks and tricks for a successful Sangeet? Other than choosing the right Sangeet songs and implementing some essential Sangeet ideas, there is one more important factor that ensures the event's accomplishment - a brilliant Sangeet script! And nothing works better than a funny script for wedding Sangeet. Get some smart ideas on how to orchestrate a Sangeet that would fill the room with glees and giggles!
Choosing the right Emcee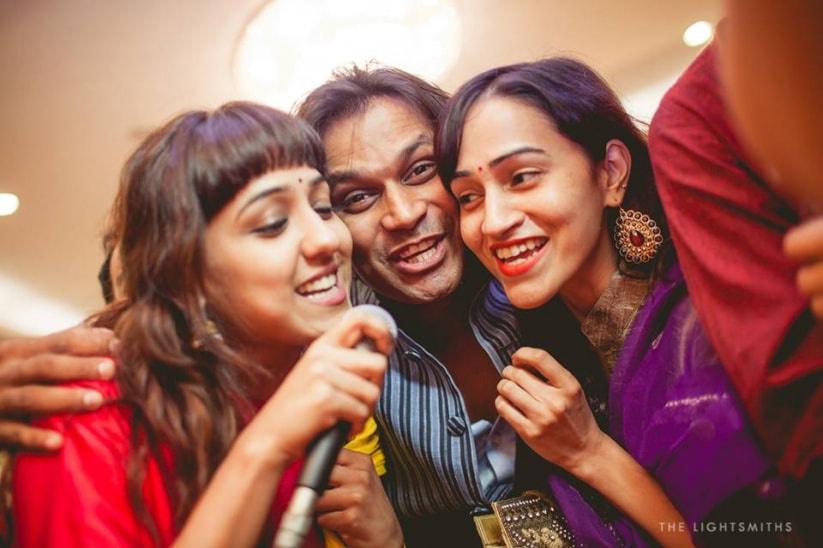 Remember there's always some funny cousin or hilarious Jiju who cracks everyone up at family gatherings with their humour? Now is the time to utilise their natural talent! The right emcee is someone who has the power to raise the whole crowd's spirit up, just by words. Using wit and humour in a funny script for wedding Sangeet is a sure-shot way to win over your guests. Here are a few ways you can adopt while choosing your Sangeet emcee:
Shortlist among your potential relatives who can perform as a witty anchor. Siblings, cousins, close friends, brother-in-law or sister-in-law with a funny bone could be some of the choices.
Make sure your emcee has all the names and their respective details right. For example, if they are cracking a joke on the groom's unwillingness to shop, make sure the emcee throws in some failed shopping incidents to add authenticity to the performance.
If you're going for professional wedding entertainers, it's important to research them first. Watch their online videos and other wedding performances before hiring.
Don't go for someone who makes offensive or obscene jokes. A wedding Sangeet is a family event and it's important to take every guest's dignity into consideration even while jesting.
The secret ingredients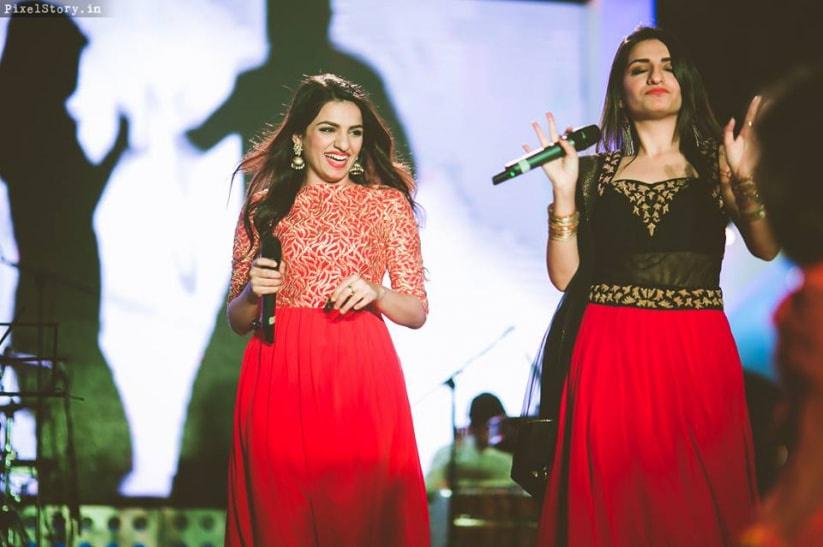 So what really makes the crowd burst into laughter? What is the secret ingredient of a funny script for wedding Sangeet, after all? Here are some of the points to remember to turn a Sangeet into a laughter fest:
1. Connect with the audience
In any live performance interacting with the audience always works wonders. Make the guests feel they're involved. Ask them witty questions. Dedicate a few lines of a song to the bride's mother. Or praise the groom's handsome uncle with flattering Shayari.
2. Be familiar with the latest trends and fashion
It's important to be well aware of what's hot and happening in the world. Include jokes on latest and popular events for instant responses.
3. Customise the script
You may be a popular choice as an anchor for all your friends' weddings, but try to add some personal touch to each wedding performance. Make the audience feel, the script is exclusively tailored for them. Don't repeat jokes or style of complimenting the performers.
4. Praise and flatter
Remember, everyone from the bride to her mother to the not-so willing-to-dance brother has put in a lot of effort and time preparing their dance performances for the Sangeet. Praise them abundantly. Pick up their special moves and compliment on those. Ask for an encore!
5. Play fun quizzes
Another smart way to keep the audience engaged on a Sangeet night is by playing a fun quiz. Ask the groom about the bride's favourite colour or movie and vice versa. The same kind of questions can be asked of the elderly couples accompanied with some funny observational comments.
6. Spill some beans
Because where's the fun in a Sangeet without some leg pulling and teasing? If you're hosting your best friend's Sangeet, share some of his goof-ups and fun college stories. Spill some teenage crushes and silly habits of the bride and groom to put the audience in splits. Make sure you have the couple's/family's approval.
Added Bonuses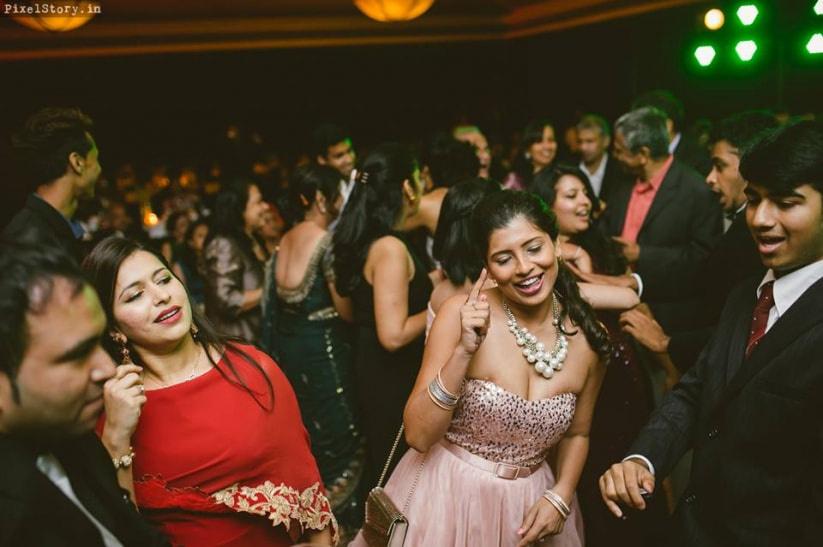 Apart from having a really funny script for wedding Sangeet, you can also host a wonderful event if you have certain special talents. Sing, recite poetry, do mimicry, or deliver popular movie dialogues-the options are endless if you have a knack for it. And if not anything, your gift of gab is all you need to rock the event! Utilise your USP, work your charms and keep your connect intact with the crowd. And if you love to dance, shake a leg with the bride and groom on the dance floor!
Always remember to keep notes handy on the information, jokes, line-ups and other necessary details for anchoring. The best part of having a funny script for wedding Sangeet is, even if there is some error or misquoting of names, etc., it can always be covered up with impromptu lines. Use your mistakes as jokes themselves. Laugh at yourself to make people laugh. Lighten up the atmosphere by keeping it casual, easy and homey. After all, a great laugh is the best gift you can ever give to a couple and their families to let them breathe a little amidst all the wedding hoopla.
Are you ready with your playlist and Sangeet outfits? It's time to hire the wedding choreographer and start practising your moves.