3/4 Sleeve Saree Blouse Designs for Brides This Wedding Season
Thinking about a neat saree for your bridal look? We explore why you should consider 3/4 sleeve saree blouse designs to go along with it, fabrics, reasons to opt for it, plus pairings that would be absolutely splendid.

A conservative Indian bride or a sophisticated one, most brides-to-be know that their overall bridal look comes together with each of the elements in it, as well as how they are put together. This time, we talk about the saree blouse and specifically, 3/4 sleeve saree blouse designs. Though there are multiple designs and trends available in the market, we are here to navigate you through them all, so that you can make a good choice.
Well, you are getting married! We can not be more thrilled! But, putting all that excitement aside, you must still finalise what kind of a wedding attire you would be wearing on the days leading up to your big day and on your big day itself! Whilst the markets are flooded with designs, one outfit that gt stuck with us is the 3/4 sleeve saree blouse design. A 3/4 blouse is not just beautiful but we can't get enough of how beautifully it accentuates that arms of the woman. So, if you aren't convinced yet then go through the entirety of this article and you will come to believe otherwise!
We offer you a detailed guide about everything that you need to know about the 3/4 sleeve saree blouse designs and choosing them for your wedding and its other festivities so that you remain a show stopper at each one of them.
3/4 Sleeve Saree Blouse Designs

3/4 Sleeve Saree Blouse Designs, as the name suggests are about designs that extend beyond your elbow, be them tight to the skin or lose folds, raglan sleeves or balloon ones. If worn properly and with the right saree, they can make you look so elegant and classy. Without taking much of your time, we share with you three-quartered sleeve blouse designs that will help you rock this season as a bride.
1. Broad neck blouse
When it comes to wearing a ¾ sleeve blouse, you can never go wrong with a broad front and back neck. Pair it up with any kind of saree to steal the show.
2. Chinese collar blouse
The Chinese collar design that was popular years ago has recently made a comeback, and we can't agree enough that it looks stunning with quarter sleeve blouses.
3. Flared sleeves blouse
If you like to keep it traditional yet stylish, then ¾ flared sleeves are a perfect choice. Wear it with a not so heavy saree and little makeup for the best effect.
4. Elbow embellishments blouse
Make your saree blouse look attractive with embellishments around the elbow like embroidery or stones. Match the embellishments with the saree border for that perfect look.
5. High Neck blouse design
Just like the Chinese collar, high necks look equally stunning with ¾ sleeves. Especially, if you have a maintained figure, consider this design. Just make sure to wear it with a hair bun for a deadly combination.
The Need for 3/4 Sleeve Saree Blouse Designs

Photo Courtesy: Sabyasachi Mukherjee's Facebook Page
1. Blouse designs for Winter weddings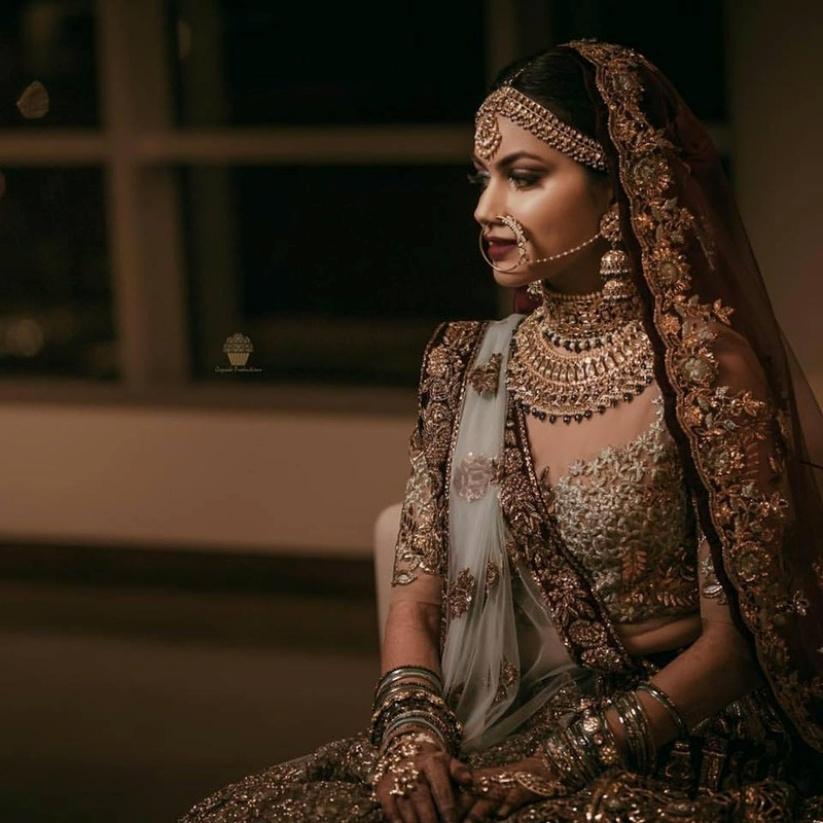 Three-quartered sleeve saree blouses are very comfortable to wear during occasions in winter. It helps to keep the ladies warm without compromising on style. Just make sure to select the fabric of the blouse carefully so that the overall purpose is not defeated.
2. Blouse designs Conservative ladies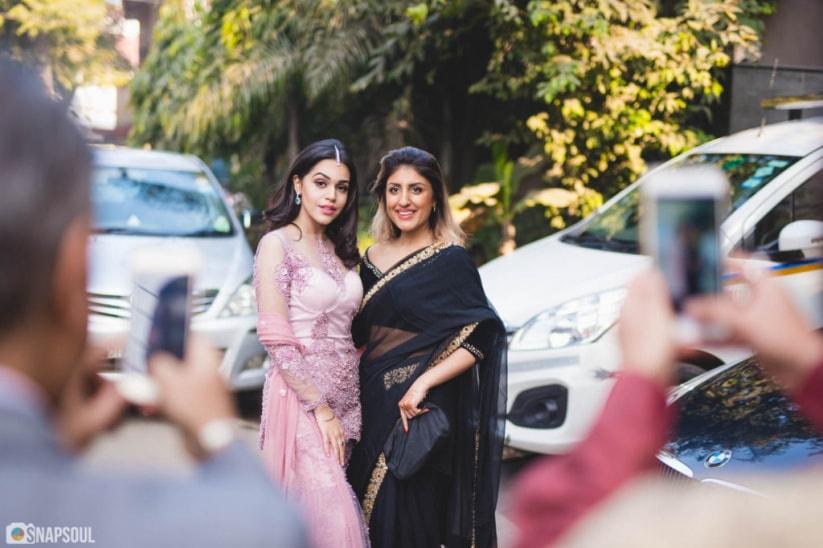 The 3/4 sleeve saree blouses are great for those who wish to cover up the major portion of their arms for social or religious reasons while still fulfilling their wish to wear a saree. It will look elegant and beautiful at any wedding occasion as well.
3. Blouse designs for Flabby arms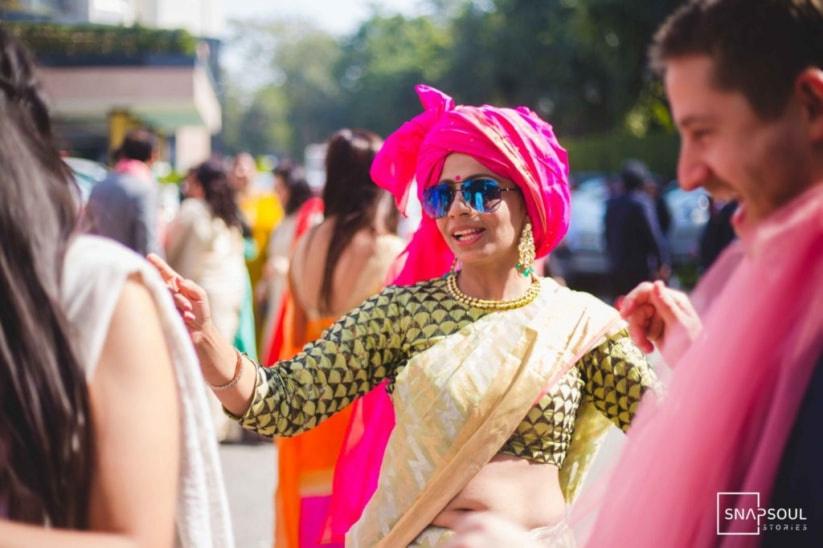 Do you have fatty arms? A 3/4 sleeve saree blouse design is a great and stylish way to cover them up and still look ever the more beautiful.
Different Fabrics for 3/4 Saree Blouse Designs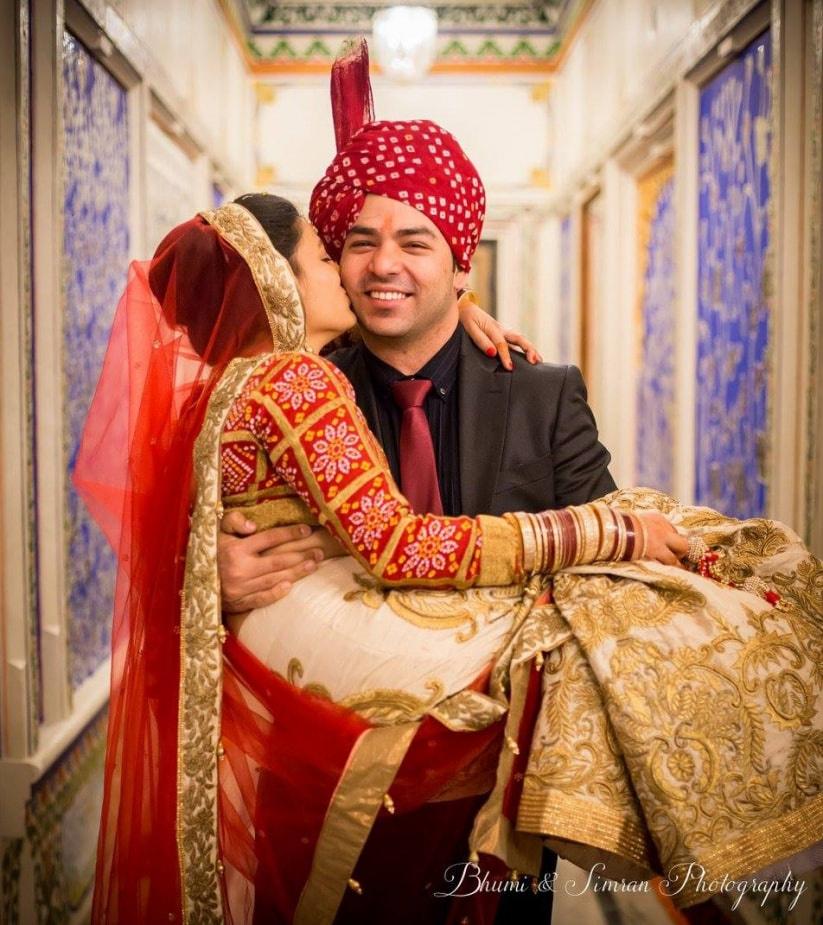 There is no shortage of blouse designs, but to get that desired effect, you first have to choose the right material. We point out varieties of fabrics for 3/4 sleeve saree blouse designs that will not only flatter you but you would surely look beautiful adorning it on your wedding day.
1. Silk Blouse Designs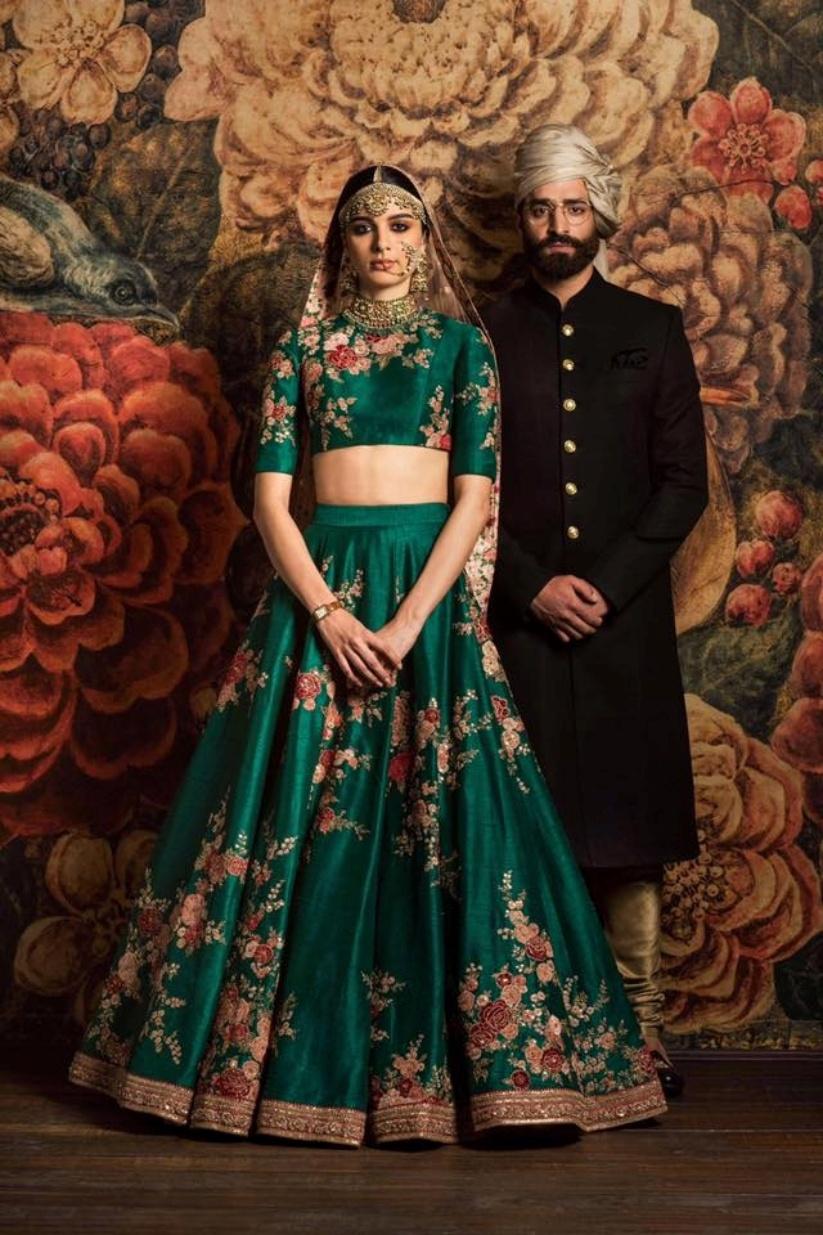 Photo Courtesy: Sabyasachi Mukherjee's Facebook Page
There is no second thought about the fact that silk is the top choice for 3/4 sleeve saree blouse designs. For a perfect traditional look, opt for a deep round neck design. Add a gorgeous Latkan to complete the look. That is a lot you can play around on the sleeves as there is a lot of areas to cover with your choice of handwork, embroideries, patchwork, sequin and much more.
2. Satin Blouse Designs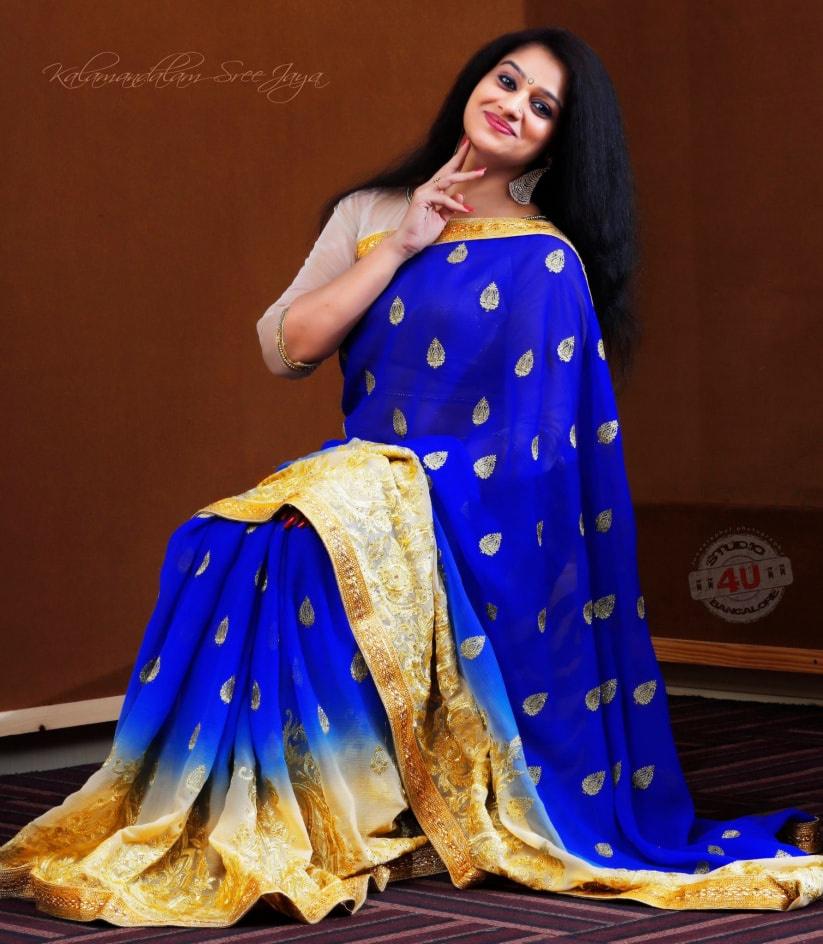 When it comes to flaunting your bridal look, you can never go wrong with glossy satin fabric. Pair it up with a decent pearl set for those pre-wedding or post-wedding gatherings. While the 3/4 sleeve saree blouse designs in contrasting satin colour would look graceful as ever, it will surely balance your entire bridal look.
3. Brocade Blouse Designs
Brocade is one fabric that never goes out of style when it comes to creating a party look. The material is perfect to make 3/4 sleeve saree blouse designs. You can either leave it as it is or embellish the blouse with stones or piping border. Brocade is one fabric that is elegant yet classy in its own and if you choose to make a 3/4 sleeve saree blouse design out of it, it will surely look beautiful.
4. Velvet Blouse Designs
What is a wedding celebration without some velvet thrown in it? The material is gorgeous and comfortable and looks great when worn as a 3/4 sleeve saree blouse designs. If you are planning to have a winter wedding or attending someone else's, then it is a great fabric option to choose from. While looking gorgeous, it can even shield you from the cold breezes.
5. Bandhani Blouse Designs
To make a charming appearance at your wedding functions, don a colourful 3/4 sleeve saree blouse designs. To add to the wow factor, opt for a low neck design with a stunning gold or Kundan jewellery to go with it.
Different Kinds of Sarees to Pair Them Up With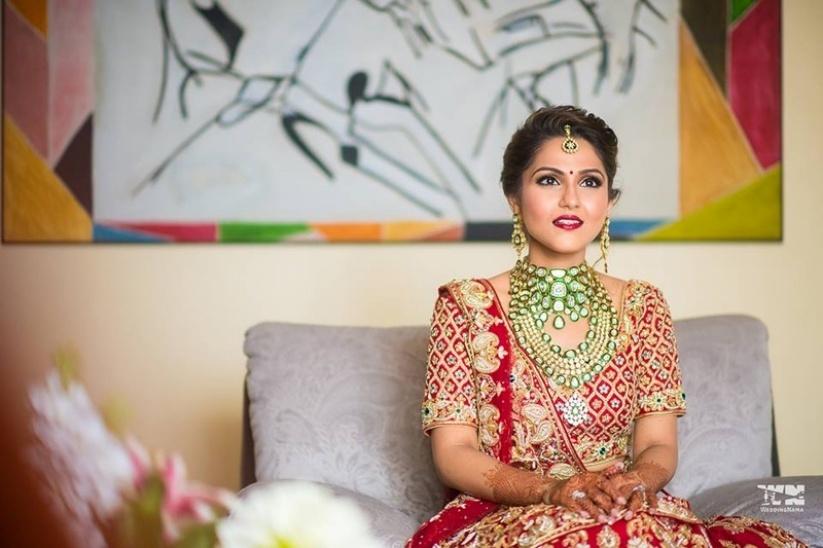 When you pick a 3/4 sleeve saree blouse, you can make this already stylish garment look more attractive by pairing it up with the right saree. Yes, there are quite a few handfuls of options you can opt for. Take a look:
Brocade Silk blouses go well with a beautiful silk saree
Sheer-sleeved blouses go well with a flowy georgette saree
Skip sheer-sleeved blouses with handloom or Kanjivaram sarees
Plain colour 3/4 sleeve saree blouses? Pair it with a bright and colourful saree
Velvet fabric blouses can be paired with anything except a raw silk saree, to get a royal look
Three-quartered sleeve blouses, when worn in the right way, can really create a stunning look. We are sure you must have found the inspiration that you needed to find your very own 3/4 Sleeve Saree Blouse Designs. From different colour combinations to the kind of embroidery that your blouse sleeves and neck design will have are all elements that you can mix and match.
If you are wearing a lemon colour saree then opting for a blouse that is blue in shade would be a superb idea. So, before you finalise your blouse design also take into consideration the outfit you are planning to wear it with. Now that you hve seen all these stunning designs make sure you seal the deal with an amazing and toally over the top bridal hairstyle and soe jeweery that brings the charm to your over all bridal look.
What do you think about these blouse design patterns? Choose exceptional bridal designers to offer you their stunning creations. Let us know through comments.