Panetar Saree: Traditional Artwork Reinvented by Modern Day Brides
A Panetar saree is what a Gujarati bride wears to her wedding. The beautiful white and red Bandhej saree can be worn in many ways. Here's how you can make a statement with it.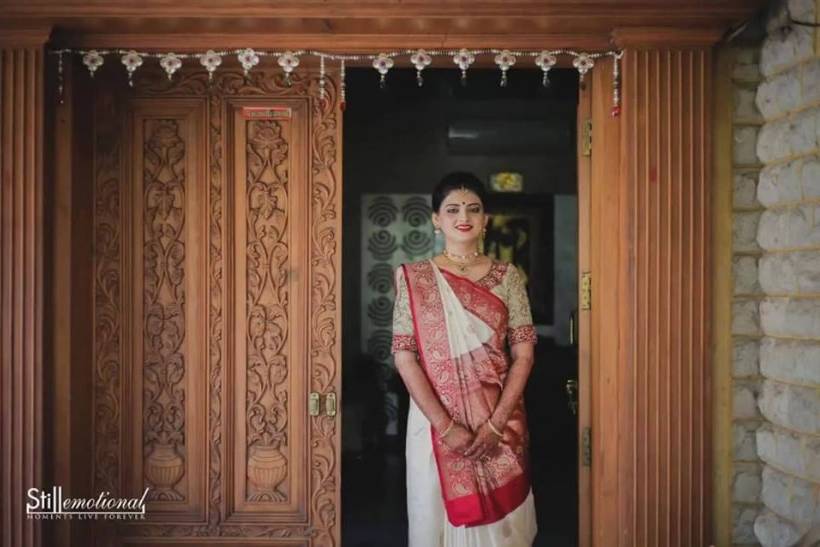 Traditional attires, like the Panetar Saree from Gujarat, are being reinvented by brides today. Modern day brides prefer making a stylish statement on their wedding day, yet being true to their traditions. Brides in Gujarat are presented with the ceremonial Panetar Saree on their wedding by the family. Traditionally, it's a red and white silk Saree, with a white body and a red Pallu.
Today, the Panetar Saree is available in different fabrics, colours and design variations to keep up with the trends. However, nothing can compare to the original and traditional charm of a Panetar Saree.
Panetar Saree is a work of art, with the embroidery and embellishments all done by hand. It is also common for the traditional red and white Panetar Saree to have traces of green thread work to add a pop of colour and design work. It is made using pure Gajji silk with fine stripes or checks in Zari, adding a golden touch to the fabric. It showcased simple dotted embroidery in red, which later incorporated green, yellow and saffron, along with sequin and stonework. It is a rich Saree that has a wonderful sheen, beautiful patterns and defines stunning simplicity.
Modern Day Panetar Saree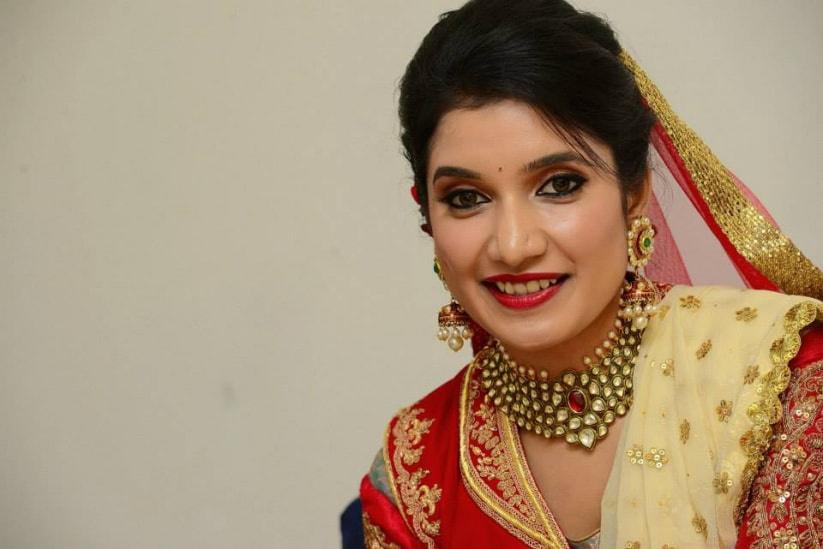 One can easily buy a Panetar Saree today in rich Silk or lighter fabrics such as chiffon, crepe, georgette and even tissue. This change in trend is to suit the needs of modern day brides who prefer to balance elaborate with simple. Additionally, pure silk is difficult to manage, especially in those parts of India where Summers are extreme.
A traditional wedding day Saree, the Panetar Saree is now worn with panache at other wedding functions and styled in different ways to keep up with one's personal style preferences. For example, some women prefer the Panetar Saree in off-white and with deeper shades of maroon and red, while some might even look for a Panetar Saree in unconventional shades like pastels and brighter colour combinations. The modern-day Panetar Saree has also included different styles of embroidery and embellishments like Aari work, Kundan work and even Gota Patti work.
How can you reinvent the traditional Panetar Saree?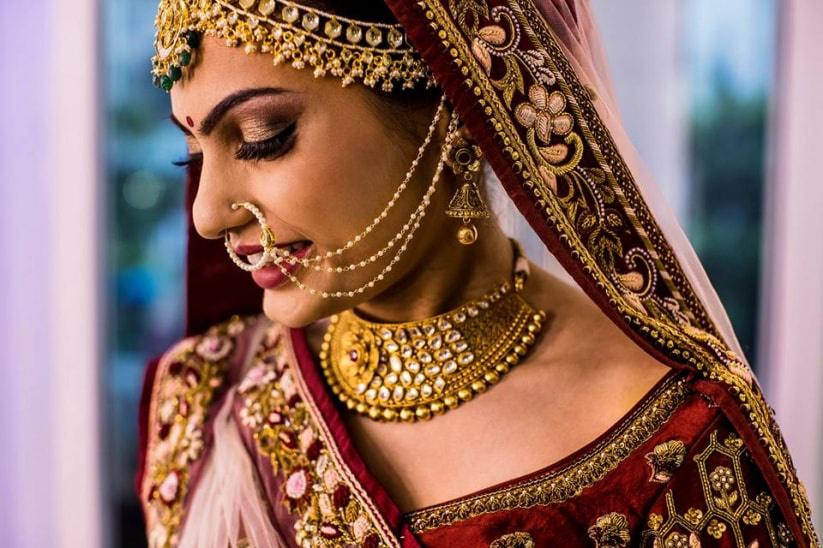 If you want to wear the traditional Panetar Saree on your wedding, yet add your personal style statement to it, here are some ways to own this look:
1. Play with Fabrics
Ditch the traditional silk Saree and blouse combination and experiment with different fabrics. Velvet is big this wedding season and a Zardozi embroidered velvet maroon blouse with a chiffon Panetar Saree could make for a stunning combination. It will balance the heavy blouse and light saree combination and both pieces of your attire can have an individual personality. On the other hand, if you want the balance to be a heavier Saree but a light blouse, go for a traditional silk Panetar Saree and team it up with a brocade blouse that looks rich but is very easy and light to carry.
2. Play with Draping Styles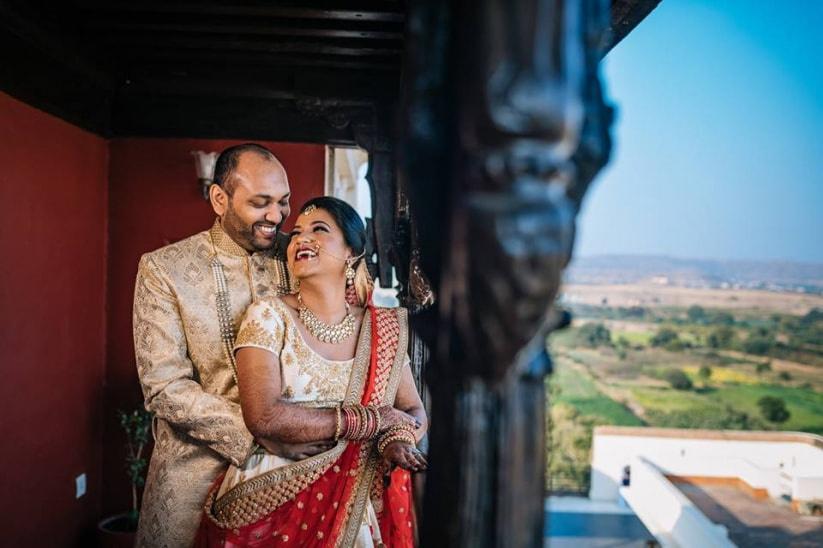 You know a Saree can be draped in so many different ways, why not try a new look with a Panetar Saree? The traditional way to drape a Panetar is the Gujarati Seedha Pallu, but you could give it a more modern touch by draping a thin folded Pallu around the neck like a scarf. You could also wear it like a Lehenga Saree, like this bride:
3. Play with colours
Another great way to reinvent the traditional Panetar saree is to play with the colours. You could add a pop of colour by teaming it up with a rich green blouse. Most traditional Panetar Saree's have a hint of green if even if yours doesn't, the combination of red, white and green is eternal. You could make it stylish with a 3/4th sleeve green blouse or even a collared silk blouse to create a fusion look. If you are looking for more variety in terms of colours, you can go for a Panetar Saree with pastel combinations, like a light pink body with a deep purple Pallu.
4. Convert into a lehenga dupatta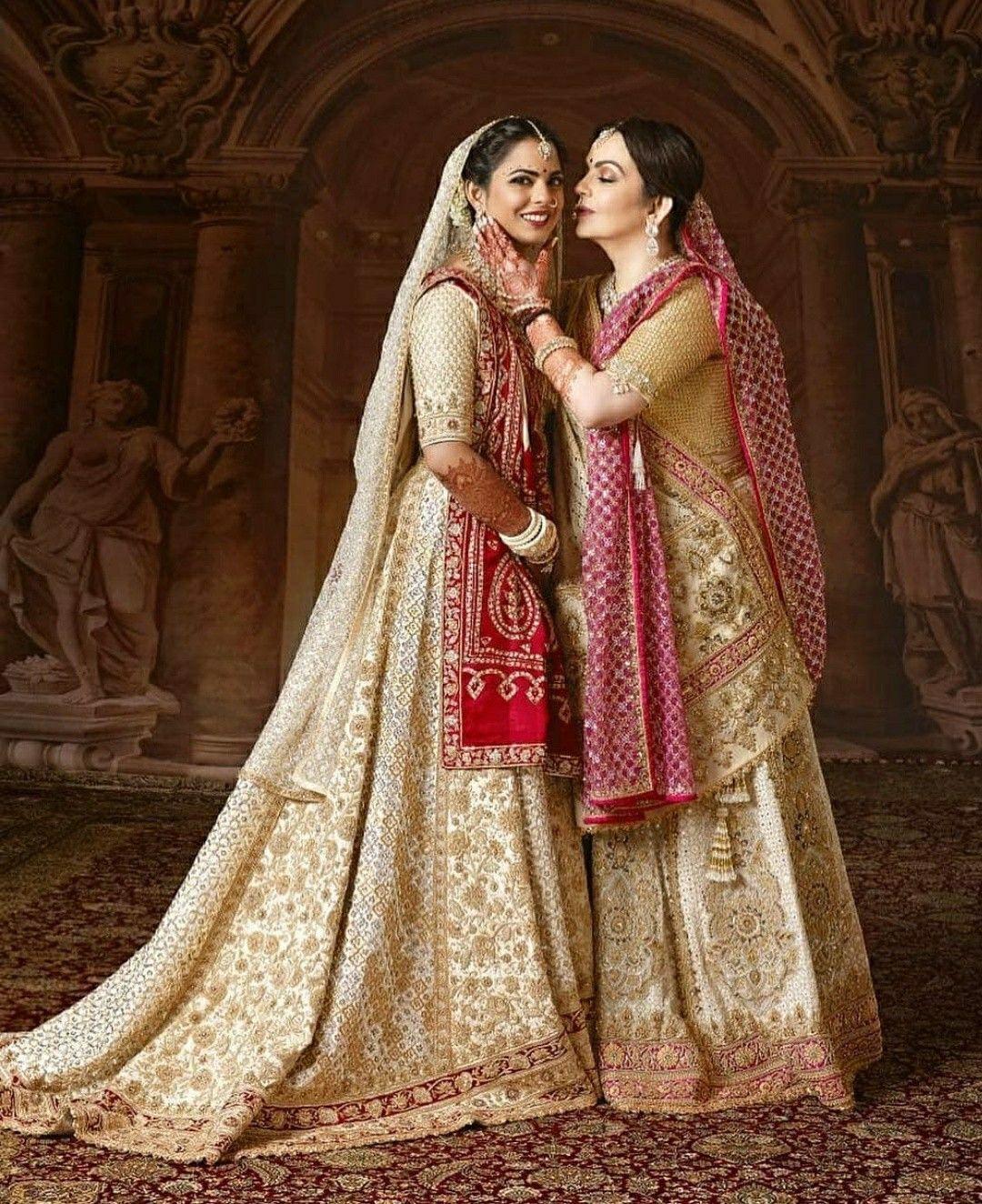 Image courtesy: Sabyasachi on Pinterest
Many and many Gujarati brides are now moving away from the Gharcharoli or Panetar sarees in favour of lehenga choli combinations that they would have worn for the day. It makes practical sense too, rather than changing from one outfit to the other at the wedding venue, as the tradition dictates. In this combination, it makes sense to move to an odhni or dupatta that depicts the traditional drape and can be added to your existing outfit.
This is one style statement that we saw on one of the most prominent, recent Gujarati brides, Isha Ambani. Ambani chose to wear an Odhni that depicts the Panetar over her Sabyasachi bridal lehenga for the big ceremony.
A Panetar saree is versatile and the classic colour combination makes it easy to dress up as you like. If you are wearing it for the wedding, you can add traditional gold jewellery and a classic hair bun to complete the look, or opt for soft curls and Kundan jewellery for an Engagement ceremony or Sangeet ceremony look. Red lips, smokey eyes and wavy hair with a string of pearls and you are cocktail ready! That's the beauty of a Panetar Saree, it's evergreen and perfect no matter what the occasion.
How will you style your Panetar Saree and own the look?