10 Stunning Gujarati Saree Designs Handpicked for Your Trousseau
Gujarati sarees are drapes that are rich in cultural value while being oh-so-beautiful. Take a look at these Gujarati saree designs handpicked just for you!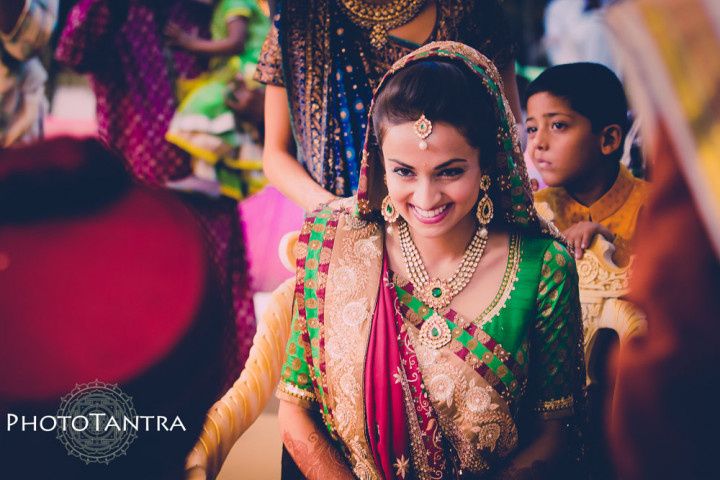 Located on the western coast of India, Gujarat has received extensive global exposure and yet has stayed connected to its root. Renowned for its absolutely stunning textiles, this state has garnered a lot of appreciation for its unique saree designs. The fabrics, techniques, embroideries of Gujarat combine to make masterpieces that spellbind at the very first sight. Whether you're a Gujju bride-to-be or not, these beautiful Gujarati sarees are worth a look! Let's find out how these handloom sarees can become your prized possession.
Deep Pink Patola Print Saree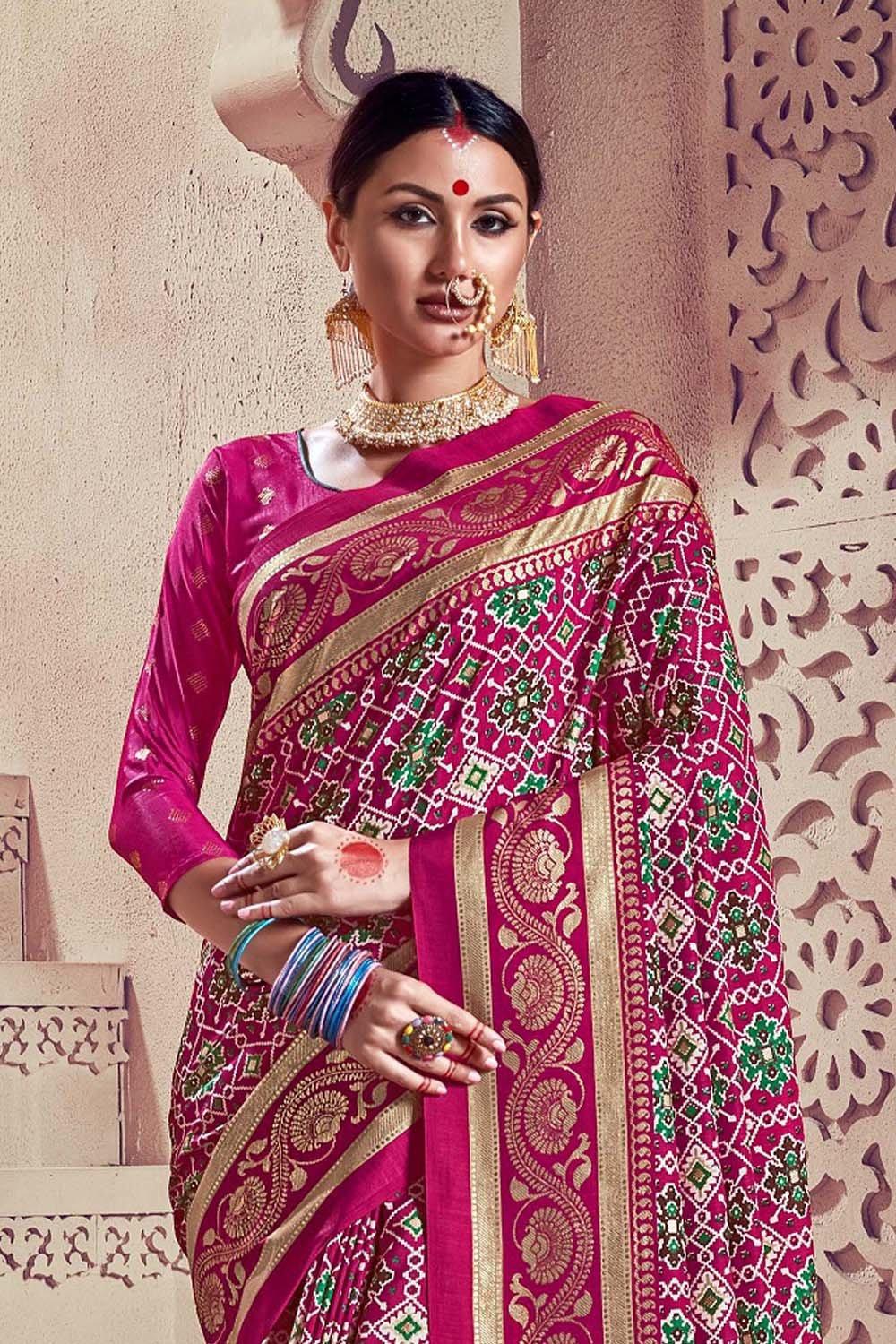 Image Courtesy: Karagiri
This drape in Bhagalpuri art silk is a hoot. The Rani pink coloured patola printed crepe silk saree is a beautiful Gujarati saree that can be worn to any occasion. This bright shade and lightweight has a soft flow and gives a beautiful silhouette to your look. Pick out dainty gold jewellery sets to accessorise the look perfectly!
Price: ₹5,000 or above
Yellow Kota Embroidery Saree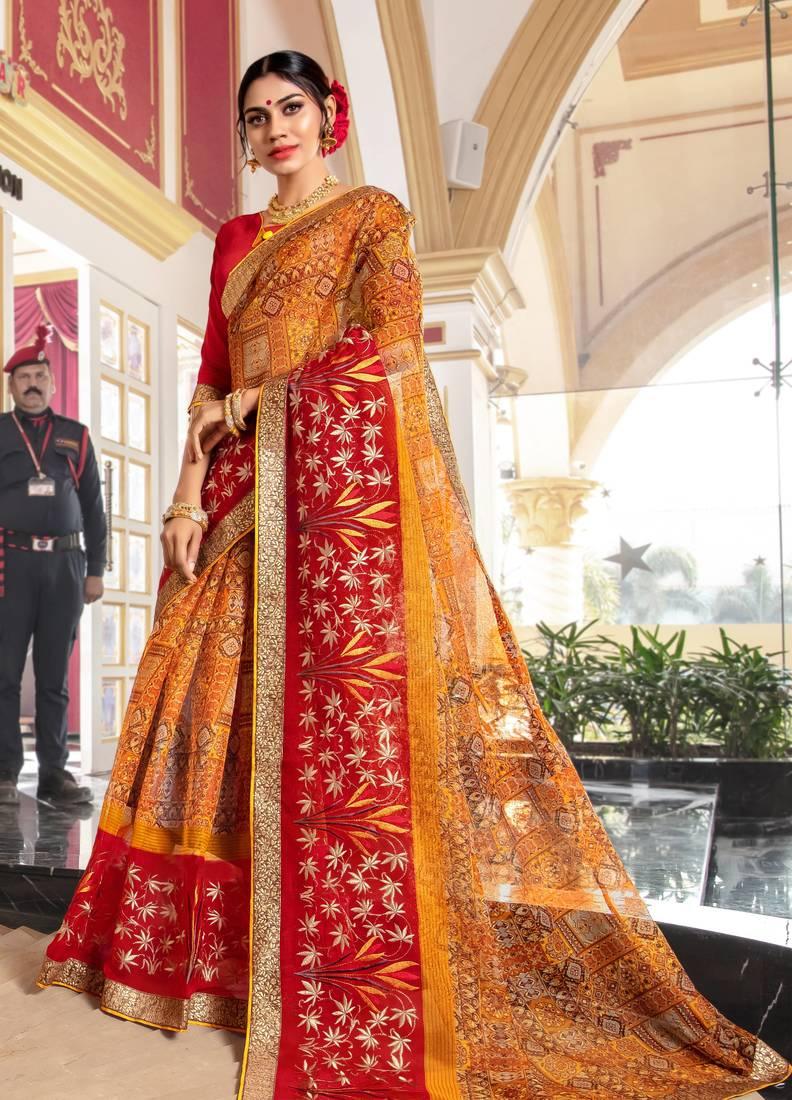 Yellow is a colour of piety especially for weddings and this mustard yellow saree with red border flaunts intricate embroidery and prints throughout the body of the drape that makes you stand out. Wear this saree for any one of the pre-wedding celebrations and don't forget to pair yoru favourite Kundan jewellery set with the saree to complement the look.
Price: ₹5,000 or above
Green
Woven Gharchola Saree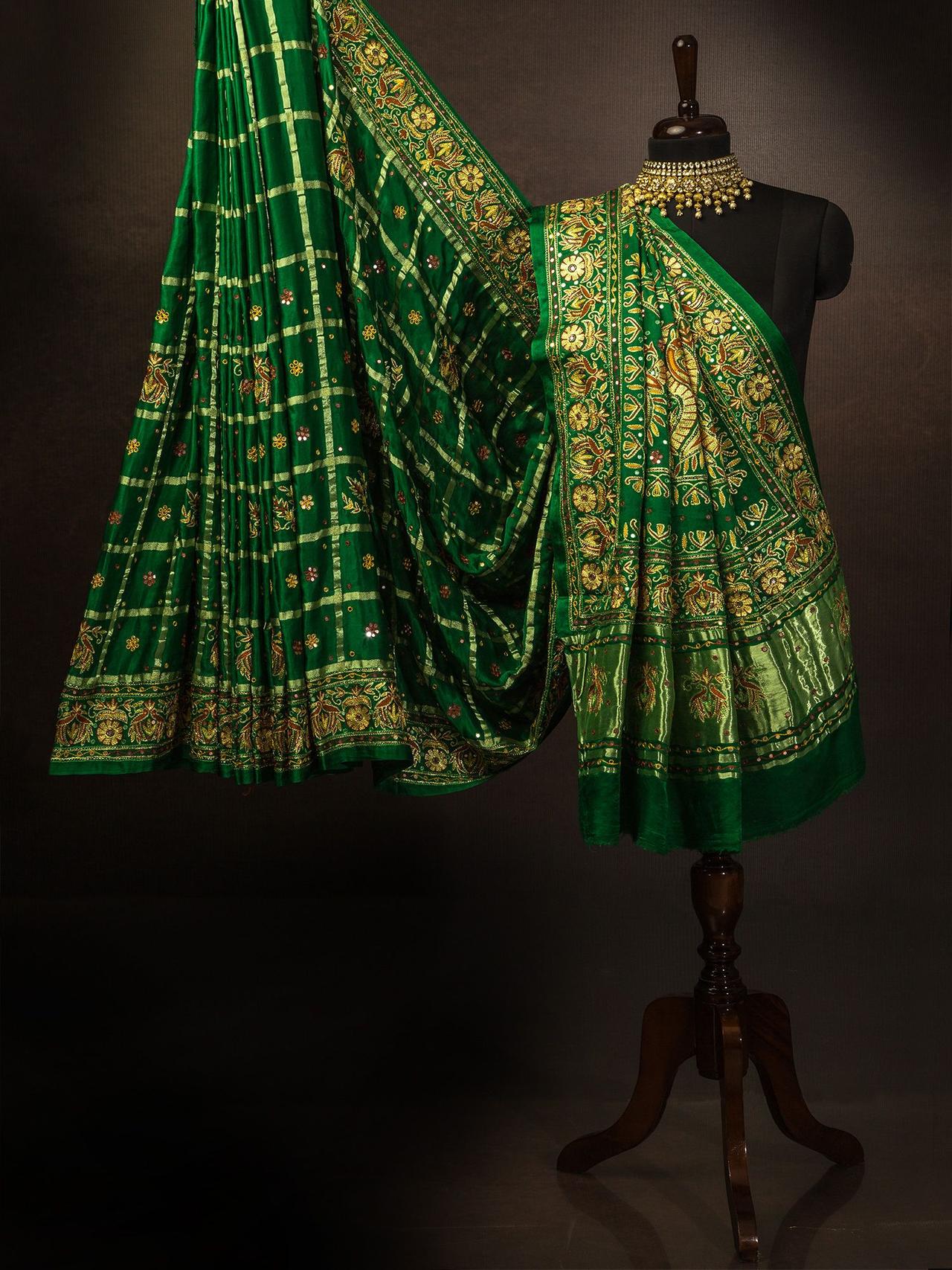 Image Courtesy: Saree.com
This Gaji silk green Gujarati saree has checks, Cutdana work, silk thread embroidery and intricate weaving. The Green Gaji silk Gharchola saree also comes with intricate floral embroidery on the border that runs through the saree to make it an absolute beaut. For a Gujarati wedding, if you are planning to flaunt a green lehenga and even a green saree, this is IT!
Price: ₹17,000 and above
Woven Patola Silk in Mustard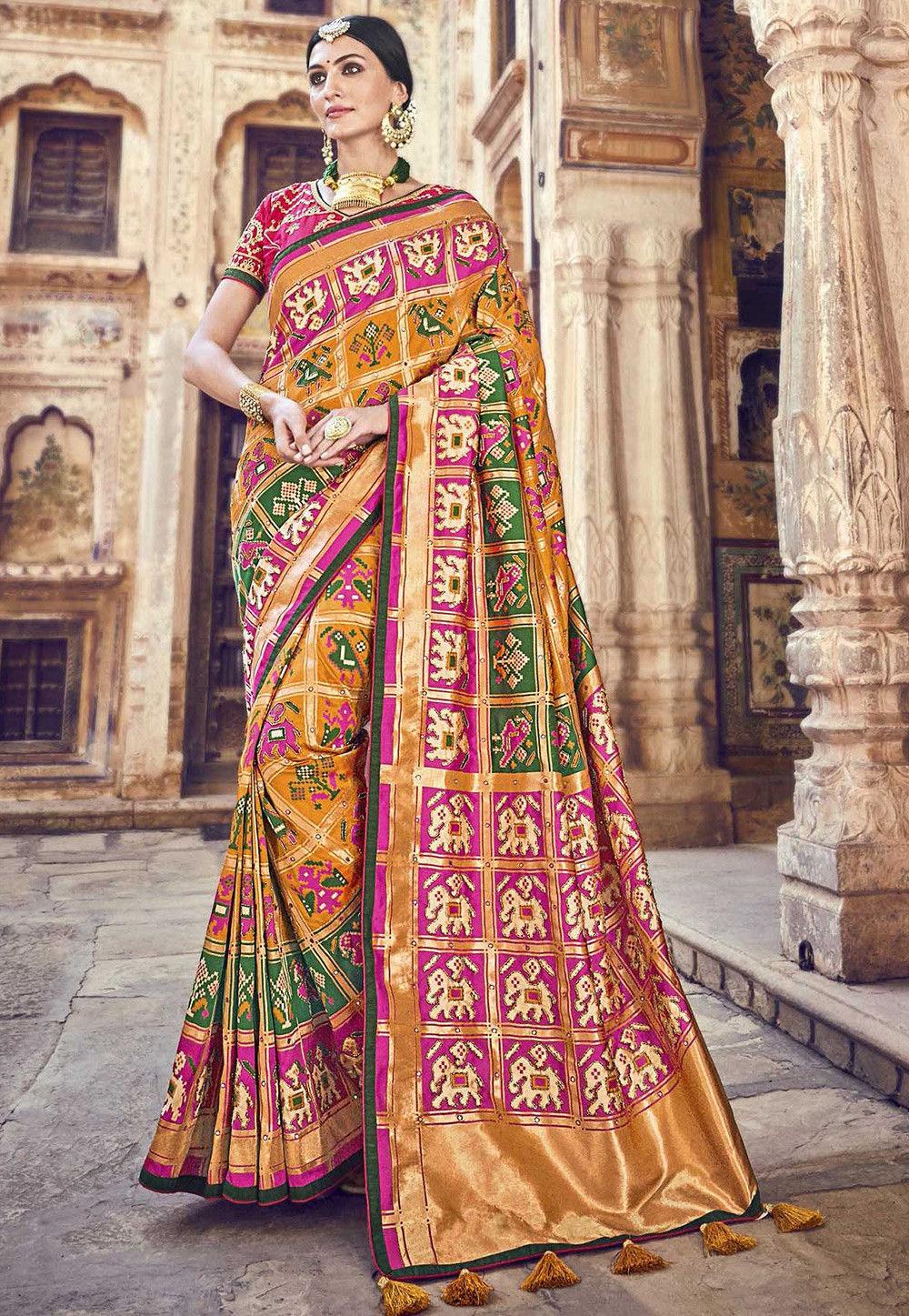 Image Courtesy: Utsav Fashion
The art Patola Silk saree in mustard yellow is a woven drape with Zari and Resham highlights and beads, stone and patchwork on the border. The print and colouring is a hand-done dying process and it makes this Gujarati saree a beauty that every millennial bride will fall in love with. Pick it for your first Karwachauth or even for the first Diwali after the wedding.
Price: ₹15,000 and above
Bandhej saree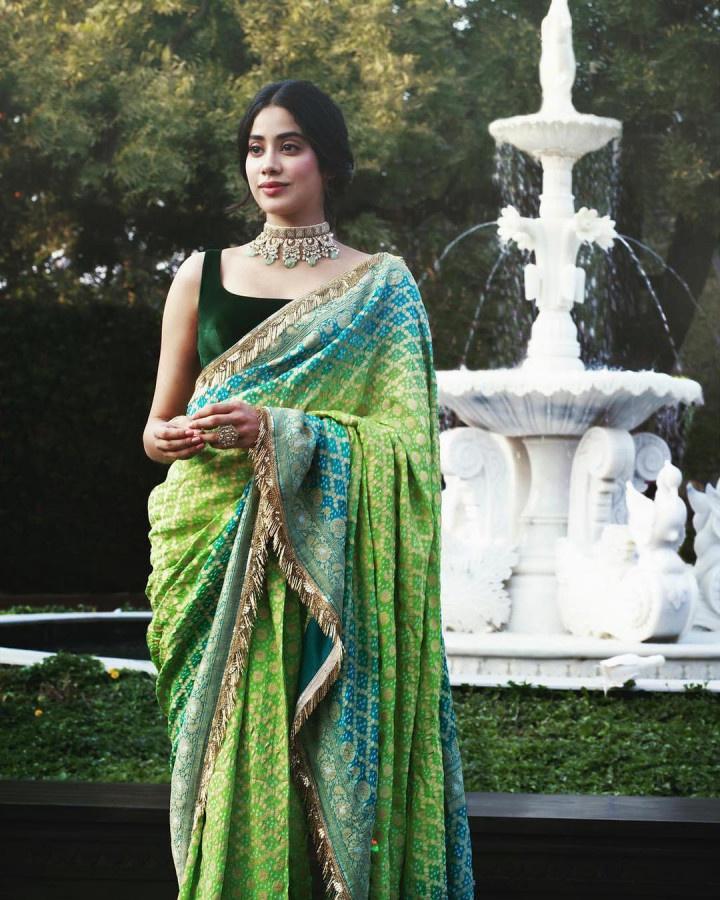 Image Courtesy: Manish Malhotra Facebook Page
Bandhani or Bandhej is one of the most traditional methods of printing textiles. This tie and dye technique is very popular in Gujarat and leads to many colourful creations. The patterns created through the tie and dye, highlight the culture of India, adding grace to the outfit. Traditional bandhani sarees used to be red, yellow, green and blue in colour but these days many modern and wearable versions are available. The most commonly used fabrics for bandhani prints are silk, cotton, cotton-silk, chiffon and georgette.
Price: Up to ₹1,00,000
Panetar saree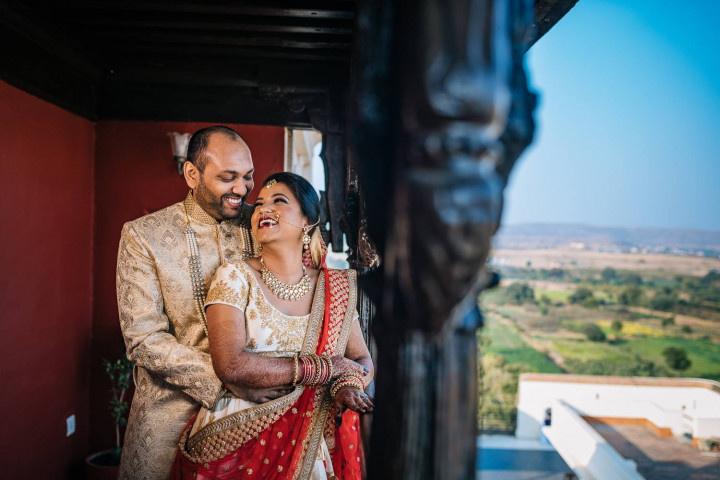 Panetar sarees are an essential part of Gujarati weddings. Jain, as well as Hindu brides, wear a Panetar saree on their wedding. The Panetar is a silk saree with a white body and red border. The white body is woven with Gajji silk, adorned with Zari, bandhani motifs and other types of lush embroidery. Gifted by the bride's maternal uncle, this saree is usually worn at the beginning of the wedding. Its pallu is taken from back to front over the right shoulder, which is also known as the typical Gujarati style of pallu draping.
Price: Up to ₹50,000
Gharchola saree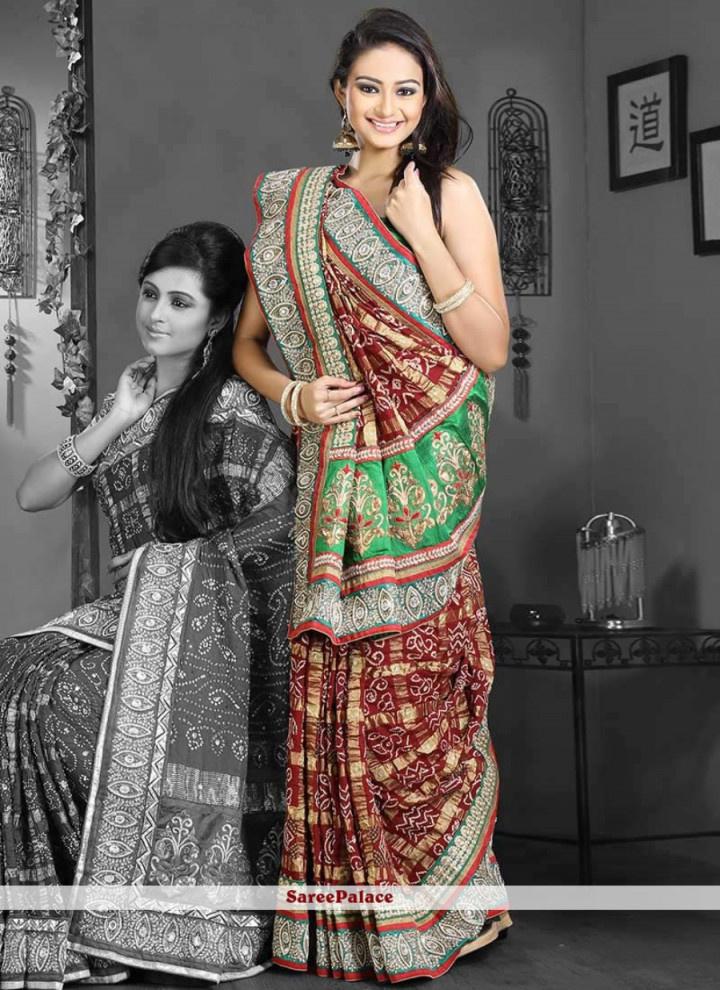 A Gharchola is yet another bridal must-have for the Gujarati brides. This saree is gifted to the bride by her in-laws and is usually worn during the second half of the wedding. These sarees are woven with silk and zari threads which are later ornated with bandhani work. Being a bridal saree, it's usually made in red, maroon, green and yellow colours and the borders feature a grid style. This vintage saree is also pretty expensive, depending on the intricacy of the craftsmanship.
Price: Upwards of ₹50,000
Patola saree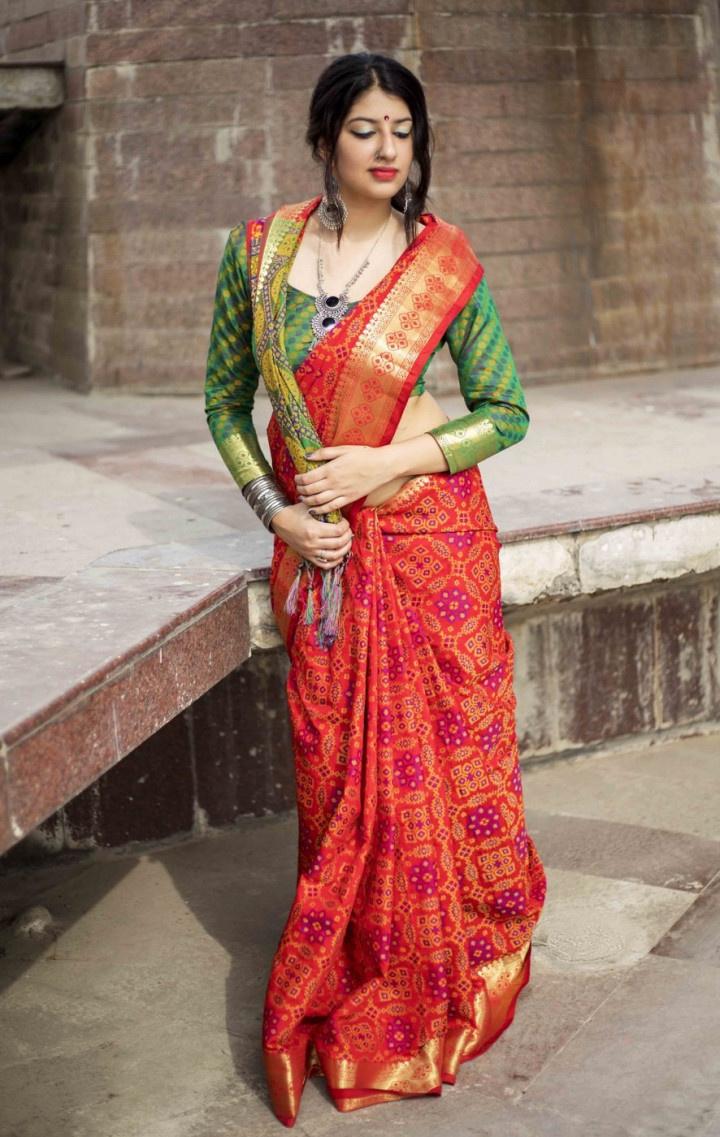 Did you know each patola sari requires a time span of four to six months to be completed? But, what makes them so precious and exotic? Well, these sarees feature intricate designs that are identical on both sides of the fabric. The motifs and patterns created may vary, depending on the weaving community of Gujarat. But, the most common ones are flowers, birds, elephants and horses. These handwoven masterpieces are very expensive, including the most basic ones.
Price: Up to ₹5,00,000
White & Red Gujarat Patola Saree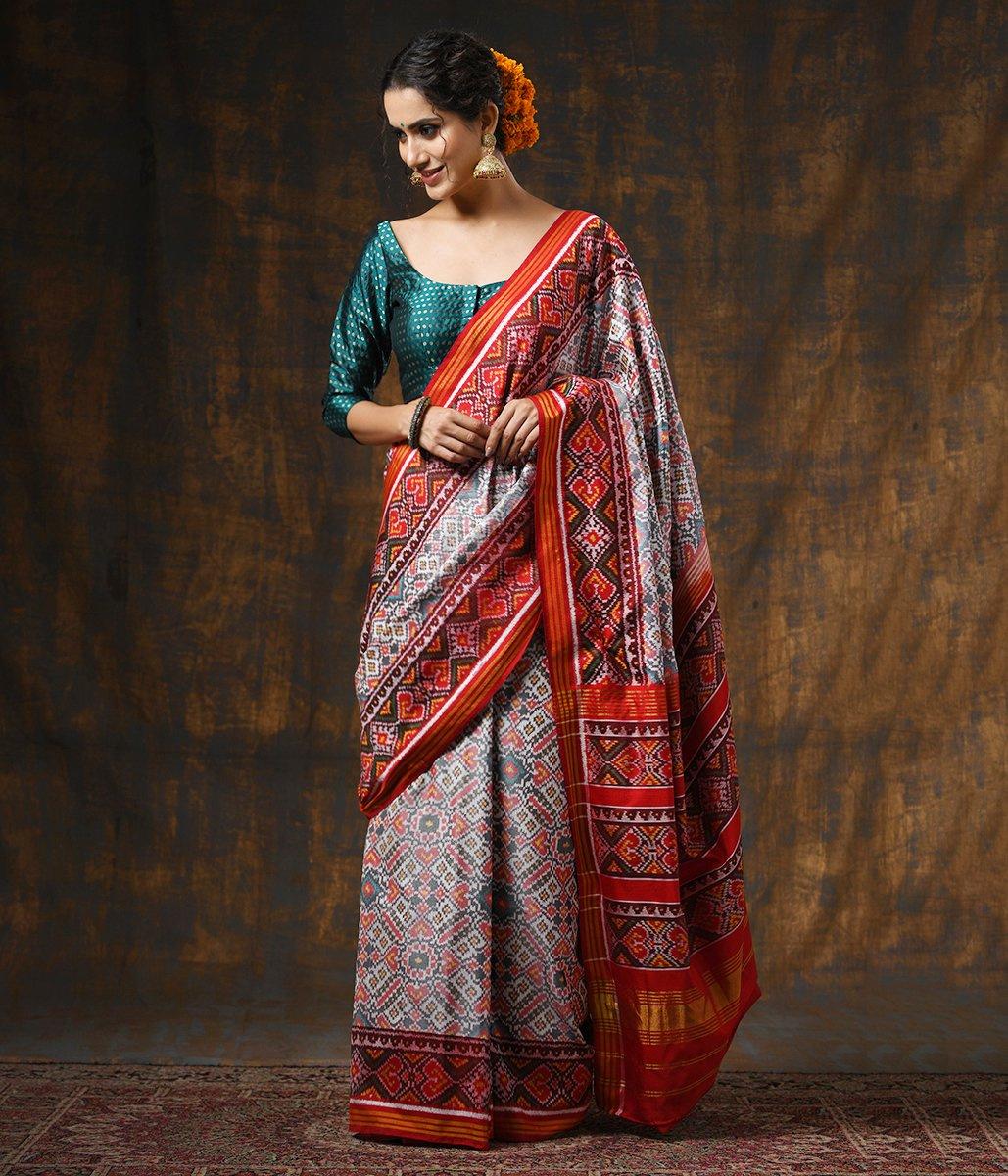 Red and white weddings have been a super hit for the past decade and how. This mulberry silk saree in red and white is a red and white outfit that you can include in your trousseau. The handwoven saree flaunts single Ikat work and weft dye. The bright and happy colour of the saree is sure to suit all age groups and for every traditional occasion.
Price: ₹48,500 onwards
Maroon Embellished Handloom Bandhani Saree
Image Courtesy: Mitera for Myntra
Maroon handloom Bandhani embellished saree in art silk fabric and with a zari border. Bandhani is also known as Bandhej. It is a tie and dye method and features various designs ranging from floral to animal-shaped prints. The lightweight saree is perfect for any summer wedding and the bright red colour fits perfect for weddings too.
Price: Up to ₹13,999 onwards
How to drape a Gujarati Saree - Tutorial
If you were wondering how to drape a Gujarati saree, here is a video for reference.
Gujarati sarees are an unexplored treasure, which is craving to be discovered by the brides from various parts of India.
The impeccable needlework, expert craftsmanship, excellent use of embellishment techniques will surely blow your mind. These trousseau investment pieces are apt for all age groups and can be draped in a variety of ways for unique looks. Wear them on one of your wedding functions, don one Gujarati saree on your first day as a newlywed or turn them into lehenga choli for an exquisite look. Since having sarees in your trousseau is a must among Indian brides, these unique but beautiful traditional sarees can give you an edge.
Do you own a Gujarati saree or two in your collection? Tell us which one, in the comments below!