Red and White Wedding Ideas for a Dreamy Wedding Ambience
Red and white wedding ideas are quite popular during weddings as they symbolise love and purity. Check out different ways of implementing these ideas!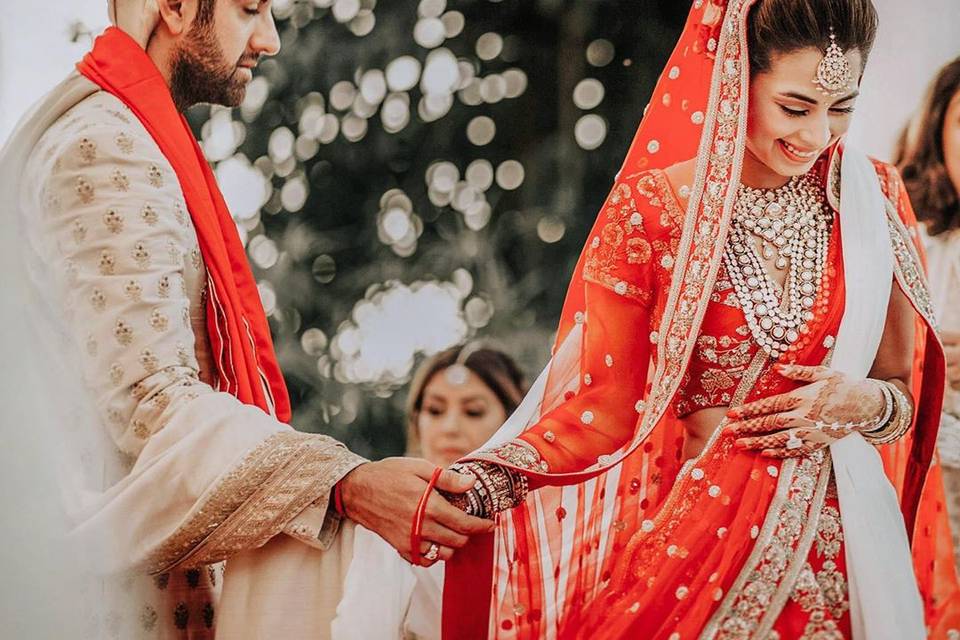 Christmas colours are always a hoot. Red and white colour combination is a much-loved one of the season and these hues bring out the cosy romantic vibes. If you are planning a Christmas wedding or a December wedding for that matter, you could actually keep the theme as red and white. the warmth of the red colour balanced by the tranquil touch of white is going to make your wedding an unforgettable affair.
Colours signify different emotions and feelings. And when it comes to weddings, red definitely plays an important part, being the colour of love! White, on the other hand, depicts purity. One of the reasons why in a Christian wedding the bride is dressed in a gorgeous white wedding gown. So, if you want to explore some creative ways to incorporate these two colours in your wedding, we're here with just the article for you!
Take a look at some interesting red and white wedding ideas you could use in different aspects. From bridal fashion to wedding invitation to wedding decor...we've got it all covered for you!
Wedding Cakes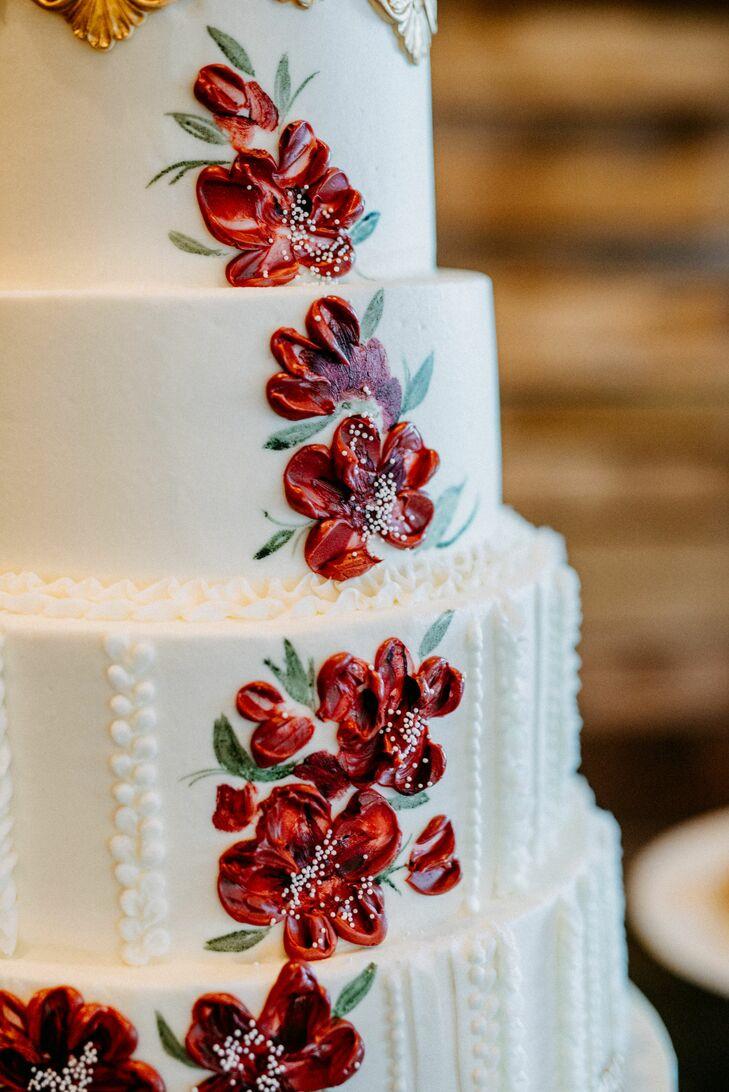 Image Courtesy: Lexi Hoebing Photography
One of the delicious red and white wedding ideas would be to get a wedding cake in those colours! Since cake cutting has now become quite a prevalent wedding event in India, there are a lot of options for designer cakes using different colours on them. Use a white vanilla cake with red frosting on it for special effects!
Invitation Cards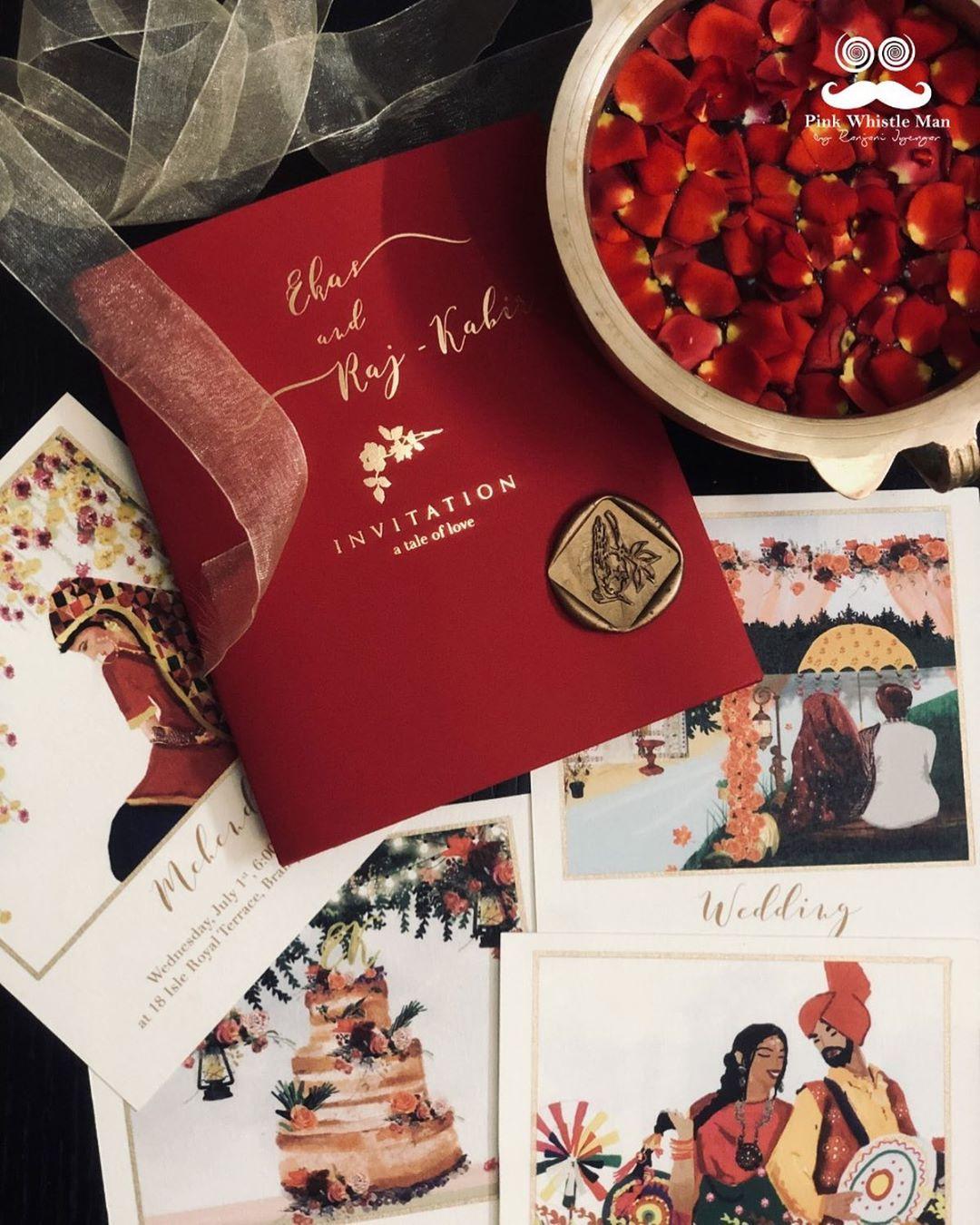 Planning a Rajput wedding? One of the royal red and white wedding ideas is to get gorgeous invitation cards designed in these colours. You can use red and white invites for both paper invitations as well as digital cards. Go for invitation scrolls or invitation boxes with favours, sticking to these two colour themes.
Stage Decor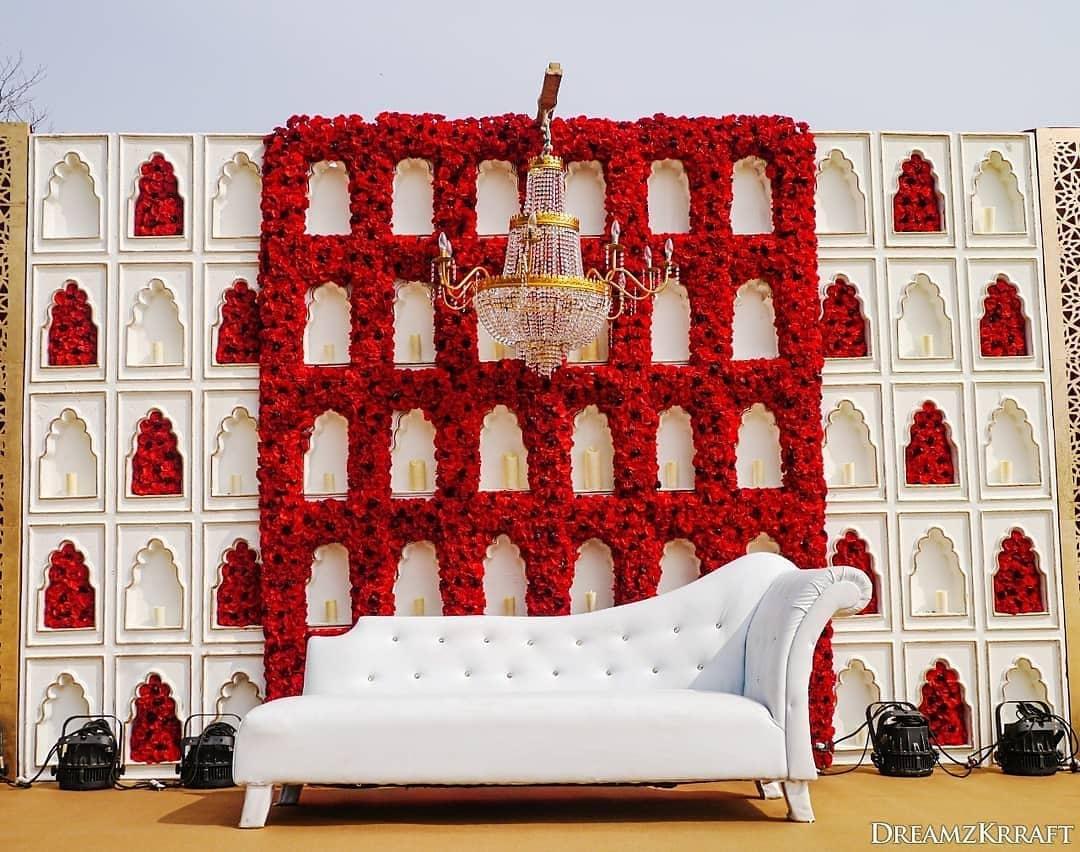 While exploring red and white wedding ideas we must not exclude stage decor! using red roses as wall decoration with a white sofa or bride & groom chairs at the front would add loads of elegance to the whole decor game. Keep the backdrop white with occasional red flowers at uniform space intervals. Use the right kind of lighting that would highlight the red & white colour combo in the best way.
Mandap & Seating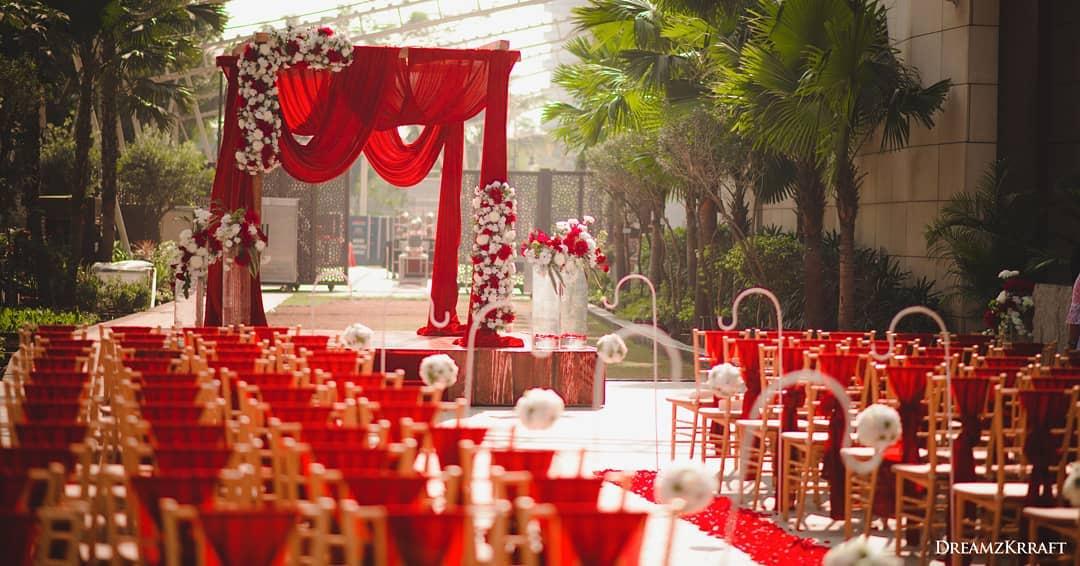 The wedding mandap is yet another area where you can integrate red and white wedding ideas. Use red drapes or dupattas to cover the four pillars around the mandap. Mix some white and red flowers to decorate the drapes. Keeping in sync with the colour theme, wrap the guest chairs with the same red drapes. Use red and white flowers to deck up the chairs too. You can also use a red carpet, floral aisle or create a floral rangoli using red and white petals.
South Indian Bridal Saree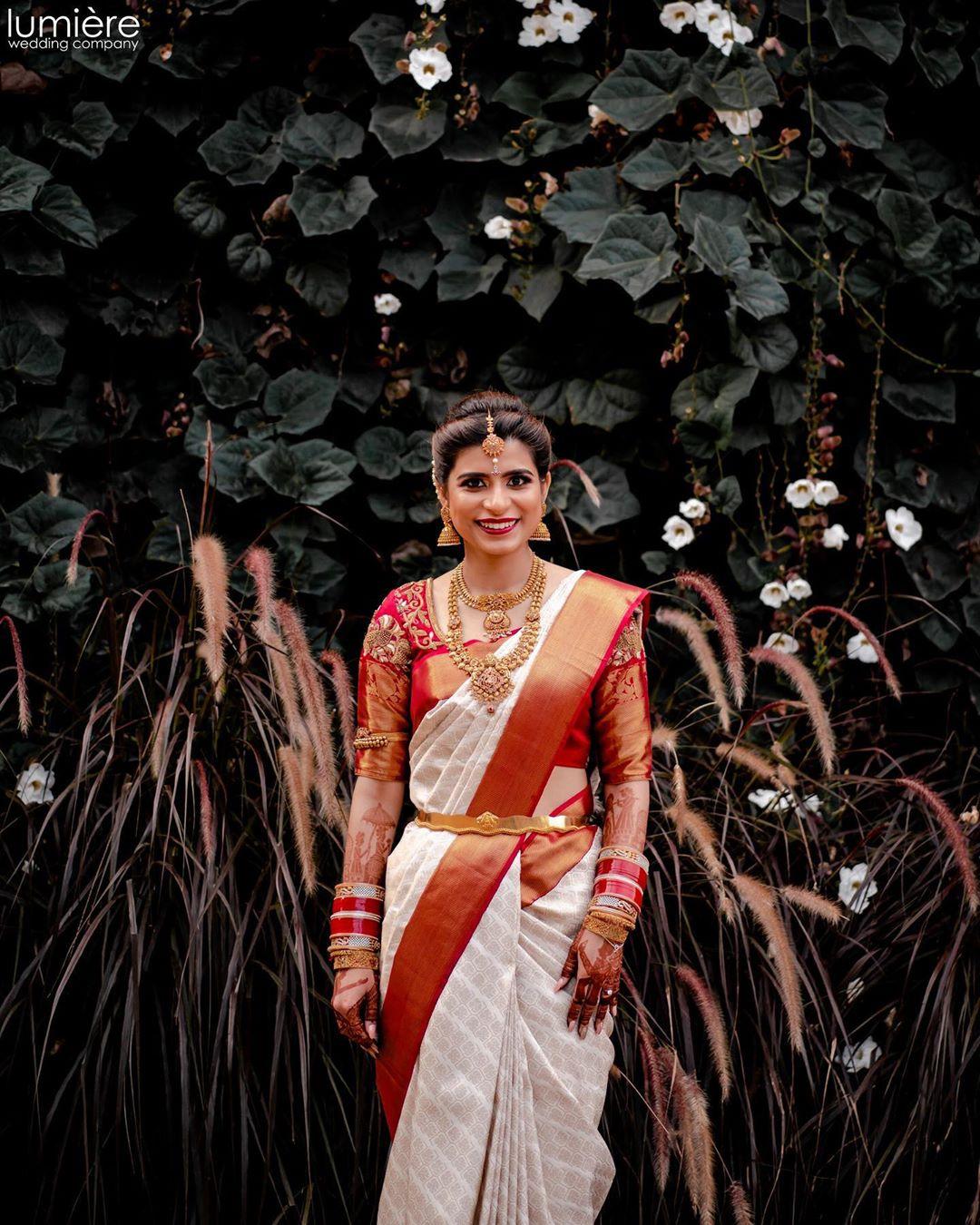 If you're planning a south Indian wedding for yourself and want to try red and white wedding ideas is in the wedding outfits, drape a gorgeous white Kanjeevrama silk saree with red borders. You can get a Pattu blouse in red with heavy work on the sleeves. And if you're a south Indian bride who is about to have a cross-cultural wedding with a North Indian groom, sporting the red Chudas will only add to the colour theme!
Bridesmaids Dress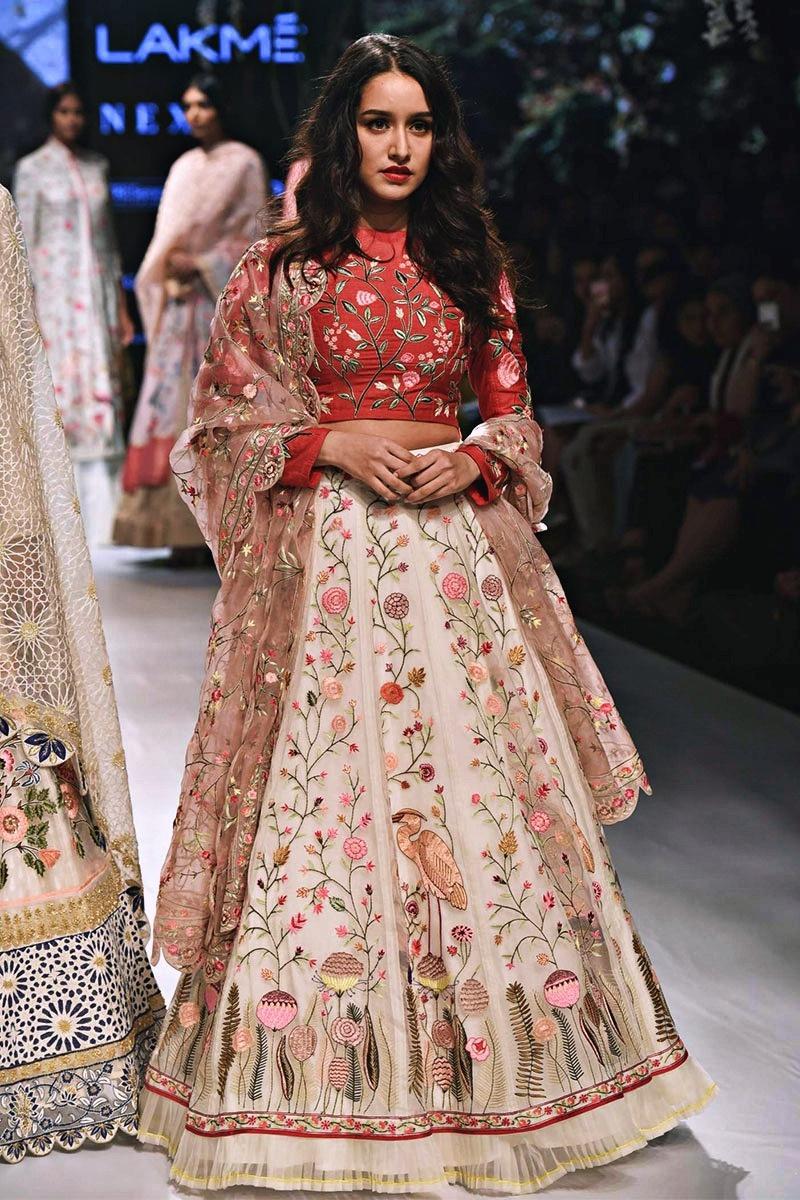 Image Courtesy: Rahul Mishra
Take inspiration from this sheer white lehenga and full sleeves red blouse with floral embroidery for some red and white wedding ideas. Especially if you're looking for delicate bridesmaids dresses for the wedding, Sangeet or Engagement functions, this would be the perfect red & white combo to add to the theme.
Intimate Wedding Decor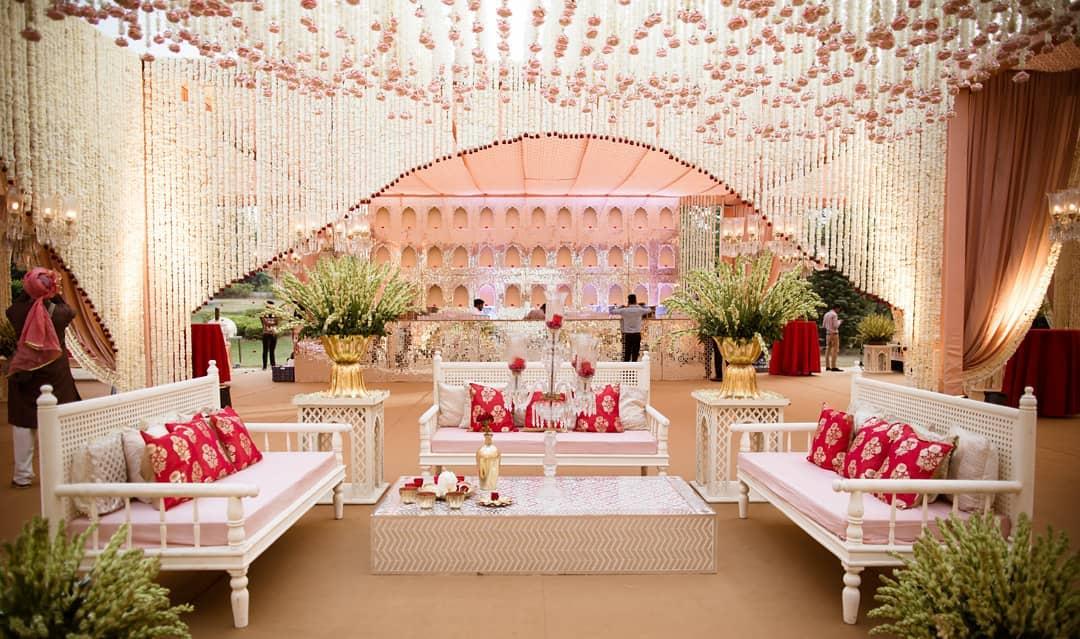 Planning an intimate wedding is the trend of the hour due to the ongoing as well as post-COVID phase. So, go with a soft red and white shade to decorate an outdoor wedding function. You could arrange the seating using white furniture and use white and crimson as the flower decoration. Throw in a few red cushions and bolsters around to add some vibrancy.
Sangeet Decor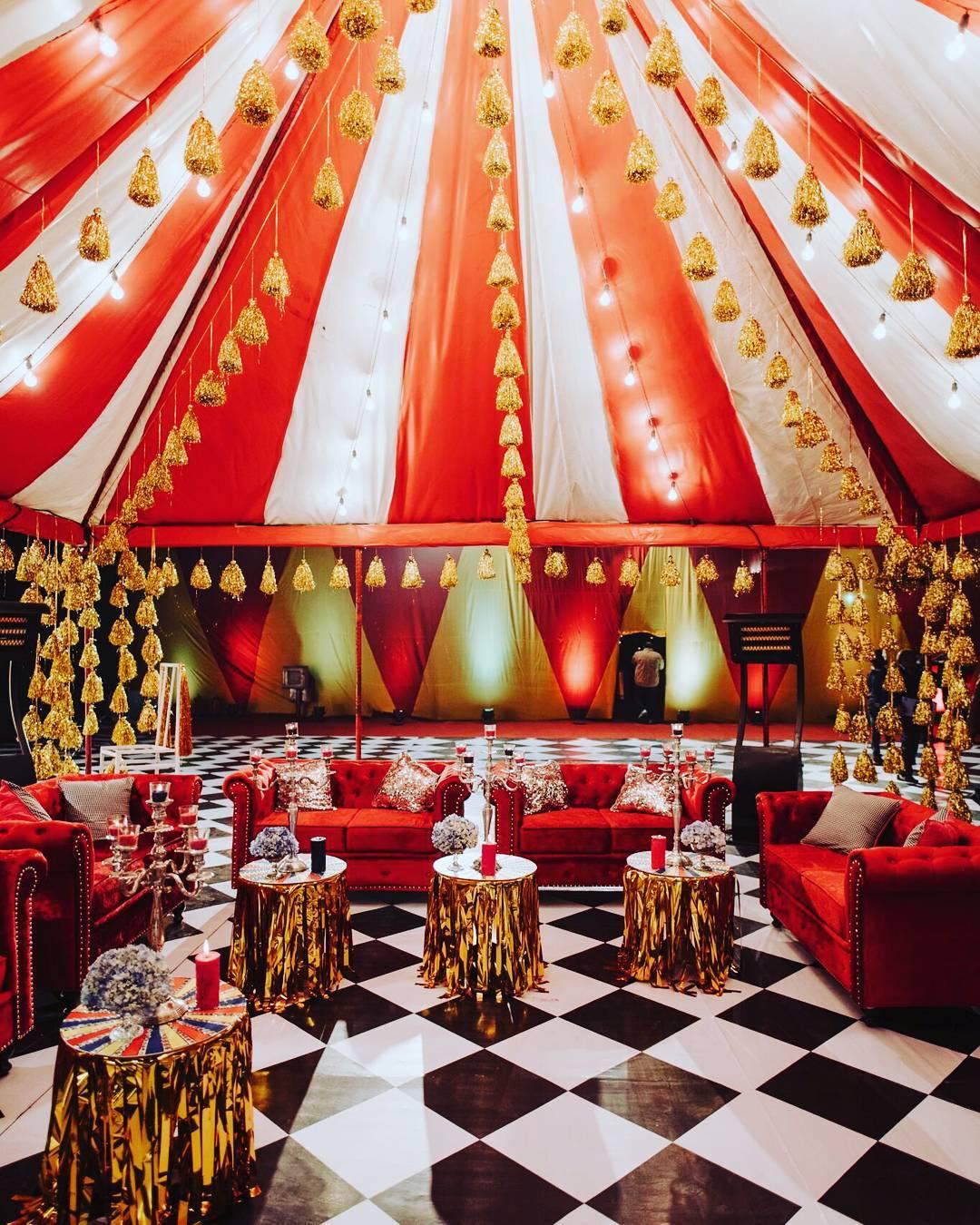 Bring in your vibrant red and white wedding ideas to the Sangeet decor by filling up the venue with vividness. Broad red drapes with sleek white stripes, Rani pink couches, red roses and white table decor elements. Make your Sangeet venue look just as cheerful as the occasion calls for!
Bride & Bridesmaids Combo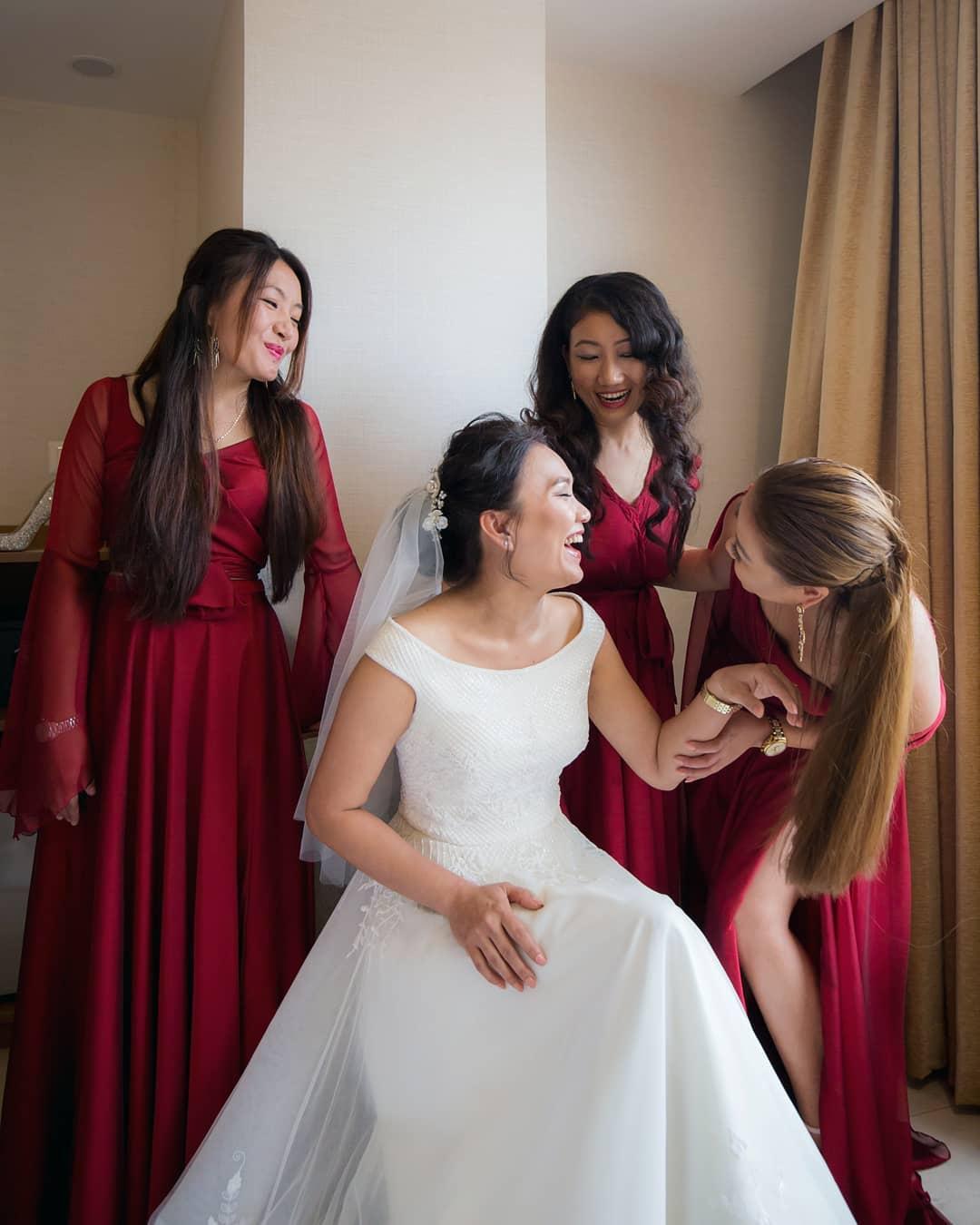 A Christian bride dressed in snow-white princess gown surrounded by her beautiful bridesmaids all dressed in red gowns- now that's a great implementation of red and white wedding ideas, don't you think? Also, what gorgeous wedding photos would that make!
Red & White Lehenga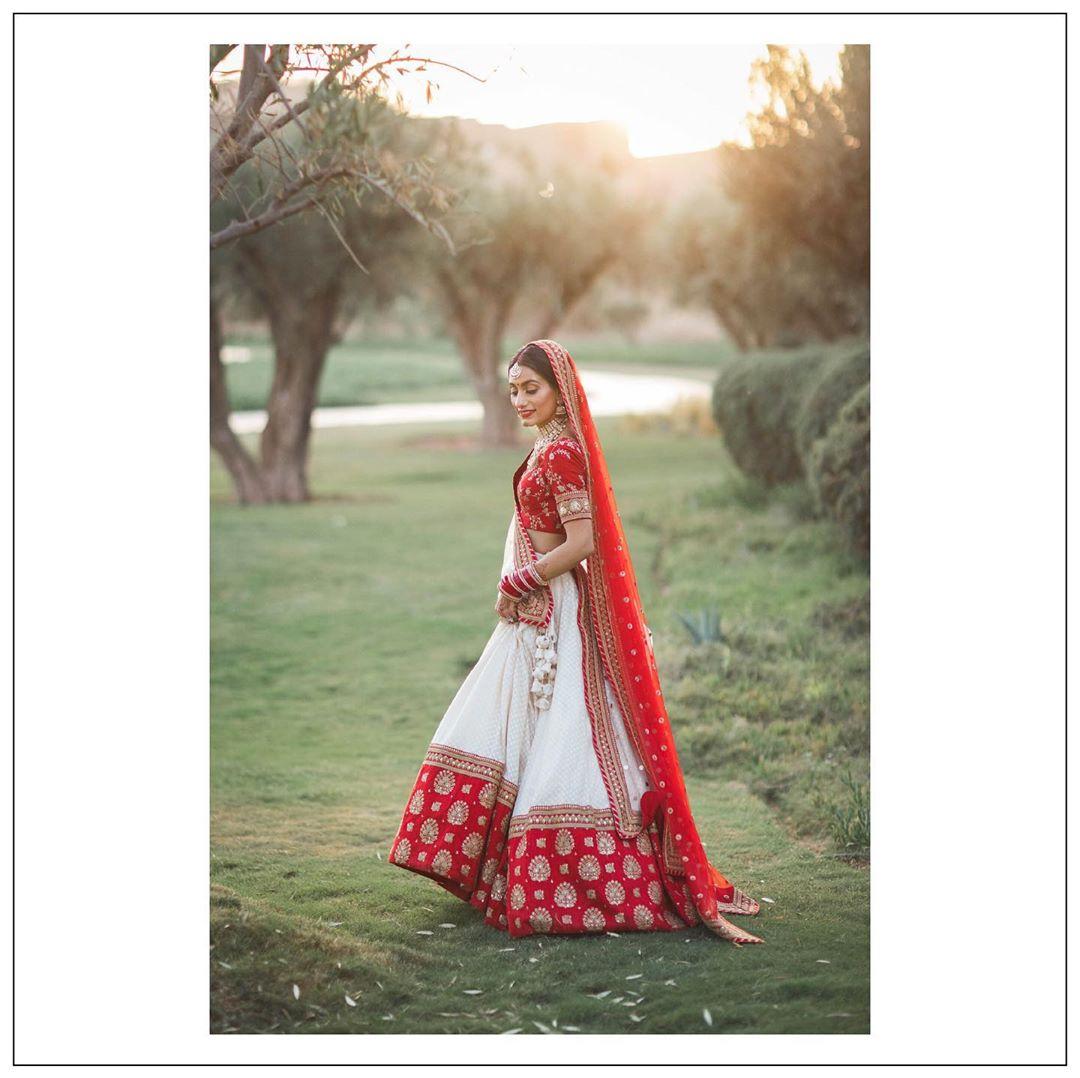 Image Courtesy: Sabyasachi
Sport a Sabyasachi lehenga in what and red with floral prints for your wedding. The white based lehenga and the subtle red flowers along with the thin border display a graceful bridal look for your big day.
Bengali Wedding Look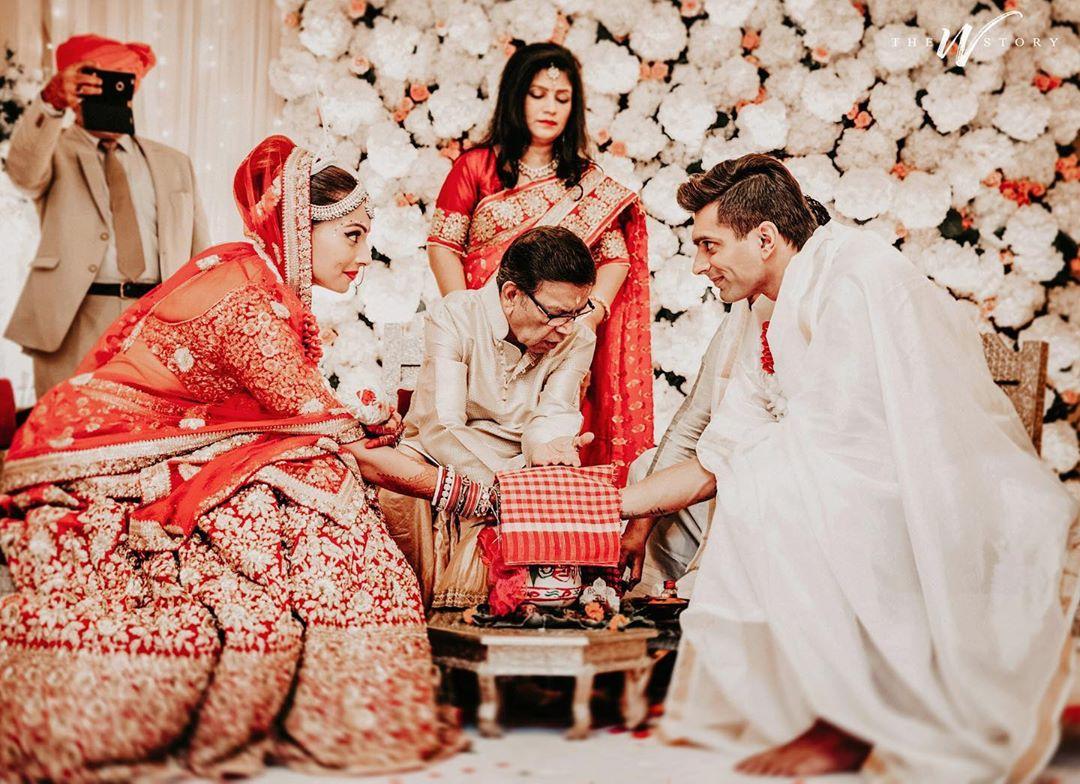 Getting married in Bengali style? A blood red lehenga or a red Banarasi saree complemented with the Bengali groom's white Jod-Dhoti is one of the ideal red and white wedding ideas on a Bong wedding. Go for red lips and red Bindi to enhance the colour theme.
Bride & Groom Reception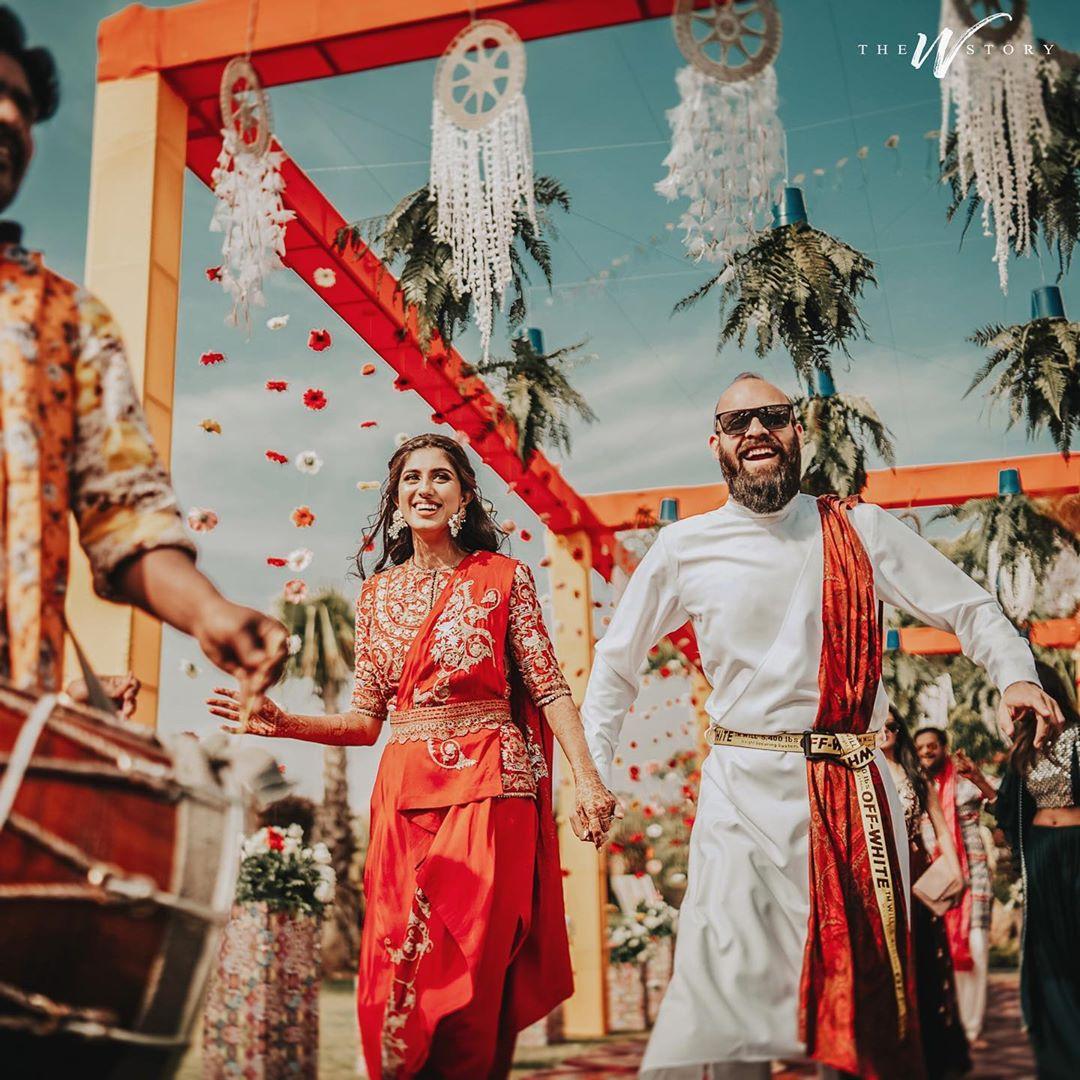 And finally, welcome the newlywed bride and groom using red and white wedding ideas both in decoration as well as outfits. Bedeck the open-air venue with red drapes along with white dreamcatchers while the couple enters sporting some elements of red & white in their outfits!
You can use red and white wedding ideas on many occasions as long as they are aesthetically pleasing. Communicate your own ideas with your wedding decorator and wedding planner to come up with some excellent results. Make sure not to over-use the colours to avoid clustering. Make beautiful Rangoli designs using these colours for your courtyard Haldi or Mehndi functions. Make the best of colours to bring cheerfulness and splash to your wedding!
Do you have any more of such red and white wedding ideas? Share your colourful thoughts with us in the comment section below!