Breathtaking Bride and Groom Chair Decorations for Inspo
You & your partner are the stars of your wedding! So why not flaunt it right? Check out some stunning Bride and Groom Chair Decorations & get inspired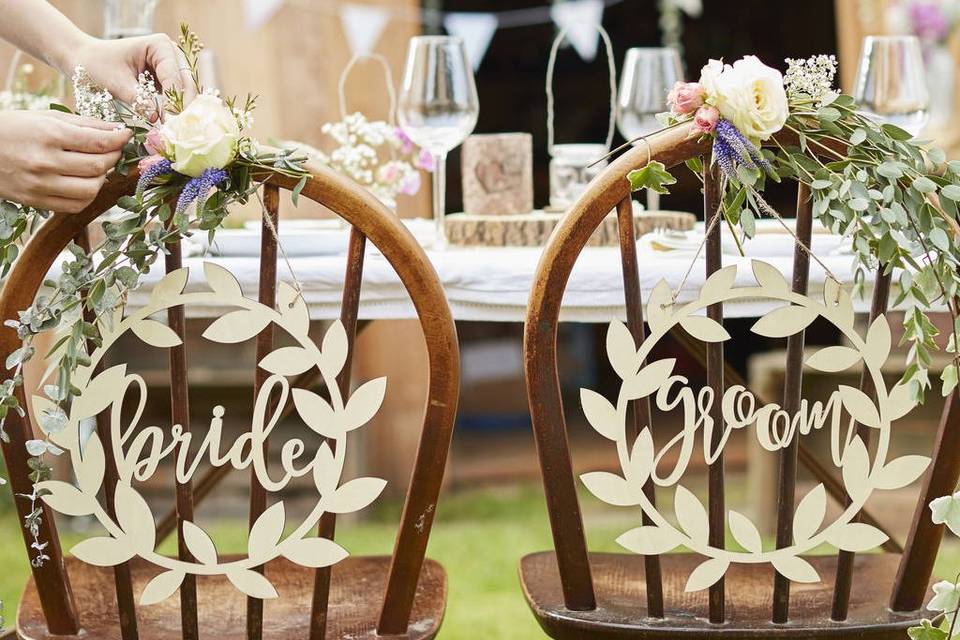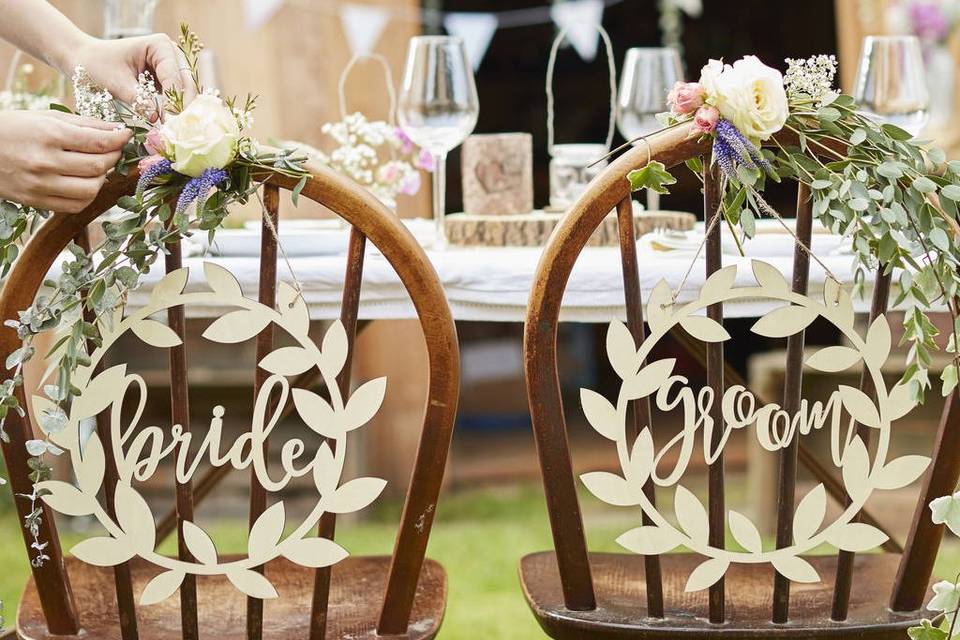 Image Courtesy: Not on The High Street
Your wedding is the single event of your life when you get to be the super star; the show-stopper; the centre of every one's attention! And you have complete rights to make a big deal out of everything. After all, that's the whole point of your wedding...it's all about You and your partner! So when you and your newly-wed partner are greeted by everyone at your reception dinner, it only makes sense that the "King & the Queen of the evening" in their gorgeous bridal lehenga and dapper suit, must have their special "thrones" to sit on! That's the reason we have some ideas on special Bride and Groom Chair Decorations, just for the superstars! Take a look at the breathtaking chair designs to incorporate them on your own wedding.
Bamboo chair with drapes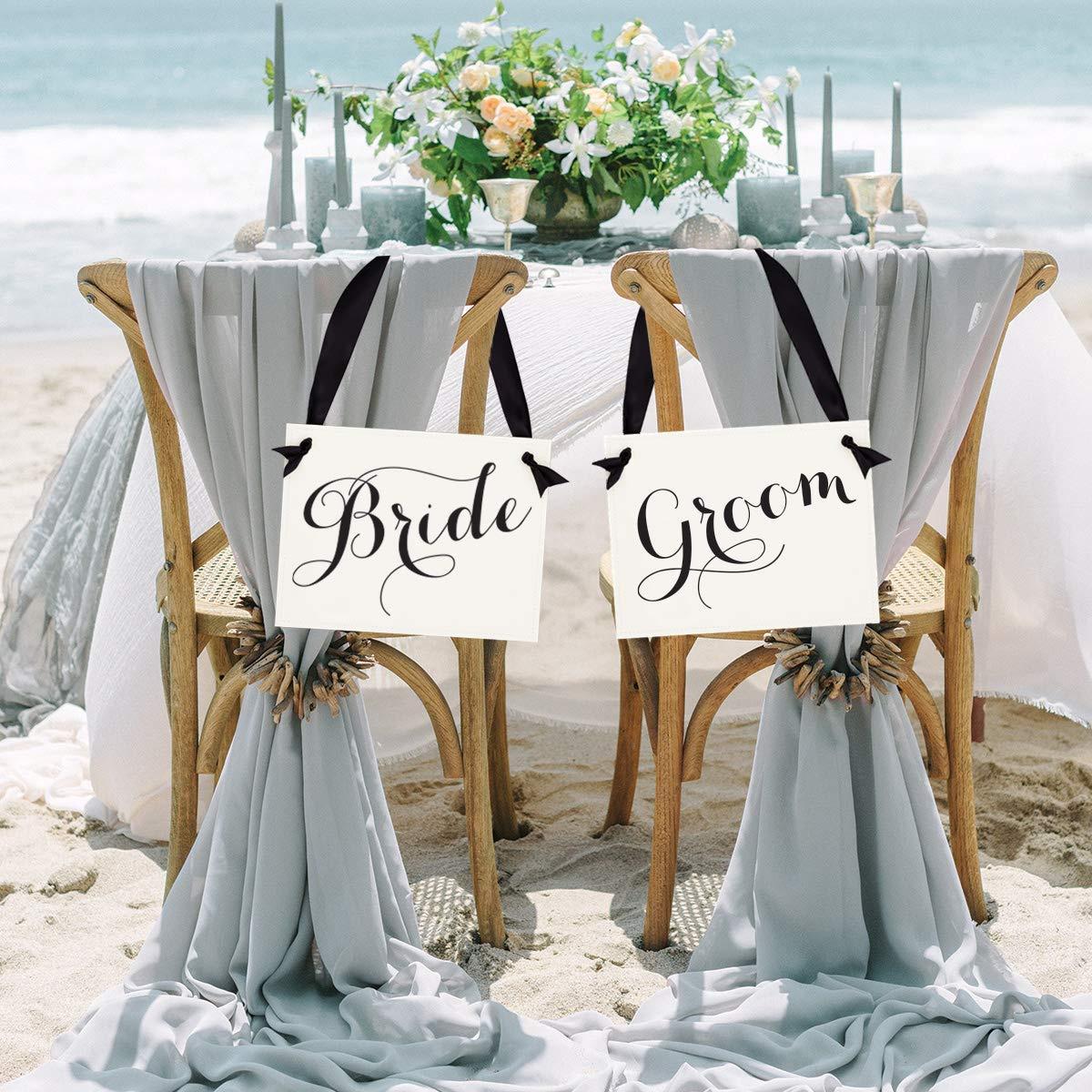 Image Courtesy: Amazon
Get some chic vibes with these bride and groom chair decorations made of bamboo. Especially if you're having a beach wedding, just wrap the bamboo chairs with some soft fabric drapes in sky blue for a breezy look.
Wooden chair with tassels

Use wooden chairs with slightly rough finishing for a rusty look on your eco-friendly wedding reception. Add some knitted white jute tassels and faux foliage streamers at the back as a part of bride and groom chair decorations!
Wrought iron chair with flowers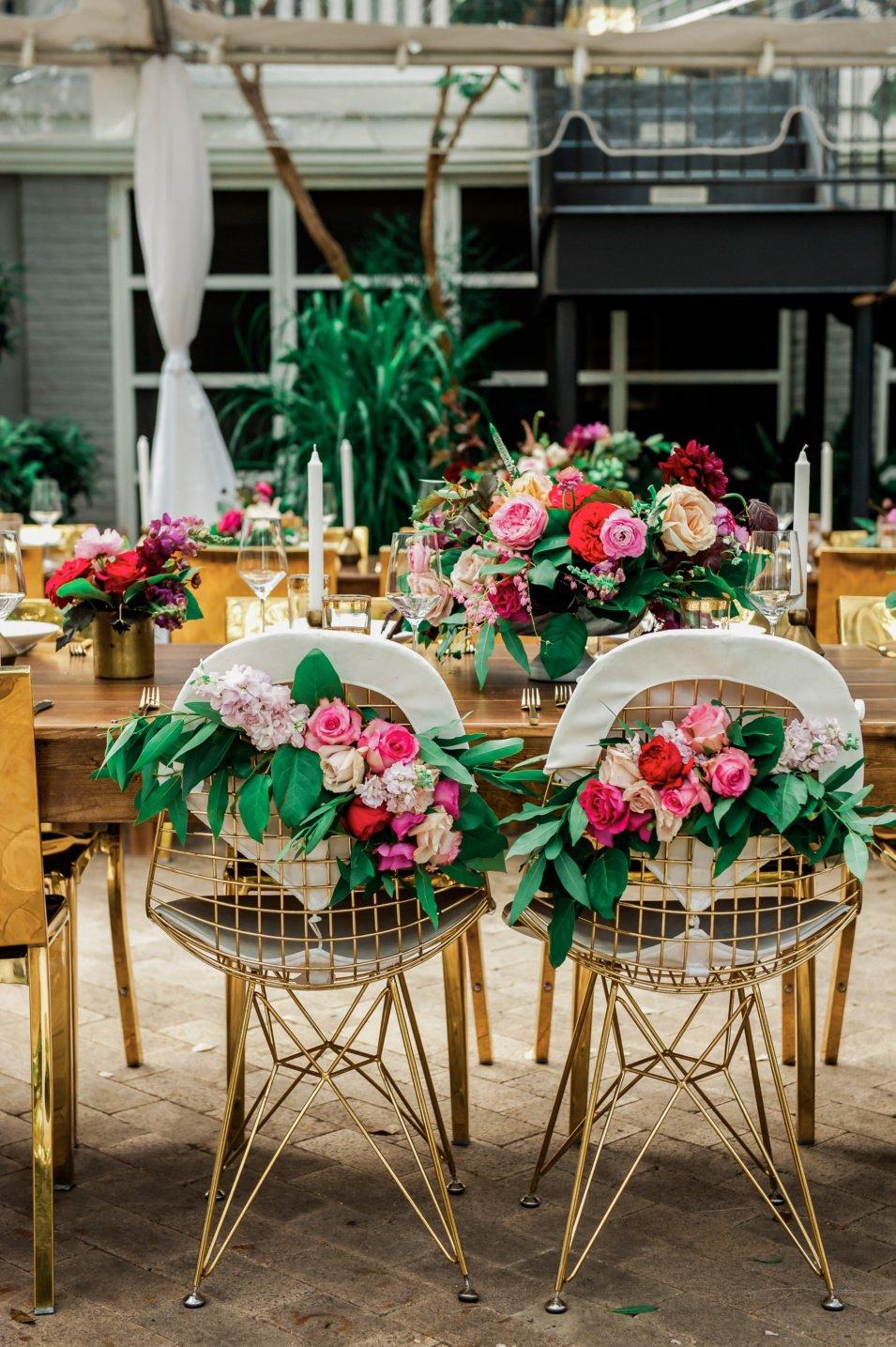 Image courtesy: Birch & Brass
If you want to add a beam of shine to your bride and groom chair decorations, go with brass or golden colour wrought iron chairs with flowers and leaves decoration. make sure you choose your chair colour keeping the overall reception colour theme in mind.
Low-rise dark wooden chairs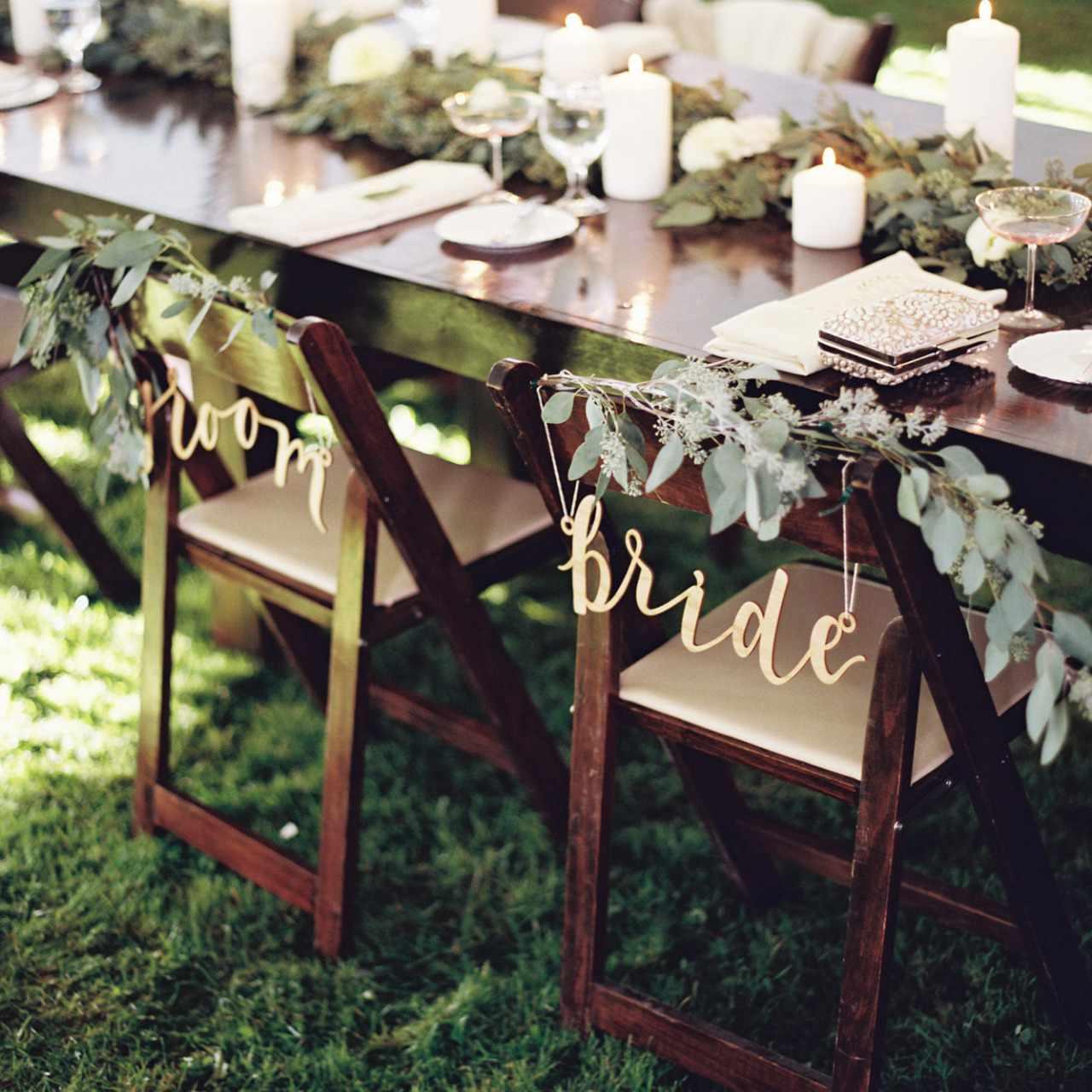 Image Courtesy: Pinterest
Cute yet elegant-these low rise dark wood chairs would be an ideal choice for an elite wedding theme. Deck them up with some fern streamers to give them a classy touch. These bride and groom chair decorations would go with both indoor as well as outdoor weddings.
Traditional gold & white couches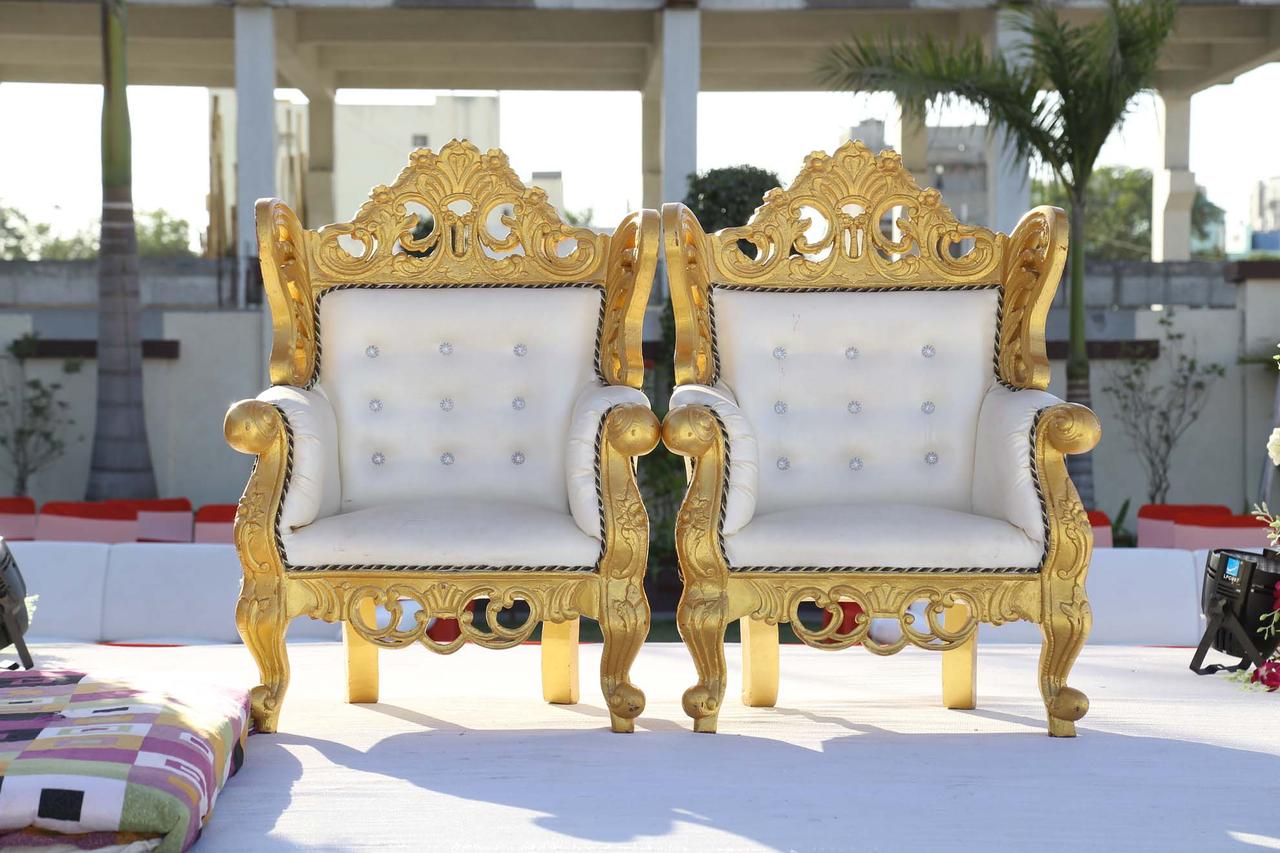 Image Courtesy: Ever Master Mandap Service
One of the most popular bride and groom chair decorations in an Indian wedding, these classic white and gold couches are always in fashion. Amp up the royal theme wedding with a touch of grandeur with these chairs.
White Sofa
Image Courtesy: Hampton Center Party Rental
If you're in doubt, go with a grand white sofa for the bride & groom and you're sorted. Give the couple a regal look to go with their gorgeous white & gold lehenga and Rajwada style suits.
Hawaiian style chairs

Image Courtesy: Hoste Events
Add some fun colours to your destination wedding decor with these Hawaiian style bride and groom chair decorations! The copper colour chairs decorated with multi-colour flowers will totally brighten up the ambience. If you don't want to use fresh flowers, you could also opt for artificial flowers as the luaus.
Chiffon draped chairs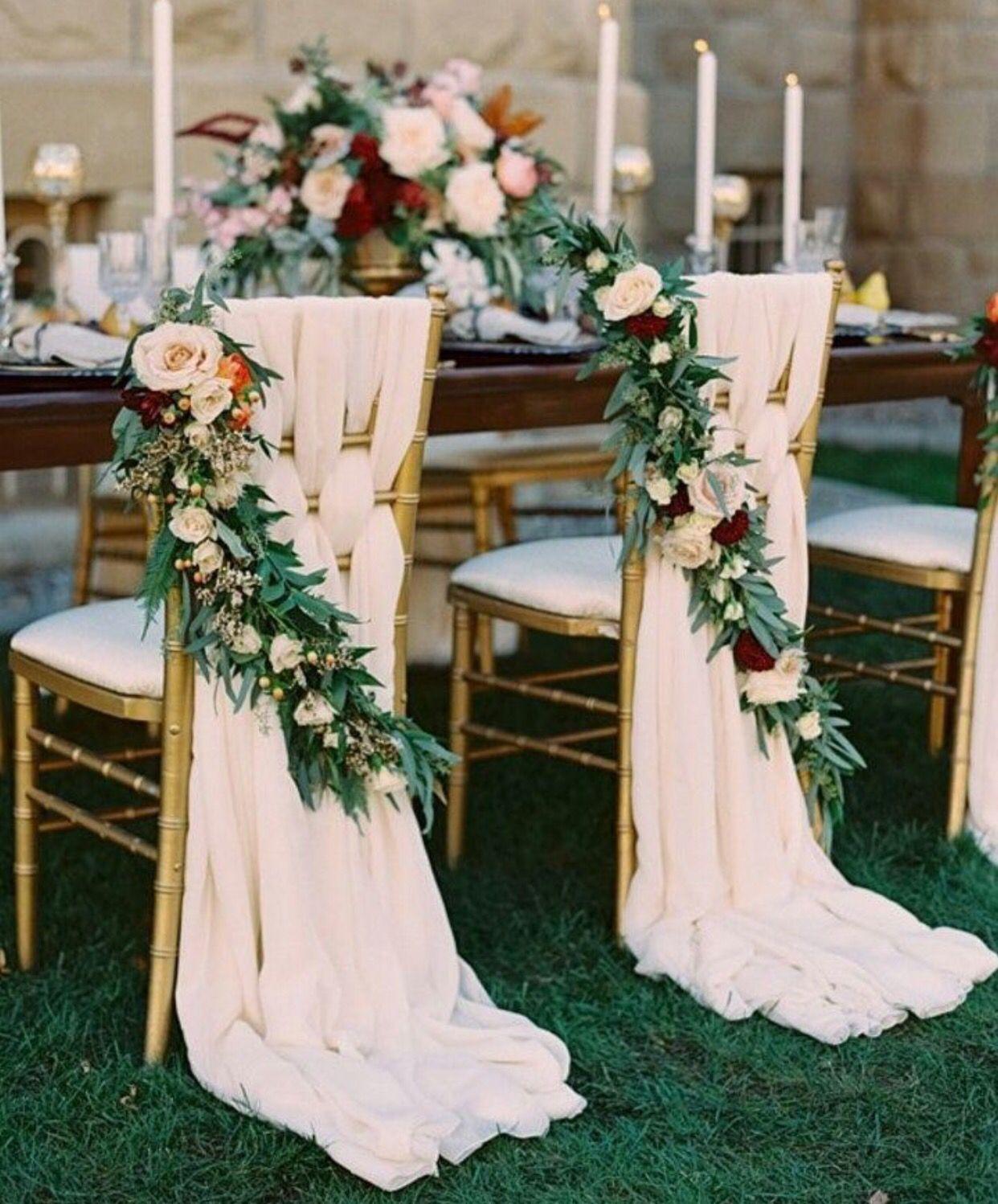 Image Courtesy: Pinterest
Having a fairytale theme wedding? Then you must go for something dreamy. Like these chiffon draped bride and groom chair decorations! Create patterns like braids or knots with the drape for design variation. Use soft colour flower decoration at the top as a finishing touch!
Rustic cane chairs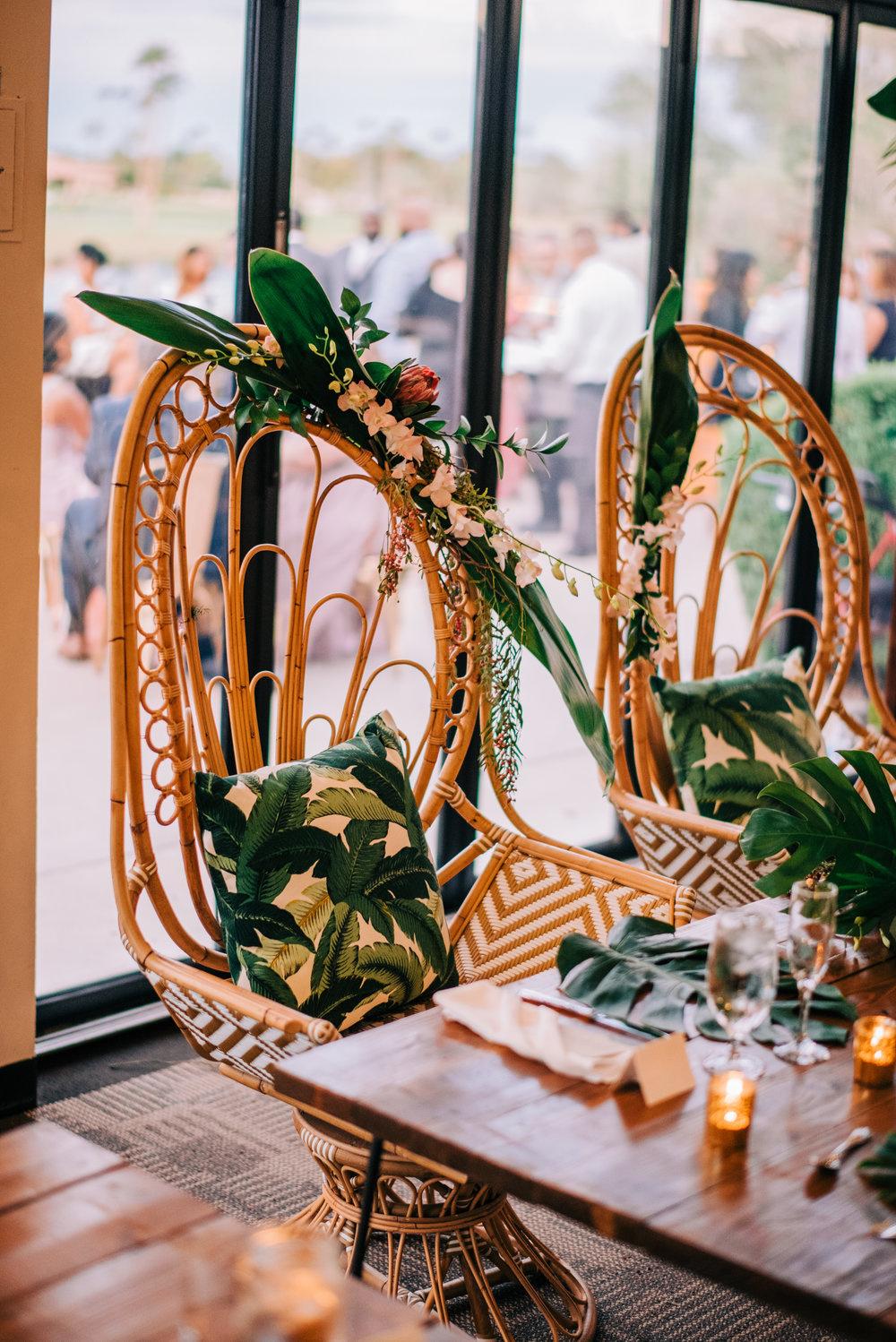 Image Courtesy: Life Design Events
Add some rustic and earthy vibes to your wedding decor with these cute cane bride and groom chair decorations! Keep the natural colour of cane intact and use coordinated colour for the seat cushions! Put up green foliage streamers to doll them up!
French notes!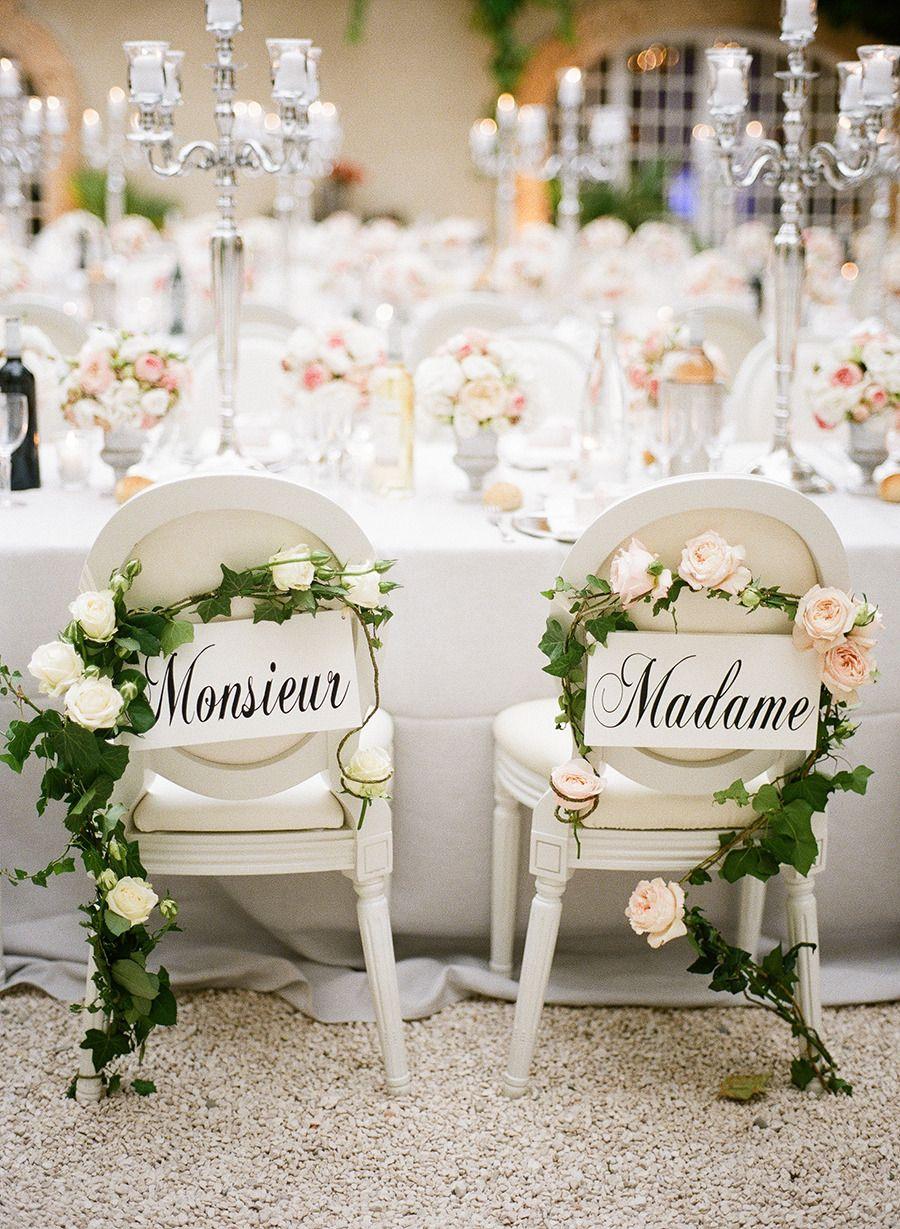 Image Courtesy: Pinterest
How about adding some elite French touch to your chair decor? Put up placards or boards with stylish French phrases like "Monsieur" and "Madame" for the couple on white wooden chairs. Keep the whole dinner table setting in white to go with the overall decor theme.
Dark Mahogany-wood chairs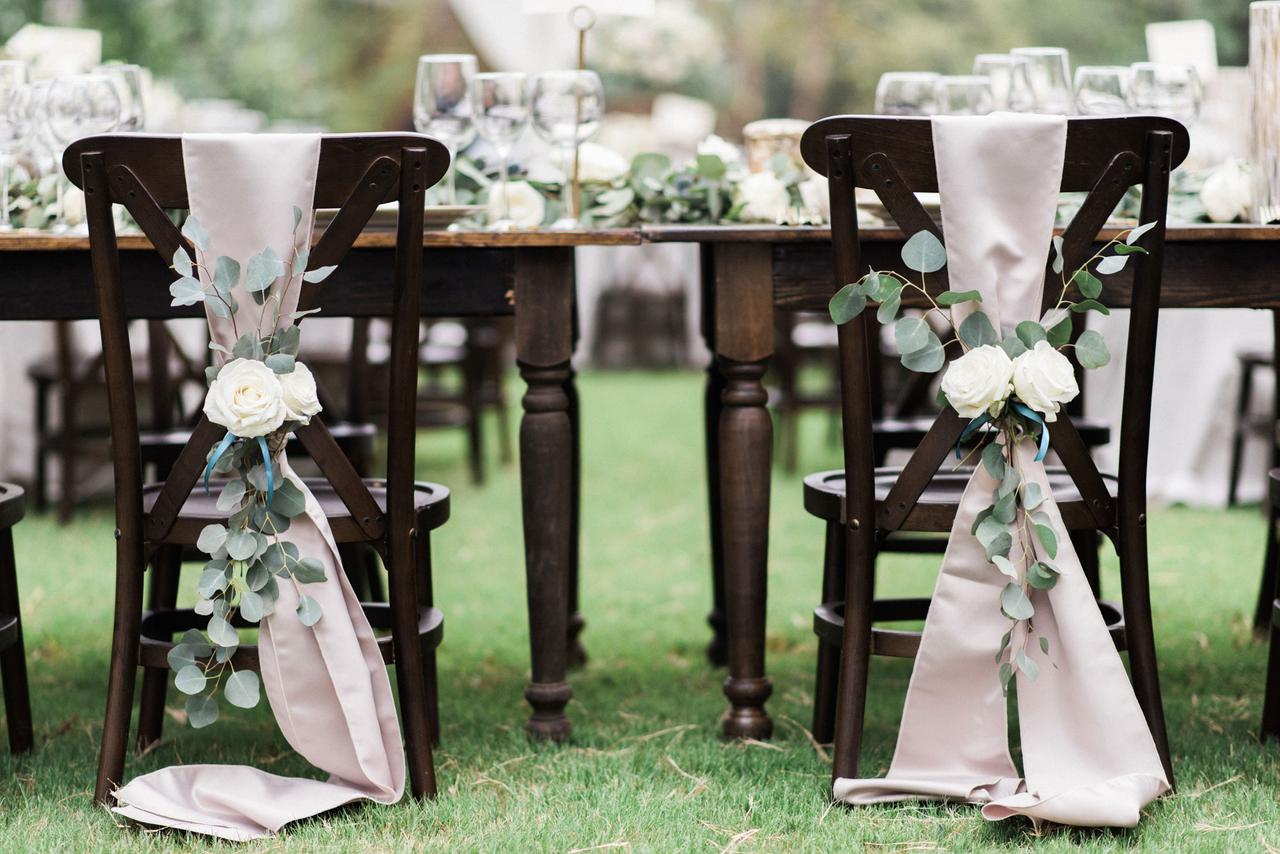 Image Courtesy: Sage Nines Event Production
Think grace, elegance and panache! Go with dark Mahogany wooden bride and groom chair decorations for a premium classy look on your reception. You don't need to add too much to accessorise a chair like that. So, a simple bow using a sleek drape would be just enough.
Metallic throne style chairs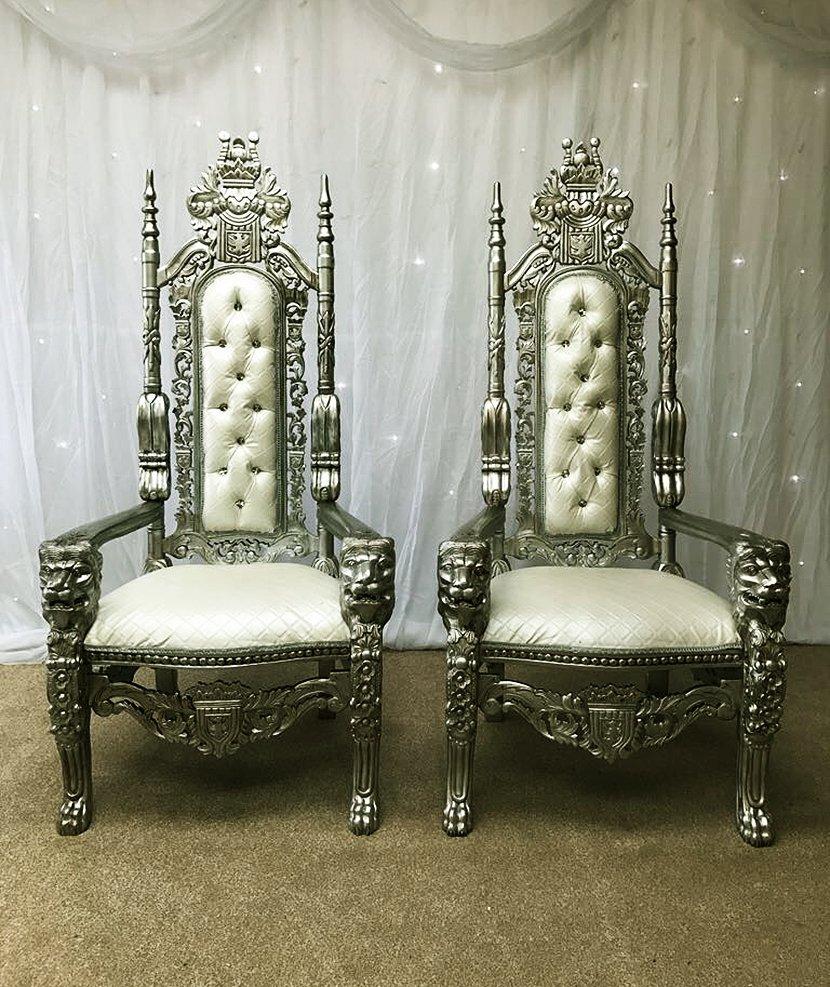 Image Courtesy: Unique Air
Always dreamt about a Game of Thrones-themed reception? Then you don't deserve anything less than a throne! A pair of metallic chairs with intricate designs in GOT style might just take all the attention! Make sure to sport one of the Khaleesi style hairdos that you always wanted to flaunt on your wedding reception!
Transparent chairs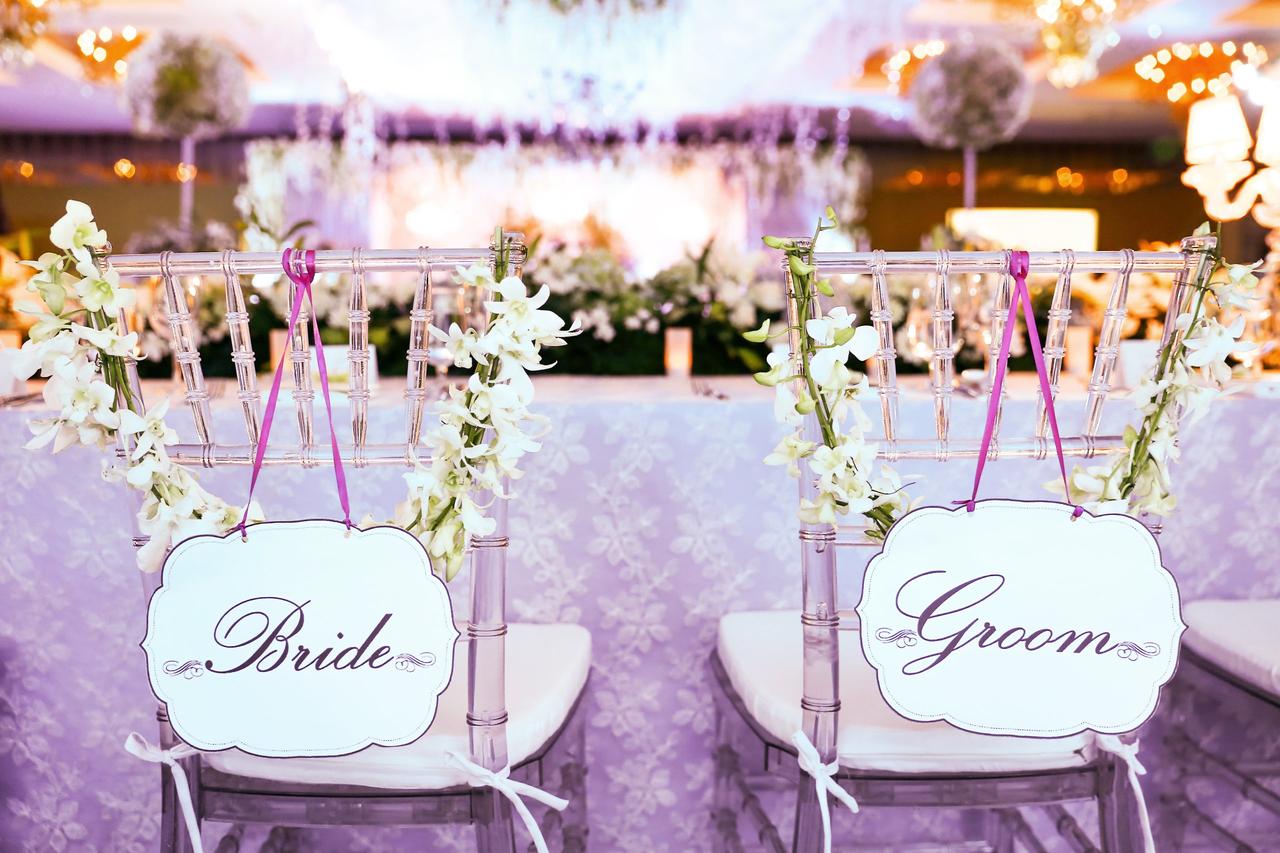 Image Courtesy: Tumblr
These transparent fibreglass chairs would simply glam up the whole decor game! You could also go with a particular shade like blue or purple to keep in sync with your colour theme. Choose your flowers, candle decor, spreads and entire table decor in line with the same colour.
Minimalist white wooden chairs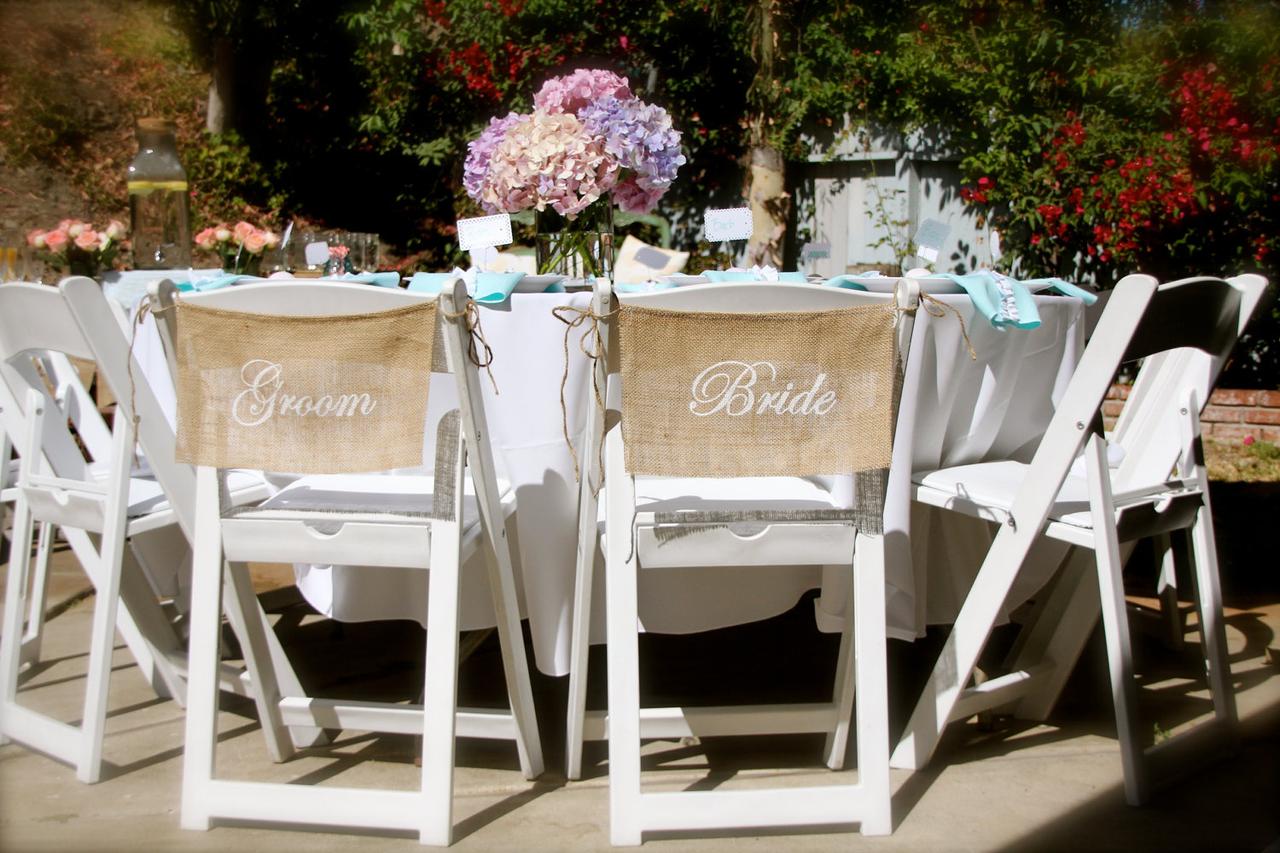 Image Courtesy: Yes I Do Gr
White is always a winner colour. So when you're in doubt, we say go with white. These minimalist white wooden chairs with simple "bride" and "groom" labels written on jute cloths scream elegance! An all-white decor never fails!
Golden chairs with foliage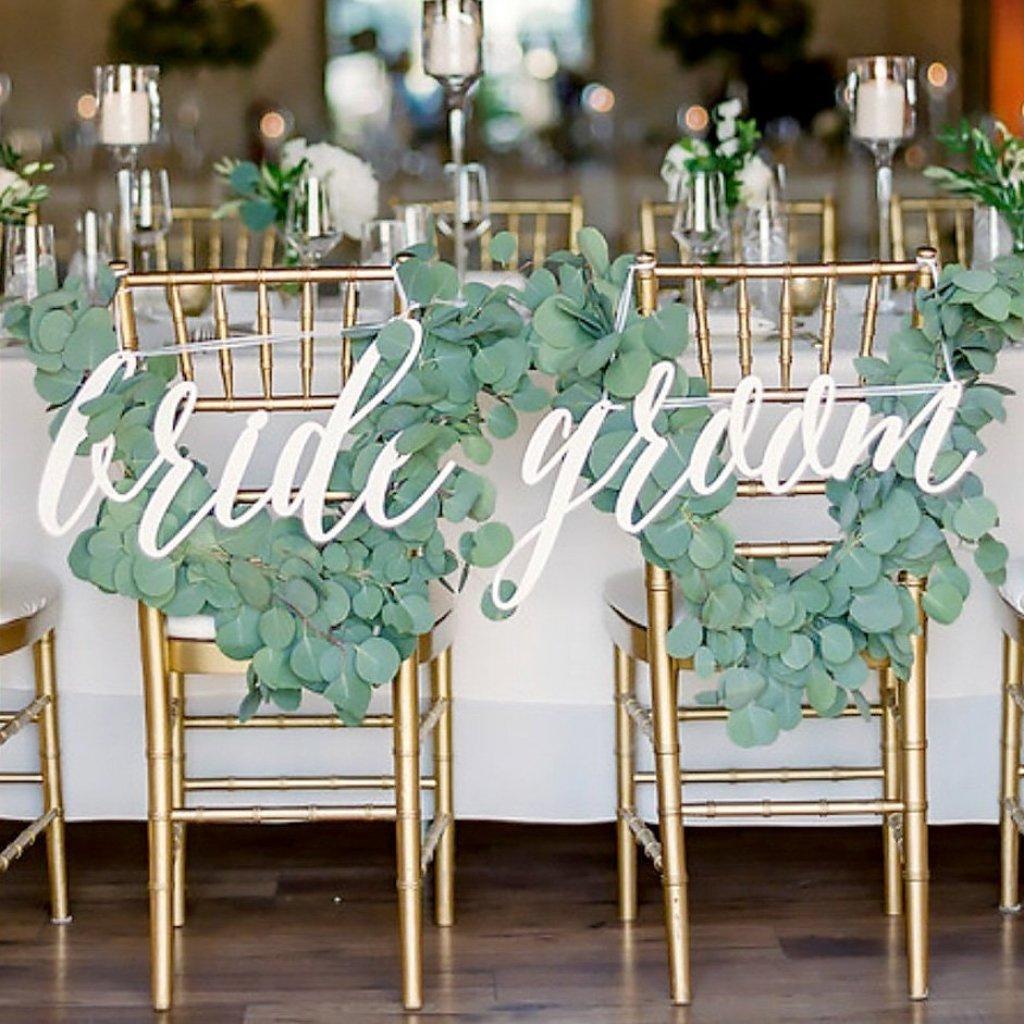 Image Courtesy: Z Create Design
You could also go DIY with the bride and groom chair decorations by simply putting up faux foliage streamers on the couple's chairs. Add a "Bride" and "Groom" cut out to make them look stand out, or use your imagination to create witty notes. Add a personalised garden decor touch to the chairs to make it more special!
If you have an artistic inclination, try your hands in bride and groom chair decorations yourself. Use old bangles, floral hangings, dupatta decor ideas, streamers to deck up the newlywed's chairs! Maybe create some beautiful flower Rangoli designs right around their chairs. Use fresh or paper flowers, ferns or twigs for decoration. It's not always the most expensive designs that work. More than often, it's the creative ones that do. And if not the decorating part, you could always put up humorous boards for the bride & groom right on their chairs!
Have you seen any more chair decorations that you'd like to share with us? Tell us more in the comment section.