10 Mesmerising Flower Decoration Pictures for the D-day Decor
Any celebration's decor rises notches higher when we use elegant floral decorations. Check out these 10 flower decoration pictures to elevate your wedding theme to the next level!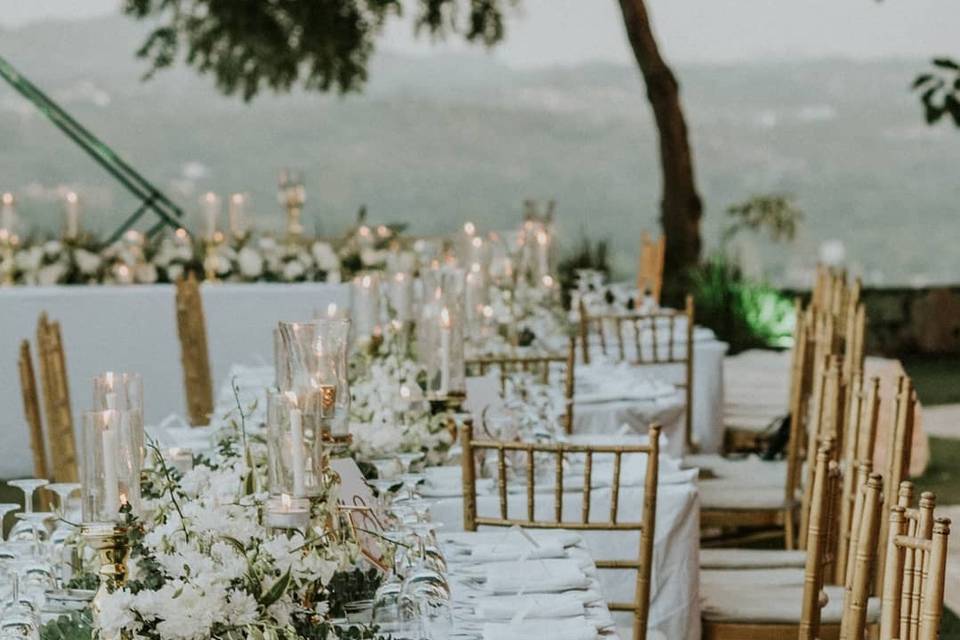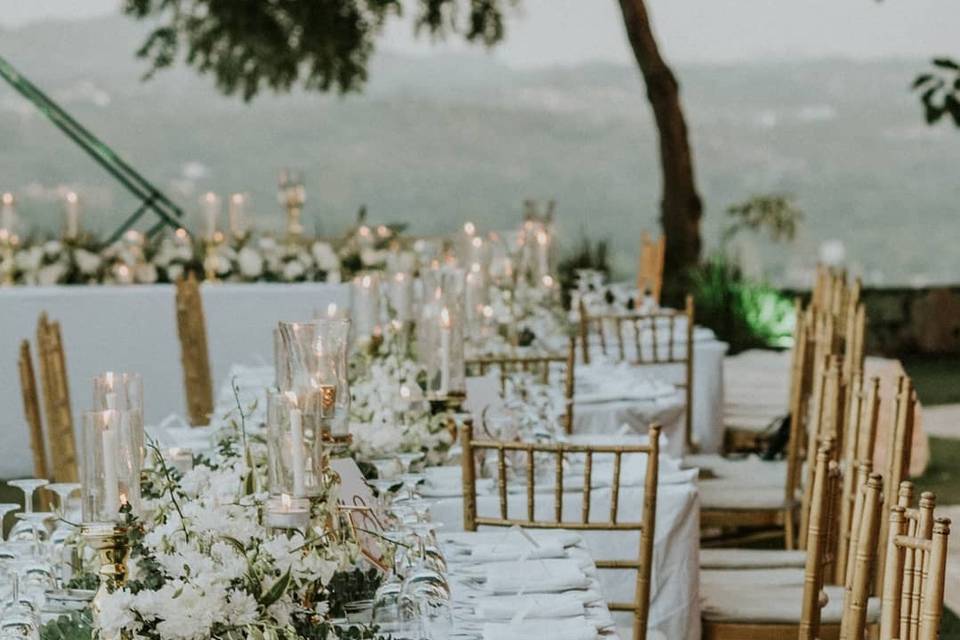 Image Courtesy: Altair Decor
With the wedding bell ringing, it is time to start planning how you're going to transform that wedding venue into an epic spot that tells your love story. Did you know that beautiful flowers can spruce up any corner within seconds? Floral centrepieces and backdrops can enhance your wedding venue instantaneously with their charm and elegance. So, with that in mind, make your most precious moments memorable by following a few wonderful floral trends for your wedding decorations!
Check out these flower decoration ideas to know what we're talking about!
Make your Dream Fairy Tale wedding come true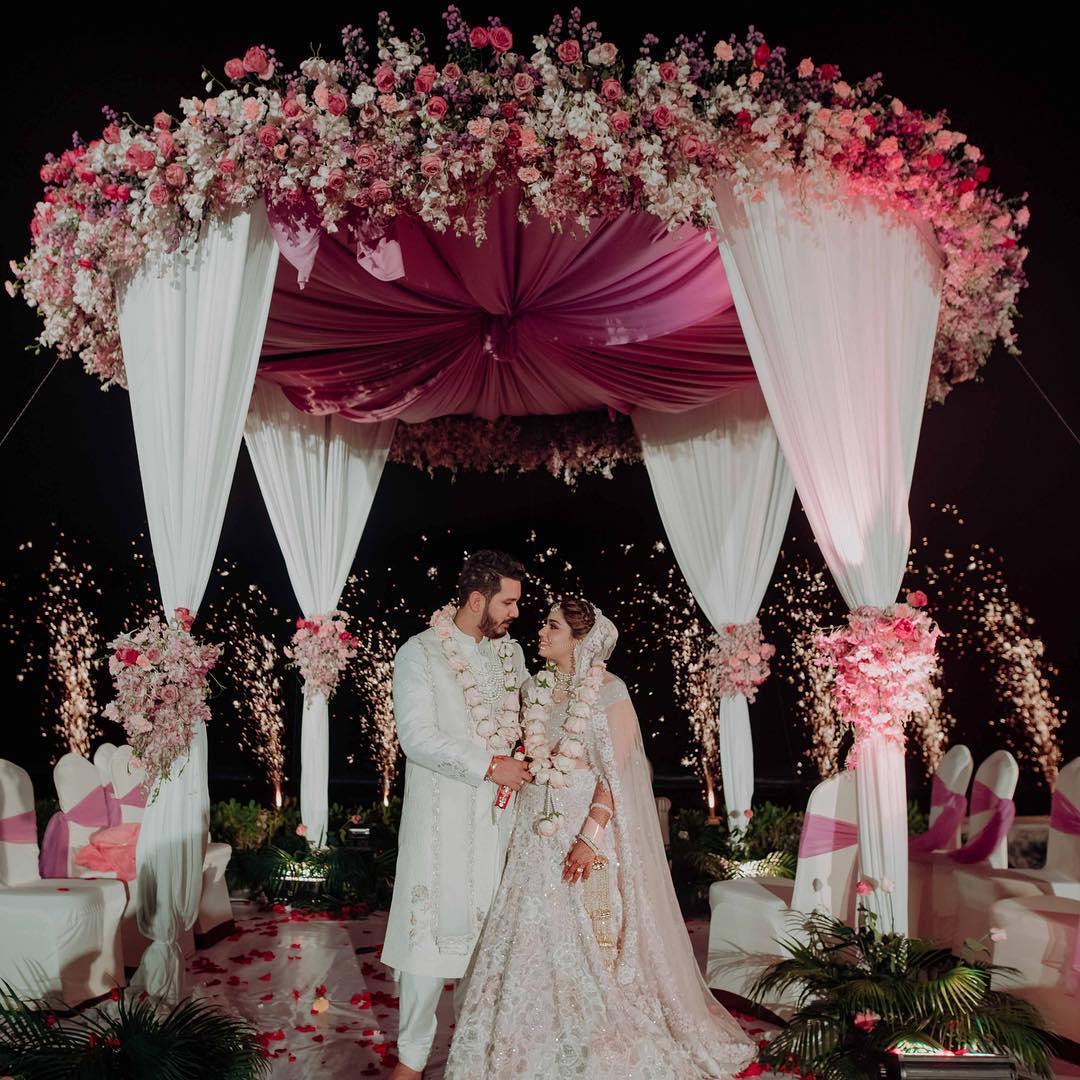 Image Courtesy: Events by the Wedding Galore
Every wedding tells a story. What is better than telling your story amidst this majestic and romantic floral setting? Designed on the lines of a silken white and pink theme, any arrangement done, based on these flower decoration pictures will quickly transport you to a fairyland. Soft colours, golden lights, white drapes, and a highly romantic floral backdrop -if you are looking for a fairytale themed wedding, this is the right choice to make! Thousands of fresh roses and rosebuds in all shades of pink, coral and white will steal your heart away.
Create a Flower Shower with this Rustic Entrance Décor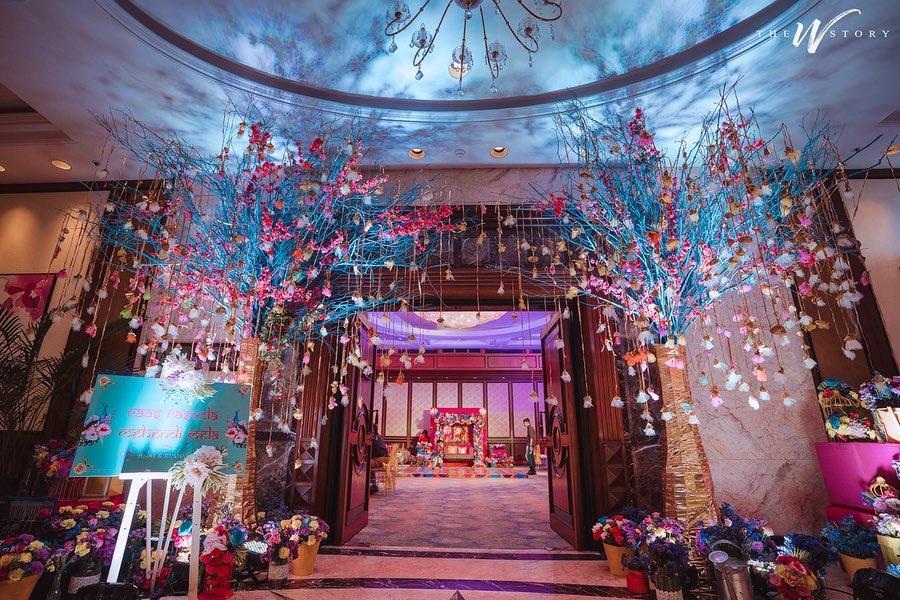 Image Courtesy: The Wedding Story
The wedding venue's entrance creates the first impression of your wedding. If you want to experience a fairytale entrance, then go ahead and try this rustic floral arrangement. The long stem arches give a dreamy feel. You can be creative and add your choice of LED lights as per your wedding theme.
Make your wedding classic with flower décor in natural surroundings!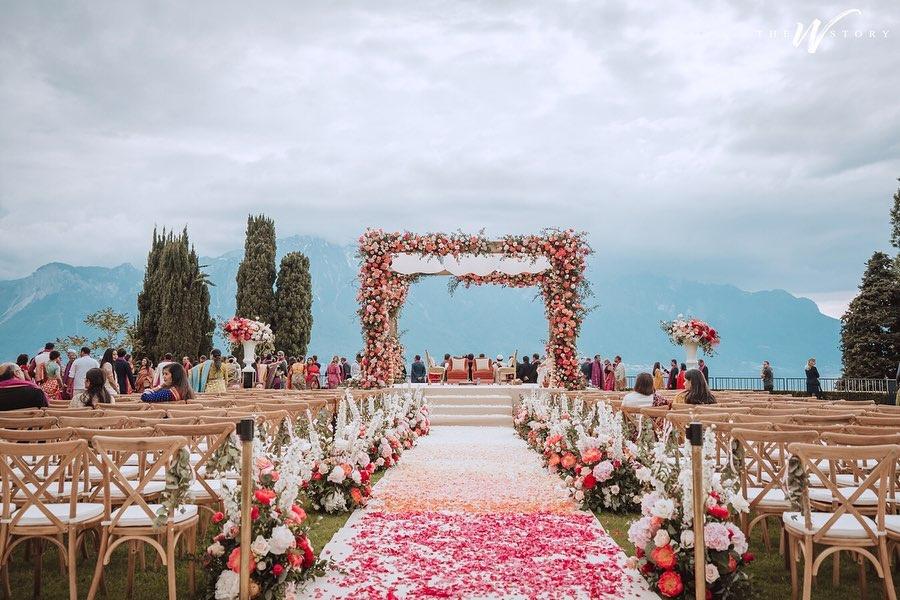 Image Courtesy: The Wedding Story
Out of all our flower decoration pictures, this one will take your heart away! There is a rustic seating arrangement for the guests in front of a floral pillar stage for the bride and the groom. The stage is all covered with a cloudy drape and adorned with rich flowers. This is the perfect setting for a morning wedding ceremony held outdoors under the sky.
Enjoy an ecstatic beachside wedding with this blue and gold décor!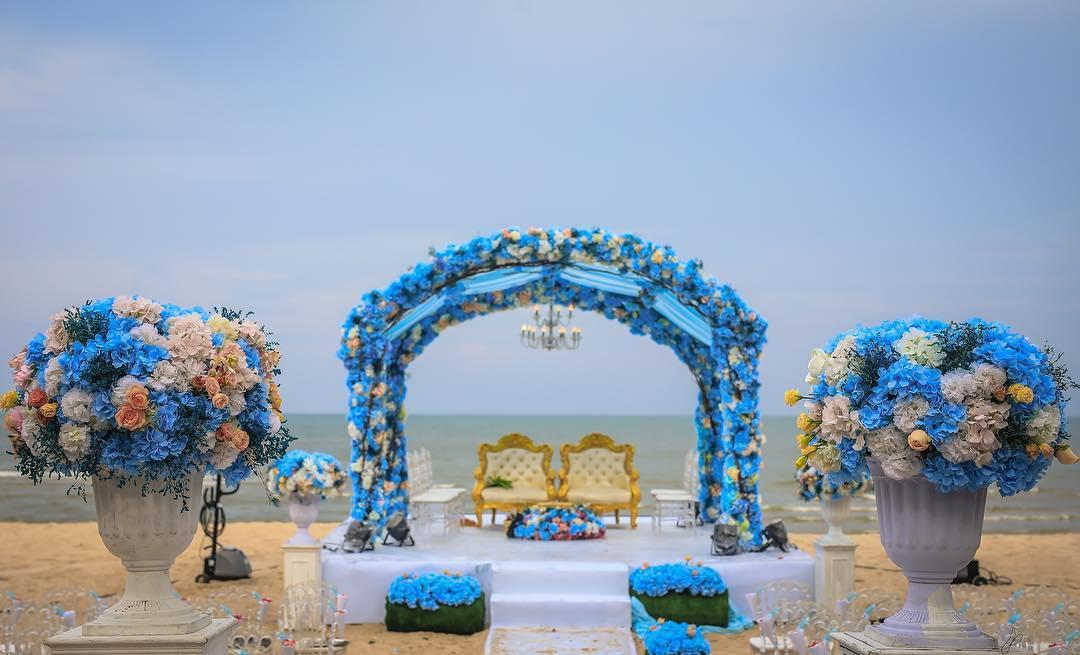 Image Courtesy: Events by the Wedding Galore
Here's an example of the kind of flower decoration pictures you need to bookmark for an unforgettable wedding! If you are thinking of hosting a beach wedding with the azure mightiness of the sea in the backdrop, you must have such décor! A simple white stage is set up on the golden sand with Victorian-style chairs and a chandelier. This white and royal blue decor offers the perfect setting for wedding photography in a relaxed and extraordinary outdoor environment.
Celebrate your wedding with a rosy arch of flowers!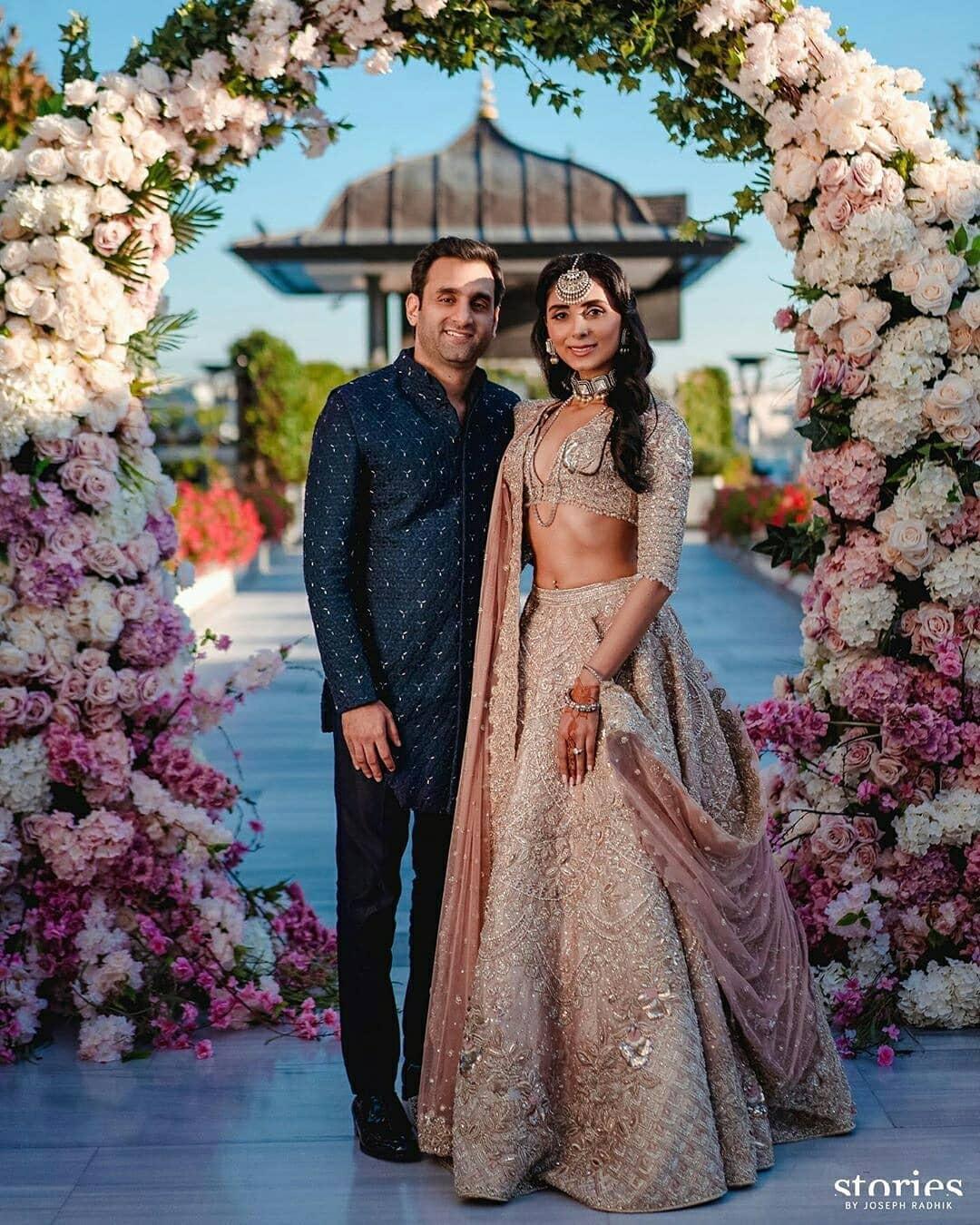 Image Courtesy: Stories by Joseph Radhik
Floral arches can always give your wedding space more colour and structure, no matter what the theme is. This is why this one features on our list of wedding flower decoration pictures. This idea consists of a sea of densely decorated flowers, mostly made of roses and peonies in pastel shades of pink and white. It is a gorgeous way to bring a bold new look to your wedding venue and a great place for photography as well.
Get some wedding inspiration with chandeliers and flowers!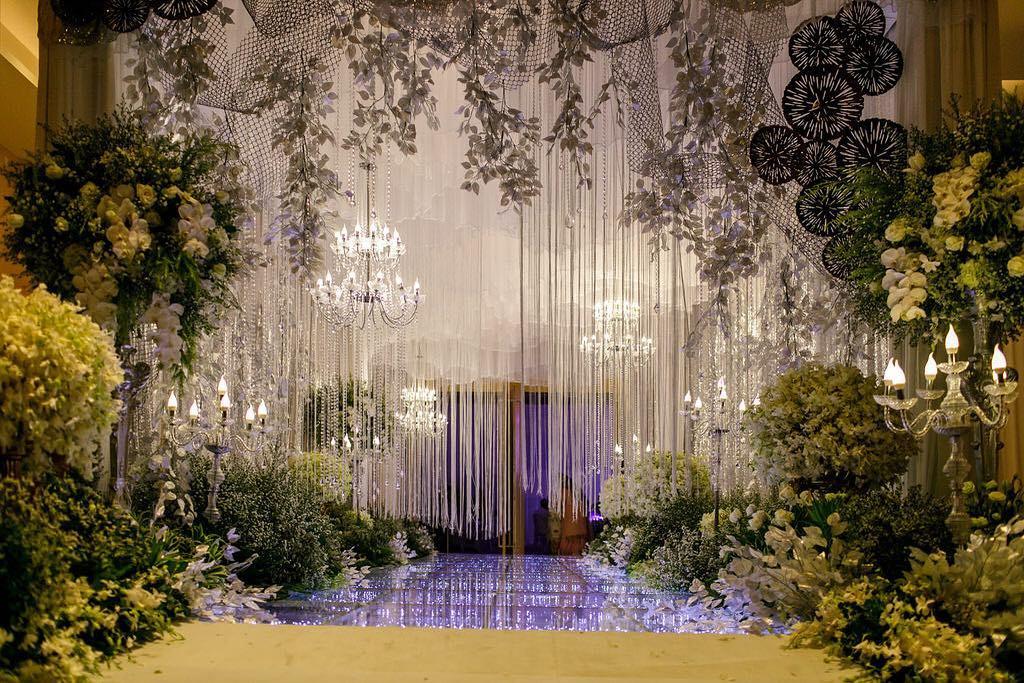 Image Courtesy: Events by the Wedding Galore
Are you tired of seeing the same old wedding entrances with drapes and curtains? Add a touch of classy modernism mixed with old-world charm with large bunches of flowers surrounding crystal chandeliers. This venue looks absolutely majestic and we're sure any bride would love to stand under the floral strands to have her picture taken.
Check out the floral centrepieces
Image Courtesy: Glory Box Productions
Vases are terrific pieces of decoration that can completely transform the feel of a room. Accompanied by a rich fiesta of white flowers and décor, this whole white and silver effect can add to the beauty of your wedding banquet hall. This one makes it to our list of flower decoration pictures solely to show that you don't always have to have over the top décor for it to be stunning!
Create a romantic aura with pink orchids!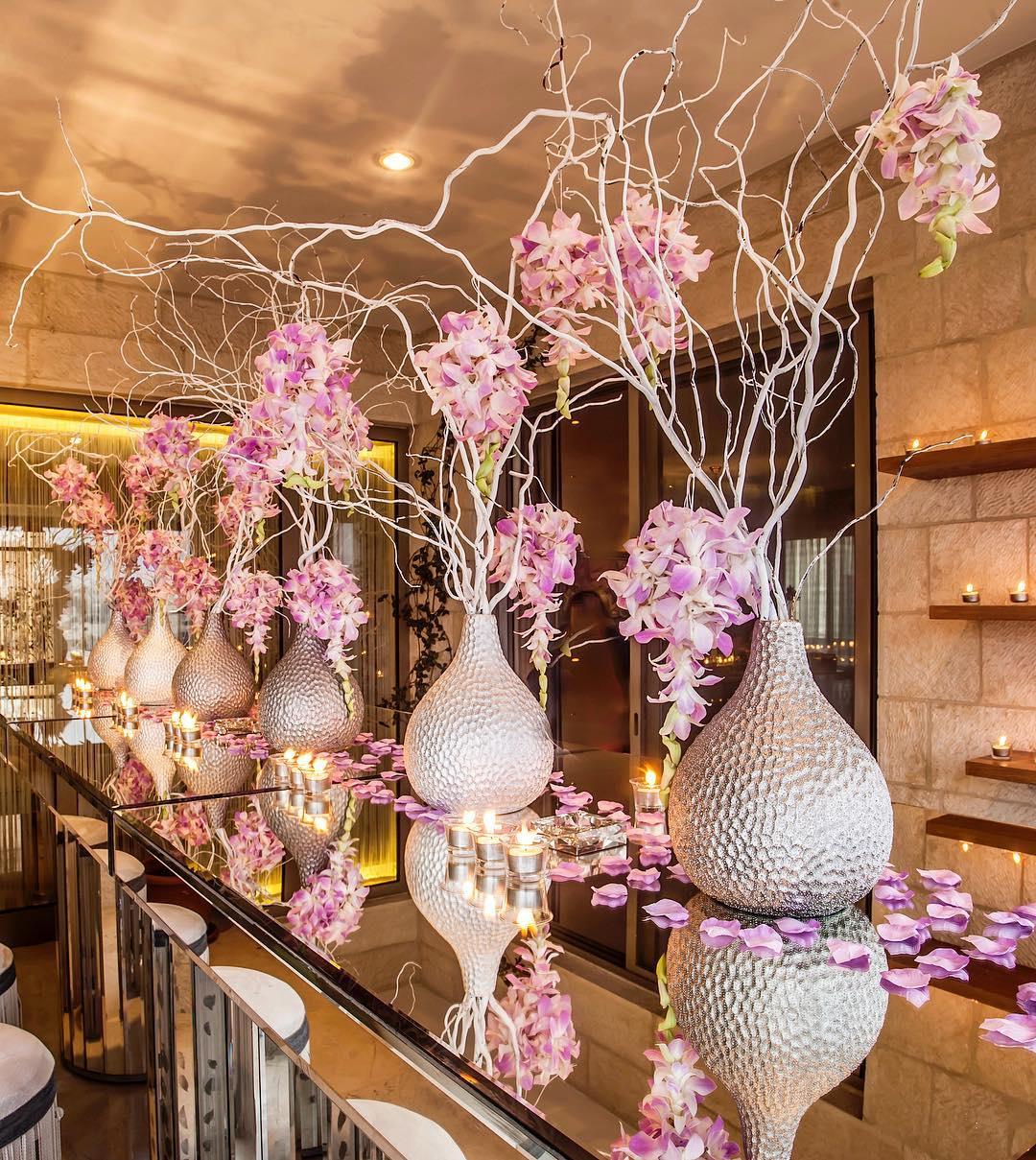 Image Courtesy: Glory Box Productions
Here is another exquisite flower table décor idea. This is the perfect decor for a dreamy, fairy-tale wedding reception. The rustic gold effect of the interiors is brightened by the silver and pink hues of the orchid flowers that are artistically hanging out of the silver pitcher vases. The scattered pink petals and the faint glow of tea light candles add to the heavenly effect.
Dazzle your guests with this black and gold beauty!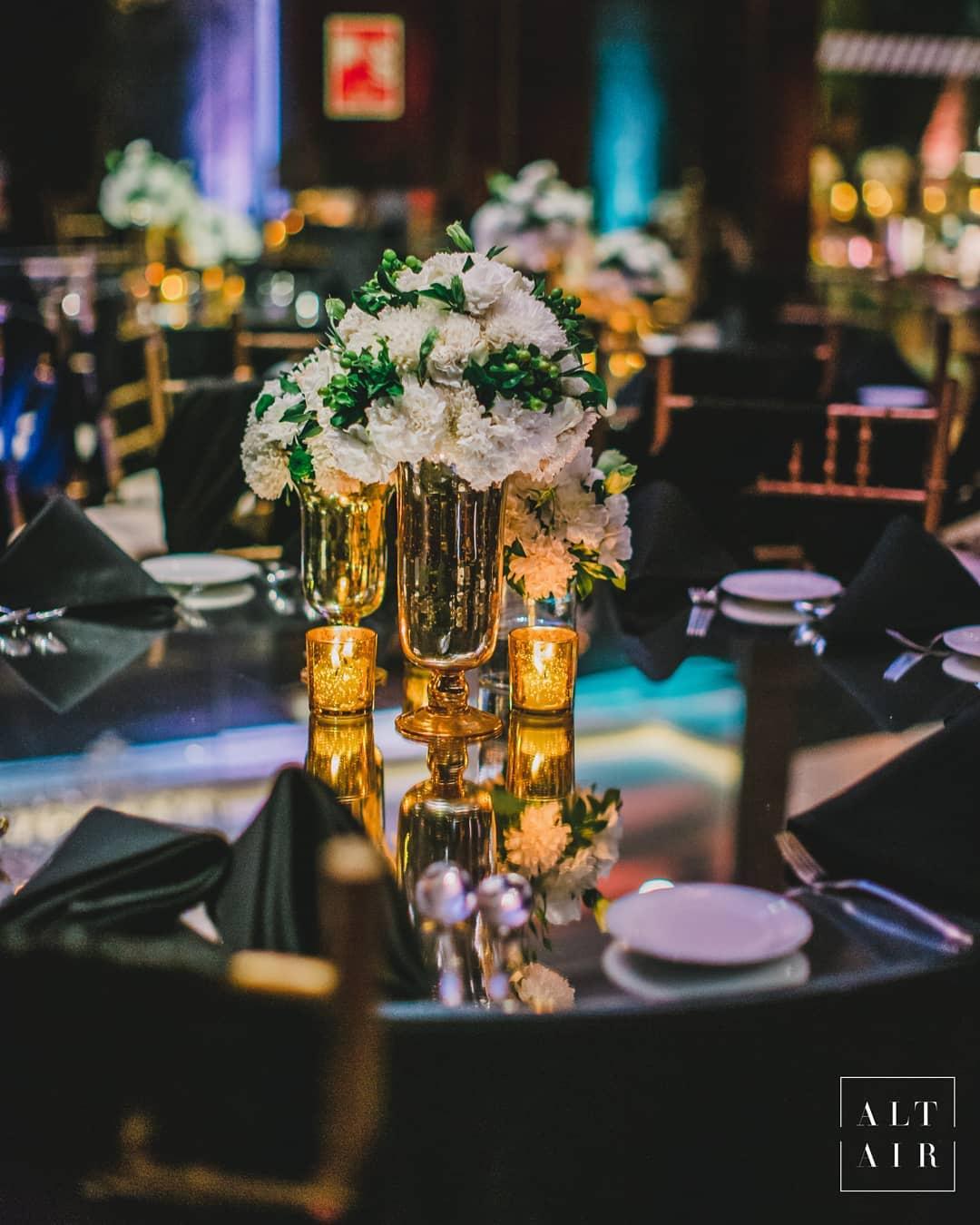 Image Courtesy: Altair Decor
This is another example that falls in the realm of dinner table decoration ideas! If you are organising your wedding function indoors in an intimate hall, this can add a lot of beauty and enigma to your space. Bouquets of heavenly white roses, peonies, and orchids in tall glass vases are set up and surrounded by tiny tea light candles. This is a must-have setting from our collection of flower decoration pictures for simple and plain and intimately lit venues.
Treat yourself to this floral bonanza!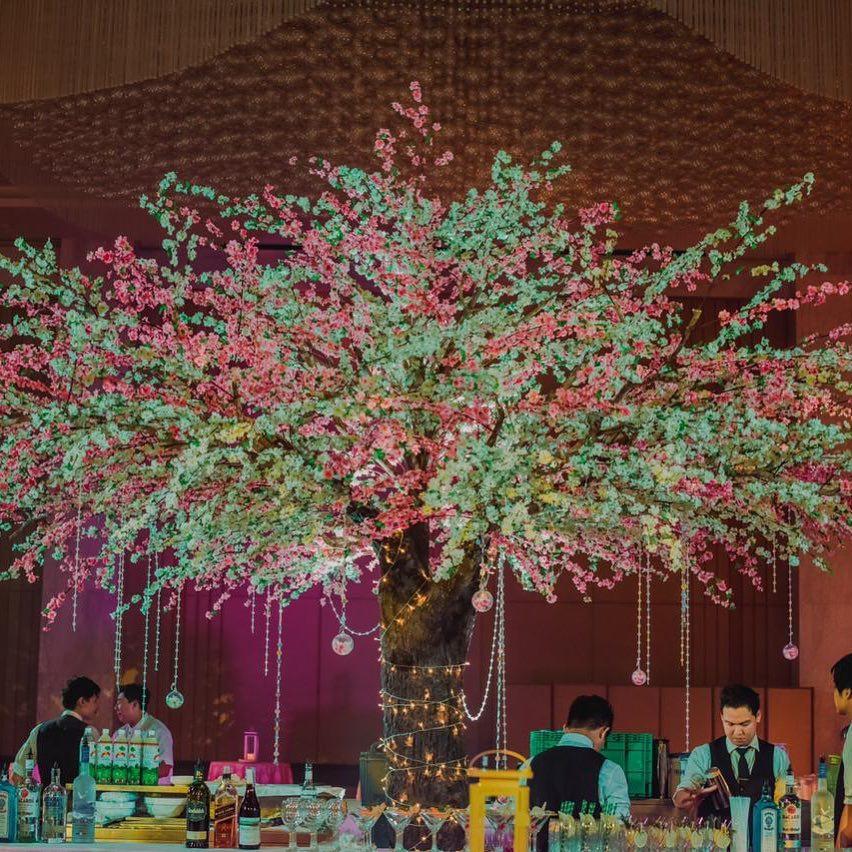 Image Courtesy: Events by the Wedding Galore
The Japanese cherry blossom or the Sakura tree signifies the fragility and the beauty of life. Explore the overwhelming beauty of the Sakura tree with this contemporary floral design that stands out among all flower decoration pictures. Highlight the charm of your dining area with this floral set-up!
These flower decoration pictures show that all you need is to put some thought into the vibe you want your venue to exude. From statement vases at the centre of the table to large arches and artistic sculptures, you cannot go wrong by adding flowers to your venue!
Love these ideas and are feeling inspired to have a similar décor style at your wedding? Get in touch with these wedding planners pronto!