#Spotted: The Most Extravagant Floral Background Trends Seen At Real Weddings
A beautiful wall of blooms can help set the tone at your wedding. Get inspired by these stunning floral background ideas that will be the perfect addition to the wedding of your dreams!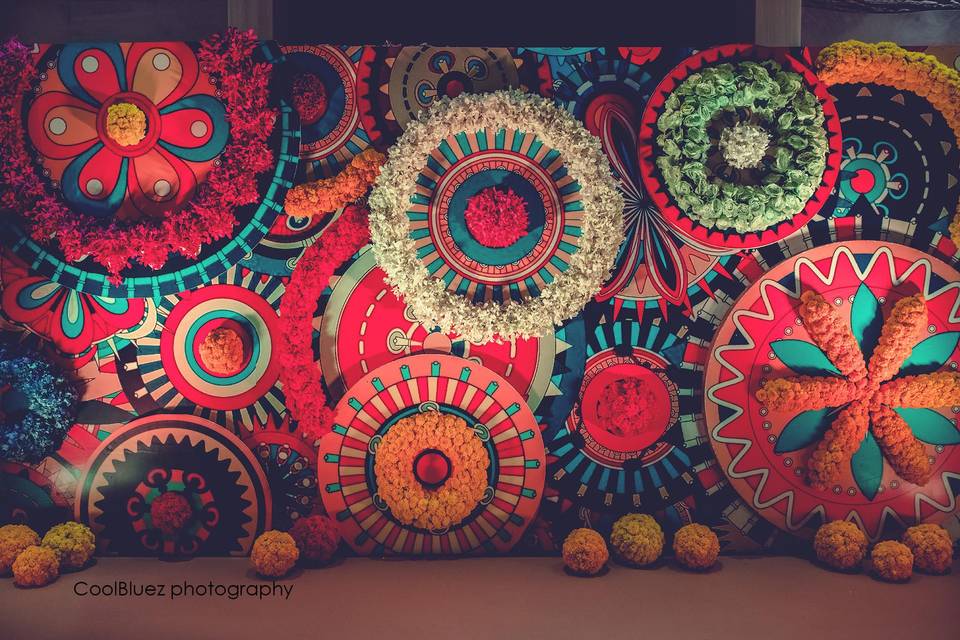 Flowers are a huge part of the Indian culture and can add beauty and elegance to almost anything. From Jaimalas to hair accessories, the presence of flowers at Indian weddings is inevitable. One wedding theme that is fairly new but is taking the world of the big fat Indian wedding by storm is a beautiful floral background.
Flower embedded walls serve as a stunning backdrop for the wedding and can add that pop of colour to your pictures. Minimal or grand, whatever your floral philosophy may be, there are a couple of do's and don'ts to keep in mind for your big day.
Flowers are the epitome of Indian weddings and symbolise elegance and grace. Ever since the proliferation of floral background decor at weddings, we're totally obsessed with this trend. That's why we've rounded up a list of our favourite backdrops to give you all the inspiration you need for your special day.
1. Pretty peonies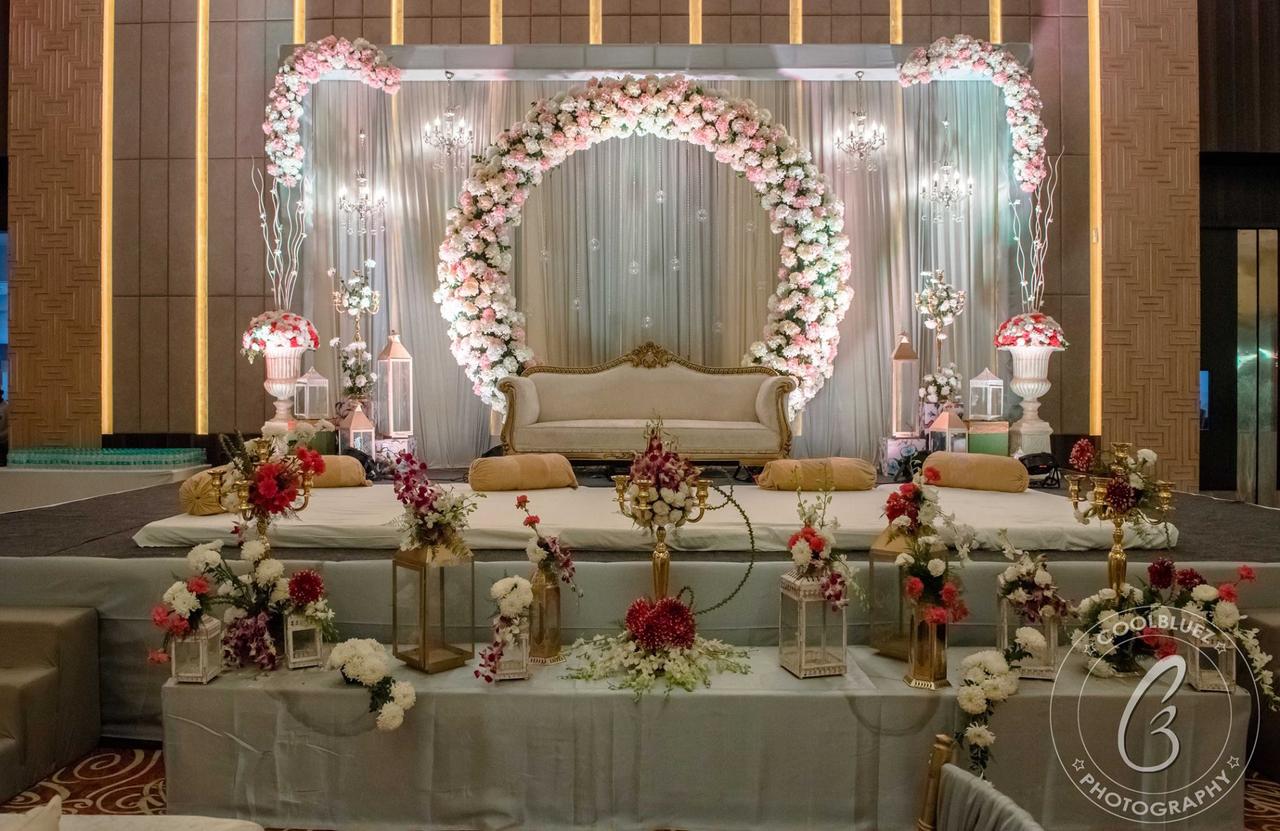 Nothing says a perfect wedding day like some pink and white peonies. Delicately coloured flowers set against a white background give out some romantic vibes and are a great way to keep your wedding theme colour neutral. There's nothing more beautiful than a bride and groom encapsulated by flowers so you can create a beautiful arch of peonies for that real-life fairy-tale look.
Floral Do: Have as many flowers as you possibly can at your wedding. Flowers are a great way to create a festive vibe and amp up your photos.
Floral Don't: Don't overdo the décor. Cluttering the wedding venue with too many flowers can make it look tacky. Place the flowers in the room tastefully.
2. Vibrant beauty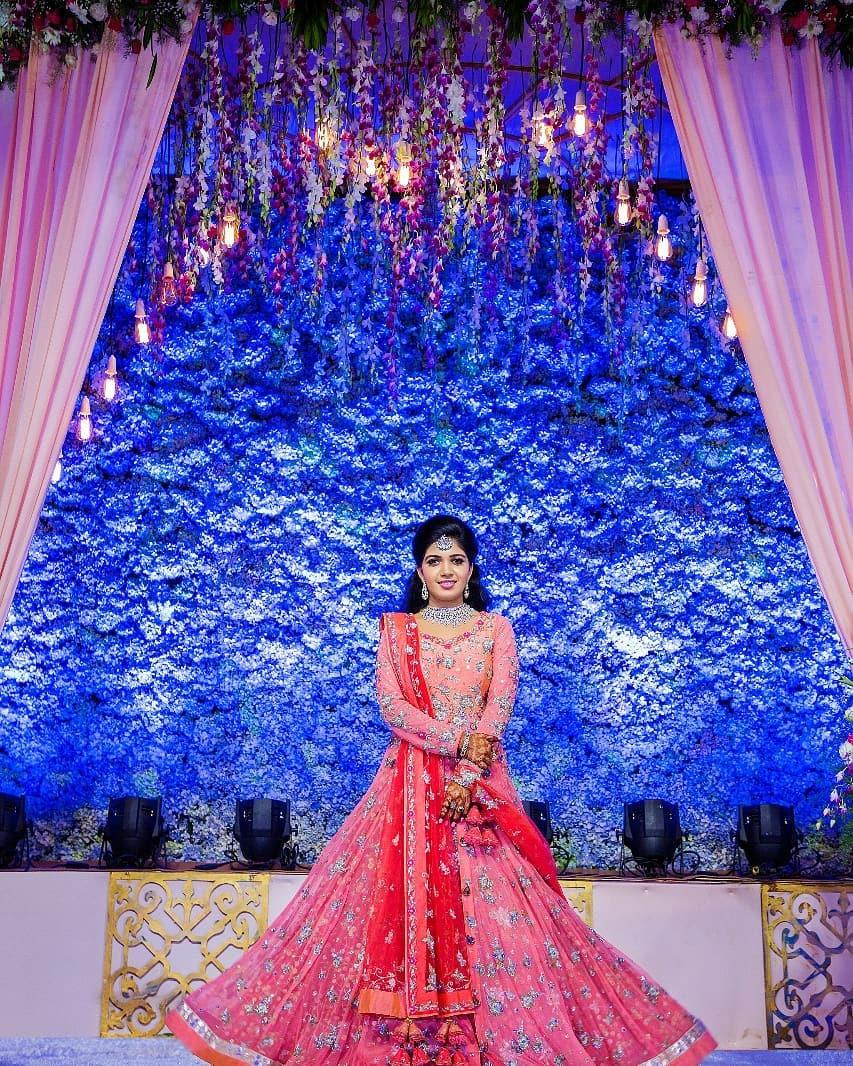 Pastel colours such as pink and peach are common wedding floral background colours so why not create a vibrant colour scheme with some stunning purple flowers. A large floral wall serves as the backdrop for this beautiful bride's photos. You can also add some strobe lights to change the colour of the flowers to your liking. A chandelier of pink and white flowers adds to the charm of this floral background.
Floral Do: Light up the space! If your wedding is in the evening, the right type of lights can create that festive aura.
Floral Don't: While lights are a great way to enhance the beauty of the flowers, not choosing the right type of light can ruin the aesthetic of the floral background.
3. Festive fun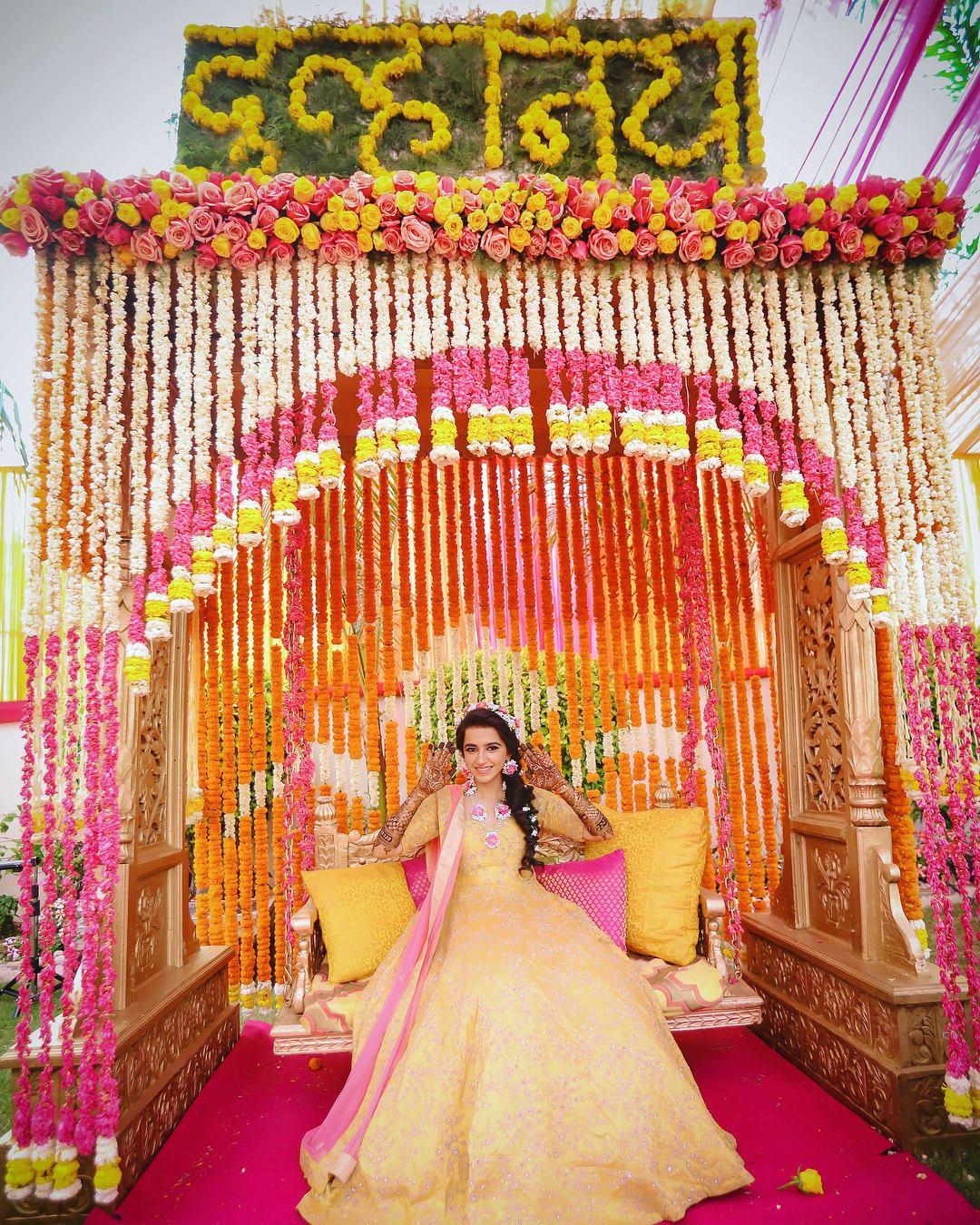 For a playful, festive look, arrange your fresh blooms in colourful columns to create that charming floral background for your wedding pictures. You can get creative and use different colours to form your own unique patterns. This floral background yellow, pink, orange and white flowers that bode seamlessly together to create the perfect look. The bright orange flowers in the background enhance the beauty of the bride's yellow dress.
Floral Do: Don't be afraid to get innovative with columns of flowers. You can play with colours to suit the theme of your wedding.
Floral Don't: When using different colours, it is important to pair them correctly. Using flowers from different colour palettes can ruin the design aesthetic at your wedding.
4. Birds of a feather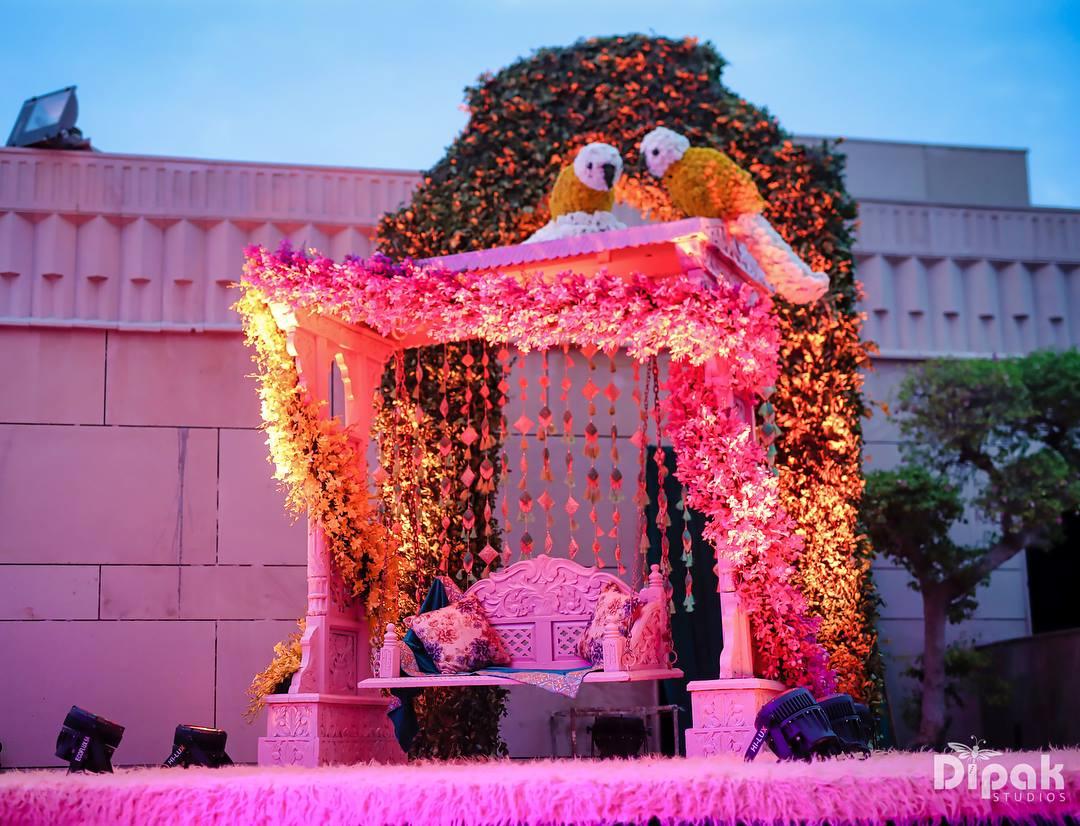 If you consider yourself an avant-garde bride, you would want your entire wedding to reflect this. When it comes to floral décor ideas, it's your time to shine. The beauty of flowers is that they can be moulded to form different shapes and forms. This incredible floral background incorporates a variety of floral themes such as a border of flowers, a stunning arch and to complete the look along with two beautiful birds carved out of flowers. This floral background is sure to wow all your wedding guests.
Floral Do: Flower décor ideas are a dime a dozen so you're going to have to do some research before your big day. Spend some time thinking about what flowers you love and if they will go with the colour theme for your wedding.
Floral Don't: While it's important to get creative with the floral background décor, don't copy a look just because it's insta-worthy. Your wedding is a reflection of your style and personality so make the décor your own.
5. It's all rosy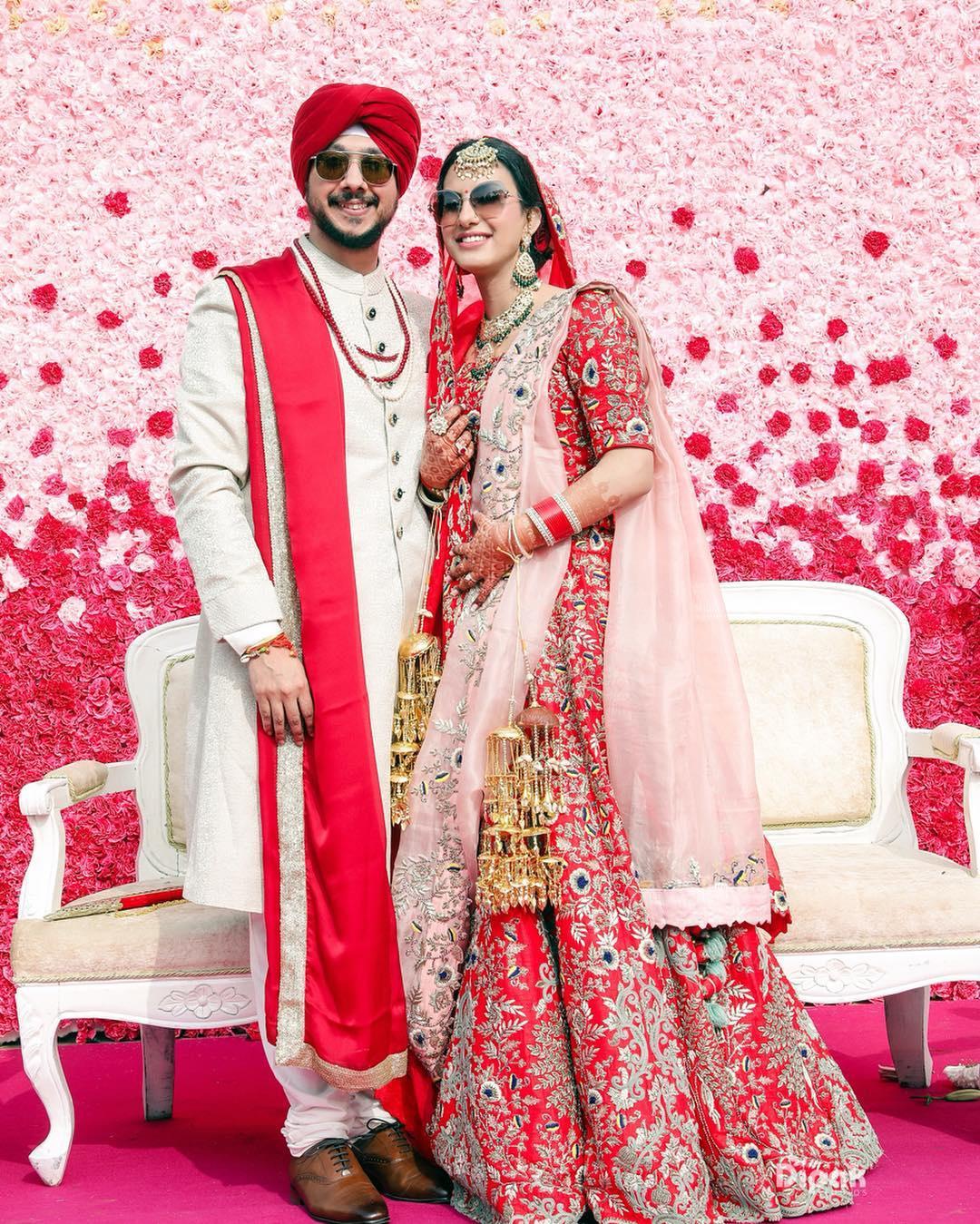 One flower that is synonymous with love and romance are roses. So what better way to celebrate your love than with a floral background covered with pink and red roses. Roses are one of the most commonly used flowers in floral arrangements because of their various colours that can be used to create a dramatic backdrop to match your wedding theme. If red is the choice of colour for your wedding outfit, add some red and pink roses to complement your look.
Floral Do: Make sure to hire a professional who can make your floral dreams a reality. Your florist needs to know exactly what you want so that they can offer helpful suggestions to create the perfect floral background.
Floral Don't: Don't try to create a floral background by yourself. While you might have a great vision, the flower arrangement might not always turn out exactly the way you want it. Enlist the help of a professional florist to bring your idea to life!
6. An assortment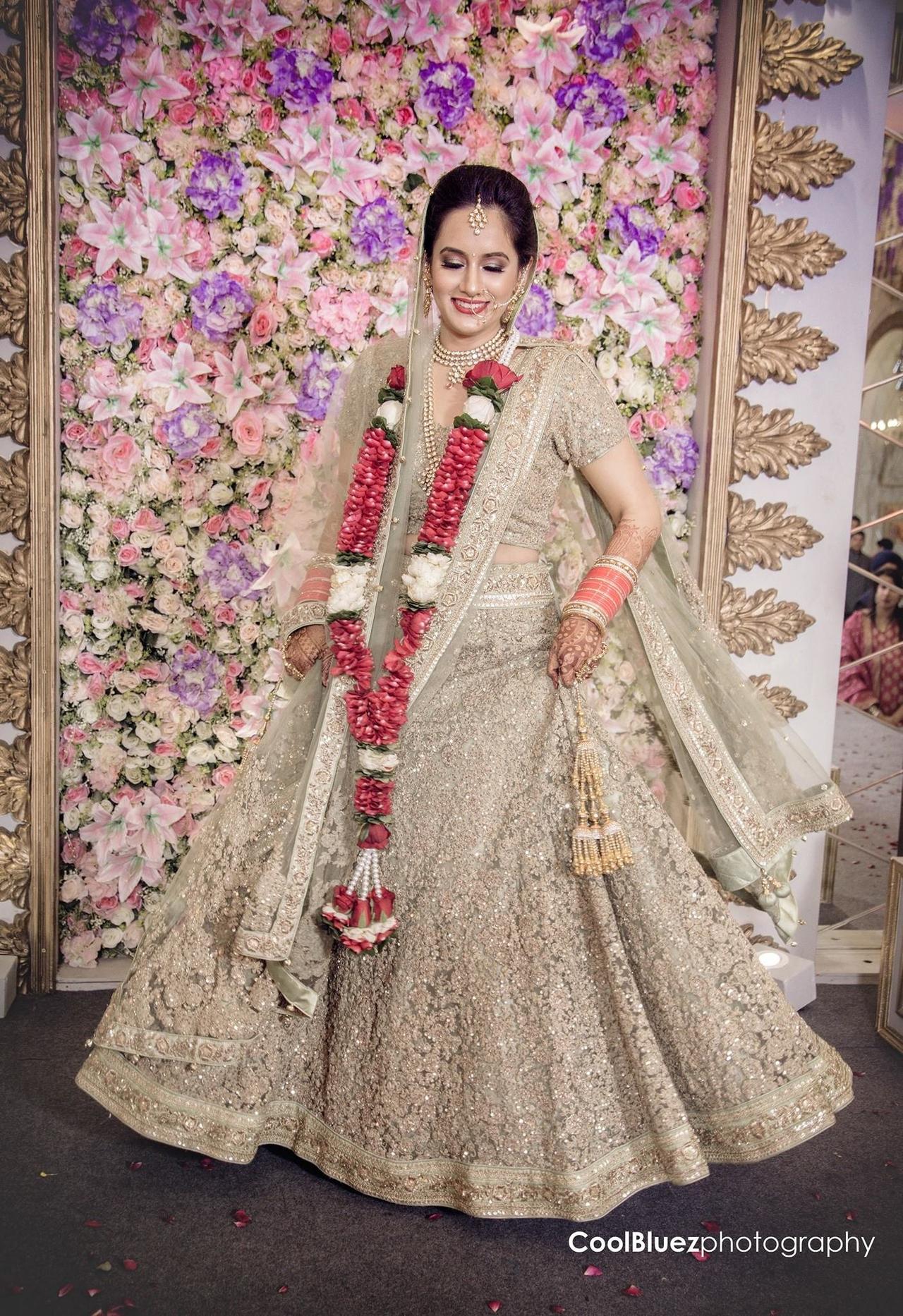 Like your wedding ensemble, you can either go completely traditional or modern and eclectic with your wedding décor. If you are a fan of the latter, then you will love this floral background that includes an assortment of flowers in various colours such as roses, peonies and gardenia. This combination of the different flowers adds a pop of colour to the bride's neutral tone outfit. The florals are enclosed by a golden frame which draws attention to the beauty of the blooms.
Floral Do: Stay realistic about your budget. Focusing on certain flowers that you want is not a good idea as they may be out of your budget. Instead tell your florist about the feel and look you are going for so that they get an idea of your vision.
Floral Don't: Don't pick flowers that are out of season. Flowers that are usually out of season will blow your budget as you will need to pay a premium to have them at your wedding. Do your research on the flower market so you get a good understanding of the blooms of the season.
7. Floral vine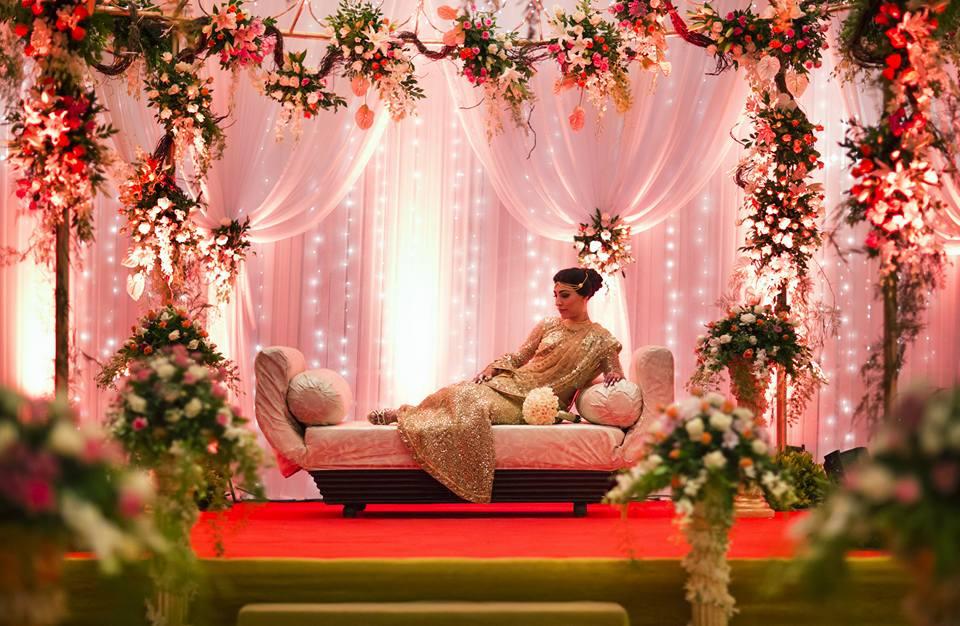 The best way to stand out is to have a totally unique floral background. This stunning backdrop features a floral vine beautifully entangled across the overarch and the sides of the stage. The pastel coloured roses and peonies coupled with a crest of moss create that rustic-chic vibe. A beautiful bride sitting amongst this gorgeous floral backdrop is a true sight to behold!
Floral Do: Ensure your flowers are fresh. The flowers need to be well misted and should be placed in a box covered with cellophane or wax paper.
Floral Don't: While matching is great when it comes to your outfit, it's a big no-no for a floral background. A bride in a pink lehenga against a backdrop of pink roses will result in disappointing pictures. Instead use an accent colour for your floral arrangement to bring out the colours in your outfit.
8. Minimalist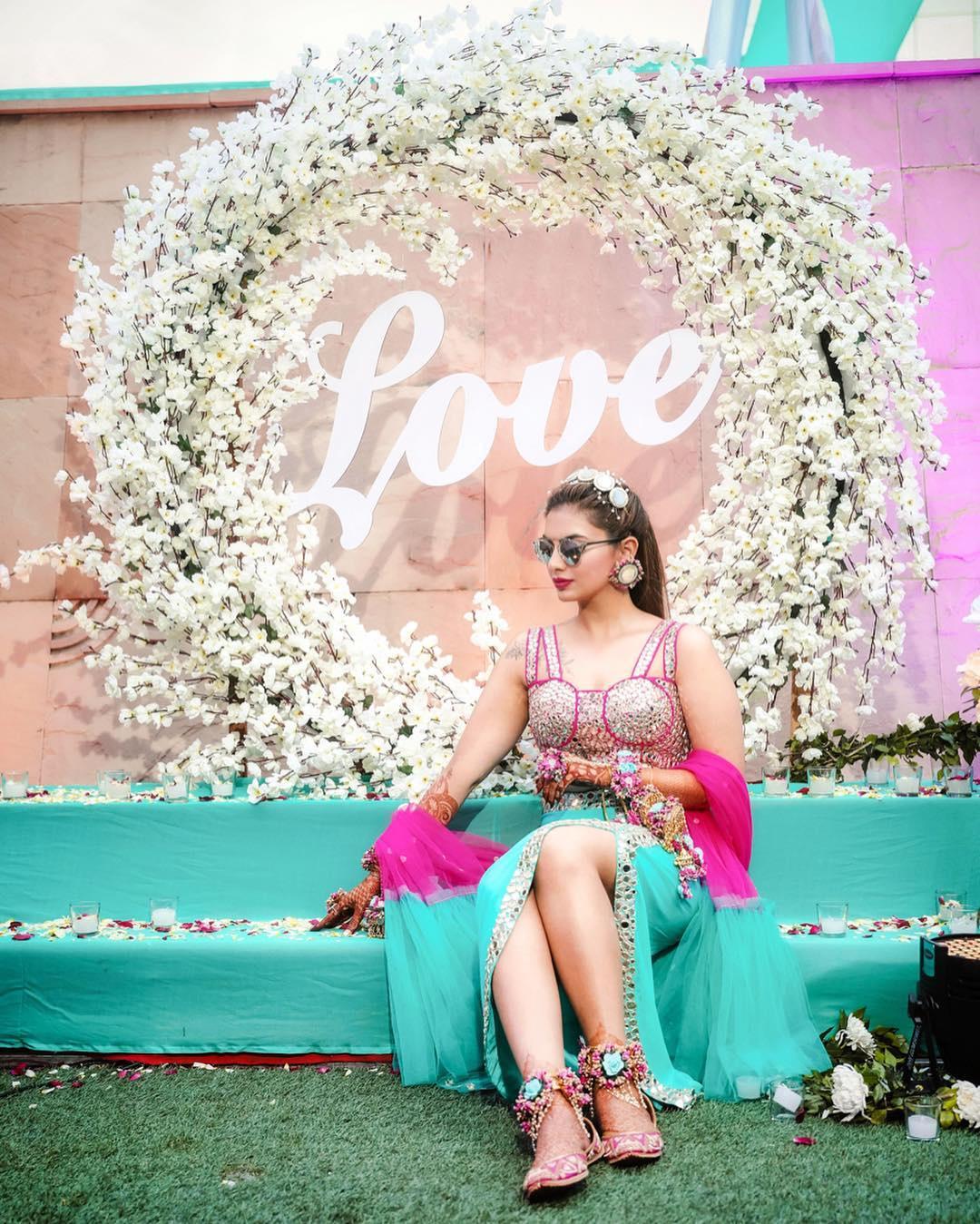 For a classic couple, a traditional floral arrangement is ideal for an elegant look. While flowers are synonymous with colour, you can create a simple backdrop of brilliant white blooms in the shape of a wreath. This can be set against a bright coloured background for a pretty contrast. White flowers can add vibrancy to any outfit.
Floral Do: With everything you need to do before the big day, planning and preparation is key! Make sure you talk to your florist and the wedding planner much ahead of the big day so any last minute snafus can be avoided.
Floral Don't: Remember to relax and don't stress out. Your wedding day is a time to celebrate your forever with your loved one. Enlist the help of your family and friends to make your big day a grand success!
The floral background is an important part of your big day and can help set the tone and aesthetic of your wedding pictures. While the wedding venue is important, a stunning floral arrangement can help add colour and vibrancy to the décor. Make sure to keep with a colour theme and discuss your ideas with your florist so that the use the flowers to create an ambience at the wedding. But keep in mind, the floral background do's and don'ts so you have the wedding of your dreams!
Love any of these floral background décor ideas? Let us know your favourites in the comments below!