Beautiful Stage Flower Decoration Ideas for Your Dream Day
Adding flowers to your wedding decor is something that you're looking for? Here we have some breathtaking stage flower decoration ideas to help you for the day!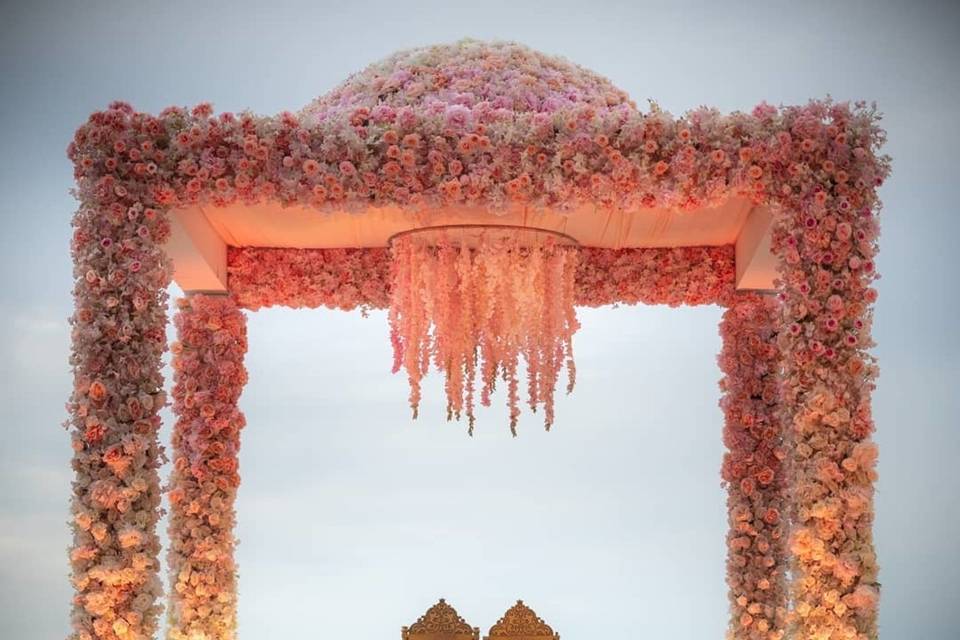 Flowers never run out of fashion, especially when it comes to stage flower decoration. It is that element in the decoration that adds up to the aura of the ceremony. You can accentuate the beauty of your wedding stage by adding different flowers that are of various colours and types. Don't forget! It is this place where you and your to-be would be seated, and the memorable photos of your wedding would be clicked right here. The stage is the centre of attraction for any wedding, so it better be good. It's the first thing that catches the eye, so no matter what flowers or décor you choose for the stage, make sure it's done to perfection.
The use of flowers in stage decorations is an absolute stunner. Flower​ decoration attracts a lot of attention and is currently very much in trend as well. All you​ need is different flowers in complimenting colours and bingo! You have yourself a beautiful wedding stage. When booking up the venue, you will be shown different types of stage décor that the management offers for wedding days, you could choose from their list or if you have something else in mind, then make sure to let them know.
There are plenty of beautiful flower decoration ideas available online, so scan through those well in advance and come up with the perfect stage flower decoration for your wedding day. Choose your colours, theme and of course the type of flowers you would like for your stage decoration, and make sure you get exactly that.
The use of flowers in wedding stage decoration has always played a very important role. It adds a sense of freshness and luxury to the wedding decor. To help you with your wedding décor, we have some amazing flower decoration ideas just for you. These flower decoration images are our top picks to ensure that your wedding turns out to be nothing​ less than a fairytale one.
Check out these 7 flower decoration​ ideas to ensure that you have the most dreamy wedding backdrop ever.
Arc of Love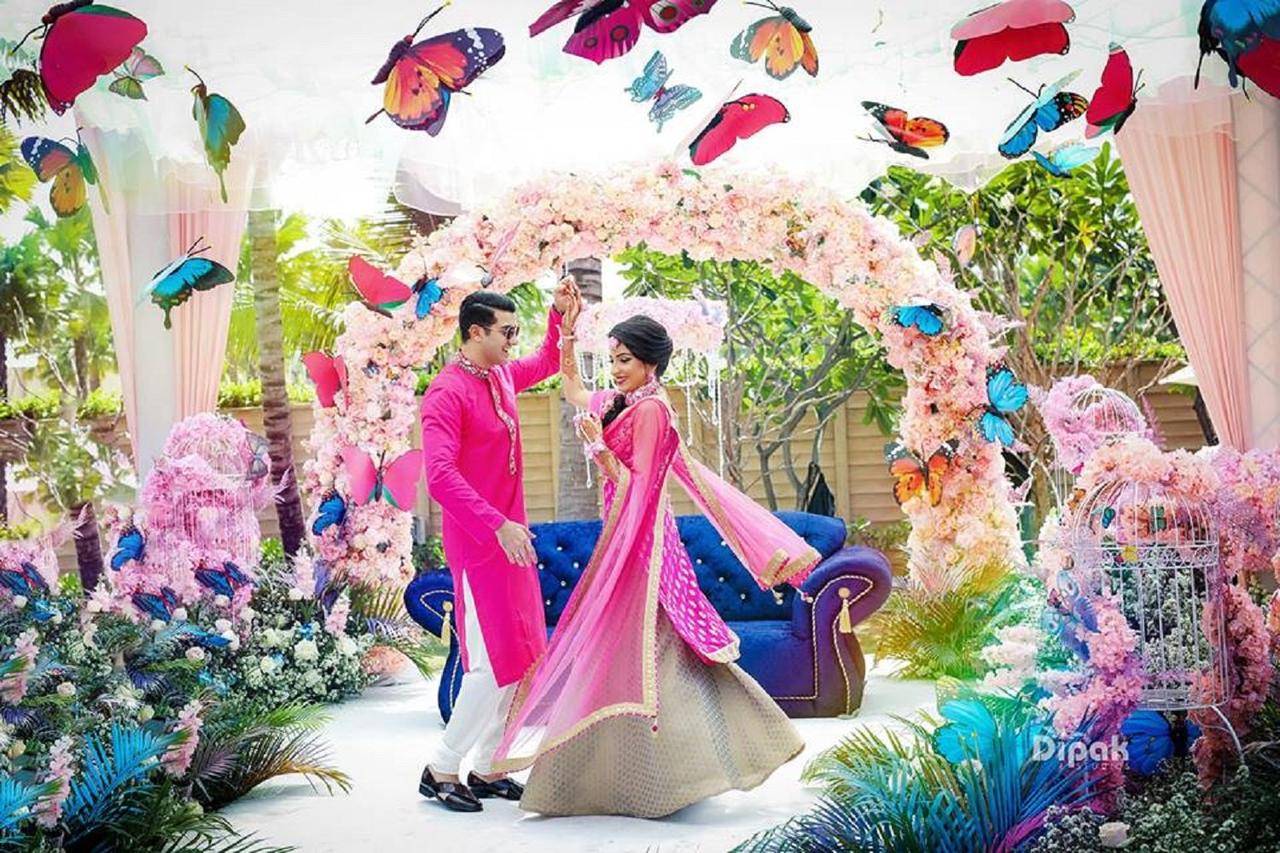 This is a simple arc that's made with beautiful light pink flowers is just so pretty. It is a very eye-catching stage flower decoration​ if you're looking for a very nice display. Pink curtains and colourful paper butterflies are used to take this décor to the next level. The butterflies are beautifully placed on the flowers and light, flowy curtains are used to make it a dreamy situation.
There is a lot of attention to detail and the placement of the flowers and plants surrounding the stage is also done up well. This couple has gone ahead and spent a lot of time, planning up this backdrop. Perfect for those who like to keep it simple and don't want to go overboard. This type of stage flower decoration is perfect for a photoshoot, a wedding ceremony or even your pre-wedding functions too. Pink is the theme of the day, and the couple is well-coordinated with their pink outfits as well.
Never Go Wrong with Peach and White!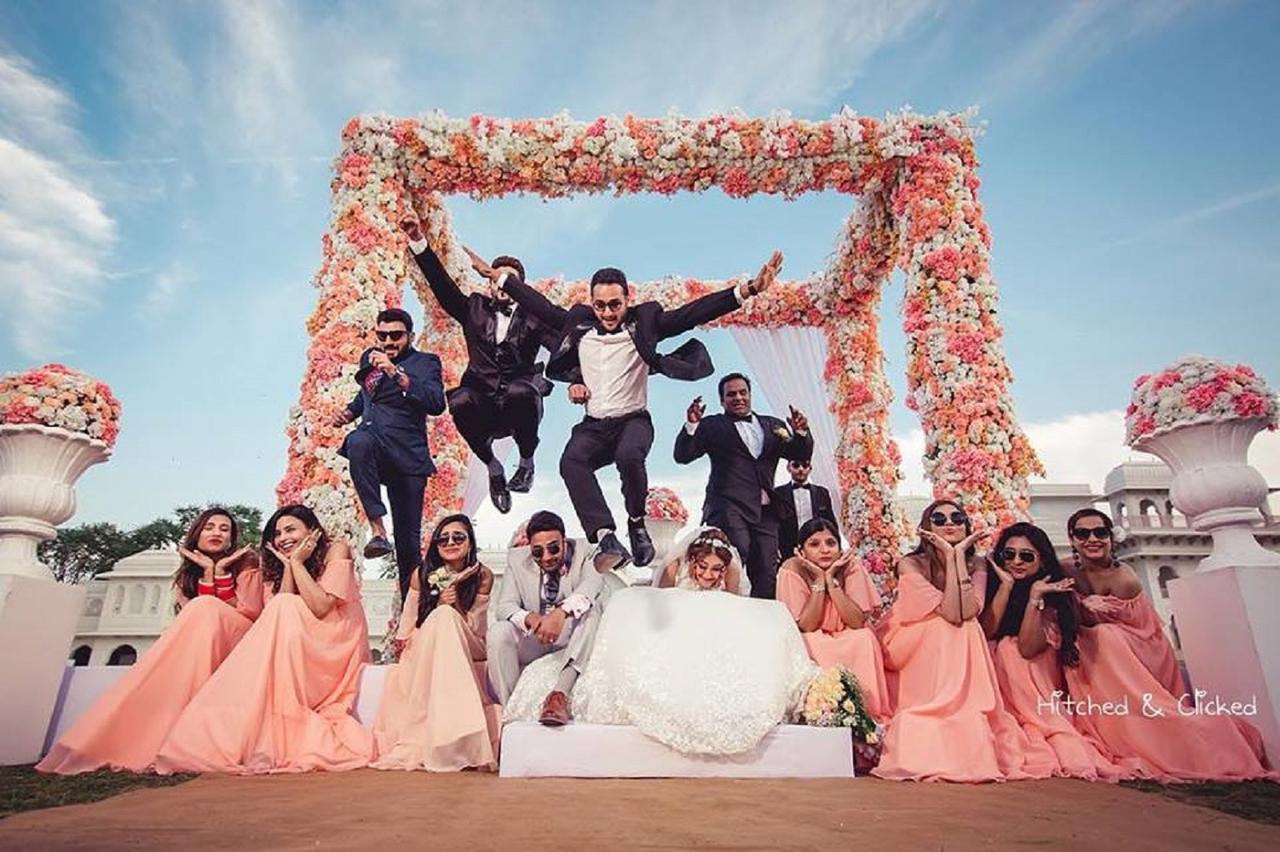 This ​stage flower decoration ​image is what dreams are made of! The use of peach and white flowers perfectly matched with the entourage is excellent. You could use different types of flowers for a stage flower decoration like this. You could go with roses or even the iris flower if that's what you want. Décor like this could really come out well when you click your wedding photographs.
There are plenty of ways to decorate your wedding stage, so go ahead and come up with the best designs. Here, the pillars are filled up with the pretty looking flowers, making it look like a grand display. So listen up, don't hesitate and mix and match. Don't compromise in creating the stage of your dreams. Spend some time scanning through different types of stage flower decoration ideas before you decide on the final display.
Elegance at its Best!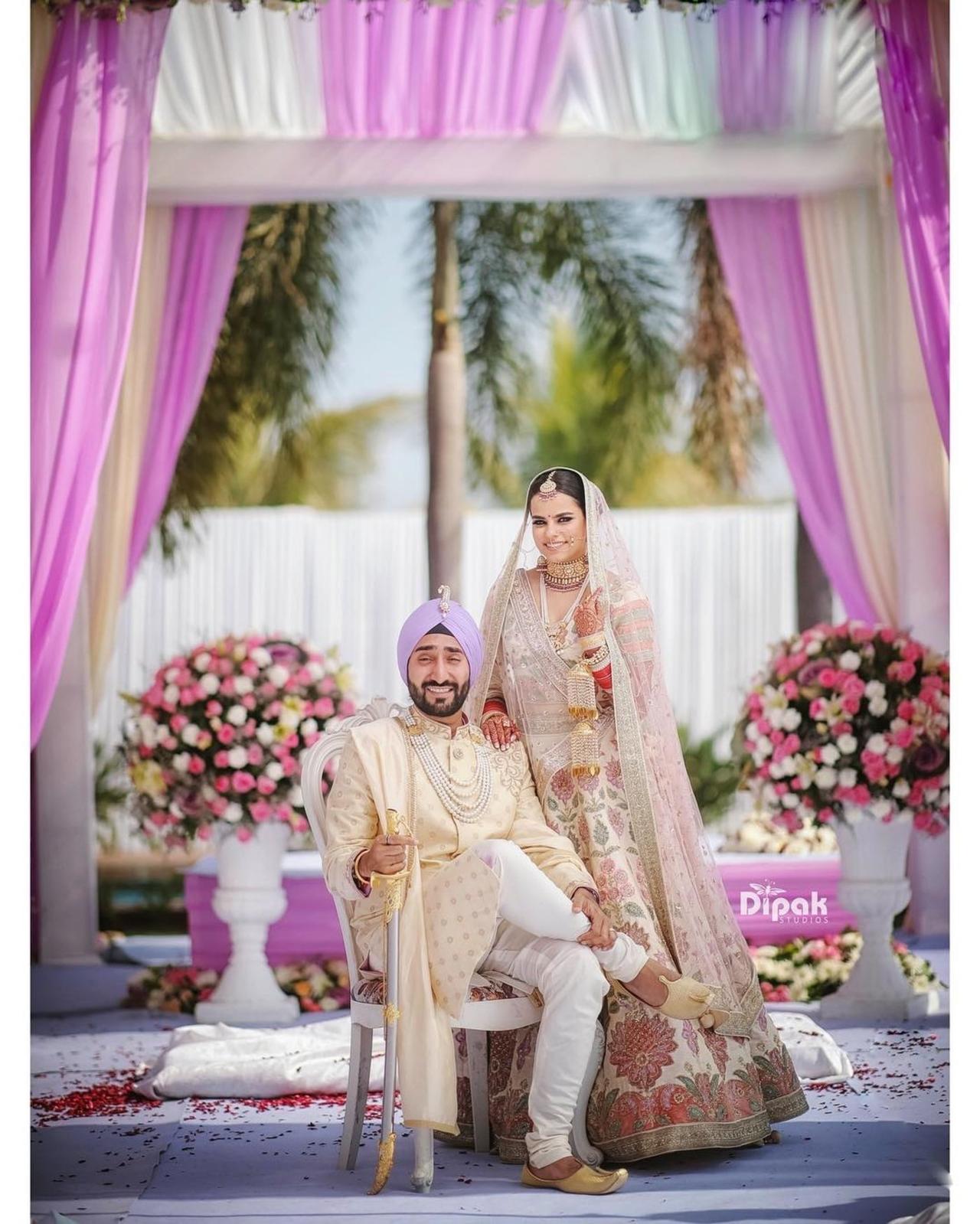 They say that the best looking things are always minimal and elegant, and this stage flower decoration shows that it's definitely true! This wedding stage flower decoration​image is a testament to this statement. It is beautiful, graceful and so very simple. Pink and lavender drapes along with some white and pink roses are making absolute justice to this wedding stage.
Another interesting element that you could add to the stage decor to give it the extra edge is the white pillars. This couple have done it right with their stage décor, bringing out the best through their wedding photography. Too much can sometimes be quite overwhelming, so if you are someone who loves simple things, then décor like this would definitely keep you very satisfied.
Add a Magical Touch with Yellow and Orange Marigold Flowers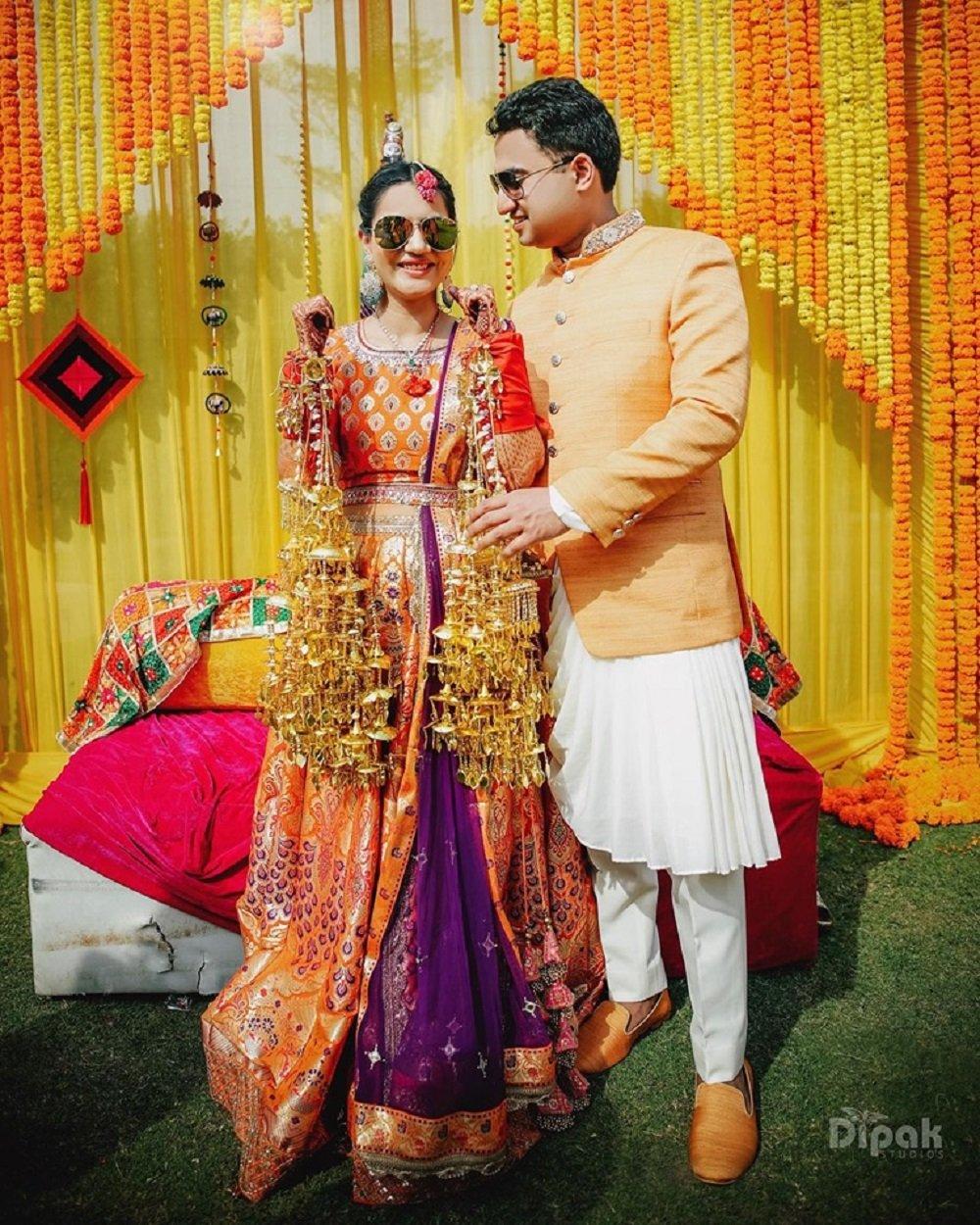 If you're planning to go the traditional way, then the popular yellow and the orange marigold combination is the best option to settle for. Used regularly for Indian weddings, going for a very Indian stage flower decoration is a great idea, especially if you're having a traditional affair. Here, the stage is beautifully done up with strings of marigold flowers beautifully placed like curtains.
The idea here was to make the perfect design with the flowers and so it begins with long strings and then shortens up to create the best design in the middle. Also, you can see strings of other décor hanging behind, adding up to the already fabulous decoration. The sofa is also a burst of lovely colours, while the couple is picture perfect!
Flowers can be played with in terms of colour, type and sizes. There are multiple options available in the market so pick what you love best and create the stage for your big day.
A Colourful Affair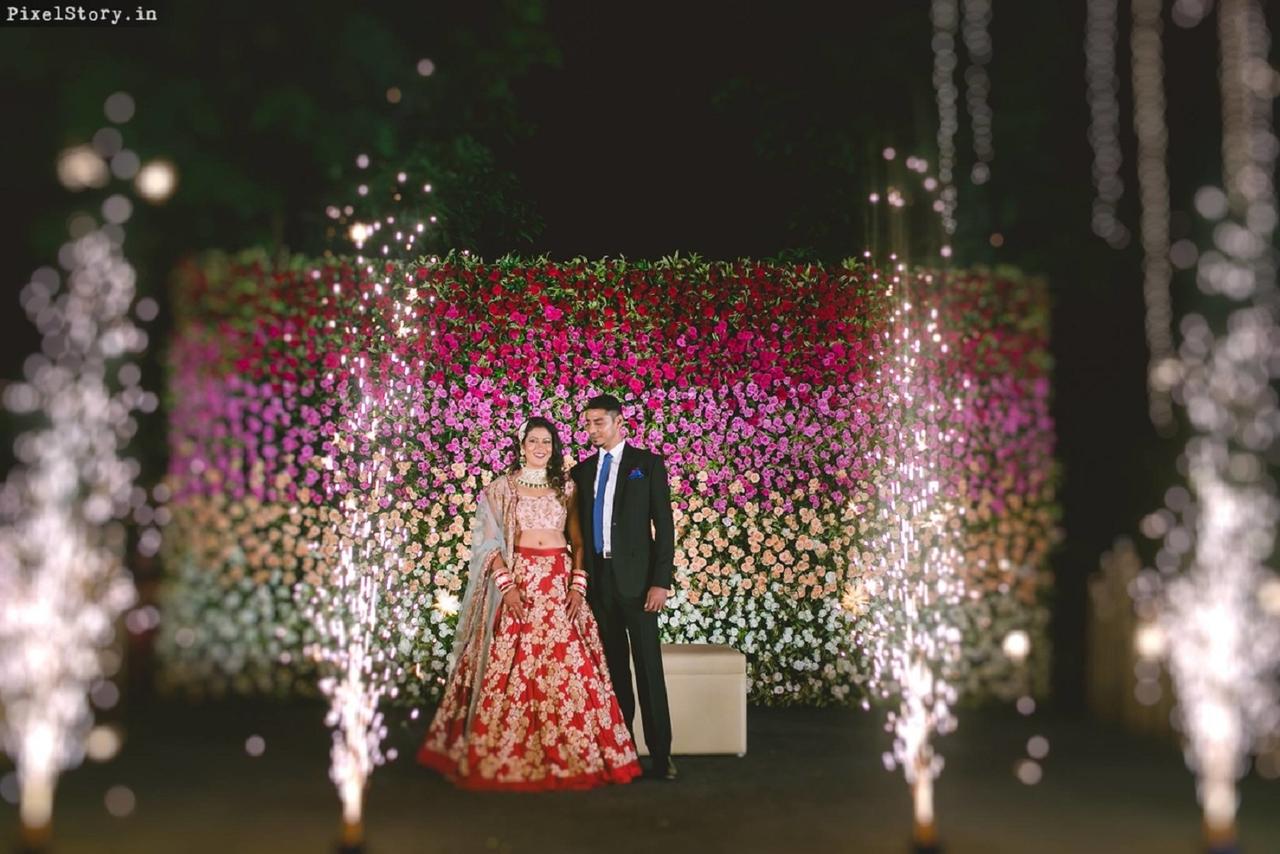 Go colourful and vibrant with your stage flower decoration. This ​stage flower decoration image is so inspiring. It is the perfect transition of colours in one frame. From subtle whites to cute peaches, chic pink flower and finally to bold red flowers. Creating a wall of flowers is one of the best things you could do when it comes to your stage décor.
It creates a colourful background and is perfect for wedding photography. Going for an all flower look is something that most couples choose for their wedding as it lightens up the stage, making it seem like a beautiful garden of flowers. You could choose a mix of different flowers or go in for a single colour if you're having a special colour theme for your wedding.
Love for Everything Floral and Romantic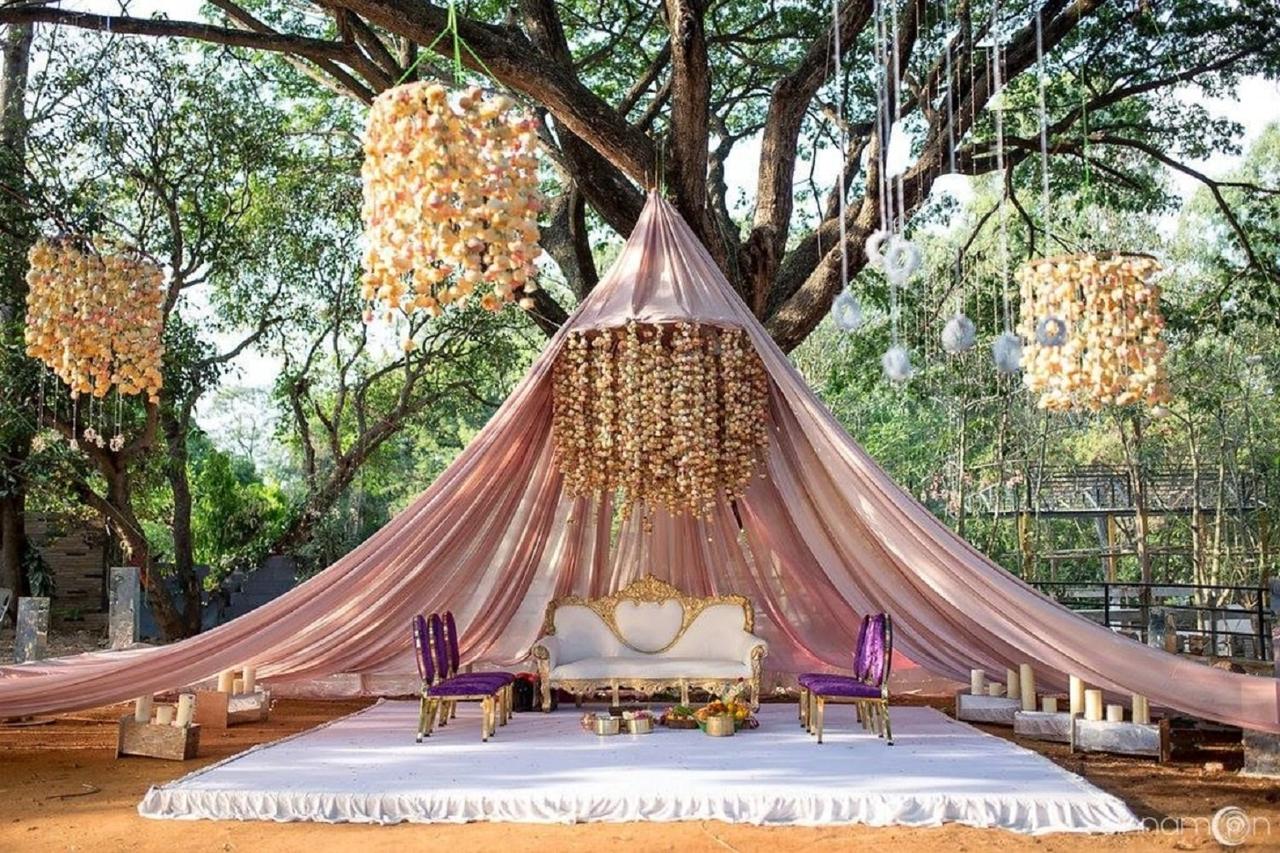 Having an outdoor wedding and looking for stage flower decoration inspirations? Check this image out! This ethnic-bohemian decor is so soothing and different. This stage setup is a complete package of mauve-coloured drapes, white and orange flowers and white hanging artefacts.
The colours chosen for this décor is well-matched and coordinated. The light pink sofa and purple chairs are also fantastic. This kind of decor can be replicated for indoor spaces as well. The colours used for décor like this could go according to your wedding theme, so everything falls into place well.
Opulence Along With Poise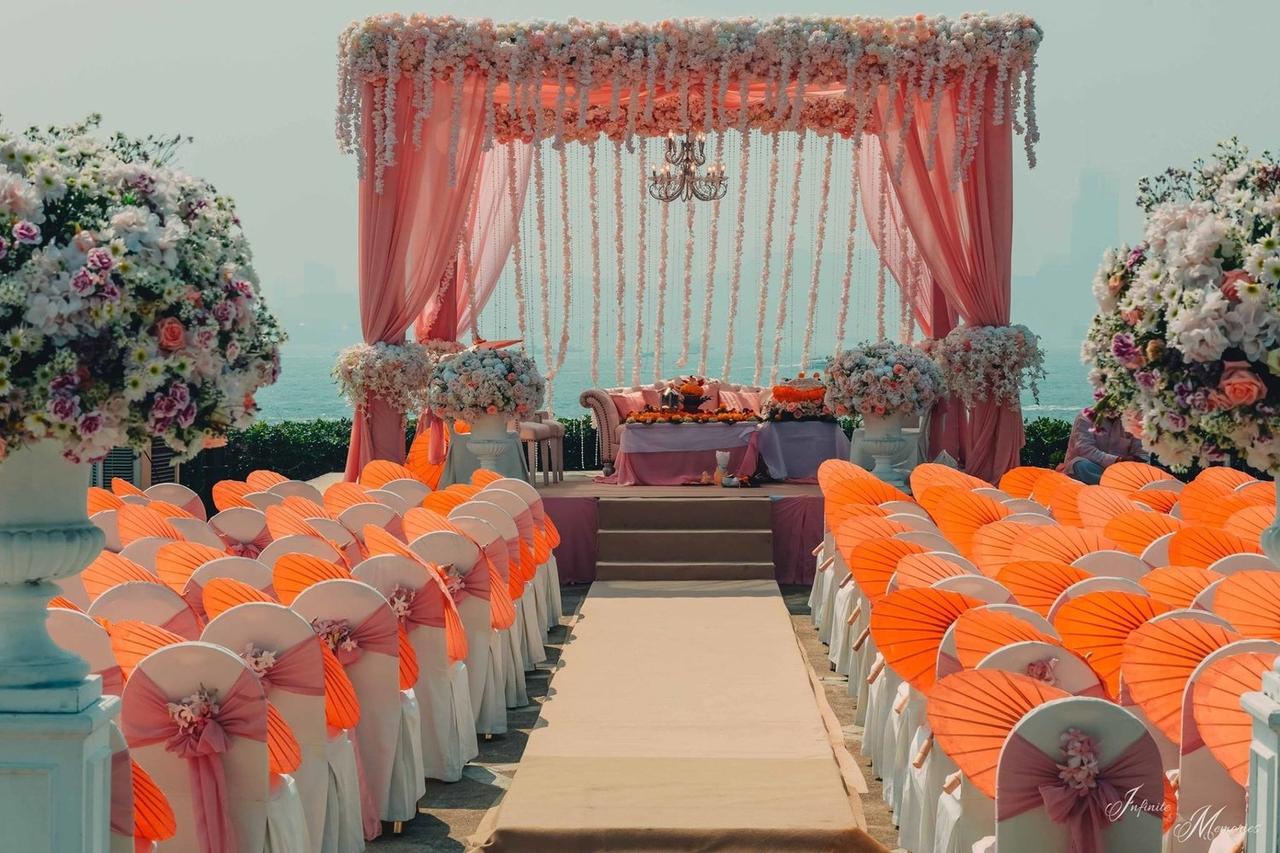 Look at this! Like wow! A total blend of colours, flowers and drapes. This is something that you should go for if you are looking for a romantic stage flower decoration​ theme.​ It is perfect for indoor as well as outdoor events.
Mix and match the colour of flowers based on your wedding theme and you'll be able to create absolute magic. Here, even the chairs are well-matched according to the wedding theme. The strings of flowers, along with the peach and white flower hangings are simply awesome. The beautiful bunch of gorgeous flowers just adds on to the whole stage display.
Are you star stuck by these ​stage flower decoration​ ideas as we are? There is so much that you can do nowadays when it comes to stage decoration. All you need is the right decorator who is ready to experiment and turn your dream into reality. Most importantly, it's your day so don't hesitate and go with whatever your heart says. Like we said before, the wedding stage is as important as any other element in the wedding. It is the place where all your memories would be captured. So, without thinking much just go with the flow and go all out when it comes to choosing your stage decoration. Be creative, and mix and match different ideas to create the perfect stage for your wedding too.
Found these ideas interesting? Would you like to get a similar stage décor for your wedding too? Contact our wedding decoration vendors for the best stage décor!