9 Beautiful Flower Rangoli Designs for Your Wedding Venue
Planning a wedding soon? Here are some flower rangoli designs to help you glam that venue up in no time! Don't worry, there is a lot of room for experiment.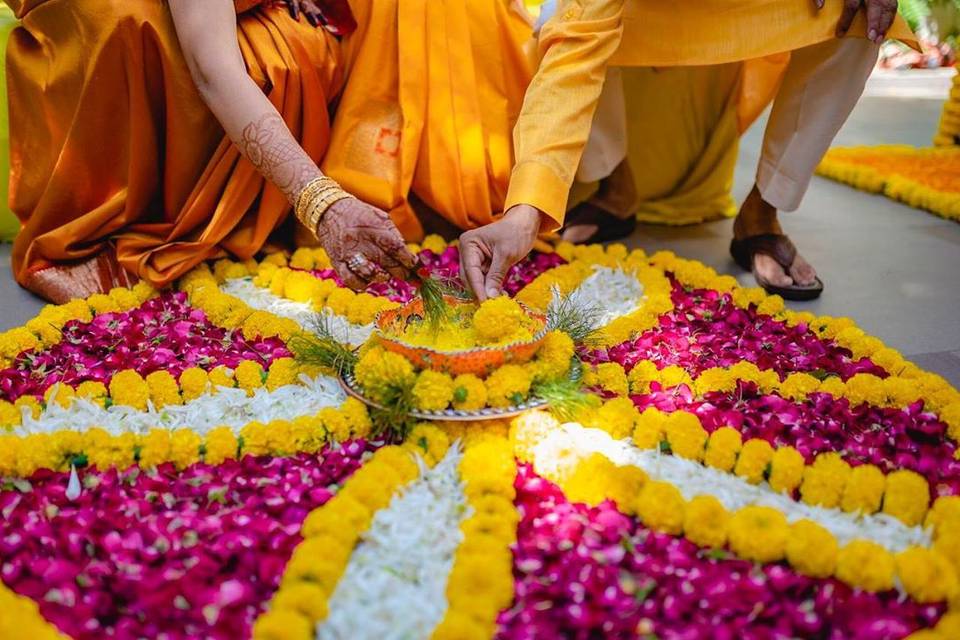 Wedding venues can be extremely daunting by their enormous sizes when it comes to planning a wedding. Here are a few exclusively chosen designs of floral rangoli to help you vibrantly decorate the place, bit by bit.
Take this article as a whole packed punch of vibrant floral rangoli decorations for your venues for the wedding functions. Whether it is the entrance that you are worried about or the gathering at the terrace; a full-fledged wedding function or just a private gathering for a Haldi or any other ceremony, you are officially sorted for all of the above. Now that we are on the same (and a little less stressful) page, let us begin the flower show.
Take it as my punch line, cool?
That entrance rangoli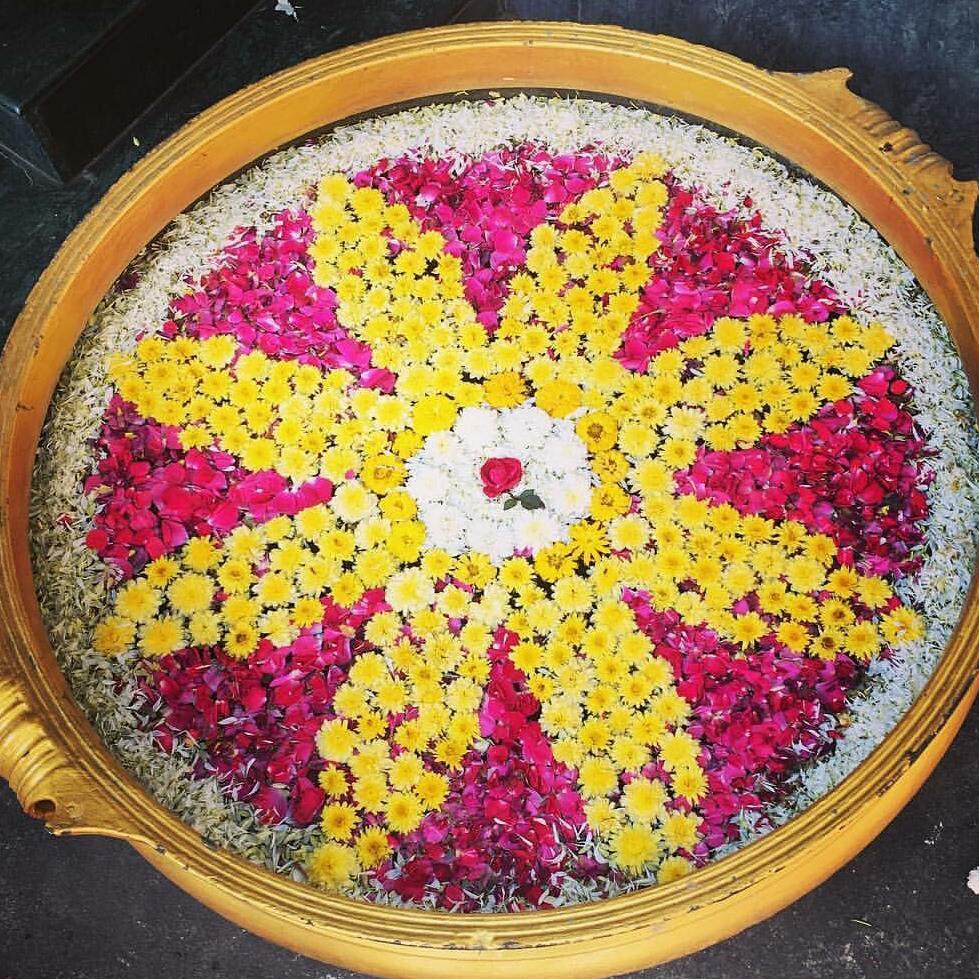 Image Courtesy: Chef Deep's Instagram
This is one of the simplest of all rangoli designs when it comes to exploring images of simple flower rangoli. It has a simple flower design on the inside and a contrasting background on the outside. In such designs, what matters the most is the neatness of the design.
You should clearly demarcate the concentric circles based on how big you want the rangoli to be. Choose as thick designs as possible which are easy to draw and fill. No need to go into details, just choose the right colour and you will be sorted.
The good part is that such floral rangoli designs can be easily made on any base you like. It can be the entrance section with big golden vases topped with this floral design. Neatly cut a cardboard circle which can fit just a little within the vase and you can make this rangoli pattern on to it. Keep several of such vases in a row, right at the entrance and decorate the lane with dupattas and mirrors.
The floating rangoli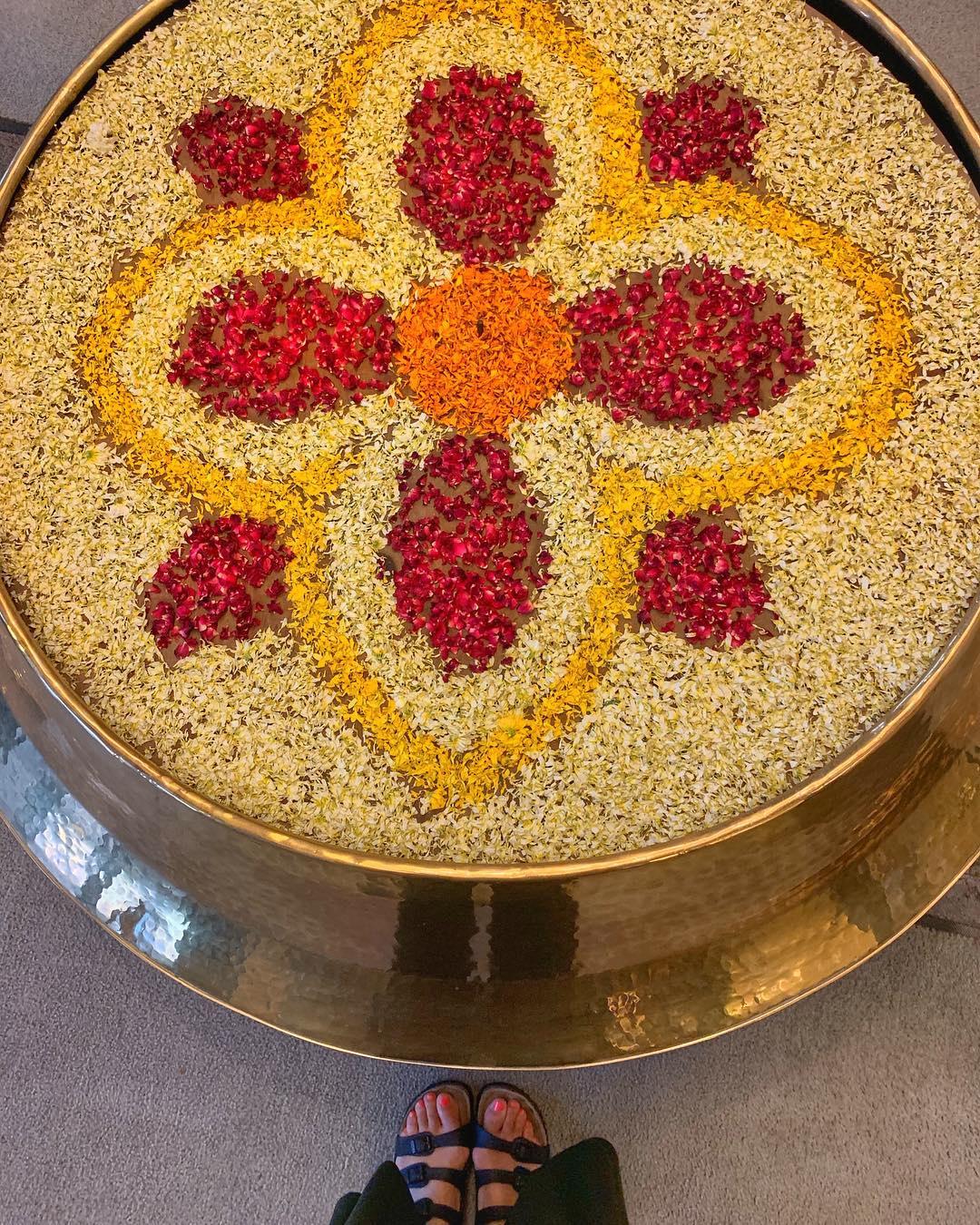 Image Courtesy: Pymobilesie's Instagram
Just like the vases, choose massive golden bowls to neatly create the floral rangoli design. This floating style of rangoli demands a very basic and fairly easy pattern or central design to be chosen for the big day. No matter how big you want the rangoli to be, clarity is the key here. Use smaller flower petals in order to give it a fuller look, say marigold petals against strands of thick rose petals. The texture that comes up with this trick is pure gold!
When it comes flower rangoli design, what goes behind the process of making it sort of misses out. When you are making a floating rangoli, you must remember that you cannot make a boundary sketch here even if you like. The flowers would just not stay in a line.
Pro tip: You will have to start from the outside, start filling it right from the boundary and move inwards. Only then can you get your desired flower rangoli made, just the way you like.
For that terrace gathering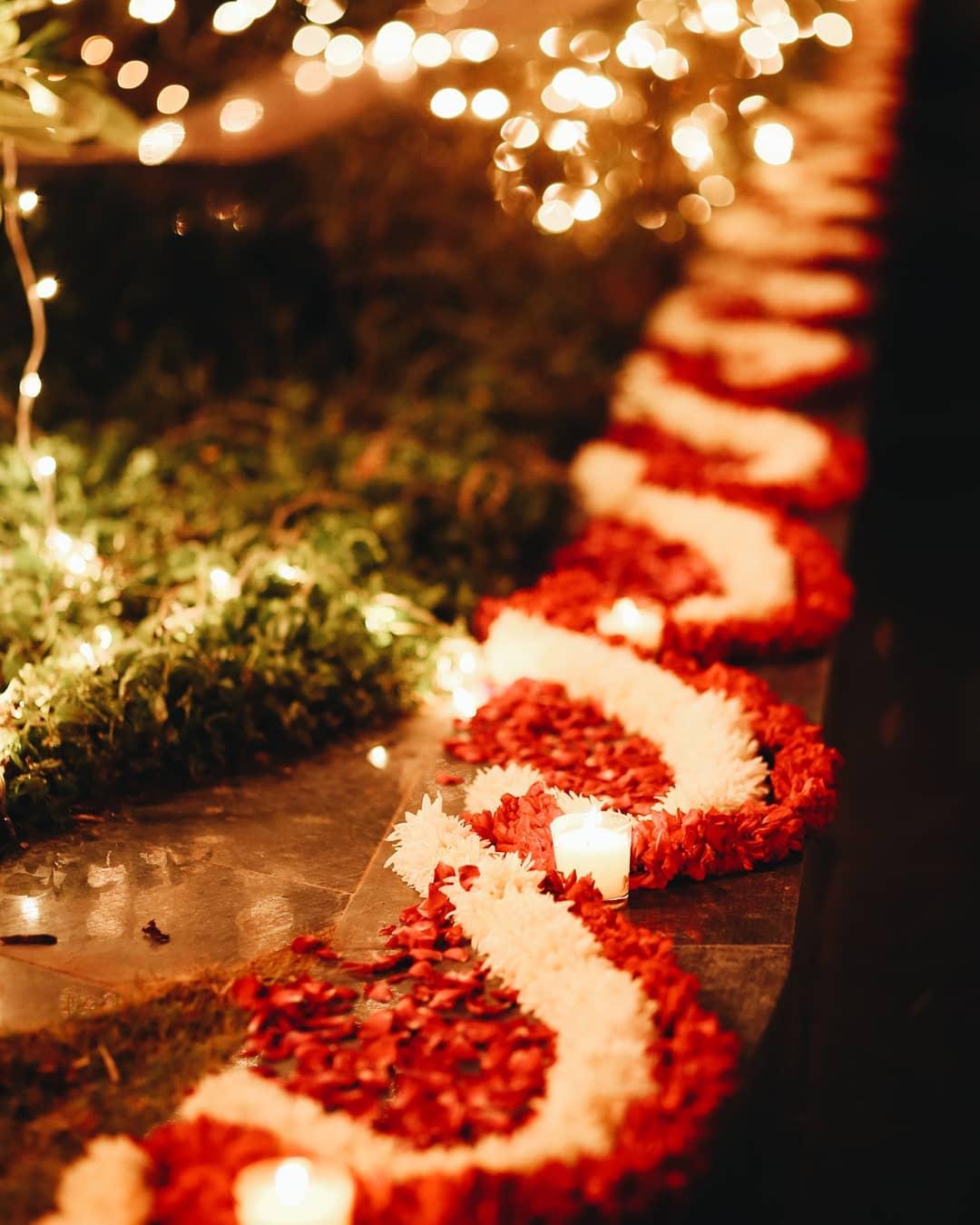 We're sure, you wouldn't be expecting a rangoli design for your terrace decorations while exploring all these gorgeous flower rangoli designs. You can take that sigh of relief because a lovely, classy yet extremely simple rangoli design is right here. We understand how limited are the options of making a terrace look good and different, especially if you are not up for the conventional fairy lights and dupattas.
You will need to hire one or few persons depending upon the requirement of flower quantity who will make little wreaths of flowers for decorating your lovely terrace site. Nicely keep one wreath within the other in the shape of a shell or a simple circle if you like. You may then keep a Diya in the middle or get those strong bulbs which can be placed (each) in every circle.
Finish by adding some sprinkled flower petals around like this image and your long tiring research of flower rangoli designs will definitely be successful with a breathtakingly decorated venue.
One for the Haldi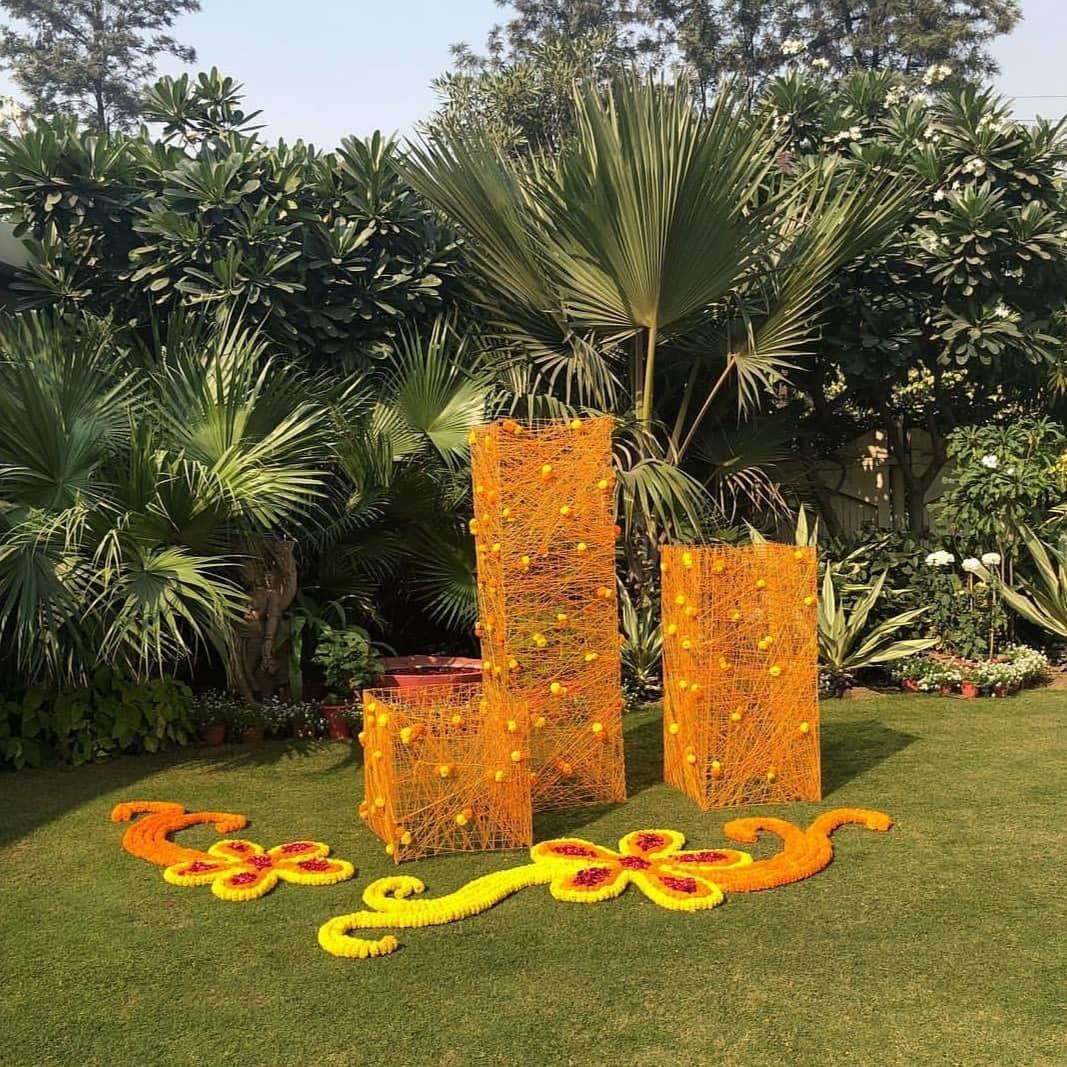 Image Courtesy: Decorsutra's Instagram
When we see Indian designs of flower rangoli or simple floral rangoli designs done in a traditional Indian setting, the marigold flowers will always be a star. Yellow is the colour of cheerfulness and happiness which definitely has to be a part of every wedding function.
Haldi definitely becomes the perfect occasion for featuring a flower rangoli design. This is one of the simplest designs of using flowers which can be a star of any show.
Get simple long wreaths of marigold flowers made or buy a readymade bunch of long ones. All you need to do is arrange different shades of marigold wreaths in floral pattern full of curves and waves. Get a yellow, orange or any contrasting coloured installation set up on top of it which makes a lovely spot for selfies or group pictures.
It has the potential of making any wedding venue vibrant and lively in just an hour of installation. Aren't you excited about it already?
For the curvy entrance to the food stalls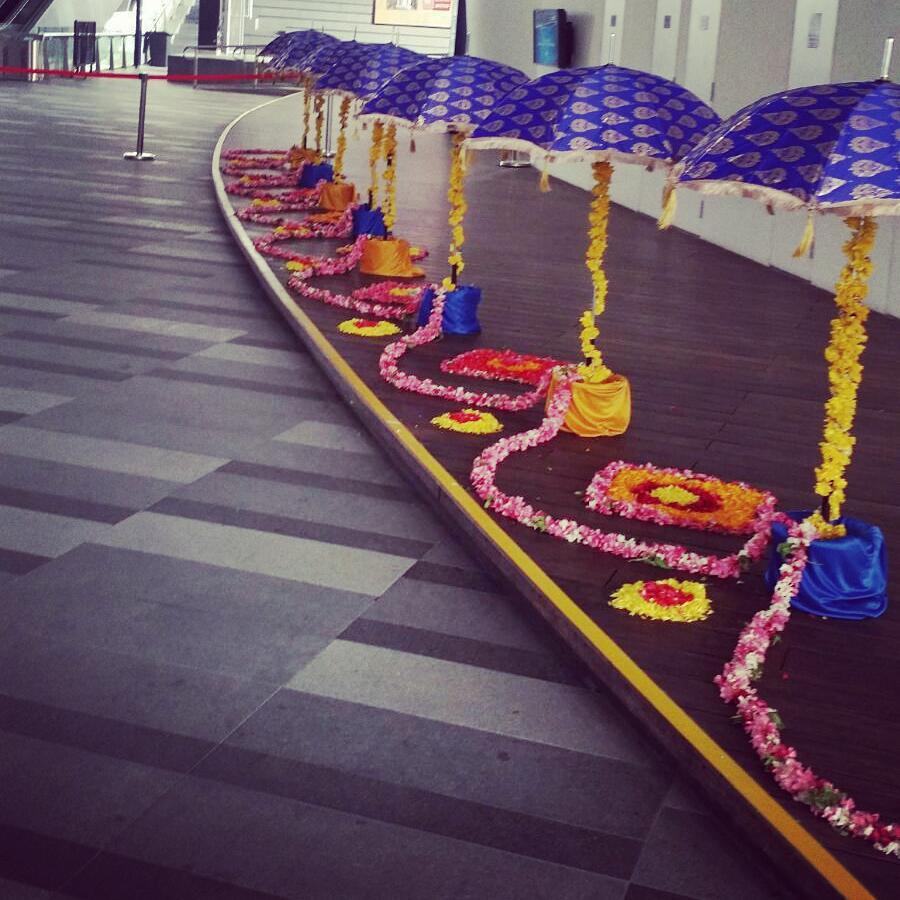 Image Courtesy: NR Rangoli's Instagram
All of us have to admit that this idea of combining images of simple flower rangoli with quirky umbrellas made with traditional Indian covering material is a big hit! Don't you think so? In order to re-create this fab umbrella décor, all you have to do is just neatly make use of long wreaths of flowers. You can make use of flower pots full of pebbles to make these open umbrellas stand upright.
Apart from that, you have to carefully cover the holding (umbrella) stick in a single coloured flower string each. While the earthen pots give it an earthy Indian touch, you are all set to make little circles of flower petals filling it entirely.
Once you have fulfilled all the above requirements, the last and the simplest thing you have to do is get smaller, bracelet-like flower wreaths made. Now, as those tiny strings of flowers will be circular by default, you just have to place each within the bigger circle. Make use of some more longer flower strings to create a wavy pattern and your search for images of simple flower rangoli will be successful!
Some floral vibrancy for tiled floors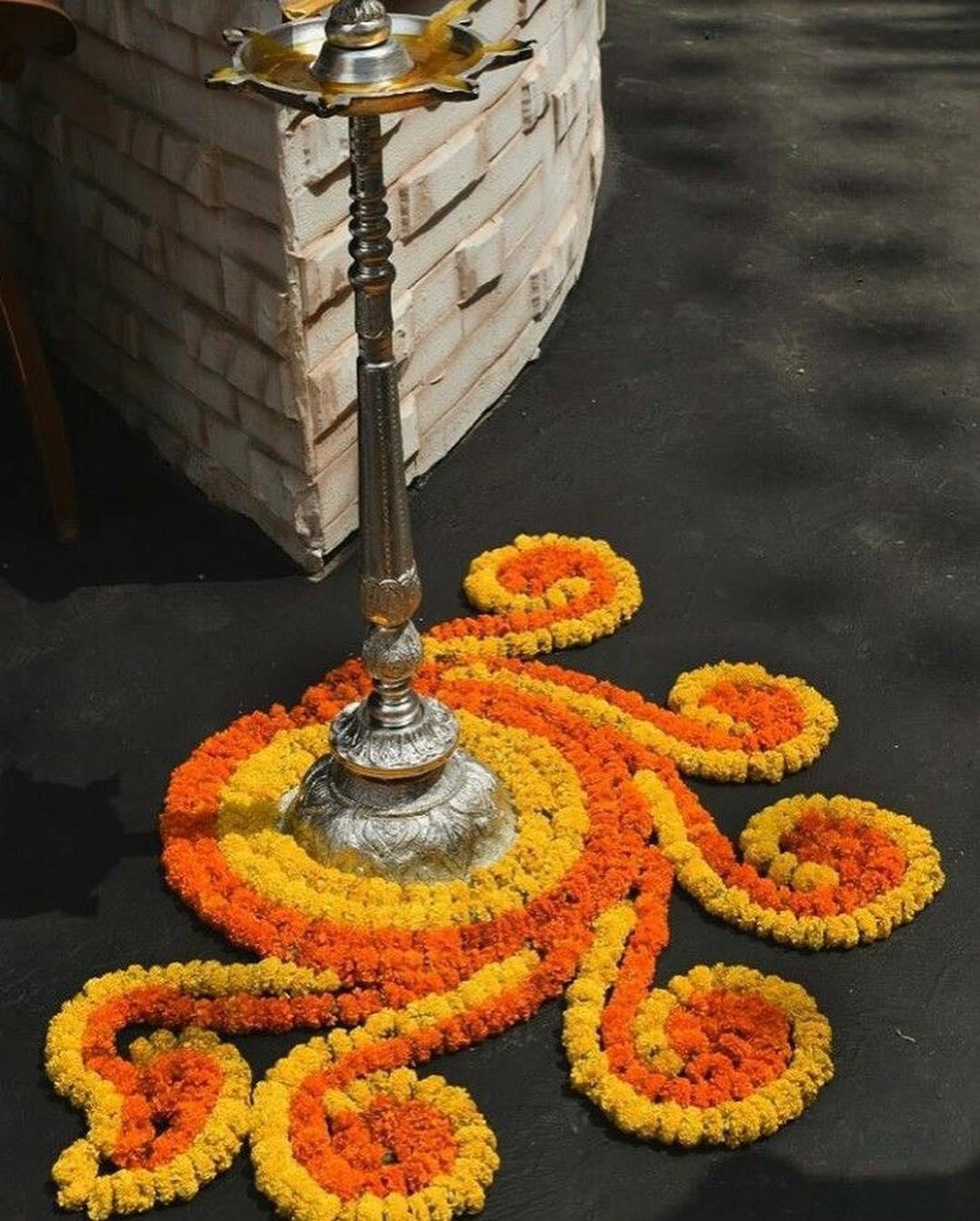 Image Courtesy: Zipker
This is by far the simplest of all flower rangoli designs which has massive potential when it comes to brightening up a dull corner. This is made with simply wreathed long strings of marigold flowers in two different shades, one is orange and the other being yellow. You can totally ace the floral rangoli design game for wedding functions which have indoor banquet halls as their venue.
This design using poppy colours which are limited in number work best on plain, light-coloured, tiled surfaces. Such patterns are best for the white or ivory tiled or marbled floor as compared to dark granite floors or grassless grounds. We have seen before how they work wonders for grassy open venues such as farmhouses as well.
A rangoli for the Grahpravesh of the new Bahu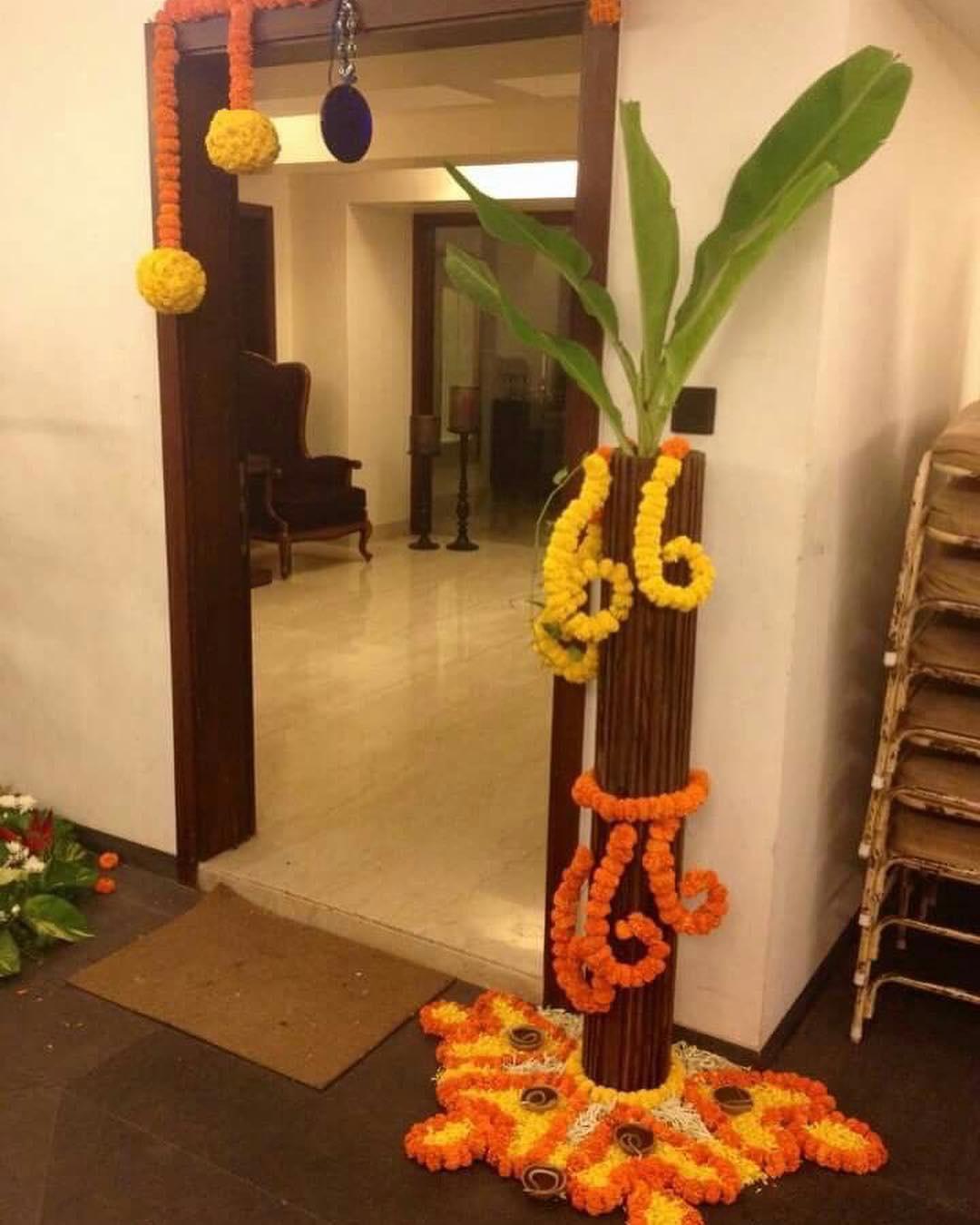 Image Courtesy: Zipker
Now that we have talked quite a bit about decorating the venue, why not talk a little about decorating the new home for the new bahu as well?
Such floral rangoli designs which are made using marigold flowers in a simple flower shape are basic, traditional and totally rocking. Make it right in the centre of the entrance, right outside the door and place the Kalash full of rice in the centre for the bride's entry.
Out of all the other flower rangoli designs, this one has made use of earthen diyas most beautifully. They will look breathtaking when lit up!
One for the sacred Mandap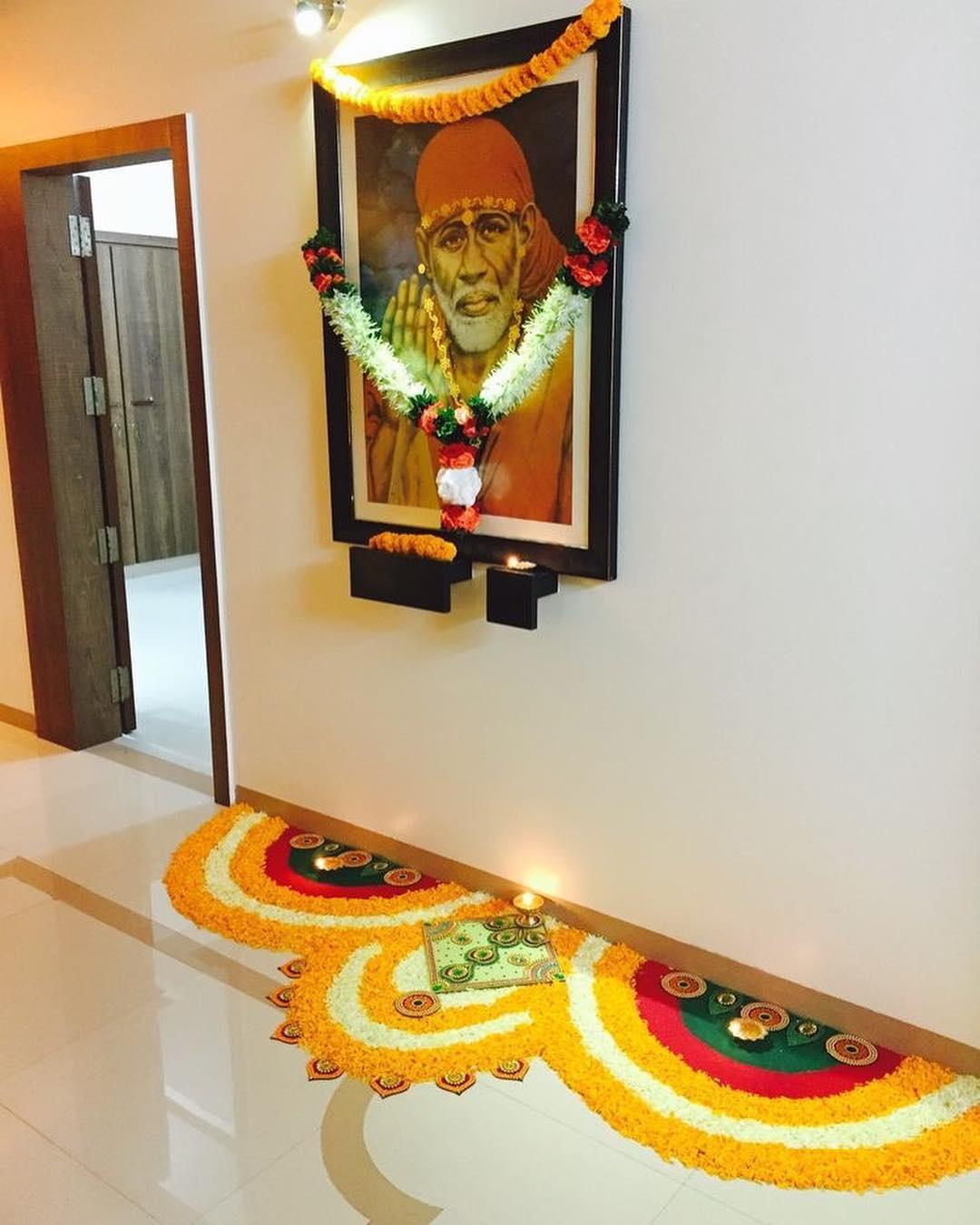 Image Courtesy: Zipker
Talking about Mandaps, such flower rangoli designs with half rangoli designs make the symmetry work easier for us to recreate or to get inspired from. These days, Mandaps are usually a little elevated from the ground which further has little Chowkies for everyone to sit on.
Such designs work perfectly well for the edge of the mandap decor. Rangolis can be a little difficult to save from getting stepped on at or near the wedding stage but there is not a lot of rush around Mandaps.
Last but not least for the banquet hall decor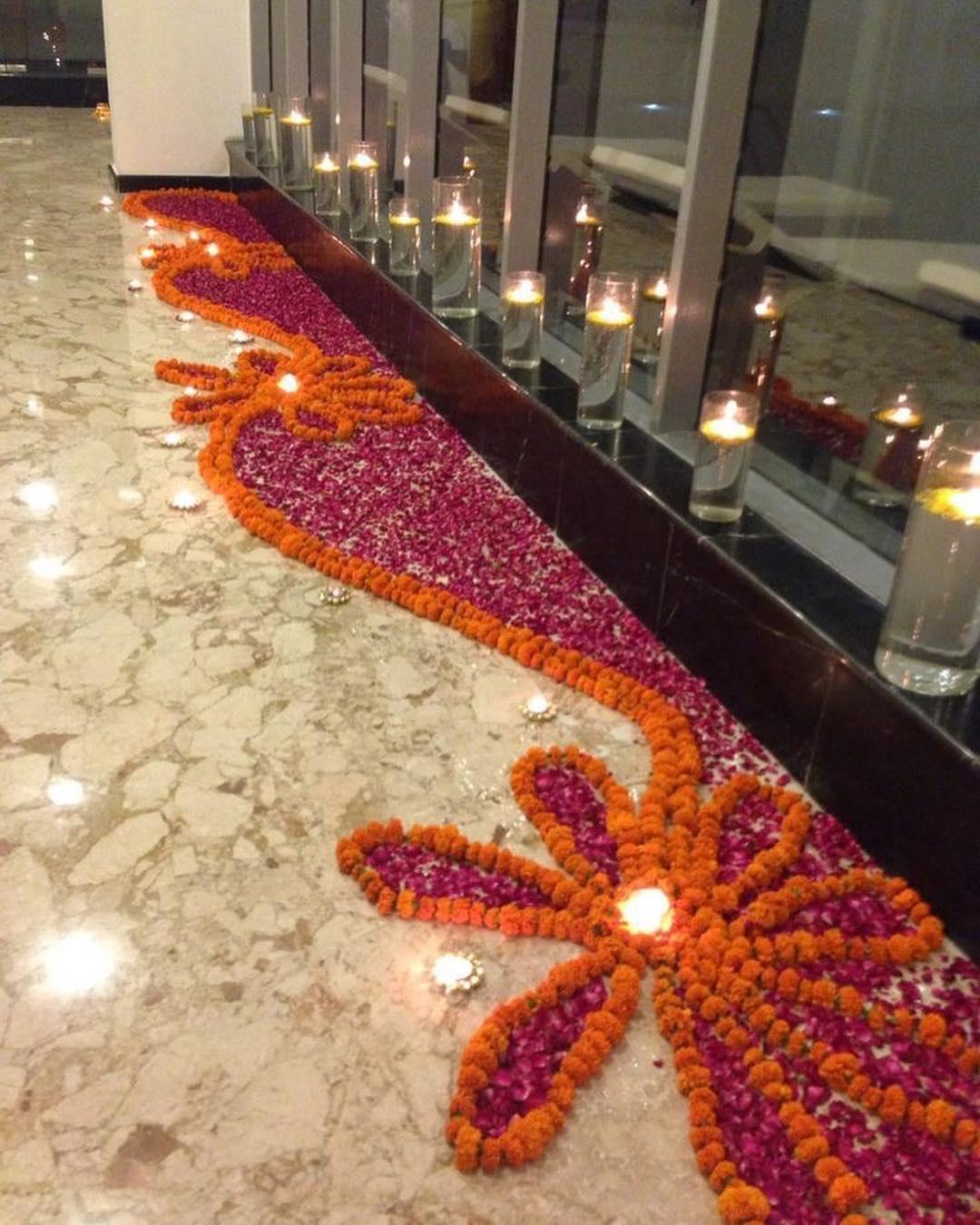 Image Courtesy: Zipker
There are times when we pick lavish banquet halls for wedding functions but we have a hard time understanding how to add a traditional touch to all those Western interiors. That is when flower rangoli designs come to your rescue. All it needs is marigold wreaths (orange or yellow) and some petals of a contrasting coloured flower. Just use a pencil or coloured chalk to make an outline of an irregular flower like this abstract one. Use those flower strings to cover it up and fill it with the other petals. Tadaa! Yes, it was that simple!
You can make great use of fancy diyas in such designs to beautify these floral rangoli designs if you wish. The design will follow the little elevation following the glass window panes on the sides. Try not to use lighting diyas if that corner is going to be crowded because then it might get risky with women wearing satins and synthetics moving around while kids (prone to misbehaving and pretty much hopping all around). You can always make use of the electric diyas with bulbs which work great too.
So, how was it? We really hope that you could pick some really simple flower rangoli design ideas from the above ideas. Rangoli making has to be a playful activity to bring people together. If it is a private gathering, why don't you guys consider organising a flower rangoli competition? Choose a theme for the décor and let those creative flowers bloom. Now that we are talking about the flower rangoli designs here, you can always choose themes like sunflower if it is Haldi or keep it all botanical with innumerable leaf styles going green for Mehndi.
Pro tip: This will save a lot of cost of flowers as indigenous flower species are way cheaper than exotic flowers like orchids or lavender. Choose the theme accordingly and have a word with some professional florists well in advance to guarantee the blooms reach you on time.
We hope that all your floral décor questions (and the desperation to keep it traditional) have been pacified. Go ahead and experiment with these floral rangoli designs. Be as creative as you can, make a Mandala out of flower petals if you like, on whichever medium that you like, just keep it synchronized in a theme together and you're good to go.
We would love to know how do you plan to experiment with these simple flower rangoli designs, in the comments below.