Fancy Umbrella Phoolon Ki Chadar Images for a Breathtaking Entry
Get creative with your bridal entry idea! Here are some unique and gorgeous Umbrella Phoolon Ki Chadar ideas you might want to consider for your epic entry.

One of the most iconic moments of any wedding is when the bride enters the venue. Whether it's walking down the aisle in a Christian wedding with the "Here comes the bride" playing at the background, or a Hindu wedding bride dancing to some peppy bridal entry songs while making a grand appearance! It is a big deal! So should be the decorations associated with this moment.
So, when it comes to the Phoolon ki chadar designs, we thought, why not giving you some innovative and chic ideas? Intrigued? Check out these beautiful Umbrella Phoolon Ki Chadar images and get inspired!
Umbrella With Tulle Trail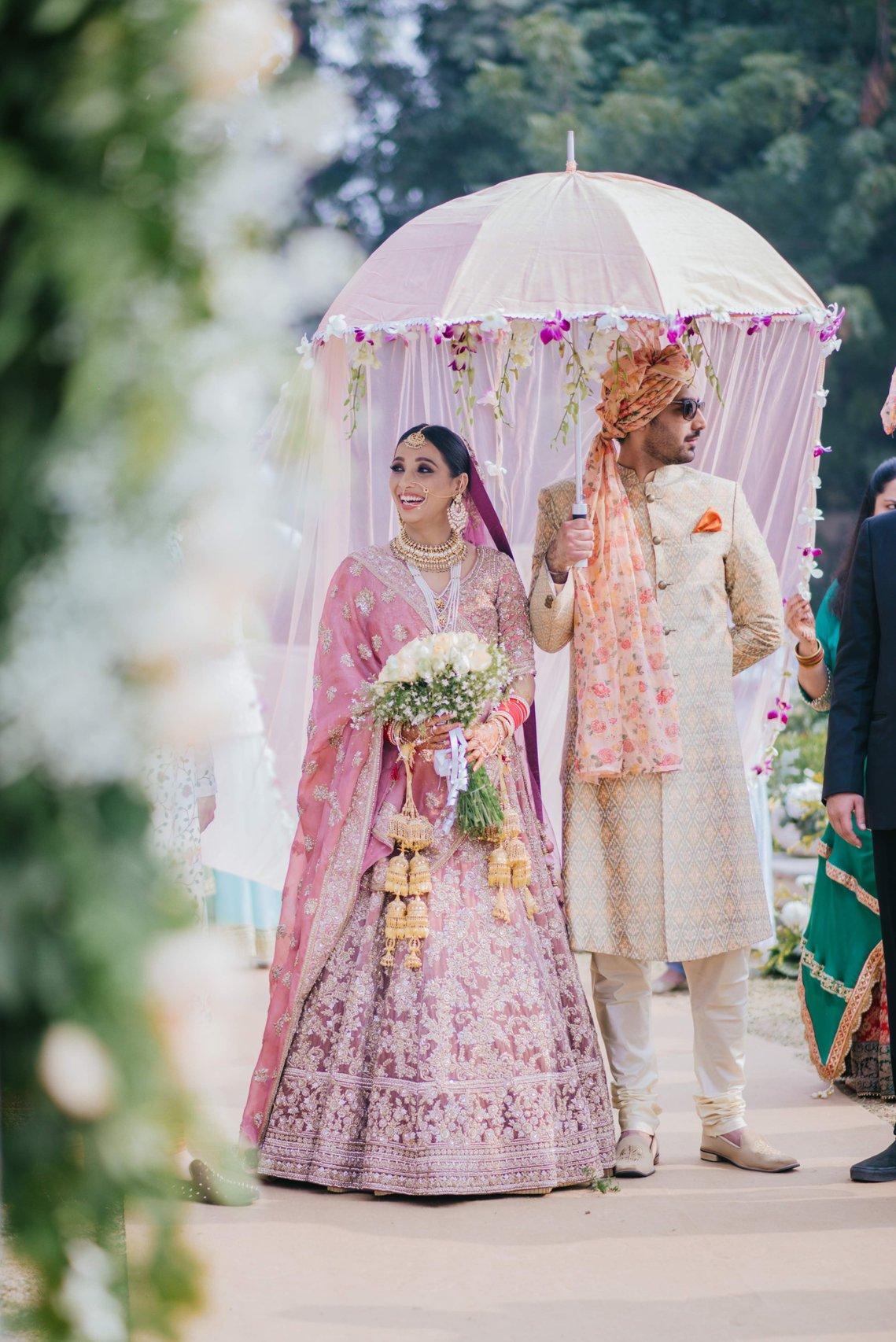 Go OTT with this super glam Umbrella Phoolon Ki Chadar that would totally give you the feels of a queen! Sport a pink lehenga with heavy embroidery all over it to look perfectly in sync with your pink umbrella chadar with a long tulle trail. Decorate the umbrella with pink and purple orchids for that extra magical touch!
Baby Pink Parasol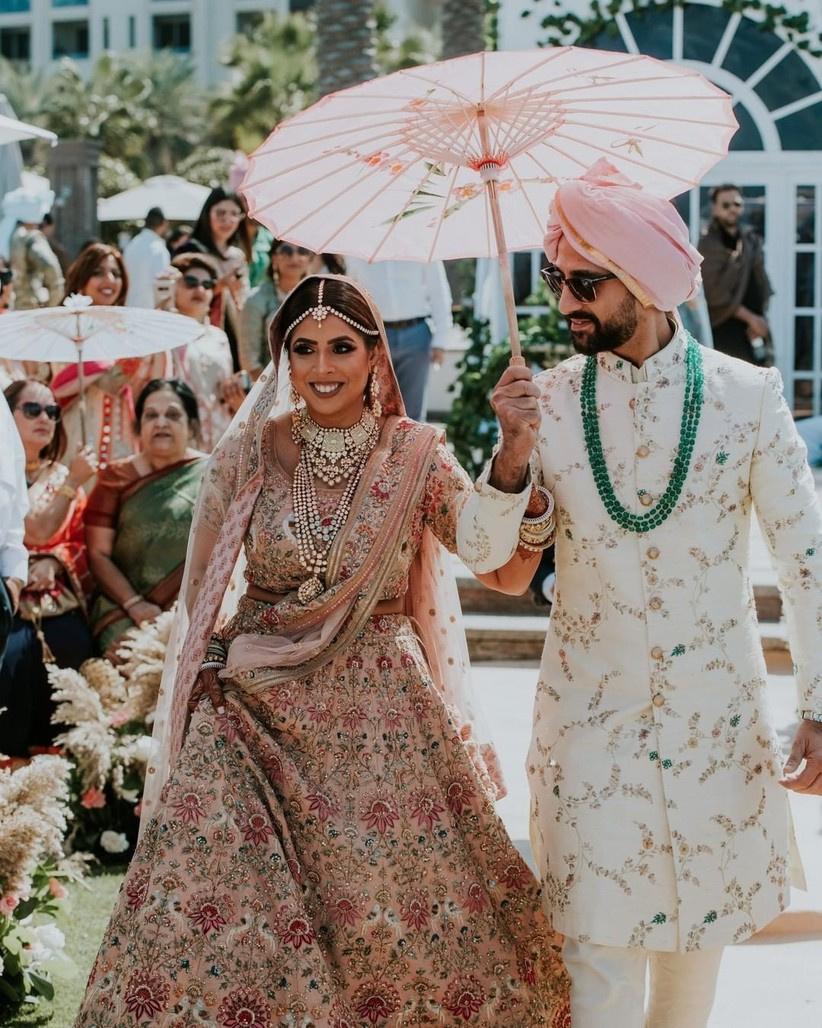 Image Courtesy: Fih Fotographie
A parasol is quite a trend when it comes to Phoolon ki chadar designs nowadays. Go for a baby pink parasol for an edgy look. The sleekness, the soft colour and the minimalist style make it the perfect choice to with a pastel or peach lehenga with floral embroidery.
Transparent Umbrella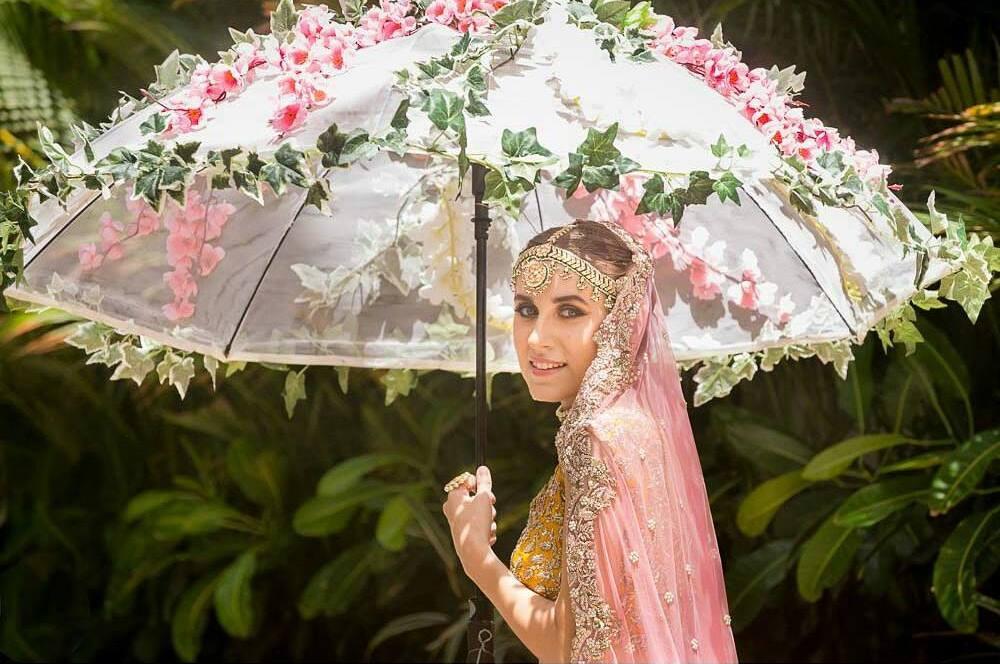 Try going for a transparent Umbrella Phoolon Ki Chadar to bring uber chicness to your bridal outlook. Especially if you're wearing a pastel lehenga or maybe ivory or white lehenga for your big day, a transparent umbrella with scarce floral streamers is the way to go!
Multi-colour Umbrella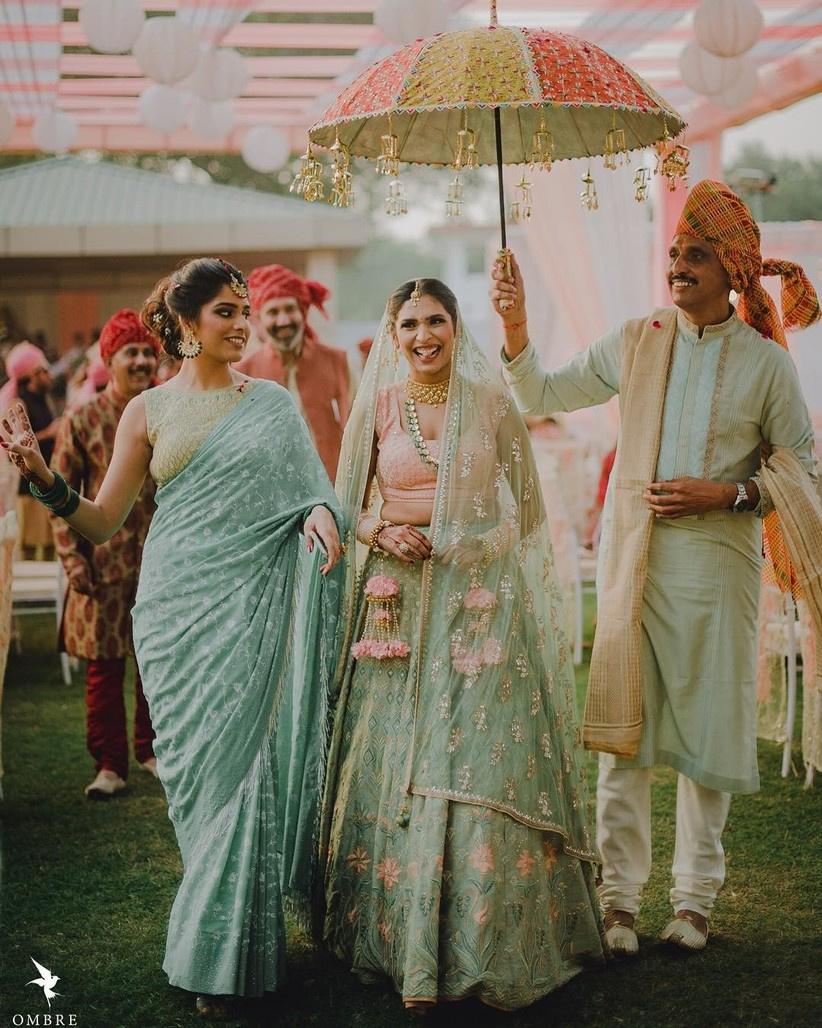 Brighten up your entry with a multi-colour Umbrella Phoolon Ki Chadar! Use vibrant shades like yellow, orange or red with golden Kalire hangings around the edges. You can also deck up the umbrella using bows and ribbons or artificial flowers. Use printed or embroidered cloth for the umbrella to dial up the glitz factor a bit more.
White Lacey Parasol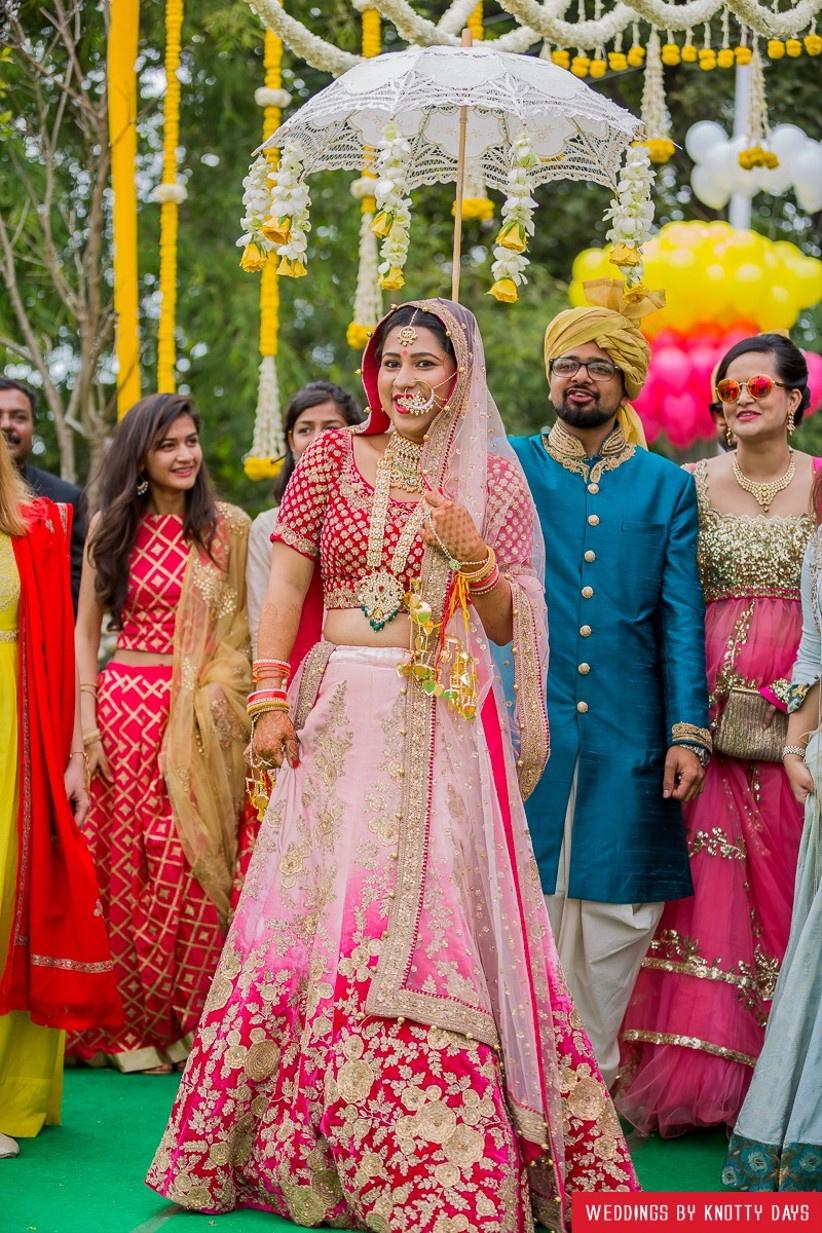 Another neat idea for your umbrella Phoolon Ki Chadar is to use a white lacey umbrella. The delicate lacework all over the umbrella would simply add oodles of dreaminess to your whole outlook. Wear a pink, Fuschia or maroon lehenga choli for a brilliant contrast.
Umbrella With Fresh Flowers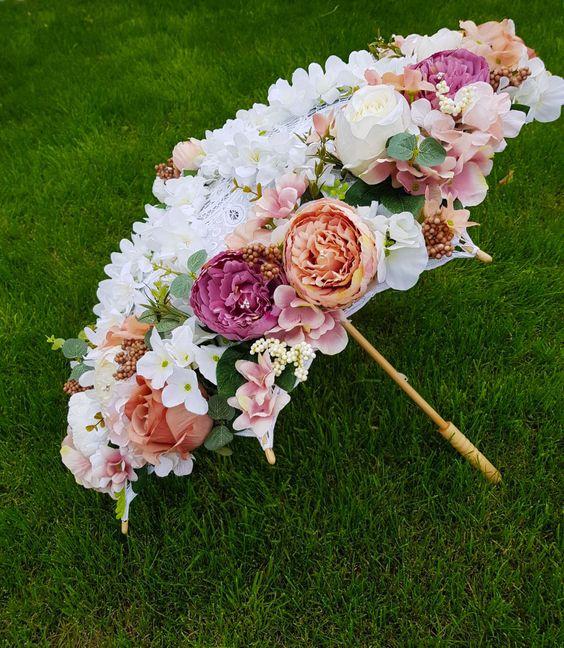 Image Courtesy: Etsy
Nothing compares to the charm of fresh flowers! So why not using them for your Umbrella Phoolon Ki Chadar as well? Create your chadar using fresh blooms covering the entire umbrella. Colourful roses, dahlias, carnations, hydrangeas...pick flowers that have large petals and use interesting colour combinations. You could match your chadar flowers with your wedding lehenga if you feel like going co-ord!
White Flower Chains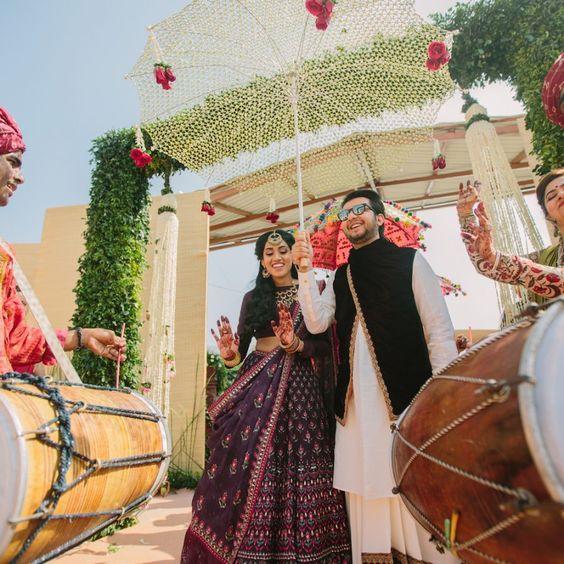 Image Courtesy: Pinterest
Simple yet elegant! Take cues from this stunning Umbrella Phoolon Ki Chadar made of white jasmine entwined in the shape of chains. This floral chain umbrella will add a breath of fresh air with its elegant beauty as well as the sweet fragrance. Add a few red flower danglers from the corners to incorporate some colours into the scheme. This kind of chadar would be best if you're going for a minimalist bridal approach.
Multiple Floral Umbrellas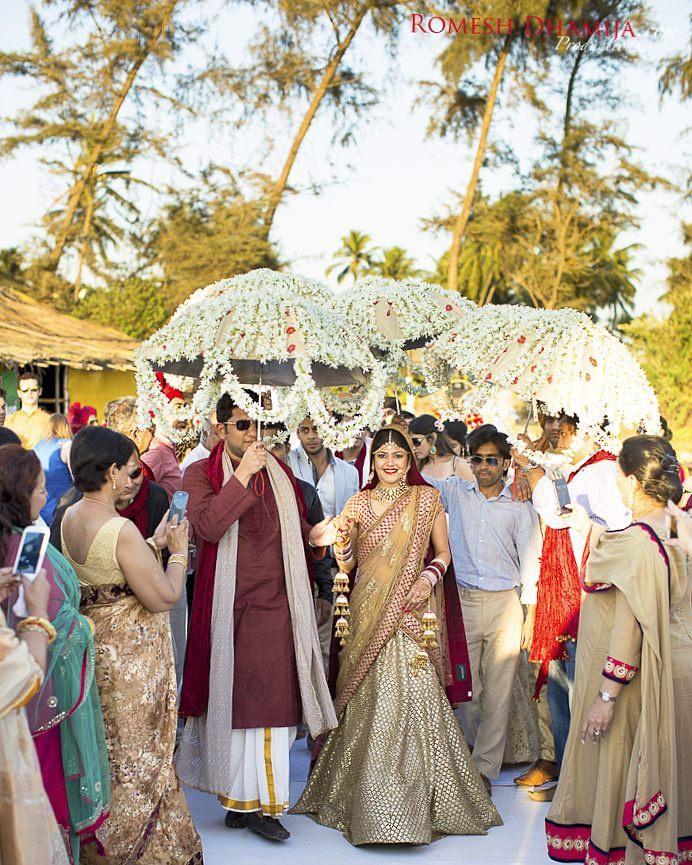 Especially ideal for a summer day wedding, multiple floral umbrellas are pretty and practical both! Using multiple floral umbrellas as your chadar would simply add to your royal wedding theme by enhancing the regal aura. Walk like a royal princess in the shade in your heavy lehenga!
All Red Umbrella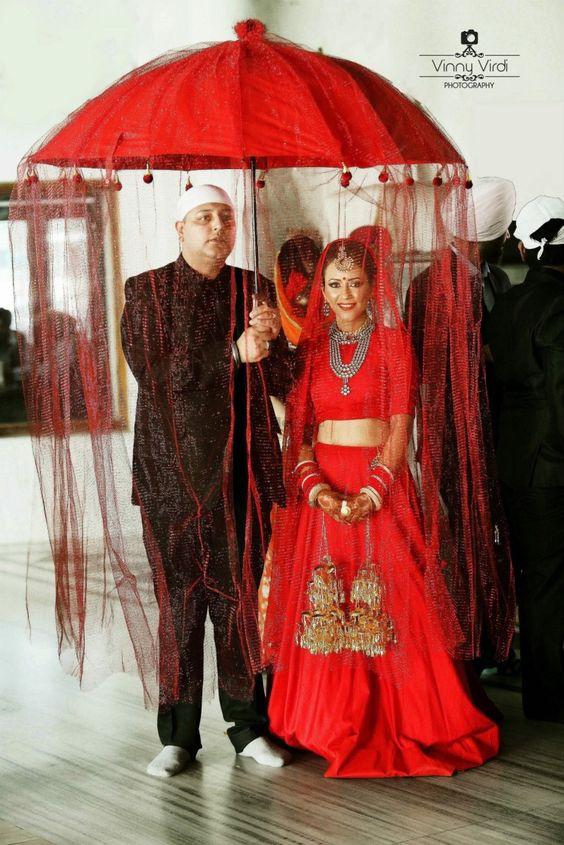 Image Courtesy: Vinny Virdi Photography
How can we not include a red Umbrella Phoolon Ki Chadar for an Indian wedding? Go all the way- a blood red lehenga, a matching red umbrella as your chadar with red net curtains hanging from all the sides. Give the touch of love not only to your wedding outfit but your whole bridal persona!
Rajasthani style umbrellas for your Rajput royal wedding or sophisticated white parasol for a chic wedding- choose your Umbrella Phoolon Ki Chadar keeping the whole wedding theme in mind. Your wedding dress, the colour, location and time of wedding all these factors should complement your chadar. You can also pick a colour theme and use different shades for your outfits and your Phoolon ki chadar designs. Create your own style statement and set a new bridal trend for all the future brides!

Image Courtesy: Marine Weddings
Which one of these Umbrella Phoolon ki chadar designs did you like the most? Share your thoughts with us in the comment section below!