16 Flower Design Images For Jewellery And Wedding Décor Ideas
Flower design images are the best things to search up if you're looking for some interesting tips on wedding décor or ideas for your Mehndi, Sangeet or Haldi jewellery.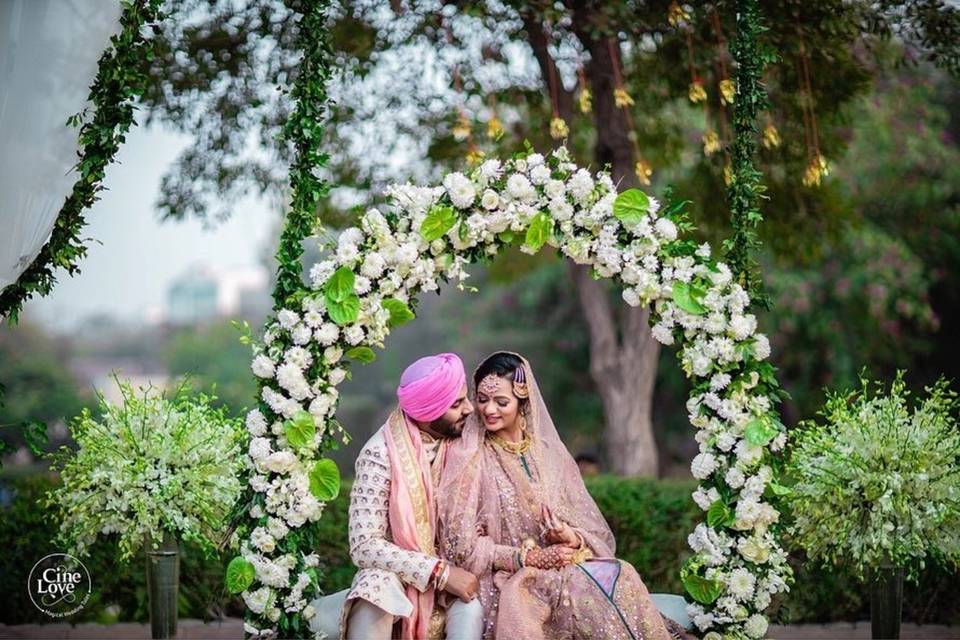 If you're looking for some amazing handcrafted floral and Gota jewellery or wedding décor ideas using artificial flowers, then you're at the right place. Here we're going to give you some great flower design images using some of the finest blooms that simply amplifies your personality and adds an extra touch to your whole attire.
With a wide range of artificial floral accessories available today, you can wear these for any of your special occasions like Mehndi, Sangeet or Haldi functions. These flower design images are trendy, beautiful and modern.
Designers who specialise in artificial floral designs keep in mind the different wishes and desires of the couple before coming up with the final design. Artificial floral jewellery collections include jewellery sets, bridal sets, necklaces, pendants, bangles, bracelets, kadas, rings, earrings, armlets and anklets. If you're looking for artificial flower design images to deck your hall or venue then we also have some great table and backdrop flower design images as well. So go ahead and get inspired with these amazing designs!
1. Flowers for those stunning clicks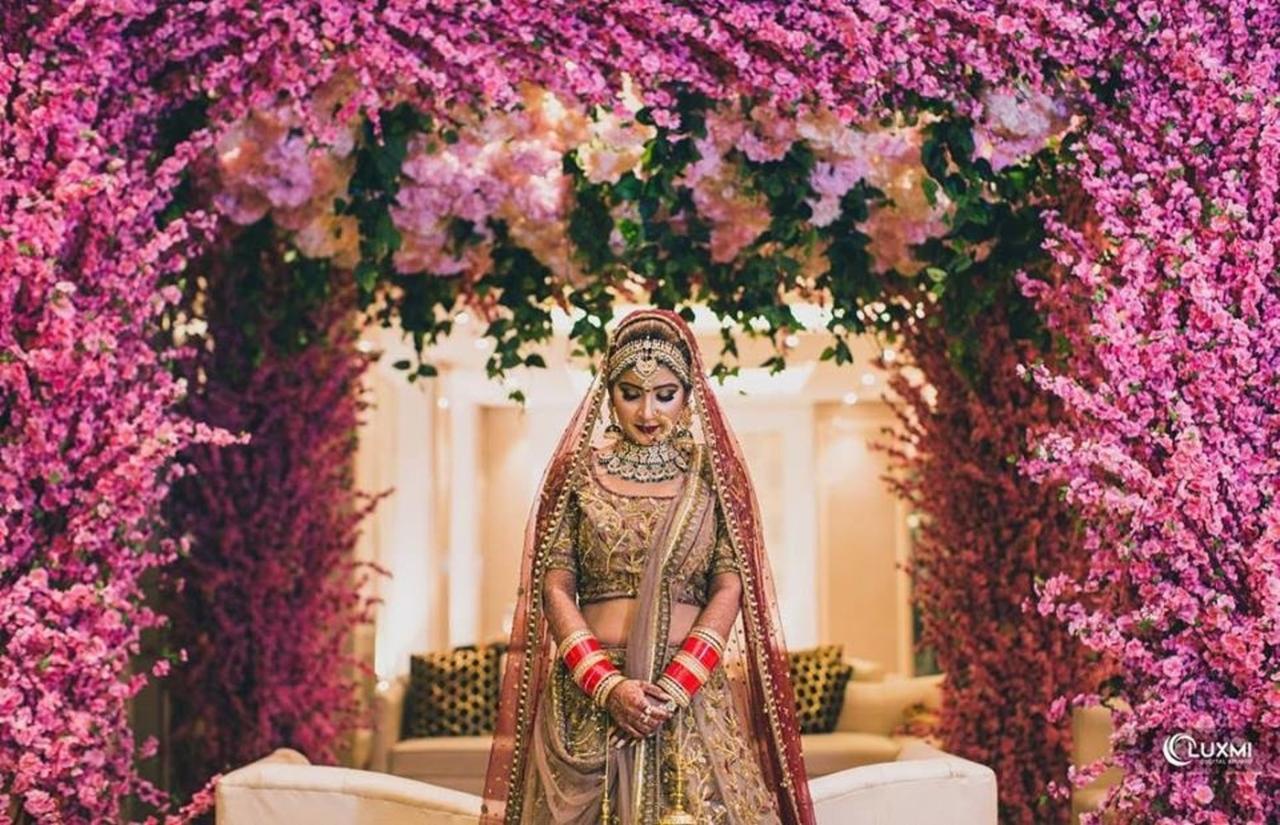 If you're looking for some great flower design images for your venue décor, then hope this one will give you some great ideas. Beautifully covered in pink flowers, this bridal image is extremely beautiful. You could go in for something like this and capture some great clicks under these beautiful flowers.
2. Show off that floral Nath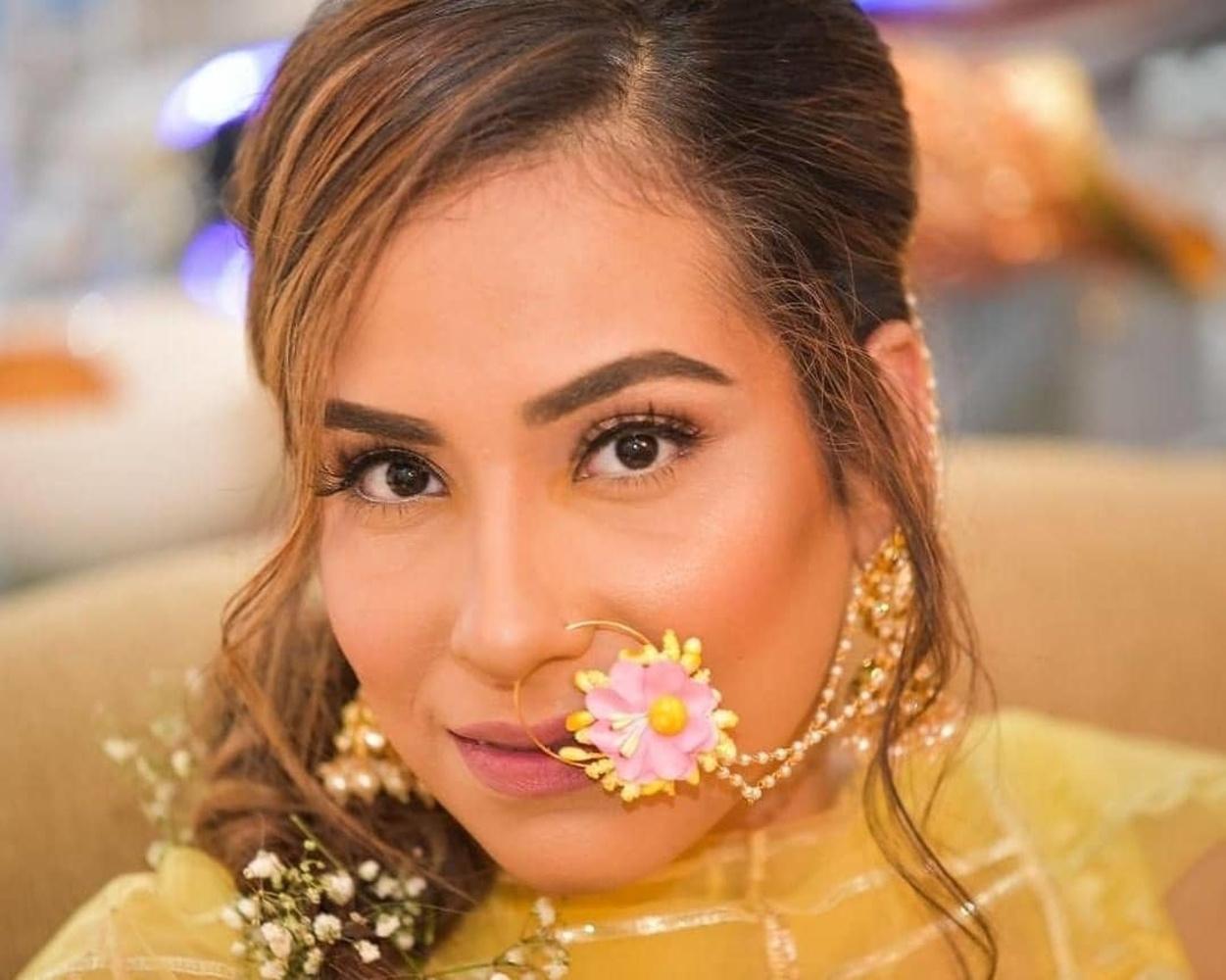 If you're on the search for some striking flower design images to help you with your big day, then a floral Nath is also another great idea to go for. Watch how this stunning to-be-bride shows off her lovely floral Naath for her Mehndi celebration. How beautiful is this?
The pretty yellow and pink flowers, handcrafted with the beautiful beads are a perfect way if you want that fun and happening look for a Sangeet, Mehndi or Haldi celebration.
3. Floral bangle beauty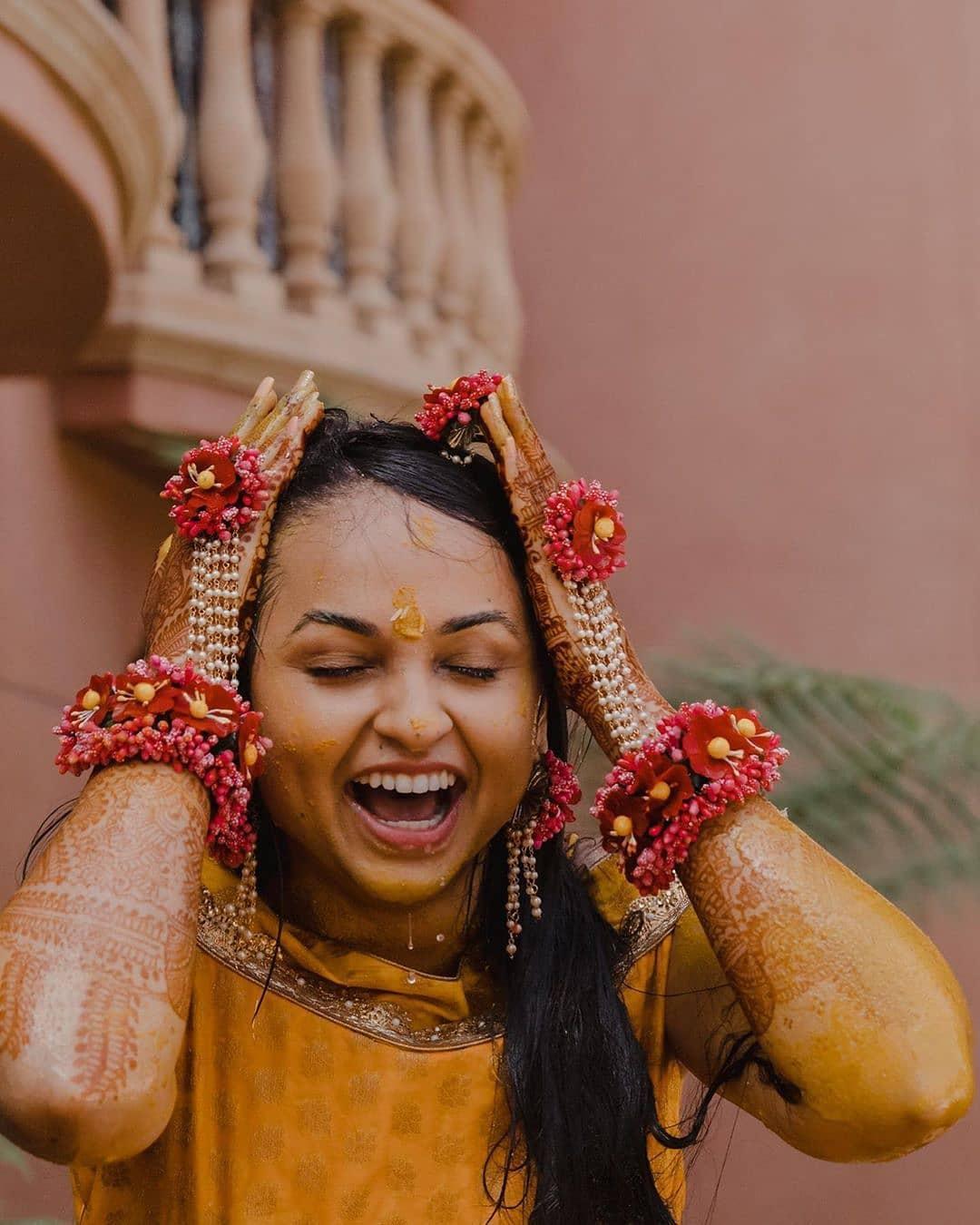 In this article, we will give you some amazing flower design images that will help you come up with some great jewellery ideas for your wedding functions. Try going for floral bangles just like this for a great look.
Go for bright colours like pink, yellow and red for a fun function like a Haldi or Mehndi. This artificial jewellery is done to perfection with amazing bead and Gota work designs.
4. Match it all up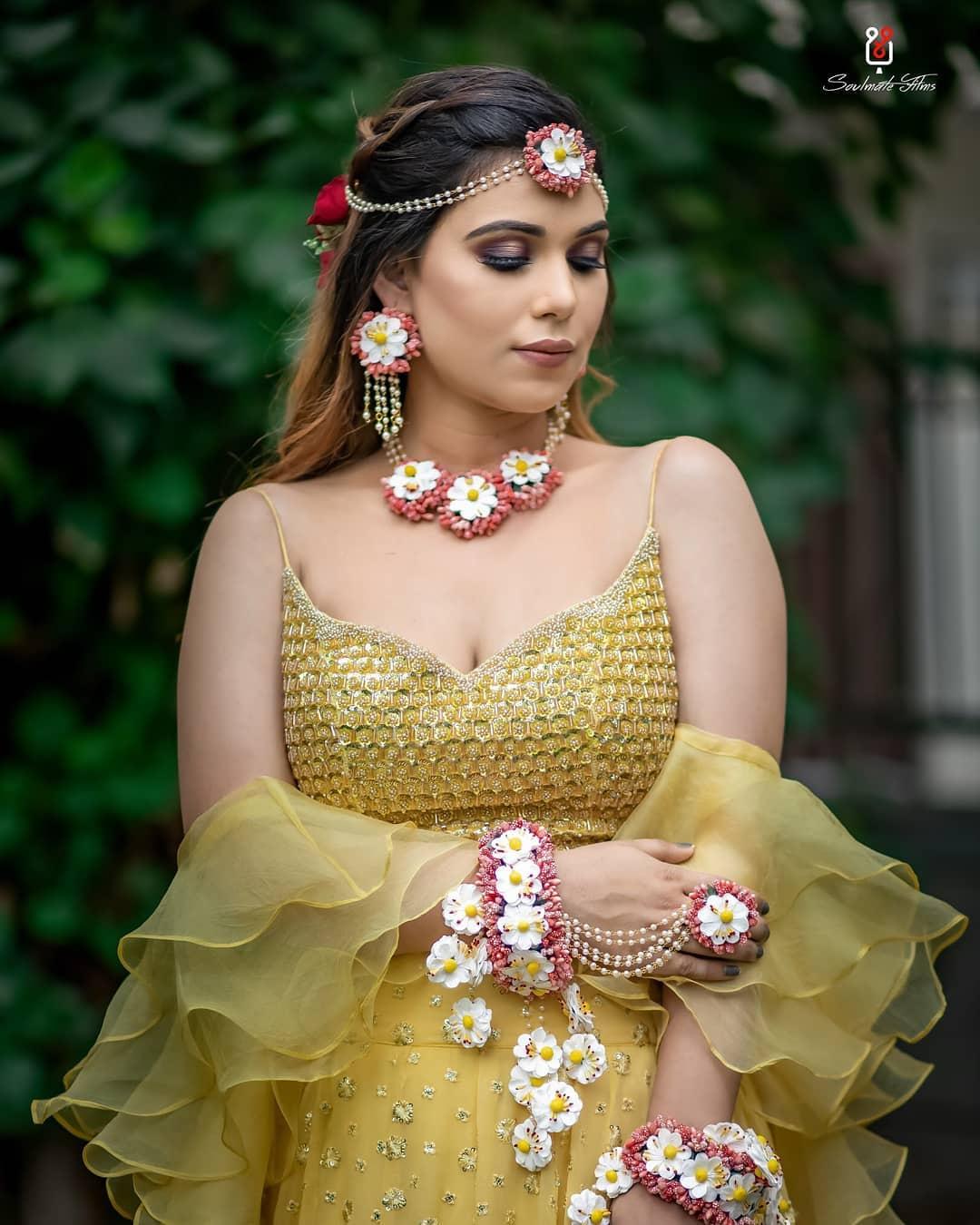 If you want that sassy and fun look for your Mehndi or Haldi, go with a look just like this. In this article, we bring to you some of the best flower design images that are simply impressive. This to-be-bride has done it right and has gone with the full artificial jewellery look that includes the earrings, necklace, Maang Tikka, Bracelet and Haath Phool.
5. Handcrafted floral earrings
Earrings are an essential part of every woman's attire. If you're looking for some interesting flower design images to help you out with your bridal look, then going in for artificial jewellery for your pre-wedding functions is always a great idea. Artificial floral jewellery has become very popular these days, especially when it comes to brides.
These designs are available in a variety of awesome colours and designs. Check out these floral earrings that come with a mix of flowers and beads. A design like this can be teamed with just about anything. A great design for a pre-wedding occasion.
6. Make those hands look pretty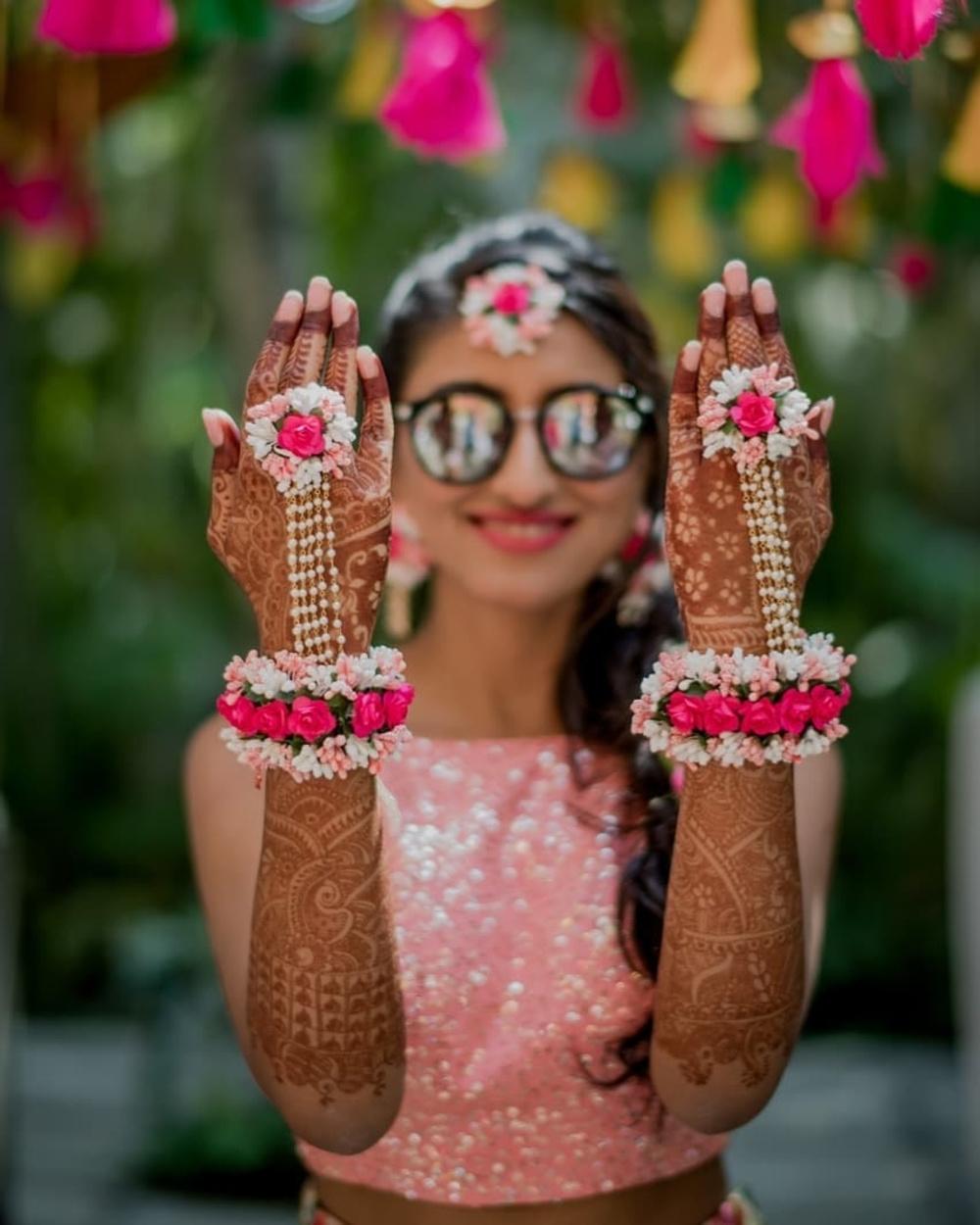 Hope you're loving our flower design images till now. We've still got some amazing ideas to help you out. Haath Phool is another great essential part of bridal jewellery that most brides consider a must. If you're having a colourful theme party for your Mehndi or Haldi function, then you could opt for a beautiful floral designed Haath Phool that are elegantly made just for a pre-wedding function.
Look how this to-be-bride has her mehndi-filled hands adorned with these stunning Haath Phool designs. Made with a bunch of colourful flowers – dark pink, light pink and white, this Haath Phool is handcrafted really well.
7. Don't leave that headgear out!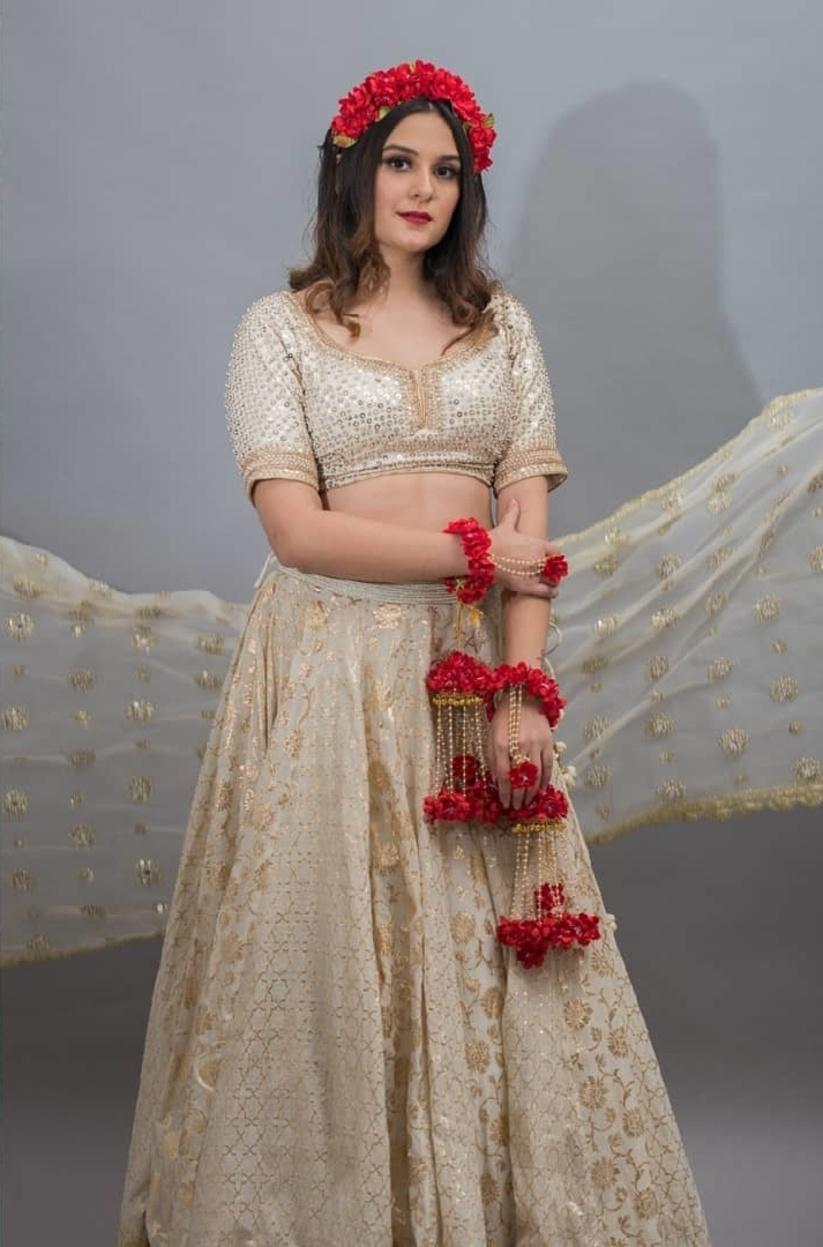 How pretty are headgears when they come with the right colours, do you agree? These flower design images are the best ones we've found just for you. Standing pretty in a red floral headgear, this one is matched to perfection.
Going well with this off-white and gold lehenga, you could wear jewellery like this for your pre-wedding function to steal the show. To make the event a little more theme-oriented, you could get these made for your girl gang or bridal squad as well.
8. For those stunning destination weddings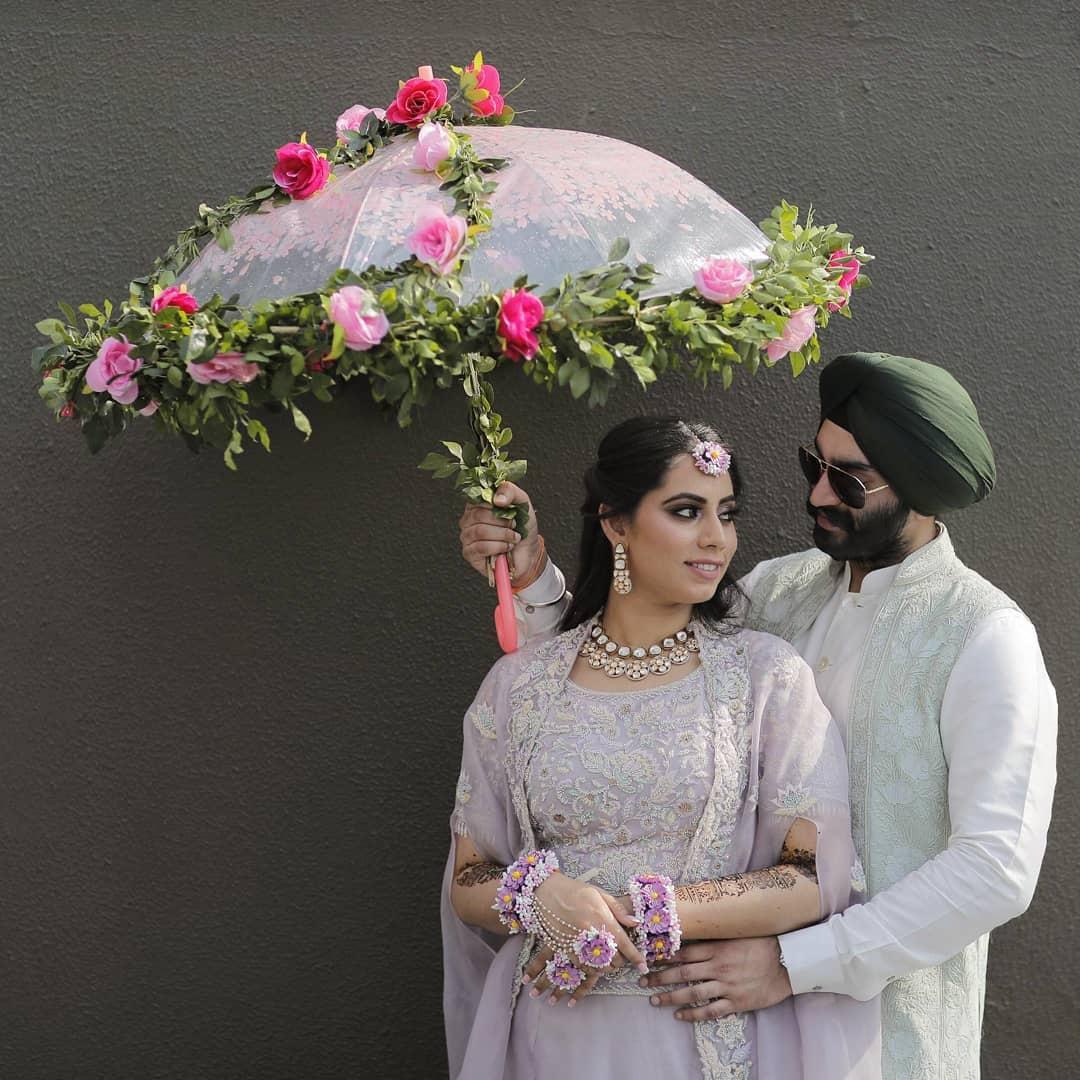 Are you planning a lovely destination wedding and looking for flower design images? Here's one that will help you capture some amazing wedding clicks. This umbrella that's beautifully decorated with flowers makes for a lovely décor. Get these made for your big day too and click away!
9. Show off your hair accessories in style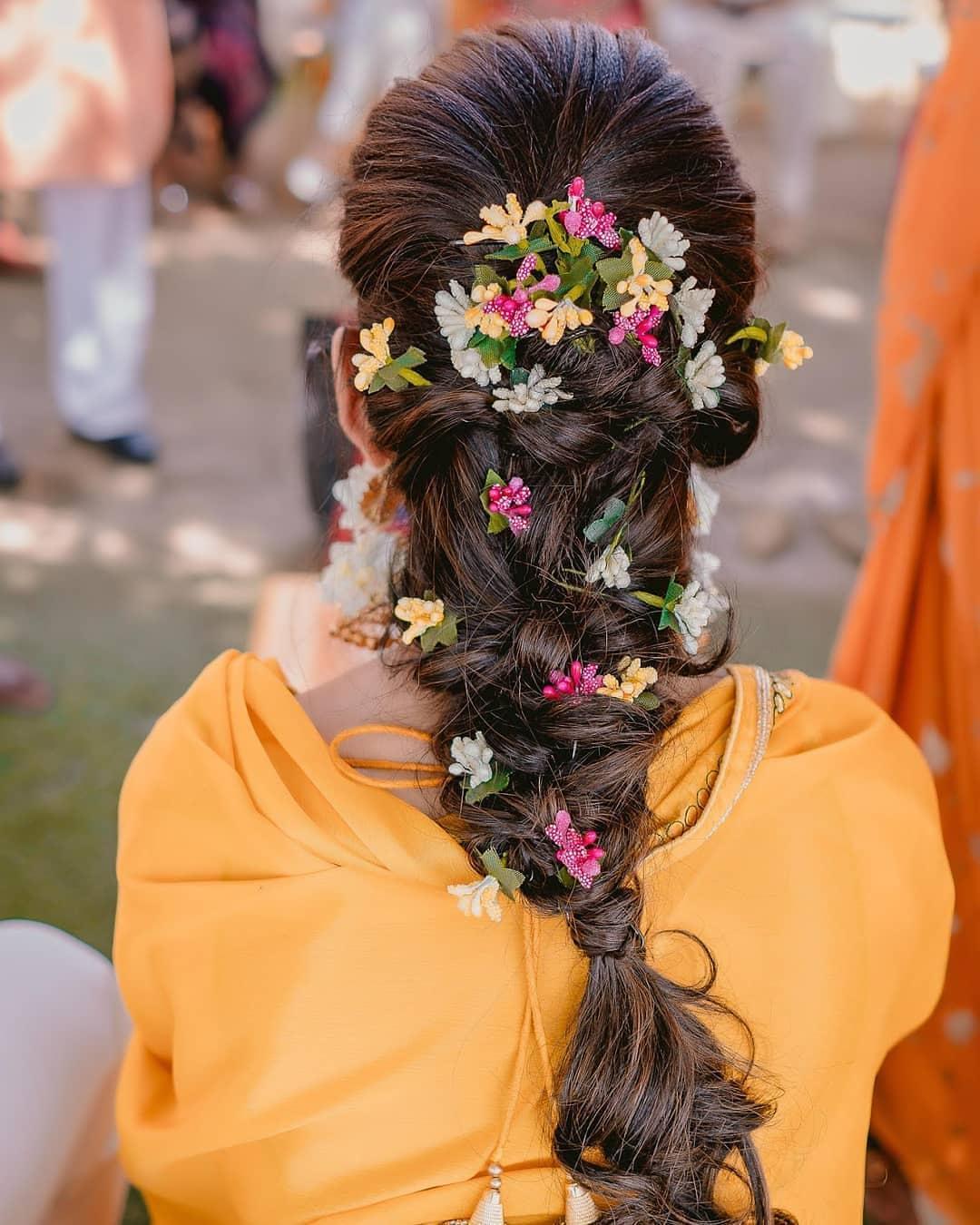 Whether it's your Haldi, Mehndi or Sangeet, try out silk flower accessories for your hair to add a beautiful pop of bright colours to your tresses. See how gorgeous these colours look on this to-be-bride for her Haldi.
Flowers like these are perfect for all your pre-wedding occasions that call for bright traditional wear. Artificial flower jewellery is also great for destination weddings as well.
10. Cover up your venue with flowers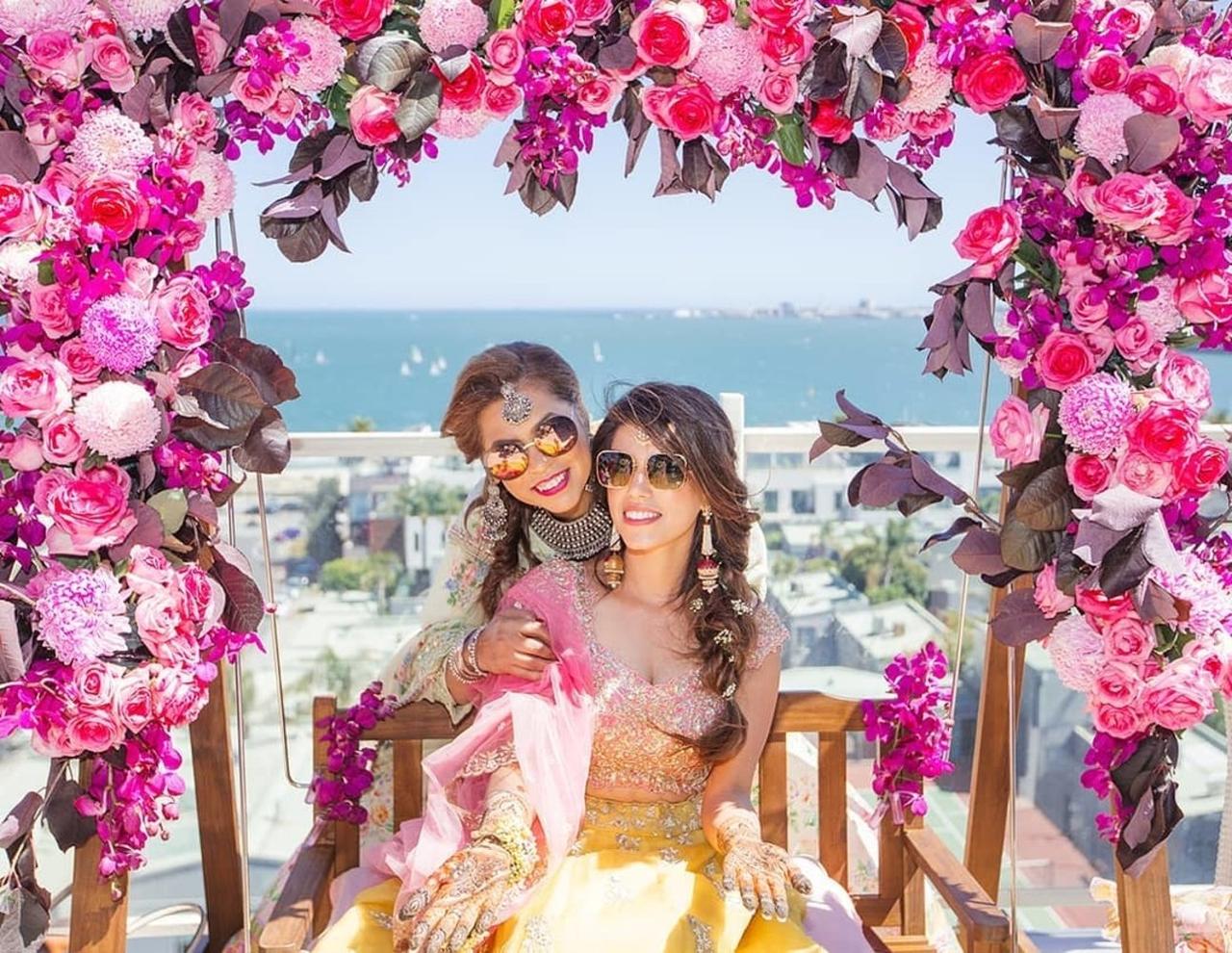 This is one of the best ways to go if you're looking for some amazing venue décor. Fill the venue with loads of beautiful flowers and make it look inviting and pretty. There are plenty of flower design images for venue décor that will give you some great ideas on how to decorate your venue for a grand occasion.
11. Sit pretty in a circle of flowers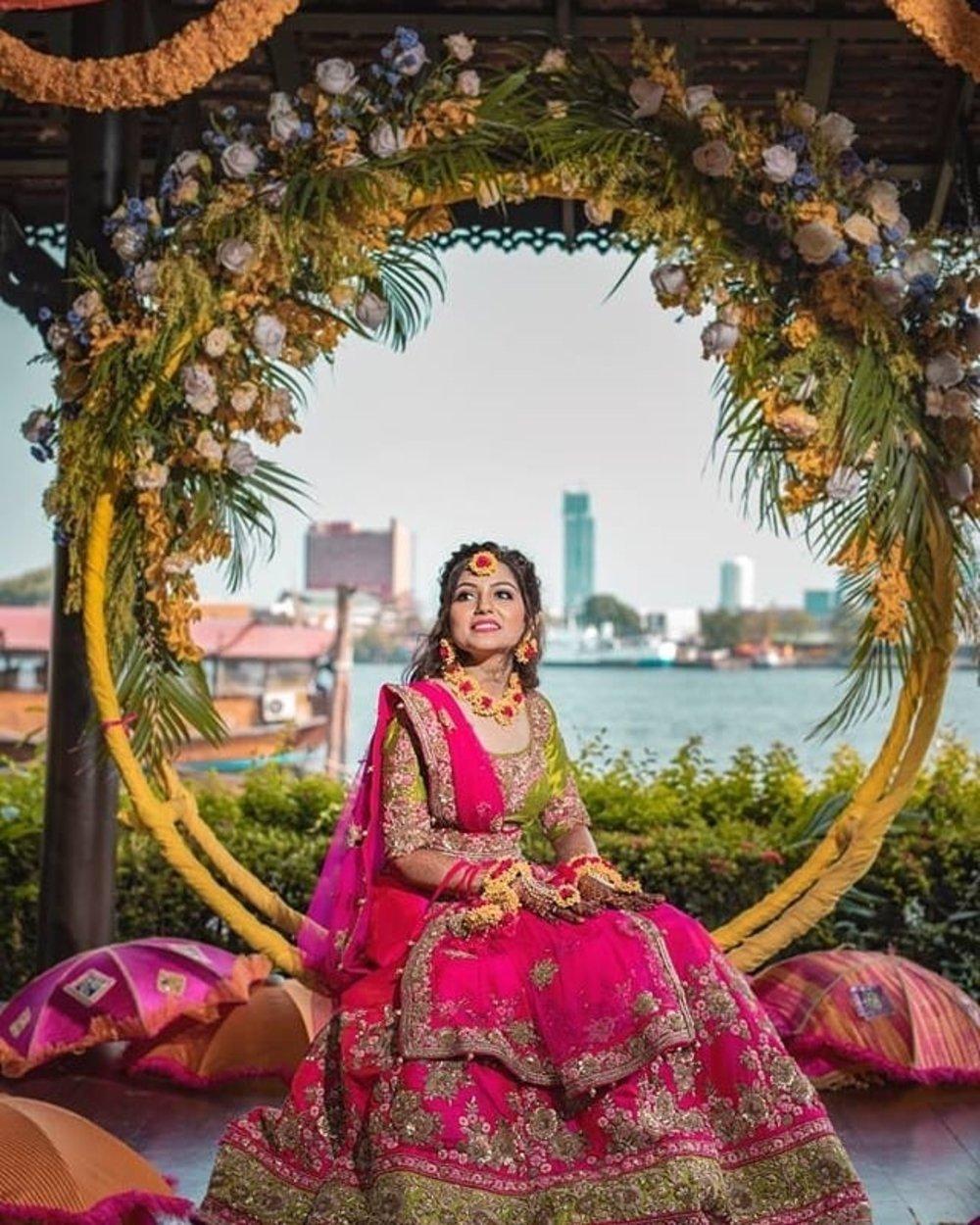 Another great way to get some great wedding clicks is to go with a beautiful flower décor for your backdrop. See how this lovely backdrop comes alive with these pretty circle of flowers. The beautiful pink lehenga in combination with the artificial floral jewellery and floral backdrop makes for a really lovely picture.
12. Flowers and your girl gang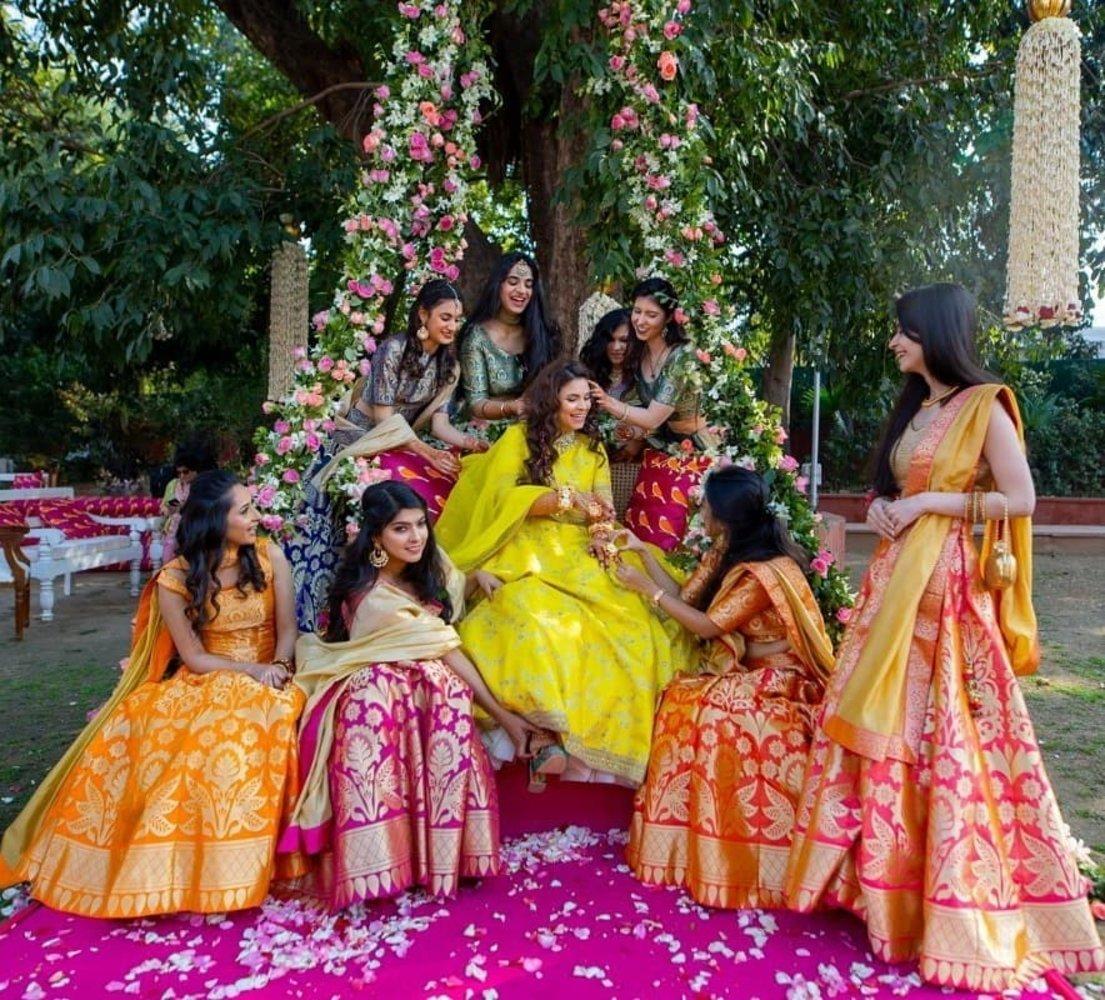 Your pretty girl gang completes all your bridal photos, right? So go ahead and make those clicks look stunning with beautiful flower decorations all around. Check out this beautiful image where this bride sits with her girl gang under beautiful curtains made with flowers. Decorated in the best way possible, a picture like this is definitely impressive!
13. Flower jewellery for the South Indian bride too!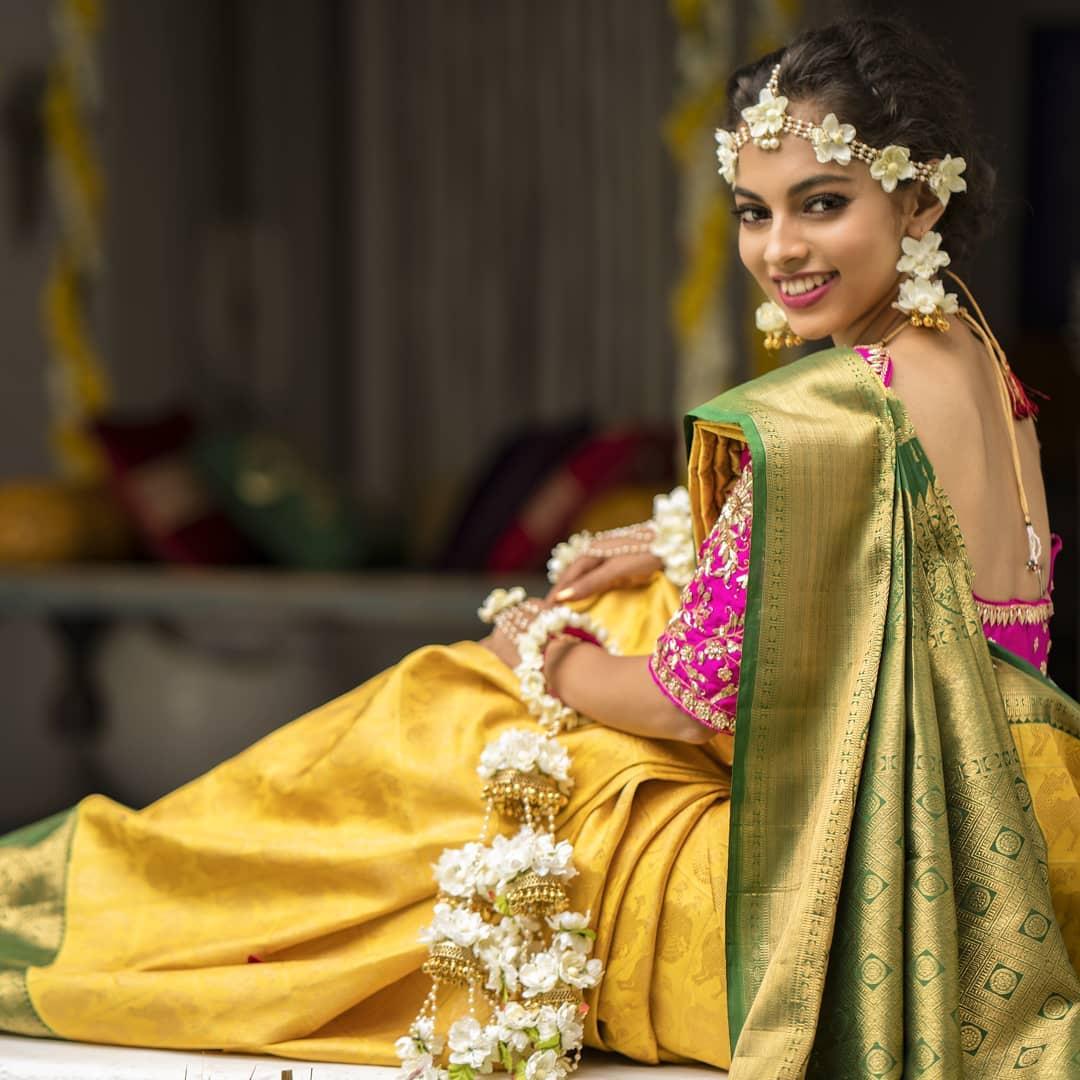 If you're a South Indian bride looking for some great flower design images for jewellery, then take a look at this stunning bride. Sitting pretty with her white Maang Tikka and earrings, this bride looks perfect in every way.
14. Be a beauty in white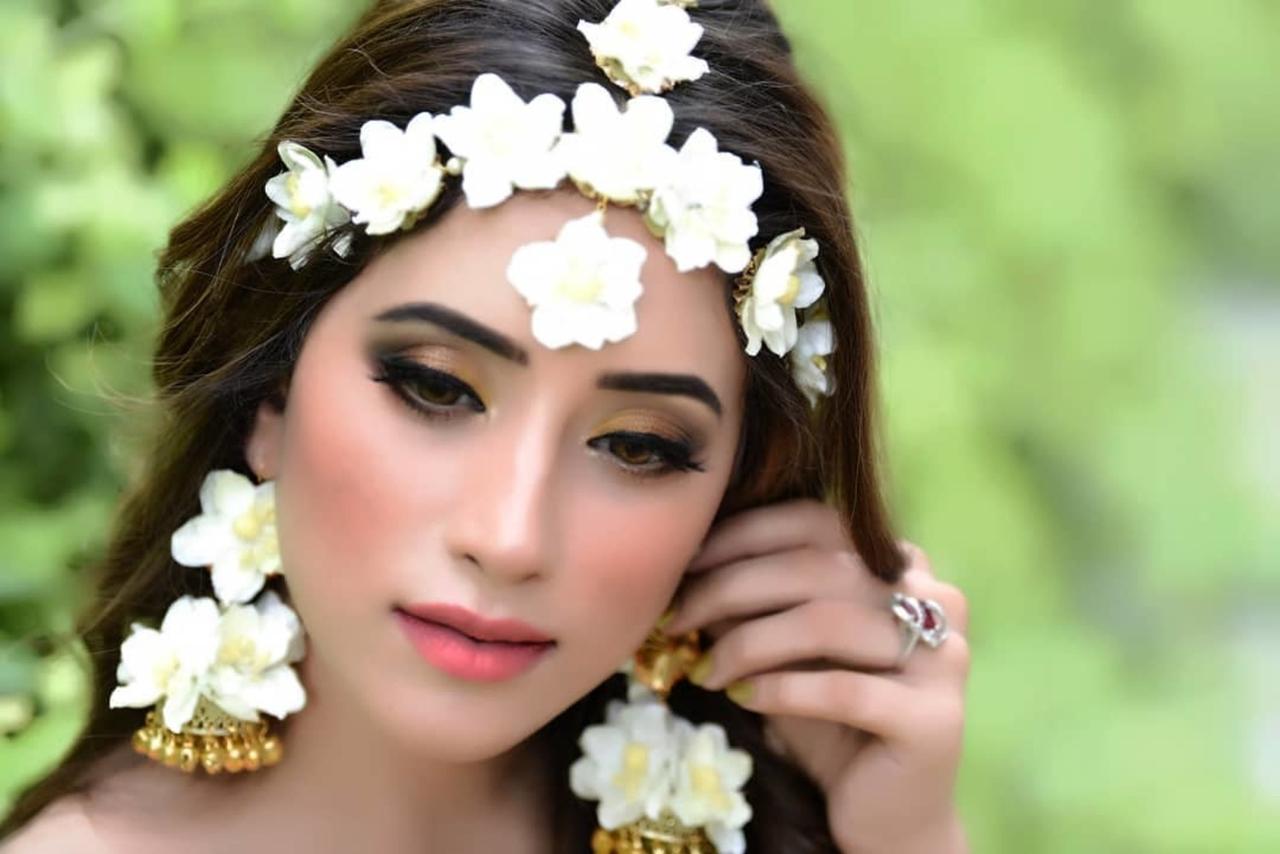 Sometimes simple white flower jewellery is all you need to look stunning and elegant. Go with pretty white flowers on Jhumka earrings and a Maang Tikka that looks pretty like this for the best look.
15. Don't forget those anklets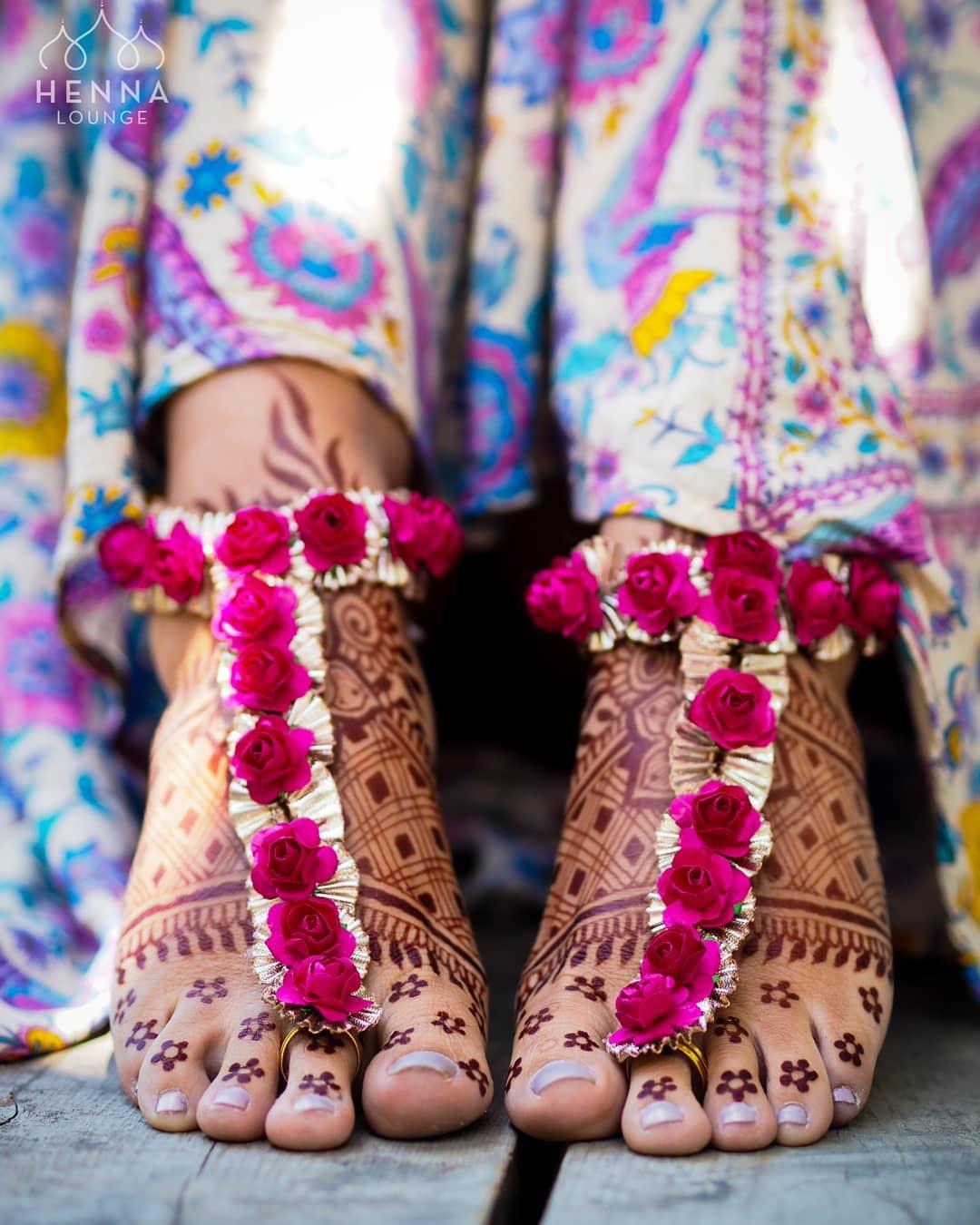 Image Courtesy: Henna Lounge
Why leave those feet out? Adorn your mehndi-laden feet with floral anklets just like this bride. Done right, these flower anklets look really gorgeous.
16. Flowers for your table decorations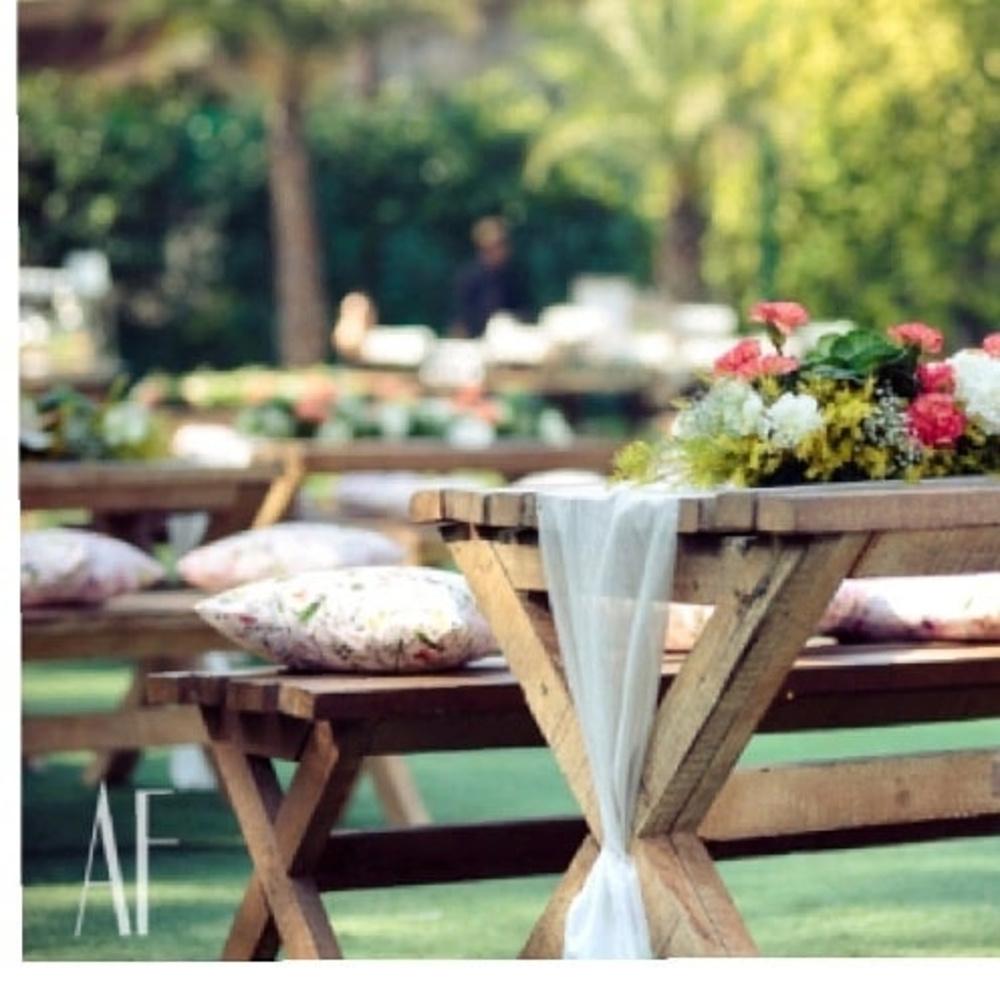 Flowers have the ability to turn anything into something spectacular right away! Make those tables look pretty too, and use flower décor to brighten up your tables for your wedding. You could also go with flowers to make pretty table pieces and takeaways for your wedding as well.
Hope you like these amazing flower design images for all your wedding jewellery and décor. Use the beautiful artificial flowers for just about anything when it comes to your wedding and watch everything brighten up beautifully.
If you found these flower design images fabulous, then let us know in the comments below which ones you liked the best.