7 Artificial Flower Jewellery Online Ideas To Be Playful, Yet Right
Are you exhausted of scrolling through artificial flower jewellery online inspirations for you or your bestie's wedding functions? Then just view these and get your favourites made.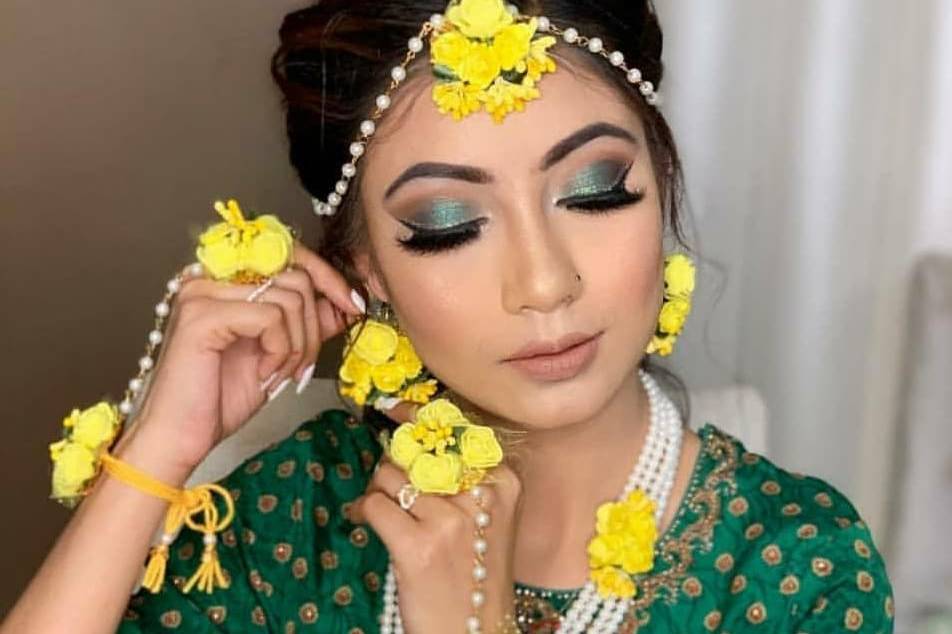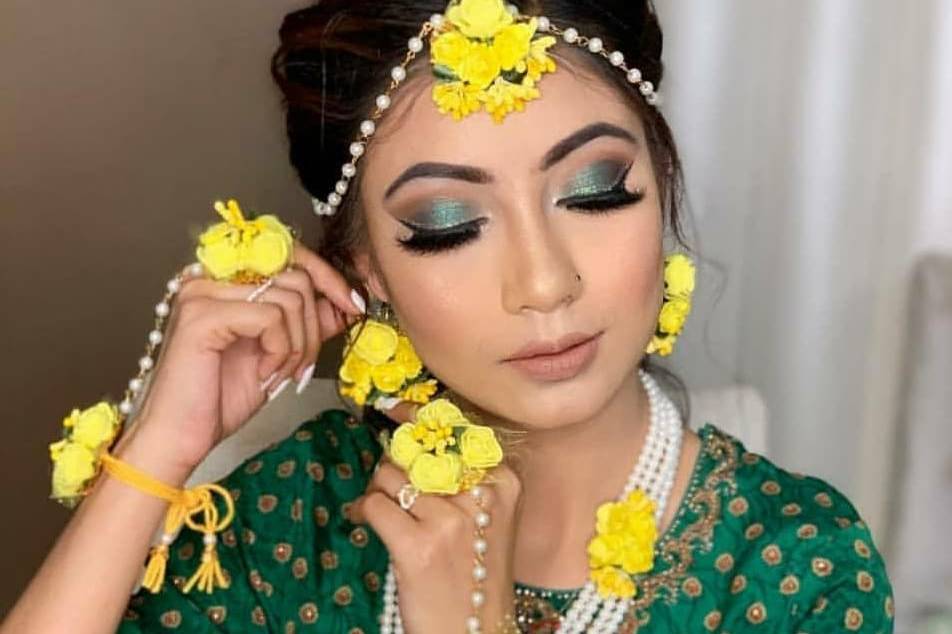 Image Courtesy: Shubh Creation
Has the beautiful variety of artificial flower jewellery online managed to tempt you for this wedding season? You will be amazed to see the possible variety of artificial flowers available on social media platforms. Whether you want grand floral pieces or complete jewellery set in a rare colour, a sunflower set of dry flowers or the flowers made up of paper or even ribbon, sellers of handmade floral jewellery on Instagram have something for all your wedding moods!
Are you looking for artificial flower jewellery online? Here is a list of lovely floral jewellery pieces adorned by gorgeous brides to be. All these floral beauties can be easily found on Instagram through various floral artists who have creative hands. So if you were asking your stars to help you find the right artificial flower jewellery online (in time), then my friend, your prayers have been heard!
1. Sunflower Jewellery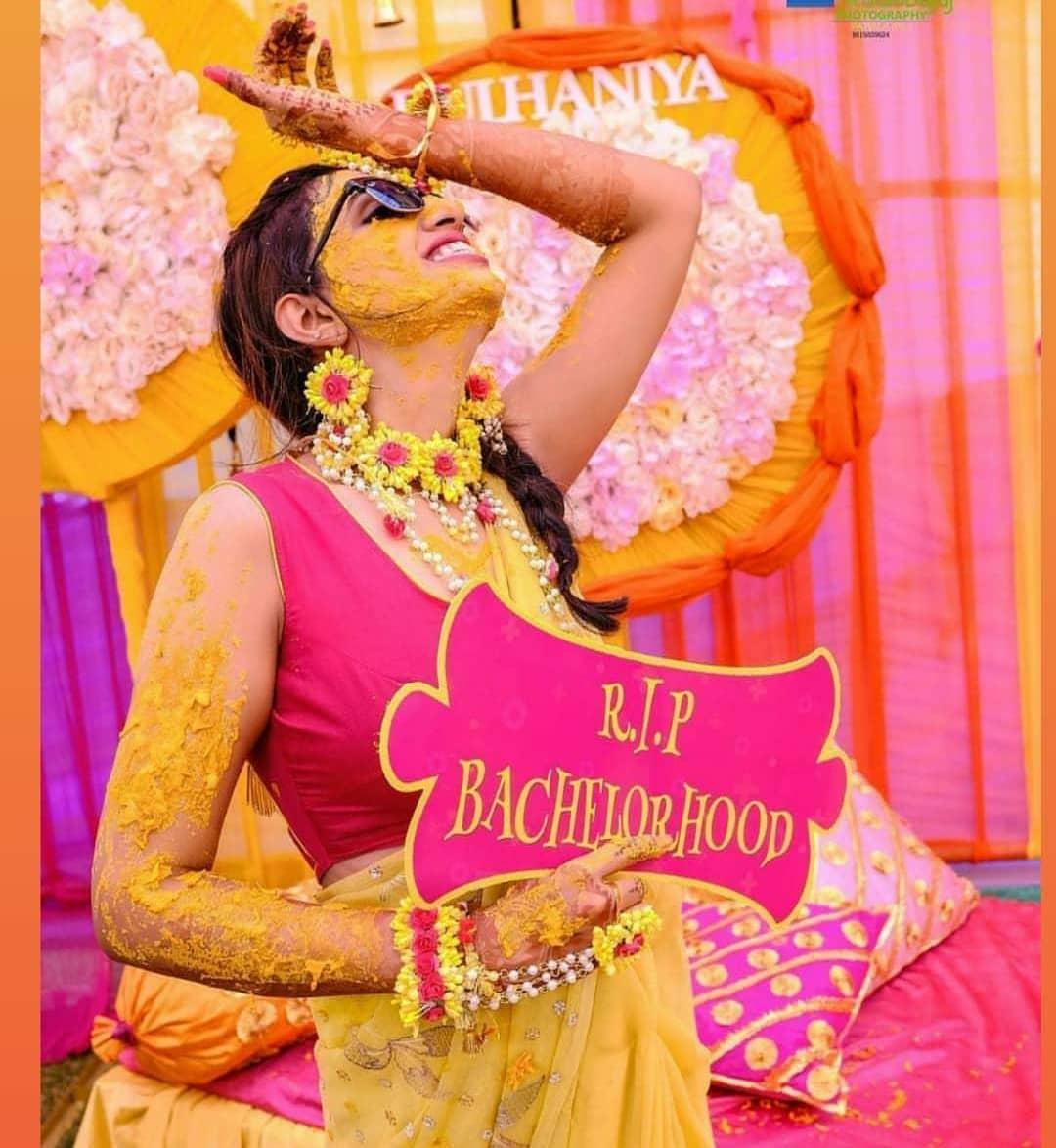 Image Courtesy: Shubh Creation
This gorgeous bride looks like she is having a great time at her Haldi in intricate jewellery with lovely artificial sunflowers, curated exclusively for her. Wreathed neatly with tiny white pearls and a dash of pink in the centre, the artificial flower set is completely customised to match her pretty lehenga.
You can easily buy this bright yellow artificial flower jewellery online or you can get a totally different floral set made exclusively for yourself, as per your lehenga for the respective function. Go with the latest trends and let everything fall right into place on its own. What better way to enjoy a summer wedding than adorning sunflower jewellery?
2. The Tiny Paper Flower Jewellery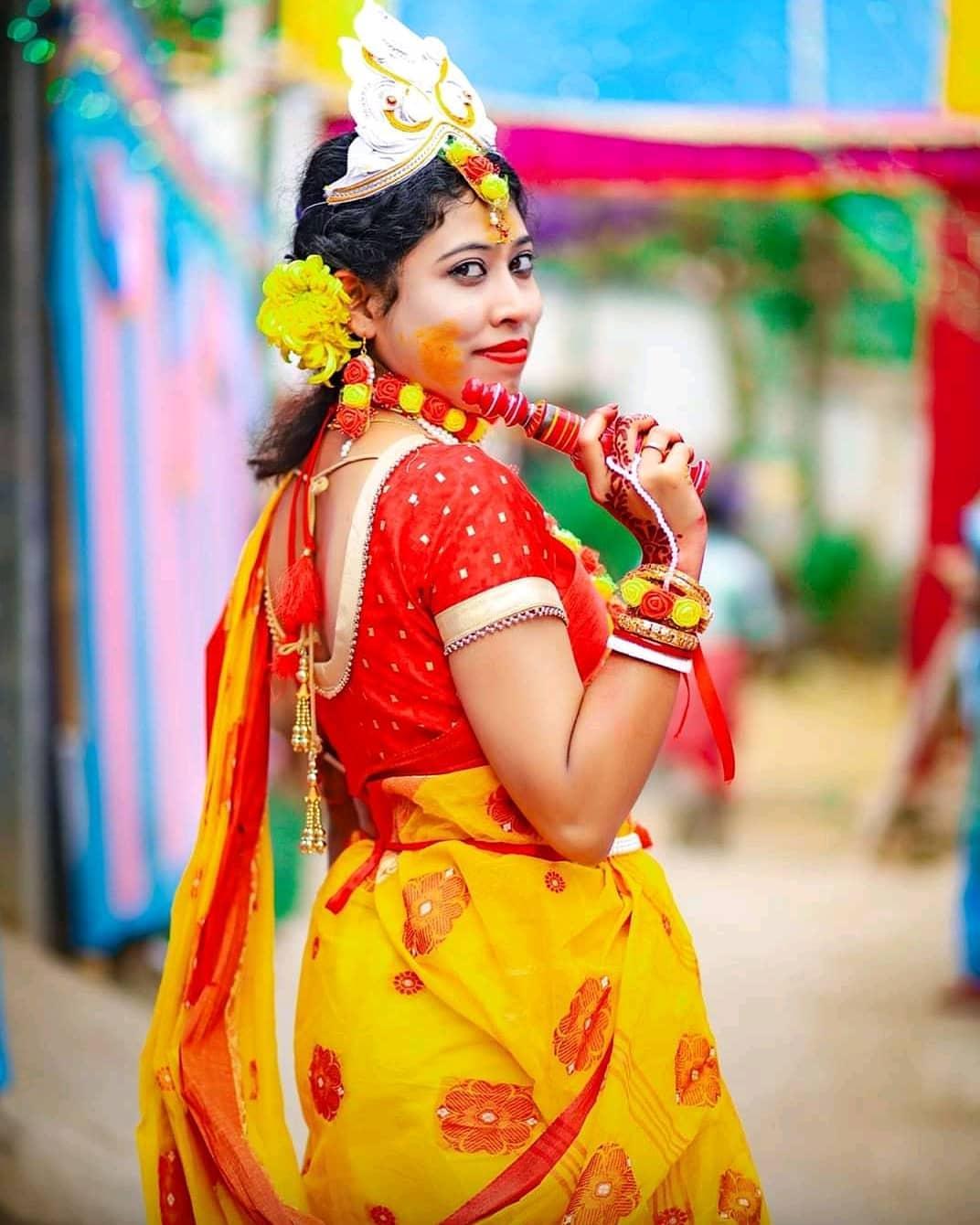 Image Courtesy: Florals by Saanvi
Are you already over the trend of wearing plastic made artificial flower jewellery online? Are you looking for something different for your dream wedding? We have the perfect thing for you! You will be amazed to know that you can buy lovely floral jewellery in a paper variant as well. Unlike other artificial flower jewellery online, this one is made with using a foam based paper, curated with a lot of hard work.
Such pieces take more time than it may seem. Each fine petal is neatly cut out and then glued together right at the centre. Multiple such flowers are then wreathed together to form that lovely Maang Tikka, Haath Phool, Kamarbandh, Kalire and much more. So, what are you waiting for? Order yours right away!
3. Curated with Love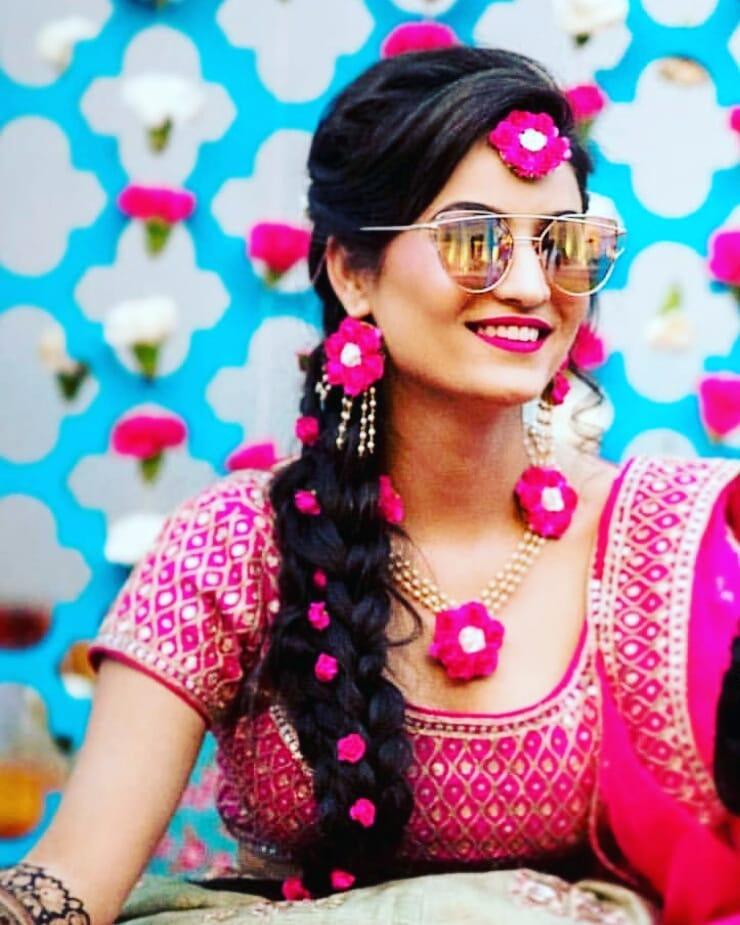 Image Courtesy: Shubh Creation
This is one of the simplest floral jewellery sets that you can get online. The advantage of going for such simpler versions of artificial flower jewellery online is that when chosen in the right shade, they have the potential to totally transform your wedding look. So let us not underestimate any artificial flower jewellery online and make full use of its potential.
With the right shade as mentioned above, I meant a shade that is either exactly the same as your outfit (like in the picture) or in dramatic contrast. The colour has a lot to do with the complexion of the lucky bride as well. A yellow set on a dark complexioned bride would look way more stunning than on a fair one. At the end of the day, it is your wedding, so it will be your rules.
4. Gold and Pearls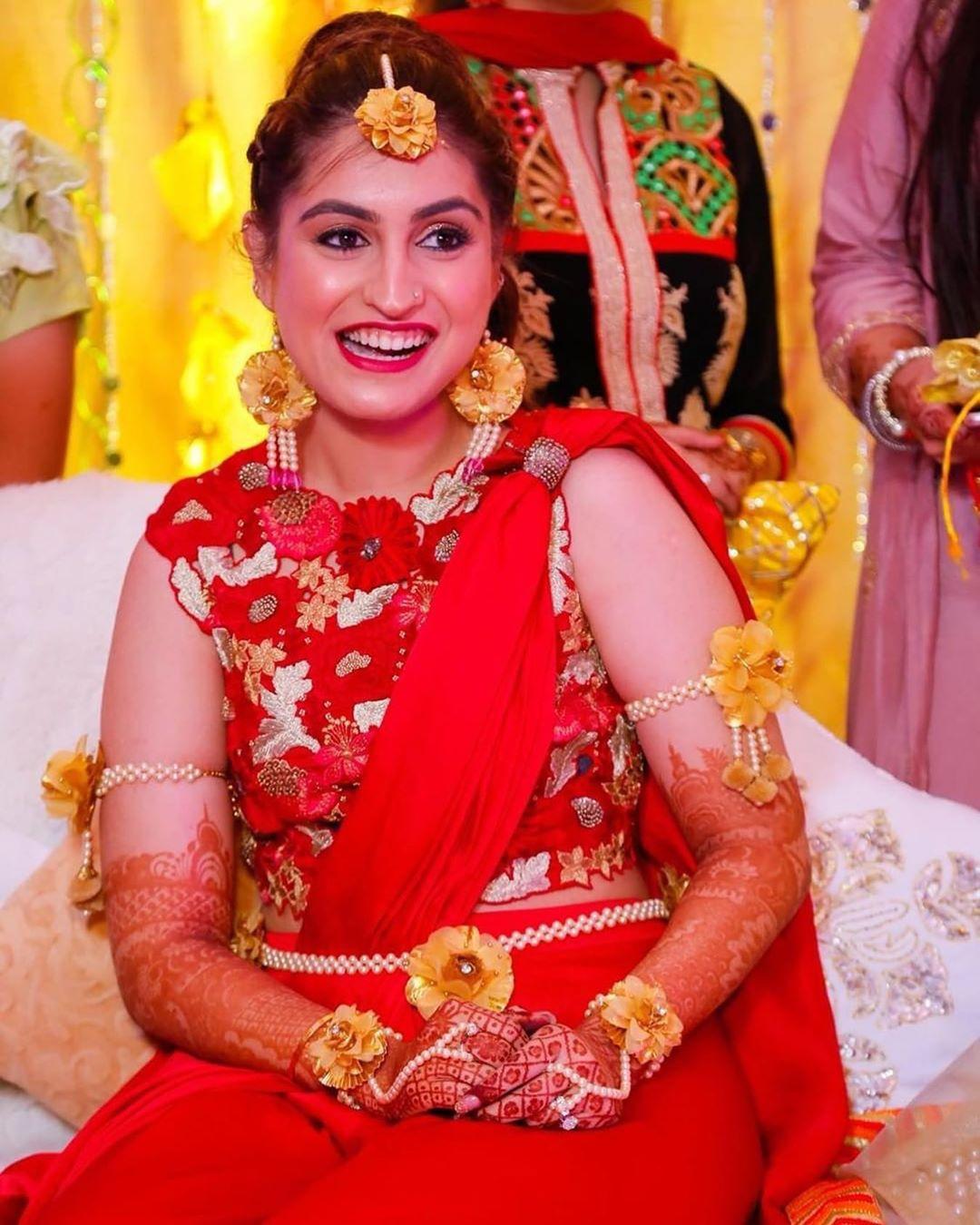 Image Courtesy: Om Sons
It is totally okay to look for something that has not been seen quite often. The golden flowers are definitely a rare choice when it comes to surfing artificial flower jewellery online. Why not go for something different? Choose the tiny white pearls or similar beads in whichever colour you like and team it up with classy golden flowers.
As you can see, golden floral sets go fab with reddish tones when it comes to choosing the right colour. If you are the bride's bestie looking for artificial flower jewellery online, then you can even pair the golden beauties with a stunning black lehenga. Unfortunately, the bride cannot do it as most religions and respective beliefs refrain from letting brides wear black. Do not get disheartened, just think the best option with golden and go for it!
5. The Purple Affair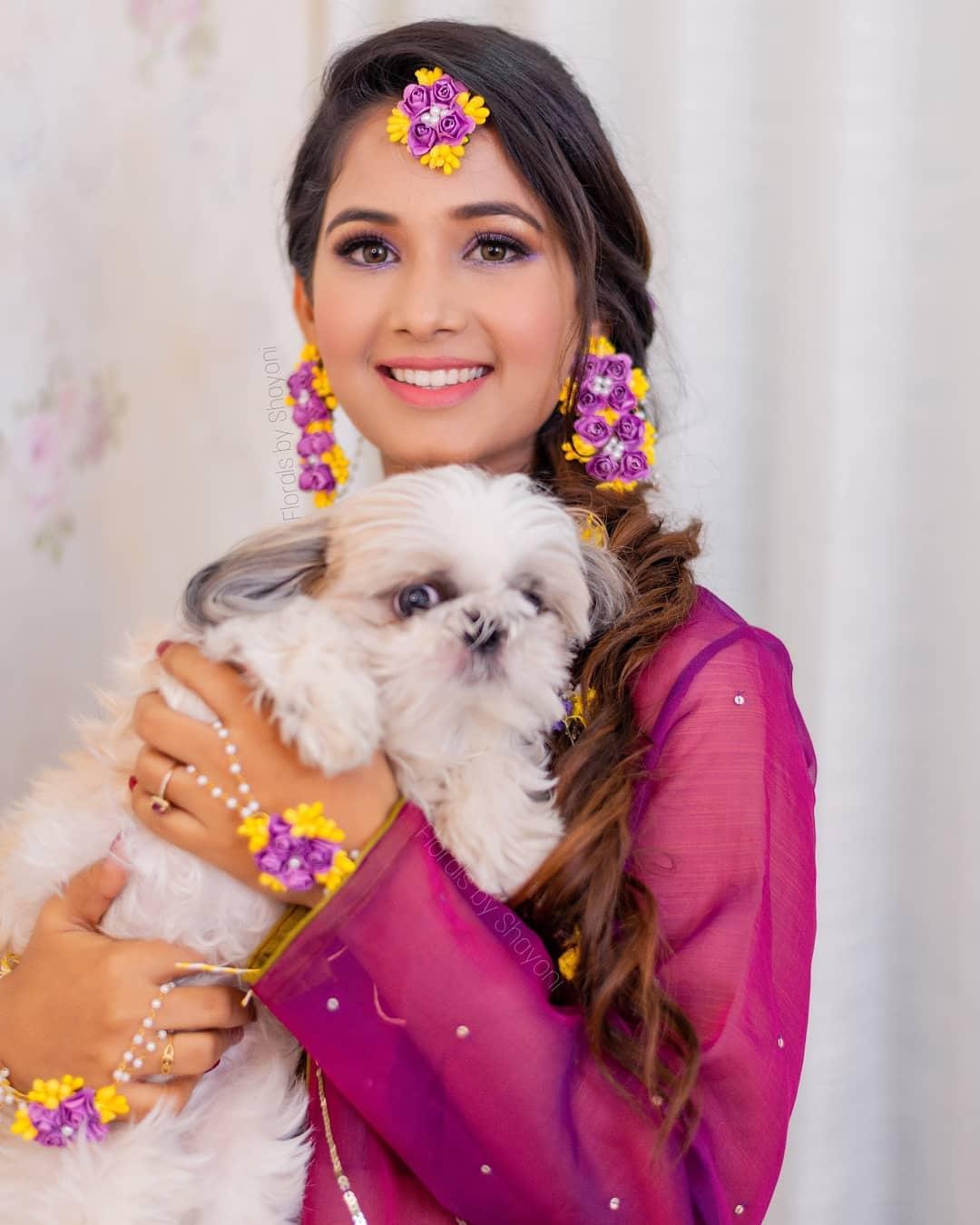 Image Courtesy: Florals by Shayani
Another very simple choice for artificial flower jewellery online which looks as classy as it appears to be stunning. Purple is a rare colour chosen by brides. The combo of purple and yellow is definitely a match made in heaven. Everything unique and Hatke in one single jewellery set is hard to find! So choose the rare beauty without thinking twice!
When ordering such artificial flower jewellery online for your bestie bride, remember, most brides like to go Over the Top on their weddings. Such classic designs are ideal for the brides who are going for a simple lehenga. The colour scheme makes it quite an attractive piece of jewellery which means you have to choose between bright coloured jewellery and a heavy lehenga. However, if the bride likes it, then definitely it is the best choice to go for!
6. The Ribbon Flower Jewellery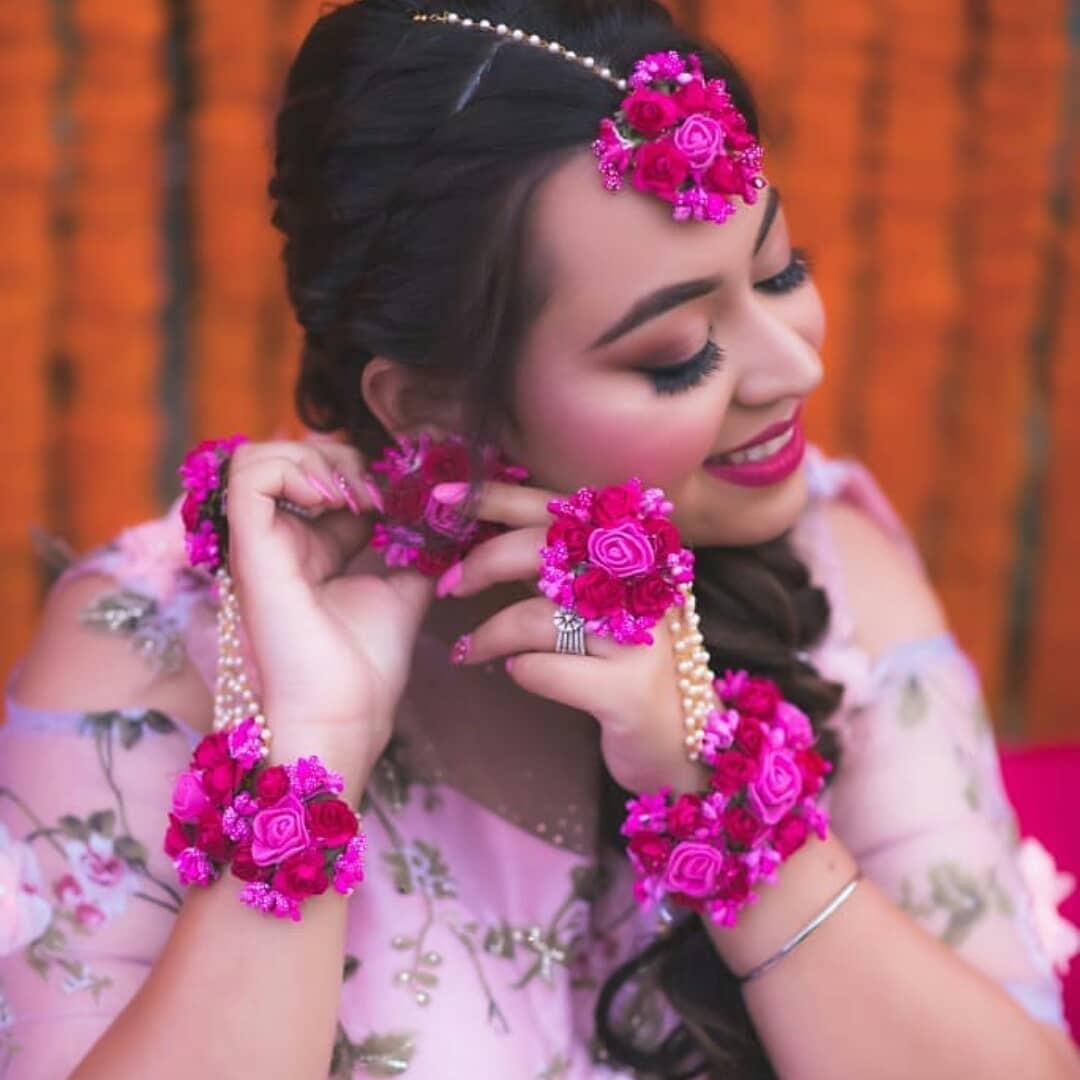 Image Courtesy: Bridal Floral Jewellery Kolkata
Have you crossed out plastic flowers and foam flowers for you floral jewellery already? Then it is probably time to look for ribbon based artificial flower jewellery online. Oh yes, there is a great variety of ribbon flowers available on the internet when it comes to flower jewellery for your much-awaited wedding functions just like this breathtaking floral set adorned by a gorgeous bride in the picture.
There have been some really hard working and creative people from the handmade business who have taken the floral jewellery variations to another level altogether. All it takes is a good search in the right direction, with the most relevant hashtags and most importantly, a picture of what you exactly need in mind. So if nothing worked for you till now, now you know what exactly you have to look for.
7. The Floral Haath Phool and Kalire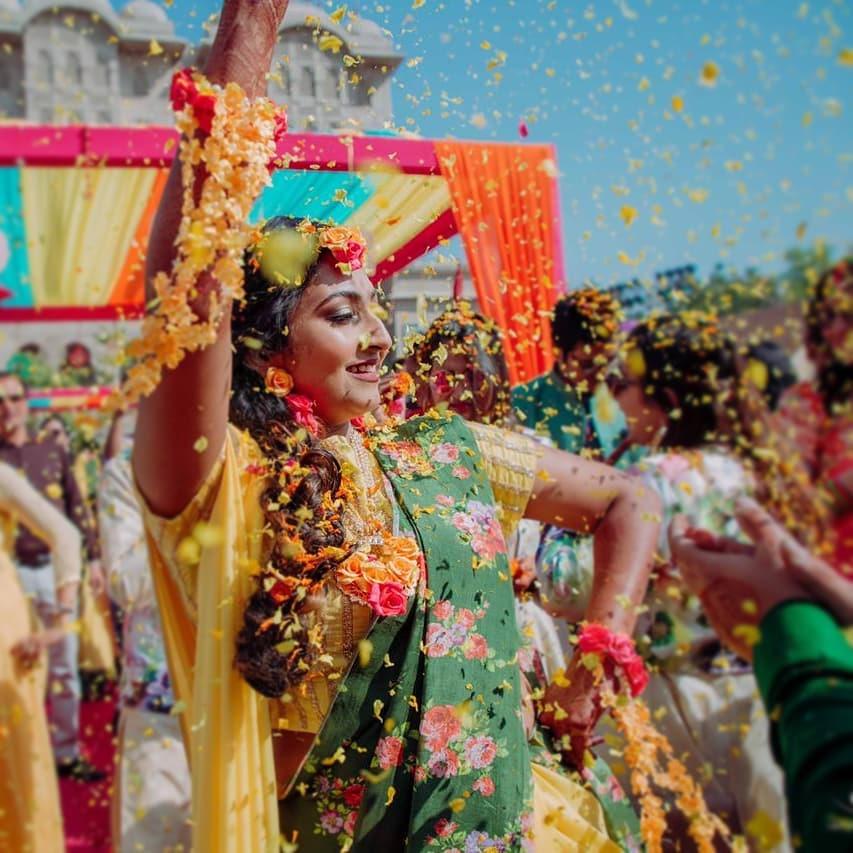 Apart from the use of artificial flowers in hairstyles and as a quirky replacement for other jewellery pieces, floral Kalire and Haath Phool are something which have lately emerged as a massive trend in the wedding industry. When looking for the statement artificial flower jewellery online, go for the dramatic ones any day.
The bride looks absolutely cheerful enjoying her wedding function. The lovely floral hand jewellery adds to the entire wedding vibe. The colours chosen not just compliment the entire outfit but also the summer wedding on a whole. So when you are looking for the ultimate artificial flower jewellery online, do not forget the trendy hand jewellery!
With the possible variety of artificial flower jewellery online and all the tips and tricks written down for you, you are all set to begin with the ultimate shopping for artificial flower jewellery online. With cloth/ribbon based flowers and the one made with foam sheets, you now have an idea about where to head towards if plastic flowers aren't appealing you. With sunflower jewellery ideas for your Haldi and a crash course on choosing the right colour for the jewellery, you are totally set to rock that summer wedding.
Now that everything is under control and you have some knowledge of the floral department for your wedding, why not begin with the shopping of artificial flower jewellery online right away? Don't forget to balance the entire look by keeping your lehenga and makeup on one side and your floral jewellery on the other. If you keep one dramatic then surely keep the other one subtle. We want you to look nothing but best on your special day! All the best.
Before leaving, do let us know your favourite flower, especially the one you think can never be spotted in a floral jewellery piece.