Red, Maroon and Pink Dulhan Lehenga Choli Designs for D-day
This wedding season, go for the traditional colours of red, maroon and pink for your Dulhan lehenga choli. Check out these top designs for more!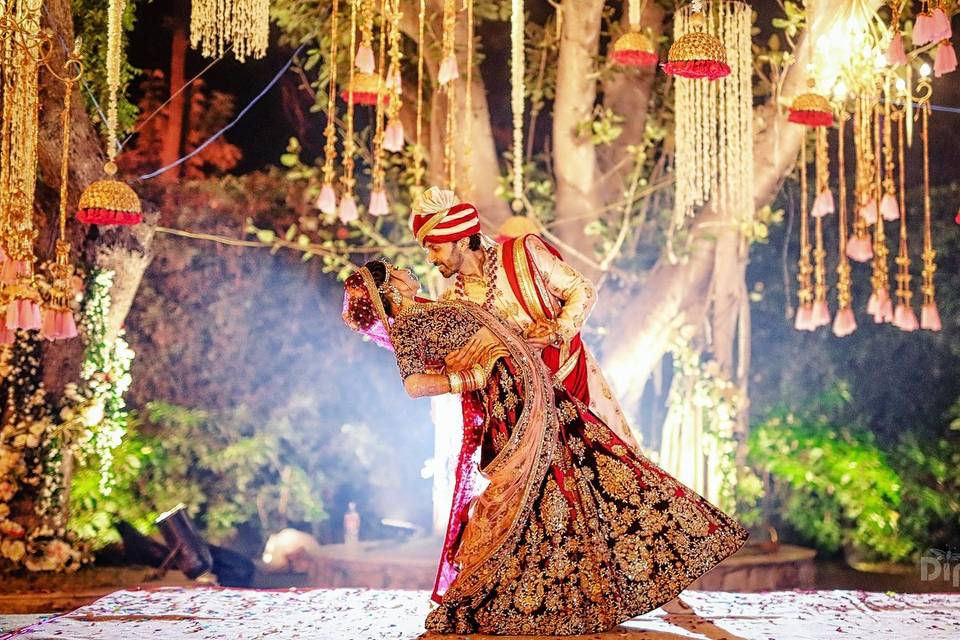 Everyone knows the importance of the colour red when it comes to the bridal outfit for the wedding day. It is considered auspicious due to multiple reasons. It not only stands for prosperity and fertility but also is the colour you associate with Hindu goddesses. Even though red is the most popular colour when it comes to a Dulhan lehenga choli, colours like maroon and pink have become equally popular in the wedding circuit for bridal outfits.
For brides that want a plusher look, maroon is the ideal colour whereas brides who want a peppier and casual look can opt for a pink coloured Dulhan lehenga choli. Since all three colours are now extremely popular, we take you through a few great ensembles that incorporate these hues!
1. The classic red and golden lehenga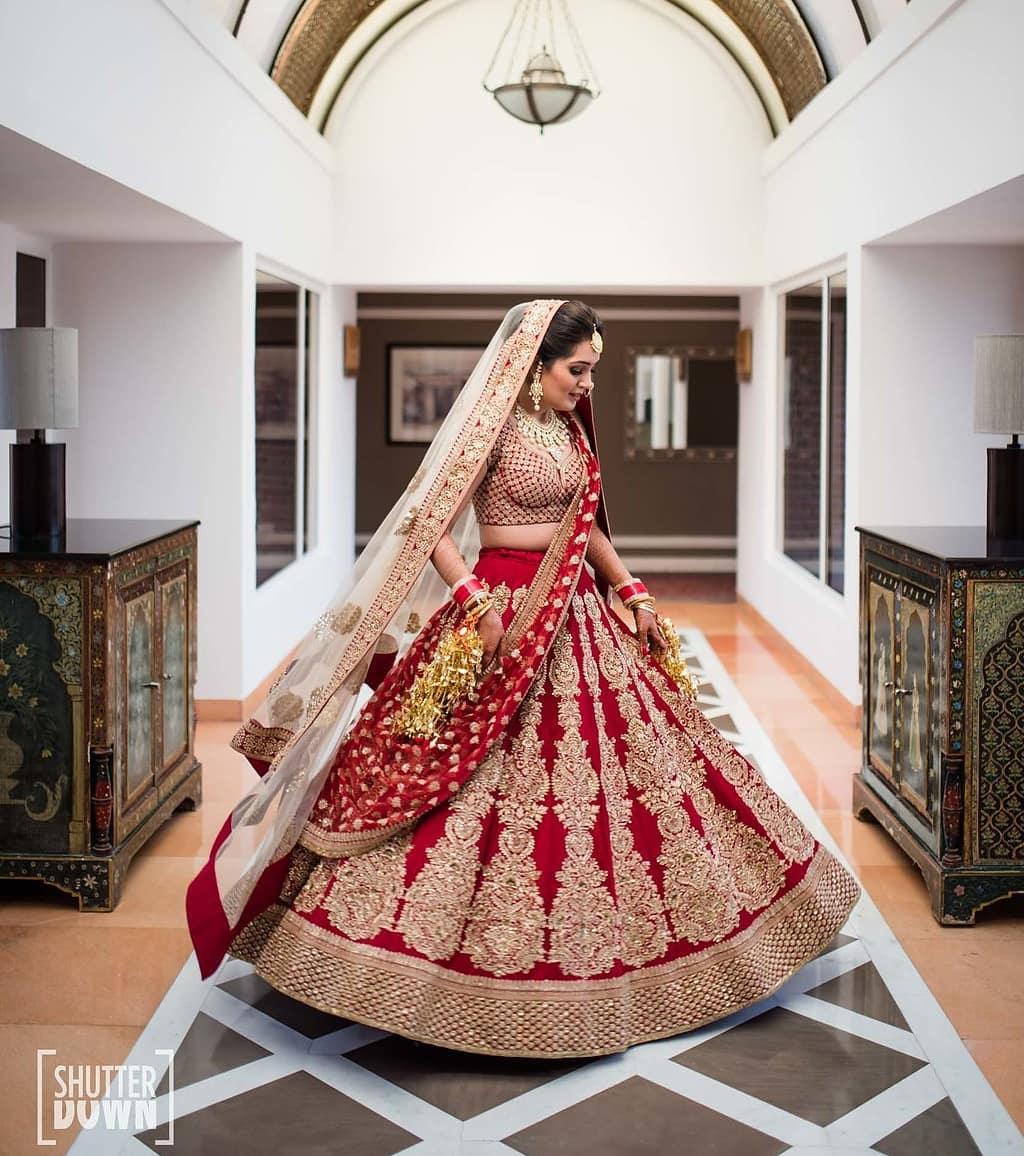 Starting with the classic combination of red and golden Dulhan lehenga choli, this lehenga exemplifies everything that a bride wants in her traditional look. The thick border is the first thing that makes this lehenga so beautiful.
The top to bottom single pattern along the length of the lehenga gives it a rich and clean look. The choli has continuous golden embroideries on the red base, making it a slightly contrasting look with the rest of the lehenga. The white dupatta brings a touch of elegance to the outfit.
2. A Blood-red lehenga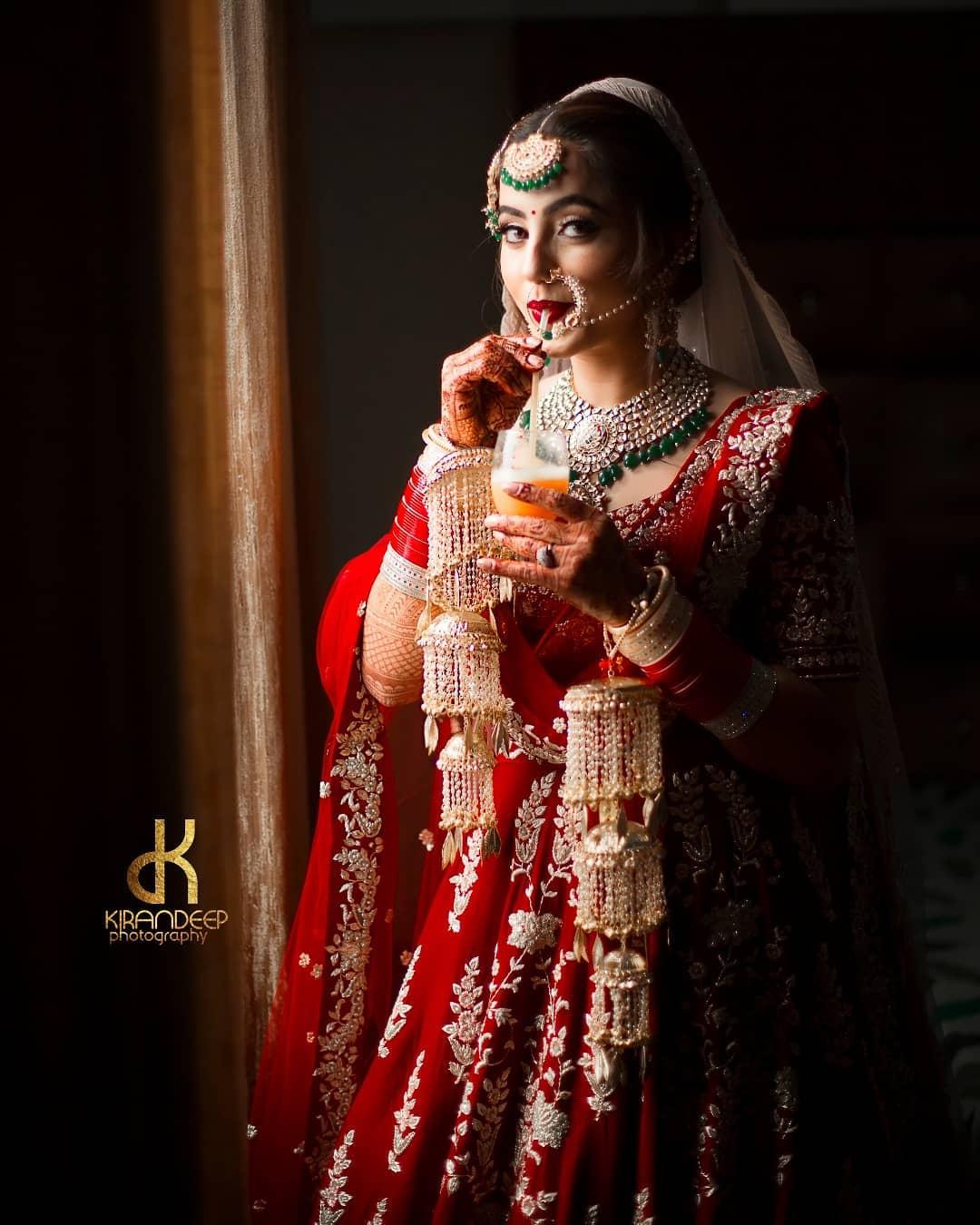 A blood-red lehenga with white embroideries will surely make you look like a princess. This is one combination that not many brides go for as they prefer sticking with golden or silver embroidery tones. However, since both white and blood red is so bright, the embroideries stand out in the best possible manner.
Here, you need not go for bold embroidery patterns as even the subtle ones will be equally compelling to look at, making this one of the best Dulhan lehenga choli designs.
3. A light red lehenga with intricate golden embroideries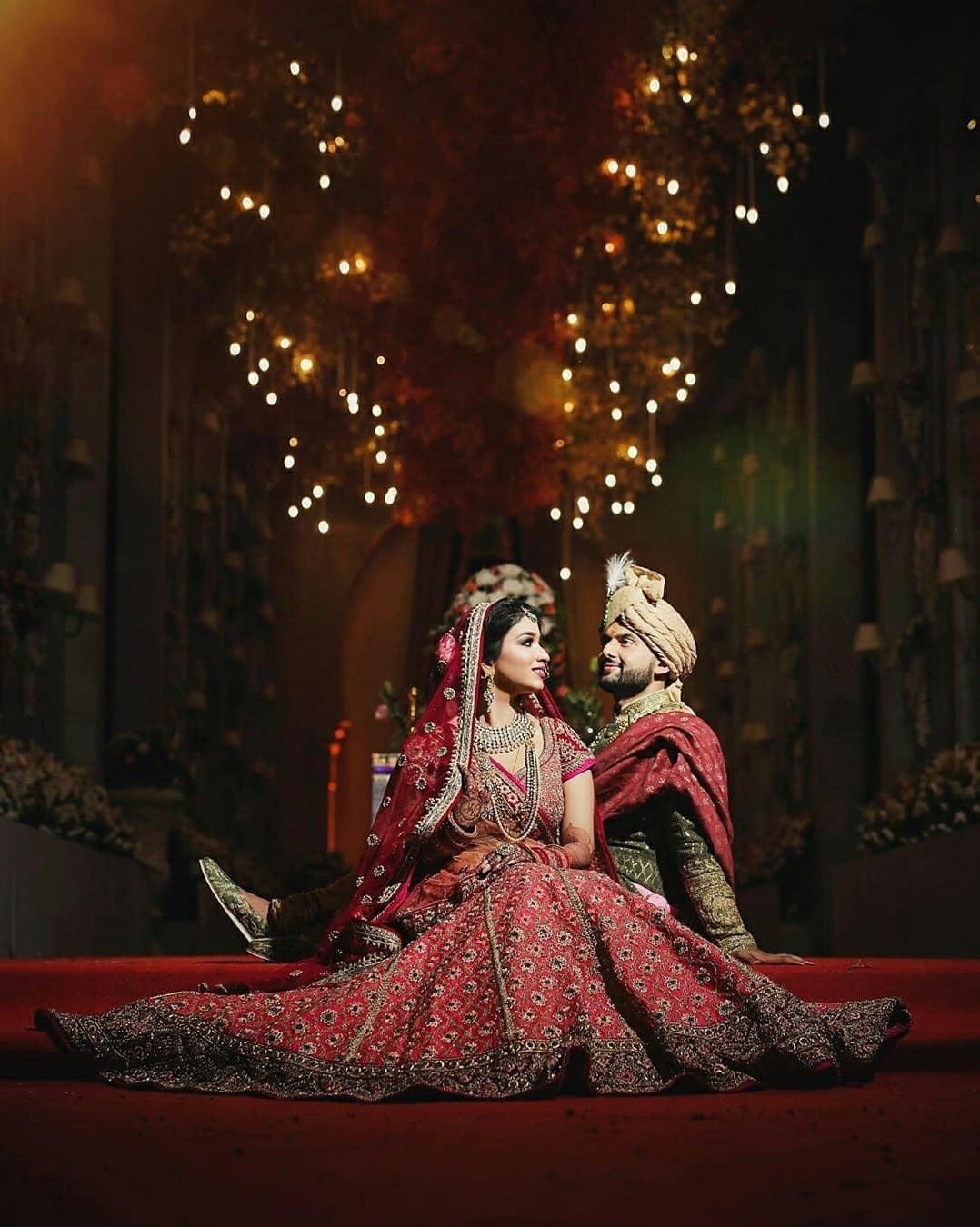 At times, the regal and royal look can be achieved with slightly lighter colours with subtle but intricate embroideries and if that is what you are aiming at, then you should go for a lighter shade of red. The continuous dotted patterns are a popular style for such designs and colours.
4. Get an elegant look with this light pink lehenga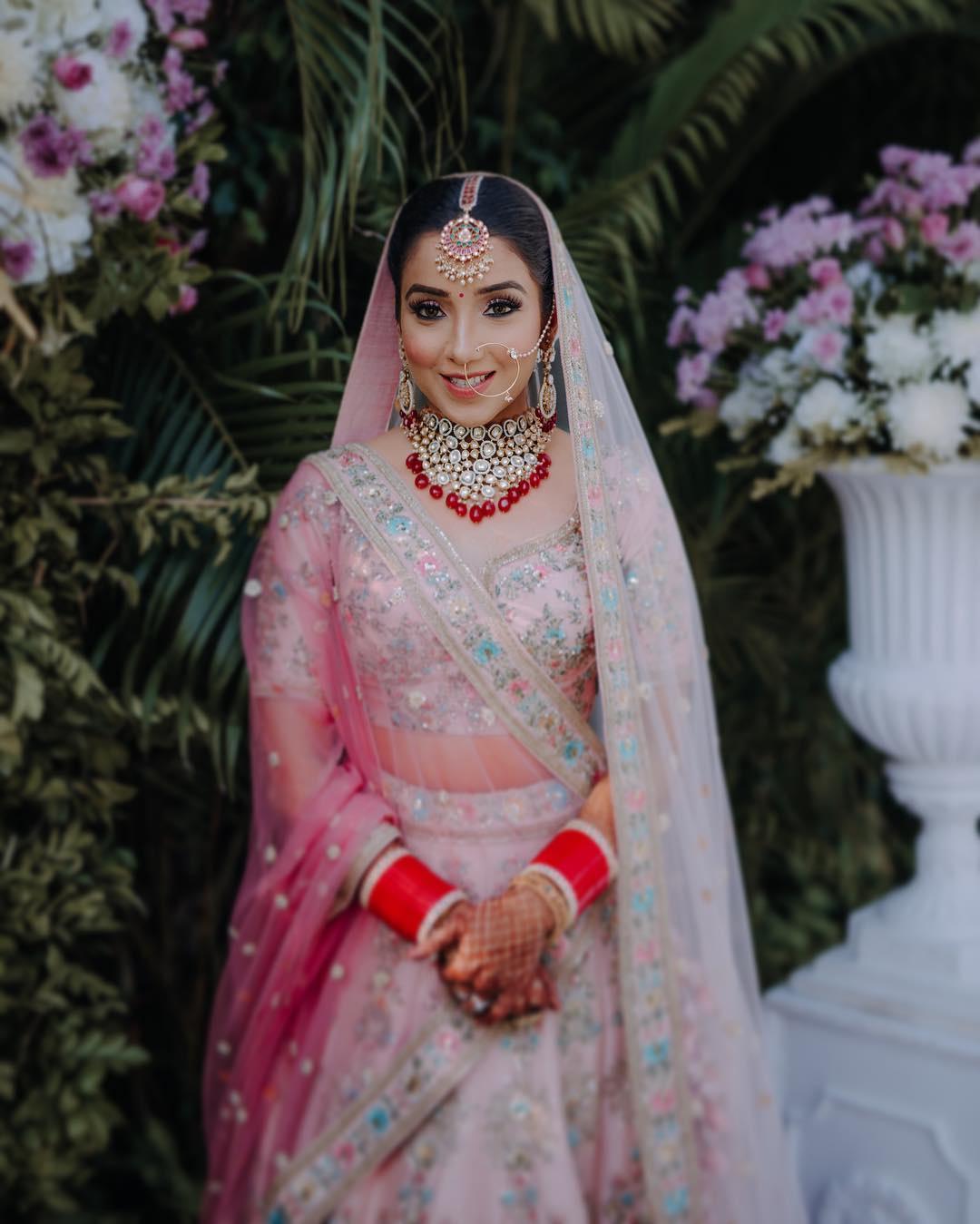 The best thing about pink colour is how it can look beautiful, summery, cute and peppy at the same time. For a subtle look, choose a light pink dulhan lehenga choli. The floral patterns of light blue and green colours give you a contrasting look with ease. Pair it with a heavy necklace to complete the look.
5. The contrast of blue with pink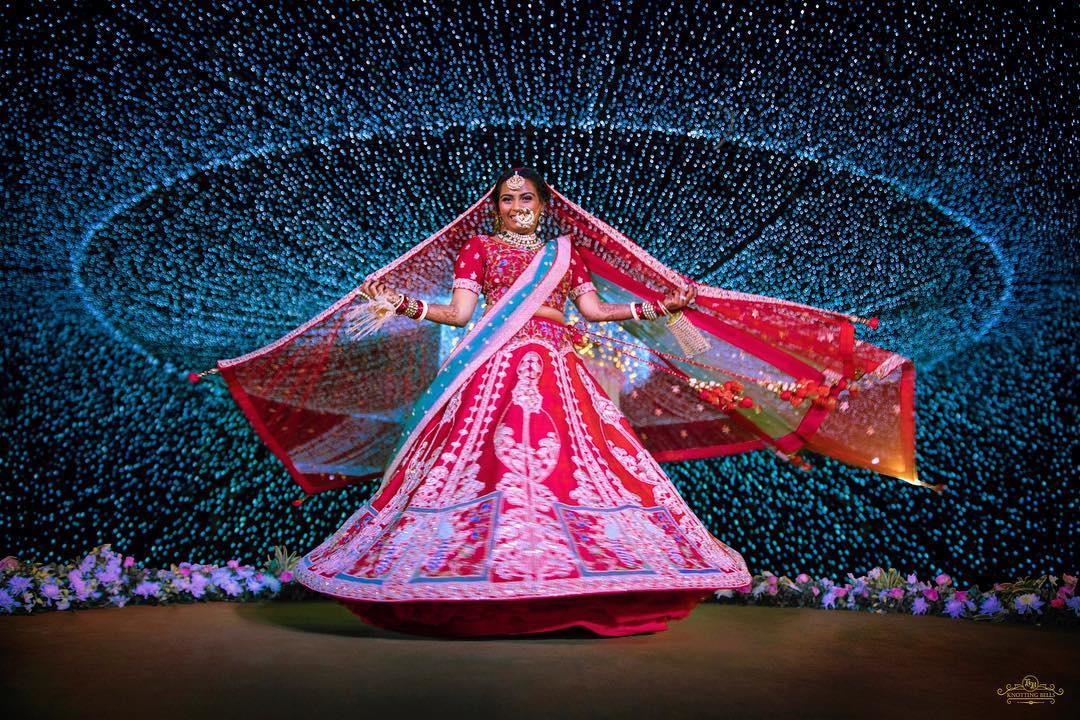 A contrasting shade like blue always works well with shades like bright pink. If not in the lehenga, you can go for this contrasting look by wearing a similarly coloured dupatta. Go for white embroideries on this Dulhan lehenga choli as it pops beautifully against the backdrop.
Make the dupatta that you drape in colours of white, pink and blue to give it a uniform aesthetic. For the dupatta that you want to cover your head with, you can pick something made of net with blue studs on it.
6. A pink lehenga with mirror work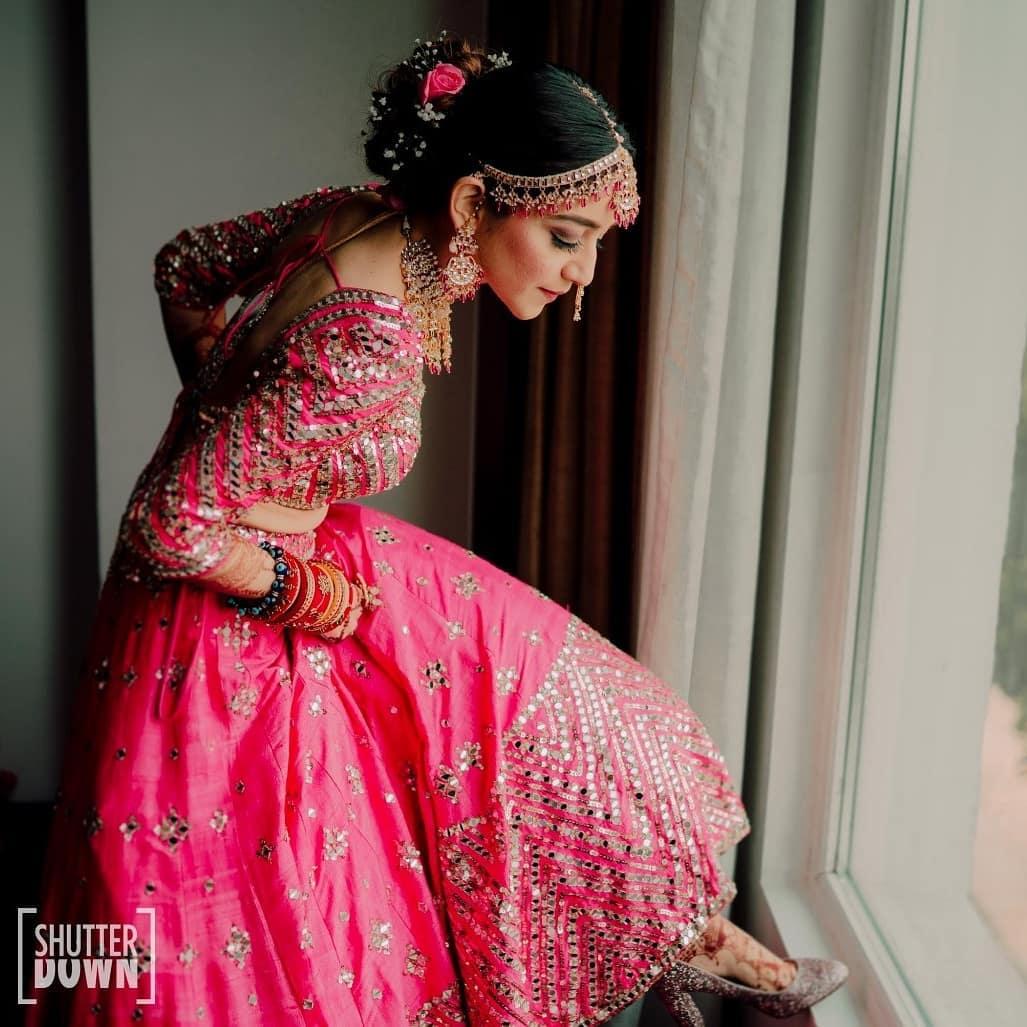 For a peppier number, you can go for a Dulhan lehenga choli with mirror work on it. With the majority of this mirror work at the lower end of the lehenga, the rest of the lehenga has small embroideries. The choli of this pink lehenga is quite heavy as it has continuous mirror work all over it.
7. A plush look with this velvet maroon lehenga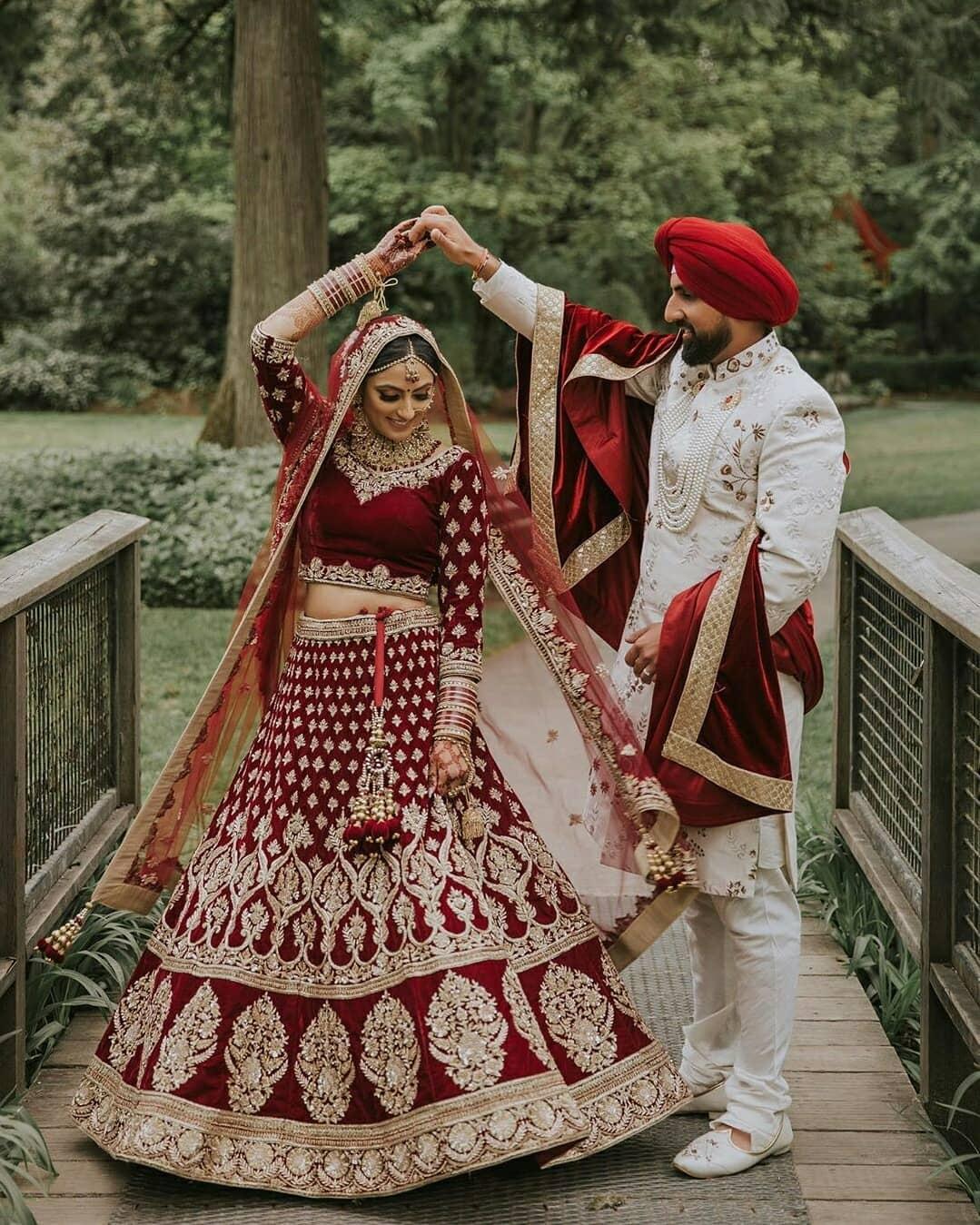 Image Courtesy: Dreambox Creations
The first fabric that comes to mind when you think of a rich and plush look in bridal outfits is that of velvet. When you choose a Dulhan lehenga choli made of velvet, it automatically gives you a touch of luxury. Add to that the beautiful and rich colour of white for the embroideries and what you have is an attire that every girl will envy you for.
8. Floral patterns on maroon lehenga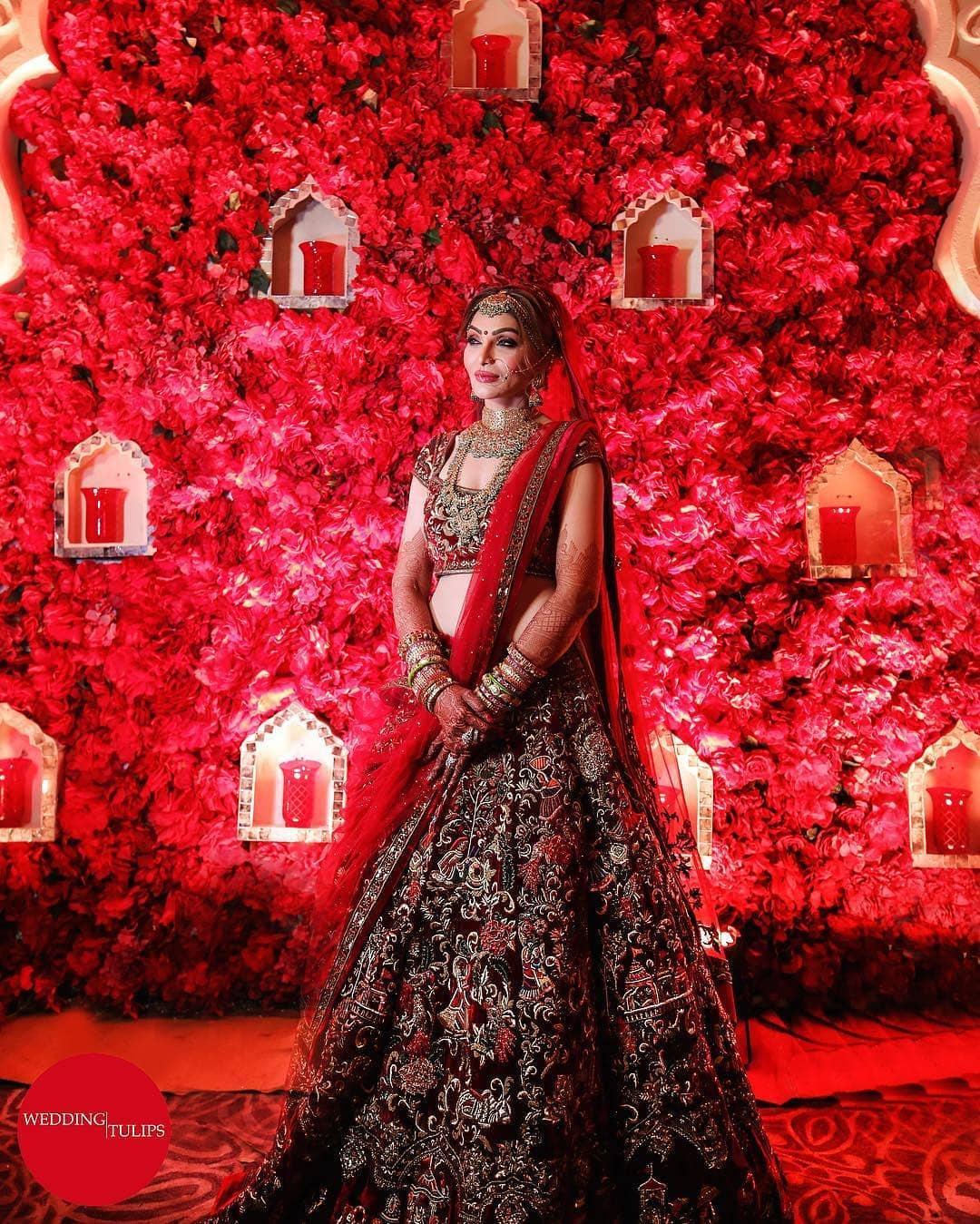 The design of continuous floral patterns is the latest trend in wedding outfits for both men and women. You can go for bold silver and grey floral embroideries with the base of the lehenga choli in maroon. This combination will definitely give you a regal look.
9. The dark-maroon shade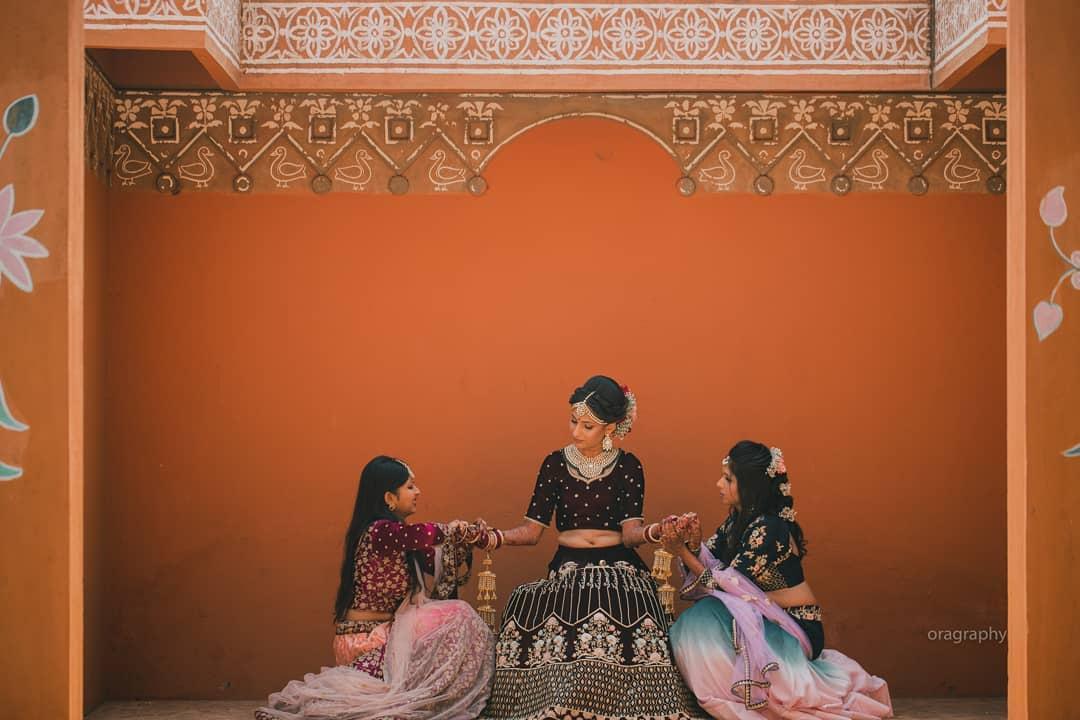 If you want a simple choli design and a lehenga with the majority of its embroidery designs done at the lower end, then go for a rich and dark shade of maroon. The percentage of black in this shade should be much higher than what you see in any other maroon shade.
This shade of maroon gives you the right mix of elegance and plush feels. The elaborate embroideries give you the opulent designs that your bridal look deserves. Pair it with a single necklace of silver or diamond with red stones and you are good to go!
Through all these Dulhan lehenga choli designs, you must have noticed how even a slight change in the shade of colours can drastically alter your look. Therefore, choose wisely and go for colours that you are most confident about.
To go through more designs and shop for your bridal outfits, check out these boutiques near you!