5 Lehenga Choli Dress Ideas That Will Make Your Post-baby Body Look Amazing!
When your baby is born, it's not only your life that changes, it's your body too! When gearing up for a wedding after having a baby, you must find the perfect outfit. Check out these lehenga choli dress ideas for new moms!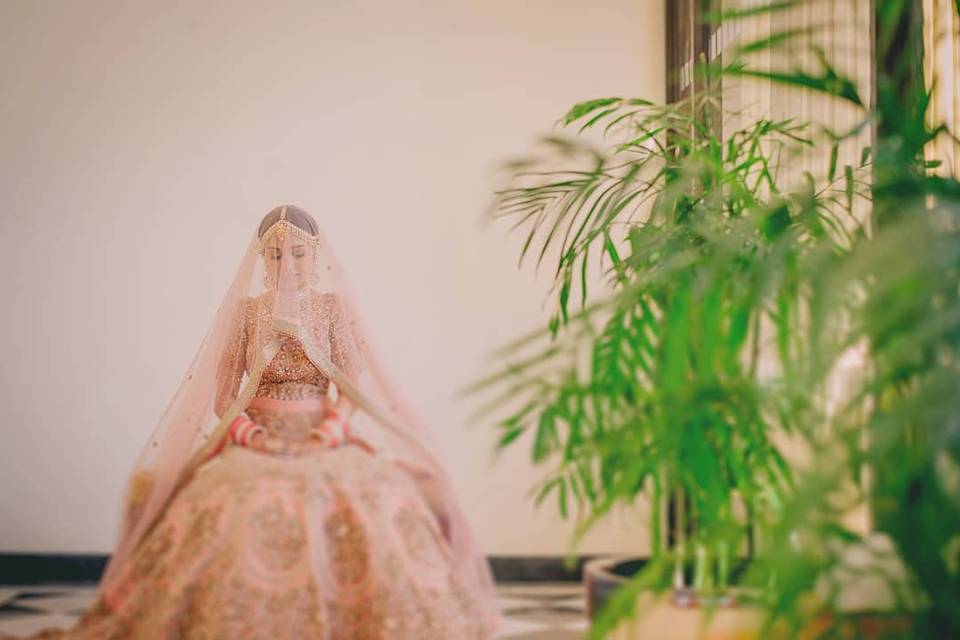 As a new mom, you've got a ton on your plate even without worrying about a relative's wedding down the line. Between balancing your chores, work and whatever space you get in between to breathe, you must now pick out a lehenga choli dress that makes you look great. Oh, did we mention that there's more to the challenge? As a new mom, you've experienced changes in your body, and no matter how much of an expert you were at shopping before, you've got a whole new style to embrace to fit your new look. We're exhausted just thinking about it!
Don't let this shopping challenge erode your self-esteem! We can help you find a lehenga choli dress that will look absolutely perfect, highlighting all your beauty. Let's have a look at a few styles (and styling tips) to keep in mind when you're a new mom looking for a lehenga choli dress!
1. Green heavily embroidered lehenga choli with a long blouse!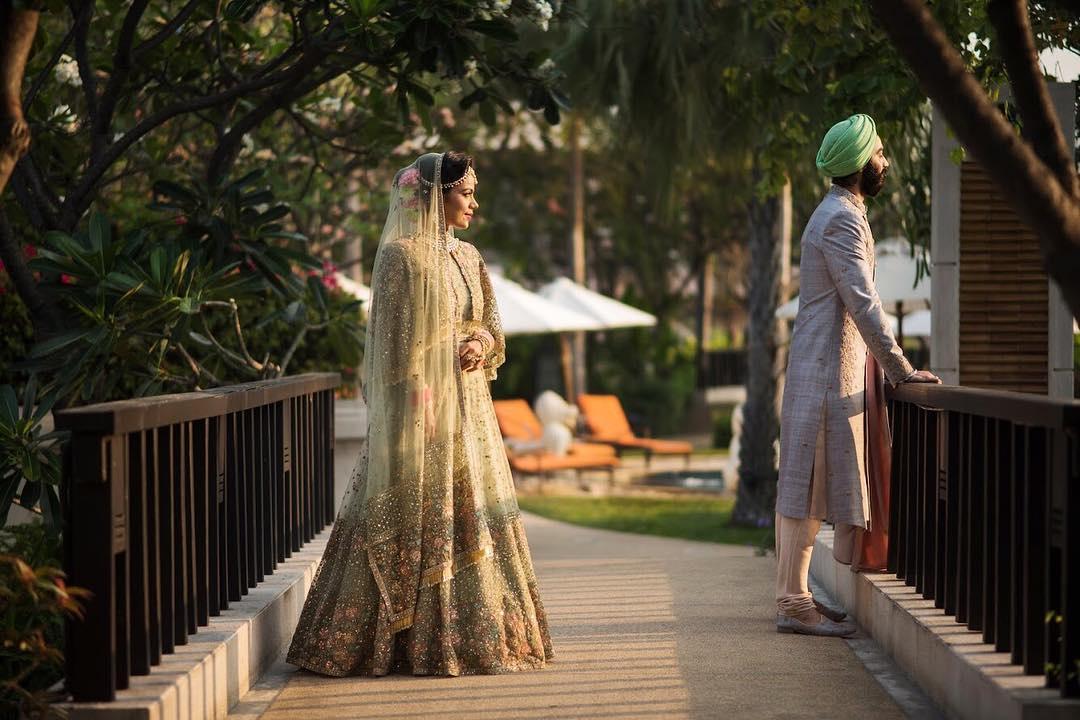 When you've got a close family member's wedding up ahead, you can't get away with dressing in a muted outfit. Picking something that is heavily embroidered is the right way to go. However, what should you do when you're not 100% comfortable with your body just yet? Pick choli blouse designs that cover your midriff and pair them with a high waist skirt.
With a slightly fitted choli, a lehenga choli dress like this will still make you look and feel glamorous, without the uncomfortable sense of being exposed!
2. Orange and gold high waist lehenga!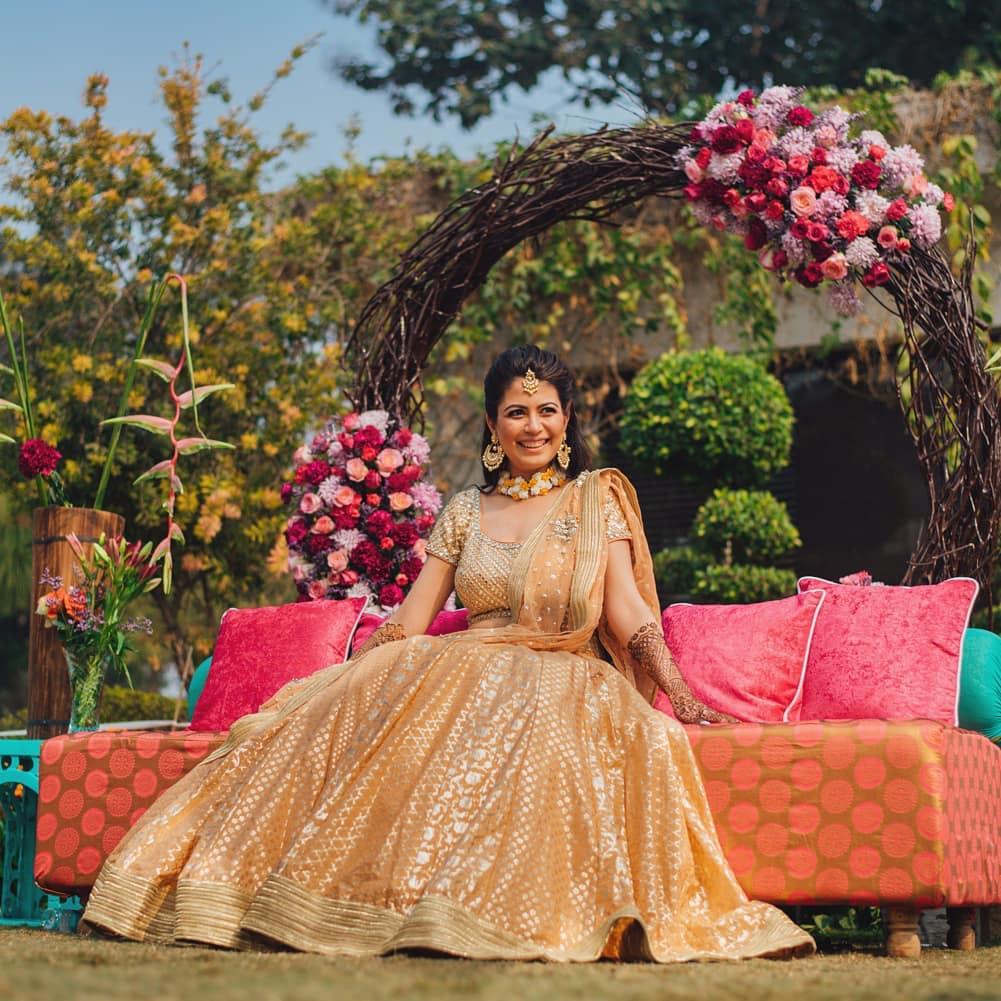 With a high waist lehenga skirt and the choli blouse that ends as close to the midriff as it can while still being a crop top, this is a great lehenga choli dress for a new mom. It allows you to get the crop top look by exposing the slimmest part of your midriff, while the voluminous skirt covers everything else.
The half sleeves on the choli are ideal for any pregnancy weight on the upper arm, while the dupatta acts as the perfect accompaniment to this ensemble. Wear this to your younger sister's Mehndi ceremony and steal all the attention!
3. White and blue Indo-western ensemble!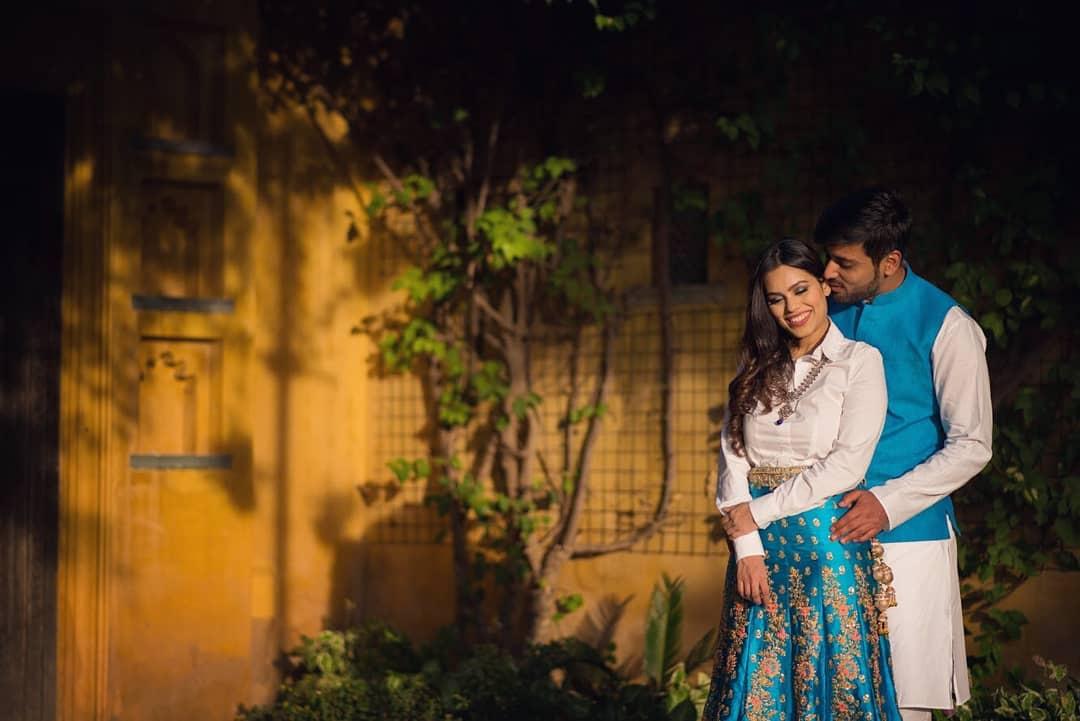 What should a new mom do if she's still breastfeeding? Choli's are notoriously hard to get in and out of as they are often made with a stiff fabric. The heavy embroidery work on them adds to how hard it can be to take them off. On top of that, when your breasts are sore from breastfeeding, the last thing you want to do is stuff them into a tight choli!
So, why not wear a lehenga choli dress that takes this issue out of the picture? We love how this bride has paired a formal white shirt with an Indian lehenga shirt to create a unique look. You can do something similar to get the best of both worlds and prove that motherhood hasn't dulled your fashion sense one bit!
4. Yellow on yellow lehenga with happy vibes!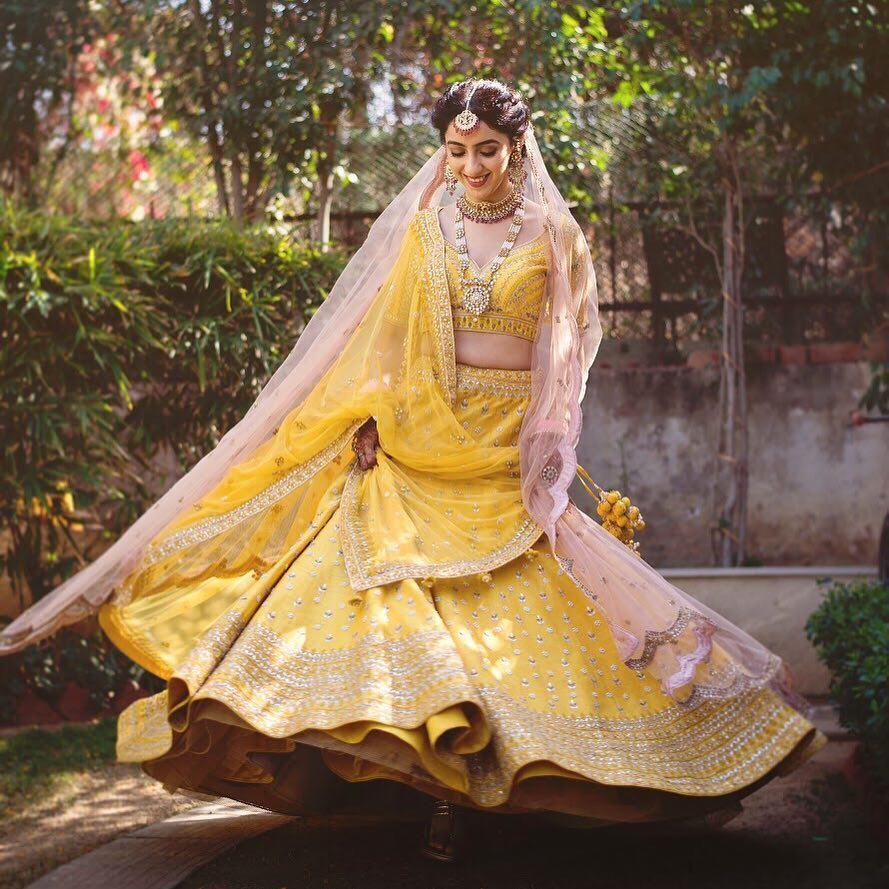 If you're a new mom that's been hitting the treadmill over the last few months, we bet you want to take this opportunity to flaunt your body in your lehenga choli dress. If that's the case, this yellow ensemble is the perfect one for you. The sweetheart neckline on the choli leaves ample room to wear a heavy necklace while the bright yellow skirt exudes a sunshine-y vibe that's perfect for a day event.
Though this bride has worn the lehenga with two dupattas, you don't really have to do the same. The skirt of this lehenga choli dress has a high waist, which is perfect if you've still got a bit of baby fat on the tummy.
5. Dual toned yellow and pink lehenga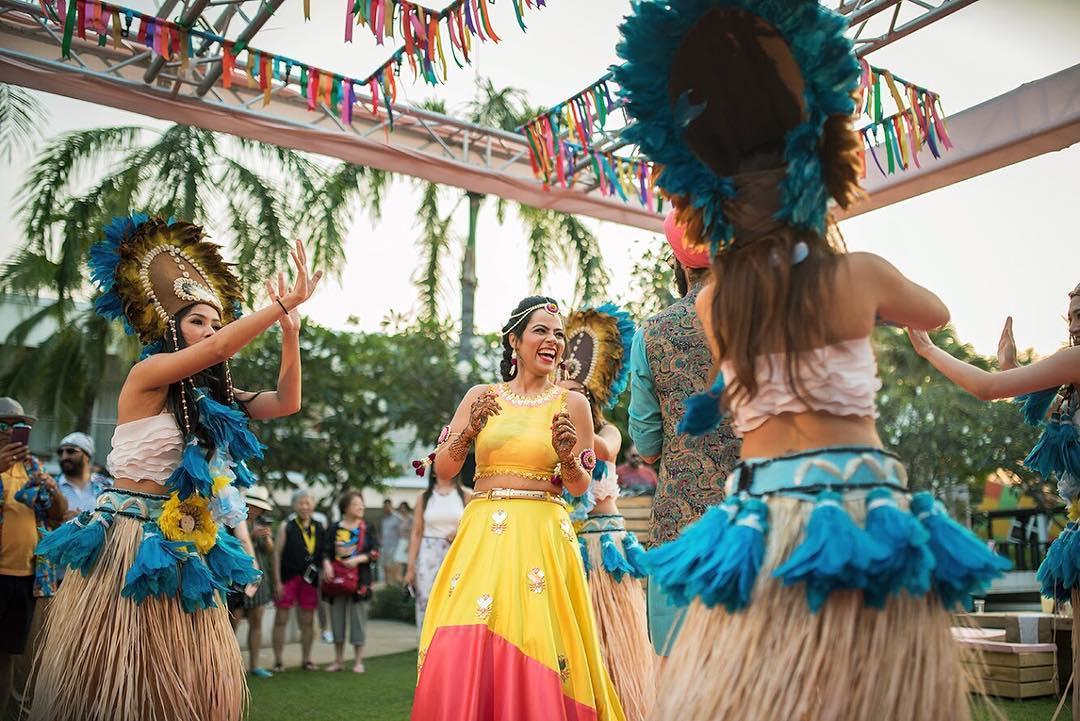 Now we understand that not everyone spends the first year of their baby's life trying to lose weight. In fact, you really should not pressure yourself like that! The fact that your body made another human is a miraculous feat, one that you shouldn't feel like you need to hide. So, if you haven't really slimmed down, or don't want to, pick a dual-toned lehenga choli dress like this one that draws the eyes away from the stomach and down to the legs. The Indo-western look of this garment makes this contemporary piece that is ideal for a friend's wedding!
Make sure that you pick your garments with care when preparing for a family wedding. All eyes may be on the bride, but you should also feel confident and great, especially if this is your first big social event post baby! Celebrate your body and wear colours that make you feel happy.
When getting ready for any event, do get a facial to ensure your face doesn't look tired. Check out these salons near you that can offer the same!