Breathtaking Dupatta Decoration Ideas for All Your Wedding Events
Want to add some fun and vibrancy to your wedding décor? Check out some gorgeous dupatta decoration ideas to dial up the glam factor of your decorations.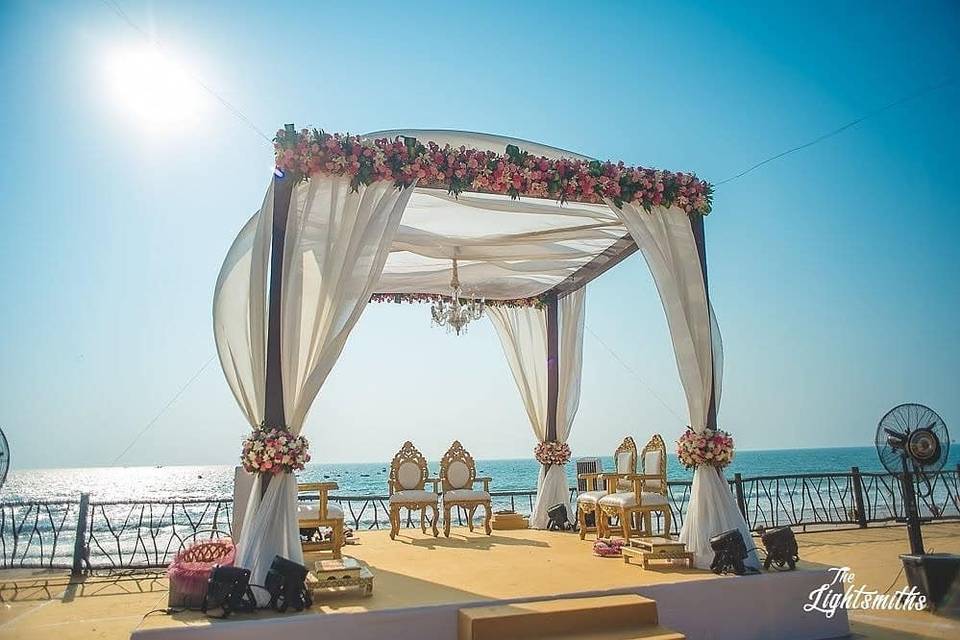 Colourful dupattas fashioned creatively to make mandap ceiling, covering up entrance pillars, making large pretty bows tied around bride & groom chairs...there is a whole world of options to explore using dupatta for your wedding decor. Whether you're going for DIY decor or taking help from experts, dupattas are known to have magical powers when it comes to adorning your venue. All you need is a little creativity and imagination and you can make your wedding venue look like a dreamland. From an intimate wedding function to a large scale beach destination wedding- we've got all kinds of Dupatta Decoration options for you. Check them out and get inspired!
The DIY Dupatta Decor for Photobooth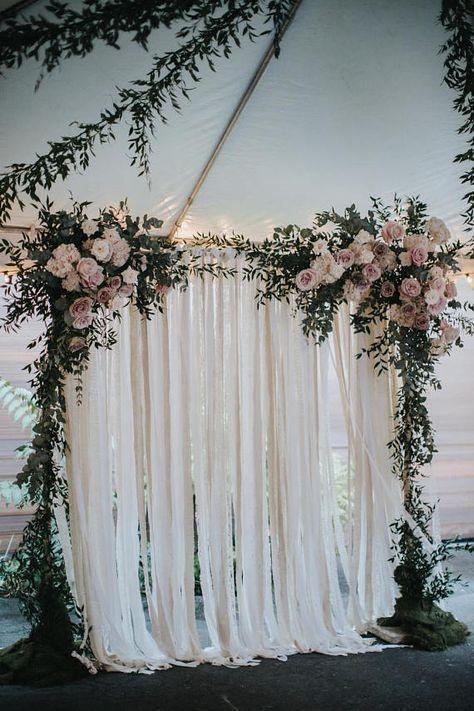 Image Courtesy: Etsy
One of the most popular corners in a wedding venue today is the photobooth area! There's hardly anyone who can resist those selfie-moments right at the photobooth! So how about you decorate the selfie-booth with dupatta? Make a dupatta decor around the photobooth giving it a rustic theme.
Drapes With Moroccan-Bohemian Decor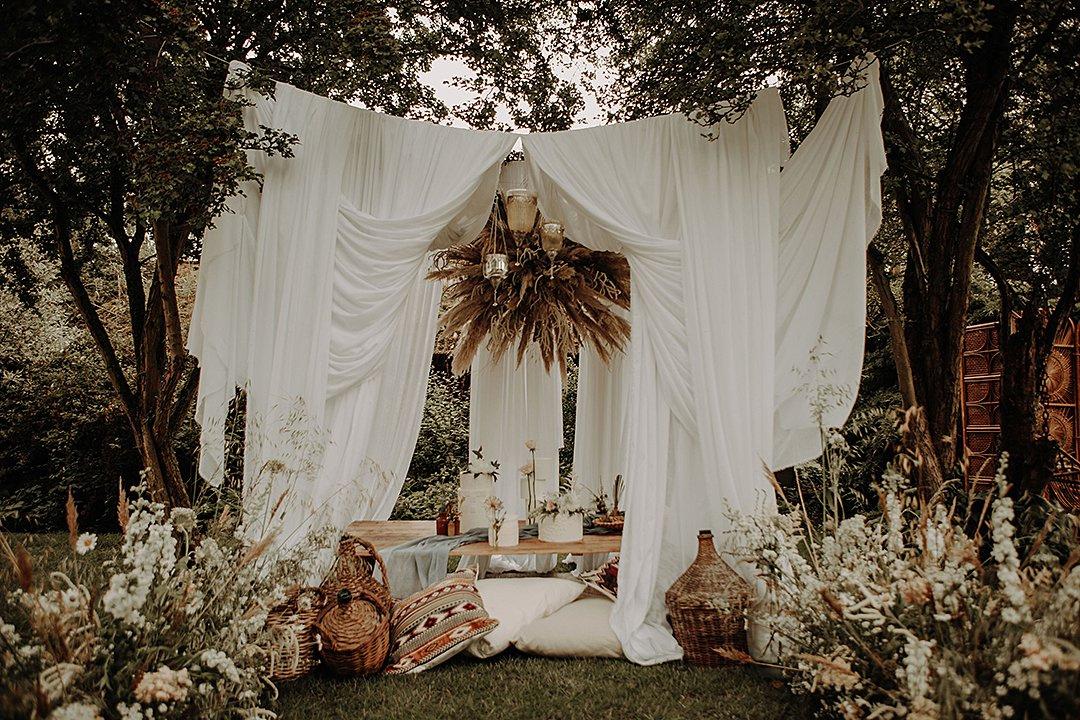 Image Courtesy: Esme Whiteside Photography
Everything looks dreamy and romantic when you take it out into the wood - be it your wedding photography or your wedding ceremony! So why not opt for a mesmerising dupatta decoration out in the woods for your mandap to bring out the Bohemian/Moroccan vibes? Choose monotoned pastel drapes to bring out the beauty of nature. You can also go for this kind of decor for an outdoor event at night and deck it up with fairy lights.
Dupatta Decor for Seating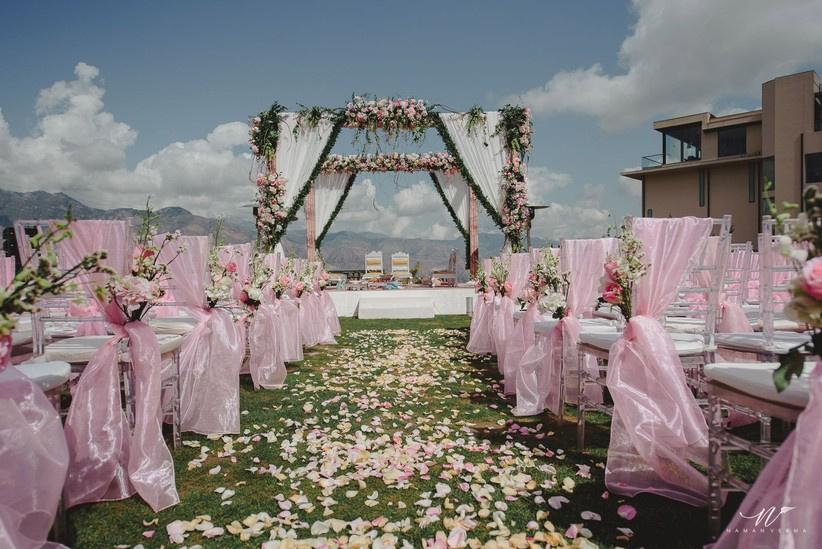 The wedding seating arrangement is a big dream for millennial couples. From wedding table numbers for ease of planning to personalised messages on the seats for guests and even personalised napkins, seating arrangements are a hoot. You could use organza dupatta decoration to tie dainty bows on the chairs that you pick. It will make for an outstanding rustic decor.
Pastel Coloured Dupatta for Mandap Decor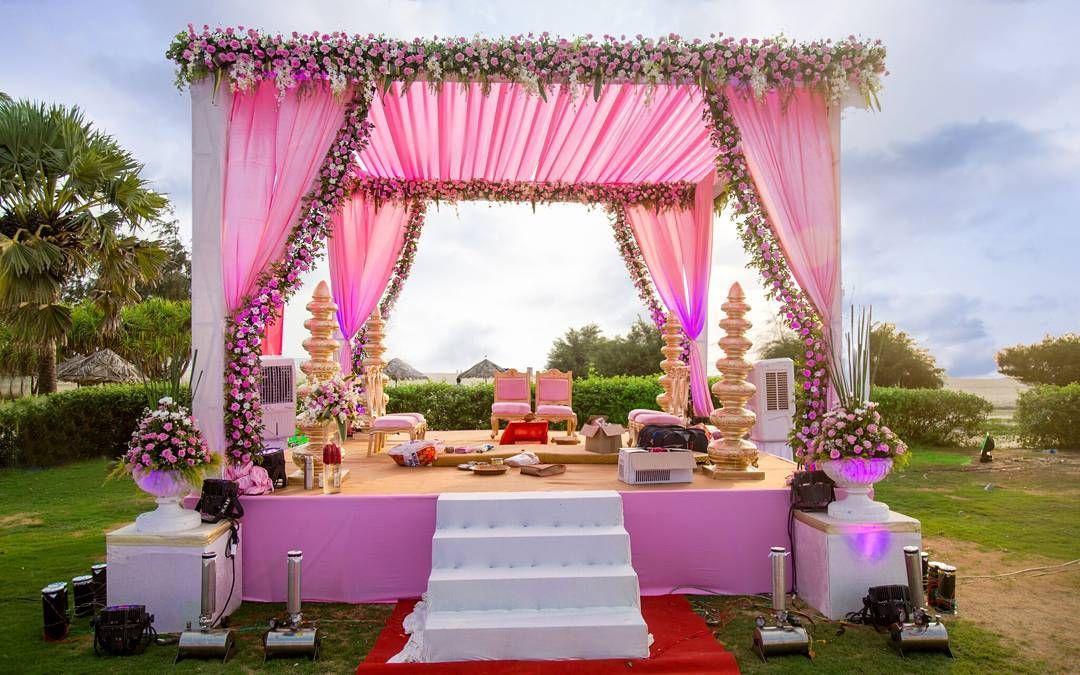 Image Courtesy: Pinterest
Always a popular choice, a pink dupatta decoration can never go wrong. Give your wedding mandap a traditional yet classy look using soft pink drapes. Keep the chairs and carpet pink-based too. This kind of decoration would go perfectly if you're planning to wear any shade of pink lehenga or some soft pastel shades.
White Dupatta Decor for Beach Weddings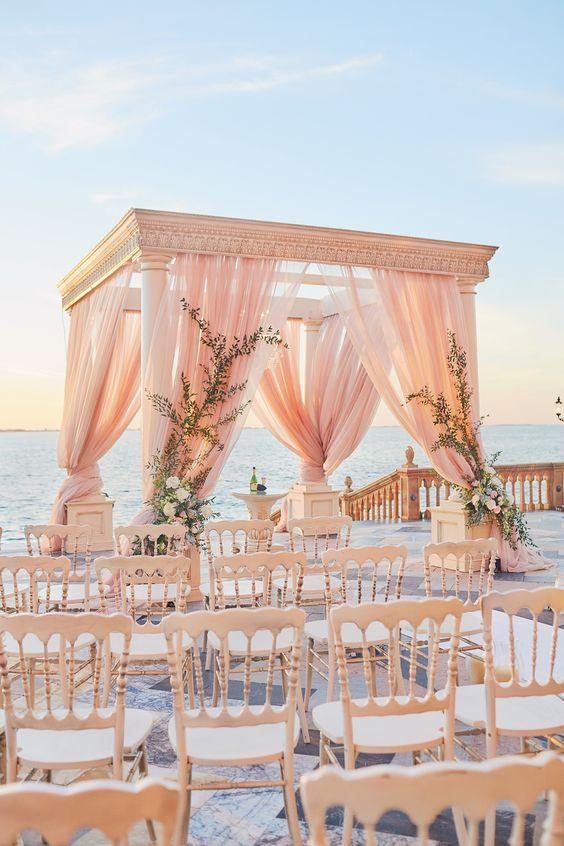 Image Courtesy: Binary Flips Photography, Florida
If you're planning an elegant beach wedding by the sea, there can't be a better idea than a snow-white dupatta decoration! With the deep blue sea as your wedding backdrop on one side and the rusty brown sands on the other, simplistic white drape decor would just heighten the grace factor to a great extent!
White Criss-Cross Dupatta Stage Decor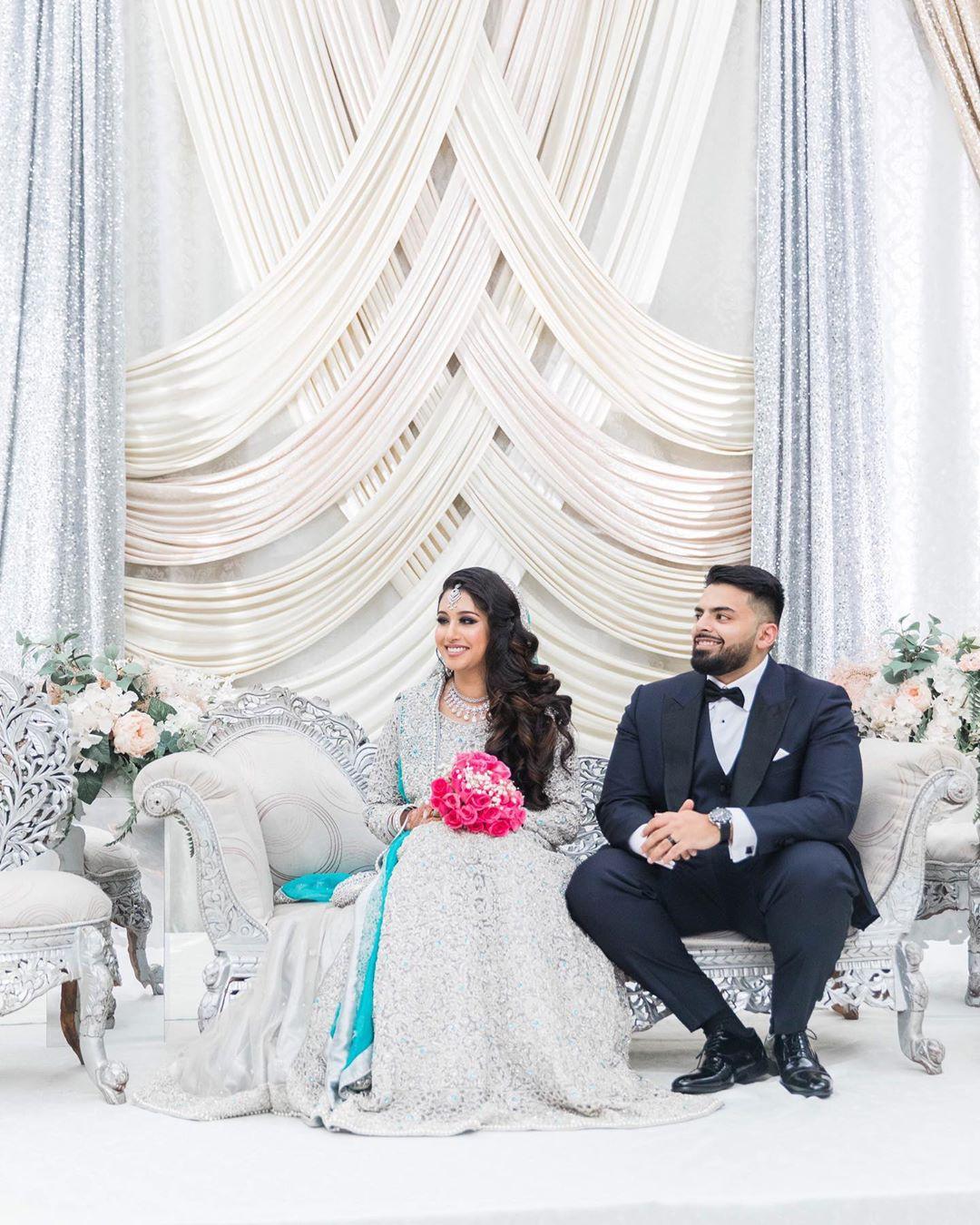 Image Courtesy: Photography by Azra
Even for indoor wedding stage decor, white dupatta drapes can do wonders. Pick an off-white shade for your dupatta decor and use the right kind of stage lighting for best results. Go with a white sofa or couch as well as carpet to keep the theme intact.
Lavender Dupatta Draped for Stage Decor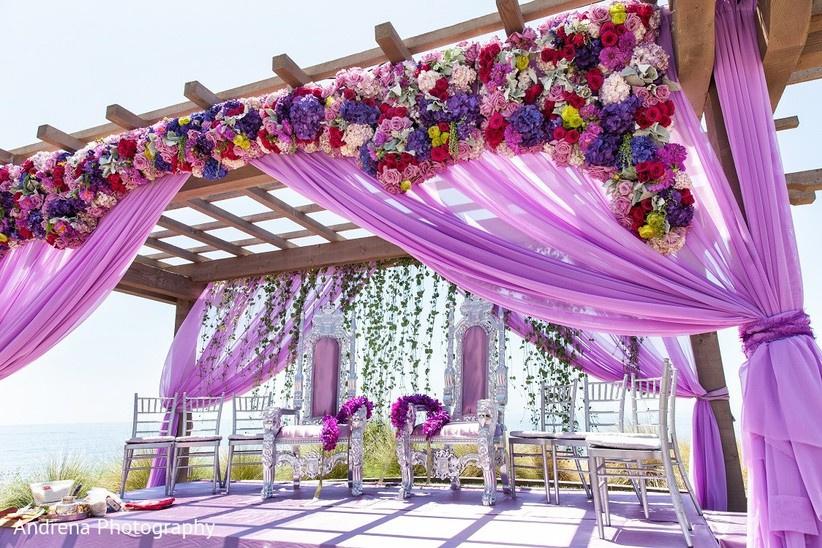 Image Courtesy: Andrena Photography
Planning a romantic fairytale theme wedding? This lavender themed dupatta decoration will only enhance the romanticism of your decor. Add soft drapes from both sides of the wedding stage as well as at the background. Deck up the front of the ceiling with flower decoration in lavender, white and blue. And finally, add hints of lavender to the bride & groom chairs too taking the whole colour scheme forward.
Orange Dupatta Decor for Haldi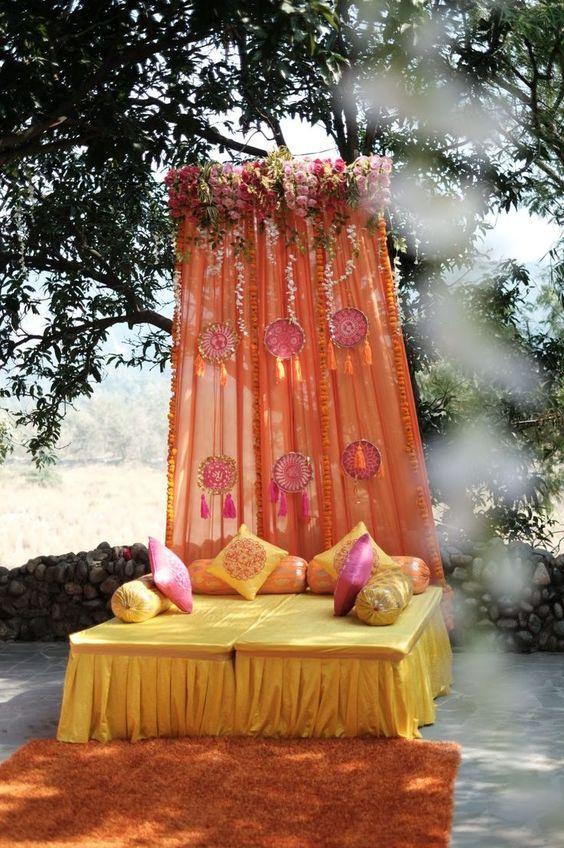 Image Courtesy: PTaufiq Photography
Haldi is a fun & playful wedding event. So should be the Haldi decor! Use yellow-based dupatta decoration for your indoor or outdoor Haldi event. You can throw in a few mint green and mustard in the mix still keeping the yellow in highlight. Make your Haldi function all the more vibrant with the perfect decorations.
Yellow Dupatta Draped With Flowers for Mehndi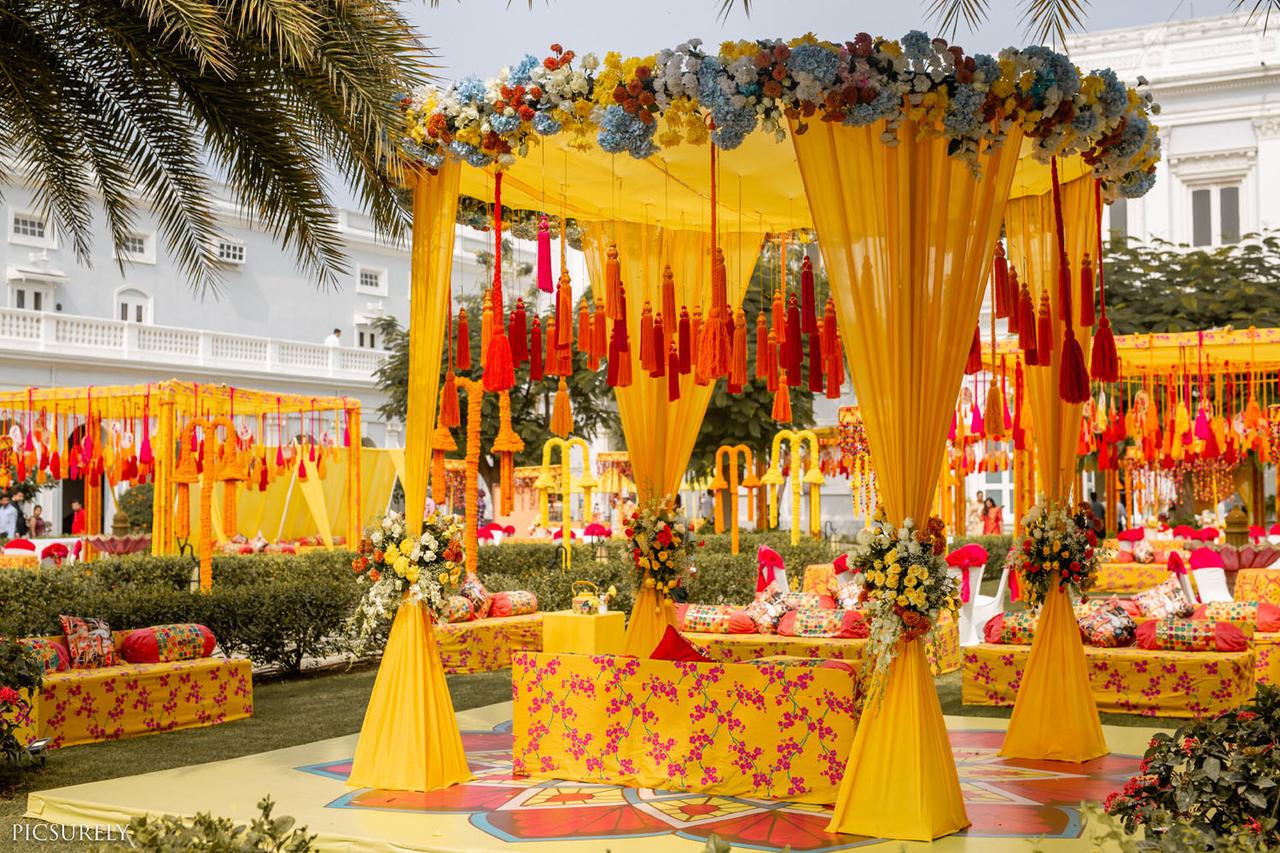 While Mehndi is mostly a colourful decor, you could go for this bohemian decor in yellow for your Mehndi decor idea, especially for an outdoor event, is to use all-yellow dupatta decoration accompanied by extensive marigold decor. Keeping yellow as the key colour, you can use all the other accessories in the same shade. Like Kalash decor, streamers, drapes and yellow flower Rangoli. You could use beautiful Jhoola decoration ideas too.
Pink Dupatta Shamiyanas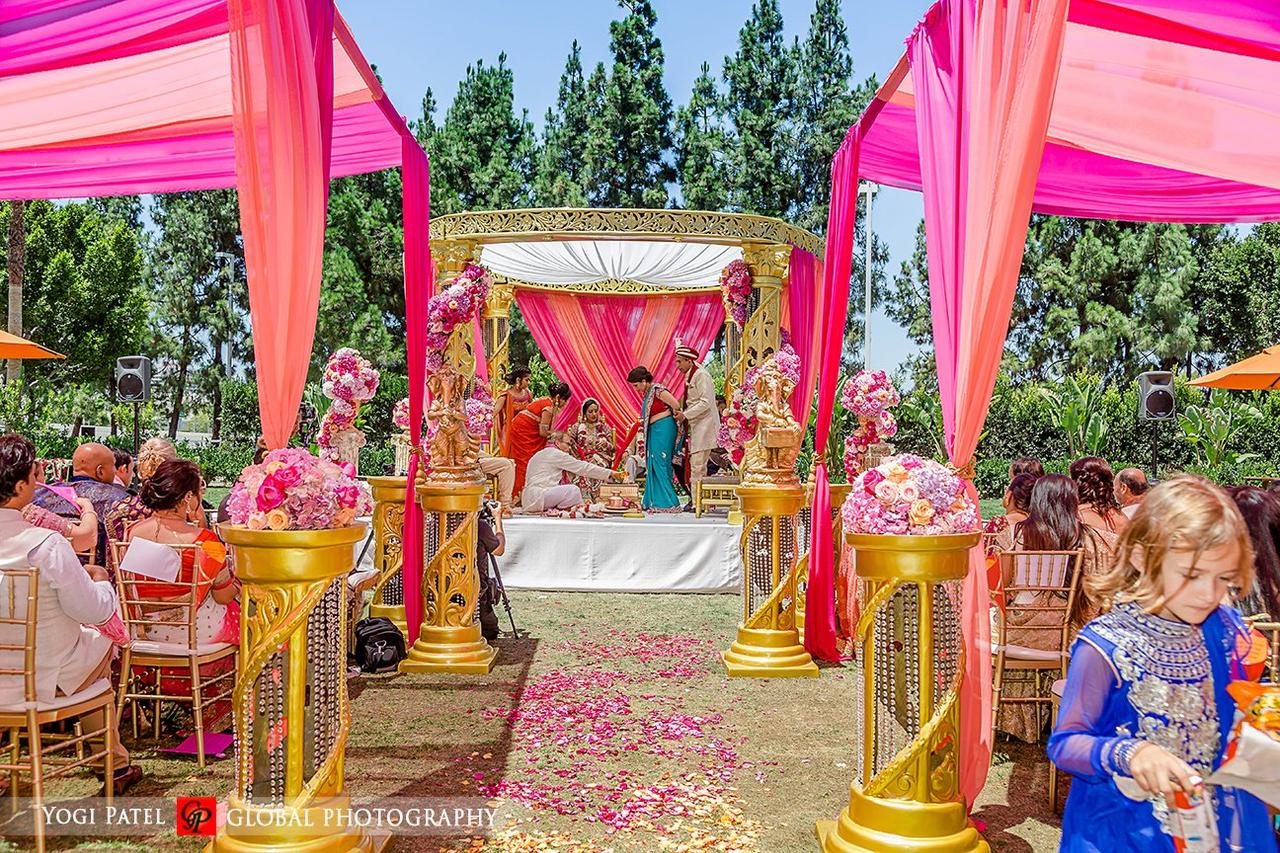 Image Courtesy: Yogi Patel Global Photography
We've seen how a pink mandap would always work at weddings. Now try using pink dupatta as your Shamiyana for the entire venue for some gorgeous outdoor photos. Pick different shades of pink to bring some variations and mix it up with golden to create a balance of colours.
Large Red Dupatta Tent Ceiling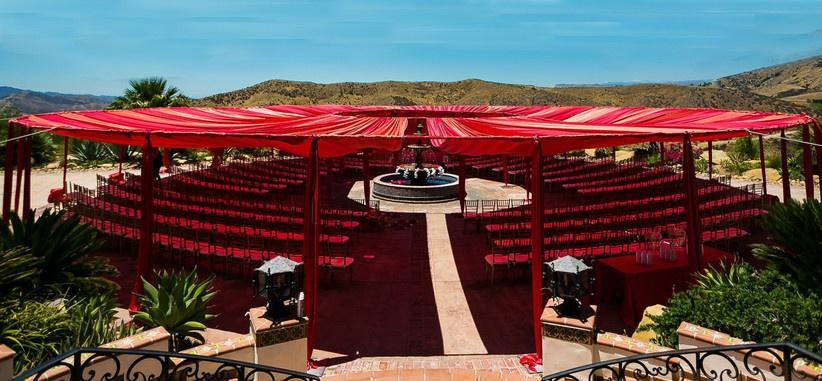 Image Courtesy: Pinterest
Now here's the most OTT dupatta decoration you'll see today! Covering a huge wedding venue outside with red dupatta drapes fashioned as a ceiling will definitely add oodles of drama and style to your decor game. Keeping the red theme intact, add red chairs and carpet to give it whole royal ambience.
Whether you're planning a cosy garden wedding using DIY decorations, an intimate indoor reception party or a full-blown destination wedding- try these dupatta decoration ideas to bring some vibrancy to your decor. Every wedding event has a unique vibe. Play with your dupatta colours and designs to fit into that particular vibe. Make your homey Sangeet ceremony look like a grand event only by using some creative decoration hacks!
Need help with your wedding decorations? Take a look at our vendors' list for some great deals!