Say Cheese! Fun and Quirky Selfie Booth Ideas to Preserve Memories in Style!
Clicking pictures and selfies are some of the most fun parts of a wedding. So how about you make your fondest memories in style? Here are some cute, fun and quirky Selfie booth ideas to brighten up your wedding occasions.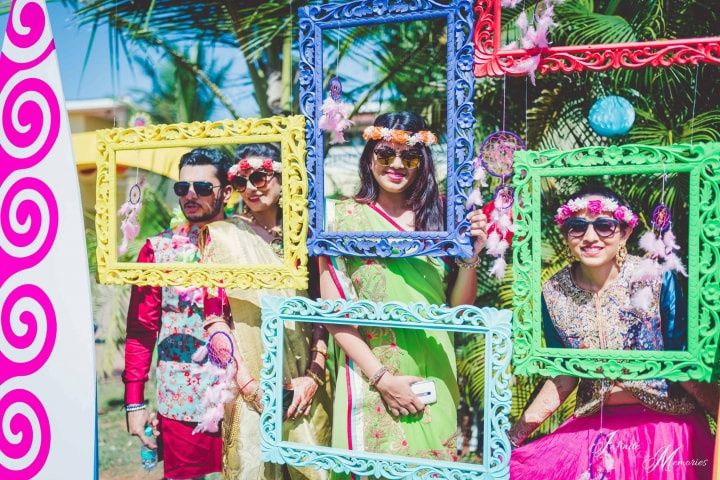 Wedding photography is not just about bridal portraits or framing the wedding rituals and traditions. A major part of it involves clicking fun unique pictures in bizarre ways to make your moments memorable. So how do you make a simple photo-shoot turn into a fun-fest? Enter photobooth! From riding an auto-rickshaw to pointing tease-placards to each other, you can have a gala time while creating everlasting memories of the wedding and pre-wedding events. So, let's give you some unique Selfie booth ideas to incorporate on your wedding to add a dose of quirk!
1. Funny Placards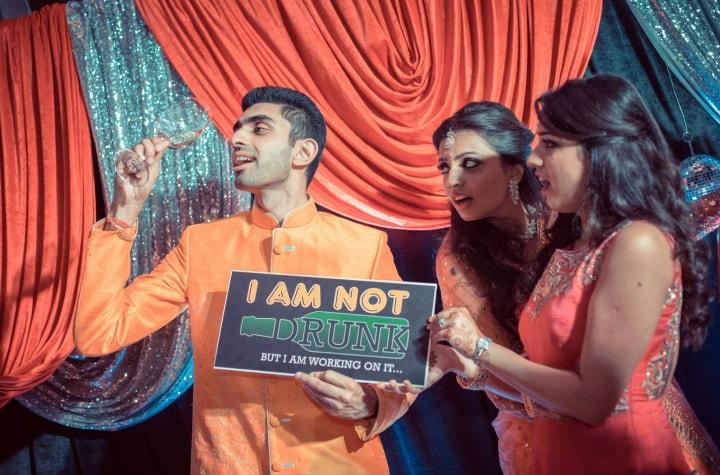 Get your guests on a laughter roll with some creative and crazy signboards and get them clicked. Holding funny placards along with some appropriate props is one of the most loved selfie booth ideas in millennial weddings. Get your sisters, brothers-in-law, friends have some insane fun with those "Ms Patakha" "Mr Right" and "I'm Sexy and I know it" signboards. With these kinds of photobooths, the candid expressions are bound to come naturally!
Where to look: JustKapture (NCR), Infinity Selfie Mirror (Chandigarh), Funevent.in (Bangalore).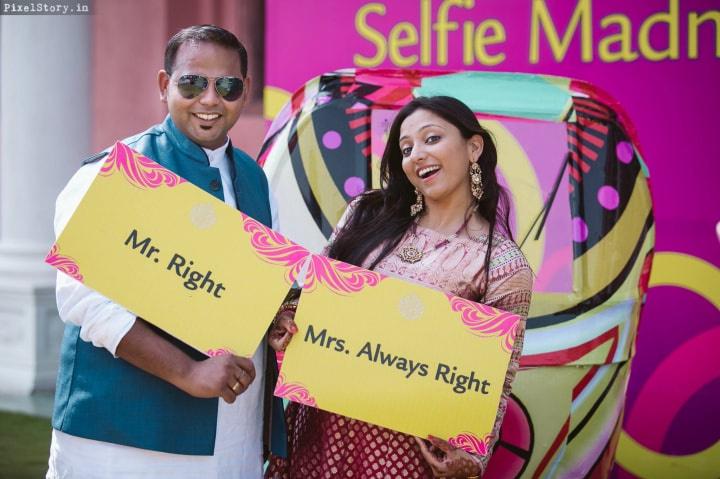 2. Floral Goggles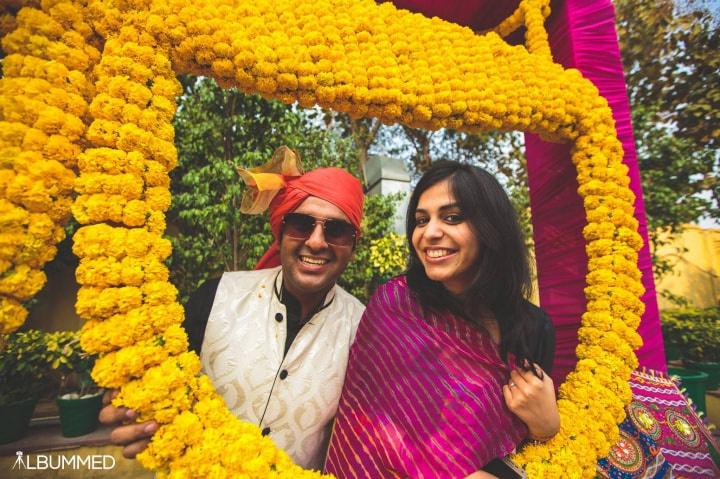 Another one among the popular selfie booth ideas is the huge floral goggles! Usually made of marigold, these oversized goggles are a hit among wedding guests when they want to take selfies! Organise some super fun Mehndi games to go along with these cute photobooths and your function will be a sure success!
Where to look: Raapchick Clicks (Mumbai), WizTales (Bangalore), Selfy Square (Pune).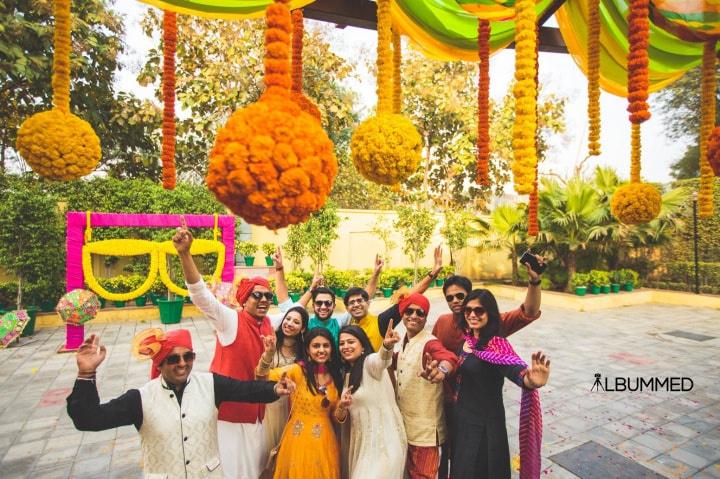 3. The Quirk Ride!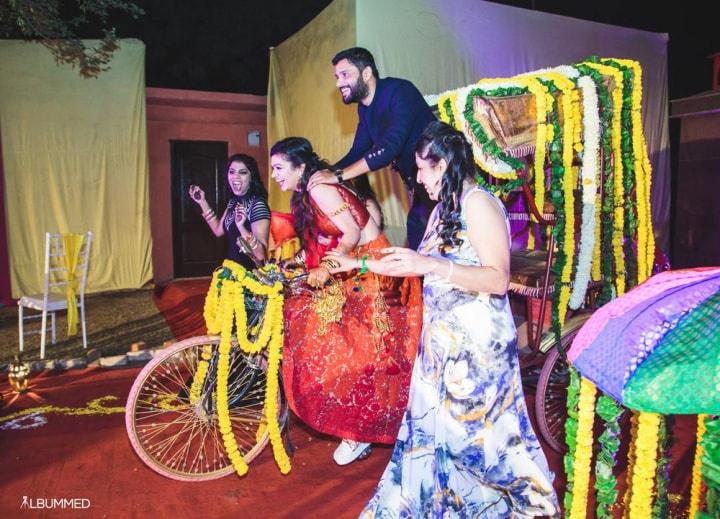 Riding a decked-up Rickshaw would just add oodles of swag to your whole photo album! So, how about having some childish fun on the multi-colour scooter or a truck while the photographer gets super candid moments captured in his camera? Using such quirky vehicles is one of the hippest selfie booth ideas today. Get all your bridesmaids and groomsmen together for a group-selfie on this cool ride! In fact, you can also arrange couple shoot for yourselves, your uncle and aunts even grandma and grandpa on a rickshaw…how awesome would that be?
Where to look: Luxury Graphers (NCR), Crazy Clicks (Ahmedabad), AG Instant Photography (Mumbai).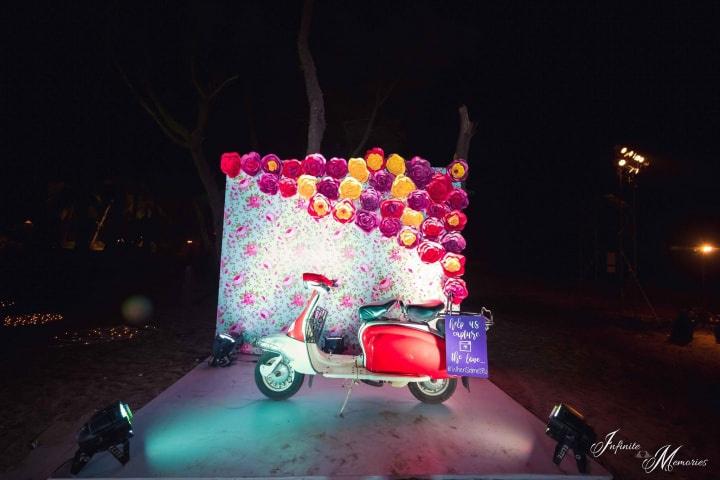 4. Frame them up!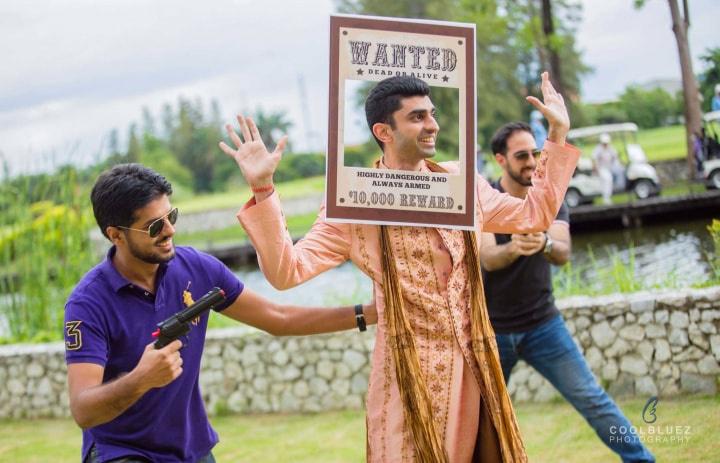 Use elaborately decorated structures for an artistic theme or go for a "Wanted Dead or Alive" one, frames have always been always trendy selfie booth ideas. Include more people in your "scene" to make it more dramatic and exciting! Apart from using it for your guests, you can also use frames with an illusion of a balcony for a Romeo Juliet themed romantic pre-wedding photoshoot.
Where to look: Clicks & Surprises (Mumbai), SnowMasters (Mumbai), Pixelscue (Bangalore).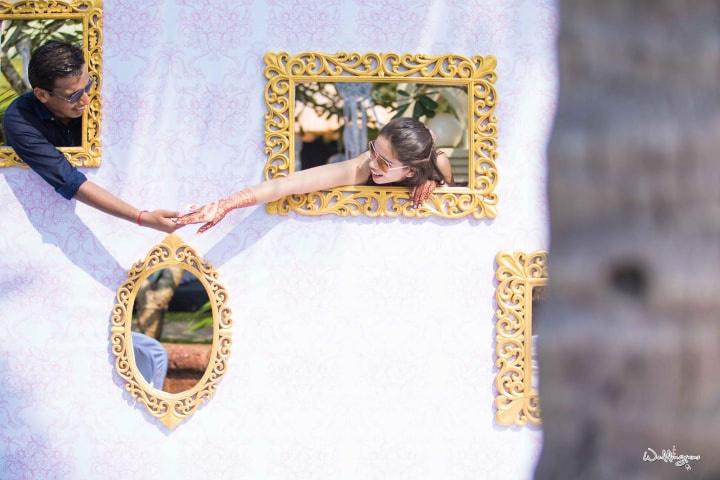 5. Hashtags and Captions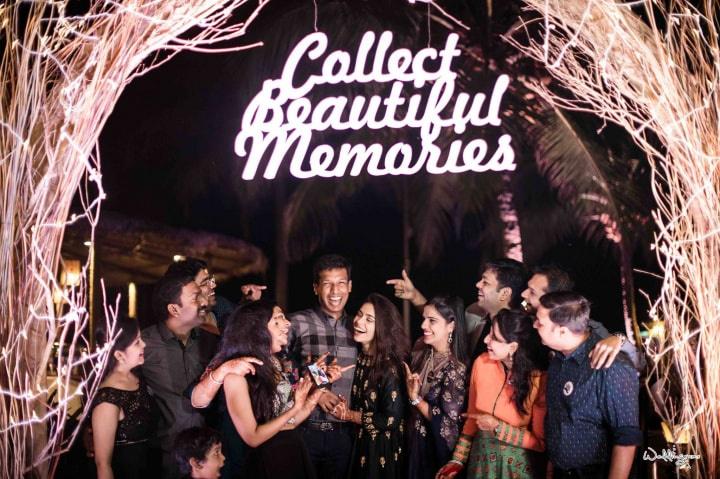 Because sometimes simplicity is the most beautiful way to go. Clicking photos and selfies in front of large captions are the simplest yet most adored selfie booth ideas. Make it a cute couple shoot, big happy family group selfie, bridal portrait or a bride's squad Vs groom's squad picture…you can arrange and rearrange different combination of people to make your wedding album look interesting. Just make sure the #Hashtag is visible in each image! After all, the point is to have fun! So, get creative and try out funky poses and expressions to dial up the quirk!
Where to look: Bilimbe Wedding Photo Booth (Bangalore), Say Cheese Photo Booth Rental House (Pune), Selfiebox (Hyderabad).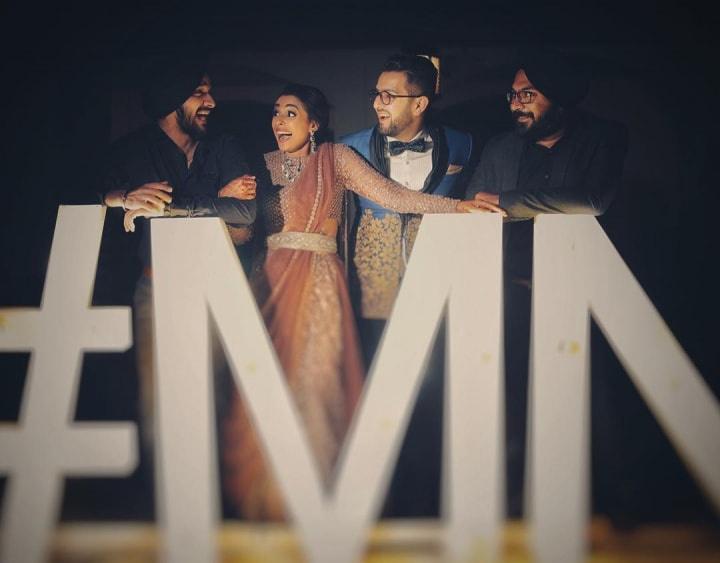 6. The One with the Stars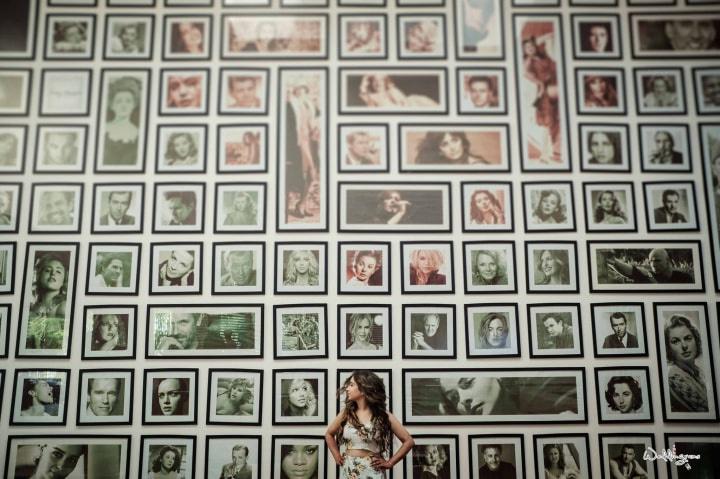 How about getting some close shots with all your favourite celebrities? Too good to be true? Well, then you can at least shoot with their photos! Make a whole wall filled up with every celebrity picture in Hollywood or Bollywood (or both) and make that as your booth! 'Celebrity walls' always work as hit photobooth ideas especially when we all have soft corners for the stars!
Where to look: PhotoBooth Mumbai (Mumbai), Manam Booth (Hyderabad), Photo Fun (NCR).
Every picture tells a story. So, your entire wedding album will be a tale of hundred such small stories filled with emotions, expressions and memories. A photobooth helps to bring out colours and energy to your wedding photos. Act, dramatise, pretend, use props, make your memories alive. The whole purpose of photobooth ideas is to add a dash of life to your still photos. So, laugh hard, play games, make jokes…do what your heart feels like and you will always cherish looking at your album over and over!
Do you have any more interesting photobooth ideas for wedding events? Share them with us in the comment section below.