Simple Wedding Stage Decoration Ideas to Amp It Up This Season
Weddings are all about fancy décor & that's why people go out of their way to think of unique ideas. Sometimes it is just the simple wedding stage decoration ideas that do the trick. Let us show you how!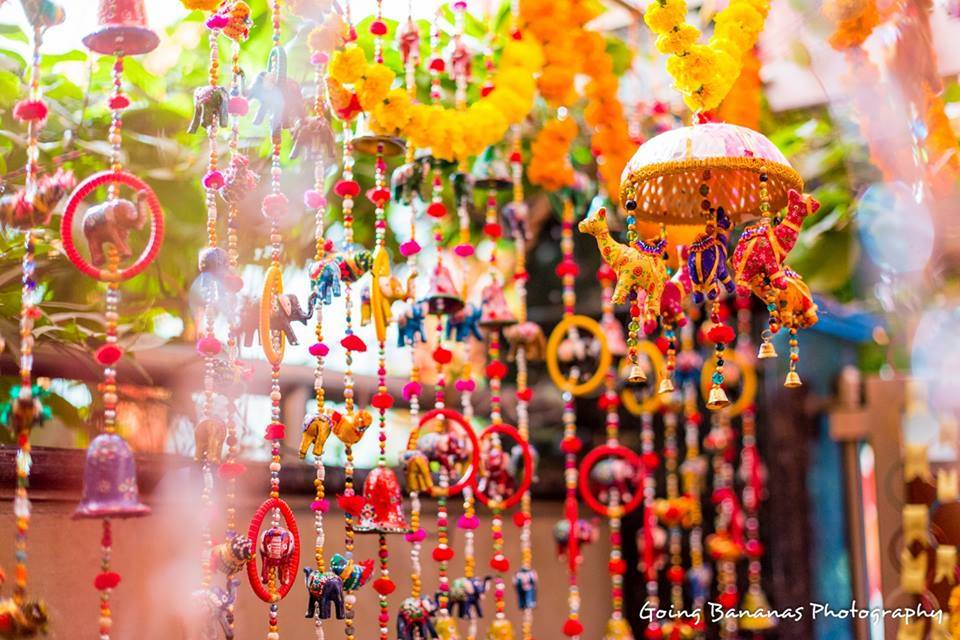 While everyone loves an extravagant, big-fat Indian wedding for their own reasons, the truth is that the focus has shifted over the last few years. Wedding décor has totally taken the limelight and become one of the most talked and discussed the topic of Indian weddings. Well, if you're a millennial and wondering what has changed?
It used to be food and only food that used to be the topic of discussion for a wedding. Now, as people realise the shift, there has been a mindset of spending lakhs and lakhs of rupees on wedding sage decoration to make sure that the guests are amazed and impressed. However, what is untrue is that it is the lakhs of rupees that you've spent on the décor that has worked in your favour.
We've put together a list of simple wedding stage decoration ideas that are not as expensive and yet look extremely extravagant for your summer weddings.
1. The Bare-Minimal Décor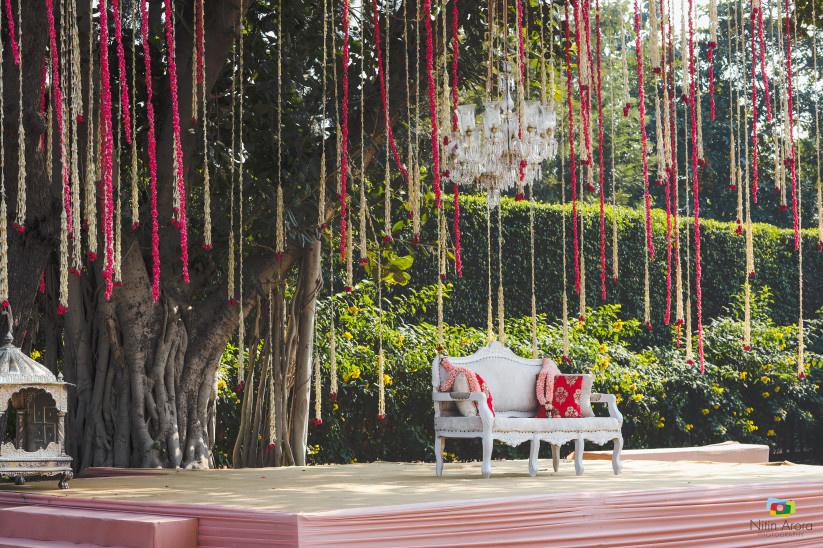 Sometimes we pay too much attention to detailing and end up overdoing it. The most endearing and simple wedding stage decoration ideas are ones that take advantage of the perfect backdrop and then use the approach of minimalism to make it look quirky and yet very fancy.
One of our most favourite ideas has been this wedding stage décor under a banyan tree with a few strings of flowers, a chandelier, and a sofa for the bride and groom. It just doesn't get simpler than this.
2. Bamboo Sticks to the Rescue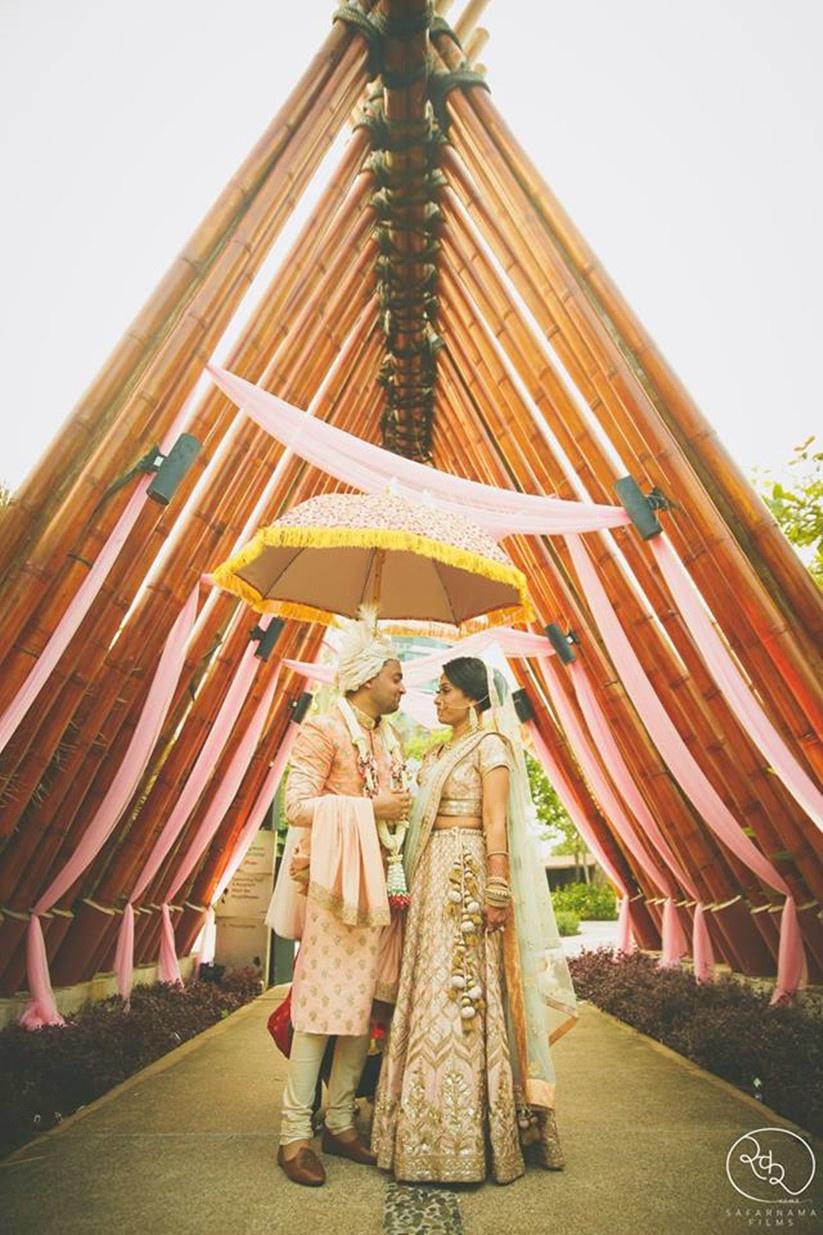 Well, just when we thought it doesn't get simpler than a banyan tree used as a backdrop, we found some bamboo sticks at a wedding venue looking more beautiful than ever. This South Indian wedding had the best simple wedding stage decoration ideas as they used bamboo sticks to make a stage for the bride and groom.
The addition of drapes to the bamboo sticks has more than covered up for other elements that may have been required. Would you be keen to try one of the most rustic yet simple wedding stage decoration ideas for your summer wedding?
3. The Simple Diamond Net of Flowers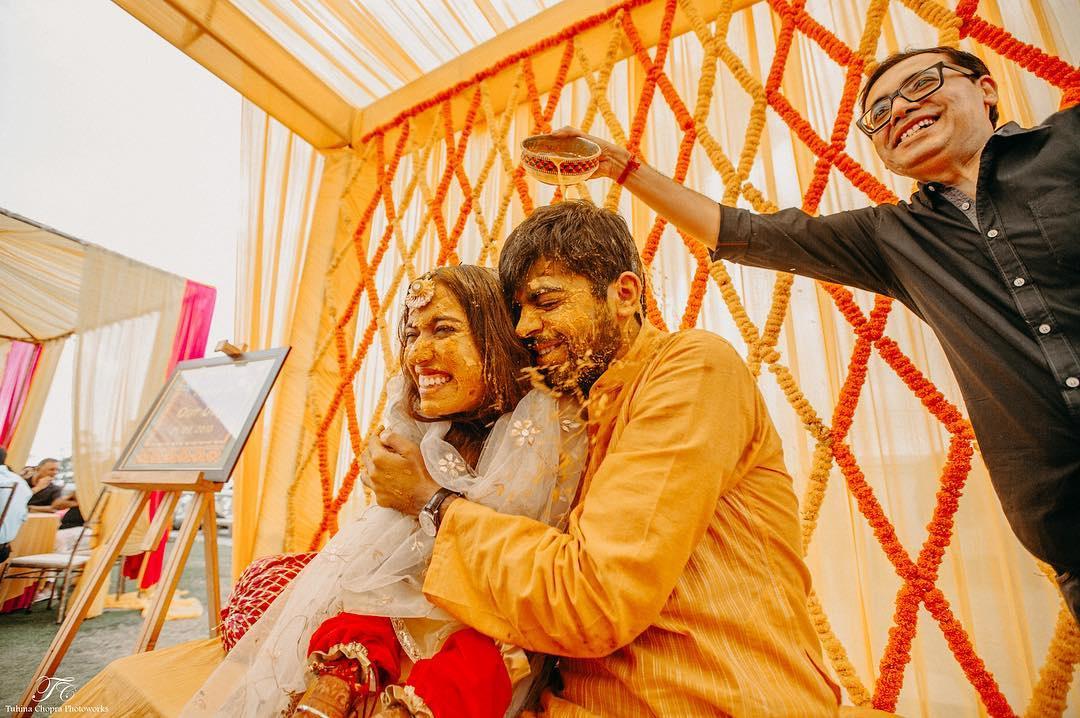 While flowers are overused for wedding decorations, sometimes we try too hard to go for exclusivity. However, the fact is that something as simple as a net of flowers made with Genda Phool can be one of the simple wedding stage decoration ideas that look like an exclusive choice. Especially using them as the backdrop for the Haldi or Mehndi function is a smart idea to keep it minimal and yet very breezy for a summer afternoon.
4. It's All About Framing The Moment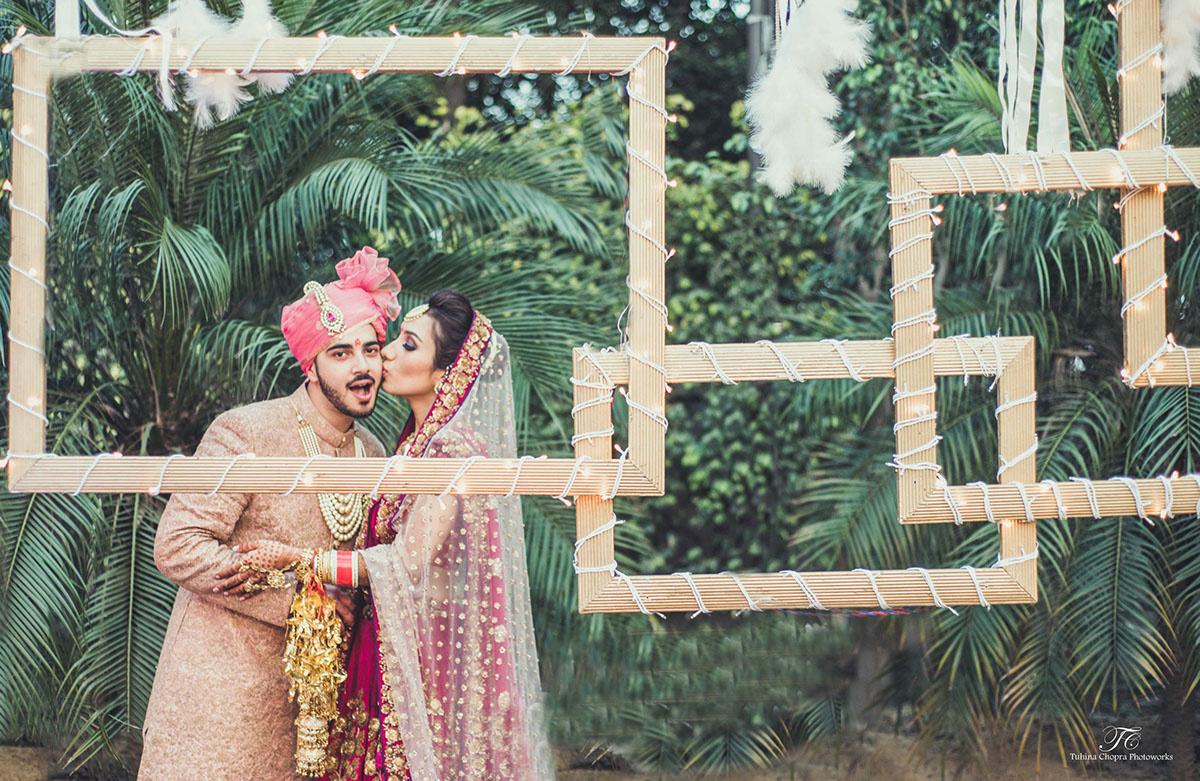 There are way too many wedding décor elements that enhance a summer wedding venue, but what about your photo booths? Well, as we speak about how simple wedding decoration ideas can have a huge impact there are also great ideas to create the perfect photo booth. All you have to do is look for a corner that has beautiful looking plants at the background, and then hang simple wooden frames in front of it.
They don't just act as a great place to get pictures clicked but also make for a good decoration idea. If you're looking for simple wedding stage decoration ideas for the night you can cover these frames with fairy lights on the corners and they will light up the entire mood.
5. Colourful Umbrellas for the Sun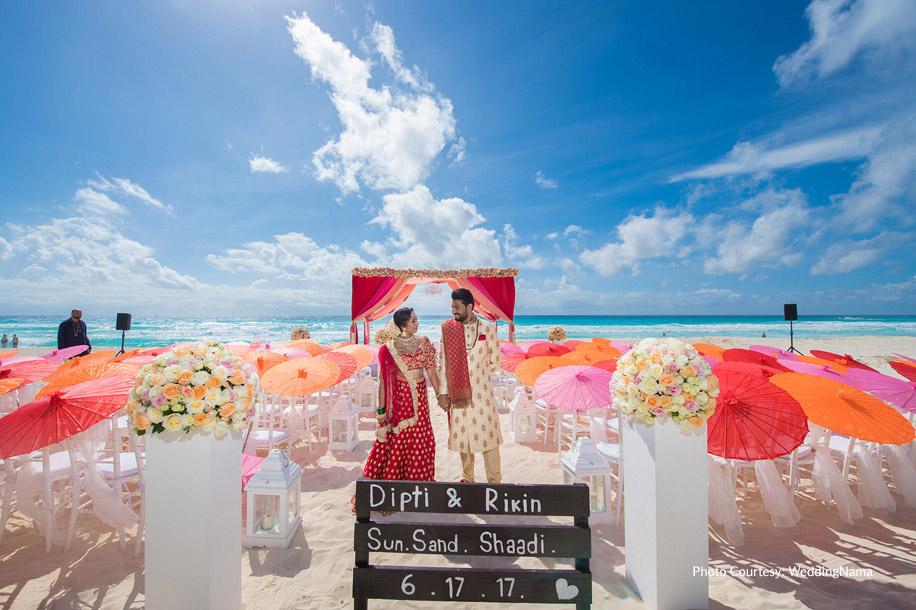 While most people generally think of umbrella in rains, we came across some simple wedding stage decoration ideas that made us forget its purpose in the rain. You can use colourful paper or fabric umbrellas to make the stage look more vibrant or decorate the chairs with the perfect shed in this scorching heat. Either way, it is going to make for a great element of fun and spunk.
6. The Rustic Vibe of Bird Cages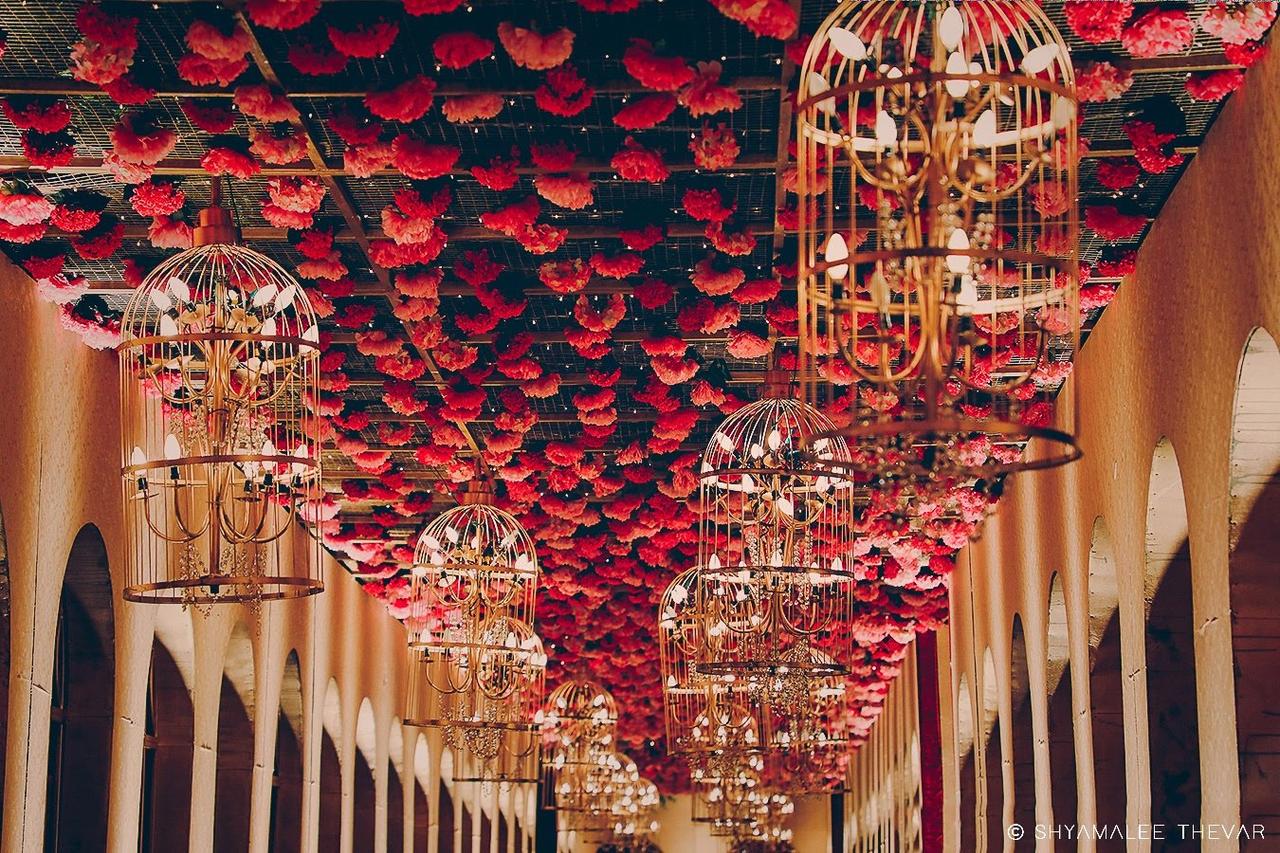 Bird cages are one of the common elements that you see around in cafes and restaurants. So why not pick this idea up to decorate your wedding hall? Well apart from being one of the easiest to implement, using birdcage is one of the simple wedding stage decoration ideas that has a vibe of itself.
If a rustic poetic vibe is what you're going for in any of your functions, all you need are some flowers to make a false ceiling and a few bird cages hung around it to complete the décor. Add some lights in this birdcage at night and it will be perfect for a Sufi vibe.
7. Paper Pom-Poms Make for a Cute Idea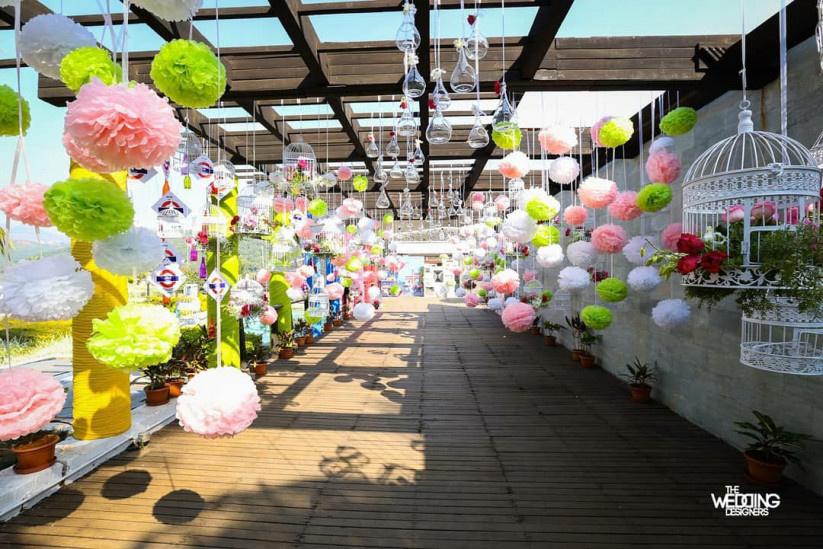 If fun and light are the mood you're going for then paper pom-poms are one of the most cost-effective and simple wedding stage decoration ideas that you can choose.
You can keep the pom-poms as big or small as you want to depend on whether you choose it as your main décor element or not. Even if you go for slightly smaller ones, we assure you that they are still going to add value to your summer wedding.
8. Tassels and Latkans as Eye Candy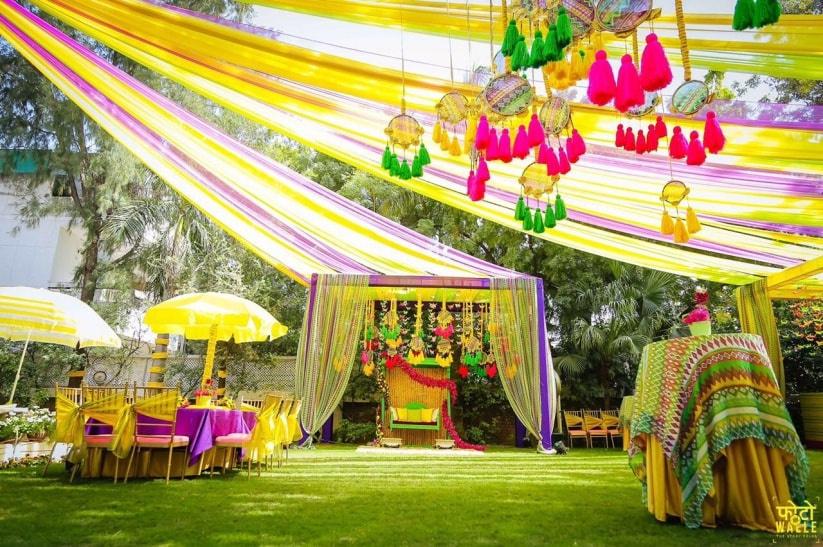 Just like pom-poms, latkans are also added to the easy breezy vibe of a place. The additional benefit of choosing tassels over pom-poms is that they can be designed to look both modern as well as traditional according to the theme of the party. So even if yours is a more traditional Rajasthani carnival theme tassels will fit in and look almost irreplaceable.
However, colours play a very important role here too, so choose colours like red-orange and pink for carnival as your theme, or go for neons for a more vibrant and young theme.
9. Huge Bells at Your Mandap
Bells are traditional because we seem them at the temples, but also extremely filmy as they are a little extravagant. However, there is absolutely nothing better than a mandap made of red roses with bells at the top being the main element of decoration.
If you are getting married this summer and have a mandap in the open, we promise you that this is the most unique and yet simple wedding stage decoration ideas that you would love.
10. The Lover Birds' Art Installation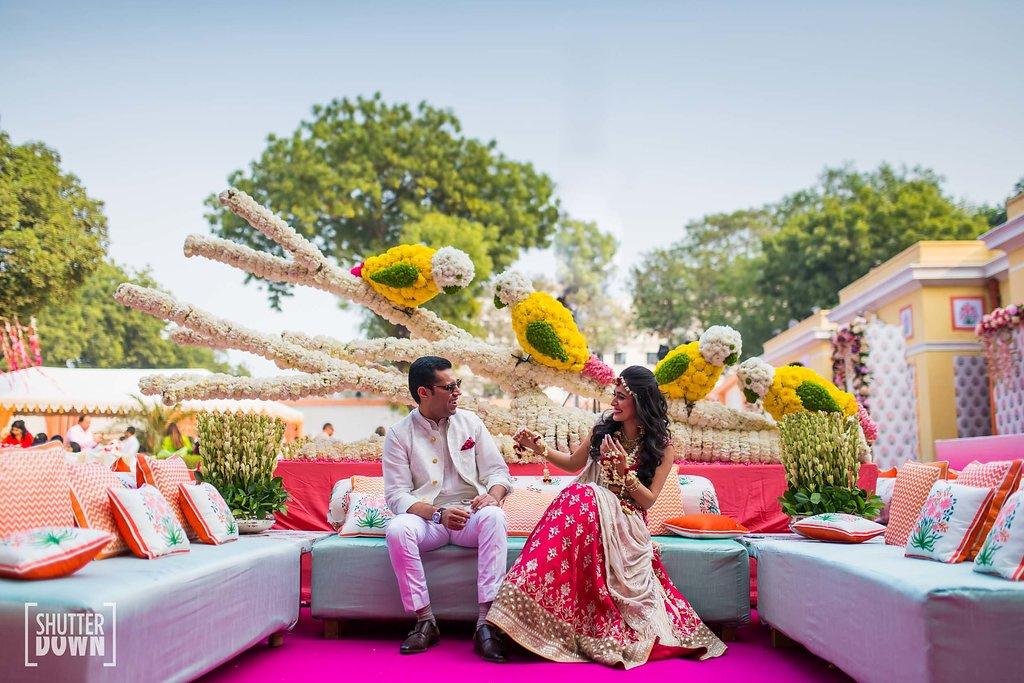 Art installations have become an inevitable part of events these days. Whether it is a music festival or even you cannot do without having one or two art installations places here and there.
However, as we are discussing summer wedding right now, there is enough scope for you to go for one too. Love birds on a tree branch made with flowers is the idea that we loved and thought to be one of the simple wedding stage decoration ideas that aren't too much of a hassle.
11. The Purity of Lotus
Lotuses are a significant part of Indian weddings. From the mehndi designs to the simple wedding stage decoration ideas, we find it everywhere. But the unique idea of using lotus as an art installation is what we had never imagined before we saw this. It is a unique installation made with fabric and flowers that makes for an eye-catching addition to the wedding venue. Make it as huge as you can if you want it to be the centre of attention at the function.
12. The Kites and Drapes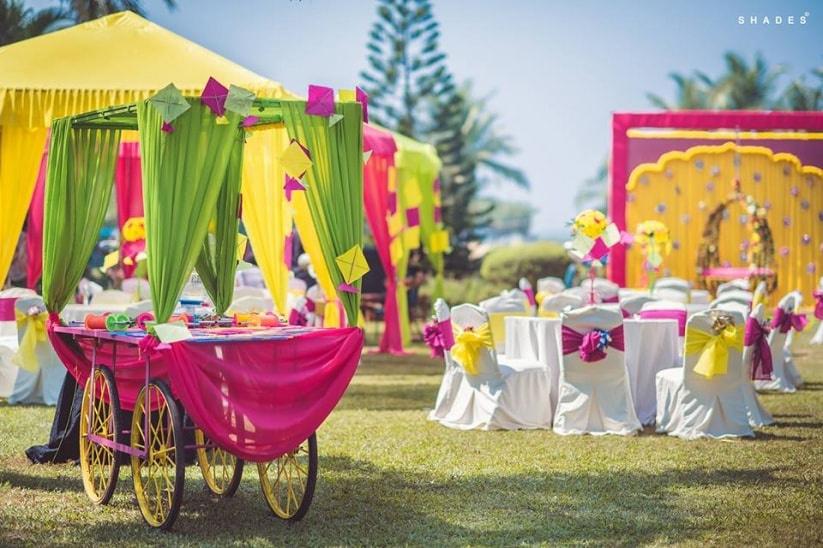 Image Courtesy: Shades Photography India
Another extremely unique and yet unthought of wedding stage decoration idea that we loved is the one that uses kites and drapes to make the entire summer wedding vibe come to life.
Use colours that go well with your theme and be sure to pull in a lot of attention. From the stage to your stalls, tables, as well as chairs, make sure you use this idea to decorate everything possible and make it look like the overall theme.
13. The Glint of the Crescent Moonlight
1While there are dozens of options of simple wedding stage decoration ideas for a summer day-time wedding function, we've also put together some really gorgeous ideas for night-time as well.
Just like this crescent moon covered with shimmer gold fabric and decorated with fairy lights and strings of flowers is the ultimate summer night-time decoration that will raise all eyebrows for how pretty it looks. If in doubt, this is one of the safest and most trusted fancy yet simple wedding stage decoration ideas.
While each of these simple wedding stage decoration ideas has a different feel to it and fit in a unique setup, they're all still ideas that are simple and doable for any function big or small. So look for something that blends well with your taste and makes the summer wedding idea a treat for everyone's eyes.
If you liked any of our simple wedding stage decoration ideas, then tell us in comments. We'd love to know how you adapted these ideas at your own wedding.