7 Wedding Backdrops That Are Totally Raging This Shaadi Season
If you're planning to opt for an outdoor wedding, you must get some creative ideas on Wedding Backdrops. We have handpicked a few for you to take some inspiration!

Choosing the right wedding decor is a crucial part of the entire wedding planning. Whether you should have an indoor wedding or outdoor? What should be the theme? How do you want to decorate your wedding wall? There are so many aspects to be taken care of. If you have decided on an outdoor wedding, then your decor planning must go according to that.
And one of the most interesting parts of an outdoor wedding is the backdrop decoration. So here we are, with some beautiful and creative wedding backdrops that would definitely give you some ideas on your own decor. Read on and take notes!
Mountain backdrop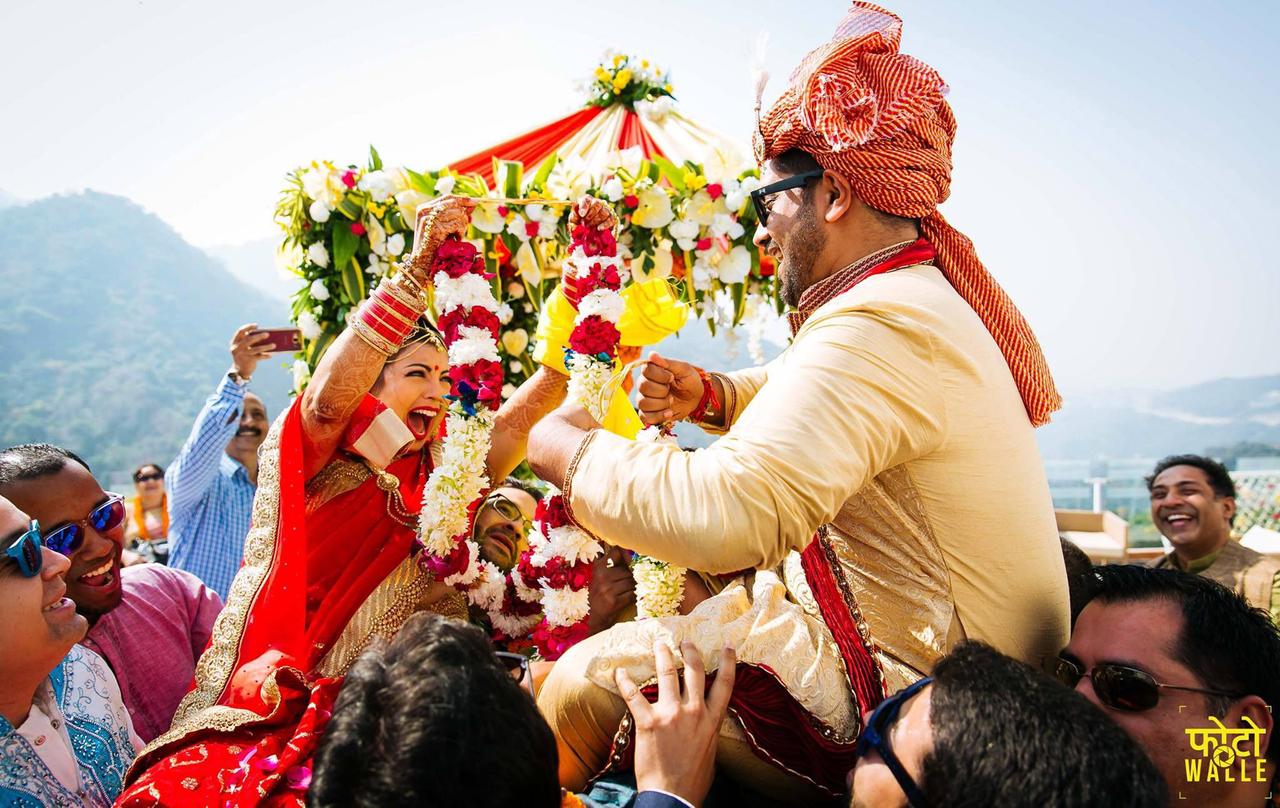 Have you always dreamt of having a destination wedding in the mountains? That would be an excellent opportunity for one of the most picturesque wedding backdrops ever! The gorgeous landscapes would add a dose of nature to your wedding album, which would mean half the work done! Make sure to wear some bright colours on your wedding to bring out the contrasts in your wedding photos.
Palace backdrop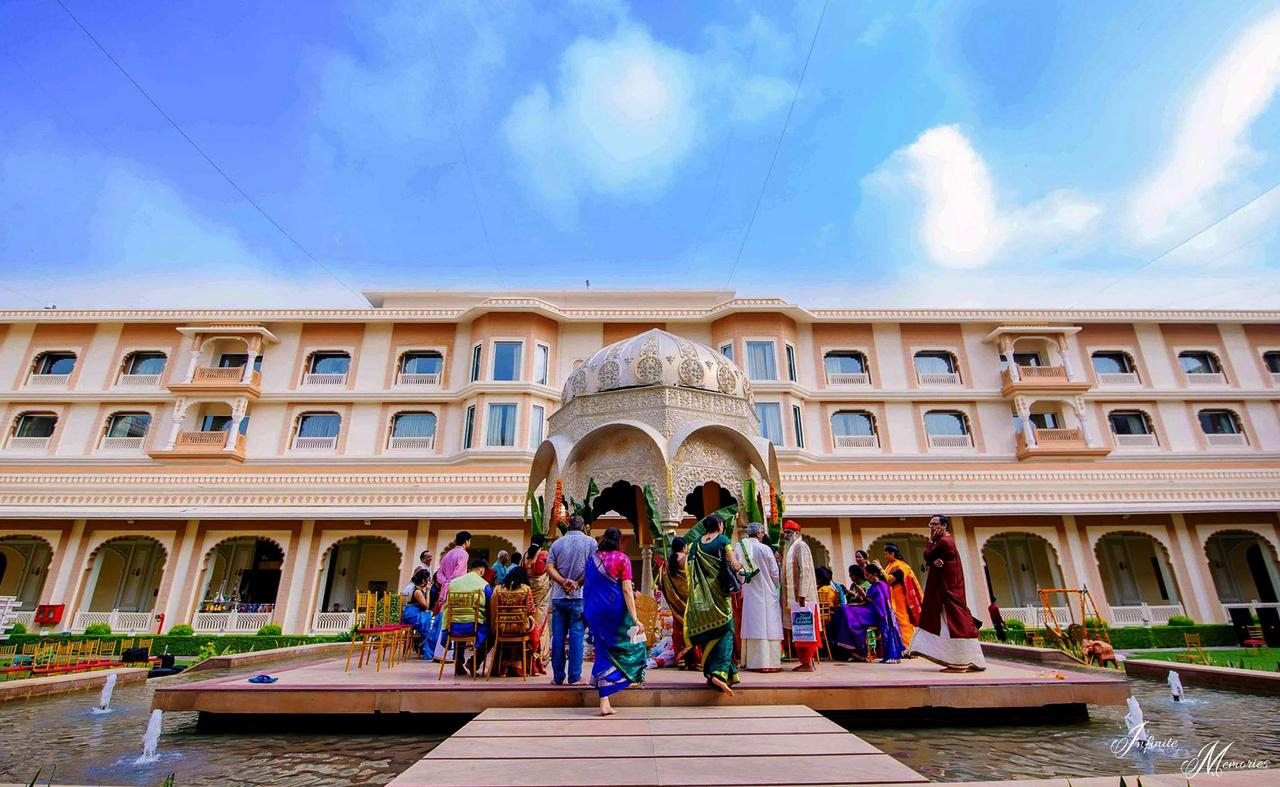 One of the most popular wedding backdrops has to be the palaces or havelis. The grandeur of the palace hotels make for some stunning wedding photos. And if you're having a royal theme wedding, then tying the knot with such a magnanimous background is only fitting! Imagine yourself getting married in a breathtaking golden lehenga at some royal resort in Jodhpur with the golden palace, Rajasthani folk music for Sangeet, peacocks, camels & elephants...now that's what we call getting married Maharani style!
Poolside backdrop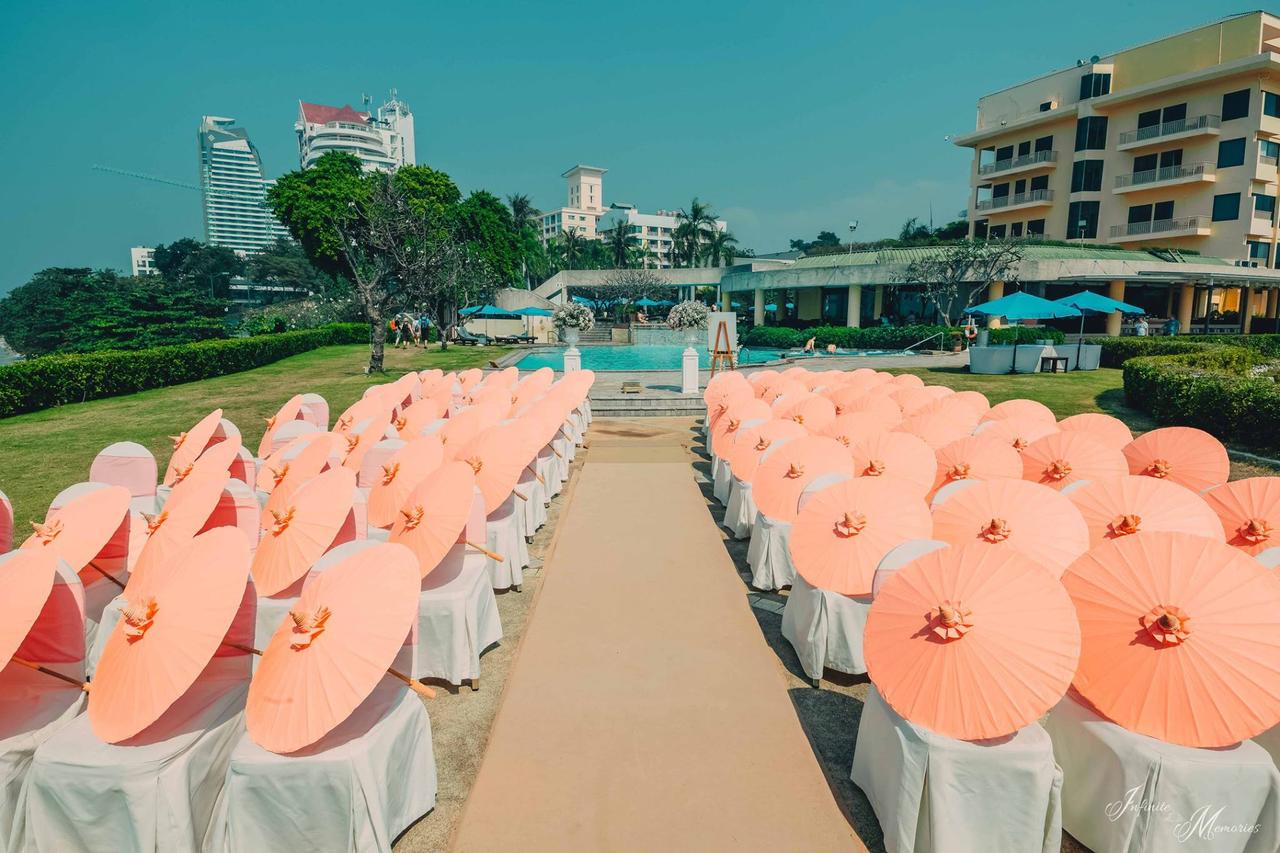 Here's another classy idea: using poolsides of five-star hotels or resorts as wedding backdrops! While you and your guests are staying at a lavish hotel already, why not using their poolside as your wedding venue? The blue water of the pool works great as a backdrop for the wedding couple. Talk to your wedding decorator and the hotel management about wedding mandap set up by the pool. Make sure the associated decorations like chair, drapes etc. are in coordination with the entire colour theme.
Forest backdrop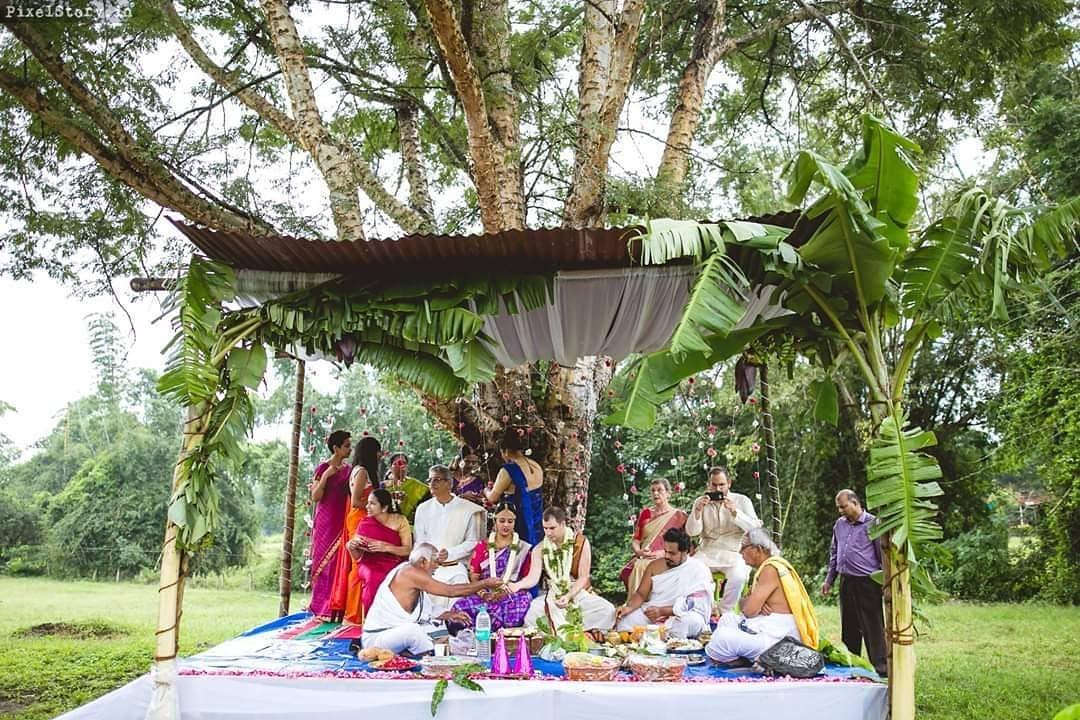 Love the woods? Then you must consider getting married amidst the green forest with one of the most exotic wedding backdrops! The rusty look of the woods, the birds chirping, the lanterns instead of bulbs and the overall raw nature of the ambience is something that you will definitely love to experience. You can also try some creative ideas while decorating a forest theme wedding. The lovely jungle backdrop would look mystic and unique on your wedding photos. Don't forget to pick colours for your wedding outfit that are in sync with the forest shades! e.g yellow or dark green saree!
Courtyard backdrop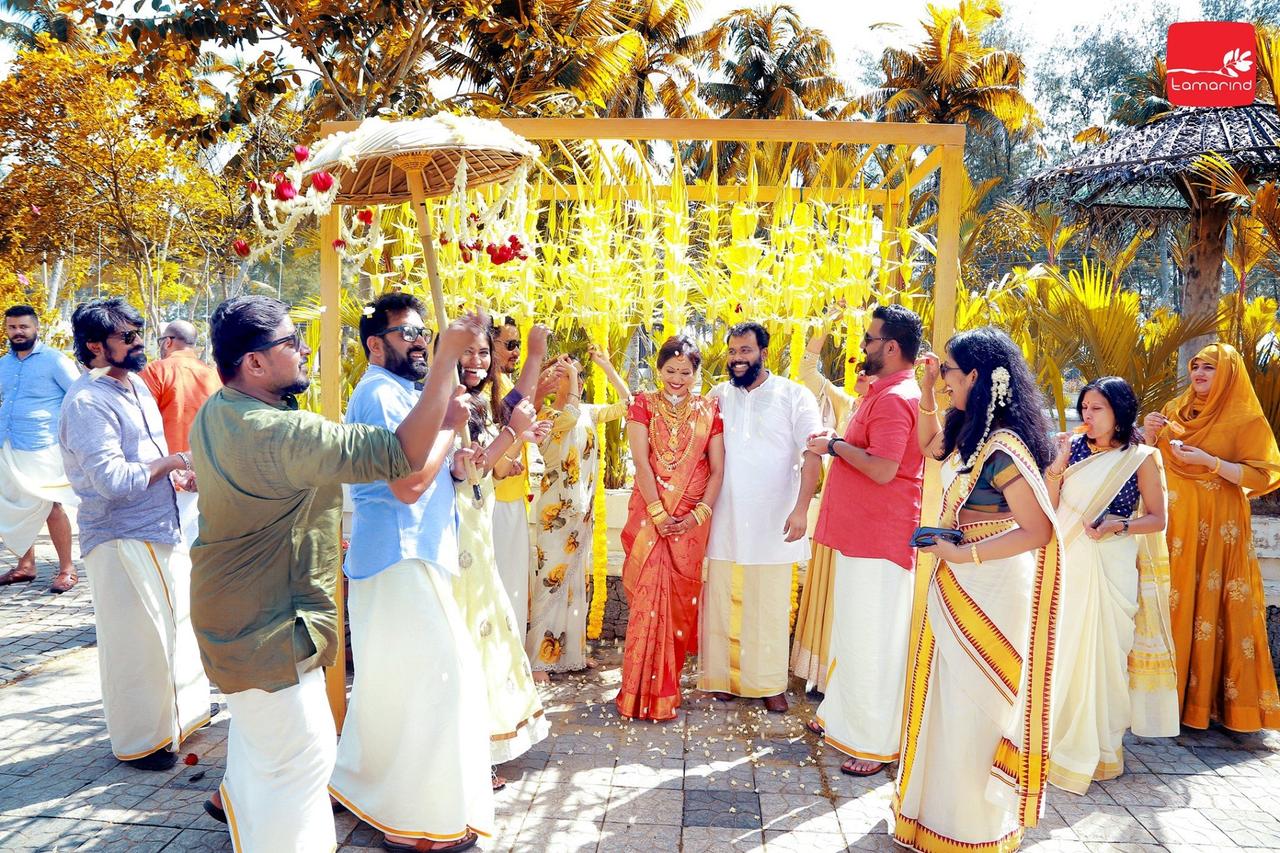 With these kinds of wedding backdrops, you'd feel like you're getting married in your own house! The homey courtyard with tulsi and banana plants around gives the wedding ambience a special personal touch. The distant coconut trees visible from the wedding mandap gives the wedding stage a perfect natural frame! Talk to your wedding photographer to take advantage of this beautiful setting and beautify your wedding photos!
Lake backdrop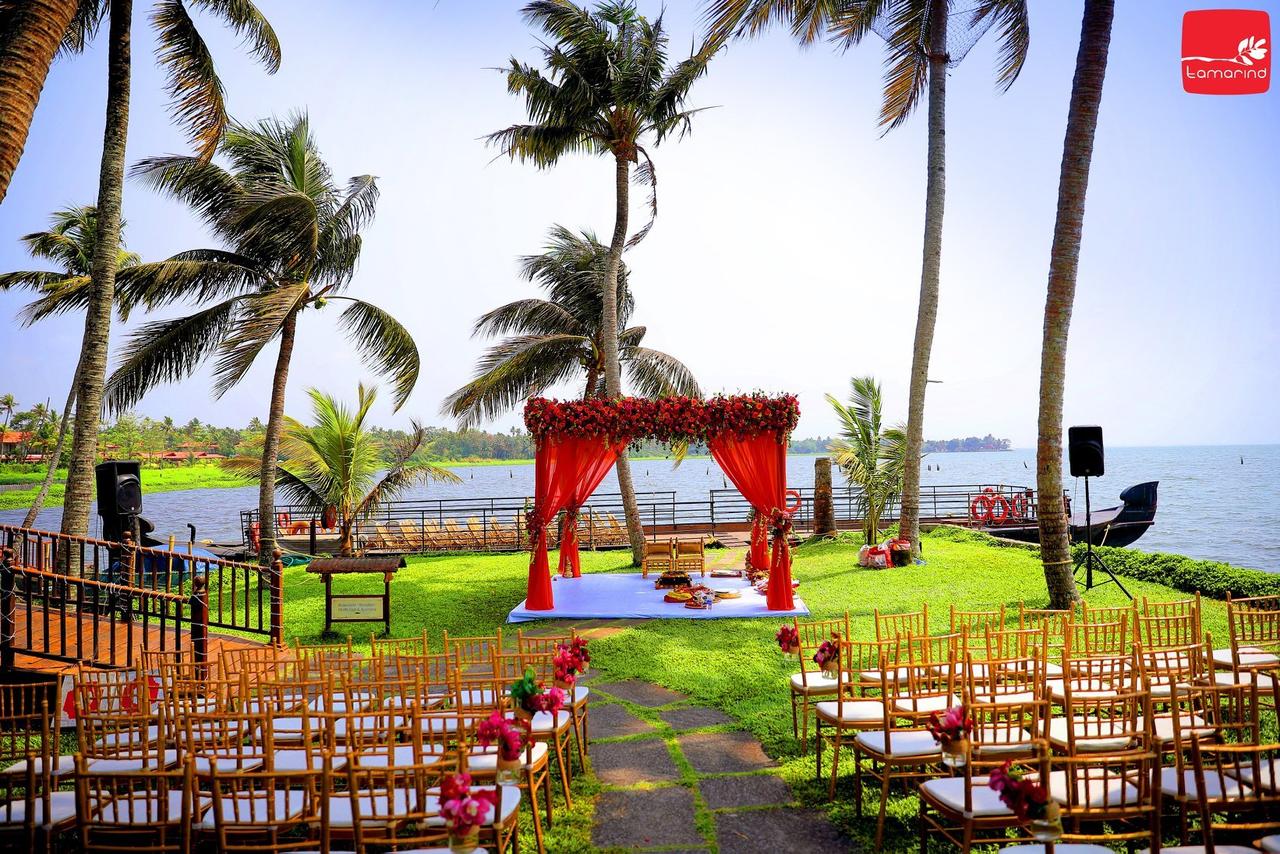 This is one of the most serene and elegant looking wedding backdrops. Using a large lake or a natural pond as your backdrop with thick green lawn as the event venue–nothing could be more elegant! The minimalist nature of this backdrop idea is the beauty of it. All you need is to set up the chairs and a simple mandap right by the lake bank. You can also go for some DIY decor ideas to keep things simple yet creative. Try floral rangoli or dupatta drapes for some personalised decoration!
Beach backdrop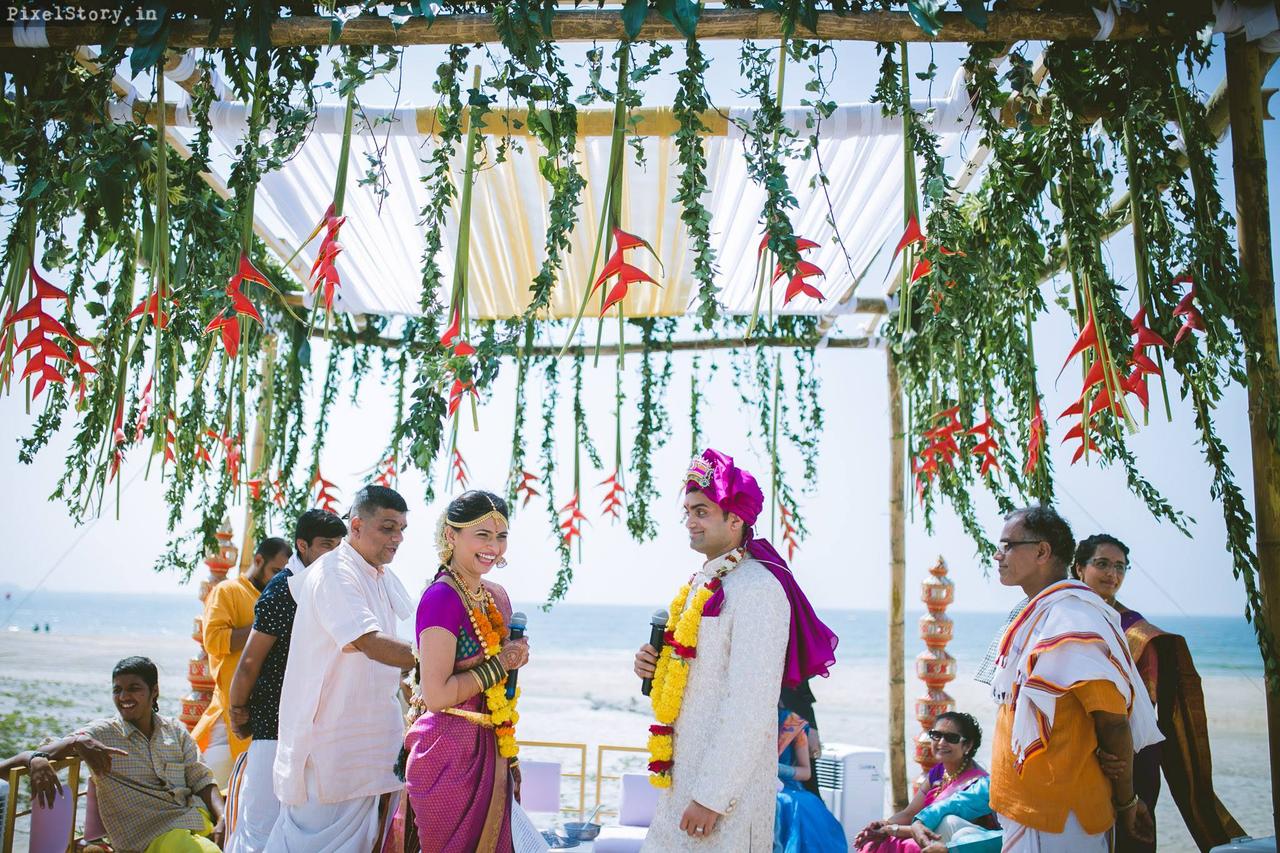 Now comes one of the most favourite wedding backdrops- the beach! When your backdrop is the ocean itself, you really don't need much more to decorate your wedding stage or venue! The waves, the blue sea and the silvery sands- they all make your beach wedding a memorable one by simply being gorgeous! You could maybe add some fern or twig streamers from your mandap and place colourful chairs to keep up with the cheerful beach theme. Wear a vibrant purple Kanjeevaram saree or an off-white Assam silk saree- both would just go brilliantly with your sea backdrop!
If you're looking for minimalist and eco-friendly decorations to go with your wedding backdrops, go for recycled decoration items- like bangle decoration, saree decoration or old dupatta decoration. Use paper flowers instead of real to deck up the stage. Choose your backdrop keeping a few things in mind like the weather conditions, time of the day etc. If you're organising a beach wedding, provide shades and umbrellas to your guests. Make sure to coordinate your outfit colours with the backdrop for amazing pictures!
If you need help planning your wedding, take a look at our wedding planners list of vendors for some great deals!