Dark Green Saree With Golden Border - A Combination for Your D-Day
Here are the best picks for you to add to your bridal vision - the top ten dark green saree with golden border designs that will take your look to the next level.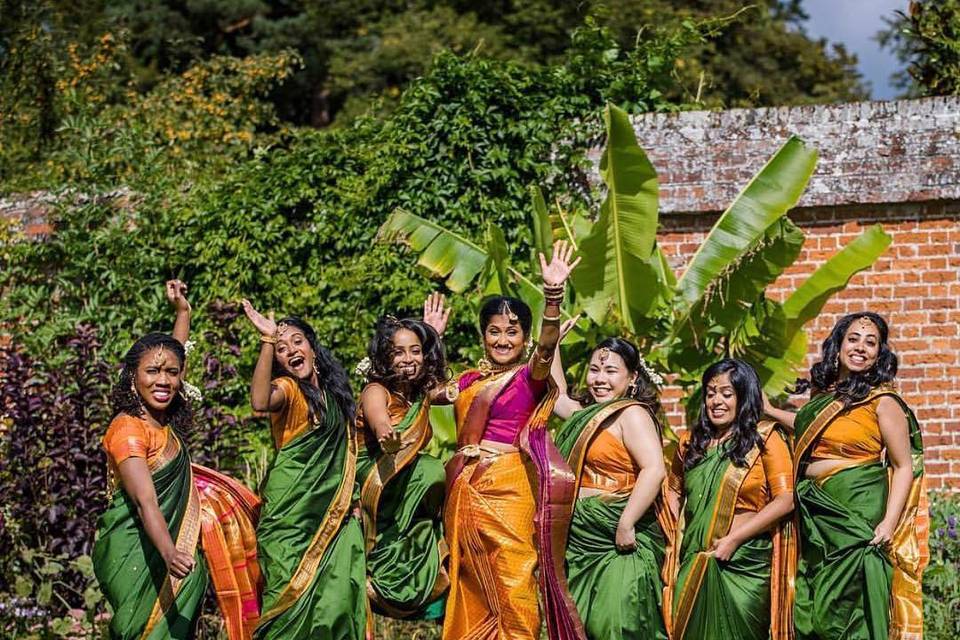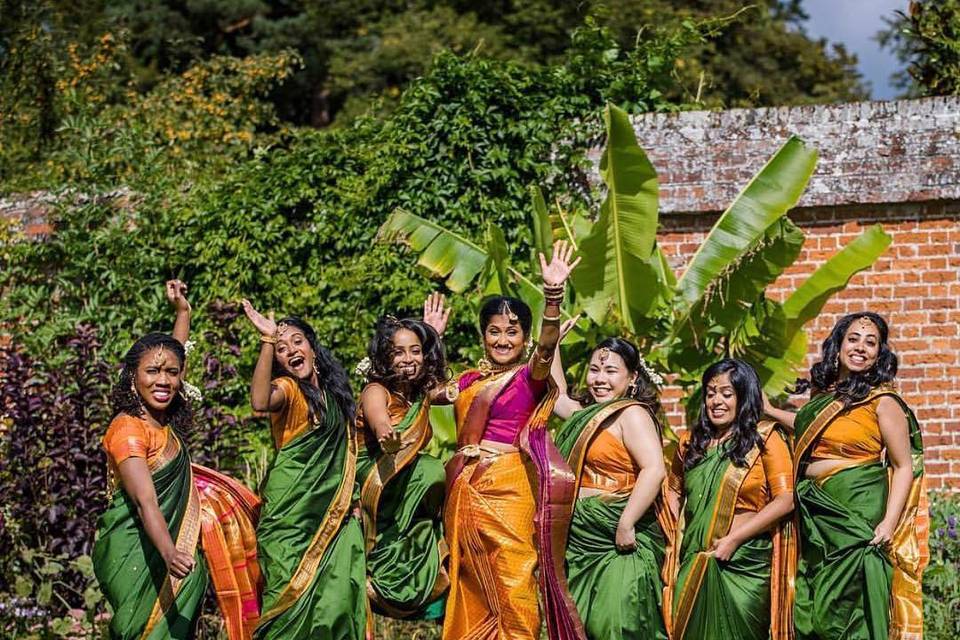 Image Courtesy: Casipillai Designer Collection
Let's take a look at some of the choicest dark green saree with golden border designs that would be perfect for you to rock at your wedding festivities. The colour is known to bring a calming effect and signifies faith, luck, fertility and prosperity. You can even go for a nature-themed after-party or reception event to jazz up your wedding gala with some of the best and most impressive dark green saree with golden border designs to flaunt your curves in.
Scroll through for a superb collection of the latest and trendiest designs that we totally dig!
Bottle green saree with gold border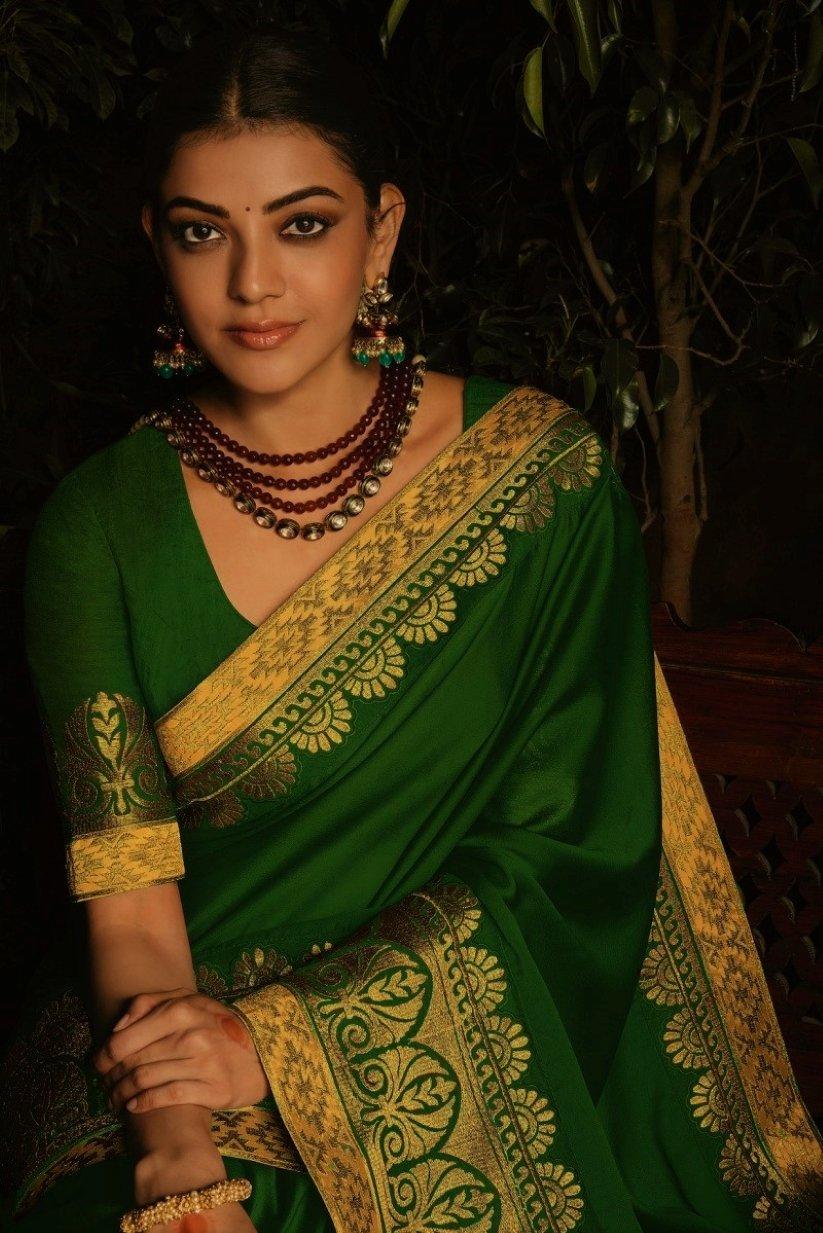 Image Courtesy: Kimora Fashion
Here we have an absolutely elegant dark green saree with golden border that will give you a totally sophisticated and sensual look. The highlight of the saree is the gorgeous golden border which is amplified with a second inner border made with sparkly tassels lining up the entire length of the material. Finish the look with dazzling gold accessories and a classic deep red lip.
Silk green saree with intricate embroidery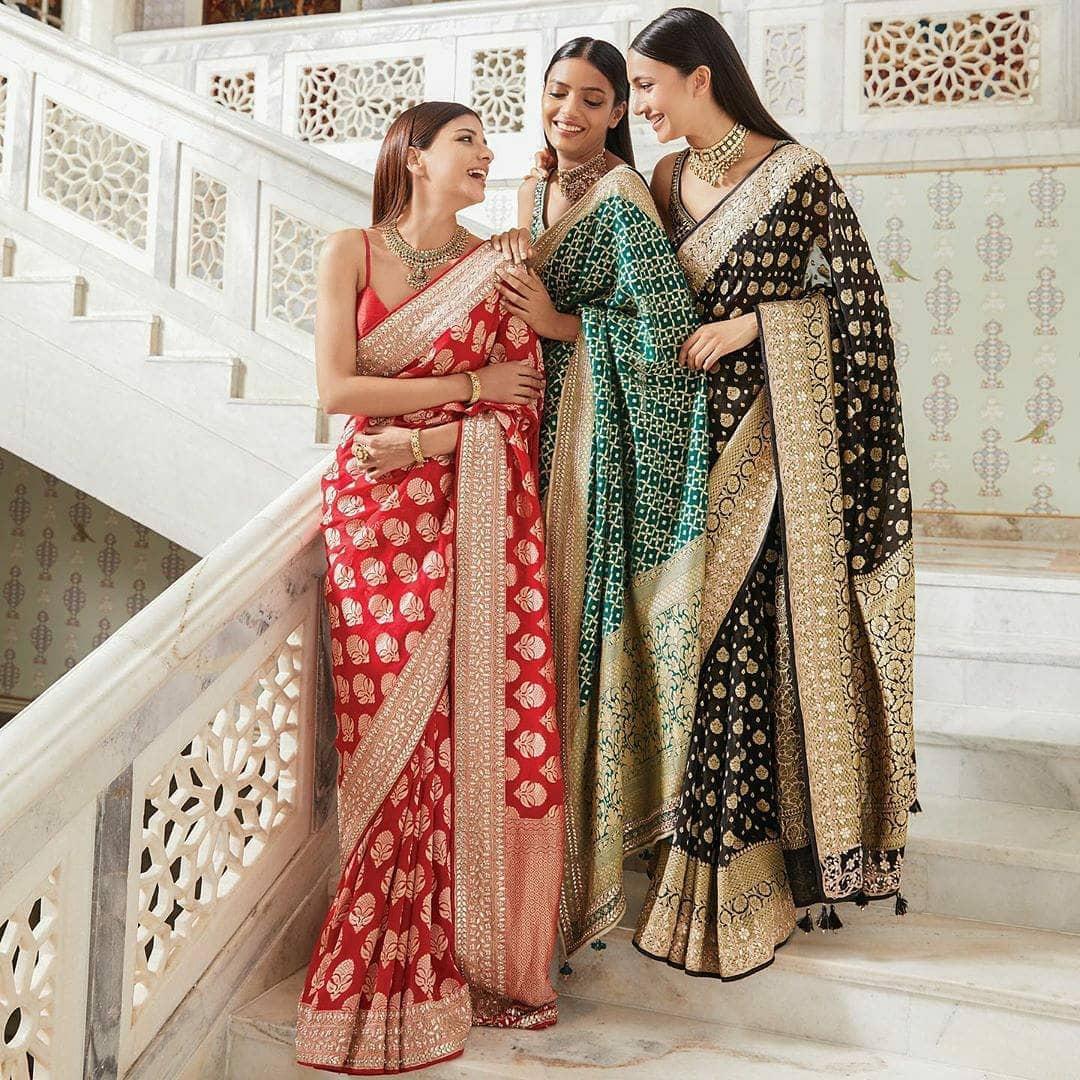 This dark green saree with golden border features an intricate gold pattern throughout the sheer material. The flashy borders are made with exquisite gold zari embroidery which balances the sheerness and completes the look effortlessly. Top it off with a stunning gold or antique gold choker necklace and gold bangles to finish the outfit. Keep the make-up look neutral with a soft eye shadow colour and nude lips so that you don't overdo the sparkle.
Dark saree with pompoms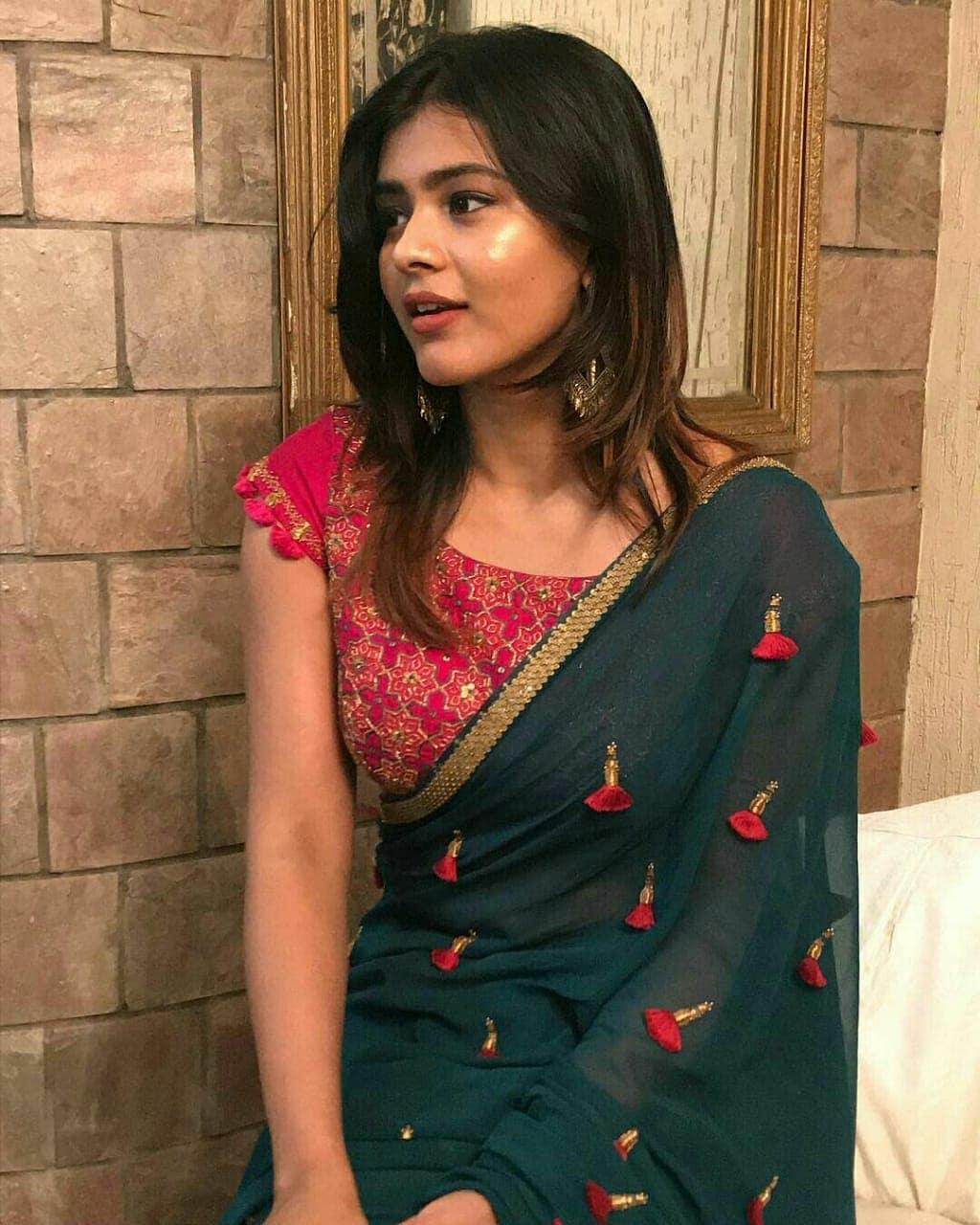 Try this beautiful dark green saree with golden border to give you an enchanting and well-put-together look for your wedding ceremony. The dual shaded colour scheme in the material with hits of gold makes the look stunning. The magenta coloured blouse also features a broad gold border. Use a heavy Gajra and a mix of green and gold bangles to stylise the entire ensemble.
Traditional dark green saree in silk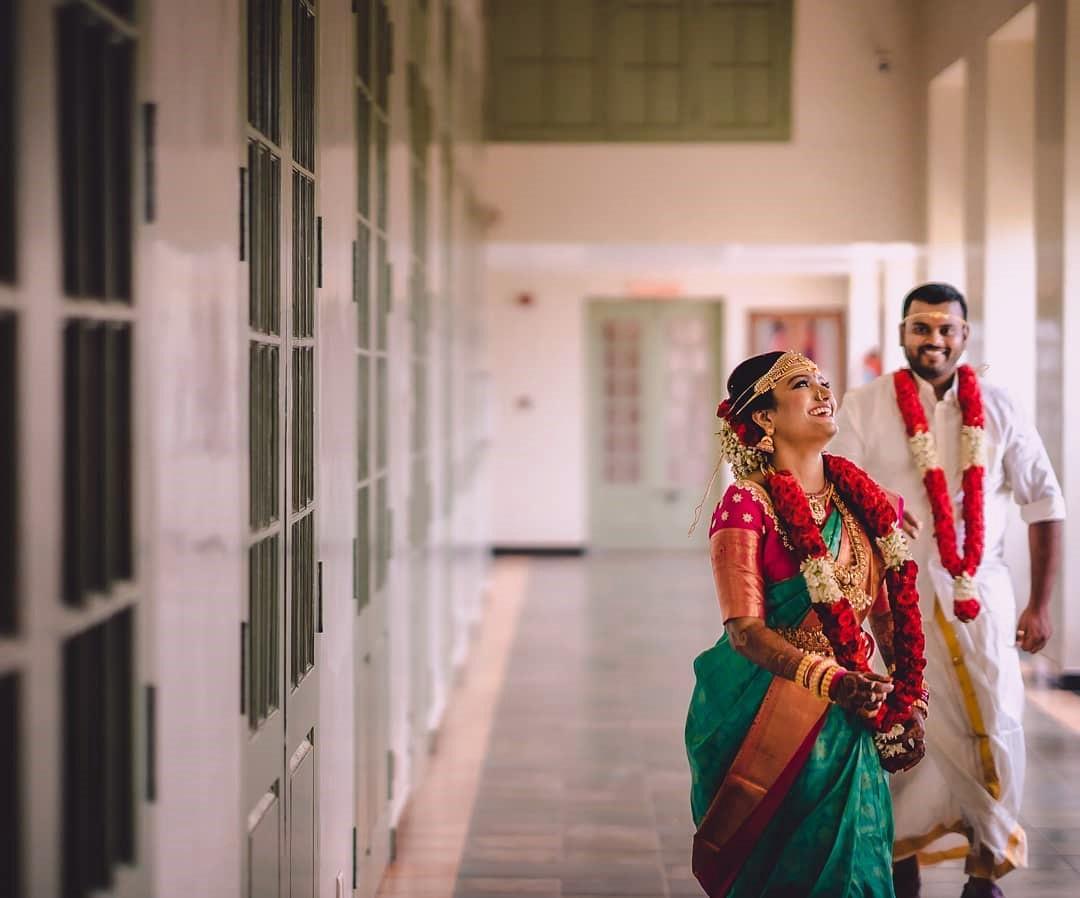 A colour combo of orange and dark green saree with golden border makes a ravishing look for a bride-to-be. Put this mesmerising and youthful look together to enhance your charisma and look just divine. Match it with a pair of lovely Jhumkas and gold jewellery pieces for a first-class bridal look. The lengthy golden borders on the sleeves which mirror the jewel tones on the saree give a stunning appearance on the whole.
Deep green saree with a thick border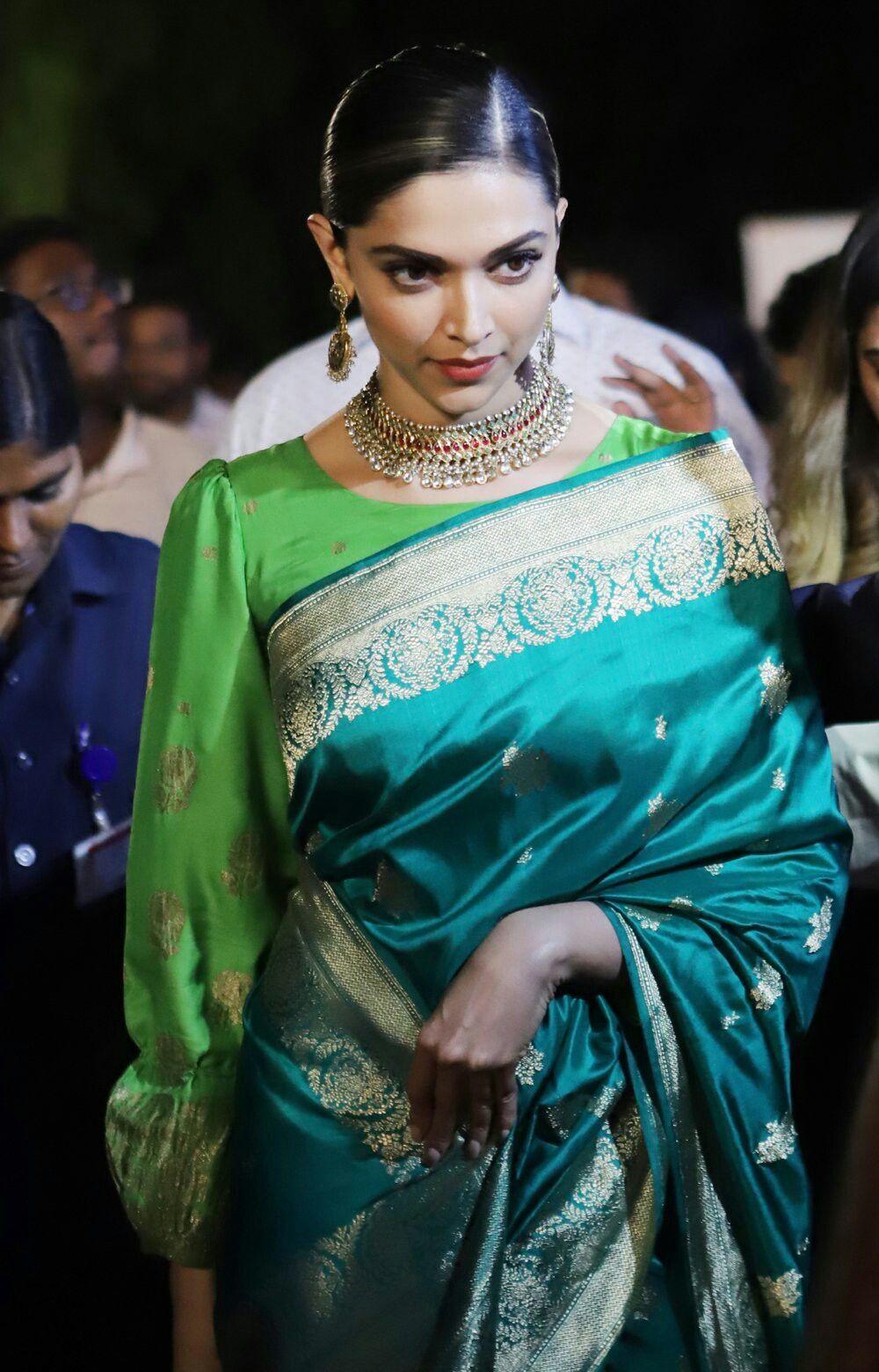 Image Courtesy: Pinterest
Go for this wedding attire to create a show-stopping entrance on your special day. When you're clad in this exquisite silk dark green saree with golden borders, it would be hard to look away. The parrot green blouse goes beautifully with the deep blue-green shade in the material. You can also pair it with a golden blouse with crystal embellishments, a black blouse with sequins or a contrast pink colour blouse as well.
Dark green net saree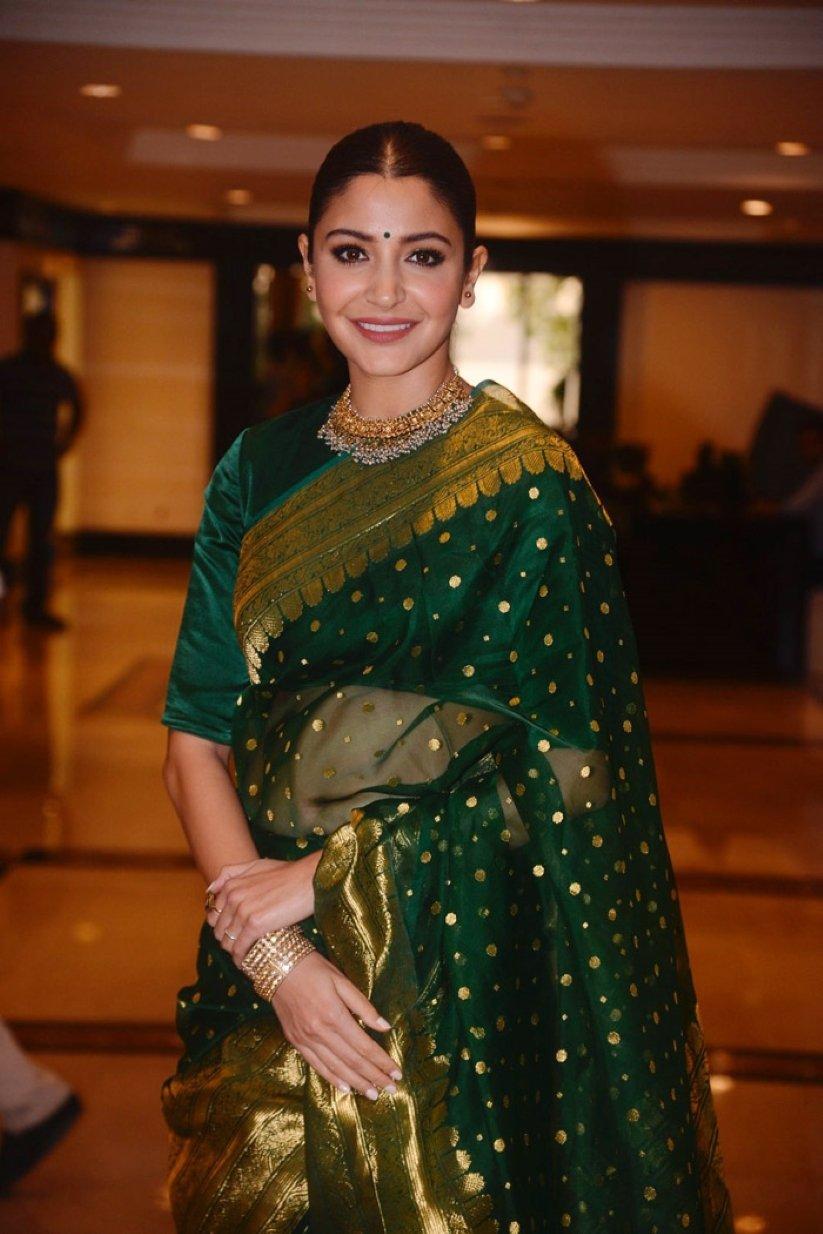 Image Courtesy: Vogue India
A gorgeous saree like this one with a traditional look matched with a lovely blouse creates an exceptional killer look for the big day. The design brings together traditional patterns and modern craftsmanship together into six yards of redefined bridal wear. The dark green saree with golden border work gives you a base colour palette to build your look on. The designer blouse has a unique back-less design that elevates the entire look.
Deep green saree with golden bootis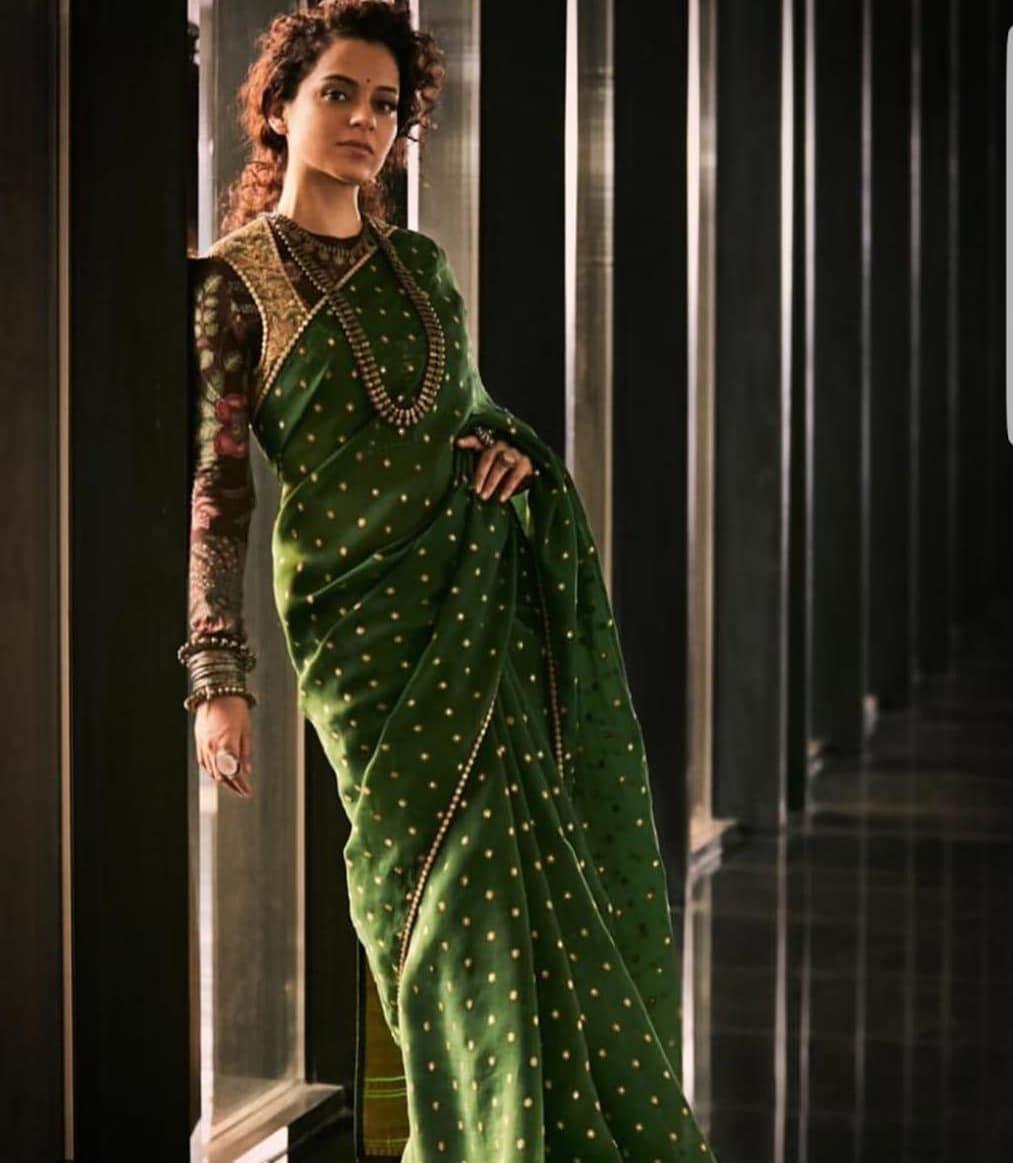 Image Courtesy: Sabyasachi Official
Here we have a stunner look created with a modish dark green saree with golden borders matched with a black designer blouse. The saree material defines your curves beautifully and is made to flow with your every move. The border work is intentionally kept minimal and that's the best part about it. The full-length sleeves on the blouse are woven with large floral motifs and the blouse itself is topped off with a flashy golden overcoat for a bit of dazzle.
Emerald saree with intricate booti-work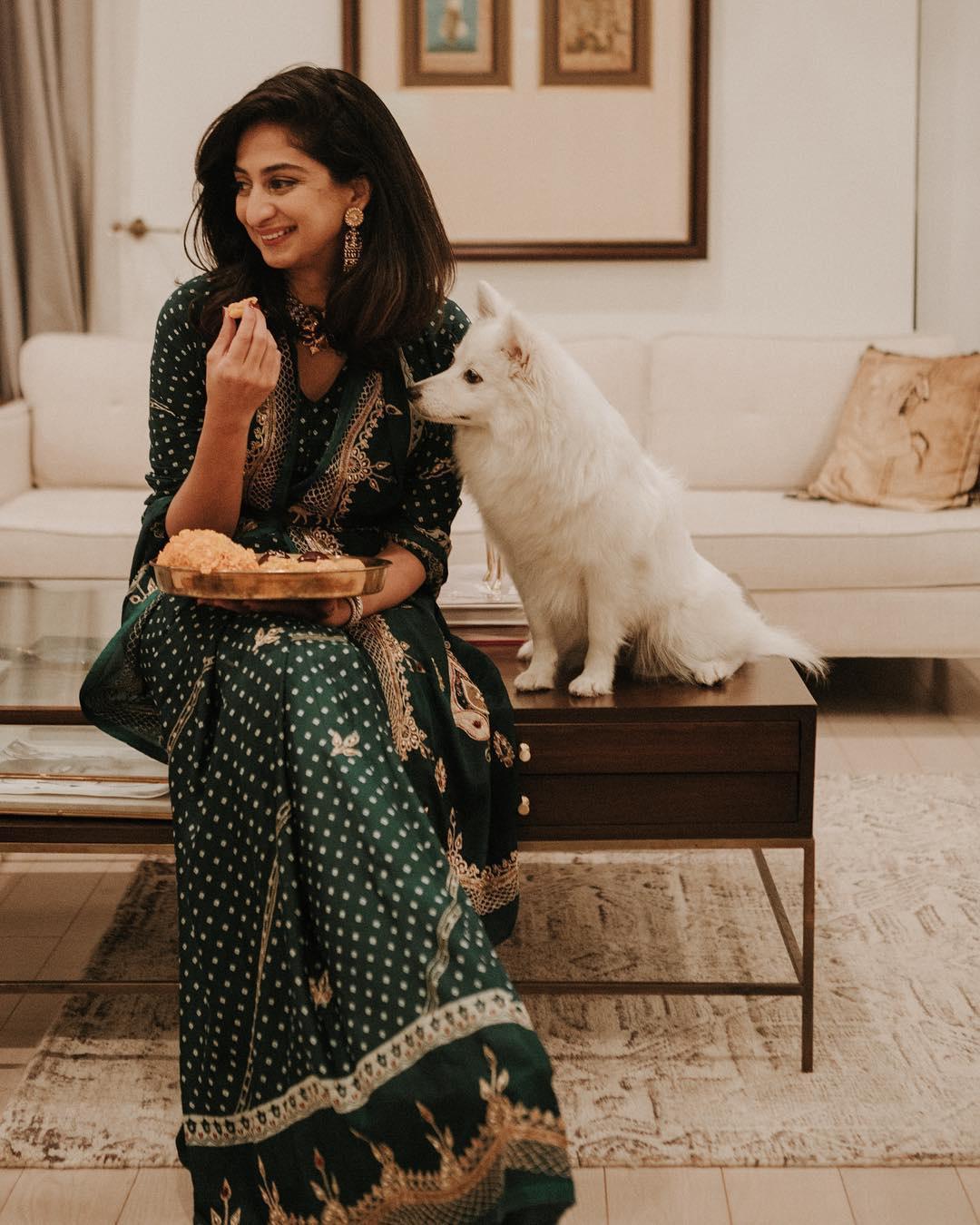 Image Courtesy: Mili Ghosh
If you love a deep emerald toned saree, then this dark green saree with golden border will be just the right choice for you. You can accessorise this look with a heavy set of antique or Kundan style bridal jewellery to complement the muted metallic notes in the saree. Go bold and opt for a make-up look with a rich smoky eye-shadow and matte burgundy lip-shade for a flawless finish.
Kancheepuram silk saree with leaf embroidery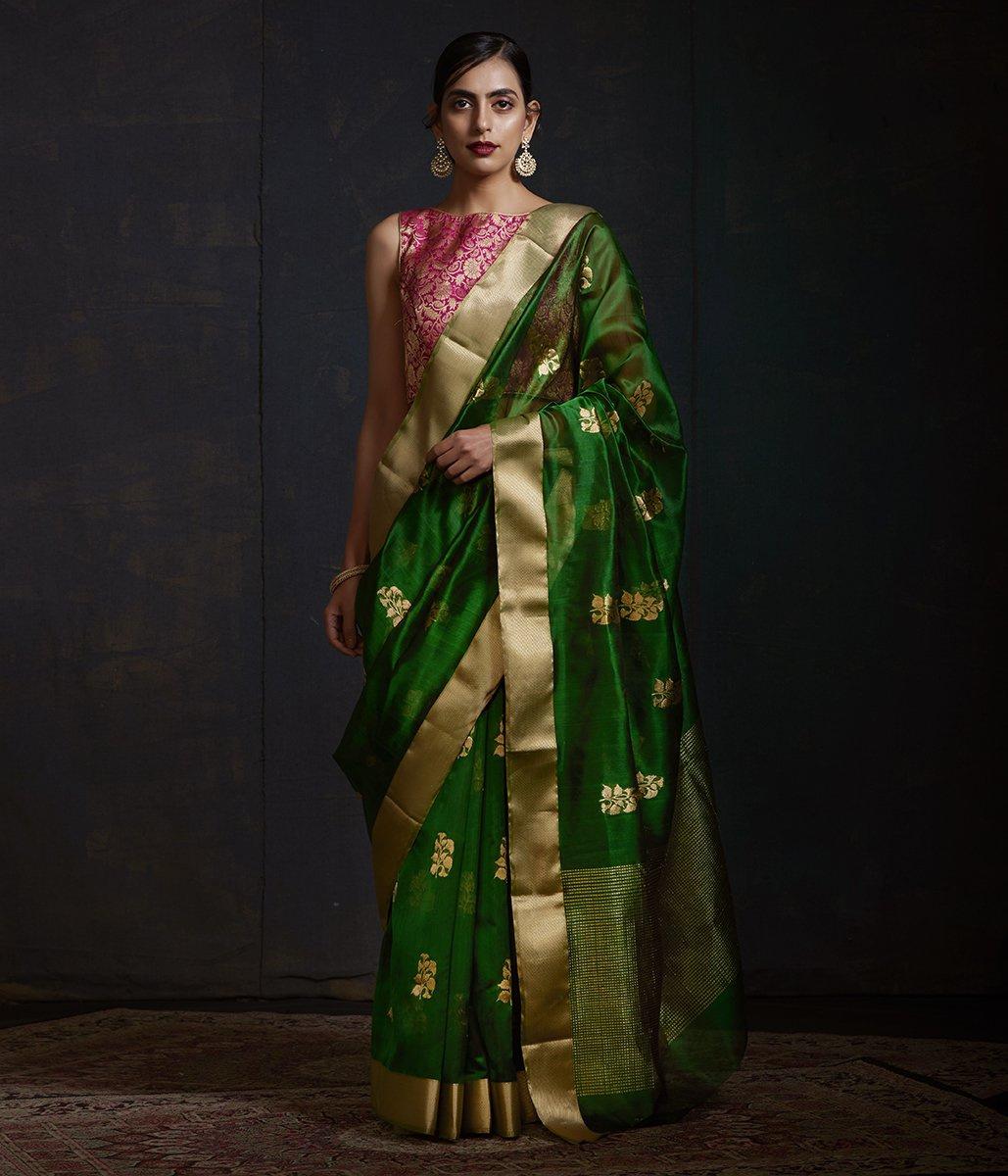 Shop for this tasteful silk saree with simple broad golden borders for a super stylish and elegant bridal look. The fine-looking designer blouse adds a shimmery element to attire and the traditional peacock style bridal gold jewellery set brings the whole look together for a luxurious bridal glow. The hairstyle is set with a lovely Gajra framing a low bun with the rest of the hair sleeked back or puffed up.
Gold & lush green saree with self-designed detailing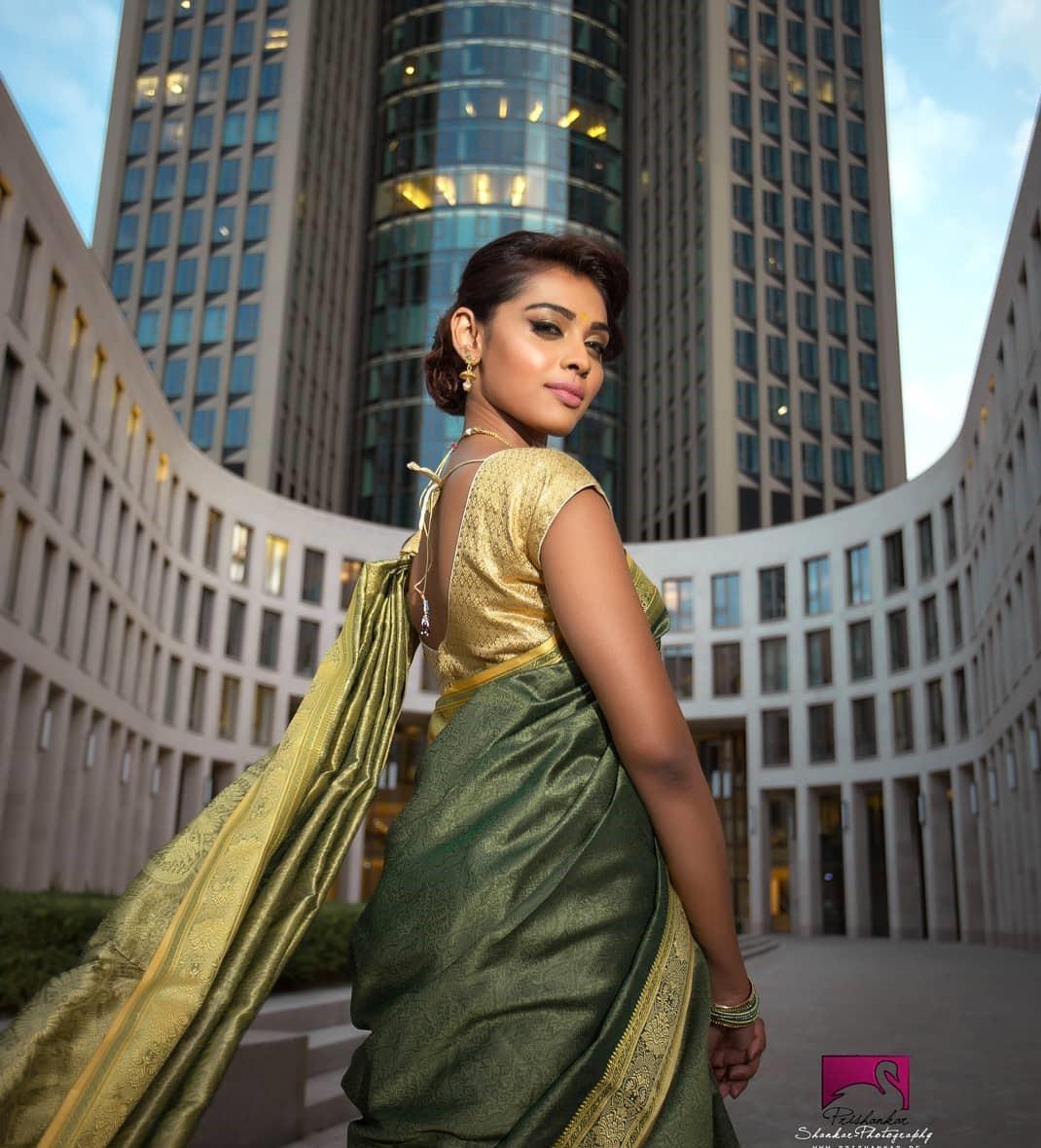 Image Courtesy: Shankar Photography
Go for this striking silk saree that will have you looking picture perfect and ready to rock your bridal glam in no time. This look will be perfect for a Reception function or even your engagement. The short-sleeved gold blouse with a Dori falling down the backless design gives a gorgeous finish. This is the definition of beauty in simplicity.
With that, we hope we've given you food for thought for your bridal wardrobe. A classic dark green saree with golden border never fails to amaze and give you a charming appearance. Celebrate your love with wonderful wedding attire and be camera-ready always.
Check out these stores near you that offer great bridal outfits!