10 OTT Gold Jewellery Designs That Are Drop-dead Gorgeous
Looking for the trending gold designs? Check out our comprehensive guide with 10 gold jewellery designs!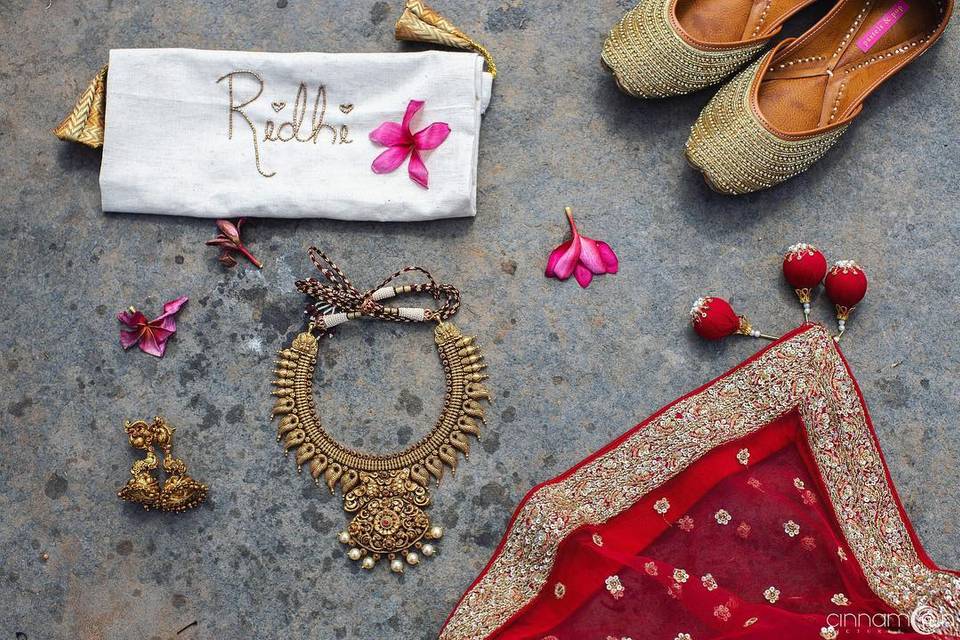 Wearing gold jewellery as a tradition goes way back in Indian wedding customs - it symbolises prosperity and marks the beginning of an auspicious new phase in the bride's life. While towards the beginning, it mostly used to be gold designs set with traditional motifs, the designs have evolved with the times.
Another interesting fact about gold designs set is that different cultures have different kinds of gold jewellery motifs reserved for weddings and the designs are quite distinct.
In contemporary times, a lot of experimentation is being done in gold designs in terms of contrasting colours, offbeat motifs, shapes and more. So, if you're looking for the latest gold designs that are hot and trending this wedding season, we've got you covered!
Anklet gold designs with droplet motif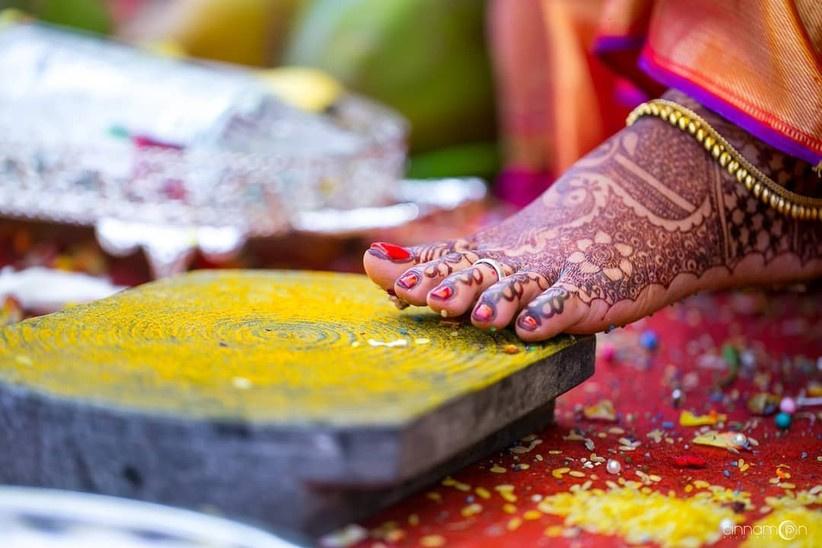 Anklets are an intrinsic part of the bridal ensemble. While there are quite a few heavy and exquisite designs that are doing the rounds, if you want to go ahead with a clean and minimal anklet design, we have a great option for you - a simple chain with a line-up of tiny droplet motifs at the bottom. This anklet is sure to highlight your foot Mehndi without making your feet look too crowded.
Bright gold designs set with studded diamonds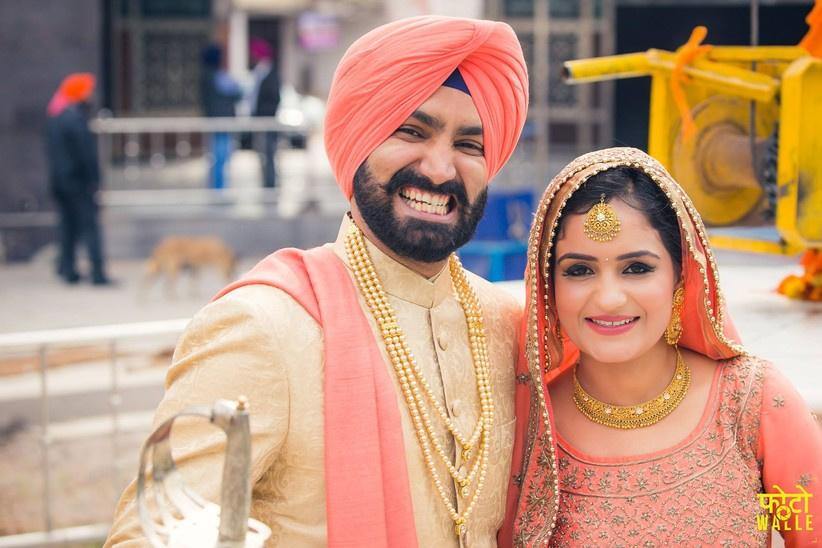 Bright gold sets have a special quality to them - they highlight the special glow that every bride-to-be aspires for. This set has all the elements - the Maang Tikka, the necklace and earrings in a bright golden colour with diamonds to create a dazzling effect. With this option, make sure that your outfit colour is not too bright to avoid overdoing your look.
Matha Patti and necklace gold designs with multiple chains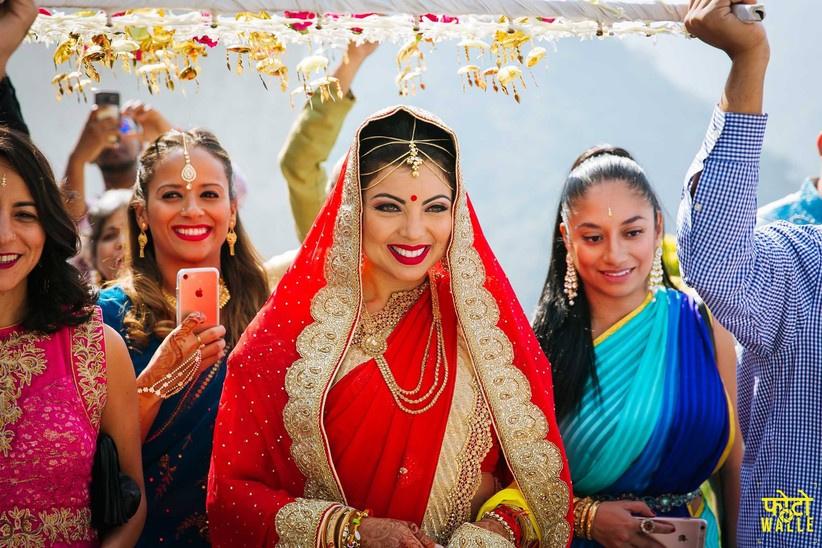 The thing about jewellery with multiple chains is that it can be quite heavy but still doesn't look over-the-top. Which is why with this gold designs set you get to conquer the best of both worlds. If your blouse neckline is quite heavy, then wear a heavy long necklace with multiple chains to look stunning and add a similar Mathapatti to complete the look.
Necklace gold designs with pearl embellishments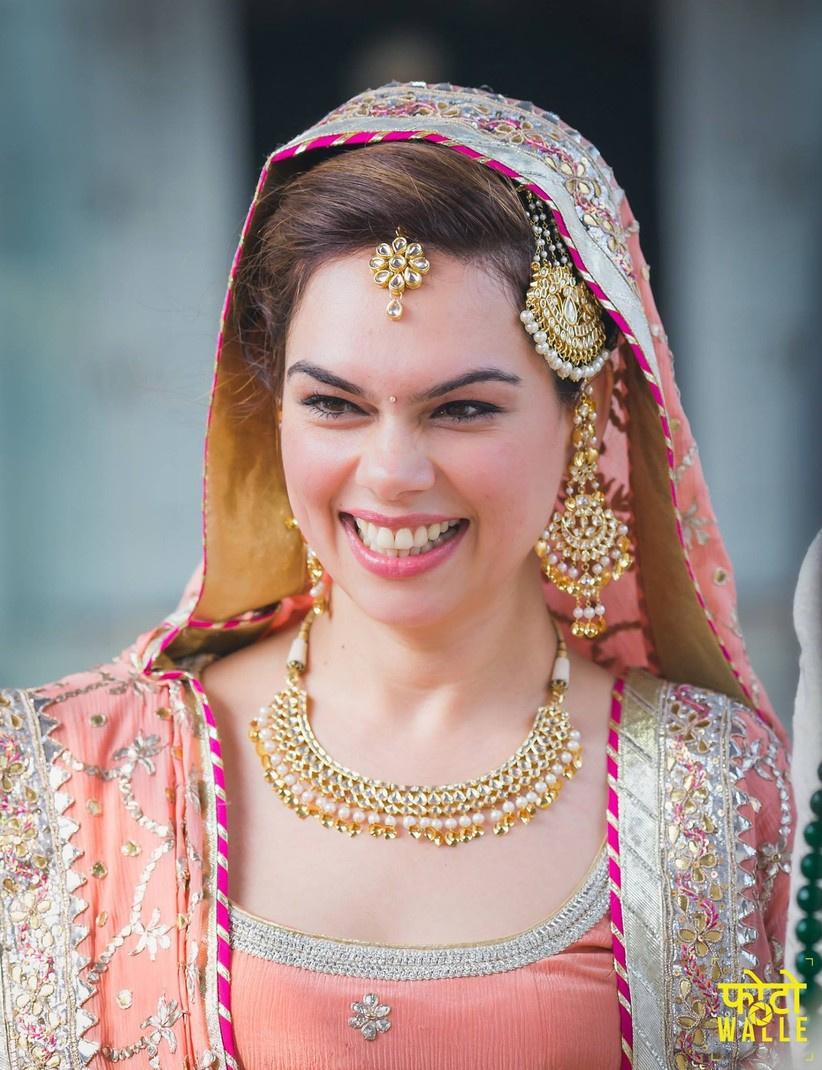 Pearls in any jewellery set bring in a different level of elegance and when gold and pearls come together they create a gorgeous yet stunning combination. This necklace with intricate gold work at the top and pearls hanging from the bottom brings out the sophisticated beauty of the bride like no other.
Long necklace gold designs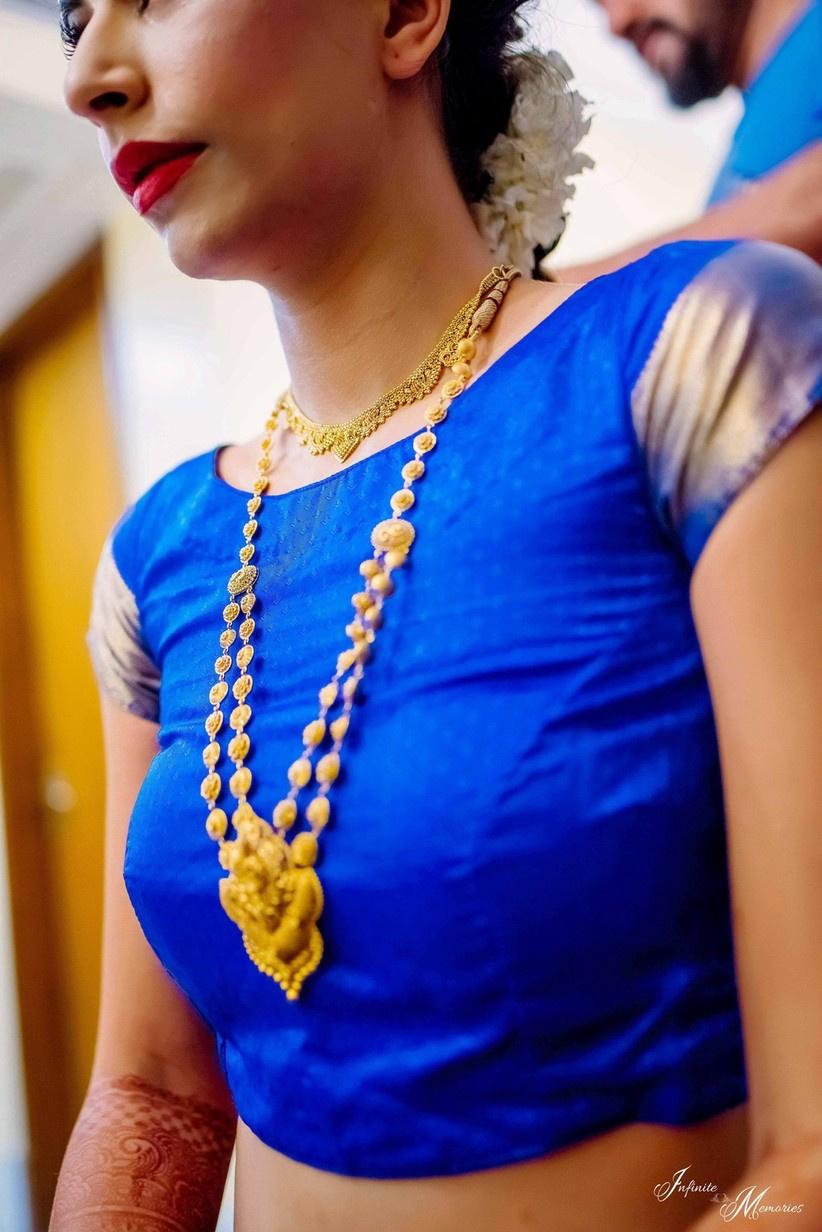 Long necklaces are usually worn to complement the shorter heavy neckpiece. In this once there is a chain with individual motifs which leads to a massive locket with even more exquisite patterns. Choose this option, if you love flaunting offbeat jewellery and don't mind making a bold statement.
Complete gold designs temple jewellery set
If you're going the traditional way, then every detail needs to be looked into. An authentic wedding attire needs to have all the elements, otherwise, it remains incomplete. This set has everything ranging from a heavy neckpiece and a longer necklace to a Kamarbandh, earrings and Maang Tikka. The interesting part? All of them have embedded traditional motifs.
Classic gold designs set with paisley motifs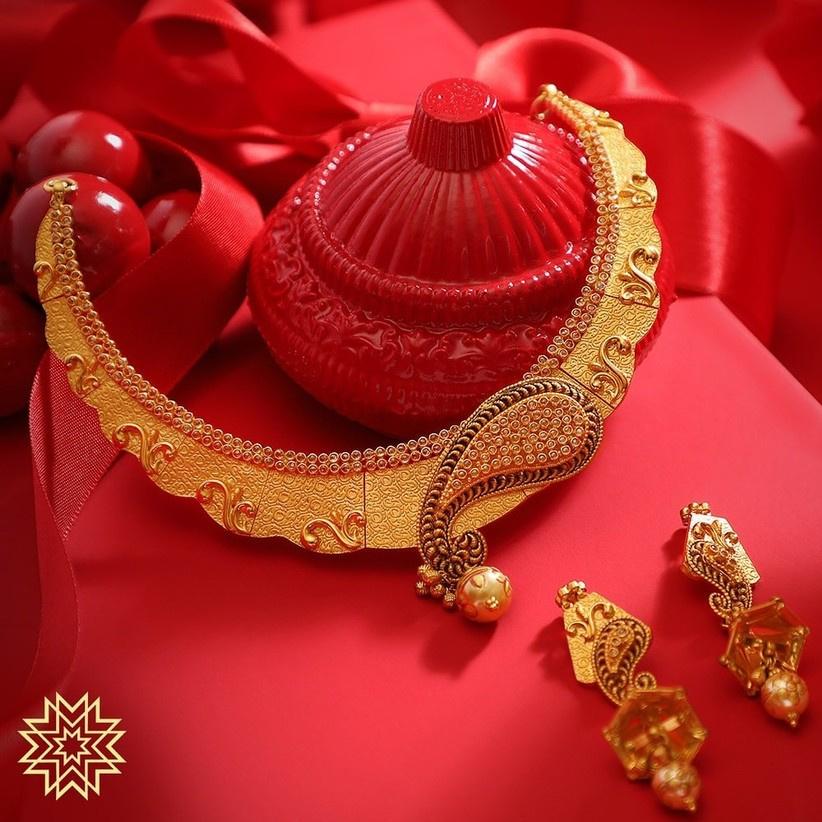 Paisley patterns, be it on clothes or jewellery, turn heads around like no other. But the trick with these patterns is to choose a jewellery set, that has just the right amount of Paisley motifs. This set in solid gold and minimal paisley patterns is a classic example of that - it'll definitely make you look stylish while also adding the quintessential bridal 'oomph'.
Gold designs with golden and silver beads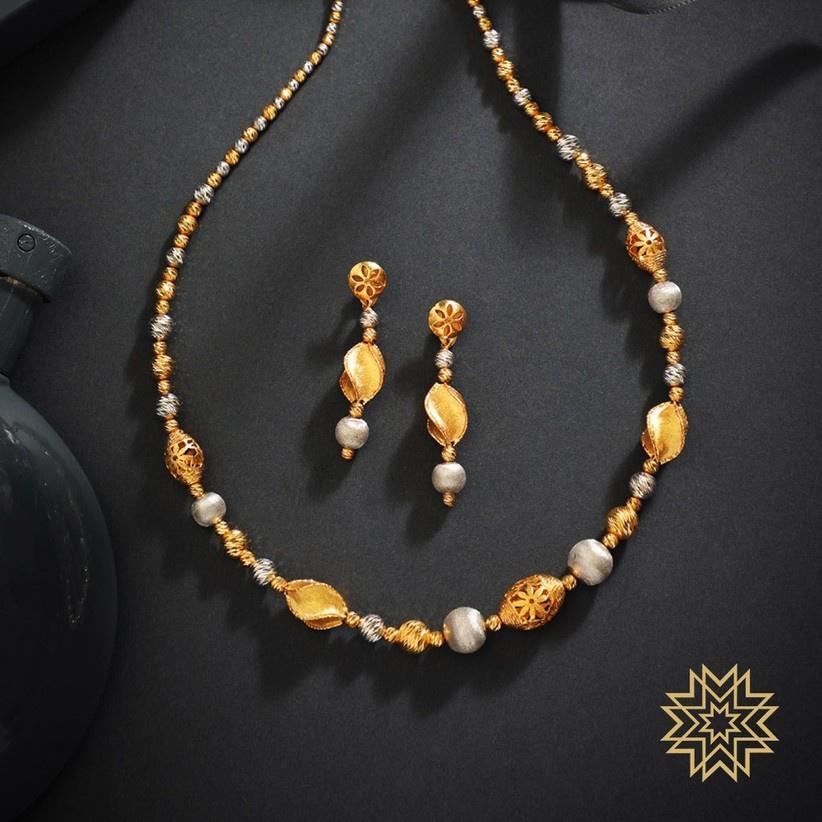 While this is not heavy enough for your D-DAY attire, it makes a stunning piece to flaunt on any of your pre-wedding functions - especially your cocktail or reception. Best worn with a gorgeous gown, this set with contrasting gold and silver shades is elegant, sophisticated and extremely fashionable.
Necklace and earrings gold designs set with intricate patterns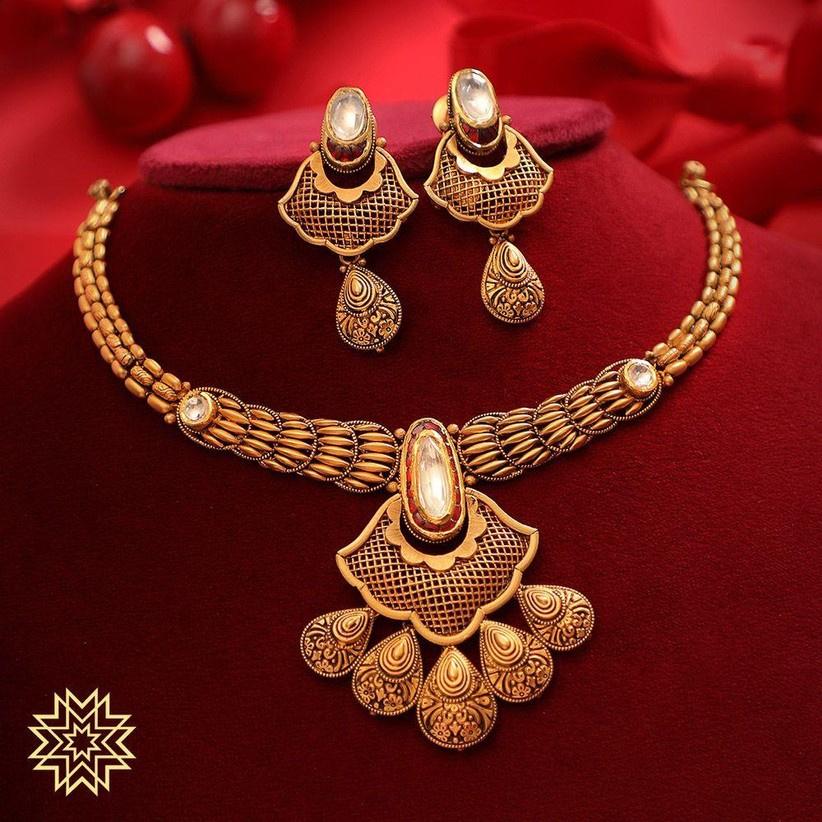 If you're looking for something with marvellous details, then this is the gold designs jewellery set meant for you. From the necklace to the earrings, each layer has minute details and patterns and all in different kinds - there's the 'jaali work', 'linework', concentric circles designs and more.
Necklace with geometric gold designs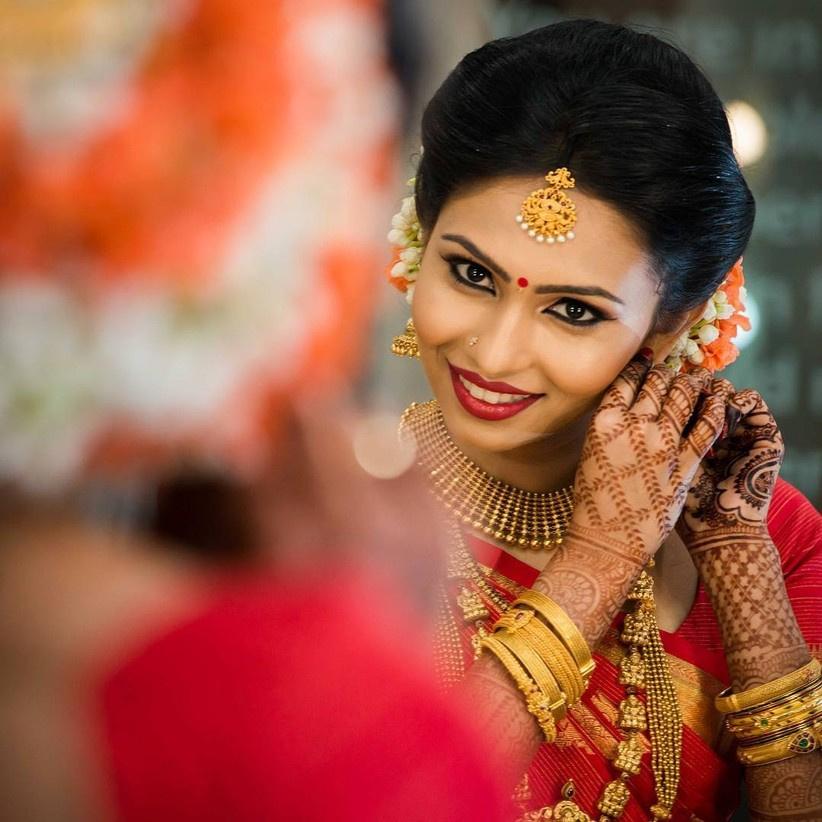 If you're all about minimalism in geometric patterns, we've found the right necklace for you! Although this looks quite detailed, its design is very simple. The cris-cross is made with simple lines and there are tiny golden beads at the bottom to give it a complete flow.
Now that you're well-equipped with the different kinds of gold designs, it's time to match them up with your wedding outfit and make the right choice. Don't hesitate to go all out with your jewellery - after all it is your Big Day!
Loved these gold designs? Get in touch with our specialised gold jewellers to create something like this for yourself!