5 Kanjeevaram Saree Designs by Nalli That You Can Add to Your Bridal Trousseau without a Second Thought
Kanjeevaram silk with its smooth fabrics, designer motifs and quality weave should be a part of every bride's collection, and here are some stellar specimen from Nalli sarees to get yours started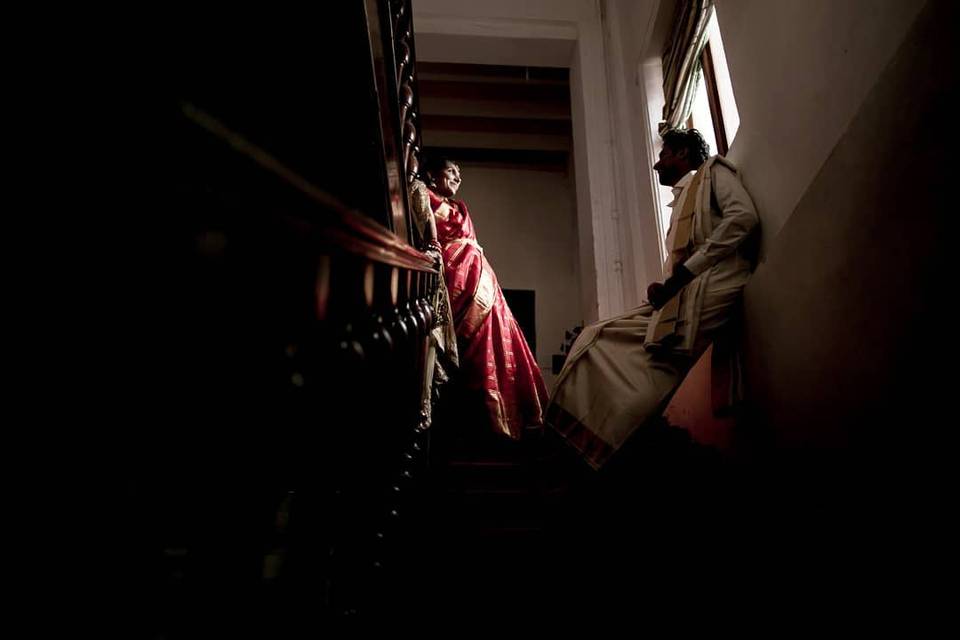 Kanjeevaram sarees are fascinating to drape, as well as look at, with their different styles and rich history. Each saree seems alluring and makes you wonder if you will ever be able to pick the right bridal Kanjeevaram saree that suits you. Since it's such a stunning garment, you may even end up pondering over whether you'll be able to carry it elegantly! You're not alone there! Symbolising grace, Kanjeevaram sarees have been associated with mythology and are woven with mulberry silk and gold.
If you are confused about what type of Kanjeevaram saree looks perfect on you, we are here as your helping hands!
1. Purple Kanjeevaram Saree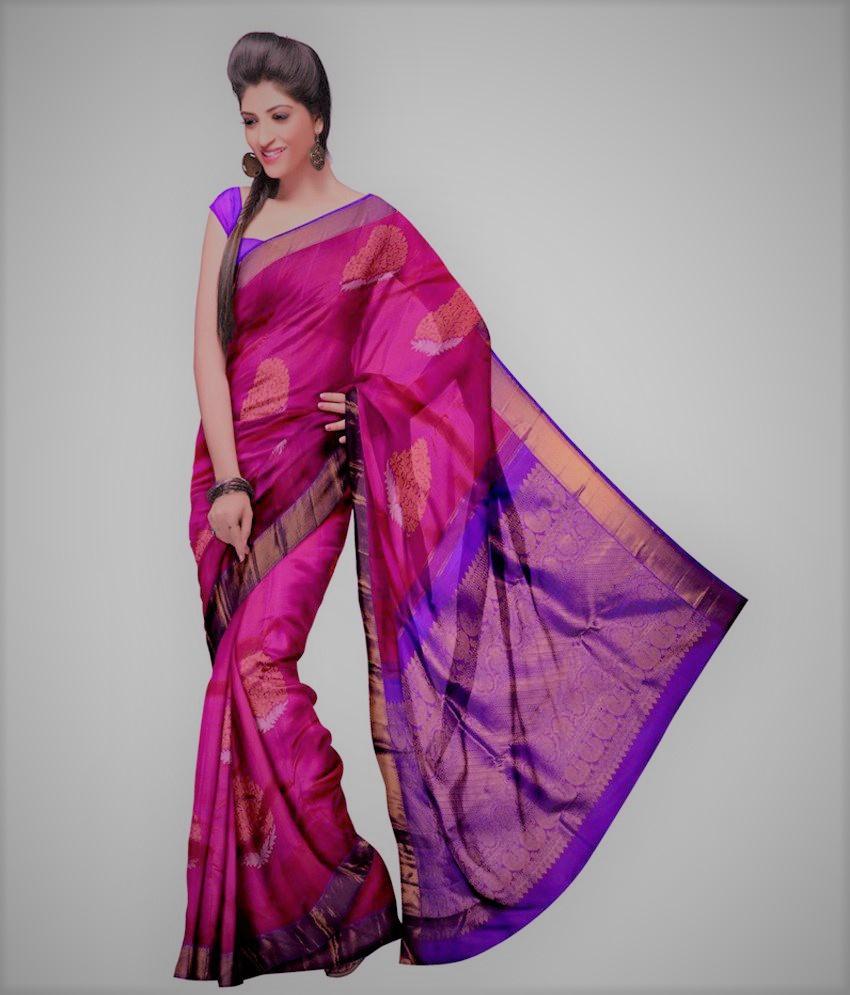 Image Courtesy: Snapdeal
Decorated with a huge red border and zari embroidery, this purple Kanjeevaram saree is a silk bridal dream for all women. The saree has a few check designs scattered all along with the gold and silver motifs. The red and zari embroidered pallu is the icing on the cake. Flaunt this Kanjeevaram saree by draping it and leaving the pallu loose over your left arm.
It will make you look graceful and appealing at the same time. You can also make pleats out of the pallu and pin them up neatly on your left shoulder. The purple and gold blouse can be tailored in different styles, such as the Chinese collar design, round neck design, or one of the most famous ones, the backless blouse design! You can even try different styles of wearing saree pallu to find one that matches your personal style.
2. Pink and Orange Kanjeevaram Saree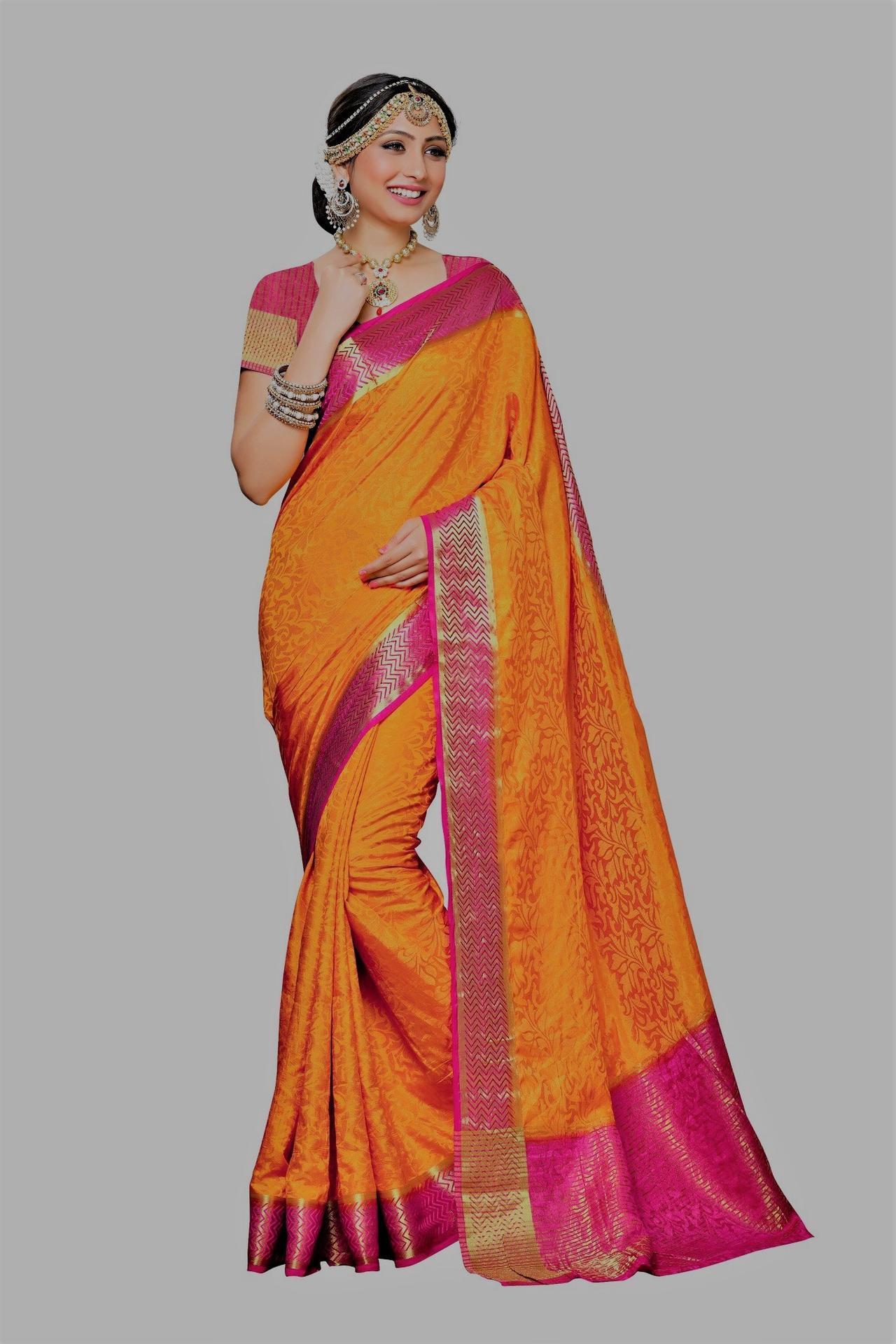 Image Courtesy: Kupinda
A saree worthy of your wildest dreams, this pink and orange silk ensemble is easily every bride's wish. Bordered with pink, this Kanjeevaram saree is the epitome of the elegance of plain patterns. The dazzling pink pallu has been designed with a gold zari thread making it the perfect bridal saree any day.
You can drape the saree in various ways, like the Gujarati style, loose pallu style, Seedha pallu style and the Bengali saree draping style. With a combination of pink and orange, you must accessorise it with pure gold temple jewellery like a Kemp necklace, Baajuband and Kamarbandh to look like a pure Kanjeevaram Goddess.
3. Cream Kanjeevaram Saree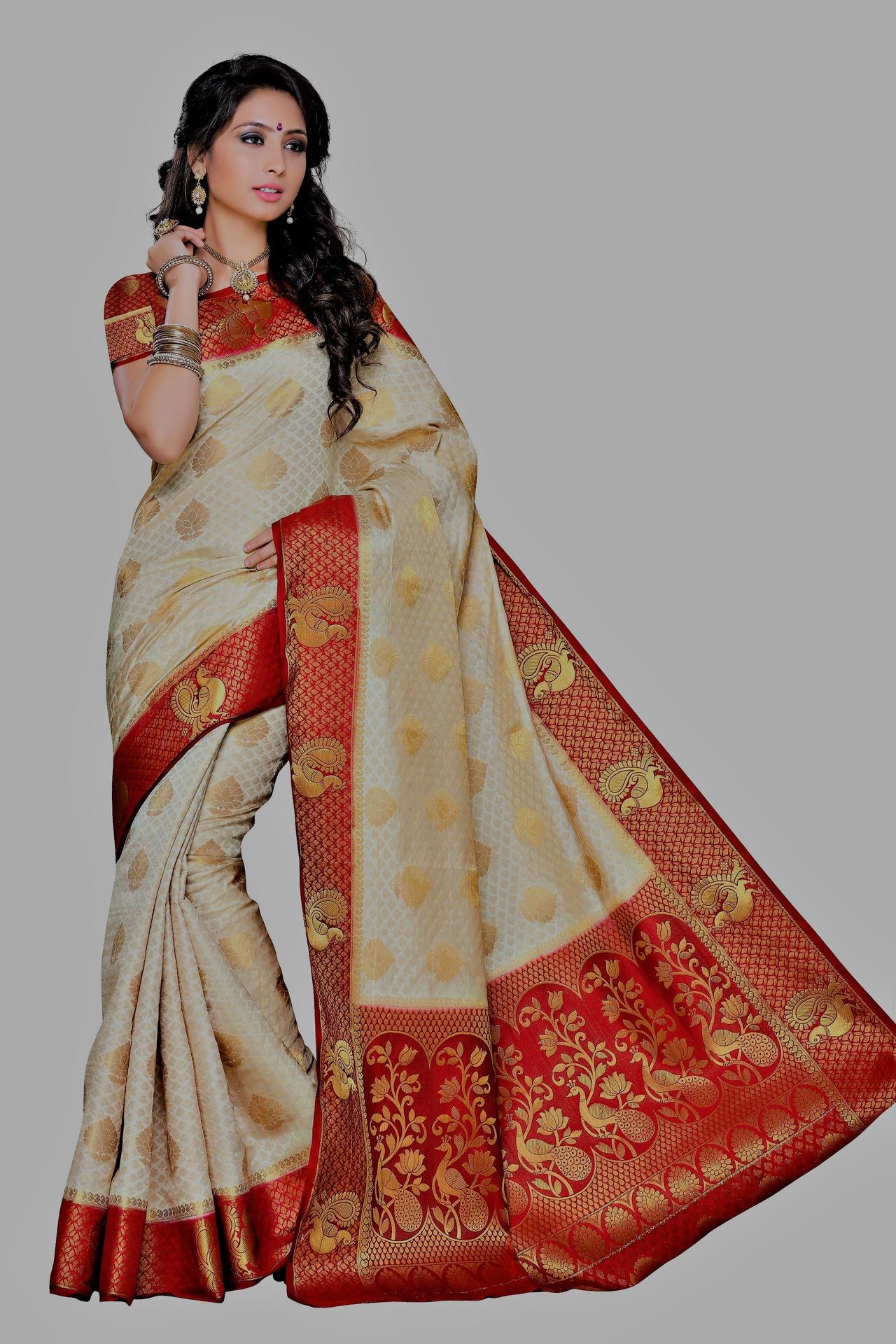 Image Courtesy: Voonik
Signifying royalty, this cream coloured cream Kanjeevaram saree is a subtle work of art mixed with fashion. The mystical zari work on the ensemble is admirable, as the embroidery spreads over the whole saree. Bedecked with a zari border, every bride must consider wearing this silk saree. The embellished pallu is a visual treat for the eyes, with its concentrated zari motif work all over the place. It's a must for you to leave this pallu loose rather than pinning it up to display its marvellous designs and show off your Kanjeevaram saree!
4. Pink and Beige Kanjeevaram Saree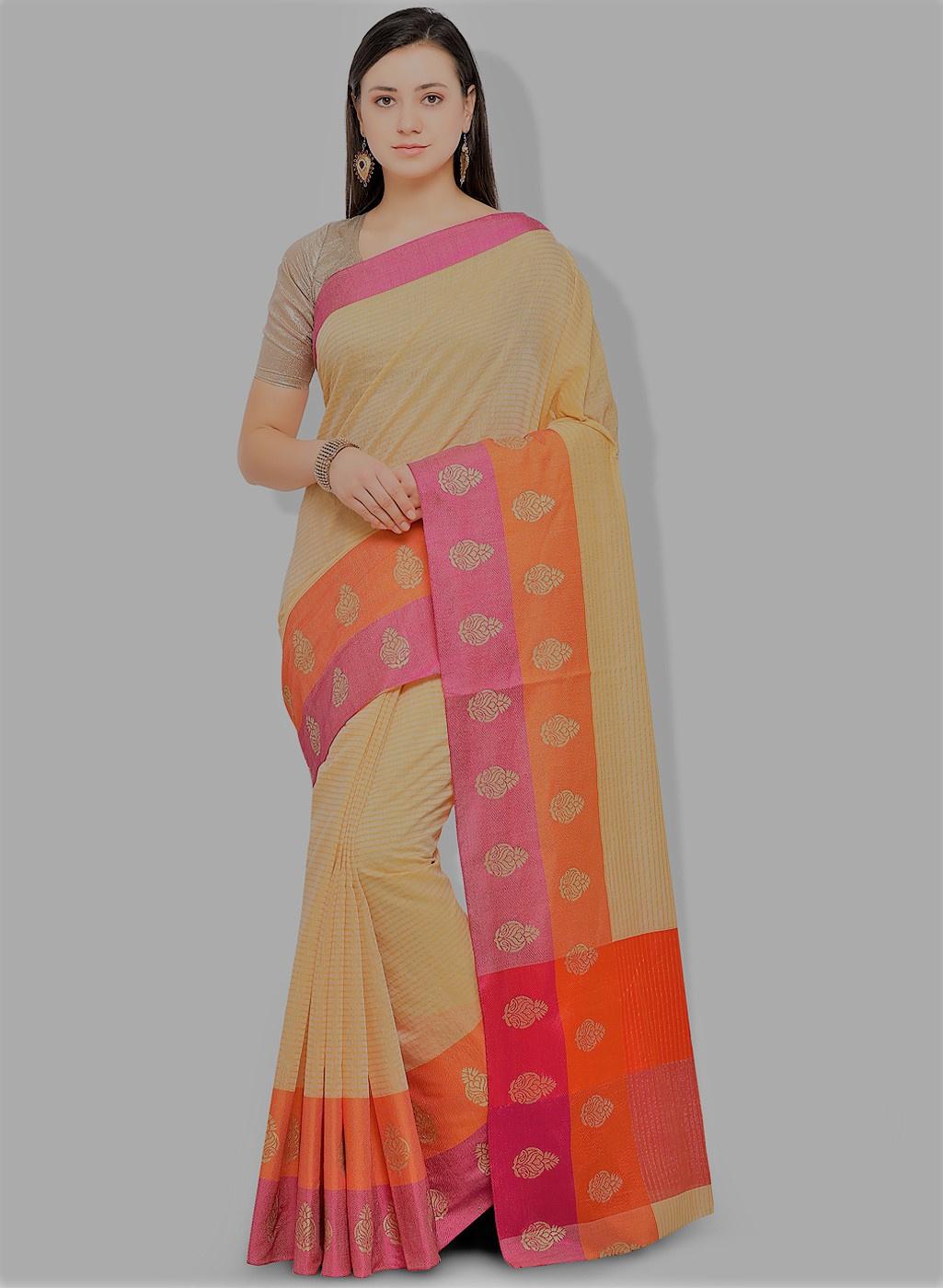 Image Courtesy: Jabong
This pink and beige Kanjeevaram saree has been created to help you embrace your elegance and grace. With brilliant textures, the body of the saree is decked with pink and zari Butta that shines it up, making appealing to all women, along with brides!
The glowing zari work on the pink and orange border shows the tremendous effort put in by local craftsmen and looks amazing when you pin up the saree to flaunt the zari border. The shining pallu looks breath-taking as you don the attire. The best jewels to pair with this saree would be a Kundan set that includes a Kundan waist belt, making you look elite.
5. Pink and Peach Kanjeevaram Saree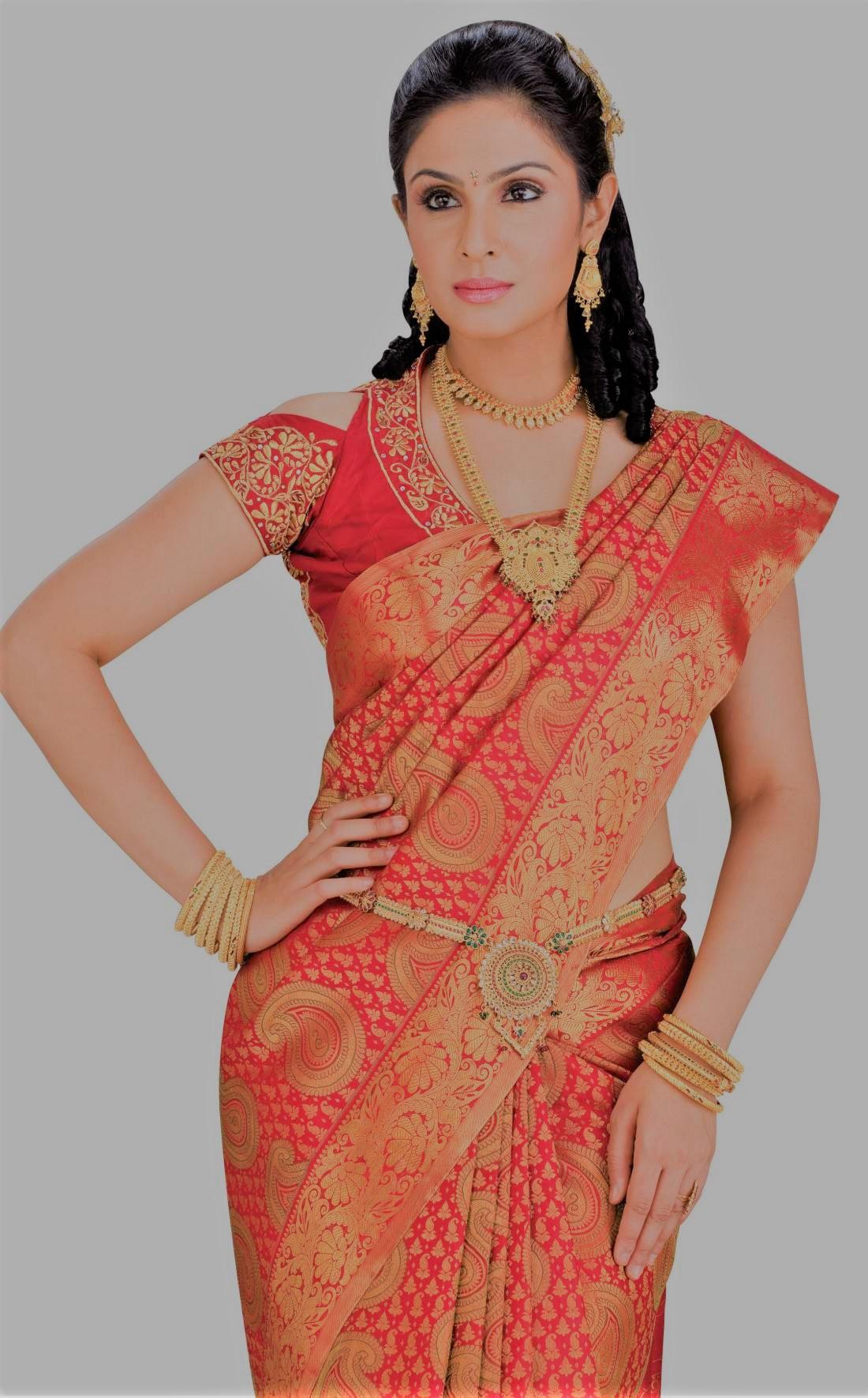 Image Courtesy: Sudarshana Silks
One of the best examples of this garment, this gold and red Kanjeevaram saree is a unique ensemble with brilliant use of motifs in the body. Its pure silk fabric has a temple border with half-fine zari work. This is a garment that you can easily don to seek the limelight.
Its traditional concept has been enhanced with the modern design to make it the perfect Kanjeevaram saree for a wedding. The pallu itself is the pride of this silk saree and can be worn either loose or by pinning it up. The best type of accessories to pair with this saree is temple jewellery. Make sure your collection includes a temple necklace, Kamarbandh, Matha Patti and Lakshmi earrings.
A Kanjeevaram saree exudes grace, charm and allure, giving the bride looks to kill! With such wonderful colour combos and deeply concentrated zari embroidery, Kanjeevaram sarees will always hold a special place in the bridal trousseau. Add some modern blouse designs, like the infamous bralette style blouse, or knotted back design. Drape this silk saree interestingly to look your most exotic self on your wedding day. You can find the best Kanjeevaram sarees at stores launched by the brand Nalli. You can also find them in other ethnic apparel stores!
Get in touch with our jewellery vendors for the best accessories to pair with your Kanjeevaram saree!