Breathtaking Wedding Outfits for Couples Who Want to Be Matchy-Matchy!
When in doubt about your attire, the best way ahead is to colour-coordinate with your partner. These wedding outfits for couples are absolute goals and we will tell you why!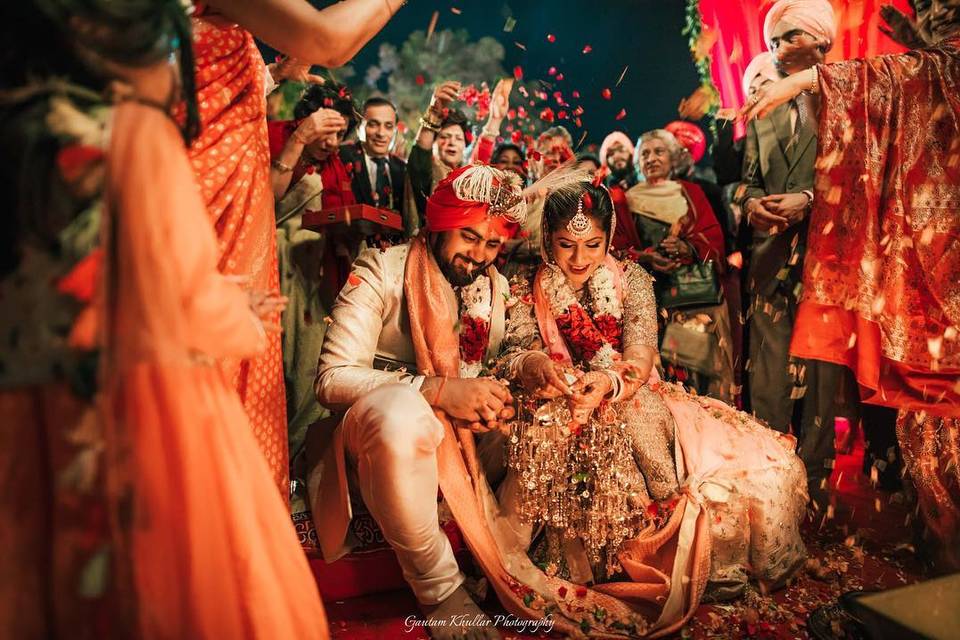 The outfit you wear at your wedding is of huge significance. It is the one outfit in which you will have a ton of pictures clicked and these pictures will remain with you forever. You obviously have to look your absolute best on your big day without any compromises and this pressure can often make you anxious about what to wear and what not to wear. Moreover, it is not just one or two outfits you have to select. With multiple ceremonies involved in a wedding, you need at least 4-5 spectacular outfits. This is where the tried and tested formula of wearing colour-coordinated wedding outfits for couples comes into play.
Coordinating your look not only saves you a lot of time while selecting the right outfit, but the biggest plus from this is how good you two will look together. Once you are done with selecting the colour of your outfits, you just have to think of the designs and styles you are comfortable with.
Keeping the different styles, colours and occasions in mind, we have created a comprehensive list of wedding outfits for couples.
The bright popping yellow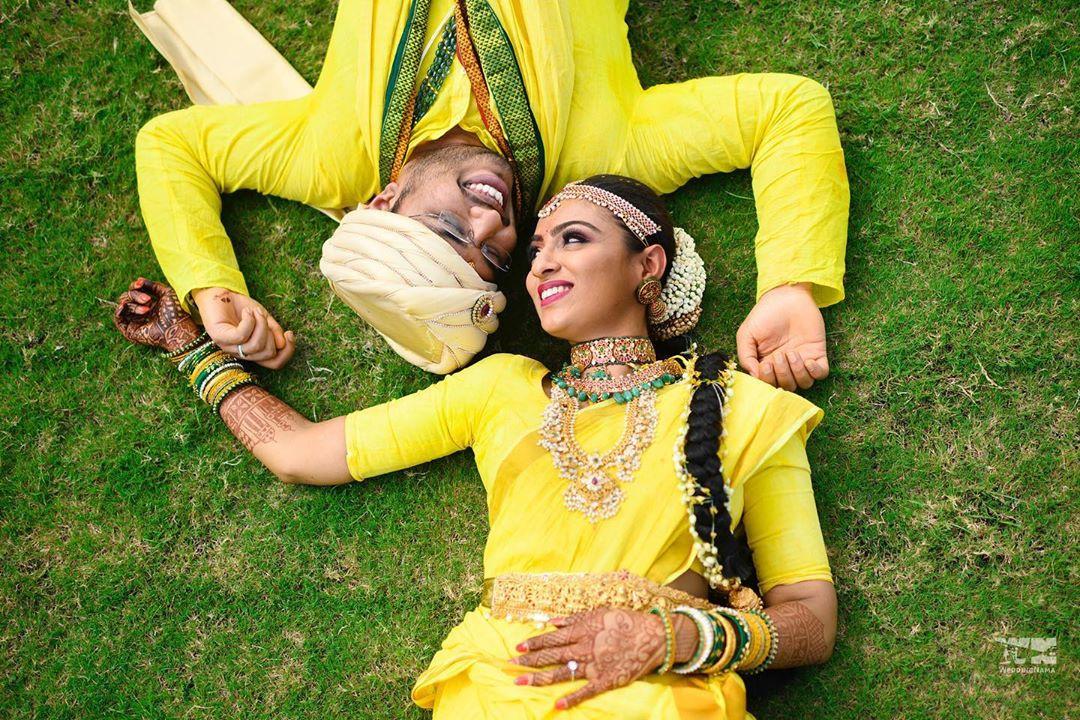 Yellow is one colour that is quite popular in the wedding circuit, especially for the ceremonies like Haldi and Mehndi. However, in a South Indian wedding, the colour yellow is a popular choice for the wedding day as well.
The bright colour makes you easily noticeable amongst everyone. Moreover, it is the perfect combination of wedding outfits for couples if you want a great photoshoot.
The subtle colour of pale blue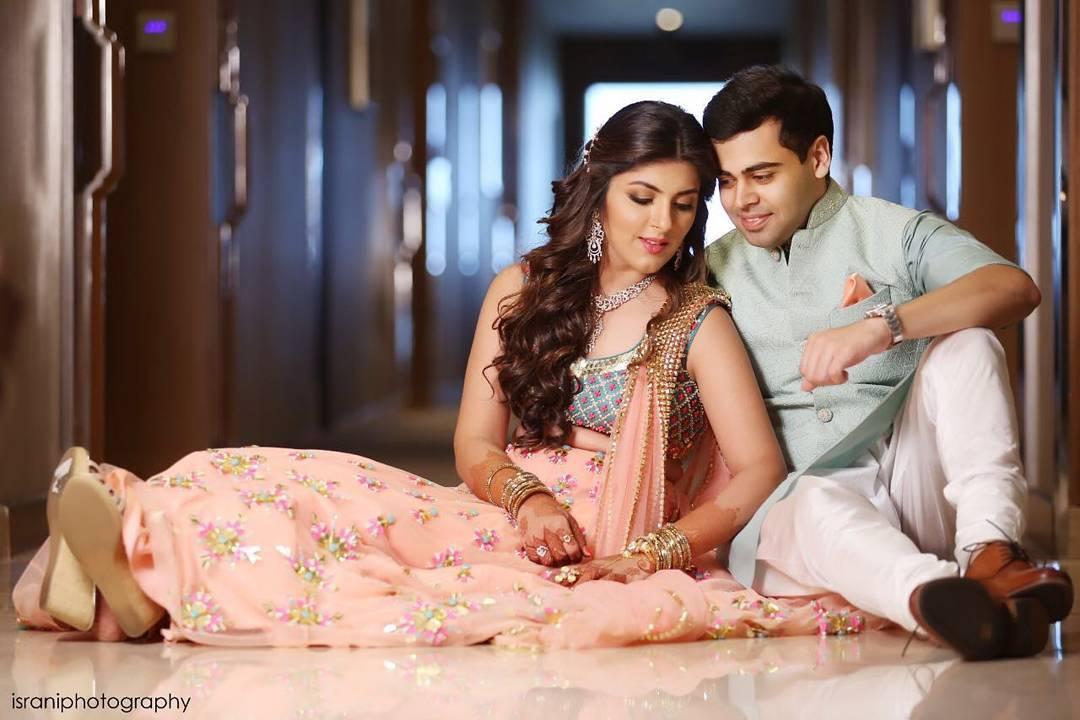 Pale blue is a colour that is perfect for ceremonies like Sangeet or the reception. With colour-coordinated wedding outfits for couples, it need not be a case where the whole outfit matches the other one. A common theme we see is where the outfit of the groom matches the colour of the lehenga or the blouse and that is it.
As you can see in this picture, the blouse of the bride and kurta of the groom are in sync while the groom also has a beige-coloured pocket square which is in sync with the lehenga of the bride.
A navy blue attire for the reception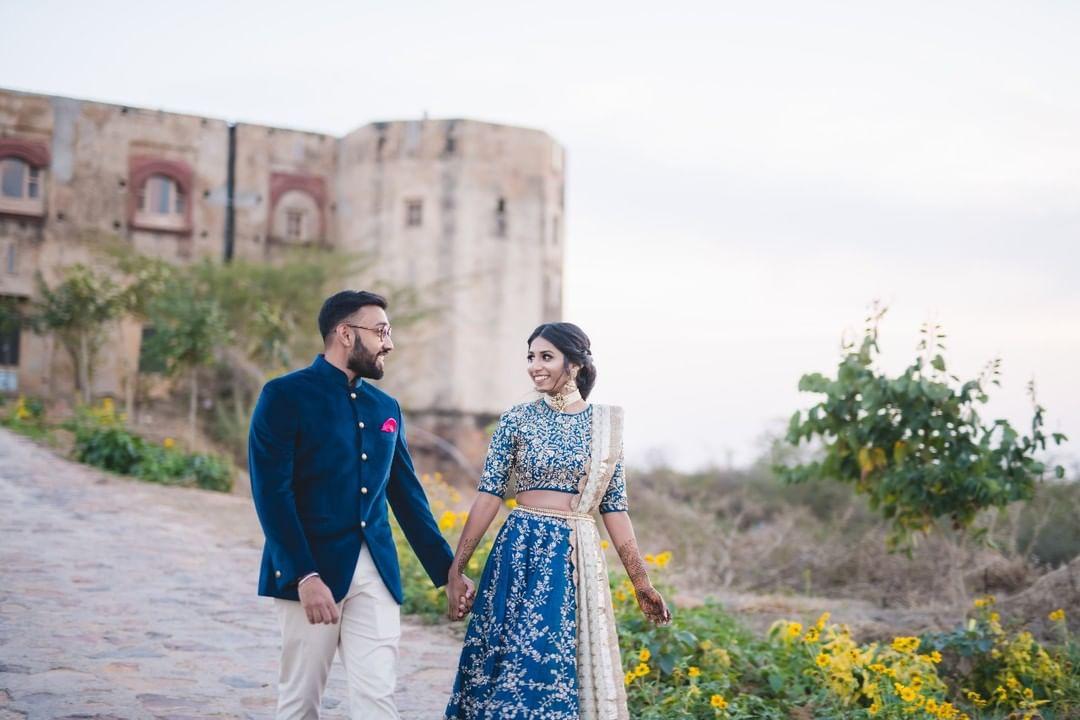 Image Courtesy: Snapsoul
Navy blue is a colour that is perfect for night events like a reception. This couple wearing a velvet jacket and lehenga with golden embroideries have really nailed their outfit combo! The colour is so popular that you can get the outfits with just one day of shopping, making life easier for you.
Crisp whites never lose their charm!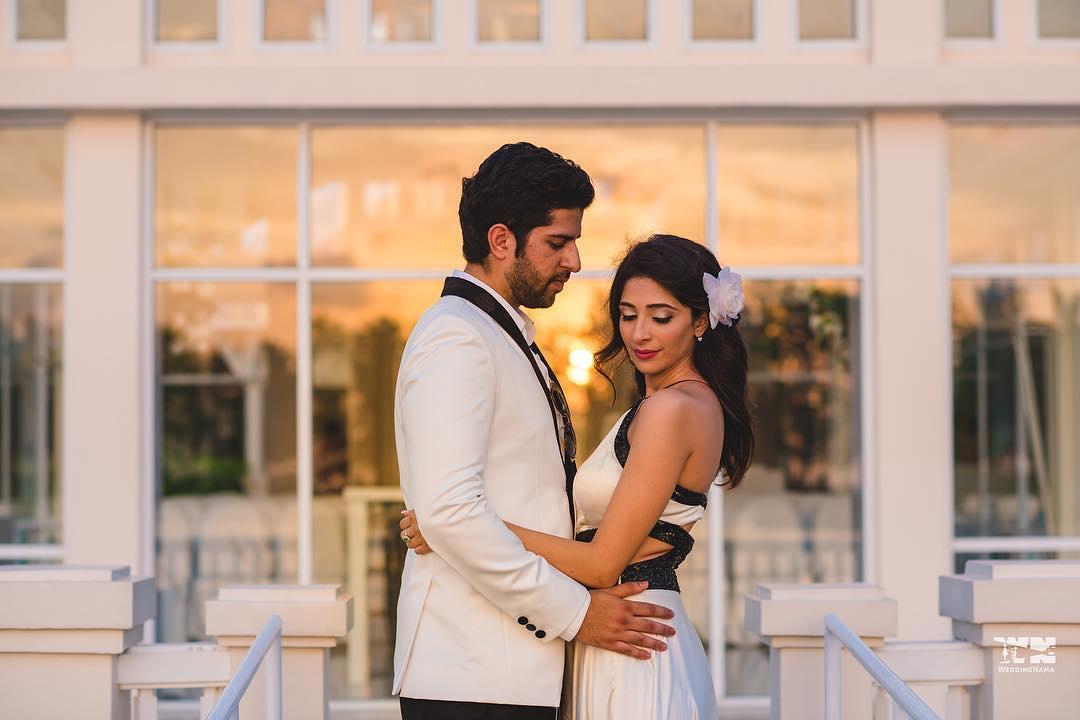 How about the classic suit and gown for the reception? Add to that the fact that the attires are white in colour and you have the perfect set of wedding outfits for couples! The right amount of black makes it stand out even more.
Pink is the way to go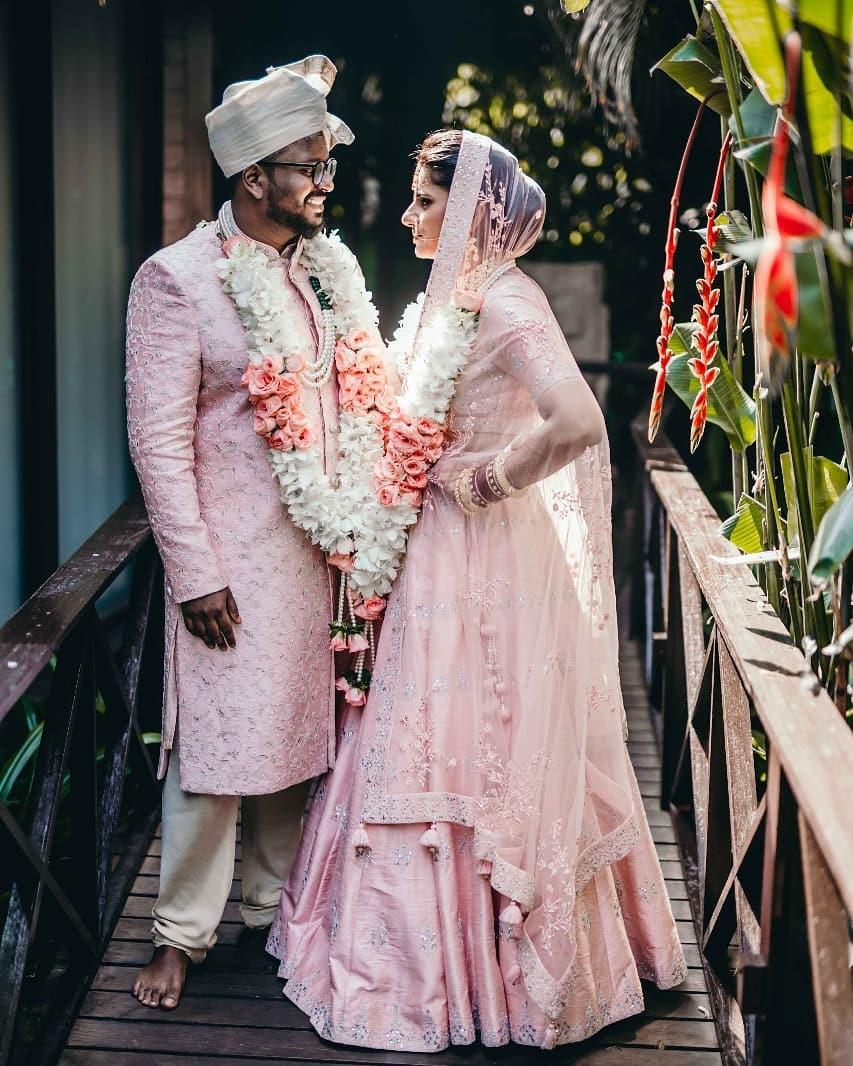 Image Courtesy: Snapsoul
If you don't know it already, pink is the hot favourite in the wedding season as of now. Previously thought to be popular amongst women, the colour is fast becoming a top colour for men as well.
So why not match with each other's clothes for your wedding! Grab a matching set that has a designer sherwani and lehenga with subtle white embroideries on it to make it one of the most beautiful wedding outfits for couples.
A traditional south Indian touch of red and white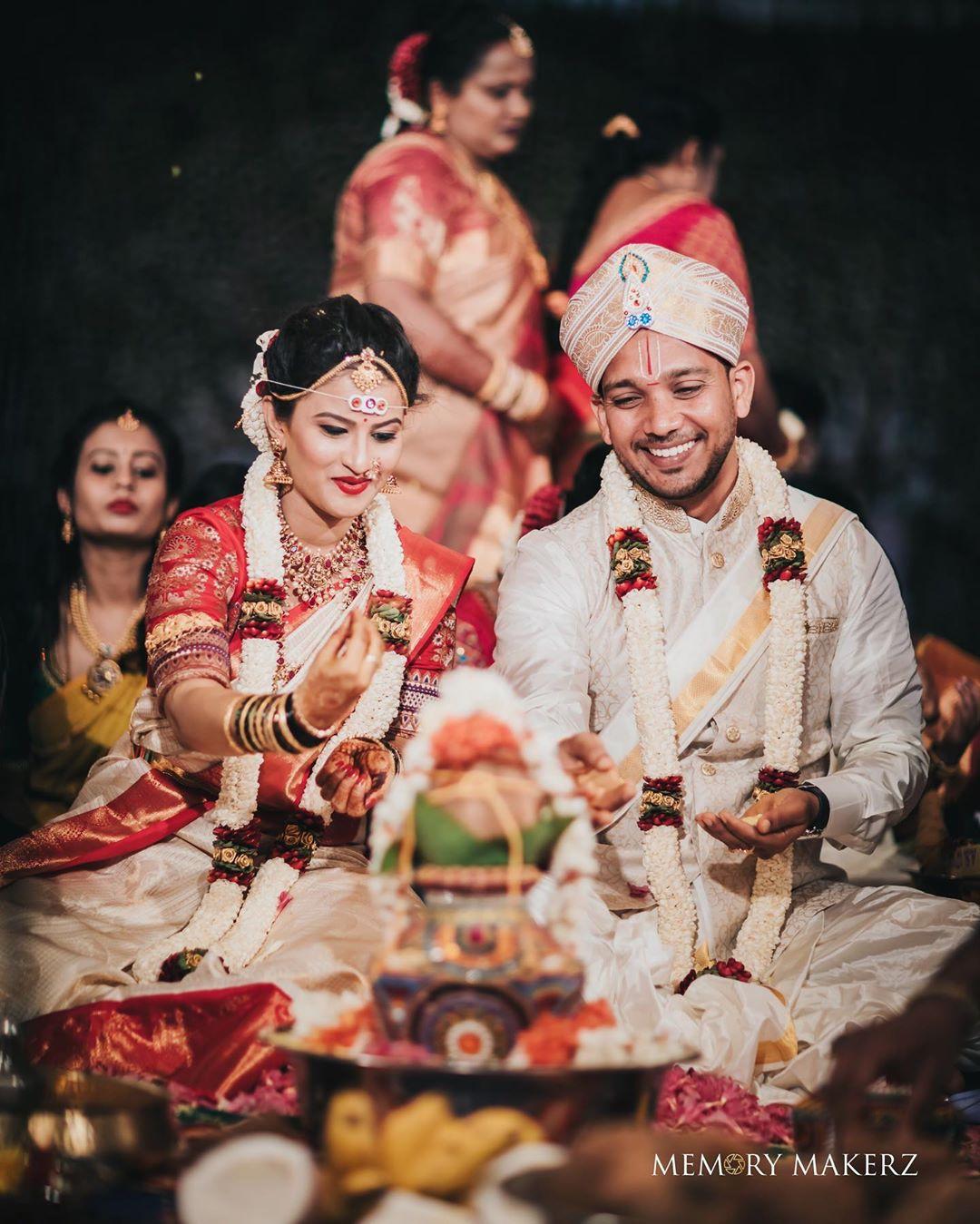 Mundu-shirt and an elegant saree in an off-white shade is the classic look for a South Indian couple on the wedding day. This beautiful colour signifies the purity of the occasion and makes for a graceful outfit once you wear it.
A royal outfit in hues of mint green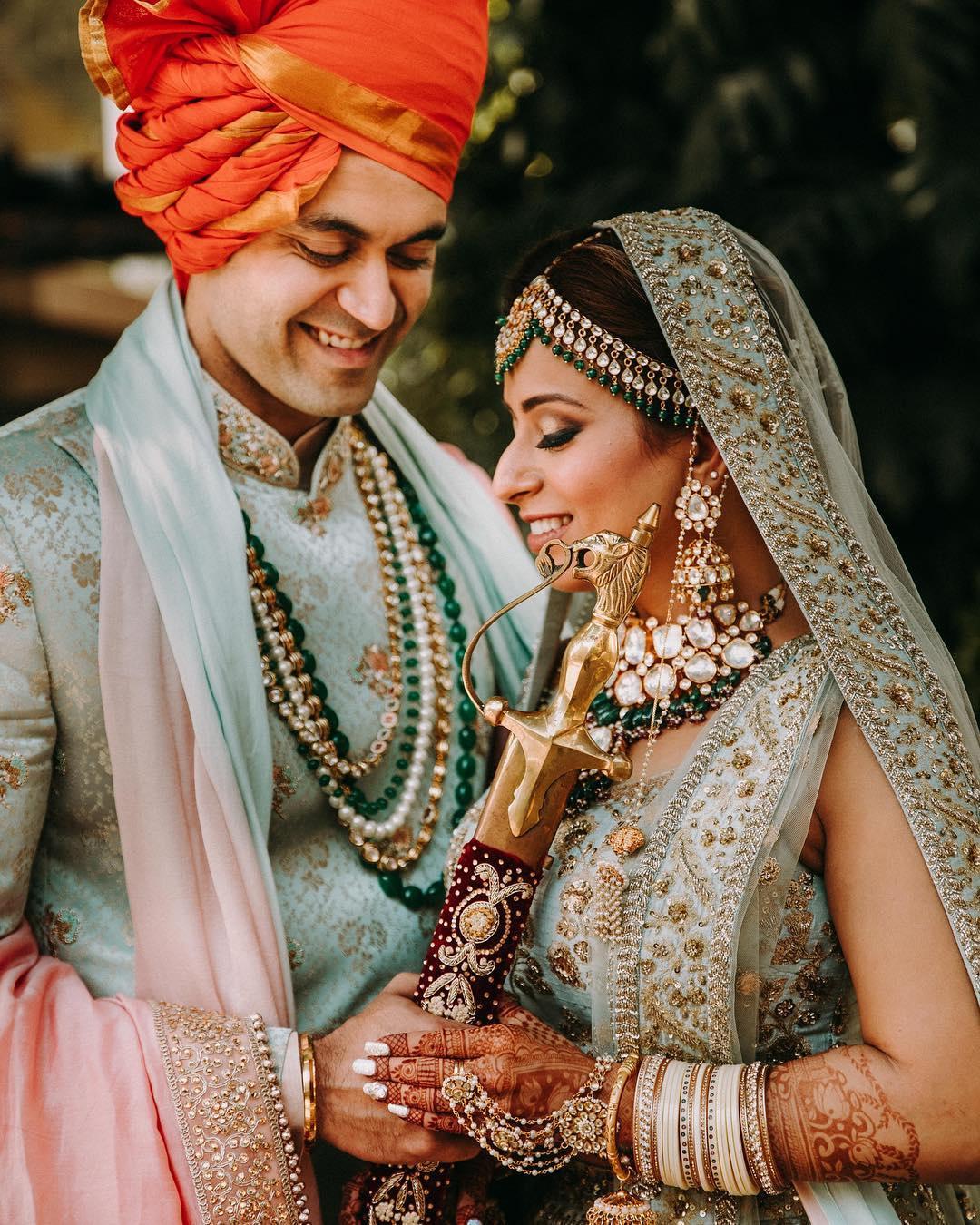 Since the royal look is the most in thing right now, it is natural if you too want a similar look at your wedding. However, the colours you see generally see in such outfits are golden, beige, white or black.
Be different and go for a unique colour like powder blue. It looks equally regal but totally different from what is the common trend, making it a great way to go for wedding outfits for couples.
Powder blue for the win!
Image Courtesy: Snapsoul
The mix of powder blue and pink is a subtle way to mix things up when it comes to wedding outfits. The colour combination is perfect for the pre-wedding ceremonies, giving you a beautiful look but not as opulent as you may want your ensemble to look at your wedding.
Now that you have gone through this list of wedding outfits for couples, you must have gotten some ideas about how to play with colours and choose the right outfit for you and your partner. The key is to look for a theme or identify the ceremony you want to wear it to and then look for colours accordingly! Get your makeup right and voila!
To look for more outfits, you may visit any of the stores listed on our website by searching for the ones near your city!