8 Times Wedding Couples Complemented Each Other Perfectly with Their Beautifully Coordinated Outfits
Your wedding is a testimony of your love and what better way to highlight that testimony even more than by coordinating your outfits. These 8 wedding couples decided to complement each other in some way or the other and did a splendid job at that.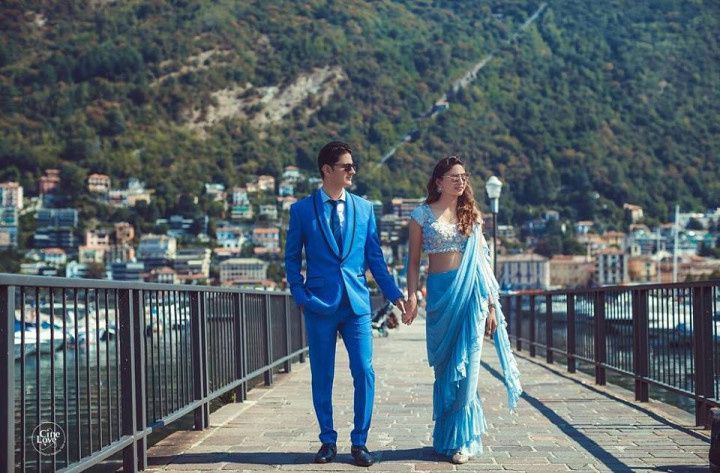 It's finally time to head out for outfits shopping and if anything, it's one of the most time-consuming things to do. You and your partner have been on the hunt for a long time. There are many options out there and so many that you like, too. However, the fact that you've decided to coordinate and look even cuter holds you back from finalising that lehenga or sherwani. Fret not! Have a look at how these 8 wedding couples managed to come halfway and create beautifully complementing outfits.
1. Floral fever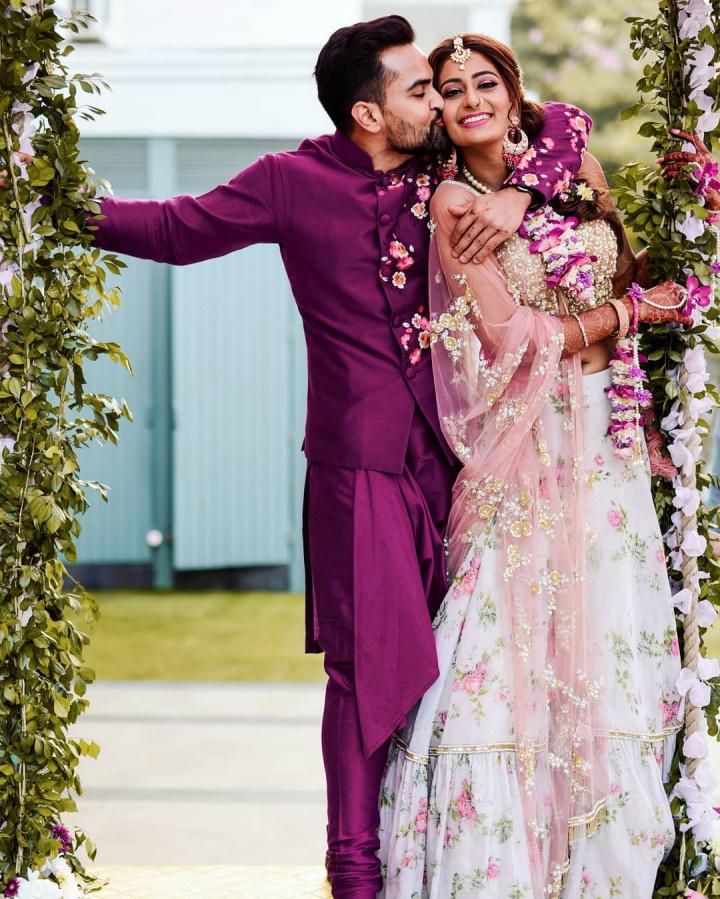 While this lovely couple has not gone for the same colours, they have definitely managed to complement each other. How? They've both added floral elements to their outfits. While the groom's sherwani has embroidered flowers on it, the bride's lehenga has printed ones. Her dupatta too has flower motifs on them. What's more, she's has gone for floral jewellery that brings the whole look together. What better way to start your life together than to go all out with florals.
2. The Role Reversal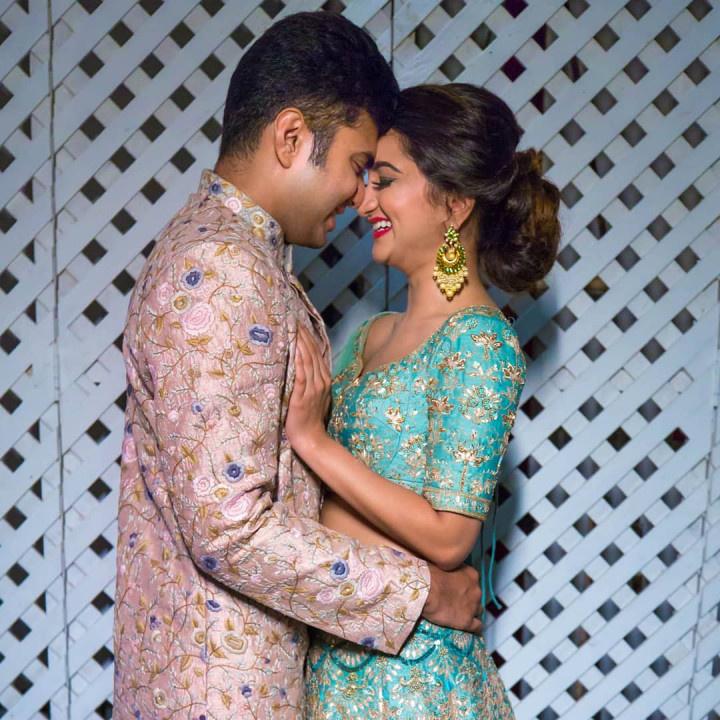 We're loving how this couple, unlike a few other wedding couples, have decided to not pick stereotyping colours. The bride has adorned a lovely blue and the groom an embroidered pink. Blue and pink, as it complements each other perfectly, but the attractive element about this pairing is how they picked the same tones; baby blue and baby pink. Moreover, a few bits of gold colour and full work on both the outfits, add a bit of similarity.
3. Leatherwork and Symmetry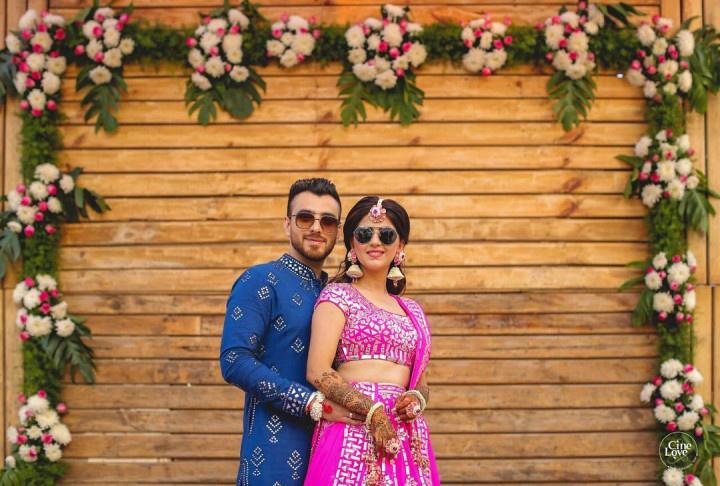 It's undeniable that the couple looks like one of these beautiful bougie wedding couples. The reason? The rich colours they've picked. The deep pink and blue, look really pleasing. Other than that, they both have silver leatherwork in their outfits. The little triangles noticeable on both their outfits add a bit of symmetry and they truly look like the perfect couple ready to shine.
4. The Pocket Square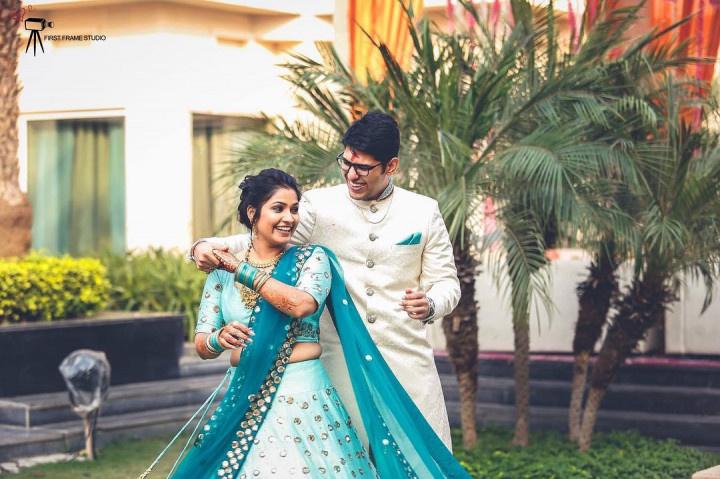 There's nothing evidently similar about the couple's outfit but they still look so perfectly coordinated. The reason is the little addition of the pocket square that matches the colour of the bride's lehenga. Many wedding couples end up colour coordinating their entire outfits but this couple managed to complement each other without doing that. Wondering what's more? The happiness reflecting off the duo's faces. The chemistry is extremely evident and that's probably all you need to shine on your big day.
5. The Wine Shade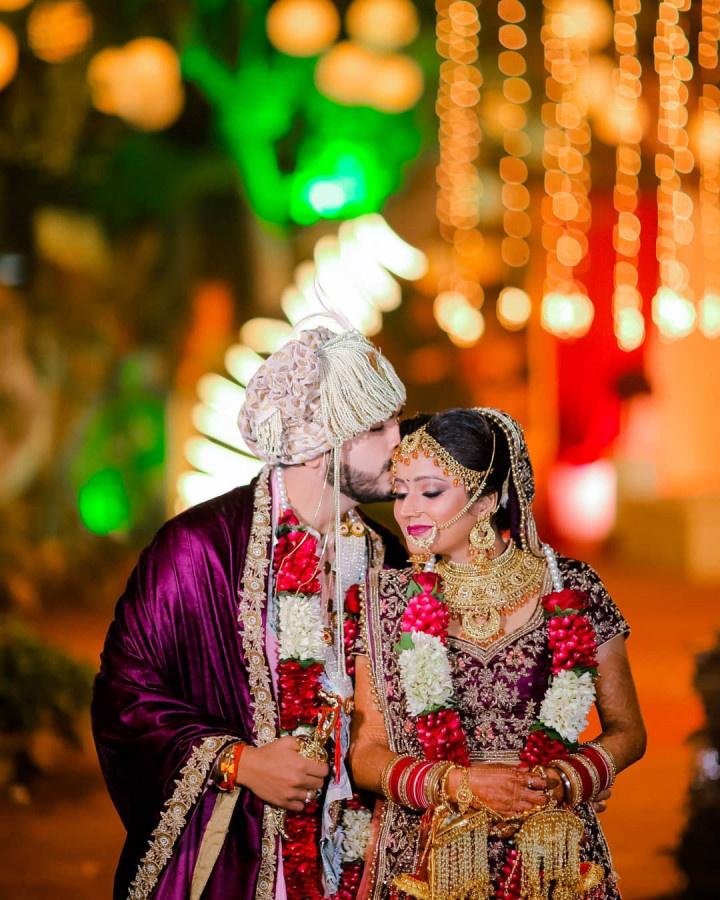 We love the bride's wine shade lehenga and what makes the couple so royal is the groom's stole. Rather than going for a whole wine coloured ensemble, the groom went for a velvet wine stole. The design on their respective pieces of clothing is also similar. Many wedding couples are doing this these days and it just looks amazing. Apart from that it clearly is the love which is being reflected in the picture, that makes them look like such a lovely pair.
6. Red & Black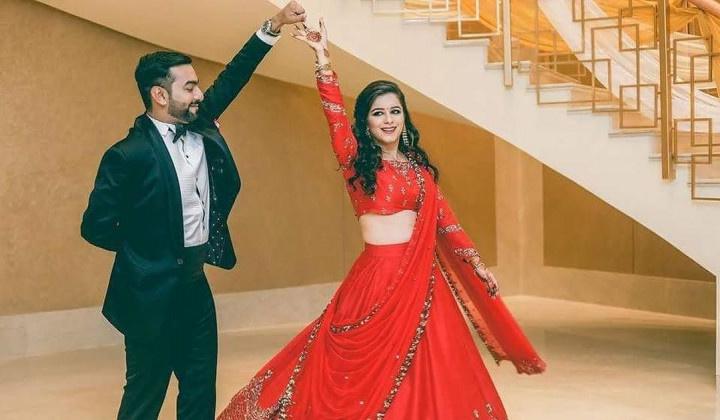 These two colours go exceptionally well with each other. Like a deck of cards, these two definitely look like king and queen. Although the pair has also gone for completely opposing concepts (western and Indian) as well, they still look so stunning. The groom's tuxedo might be plain and simple but is so exceedingly rich. On the other hand, we love how the bride has tried to match up to him by donning something with minimal work so as to not look too overdressed in front of the groom.
7. Ivory & White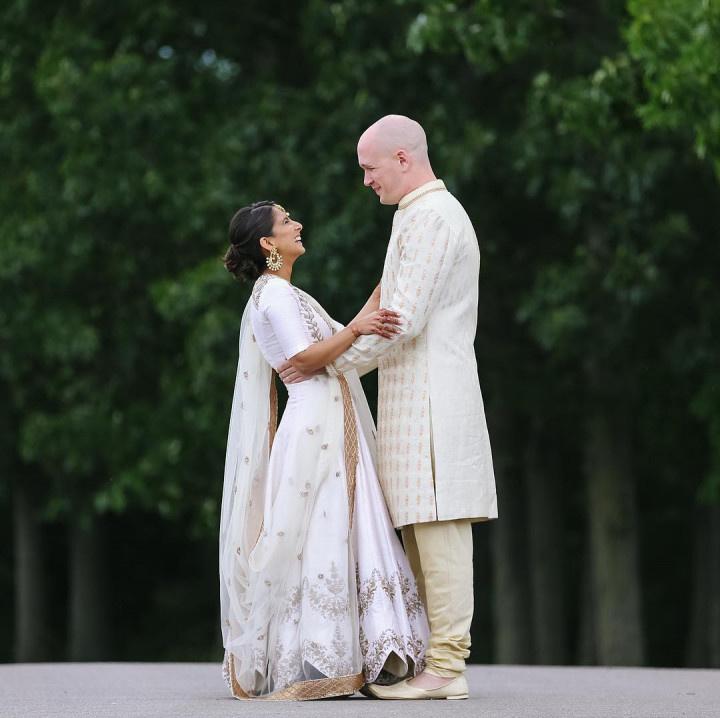 The couple is actually wearing two different colours but it's practically unnoticeable. They've picked two colours from the same spectrum and it just looks stunning. Not many wedding couples think of something like this. Both their attires have golden work on them making the two look really elegant. What we also love is the communion of two completely different cultures which are mingling into one. Their bright faces are enough for them to shine!
That is how you can be one of those wedding couples who coordinate their outfits and do it so well! You just need to customise a few similar elements into both your outfits. Also, twinning from top to bottom can end up looking slightly funny, so remember to not go overboard. Lastly, just remember to enjoy and appreciate each other because there's really no better way to complement each other. Truly, make it a day to celebrate your love.
Think you can offer more lovely options? Then help these couples out with some out of the box ideas in the comments below.