9 Engagement Lehenga Inspirations Every Bride Needs to See Before She Begins Her Bridal Shopping
Are you still unsure about what to wear on your engagement function? We're here to help. With so many options available, the task of deciding what to wear can get hectic. Look at some of these engagement lehenga designs that'll make you look amazing.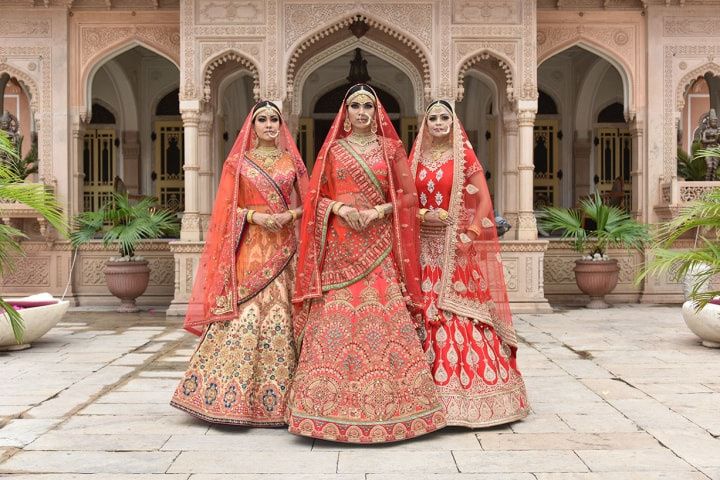 Most of us prefer the colour red when it comes to deciding our wedding bridal lehenga but with engagement lehengas, we get to experiment with our colour choices. Ditch the cliched lehenga choli combination and rock these new engagement lehengas. We promise you'll surely be a sight for sore eyes at your engagement function.
1. Half Saree Style Lehenga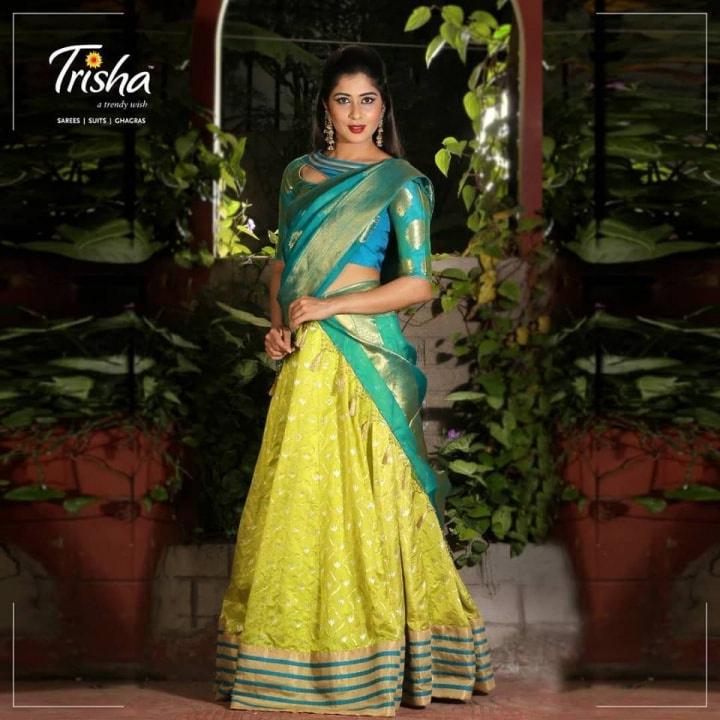 If you want to wear a saree for your engagement but want to give it an overall heavy look, you can go for a half saree style lehenga. To get this look, you can drape your lehenga dupatta to make it look like a saree. This engagement lehenga style works best if you have contrasting colours in your outfit. A different coloured dupatta draped like a saree over your lehenga will give you a mesmerizing look.
2. Kurti Style Lehenga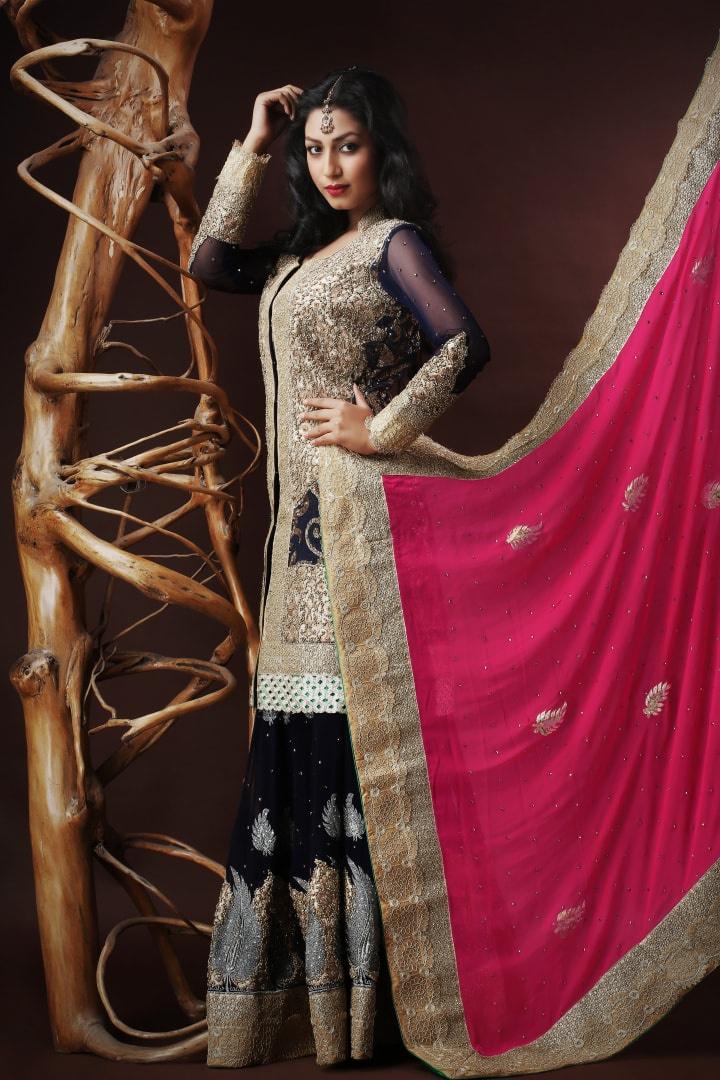 A Kurti style engagement lehenga is all the rage among the millennial brides this wedding season. A Kurti style lehenga is a traditional yet elegant and classy way to sport an engagement look. The length of your Kurti depends on your liking. Some brides prefer a full-length Kurti up to the ankle. While some prefer a mid-length. Carry a dupatta along with your outfit over your elbows and you're good to go.
3. Pastel Coloured Lehenga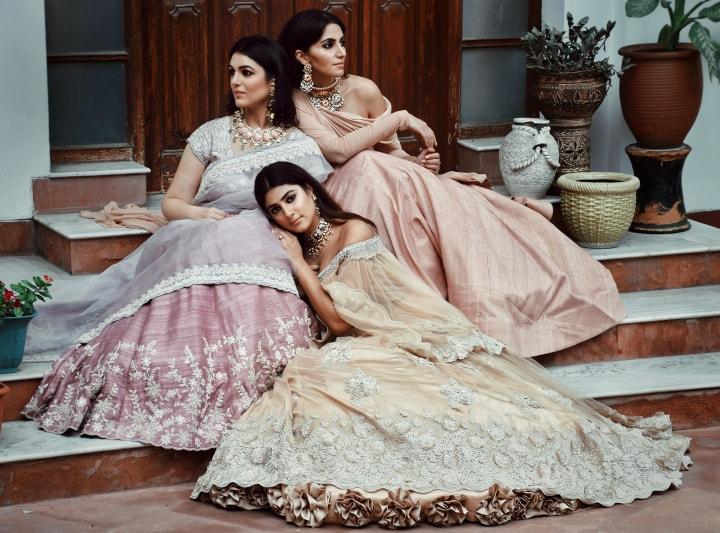 A pastel coloured lehenga is a subtle and fabulous choice for a gorgeous look. A pastel colour choice for your engagement outfit screams out a conventional look while making you look ramp ready. Pink colour always has been a hit among brides. Opt for a pastel pink engagement lehenga to give you major Disney princess feels.
4. Black and Golden Lehenga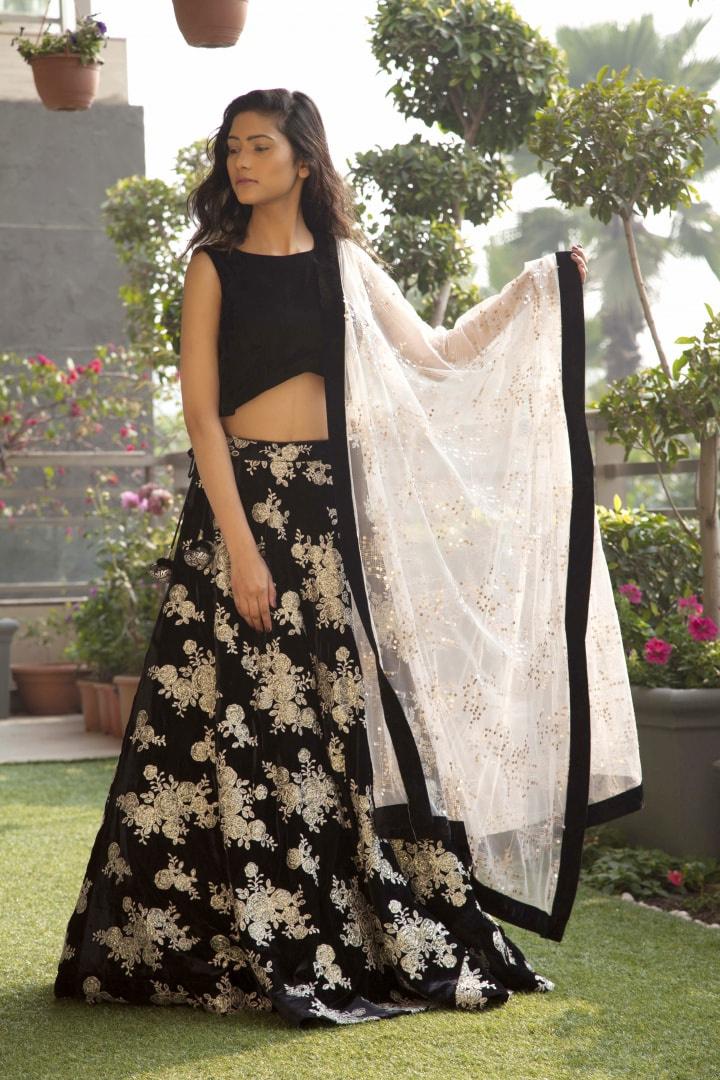 In the words of Coco Chanel, 'The beauty of the colour black is absolute, a perfect harmony'. Wearing a black and golden lehenga for your engagement function will have all the compliment flying in. Up the oomph factor of your attire by adding a touch of gold jewellery to compliment your entire look and you'll surely look ramp ready.
6. Floral Lehenga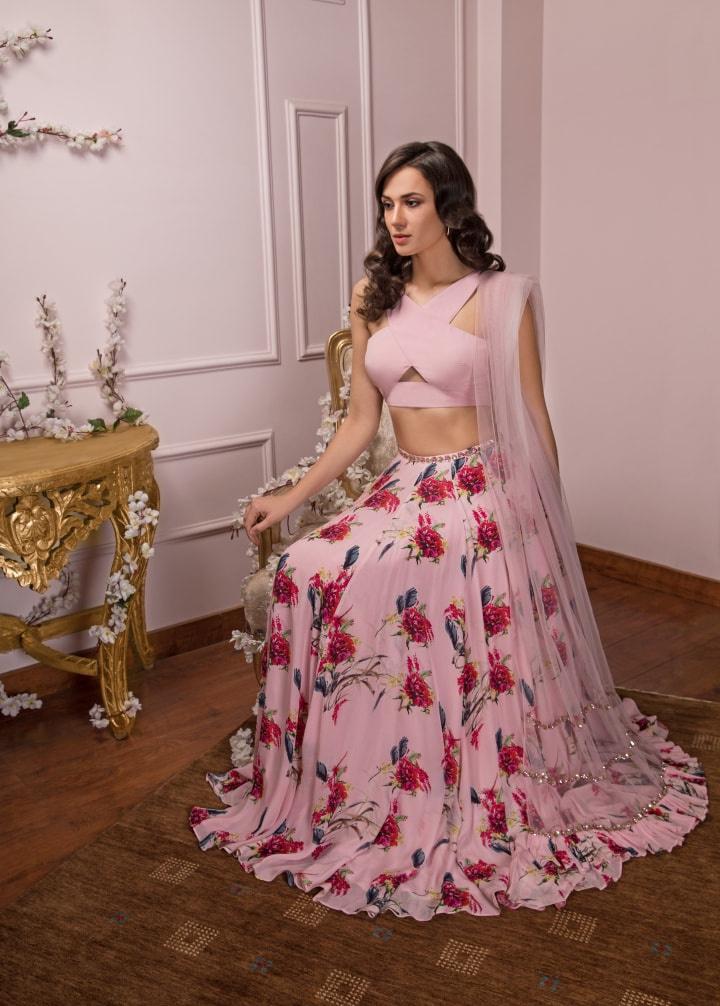 We owe it to Sabyasachi for giving us some major floral lehenga inspirations this wedding season. Our Instagram feeds were flooded with gorgeous floral lehenga designs and we couldn't help but fall in love. Wearing a floral engagement lehenga is the best way to make steal the show. Go for a solid colour blouse with a floral lehenga skirt with and pair it with a light dupatta.
7. White Magic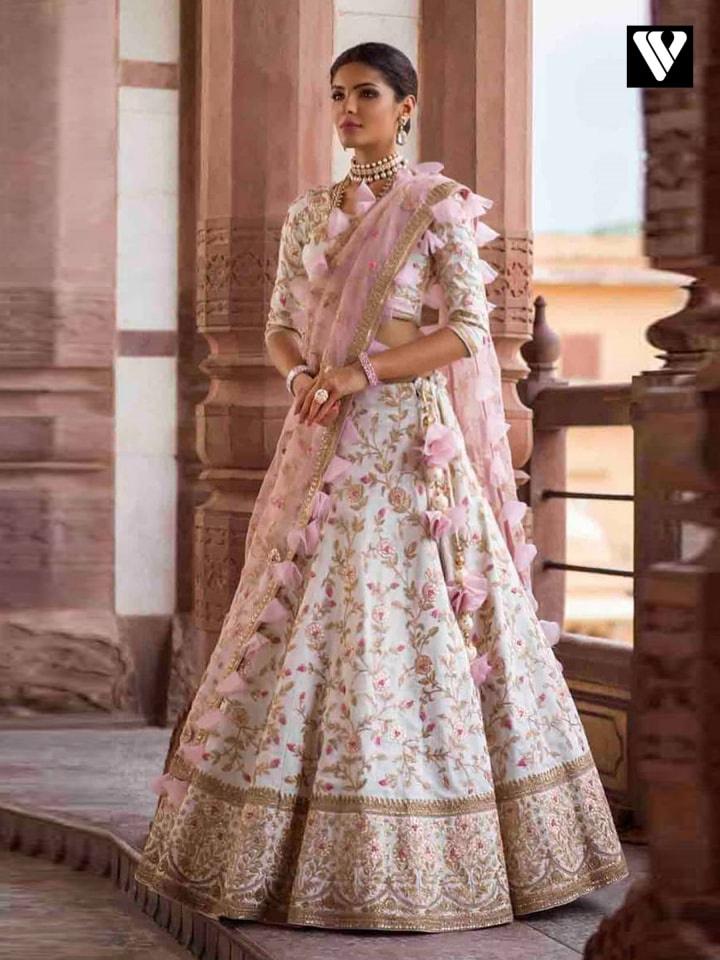 The colour white has a pristine grace and you can never go wrong with it. If you were awestruck by Priyanka Chopra's white wedding and couldn't help but imagine yourself in that attire, you can fulfil your dreams of a white wedding by sporting a white lehenga on your engagement. A white engagement lehenga boasts of quite luxury and is a big hit among brides.
8. A Crop Top and Lehenga Skirt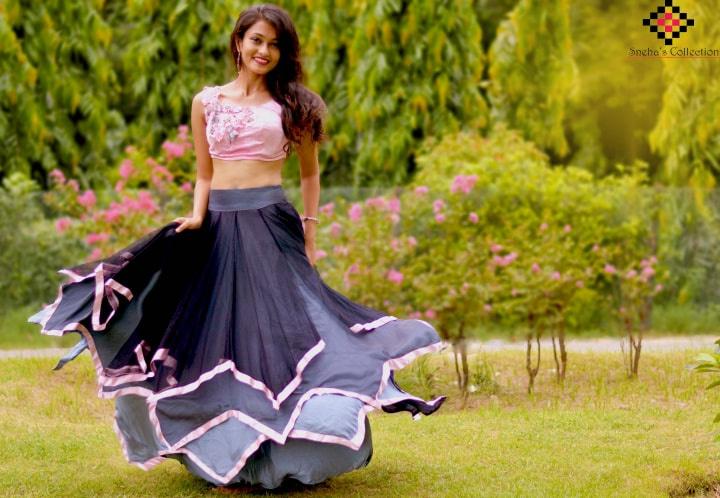 A crop top and lehenga skirt is an amazing way to keep it chic yet elegant for your engagement look. This engagement lehenga style is the modern bride's go-to look. A crop top with a high waisted lehenga skirt will make a style statement and won't steal the spotlight from your wedding outfit. Go for bright colours and contrasting jewellery pieces.
9. Lehenga with Cape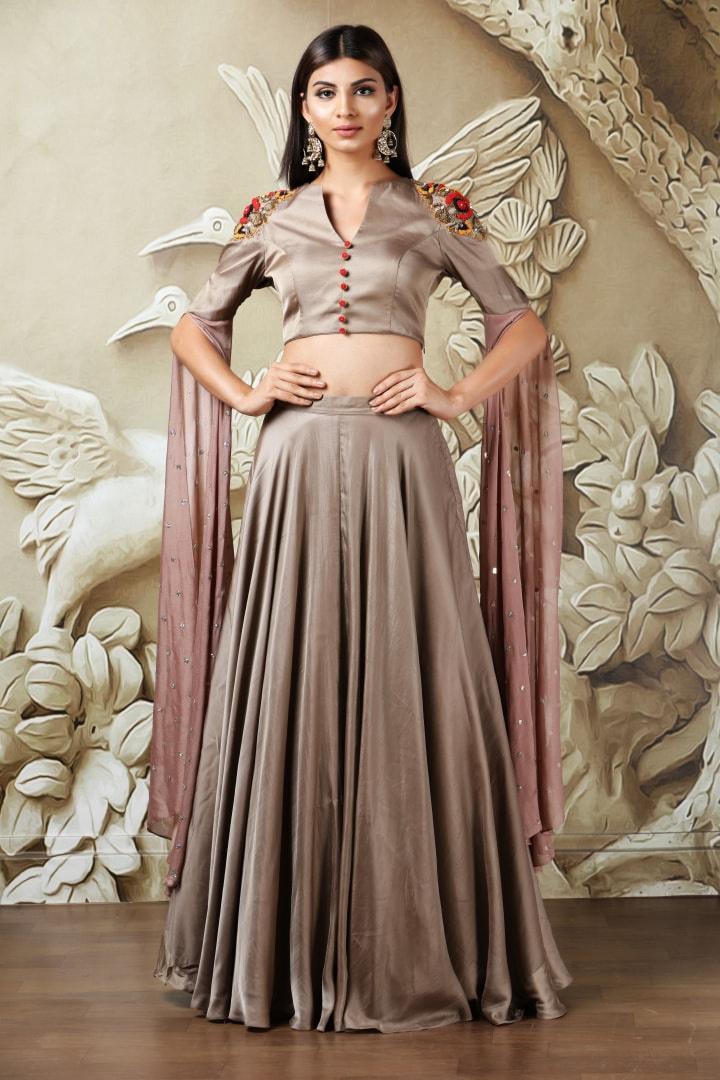 Ditch the traditional dupatta this wedding season and enter your engagement function in style wearing a lehenga with a cape. A cape will make you look like you've come straight out of a fairytale. The cape is the trendiest way to keep it casual and beautiful. There are a lot of styling options for your engagement lehenga with this look, you can choose a contrasting cape for your ensemble or a cape that compliments the colours in your outfit and ties the whole look together.
Your engagement lehenga is an outfit that you'll for a day, but you carry the memories of your engagement function for a lifetime so it should be chosen with careful forethought. This listicle provides you with some engagement lehenga ideas that will put your worry to rest. Along with your lehenga style, you can also choose from various fabrics to choose from. Mix and match various fabrics and colours to create your own larger than life dream outfit and look like a dream walking down the aisle at your engagement function.
Which of these engagement lehenga styles pleased you the most? Tell us in the comment section below...