Creative Indian Décor Ideas for an Amazing Wedding!
Looking for great décor for your perfect wedding? Here's a list of few amazing Indian décor ideas that leave no room for disappointment.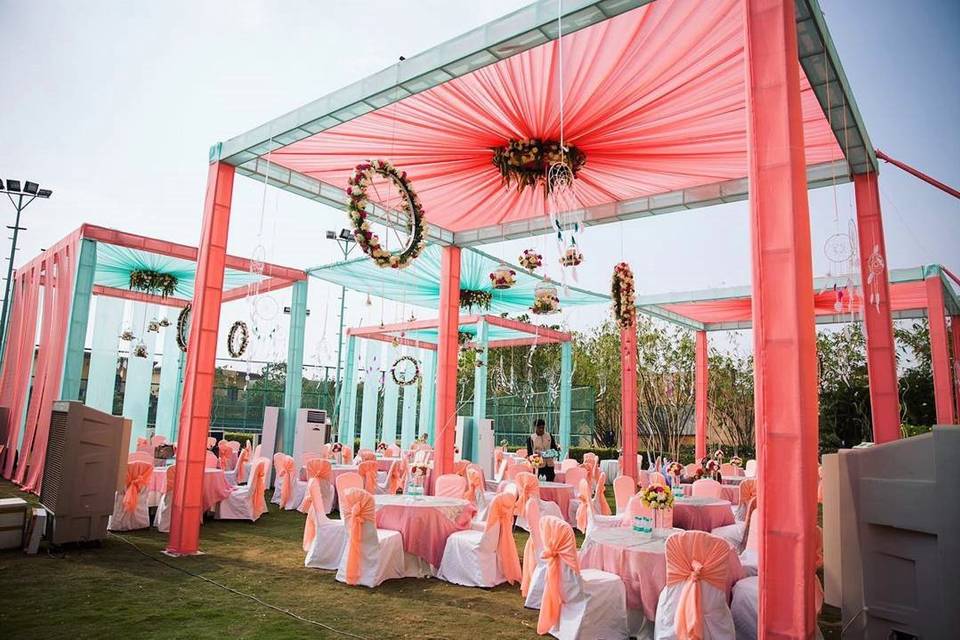 Indian weddings are known for their fanciness and grandeur, therefore you need to be on your toes while picking out your décor. If your wedding is approaching, and you are looking for perfect Indian décor ideas to choose from, then you are at the right place.
The wedding day is the celebration of the beginning of your new life and undoubtedly, you want it to be flawless. You may wish to offer the best hospitality to your relatives and friends and that starts from choosing the right décor!
Indoor or outdoor, we all like to be surrounded by something beautiful. There are a plethora of trending Indian Décor ideas that can astound you. Flowers, glass mirrors and other fancy antiques put together can make any venue look enchanting.
We are sure that when you picture your venue's décor, you may be stuck visualising things you have already seen at other weddings. Don't you want yours to be different? If so, check out these Indian décor ideas that are absolutely stunning!
1. Christian wedding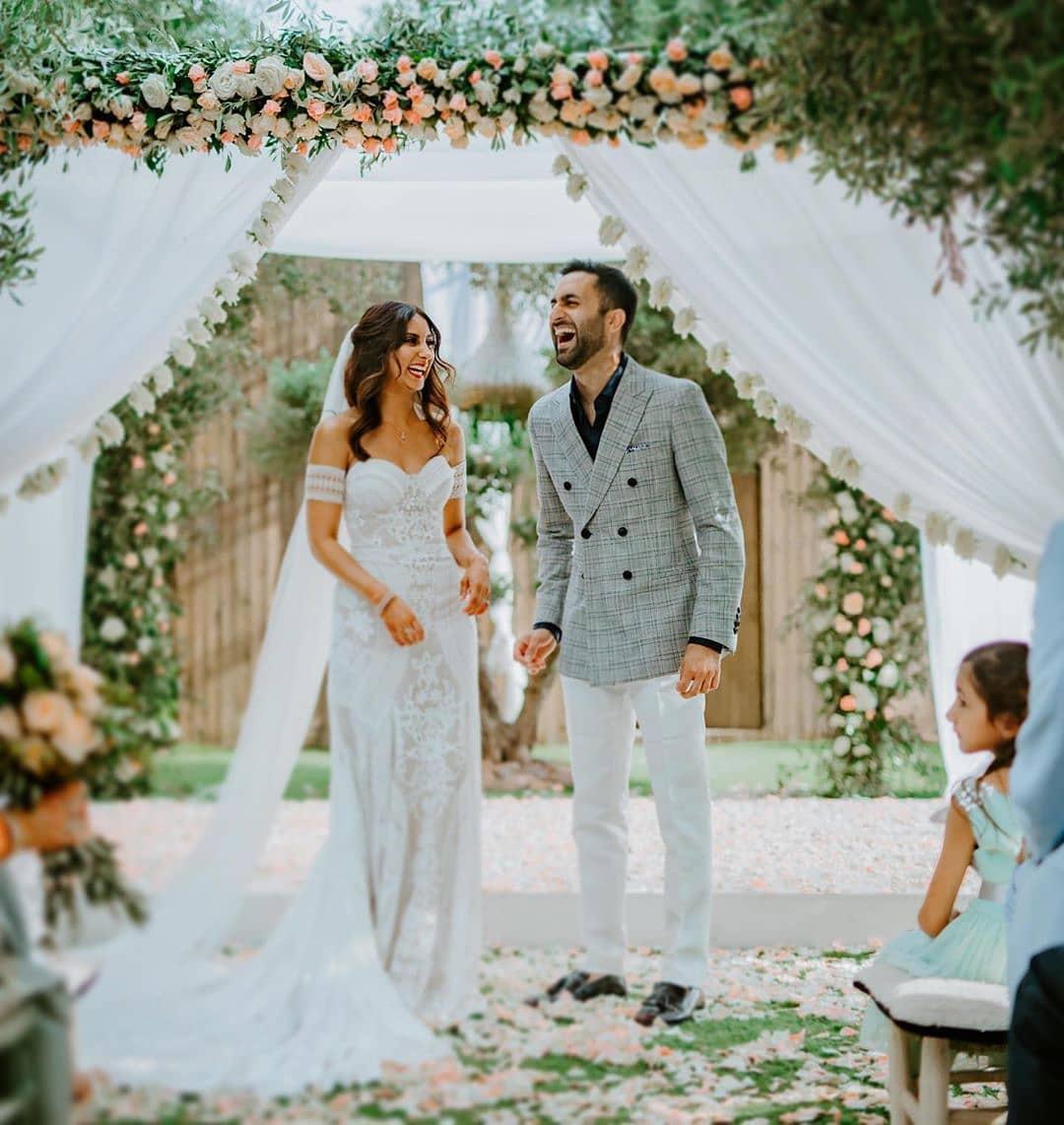 Looking for a picture-perfect décor to host a Christian wedding? If yes, then this might be the right pick for you. Generally, Christian weddings keep white as the main colour and decorate the venue with colourful pastel flowers. Simplicity is the key element in such events and if you are looking for subtle Indian décor ideas then you can consider this one!
2. Lotus wedding stage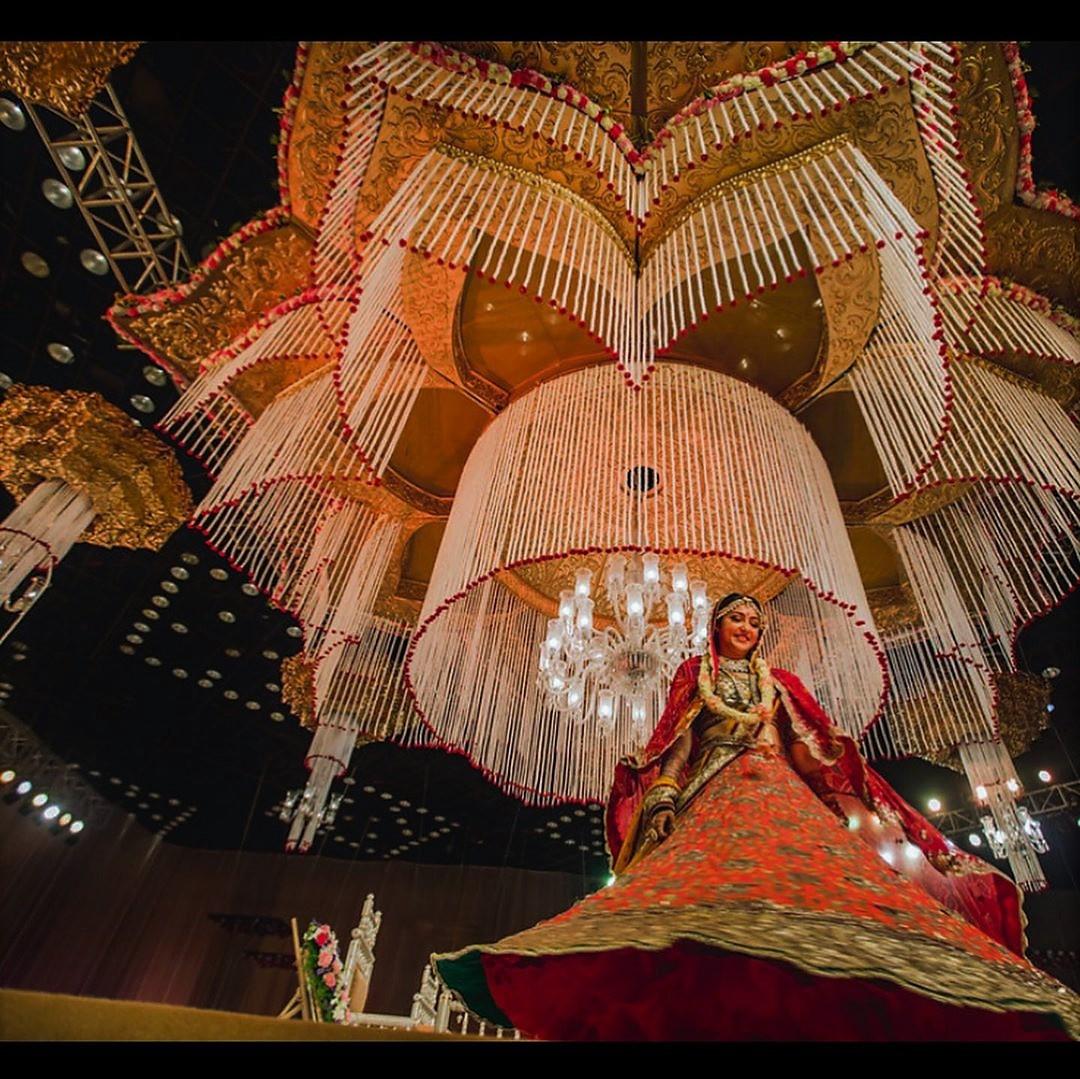 The wedding stage is the main area of attention and should be impressive. This is why this grand lotus theme is a part of our Indian décor ideas list. The white flower strands make a beautiful lotus in the air and the colourful floral edge adds beauty to the decoration. If you wish to have a royal Indian wedding, then you need to have this regal set at your wedding.
3. Mandap décor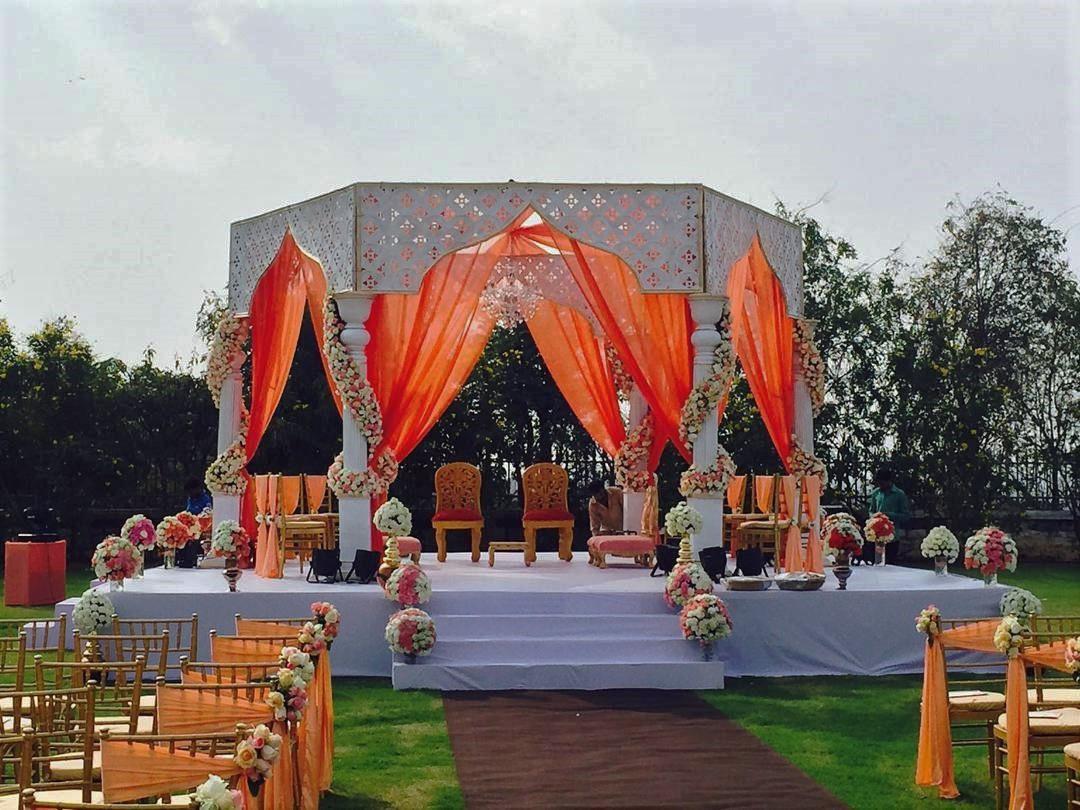 The mandap is the place where you actually begin with the new phase of your life and thus, it should be as colourful as your life. The ultimate combination of white and orange is soothing to the eyes, and this effect is made even better with floral decoration. The giant antique chairs at the mandap will make you go crazy. The greenery around adds character to the whole view, so if you are planning a wedding in an open area, then this might work well. Bookmark this if you like such elegant Indian décor ideas!
4. Mehndi decor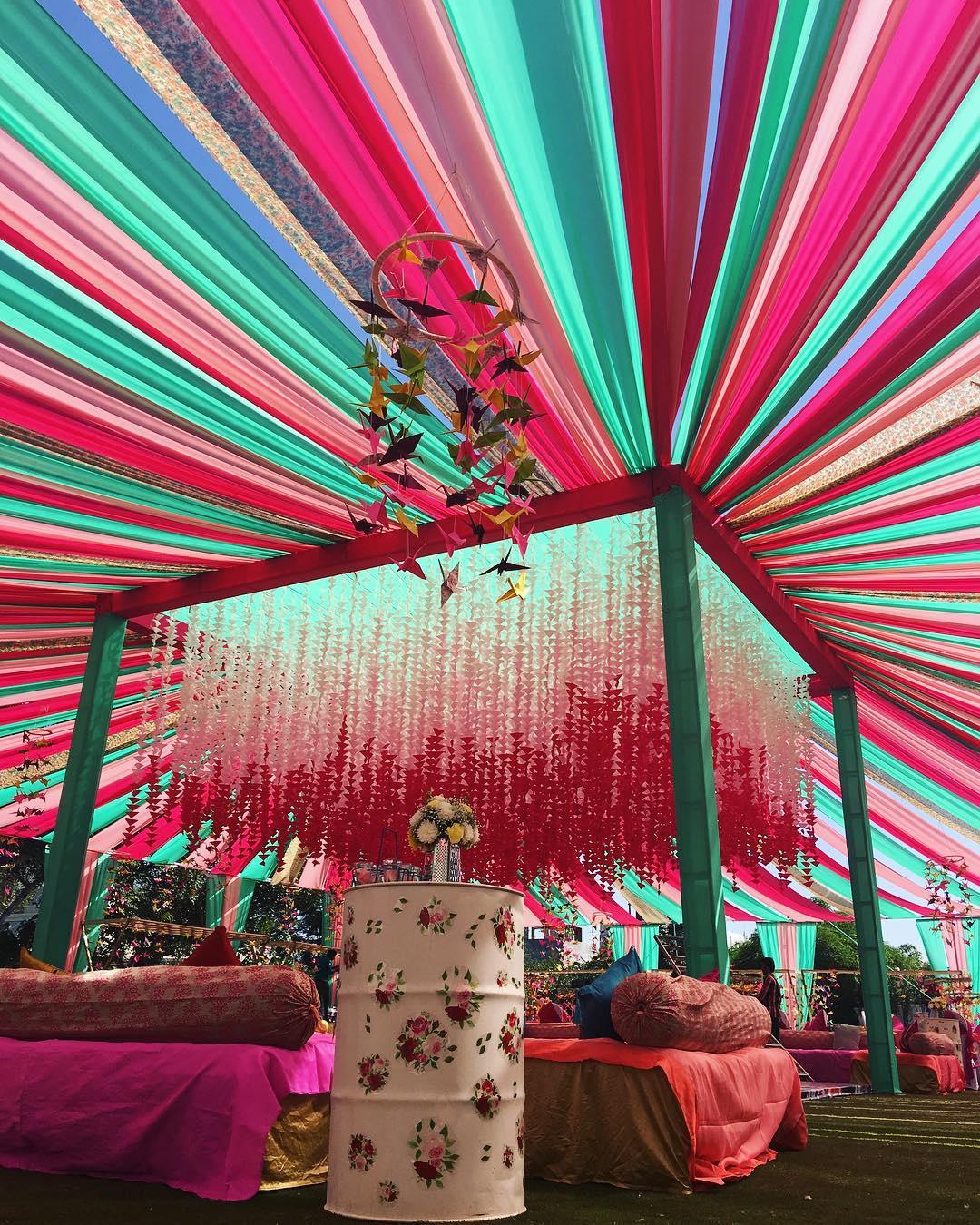 Mehndi ceremony is all about décor, dance and henna, thus, you cannot miss out on this amazing floral décor. Various multicolour fabrics are used to create an ambience of colours and happiness. Adding beauty to it are the dream catchers in the centre and the flowers all around. This set up is perfect as it has a great seating arrangement and a separating performing area for all the groovy dancers.
5. Royal Mandap décor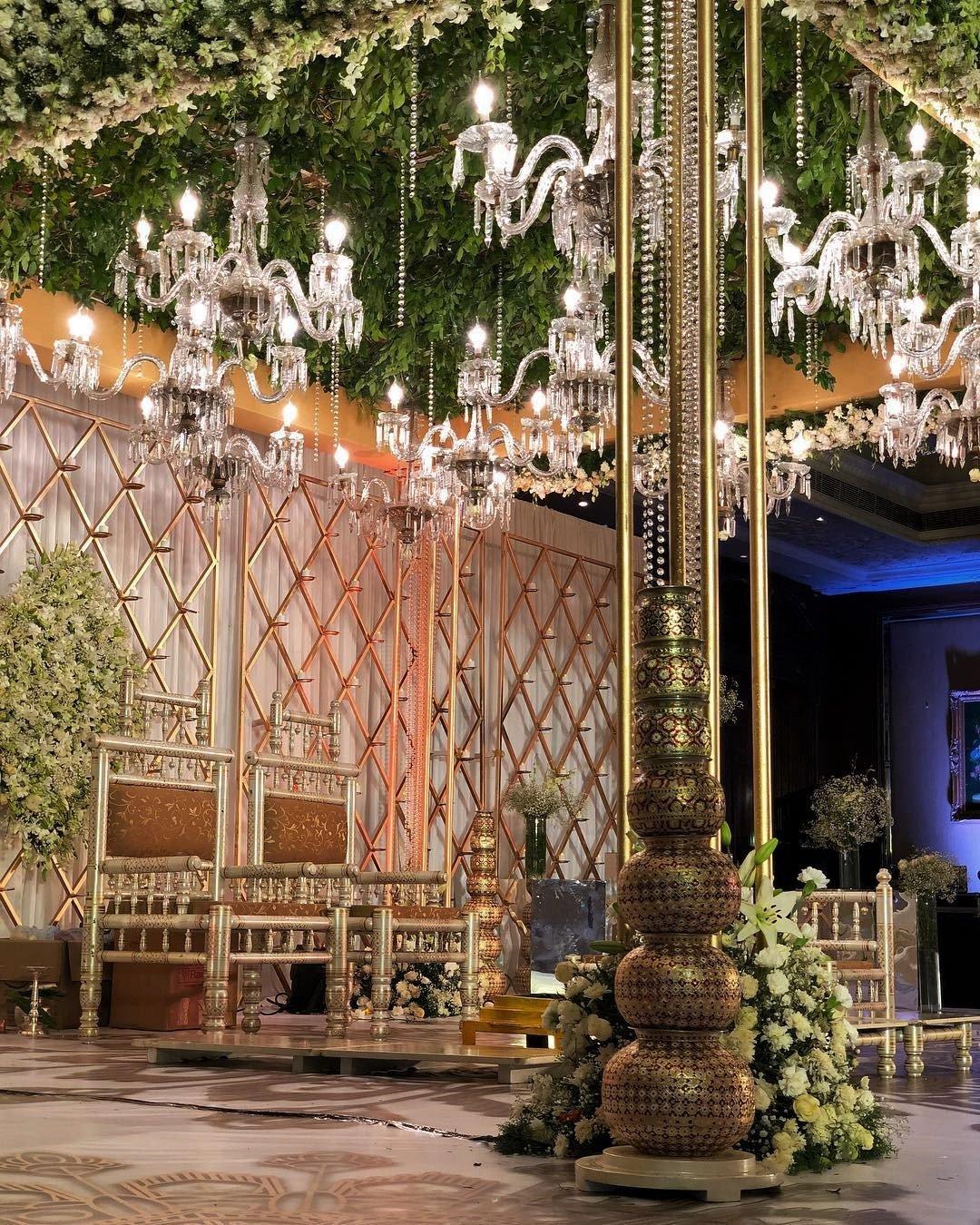 The mandaps are supposed to have an opulent look, which makes this one of the most preferred décors amongst these Indian décor ideas. The golden plus silver theme will never go out of fashion, and this picture is the ultimate example of that. The chandeliers on the green ceiling are captivating and you're going to remember this sight forever!
6. Paper Crane décor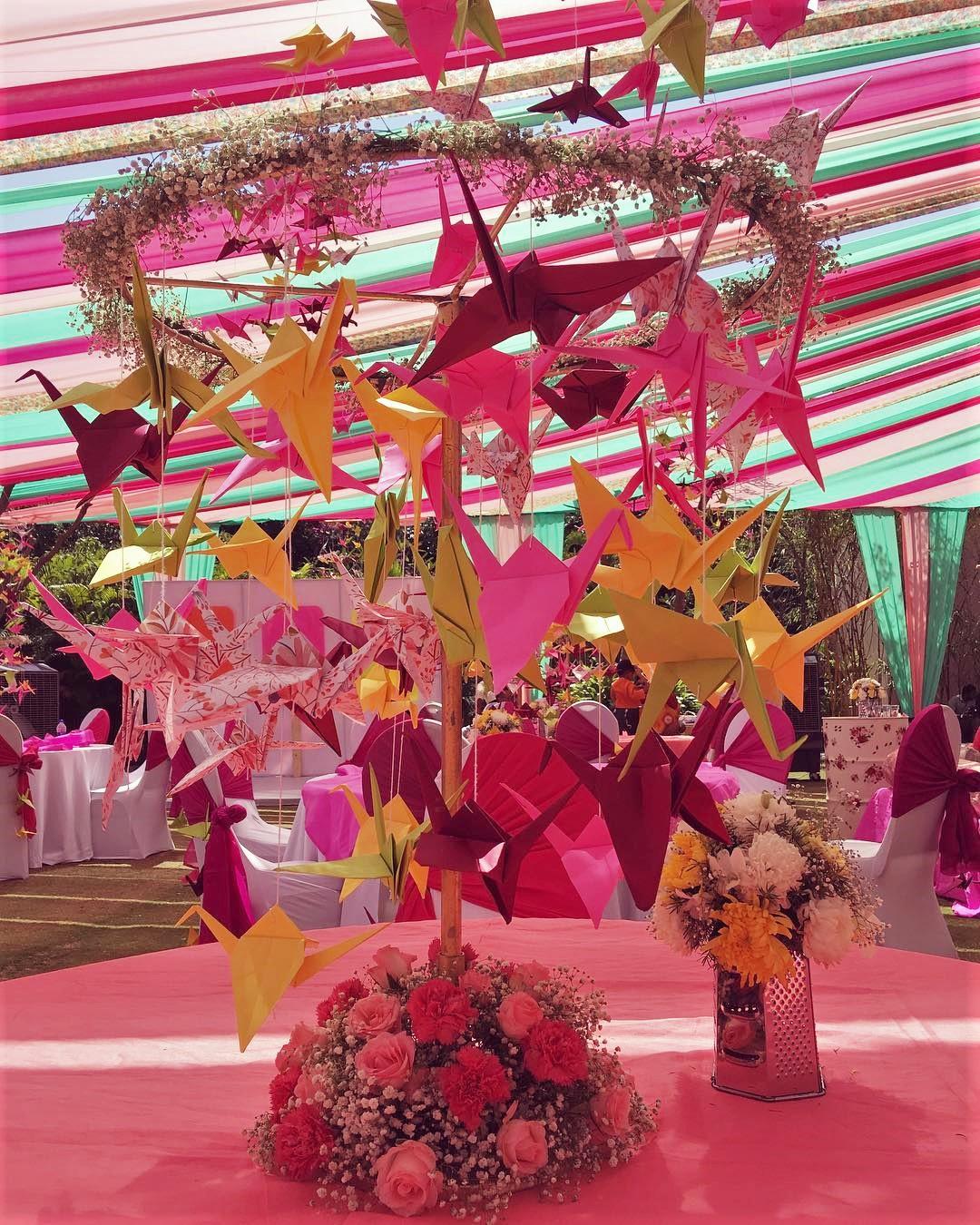 We don't realise how small things add up to make something look grand - like this paper crane decoration is used as a lovely DIY-esque centrepiece, which adds colours to the décor. These can be used on the ceiling as well as to decorate the mandap. This combo of flowers and papers is something new and is in trend. Check out these paper flower decorations for more ideas!
7. Dream Catcher décor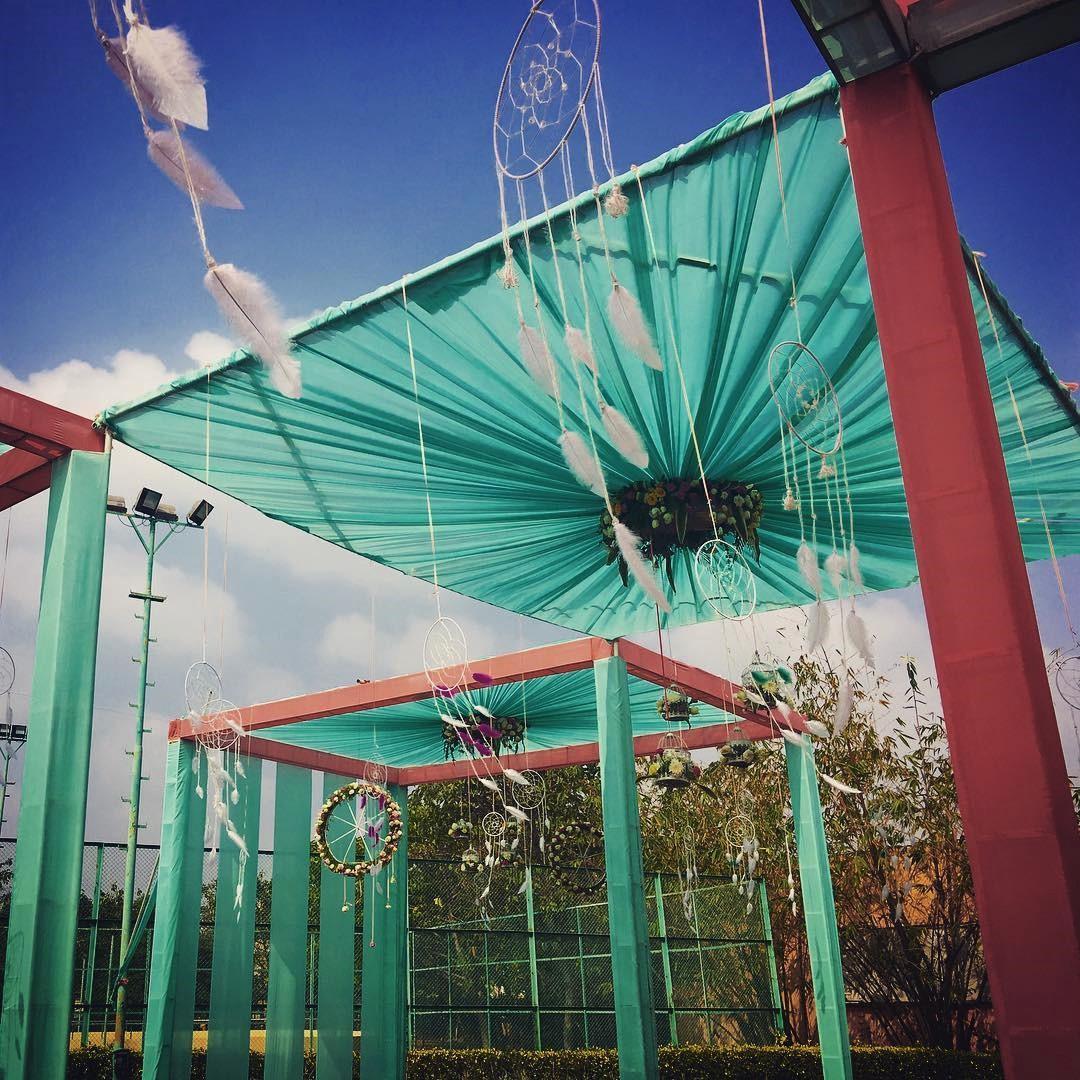 The concept of a dream catcher as a décor theme is something that's very fresh, and if you want a break from the floral theme, then this might gain your attention. The subtle green colour with brown is the best suited for a day-time occasion. White and colourful dream catchers add character to the décor.
8. White classic décor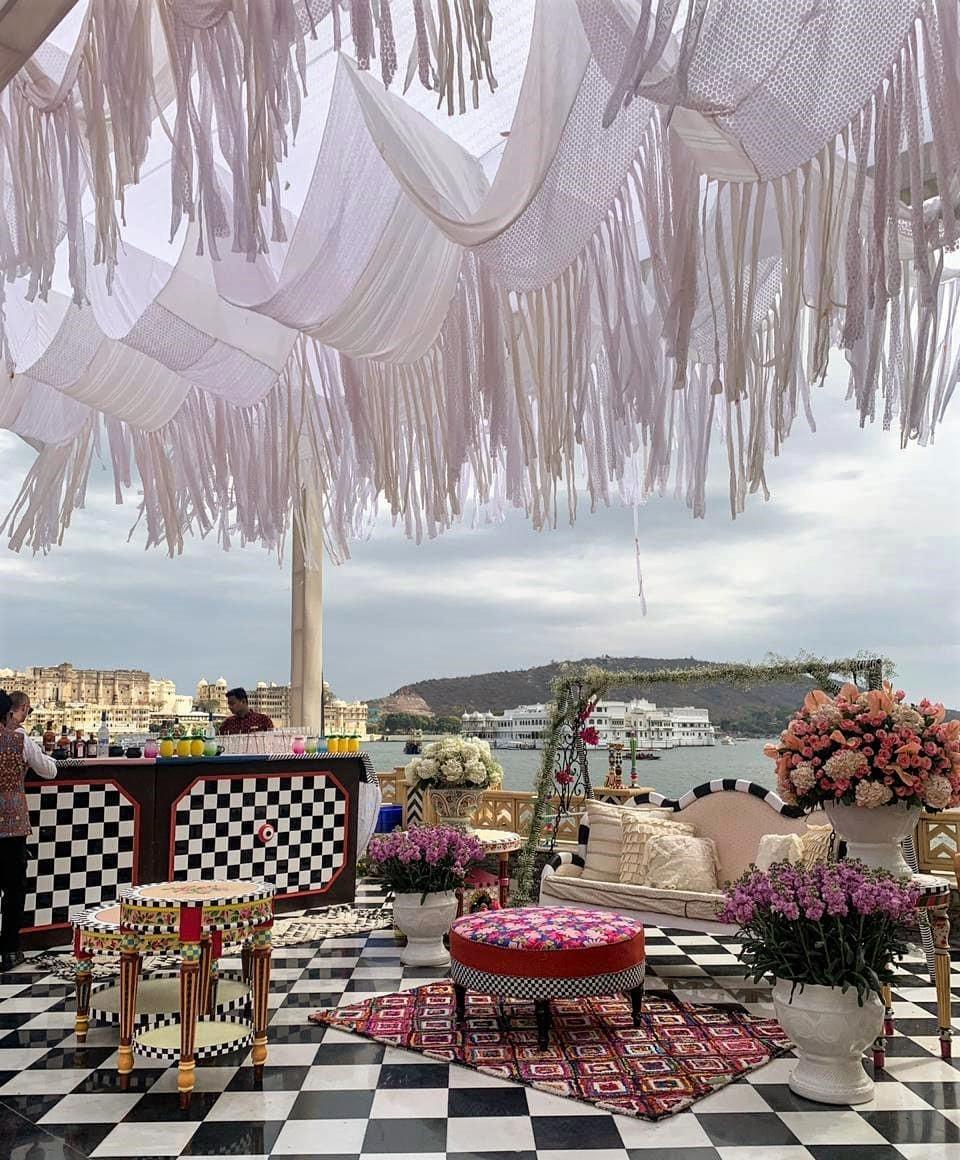 There is nothing more elegant than white décor. This colour paired with some flowers is enough to do wonders for your venue. The check pattern of the floor is beautiful and is creatively decorated with Chumbak-style furniture. The giant vases complement the overall view.
9. Floral entrance décor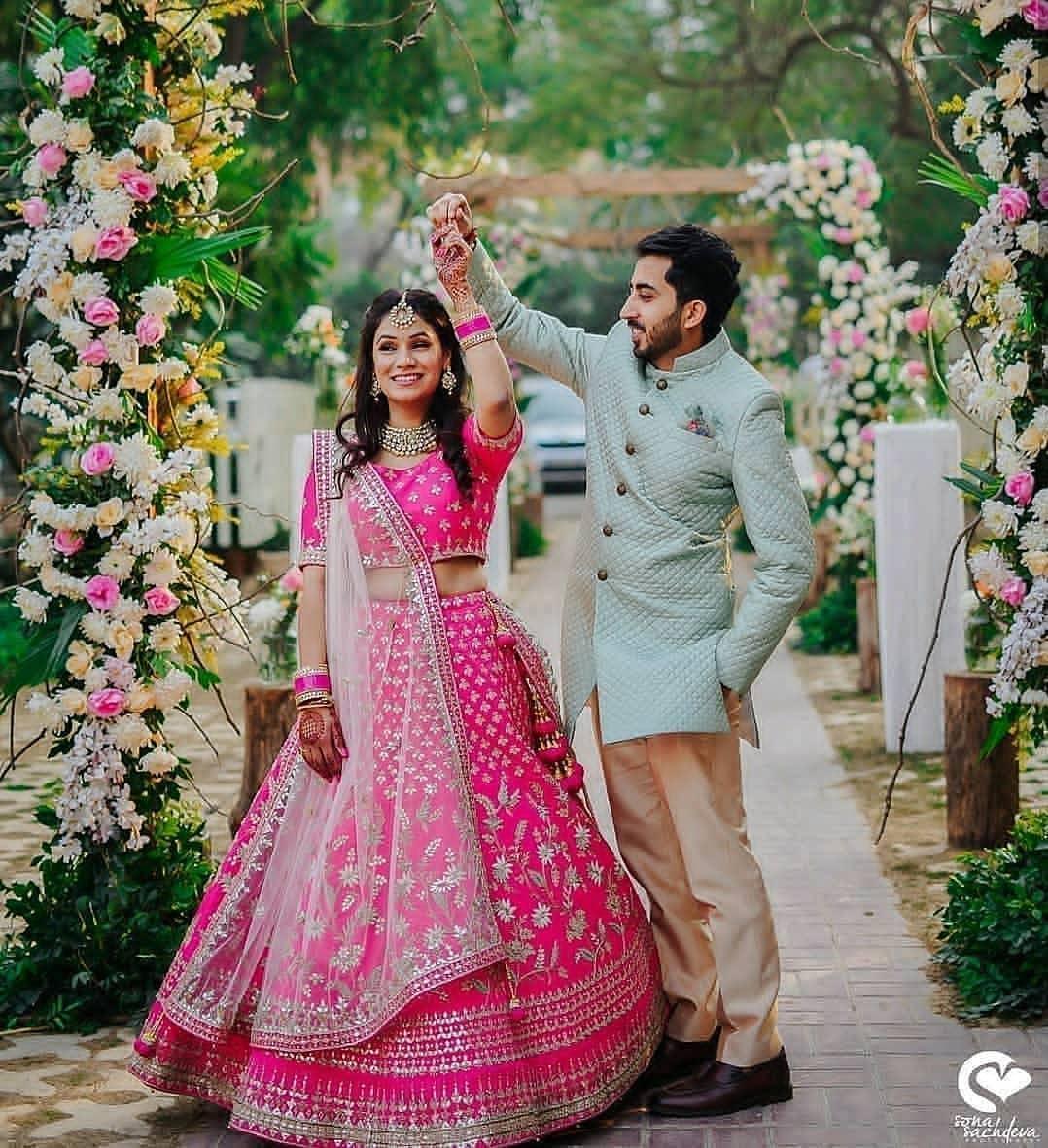 The entrance of your wedding venue is the first thing that your guests will see and it should be really remarkable. The floral entrance, like the one in the picture, is fascinating and if you are looking for an understated entrance décor then this might be your right pick. The greenery around adds a lush element to the wedding venue!
10. Floral garden set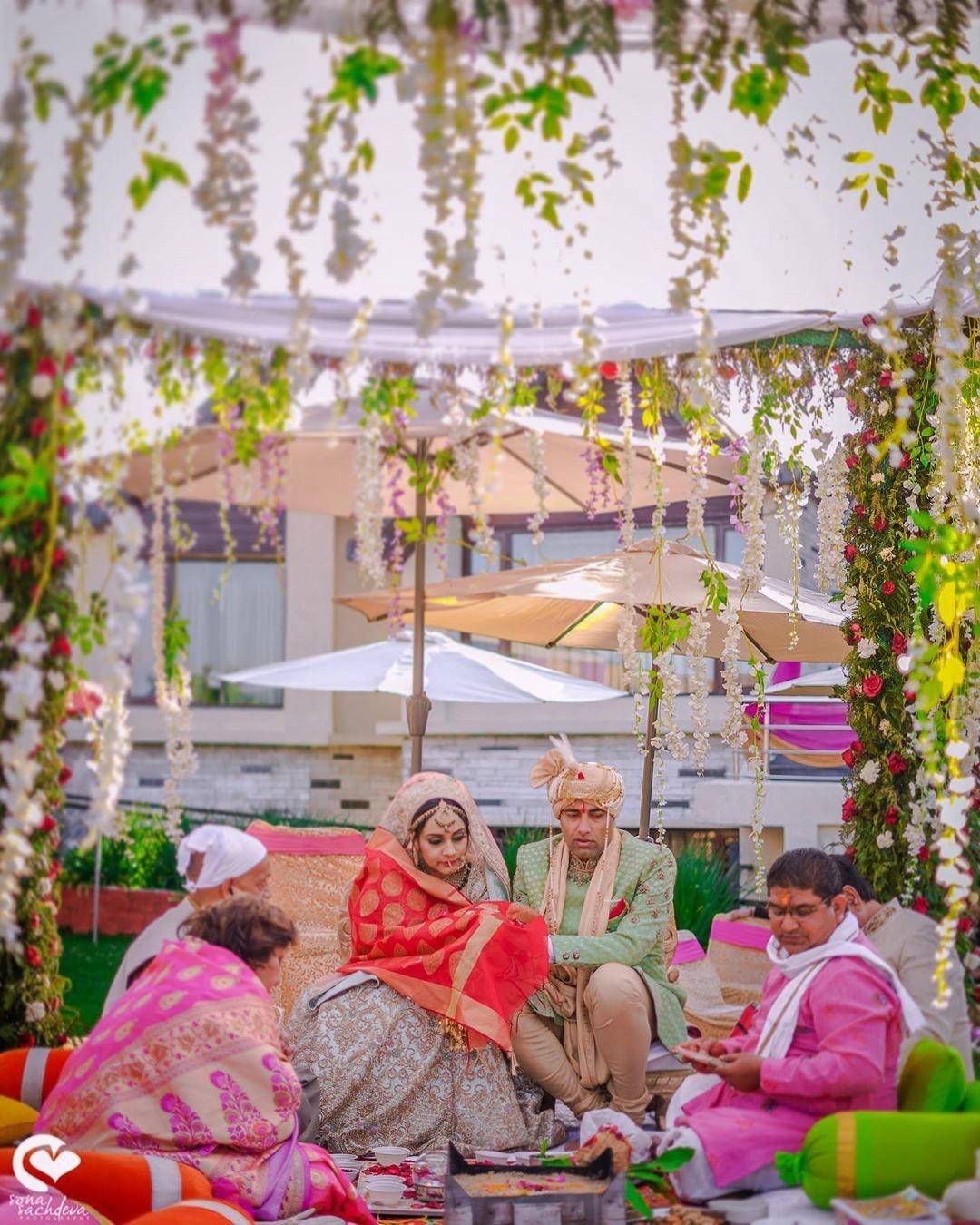 Planning an open garden wedding? If yes, then this will be the perfect décor. The umbrellas add to the serenity of the ambience and the colourful floral decoration is something one can never go wrong with.
Indian weddings are supposed to be beautiful and attractive so, you should pick the best from these Indian décor ideas list. Choose your favourite décor and then book the perfect wedding planner who can cater to your requirements well.
Get in touch with these wedding planners near you!