Indian Wedding Decorations 101: For Some Major Decor Goals
We have curated a list of possible Indian Wedding Decorations ideas which will elevate your functions to a whole new spectrum.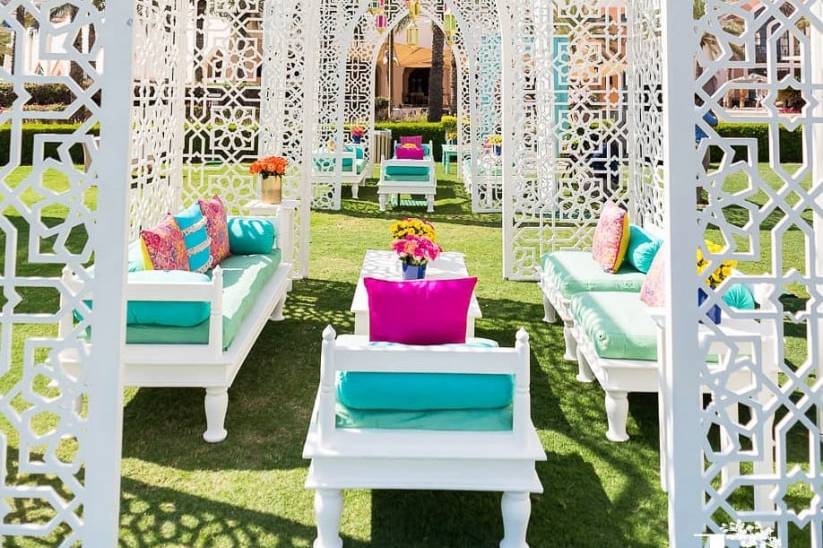 Was it your dream to take your wedding vows on a beach somewhere, with the fresh sea breeze running through your tresses, among your closest friends and loving family? Finding the right wedding venue, a private beach, in this case, is half the task done. The next? How you choose to decorate the venue. If you have an idea about how you would like your wedding venue to look, with an Indian tone, then this is your ideal guide. We have curated a function-wise guide for Indian wedding decorations, that will add bespoke and timeless setups to your ceremony.
Wedding decorations are a major and important part of any wedding that not only helps you live the most beautiful moments of your life surrounded with perfection but also speaks volumes about the kind of celebrations that you would be having. We have curated a list of all the wonderful elements that you can make a part of your grand celebration. Read this guide and nail your Indian wedding decorations in a click of a finger.
Sit back, discuss & execute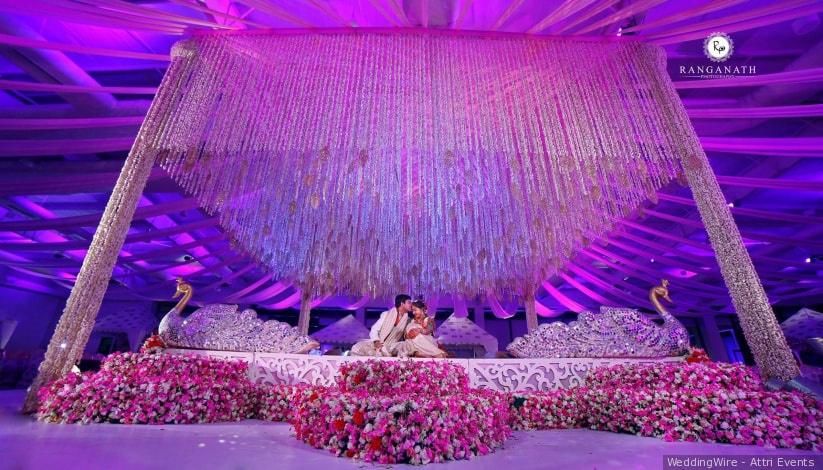 You are a part of your function just as much as your spouse-to-be. And this applies to discuss and finalise your wedding decor too. Finding the perfect Indian wedding decorations ideas which resonate with both of you, will also help you understand your spouse better. This would also help in more ideas which you can then short-list and then finally choose the best one.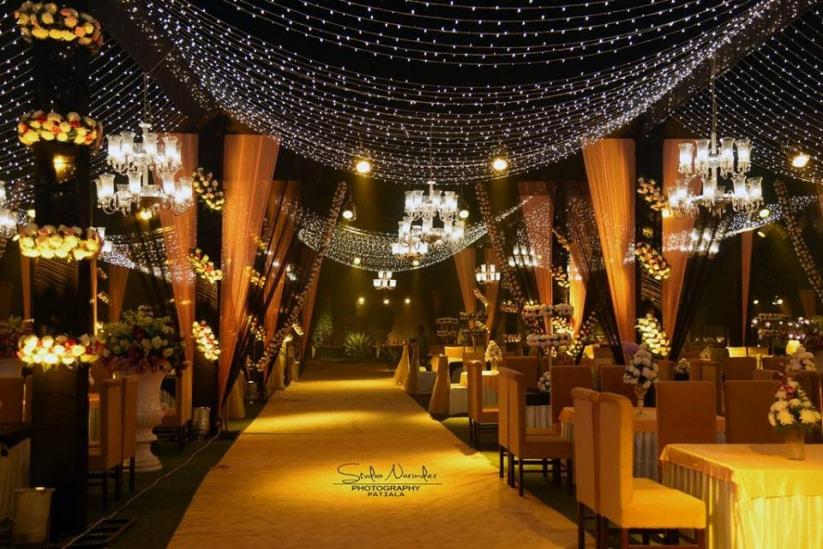 The decor is a detail which can enhance each of your ceremonies and requires special consideration, beyond what your wedding planner, decorator or venue can provide. The added attention will also help you stay within your set budget and exempt you from going overboard. With so many stunning decor ideas that are popular at weddings today, we would help you choose the ones that you want for your big day celebration.
Function-wise: Essential Indian Wedding Decorations
1. Indian Wedding Decorations - For Your Engagement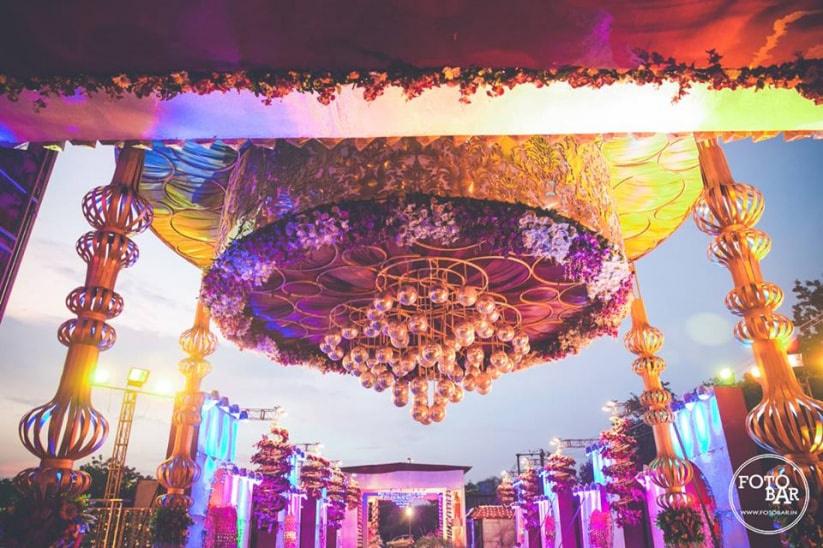 An engagement ceremony marks the beginning of your beautiful journey. It is the very first function which you will attend as a couple. Invest time in understanding what's needed when it comes to the Indian wedding decorations and come up with all the things that define you and your partner as a couple. Keep things minimal and pay attention to details. Whether it is a small ceremony or a grand celebration, keep the things under your budget so that you do not go overboard.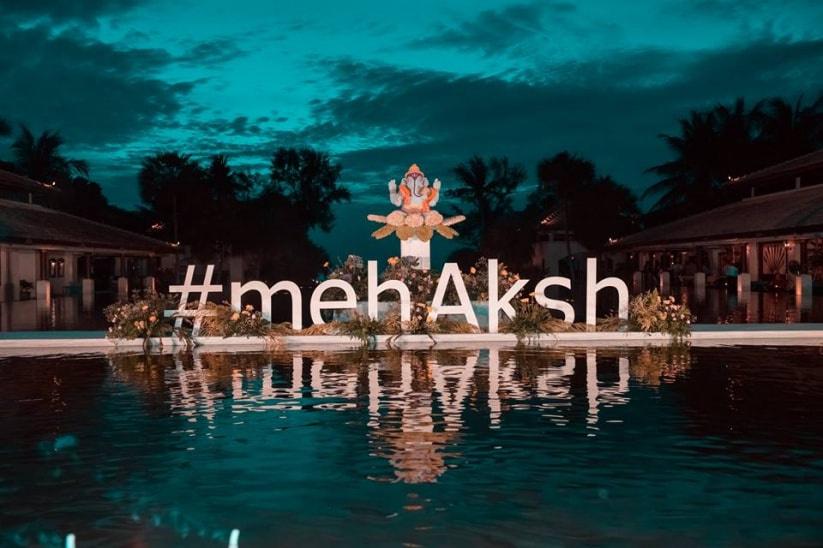 Let your names be the first Indian wedding decorations inspiration for your guests. Create a unique hashtag combining your names. Be inspired with #Sonamkishaadi or #Aditihuiparayi to personalise your name Hashtag. Take this opportunity to introduce your couple to the world in the most unique way possible. Use them as the first decoration pieces your guest will lay their eyes on. While also being a wonderful piece of decoration, your wedding hashtags can also be a photo booth for your functions.
Personalised Table Settings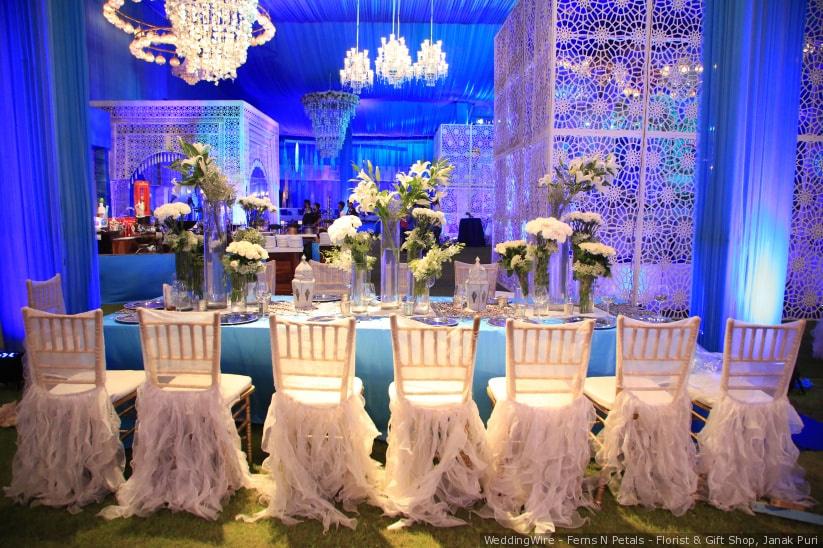 For all romantic souls out there, this one is the ultimate option for Indian wedding decorations for you. Devote some time in conveying to your planner the condiments you wish to incorporate in your table setting. Ditch the usual cutlery and opt for a customised one instead. Get the initials of your names etched onto the corner of your plate and napkins. Have those napkins beautifully crafted into origami shapes and place them on the table. If you wish the world to hear about your love story and what makes you both stick, then take this occasion to make that happen.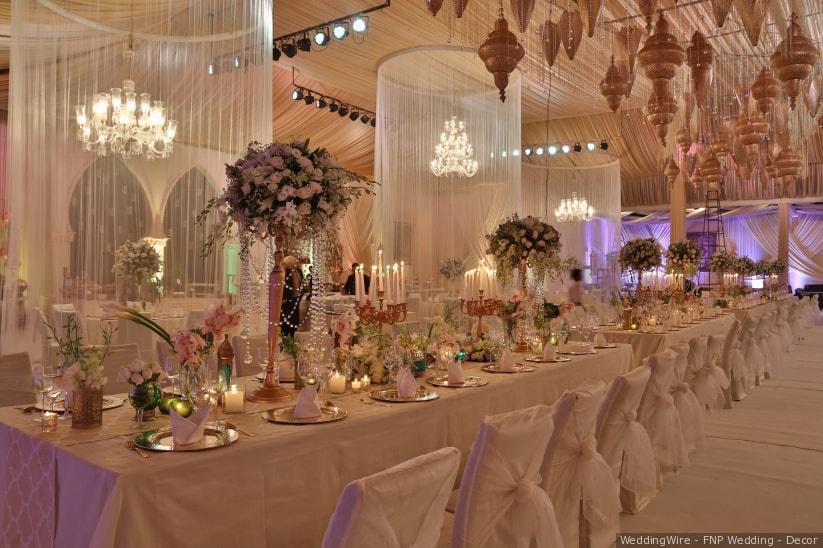 And, lastly, for the final touch for your Indian wedding decorations, get floral bouquets of your favourite flowers and place customised candles across every plate as souvenirs for your guests. You can even provide your wedding festivities with a westernised touch by placing a name card for your wedding guests if you wish for a detailed seating arrangement. That works well if you have any kind of stage performances lined up.
2. Indian Wedding Decorations - Mehndi Ceremony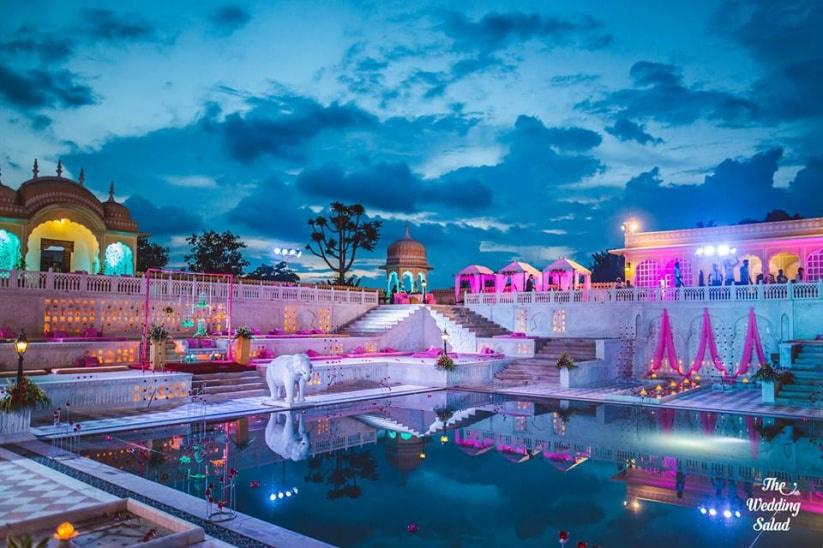 From Boho chic to traditional ethnic tones, floral and colour-based accents to Desi pop - there is a sea of possibilities when we begin to choose Indian wedding decorations for Mehndi. Here are some inspiration-worthy trends for the season. As it is an occasion that brings the festive vibes in your celebrations, you can choose a fun and eventful decor for your Mehndi.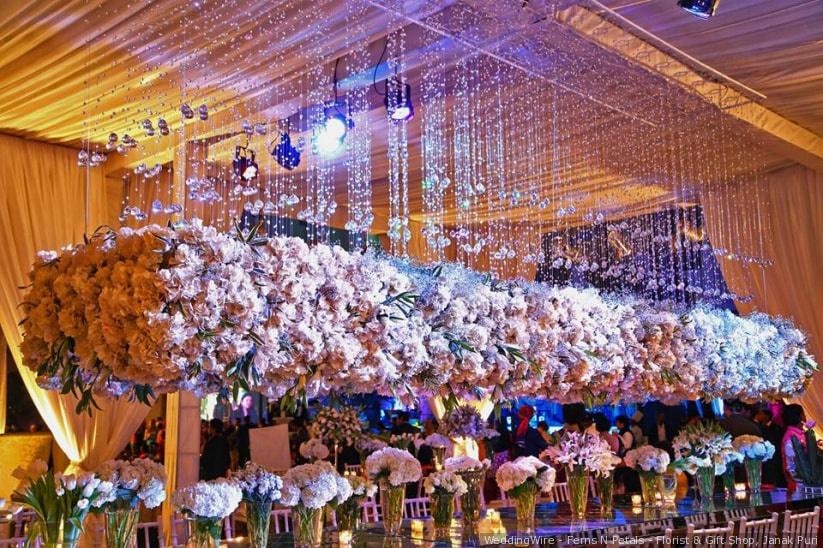 Fresh flowers have been a natural element of decor since the beginning of time. They are a bundle of joy, beautifully handcrafted into floral arrangements, adding their aroma and beauty to the sweetest day of a person's life. They can be used in almost any kind of decoration that you are thinking, right from hanging them from the ceiling to the beautiful display of its colours on the floor in the form of rangolis.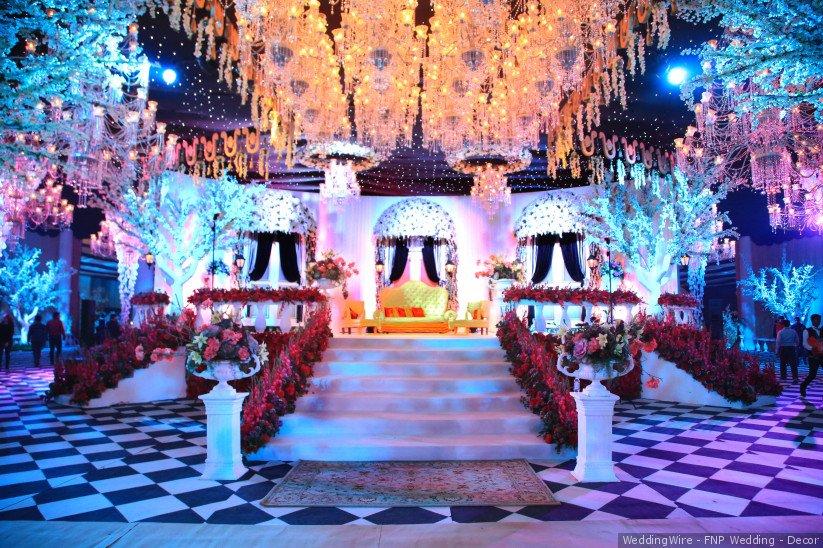 Incorporate flowers to create a floral ceiling, which is perfect for every season. For a Mehndi function, you can go for an elaborate setting with floral canopies and small trinkets. Floral swings, bridal seats, floral jewellery and props can also enhance your floral décor. They would definitely add elegance and beauty to your wedding decorations.
Suspended Jhumars and Chandeliers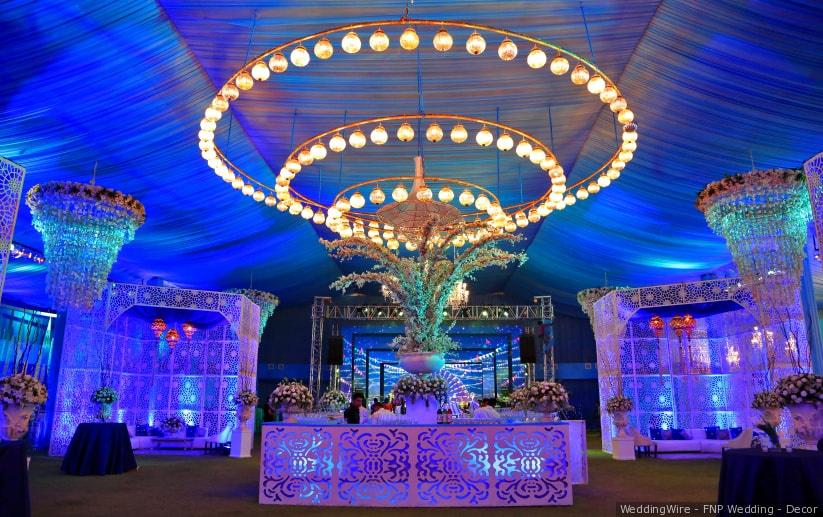 If you're a fan of lights, then make use of small lanterns and soft lights amid a trail of marigold and mogra flowers. Let them be suspended from the ceiling. It is a very popular trend and has a lot of room for improvisation. Since most of the Mehndi and Haldi ceremonies are celebrated during the day, the beauty of using these lanterns will be in how craftily they shine within your decor and wedding setups.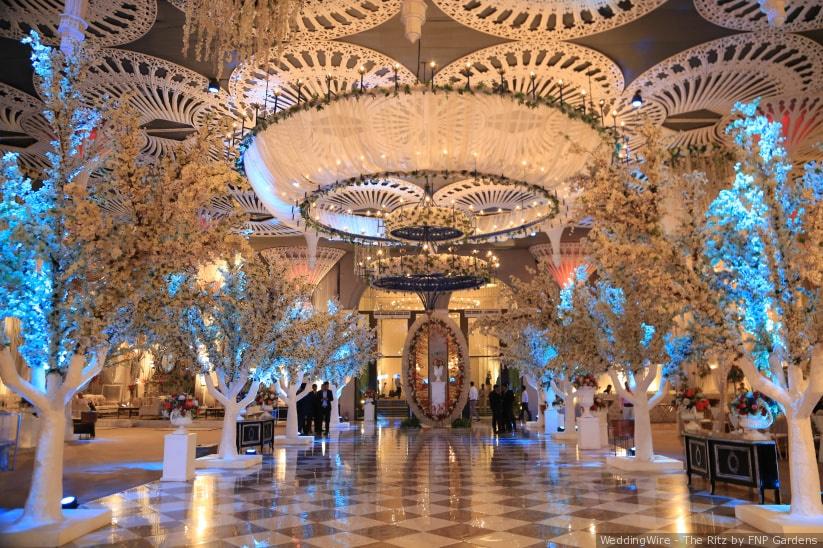 The ideal touch would be with quirky Indian wedding decorations like diyas in lamp holders or vintage lanterns. These can also serve as frames for your pictures and lend to perfect snapshots of you and your bridesmaids. Check out our forest decoration-themed wedding article to find similar decor inspirations. A beautiful chandelier would instantly incorporate a regal aura to your festivities.
3. Indian Wedding Decorations - For your Sangeet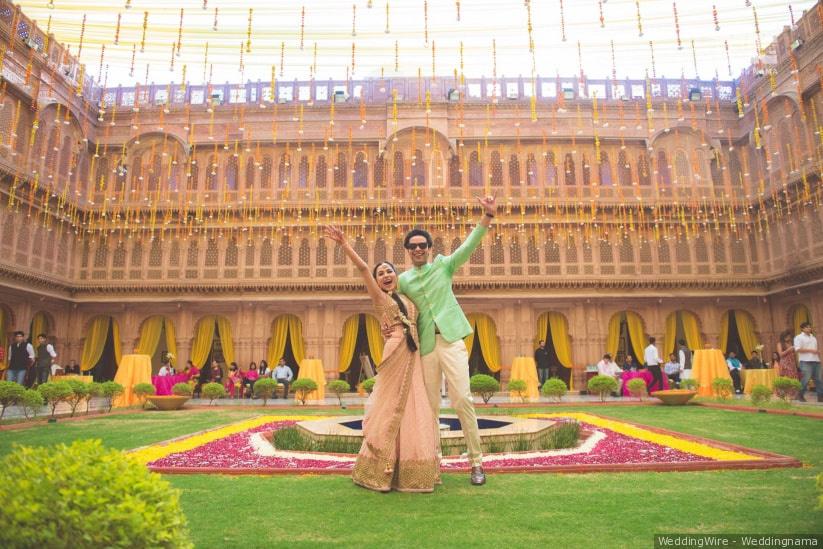 Often a pre-wedding high point, the Sangeet is one function which aims to bring the two families together as one. So, make it a high point for your decoration efforts too. You can go for a glass dance floor, one that is surfacing over a water body. To keep it tasteful, add fairy lights, soft lights, lanterns and tea-lights in a soulful pattern across your venue. The lights will create a starry ambience, bringing the galaxy to your footsteps, as you waltz around together.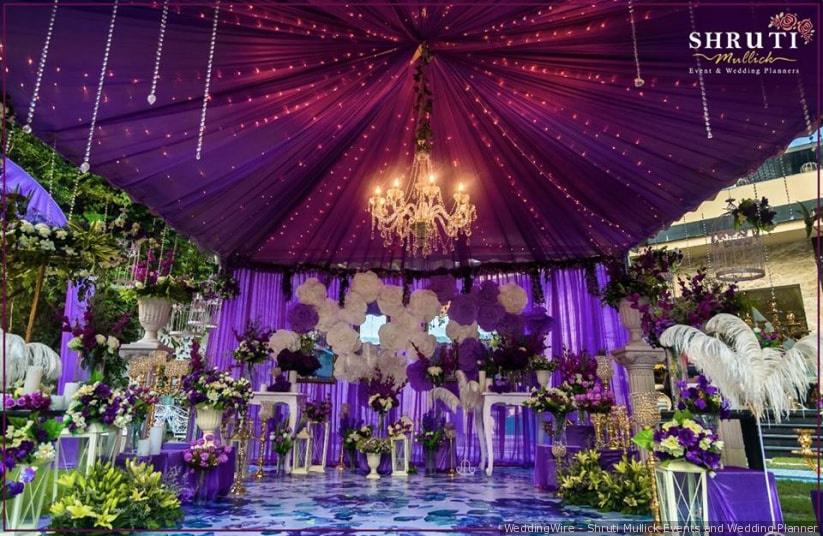 Let's say your sangeet theme is lavender. Picture a setting with lavender flowers making way for your entrance with a Baithak-style seating arrangement. Choose a dimly-lit venue and dot it with soft lights candles, small lanterns and tea lights, as the only source of illumination. Add a little bit of sparkle to your sangeet night with this out-of-the-box lighting option.
4. Indian Wedding Decorations - Decorations for your big wedding day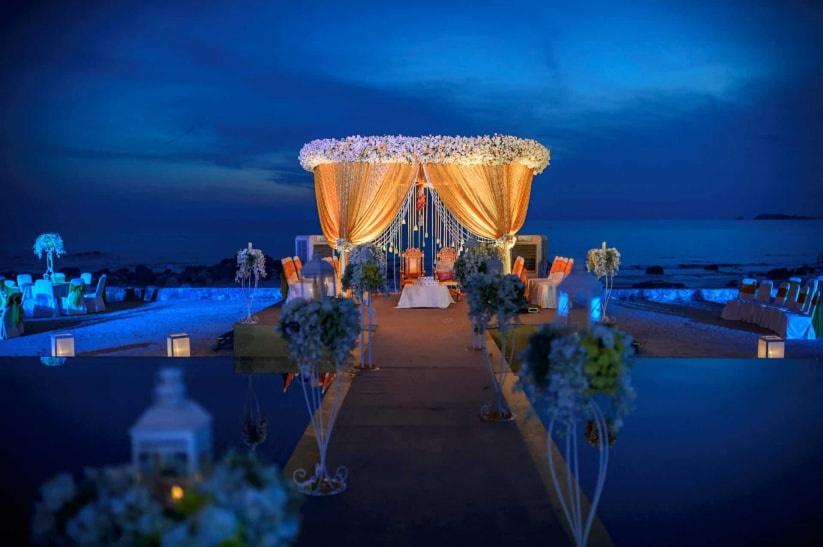 This wedding season, we have truly witnessed some of the most spectacular wedding entrance and stage setups. Stay true to your love story by incorporating designs that are edgy and different so that your wedding becomes a memorable experience for everyone.
The Fairy-tale inspired entrance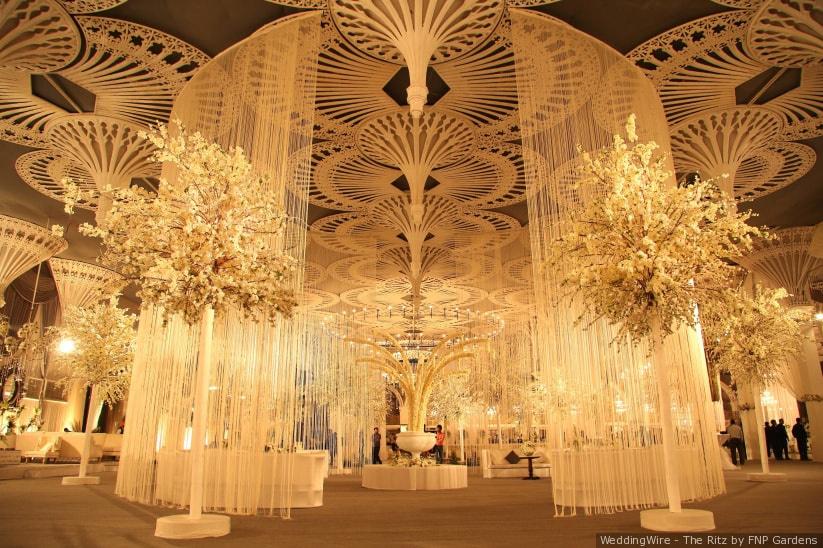 If you think your happily-ever-after lacks a perfect location and premium decoration, this is how you can make it more beautiful. Choose over the top décor with slightly arched, artificial trees, laden with flowers and fairy lights. Let your entrance resemble a canopy of flowers, covering your head like a veil as you walk down the aisle for the first time.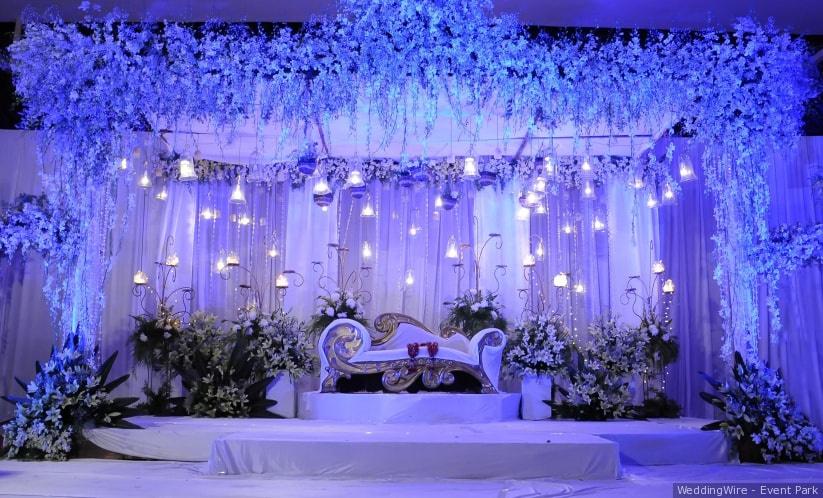 The wedding stage is where the real magic unfolds. It is where the two of you exchange garlands and choose to become one for life. Let it be beautiful, yet practical, considering that you would not want to end up stumbling in the spotlight when all eyes are pointed at you.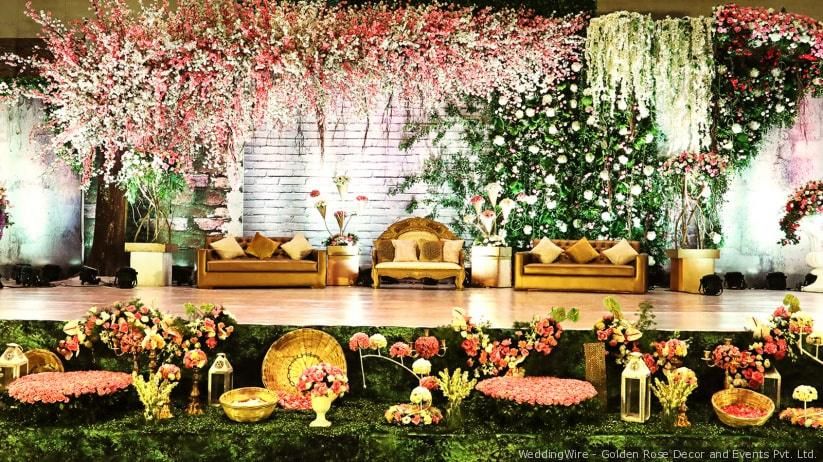 The ideal stage would be two staircases leading onto a bridge, where the two of you take your first steps as a couple into each other's' lives. You can decorate the staircase using creepers, flowers and hang pictures to make it a memorable setup. Consult your wedding decorator today for exquisite stage decor ideas and have the wedding you truly deserve.
5. Indian Wedding Decorations - Decorations for Reception Party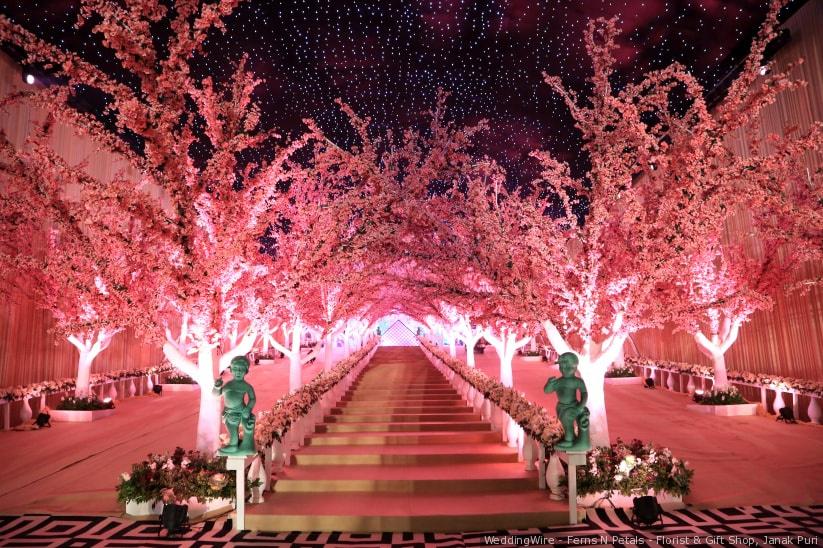 From traditional Indian Wedding Decorations to pop culture trends-there is a sea of possibilities when you shop for decor elements for your reception. Here are some inspiration- worthy trends for you to consider.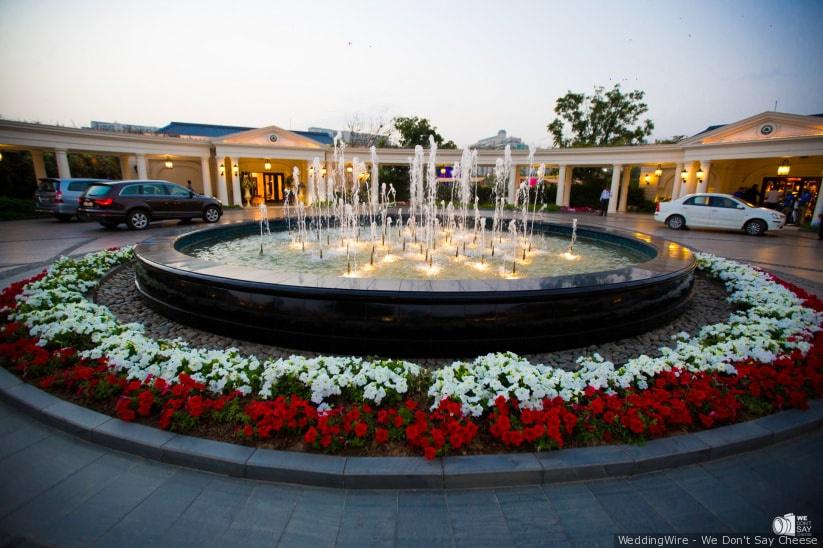 Fountains work wonderfully as a centrepiece, be it when they babble with water or are filled with flowers.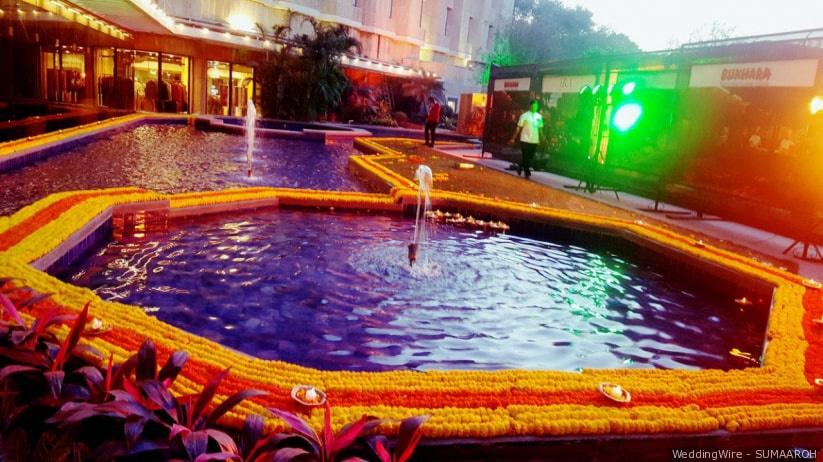 Colours, scented water or a zen-inspired paradise (complete with a fish pond) can add a little bit of oomph factor to your reception ceremony and a one of a kind Indian wedding decoration.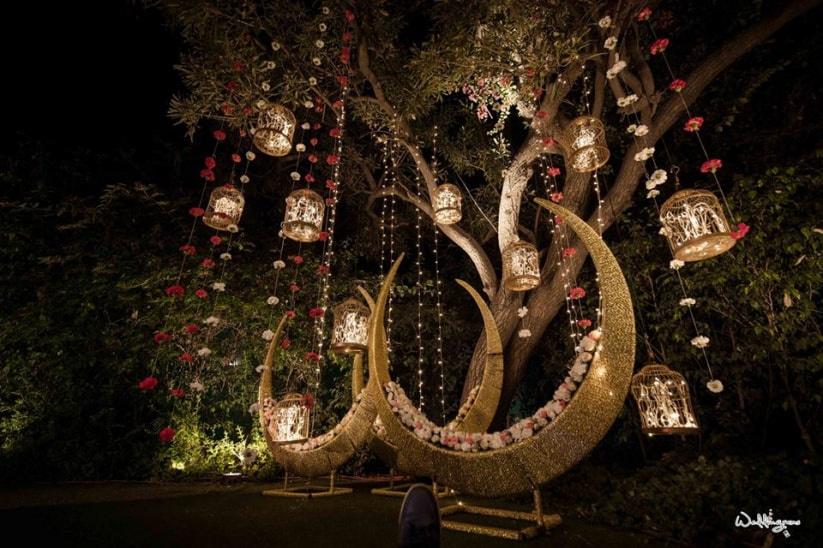 You can dedicate a tree, enamour it with fairy lights and keep a stack of post-it stickers with some markers. Give a chance to your loved ones to write sweet nothings onto them and hang those wishes onto the tree. Collect these as blessings and tokens of good luck and turn them into a scrapbook for memory sake. It would surely be a stunning Indian wedding decoration to incorporate in your festivities.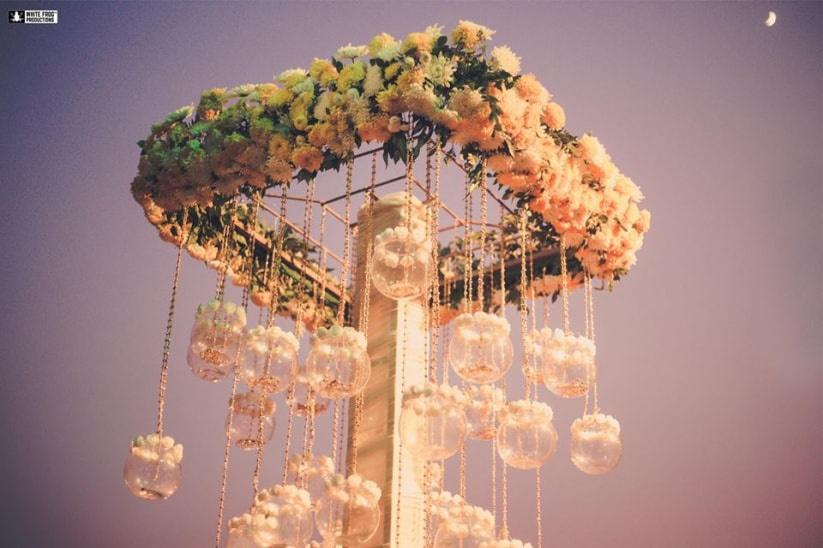 Now that you have seen different types of Indian wedding decorations that are preferred by the couples and decorators these days, you have a long list of options to choose from. Ultimately, the idea is to trust your instincts. With these decor inspirations, all your issues about wedding decor will come to a halt. There is a lot of room when it comes to wedding decor. So, ensure that your decorator can imagine your ideas and turn them into a vision.
Some Extra Tips To Amp up Your Indian Wedding Decorations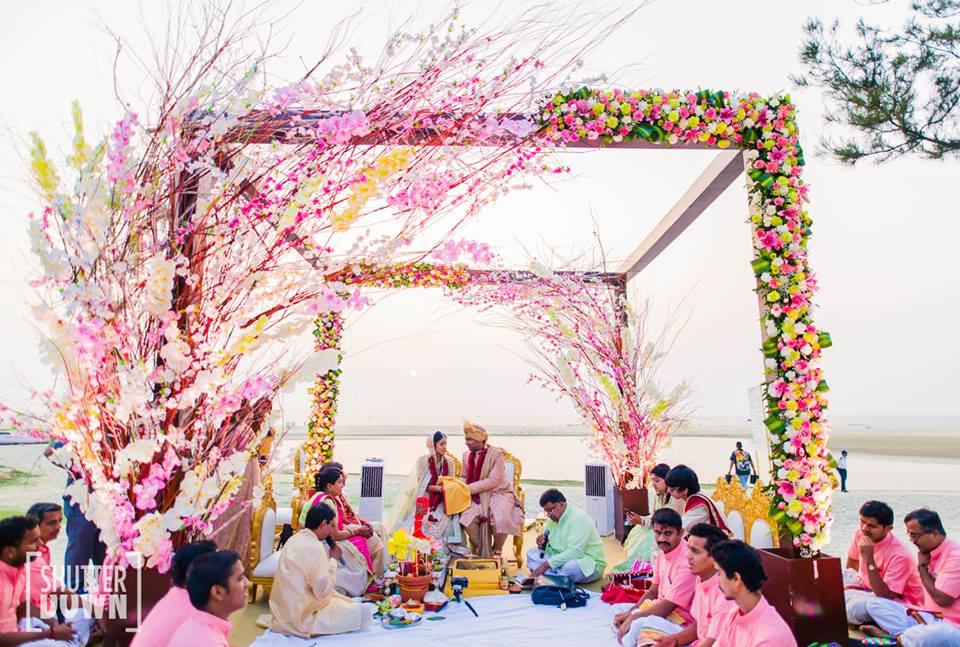 Now that you have seen some of the most stunning Indian wedding decoration inspirations out there, it is time you understand some easy to follow hacks that will ensure that your venue looks spectacular both in person and in pictures both!
1. It might look spectacular but is it really for you? Have yourself ask this question again and again before you finalise on your Indian wedding decoration inspiration.
2. Do not settle on the first designer and decorator you meet. Meet a handful of them before you finalise one that resonates with your taste and like the most
3. Set a budget. Now, that there is an endless possibility of weaving up a wedding decor, don't overstep your set budget. While the decor is important but it is not everything. So make a smart choice
4. Don't include different elements. If you have decided to for suspended hangings, then don't incorporate heavy floral setups for the ground. One too many things will lead to a mismatch and make for a confusing sight
Explore various wedding decorators before you find the perfect Indian wedding decoration for your big day. Do you have any more interesting combinations to suggest? Do tell us in the comments below about your preferences.