Glorious Stage Decoration Ideas: as Seen Through the Eyes of a Wedding Decorator
Finalising your wedding stage decor is one of the most important tasks before your D-day. We spoke to the experts to understand what goes behind designing the perfect wedding stage.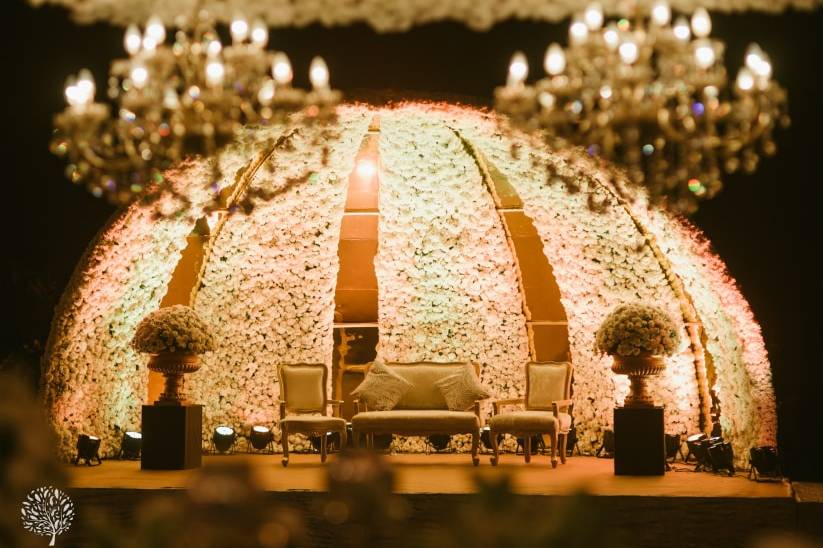 Wedding functions are extremely important for all brides and grooms. The wedding venue, the decor, the stage, the food, the outfits - finalising everything can be exhausting. But have you ever thought of what is the first thing you notice when you enter a wedding function? Most people will say the stage. Well, the stage is where you spot the bride and groom. Almost all wedding photographs are clicked at the stage, hence the gen-next bride and groom want their stage decoration to be larger than life.
To create a long-lasting impression on your guests, it's best to give extra attention to stage decoration. Indian weddings stage decoration consists of a mix of elements like flowers, drapes, crystals, chandelier, standees, decorations, and mirrors. Every wedding stage is customised keeping in mind the taste of the bride and groom; and also their wedding budget. So, read on to find out three major things that run through the mind of the decorators as they work towards building your dream and giving to you an experience of a lifetime.
1. Professionals Dish out Details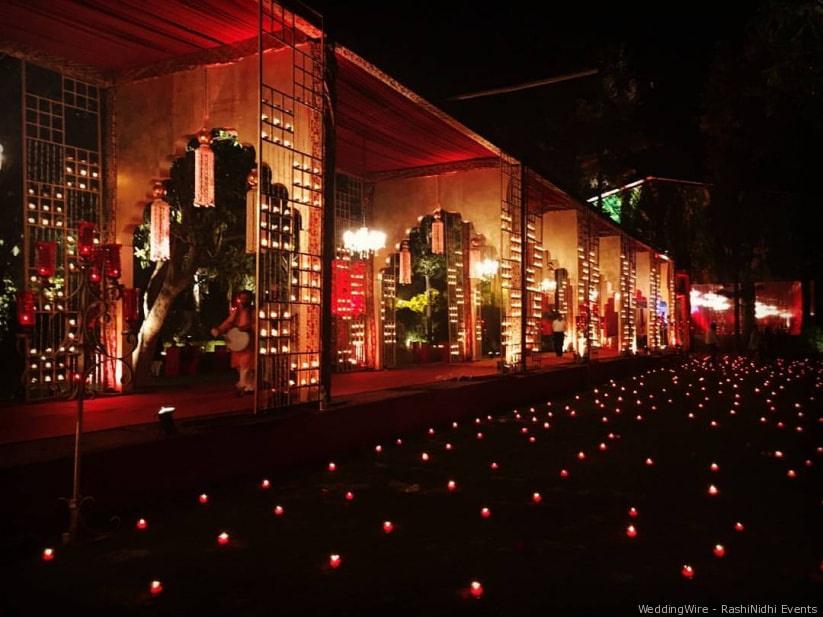 We spoke with Nidhi Arora and Rashi Pruthi, Co-Founders and Principal Designers at RashiNidhi Events to share the insider details of what goes behind designing a stage decoration. "We design stages based on four things: the space available, number of guests, the purpose of the stage and the mood of the event. If the number of guests is high and the space available is big, we prefer making an elevated stage which is around 3 feet or above in height. This ensures visibility from a distance. But if the event is an intimate one and the space available is small, we advice the couple to have a 6-inch platform stage with a beautiful backdrop, so that they do not look out of place, in that cosy area."
"If the stage will be used for some artist performances or a family dance performance, then we prefer making a two-storied stage where the upper one is always given to the artist and the lower one with an additional (movable) backdrop is used for the ceremony. On certain events, the stage decoration is a meet and greet area. In that case, it is usually a 4-inch platform with a gorgeous backdrop," she adds.
2. Stages for different functions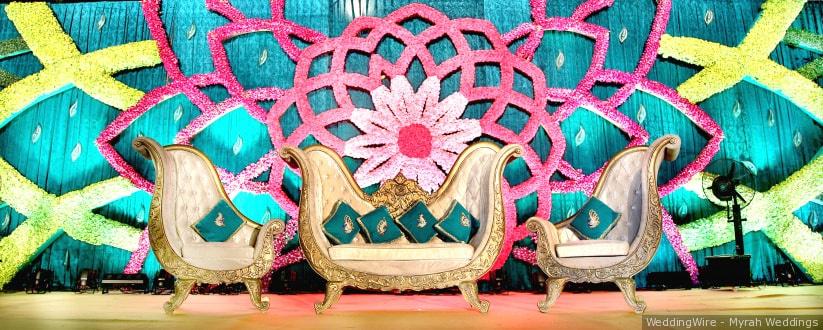 "For Engagement, Sangeet or Cocktail we always suggest a combination of floral design and LED, since it brings life to the party. If it's purely a ceremony stage then a peppy, fun stage design works best; something with lights, but not too bright as it hinders photography," shares Rashi.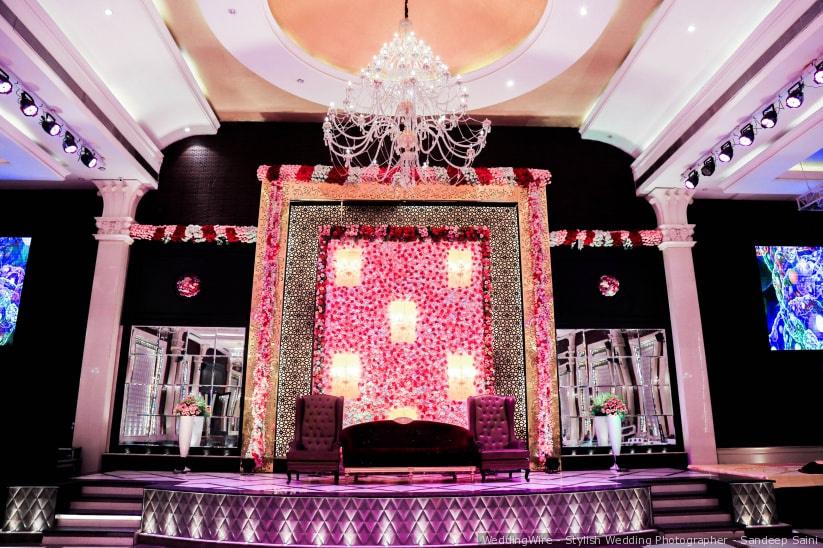 "For weddings, the stage decoration needs to be pretty as well as practical. It should be convenient for the guests to get on and get off, without making an embarrassing queue. We prefer sturdy staircases on both sides of the stage. We avoid front staircases. For the Jaimala, a movable small podium for two people (8ft x 8ft) works well. You can put that stage in the centre of the venue or anywhere else, and later move it out to avoid dead space. A balcony stage also looks great and helps avoid fifty other friends and family pushing the bride and groom during Jaimala (or a separate Jaimala stage). Just the two of them on the balcony with floral shots is a classy way to do it," concludes Nidhi.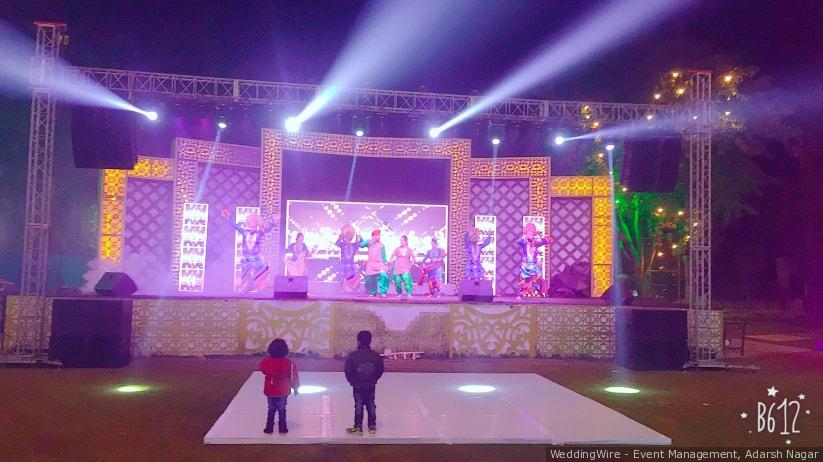 Rabiya Muzaver, the founder of Glittering Petals, an event firm based in Goa, shares her point of view, "Stage decoration with a LED backdrop are preferred by clients for their Engagement and Sangeet ceremonies. But some clients prefer fabric and floral backdrops if they're having a day wedding on the beach. In Goa, Mandap for weddings is usually on the beach, even if it is not on the beach, a Mandap structure is built on a height for better visibility."
And then, there are reception stage decoration ideas to consider too.
3. Indoor VS Outdoor Stages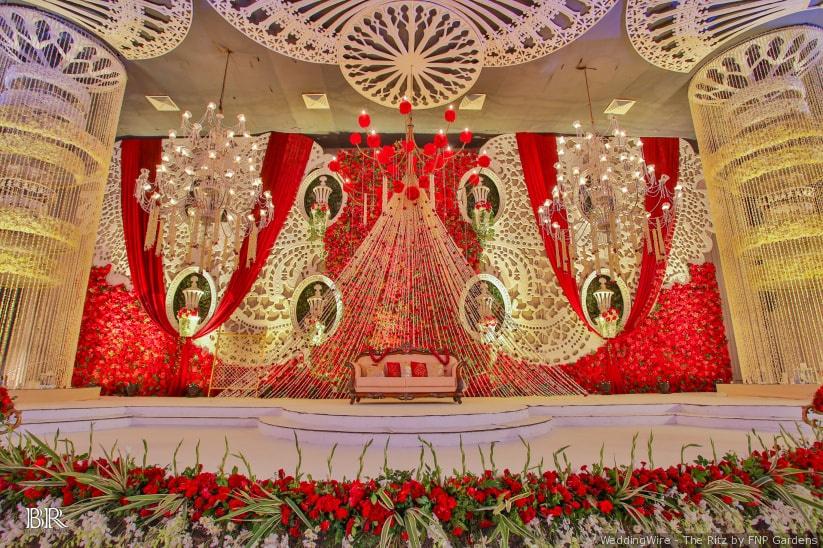 According to Rashi and Nidhi, "For an indoor function, the height of the banquet and the dimensions are very important. We don't want the stage to look out of proportion. In an indoor stage, front lighting is not much of a problem as the ceiling will have its own light; but the stage backdrop needs to be highlighted properly. For an outdoor function, front lighting is a big challenge, hence we have to be very careful and plan in advance. We don't want the backdrop to be shining bright and the bride and groom to not show in the pictures. Keeping this in mind, outdoor stages need to be elevated for better visibility."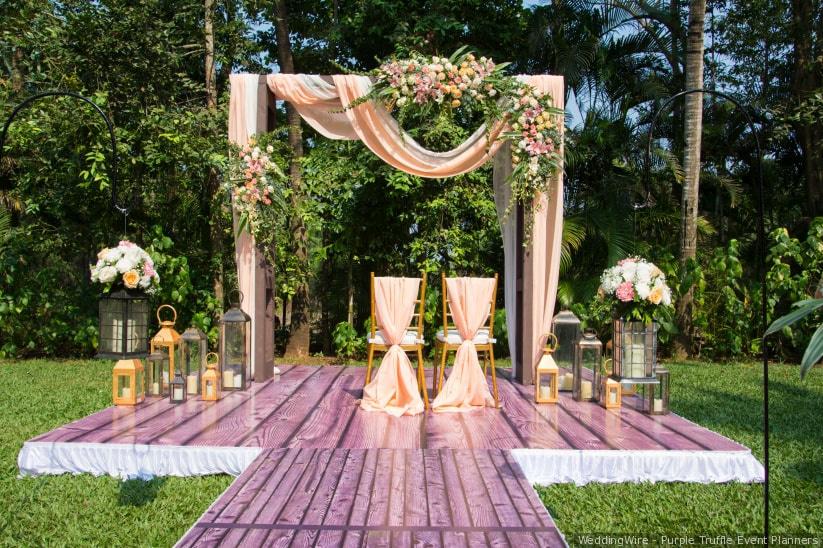 "In Goa, clients like to keep it simple. Since colours play a major role in stage decor, we advice lighter and pastel shades for day events and darker and bolder colours for night events that usually take place indoors. Choosing the right flowers makes all the difference to the stage's decor," concludes Rabiya.
Tips for a Glorious Stage Decoration at Your Wedding Festivities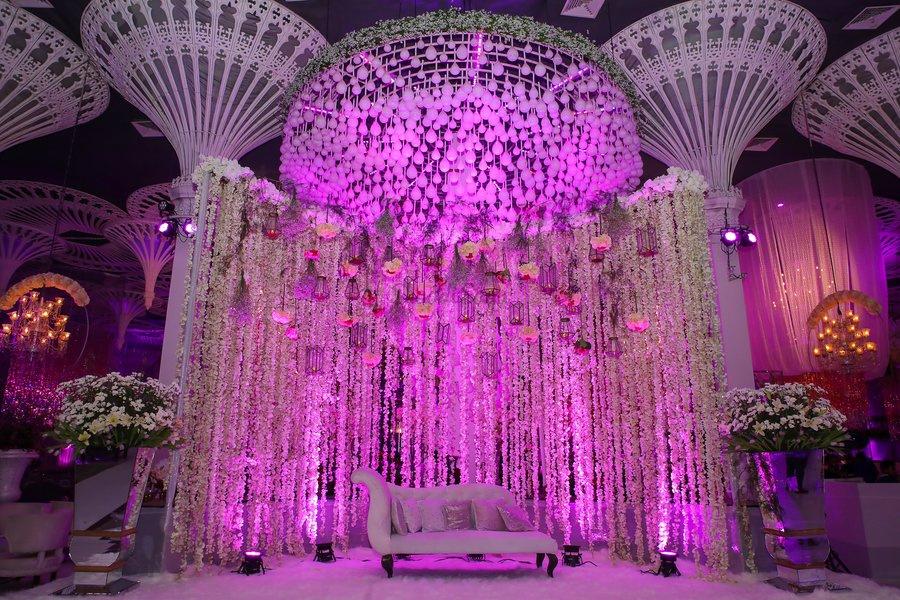 1. Consider the size of your audience - If you are planning a grand wedding, the space on your stage should be wider to accommodate more people and therefore a stunning stage decoration that would leave all of your wedding guests mesmerised.
Skip heavy lighting - It would be a good option to avoid a larger and heavy chandelier on top of your head all times. You can go for feasible and better options like LED lights and fairy lights to amp up your stage decoration.
Cover it up - Always cover up your wedding stage either through the ceiling or surrounding walls while matching with your overall wedding theme. It would enable the stage to be a separate yet inclusive part of your wedding.
If you can't go wide, go up - If there is less ground space to cover, try a stage decoration design which is higher. It will create an illusion of a grand and spacious stage.
Raise the stage - It is always a good idea to raise the stage to make it a centre of attraction as well as allow space for all of your technical equipment to be wired in a proper manner.
All those magnanimous wedding stage setups that you see at a big fat Indian wedding take a lot of blood, sweat and precision to look spotless. So, before you visit a wedding planner or a wedding decorator spend some time with your better half to understand what either of you would want your wedding stage to look like. Before your planner or decorator works on your ideas you give them a layout of what you need specifically and what you don't. Now that you know the different types of stage decoration ideas that are preferred by wedding decorators, you have a huge list of stage decor designs to choose from for your D-day. So, surf the net, finalise a few perspective designs and aesthetics you wish for your wedding stage to have and visit a decorator at the earliest. Help your decorator bring your dreams to life by being vocal about your needs and expectations!
Explore the world of wedding decorators to find the one who suits you best and who can offer you stunning stage decoration for your big day.