7 Wedding Hall Decoration Ideas You Need to Check Out Now
Here's how you can add a personal touch to your wedding hall decoration with elements you never thought of.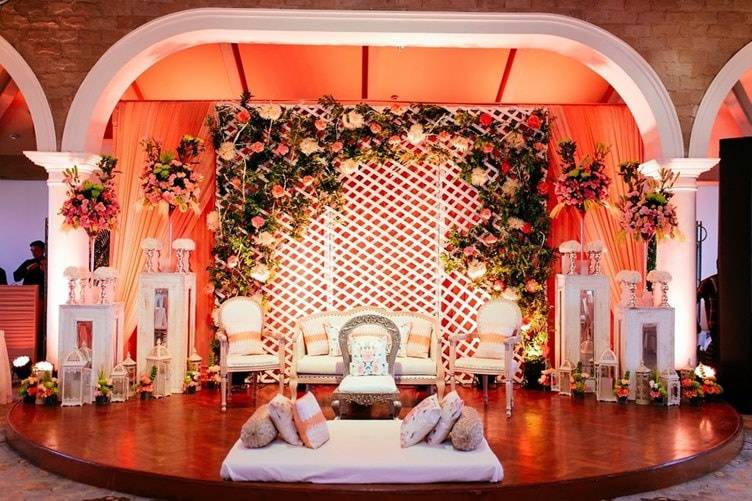 Most Indian families turn to their neighbourhood banquet halls for their wedding and pre-wedding events. Planning the wedding hall decoration, therefore, is an important task in every bride's to-do list, apart from looking for the perfect bridal lehenga. Wedding hall decoration is very different from farmhouse decoration because you have to take into account the existing setup created by the venue and get your wedding decorators to work around it.
Should it be all floral or should I go for effortlessly stunning looking drapes? Yeah, if we were getting married anytime soon, we would be asking these exact questions ourselves. We understand how important it is for you to find some decoration inspiration to beauty, not just yourself but also your marriage decoration hall, after all, you get married only once. So, keeping that tune in our mind, we have curated for you a listicle of some trending and most famous wedding hall decoration photographs to make your life a tad bit easier.
If you're planning a closed hall engagement or wedding party, read through the following pointers and create the best wedding hall decoration plan for your special day. So, let's start checking these stunning wedding hall decoration photographs, shall we?
1. Focus on the lighting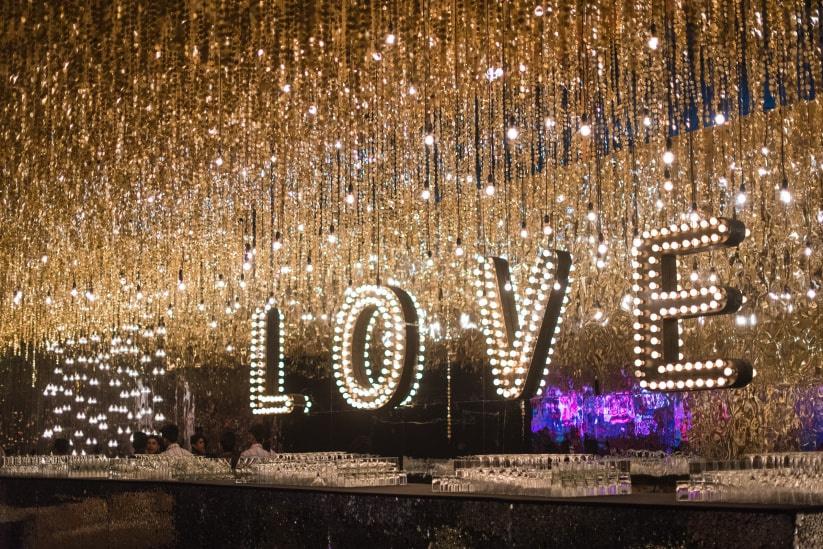 Image Courtesy: Rani Pink
Many times, wedding halls use LED lights to add colour to their ambience. These, as your wedding photographers will tell you, look really bad in pictures and take away the impact of a graceful wedding. So make sure you talk to the management at your venue and get them to stick to yellow lighting for the best wedding pictures and videos. Lights always do the trick and therefore go all out on making them the focal point of your decor.
2. Add drapes for drama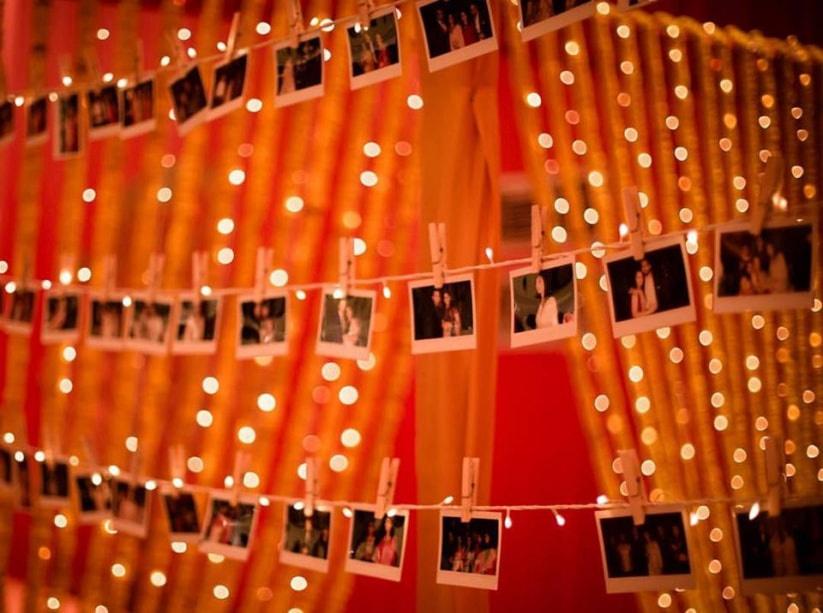 Many wedding decorators recommend masking a wedding hall and we vouch for the same. Masking helps give a uniform base to your wedding hall decoration theme and if done right, makes a regular hall look like a classy farmhouse. This way, you can incorporate your wedding colours into your wedding venue. You can also use this tip for your engagement decor if not for the wedding decor. Drapes have room for modifications as the sky is the limit when it comes to decorating your wedding hall using drapes.
3. Personalise the existing infrastructure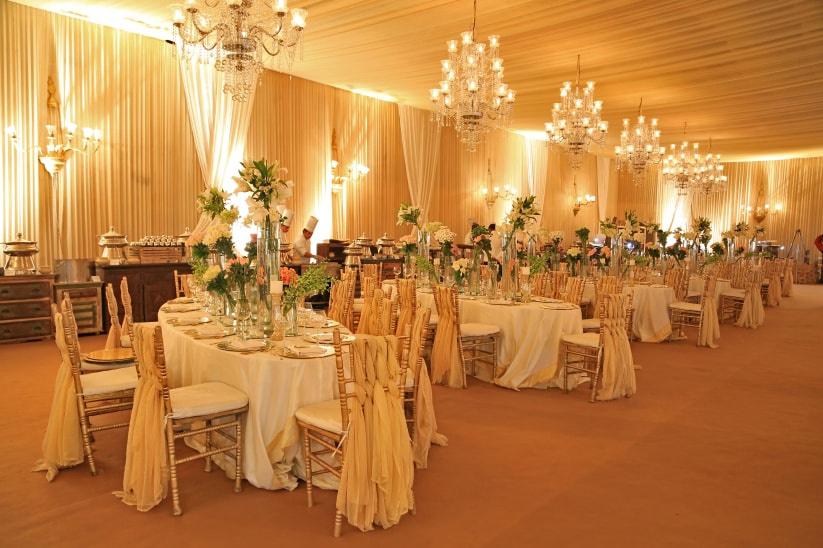 Many wedding halls now come with their own photo spots, table décor arrangements and entryways. Some of these may suit your wedding tastes, while some won't. Talk to the decorators at the venue and try to personalise the setup as much as possible. You could do this by incorporating your wedding flowers into their décor scheme, toning down certain extravagant elements like the couple seats and creating a quirky stage for your sangeet performances.
4. Create smaller focus elements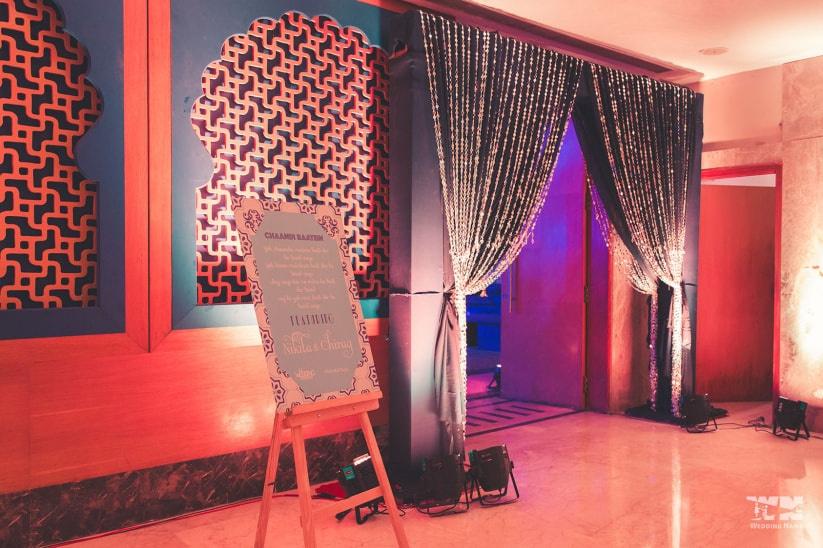 If you can't change the existing wedding hall decorations, add to it. Instead of fighting over the chandeliers and sofas, create smaller focus elements like a photo booth and get your pictures clicked there. A great way to do that is by adding a personal touch to your entry pathway. Get your wedding decorators to add a cute entry board. You could even give your traditional DJ floor a makeover by printing your wedding hashtag on flex and getting it temporarily placed on the dance floor.
5. Pay special attention to the stage and mandap backdrop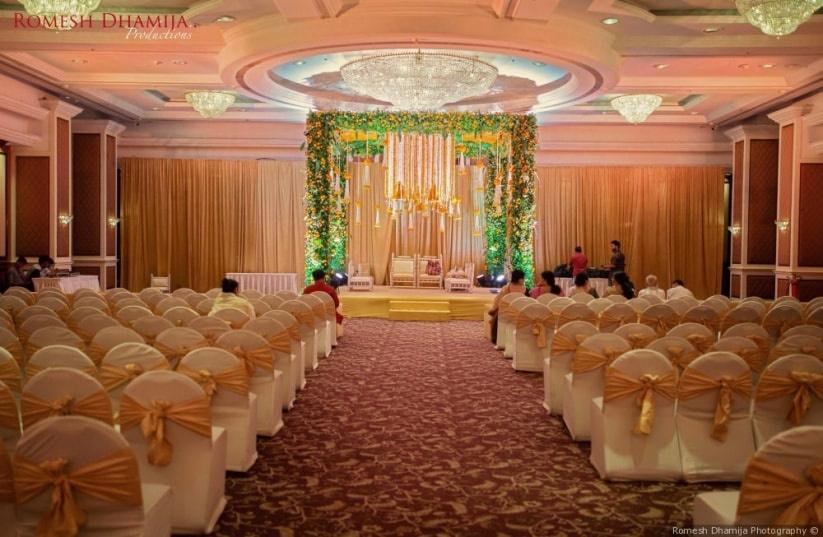 The stage and the wedding mandap are the two most important elements of every wedding decorator's plan. They become especially important during an indoor ceremony because the guests' attention is focused only on these two areas. Make sure the stage décor contrasts your wedding lehenga colours because that's where you'll be spending most of your time. Similarly, the wedding mandap should have the right kind of flowers and lighting to act as the perfect backdrop to all your ceremonies.
Ask for reference images for both these setups and finalise every minute detail like the stage chairs, tables, carpet, backdrop and more. For the mandap decoration, get clarity on the drapes, the flowers, the chairs for the couple and the parents, and the sitting space for the first families.
6. Play around with seating arrangement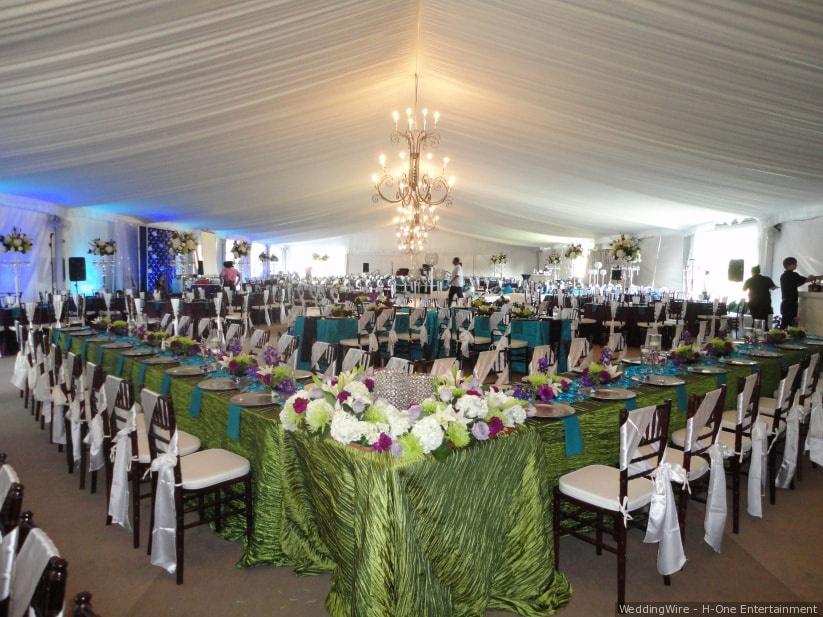 When you have to plan seating for the wedding hall and the Jaimala stage and food counters are quite adjacent to one another, creating a seating arrangement that works for all can be quite tricky. Bring in your wedding planner to help at this point. With more ideas to balance the crowd for both interests, you can have two kinds of seating arrangements in the same space. If you have a bigger venue with separate sections for Jaimala stage and dinner, you can plan accordingly. Mix and match with herringbone, cabaret and lounge zone seating styles for the stage section. And for the dinner section, you can go for banquet style seating.
7. Choice of furnishing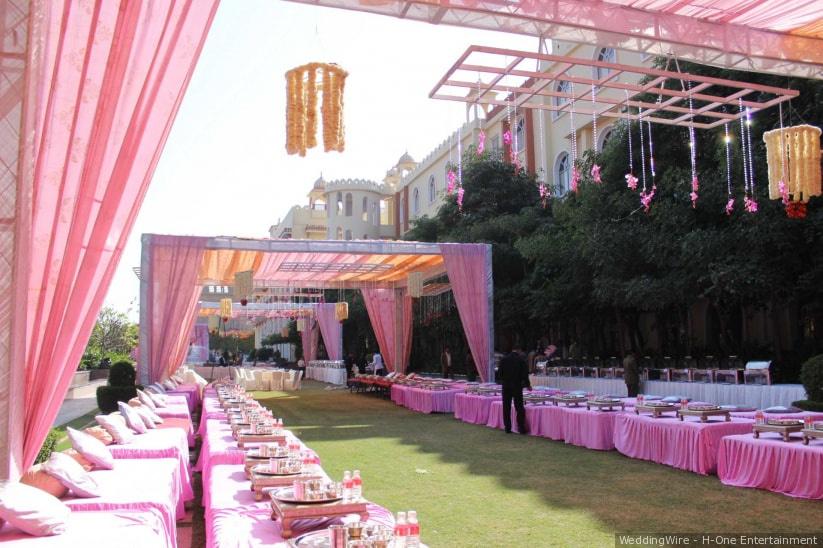 One element that hardly anyone would think of is the furniture that you use at your wedding. It is usually chairs adorned with different decorative items that we see in wedding halls. But you can choose a different style of furnishings. Imagine Diwans placed in front of the stage for your guests. If you don't plan on straying away from the mainstream seating style but don't want chairs, pick sofas instead. For the dinner section, you can have a seating that matches the one in the picture above. This way you can have a systematic dinner after your Jaimala ceremony.
Before finalising your wedding decorators, take them around your wedding hall and ask for picture samples of the weddings they've already designed at your specific venue. Going with experienced wedding decorators who are empanelled at your wedding venue will help avoid any miscommunication between both parties and reduce your stress also. Do take your wedding photographer and wedding videographers opinions into account. So, now that you have seen some photographs of wedding hall decoration and have some handy tips to amp it up, get going!
Do you have more ideas for wedding hall decoration? Share them with us in the comments below.