Light Up! Breathtaking Diya Decoration Images for All Events
Indian ceremonies aren't complete without the presence of a Diya's light! If you want to add diyas to your wedding decor, check out some diya decoration images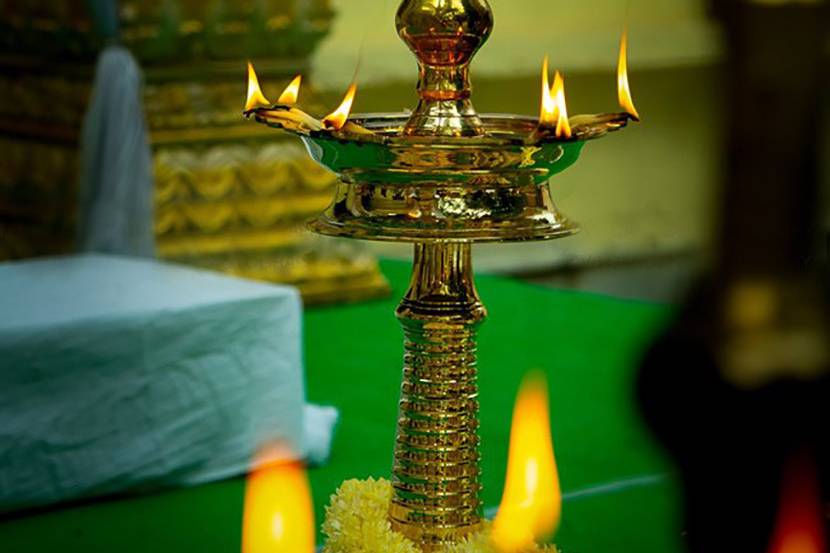 Happiness is represented by light. Or vice-versa! Whenever there are wedding ceremonies, festivals or any celebration in the family, we celebrate our happiness by lights. Candle decorations, twinkling colourful bulbs, diverse kinds of diya designs or even by reflecting mirrors...we try to brighten up the place in every possible way.
So, if you're thinking about mixing up your dupatta and bangle decoration with some diya illumination, we've got some ideas! Check out these stunning diya decoration images and try implementing them on each of your wedding events to see the magic of lights! For your convenience, we've also added some wedding experts' names whom you could consult with!
1. The Bronze Peacock Diya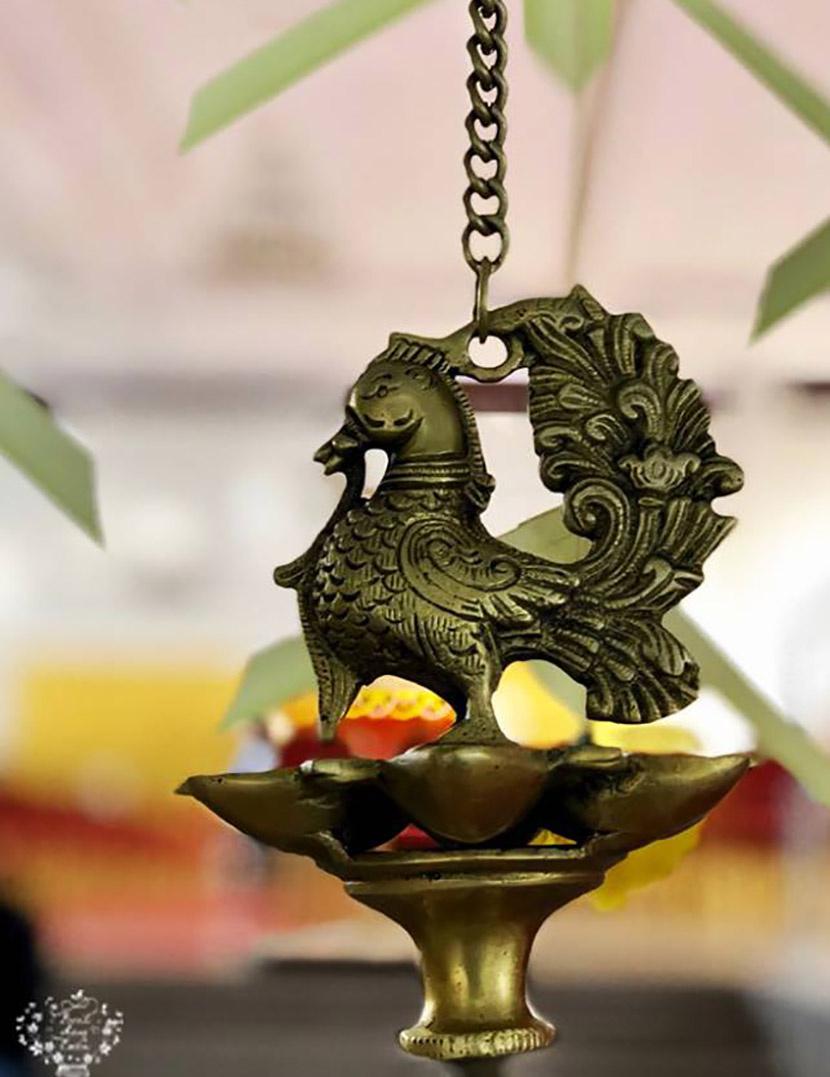 How would you like to decorate your entire Mehndi ceremony venue with such elegant metal hanging diyas? This is one of those diya decoration images that you might want to suggest your wedding decorator, especially if you're having a traditional theme wedding. A couple of these peacock shaped metallic diyas around an open courtyard would add loads of grace to your venue.
Whom to Consult with: Shobha Creations (Bangalore), Your Dream Decor (NCR), Maan Decorators (Hyderabad), Utsav Creation (Kolkata).
2. The Classic Earthen Diya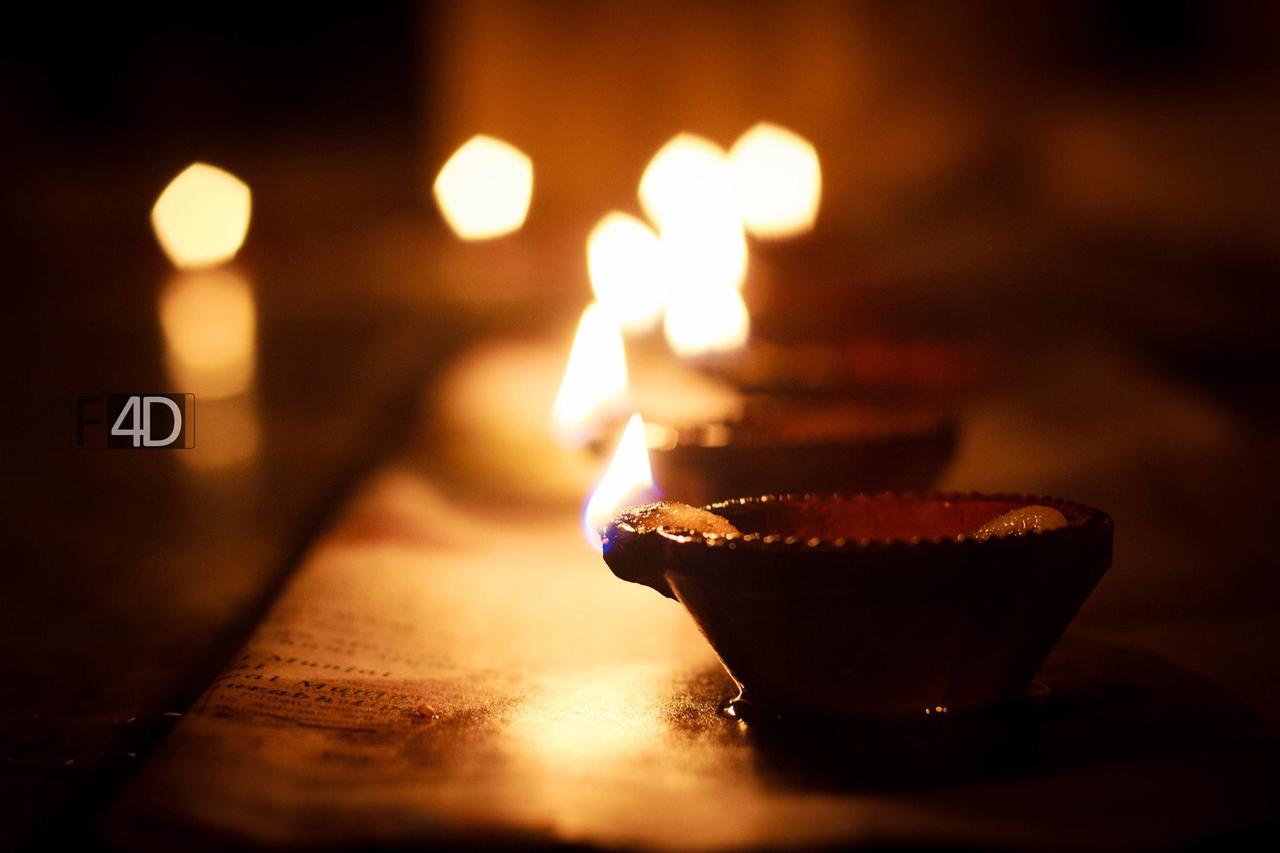 When you think about some of the most popular diya decoration ideas, an earthen diya is the first thing that comes to mind. The best things about an earthen diya are, they're eco-friendly, easily available and there are endless possibilities to decorate and beautify them by yourself! Deck up your venue entrance with a line of diyas, or place them around a beautiful Kolam rangoli design. You can hand paint on them or accessorise the diyas too using glitters, beads and stones.
Whom to Consult with: Eternal Knot (Bangalore), The Frontier Events (NCR), Temple Times (Hyderabad), Wedding Chakra (Chennai).
3. Single Wicker Metal Diya stand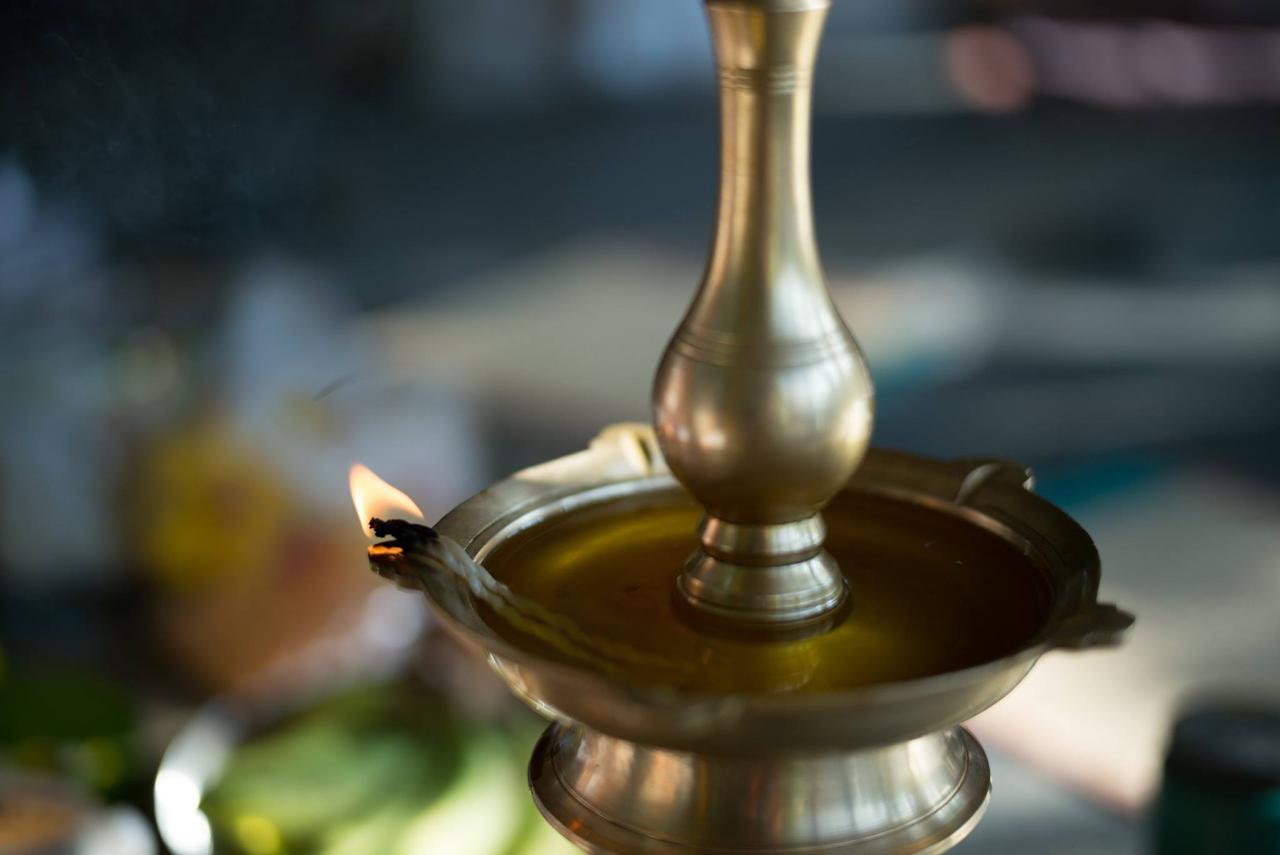 One of the most widely used diya decoration images is that of a simple metallic diya stand with single wicker. It's seen in almost every Indian wedding. Although, this particular diya is used mostly for Arti or Puja, who says you can't use it for decorating your ceremonial venue? Place these small metal diya stands right at the wedding mandap with some beautiful rangoli designs around it. Or you could decorate your staircase with these lovely lamps!
Whom to Consult with: Weddings n More (Hyderabad), Morning Glory (Chennai), Wedding Mantra (Bangalore), Tssifra Weddings (Kolkata).
4. Tiny Metal Diyas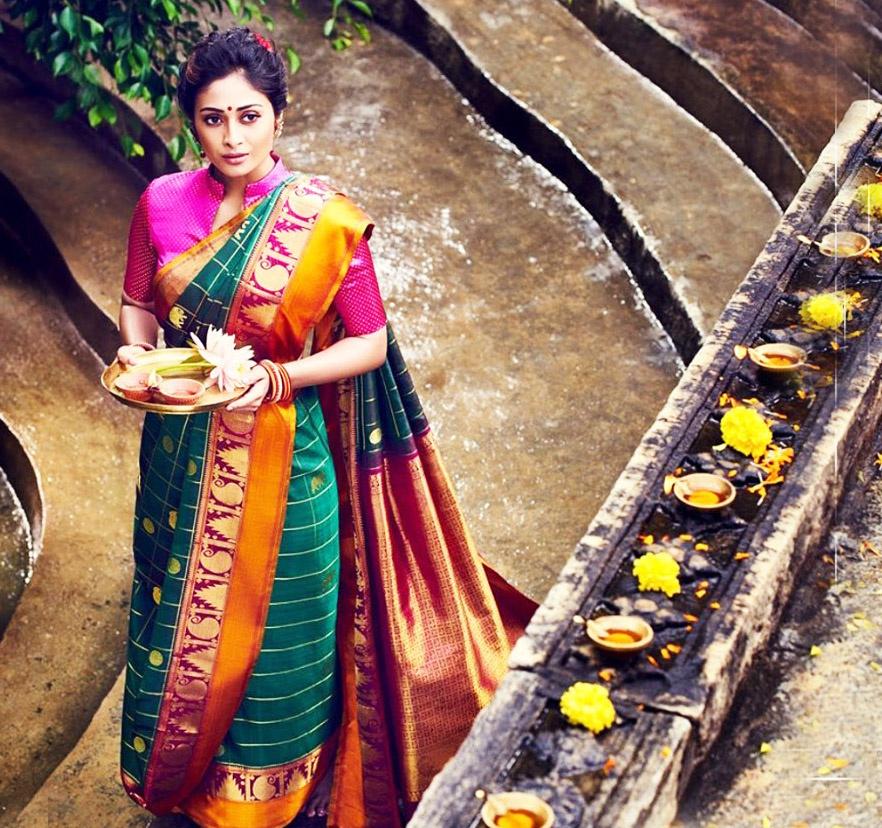 This is another one of the cutest diya decoration images you'll see today! If you're planning an open-air wedding event, like your Haldi ceremony at a courtyard, deck up the place with tiny metal diyas alternating with marigold flowers. The simple combination of flowers and lamps will give your venue an adorable look!
Whom to Consult with: CS Decor-Wedding Decor Company (NCR), The Temple Tree Design by Ankita & Ajay (Hyderabad), Srinivasa Kalyana (Bangalore), Mayuri Flower Decoration (Nellore).
5. Hanging Diyas & Flowers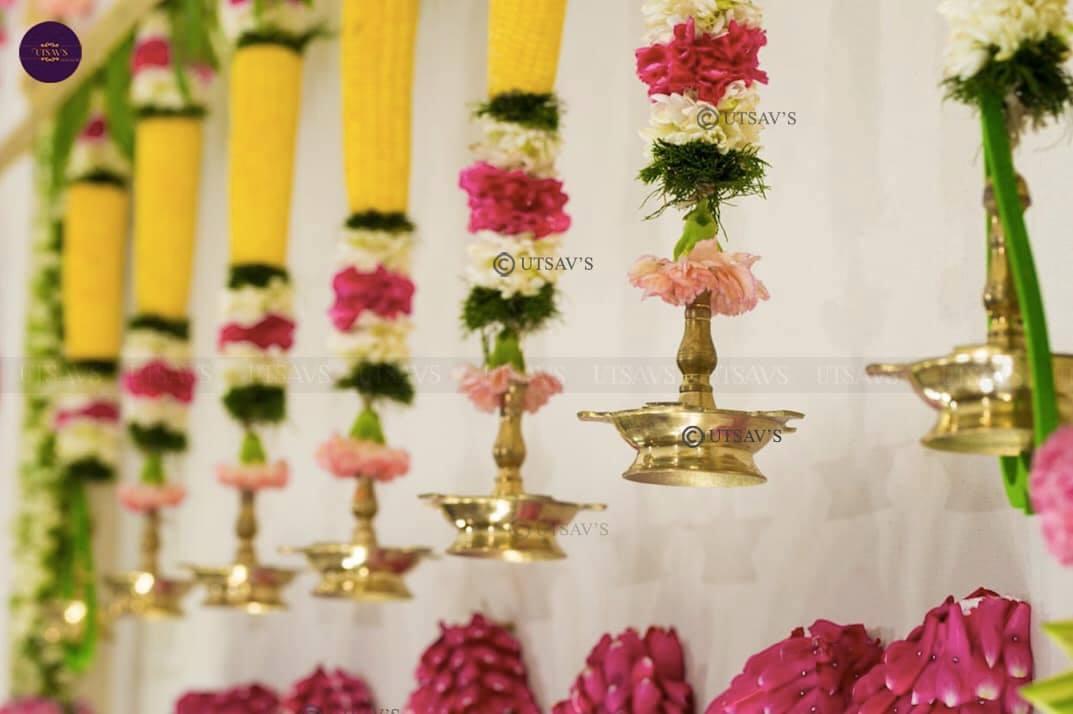 Image Courtesy: Utsav's
Decorate your reception stage with hanging diyas and flowers! How stunning does that sound? This is one of those fabulous diya decoration images that you should consider for your stage decoration. Just make sure the hanging diyas are at safe distance from any person, cloth etc. Hang them up with the hooks on a ceiling and decorate the diyas with colourful flowers.
Whom to Consult with: Decoration by Vasanth (Chennai), Kreative Event Planners (Kolkata), Shamun's Flowers (Pune), Elysian Weddings (NCR).
6. Standing Diyas & Rangoli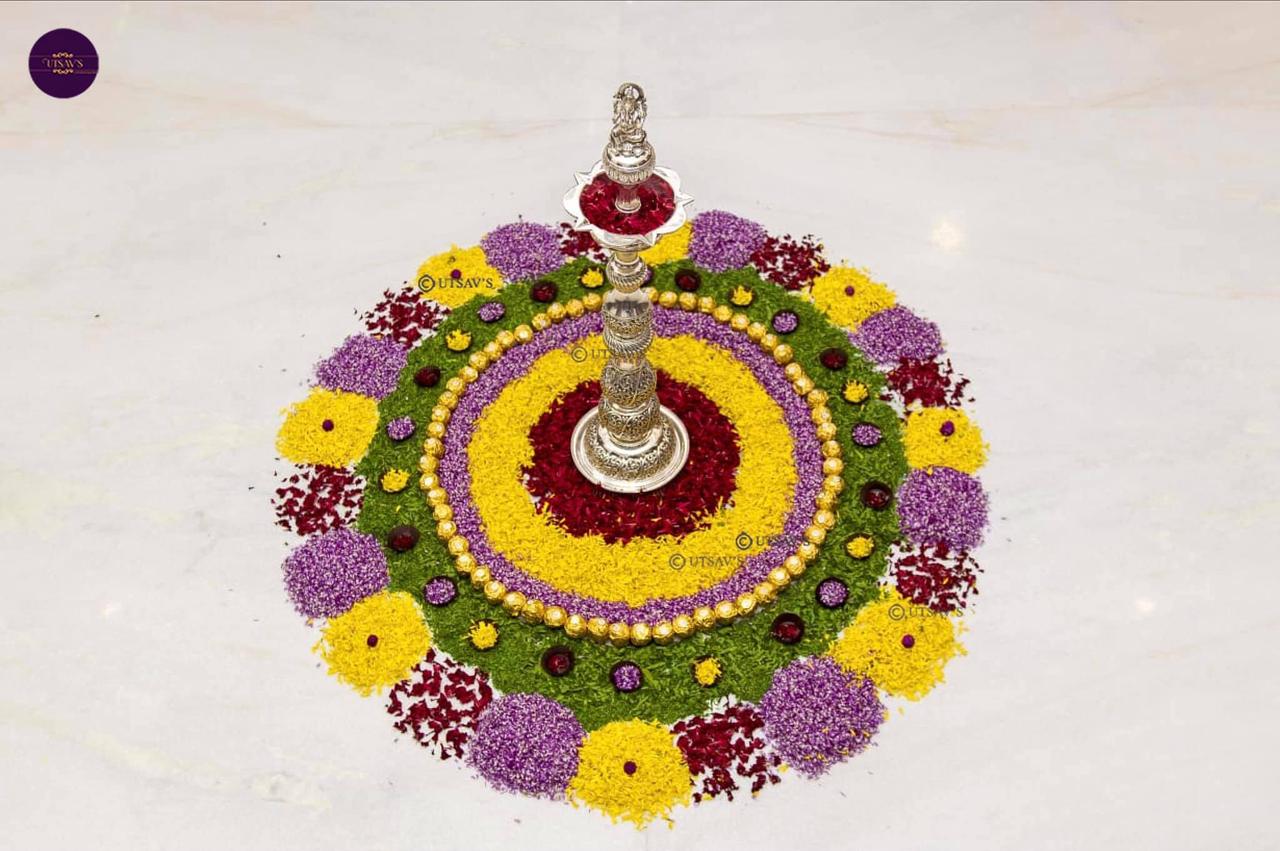 Image Courtesy: Utsav's
What looks better than an elegant metallic diya stand in silver? One that's surrounded by a gorgeous rangoli! Some of the prettiest diya decoration images are combinations of a diya and a rangoli. It could wither be a colourful floral rangoli, a graceful monochromatic Puli Kolam rangoli design or the one with attractive rangoli colours...once you add a rangoli with your diya stand, it amplifies the beauty to an epic level!
Whom to Consult with: Thinking Cap (Bangalore), AG Events (Kolkata), Ambrosia (Mumbai), Imperial Events (Hyderabad).
7. Floating Diyas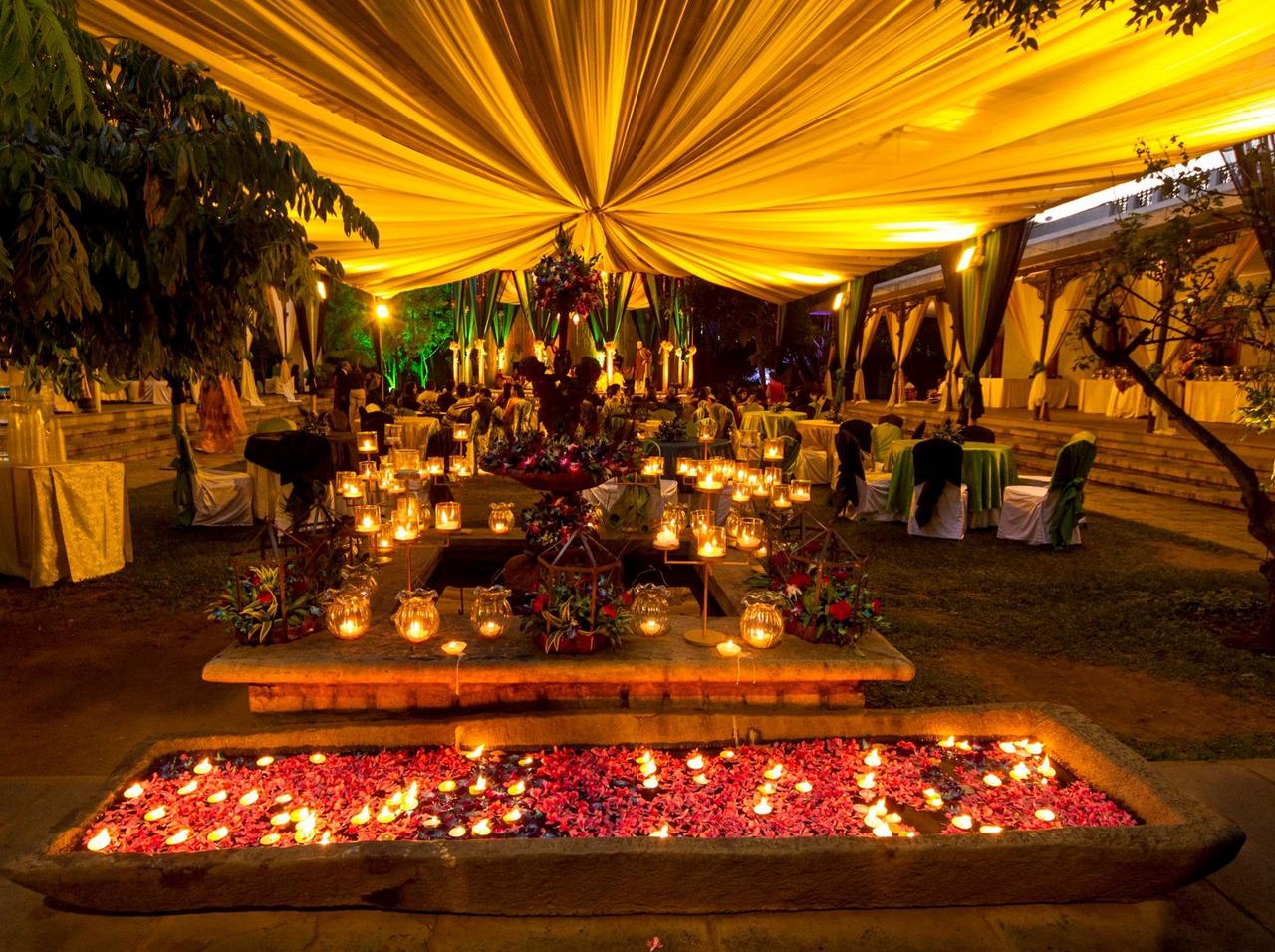 One of the most common and loved diya decoration images is the one that floats! The floating lamps on a huge container of water filled with flower petals- doesn't it sound exactly like a dreamy wedding? So, if you're planning to pick a fairy tale as your wedding theme, you must try this diya decoration idea!
Whom to Consult with: Rangeela Events (Hyderabad), Ohana Fine Events & Decor (Bangalore), Fresh Petals by Mayank (Kolkata), Siraj Decorators (Mumbai).
Draw inspiration from the above diya decoration images and try out different styles and patterns. Combine your diya decor with bangles, dupattas, drape decorations, rangoli, umbrella decorations and anything that comes to your mind! Sometimes the right kind of combination can do wonders as your decoration. If you're using earthen lamps, accessorise them, paint them make them pretty! Use large hand painted earthen pots and place your diyas on them. Experiment with different wedding decoration ideas and you'll be surprised how magnificent the results can be!
Have you booked your wedding venue yet? Take a look at our vendors list and give them a call for great deals!