Innovative Diya Design Ideas With a Personal Touch of DIY
Would you like to try something fun & innovative on your friend's wedding? If you have an artistic knack, try out these diya design ideas for creative decor!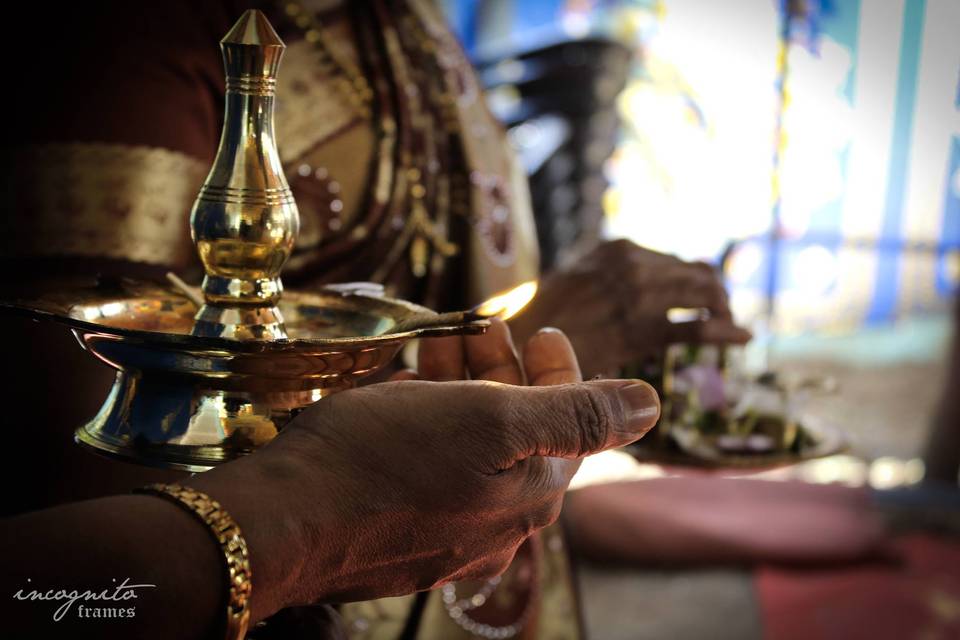 DIY decoration is always fun. There is a personal touch to it. And especially when it's a wedding of your close one, you want to do something special. Remember those super creative DIY bangle decoration ideas we shared with you? So this time, we have something more interesting and "bright"! Get those paintbrushes, colours and glitters ready and try your hands on some exciting Diya Design ideas!
Make them from scratch, paint them, draw on them or paste beautiful adornments on them. Let your creative juices flow and light up your friend's wedding with these lamp designs!
1. Minimalist earthen Diya Design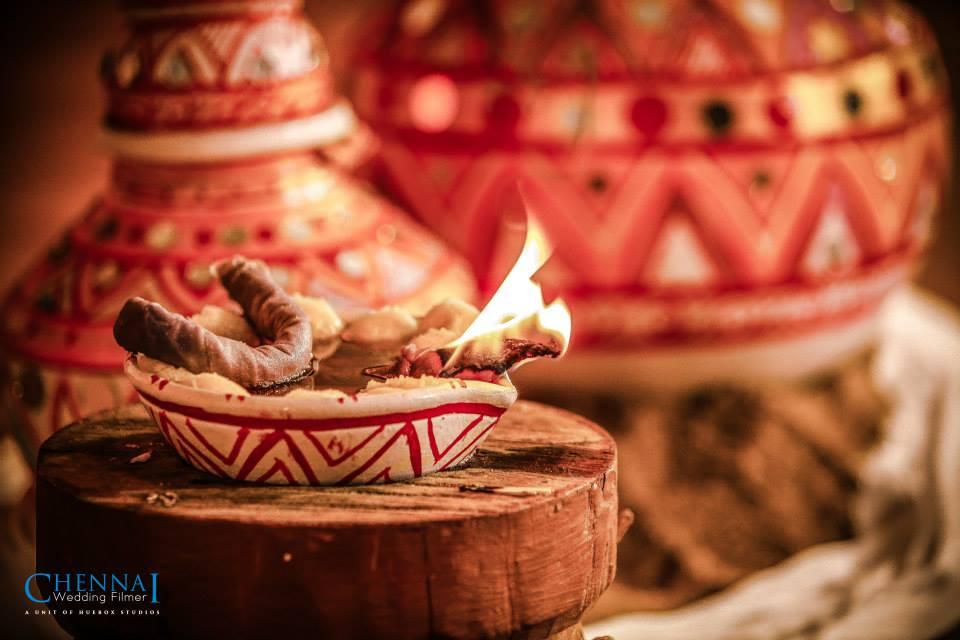 Because sometimes, the simplest of designs are the prettiest! And as far as diya design goes, we've always had a soft corner for earthen lamps. Remember those numerous Diwalis when you hand painted those diyas and gifted to your best friend?
So why not at her wedding too? Paint earthen diyas in your favourite colours and make simple patterns like parallel lines, dots, zigzags or boxes. Choose interesting colour combinations to make it look attractive.
2. Shot glass turned Diya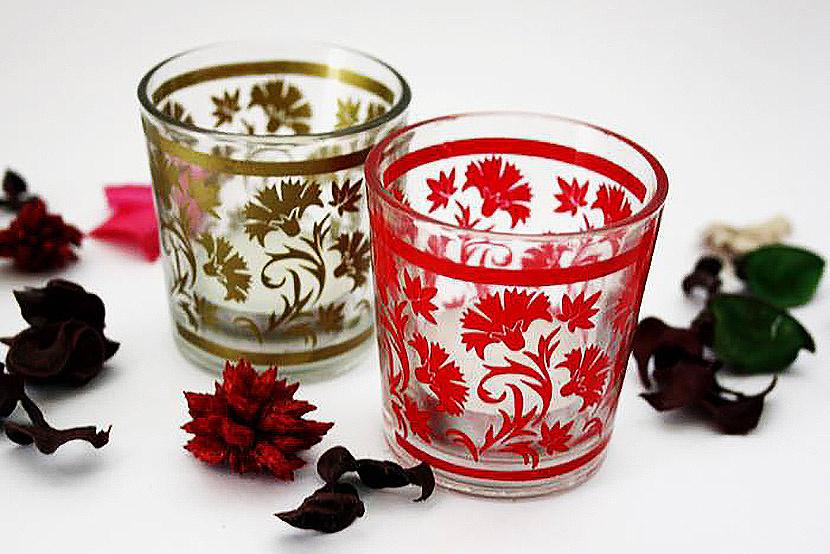 Image Courtesy: Confettish
Here's a fun diya design idea! How about you turn your shot glasses into little lamps? We're sure it would be a hilarious surprise for your friend! All you have to do is, just fill up the glasses with oil and place one or more cotton wicks dipped in the oil.
You can get glasses with funny messages printed on them too! Place your innovative "shot Diya" inside a floral rangoli to add a little colour to the wedding event! You can also choose coffee mugs or cups instead of glasses for a casual look of the decor.
3. Multi-colour Diya Design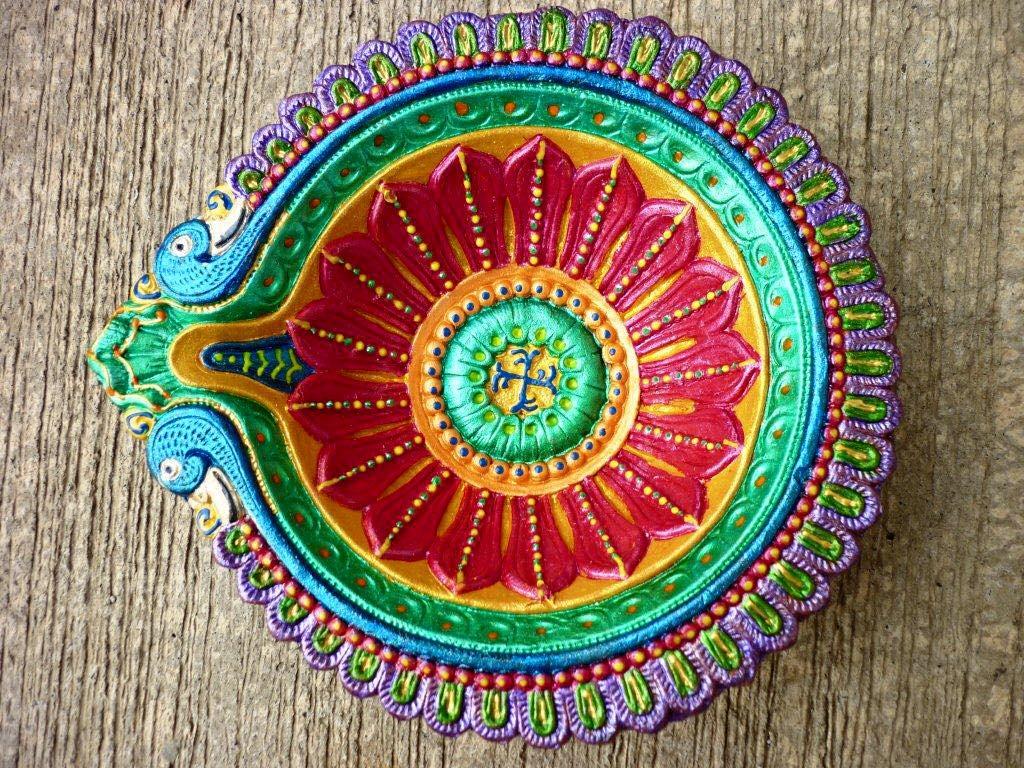 If you have an artist within yourself, here's a chance to showcase your art! Buy those large earthen lamps from the market and get on with your painting. Use multiple colours and designs, fine patterns to paint all the minute carvings.
It's important that you use fine brushes for different parts and dents inside of a diya. Use your colour skills to create a stunning diya design for your friend's Mehndi or Haldi ceremony!
4. Embellished Diya Design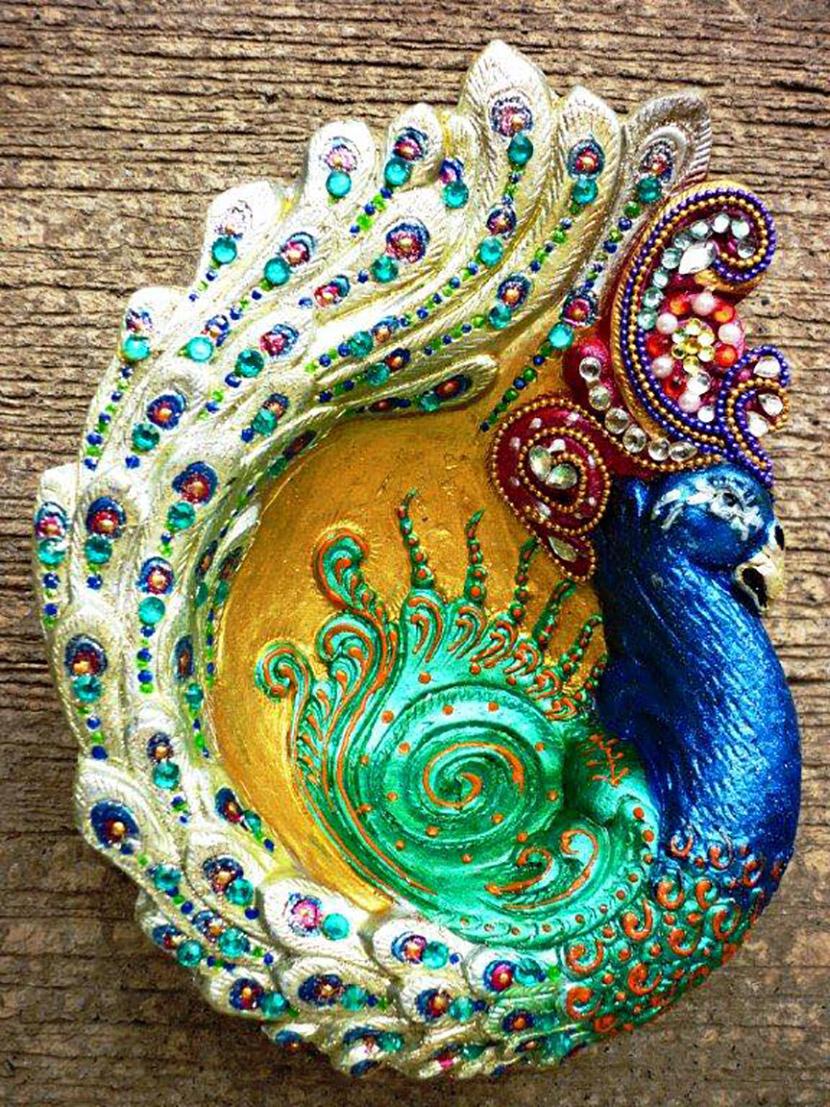 You can deck up your diya not only with colours but with pretty accessories too! Adding beautiful embellishments to the lamps is a smart diya design idea as it requires very little work, but looks simply spectacular.
Sparkles glitter, tiny beads, artificial stones...paste them on your colourful lamps and enhance the gorgeous rangoli designs with these dazzling diyas!
5. Metal Lotus Diya Design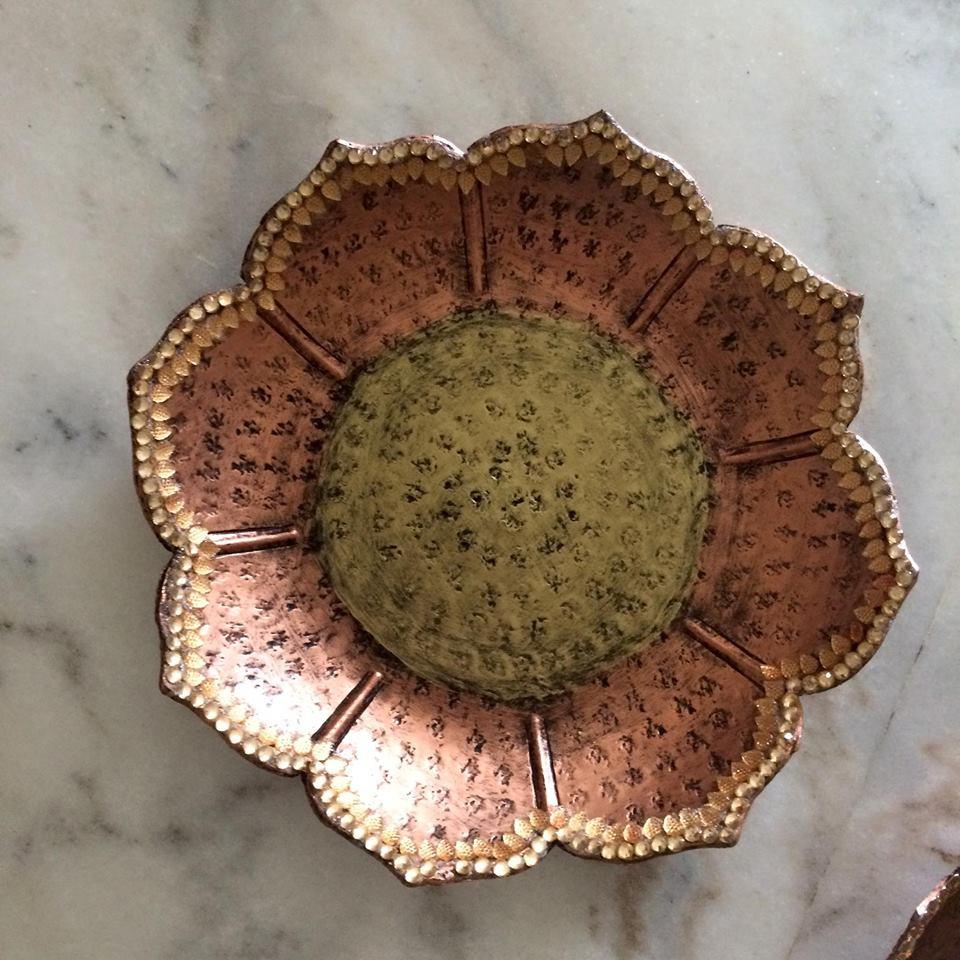 Lotus has always been an auspicious design at weddings. Whether it's an Arabic Mehndi pattern or traditional diya design, the presence of lotus is quite significant. And therefore, using a lotus-shaped metal diya for your wedding events will only add to the traditional vibes.
However, if you want, you can add some of your own personal inputs to the otherwise plain lotus diya. Add colours and shades to make it a personalised diya design.
6. Earthen Pot Diya Design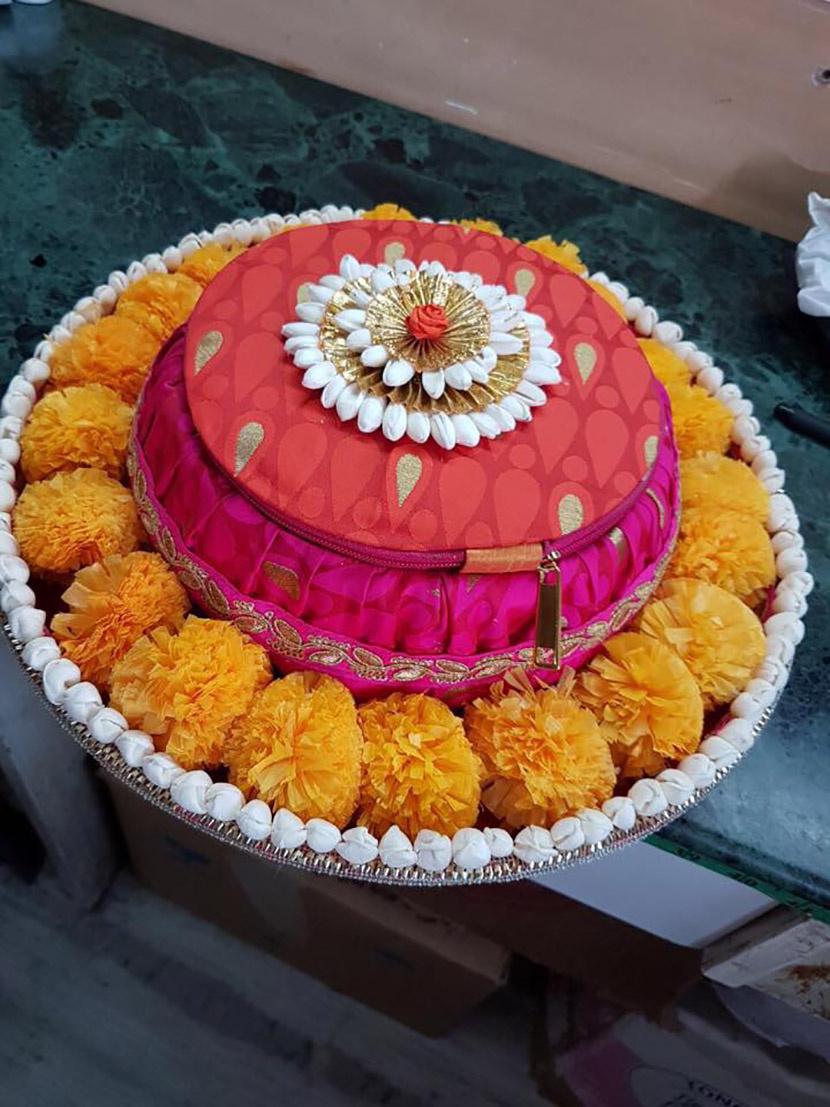 Want to make it big? So go for it! If painting on small diyas is not giving you enough space, get those large earthen pots (Matka) and begin your artwork on them. You can add the oil and cotton wicks in an earthen plate or bowl and place it on top of the pot.
That way, you don't have to fill the entire pot with oil and still, it will look gorgeous as a diya design. Other than painting, deck up the pot with tiny shells, colourful threads and artificial flowers.
7. Single flame metal Diya Design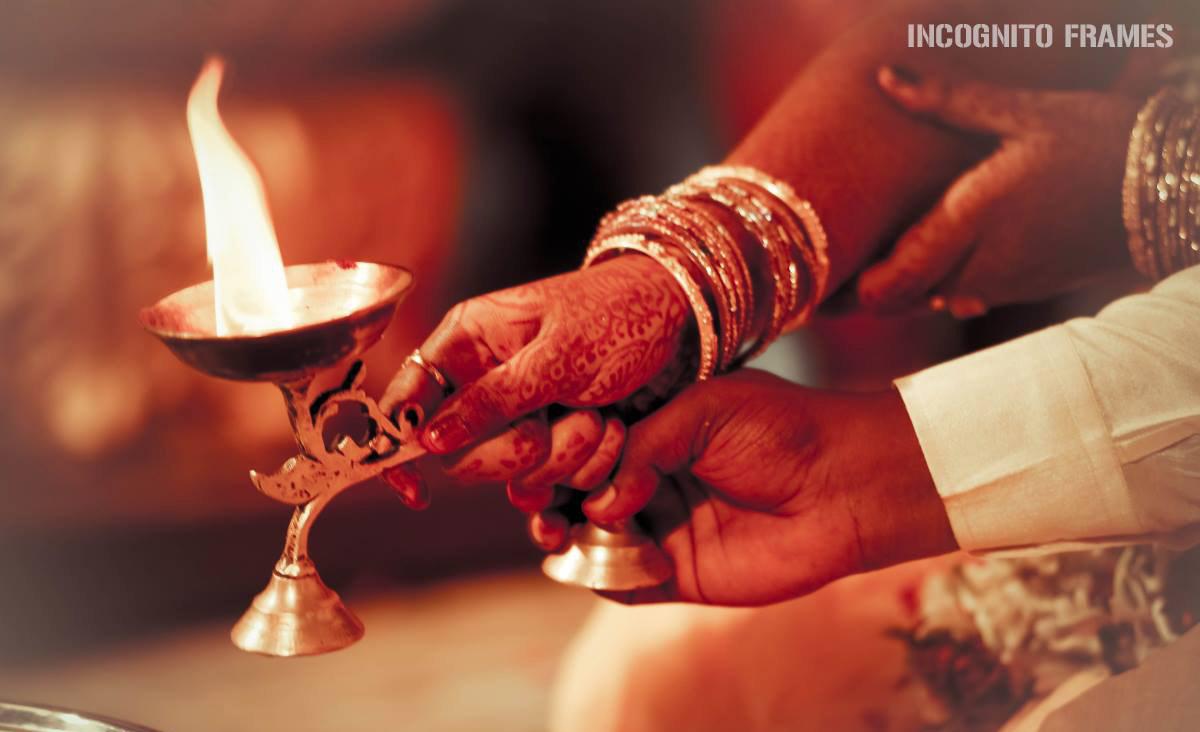 The one with a single flame is quite a popular metallic diya design used in most weddings and festivals. The handle of this diya is fancy and designed in a twisted vine shaped pattern. This kind of a diya is used for Aarti purposes by both the bride and the groom or the wedding pandit at the time of the wedding rituals.
8. Bowls on a plate Diya Design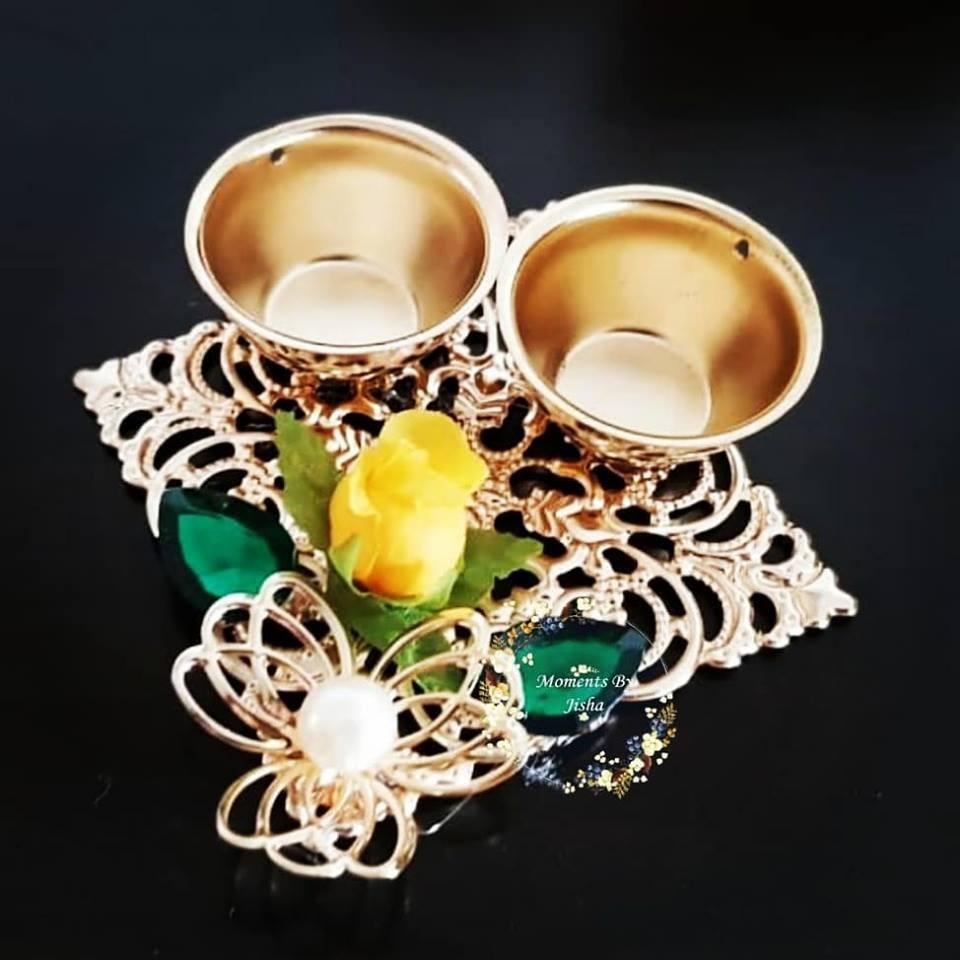 This one is a cute diya design that you can also gift to your friend on her wedding. The beautifully designed metallic plate has two small diyas in the shape of bowls. It's classy and ornate, therefore the perfect choice for a wedding gift. You could, however, add a few more embellishments on the plate or tie up colourful threads if you want for a personal touch!
Take some cues from candle decoration ideas and maybe you can incorporate some of them in creating your own diya design. However, make sure the diyas are always placed on the floor or tables and never kept too high. You can use a number of crafty stuff like ribbons, colourful stones, Zari etc. to decorate the lamps. And if you feel that your lamp looks too pretty to be lit up, just use them as decorative pieces on a mantle or a dinner table along with flower bouquets!
If you want to look for some interesting gift options for your friend's wedding, take a look at out vendors list.