Creative Rangoli Designs: Speed Up the Bonding Before Any Wedding Event!
A rangoli is something that people love, as it allows you to bond with each other while creating the design. It is a great way to let the guests mingle with each other and break the ice. So here are a few creative rangoli designs for inspiration.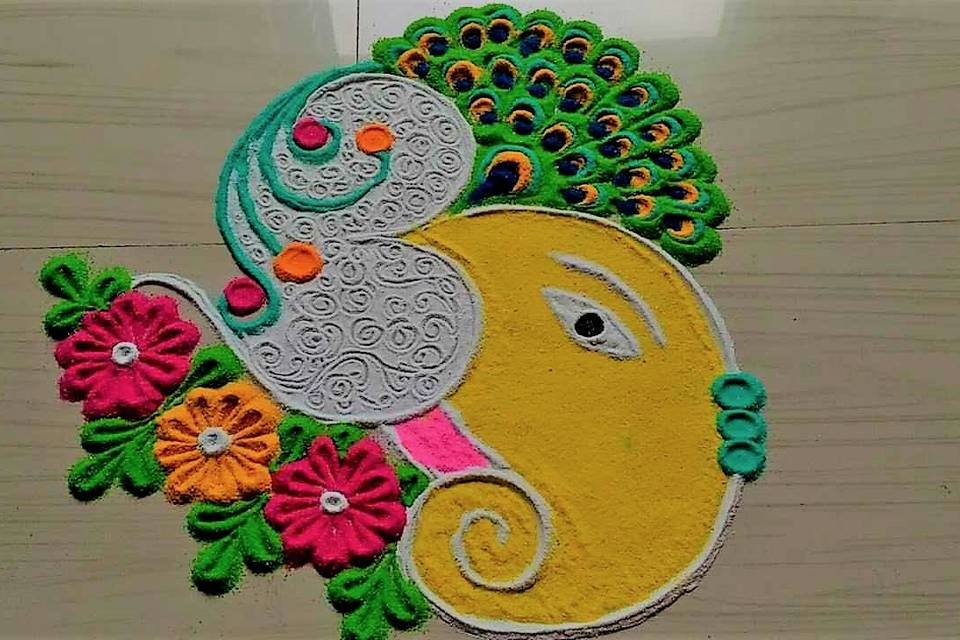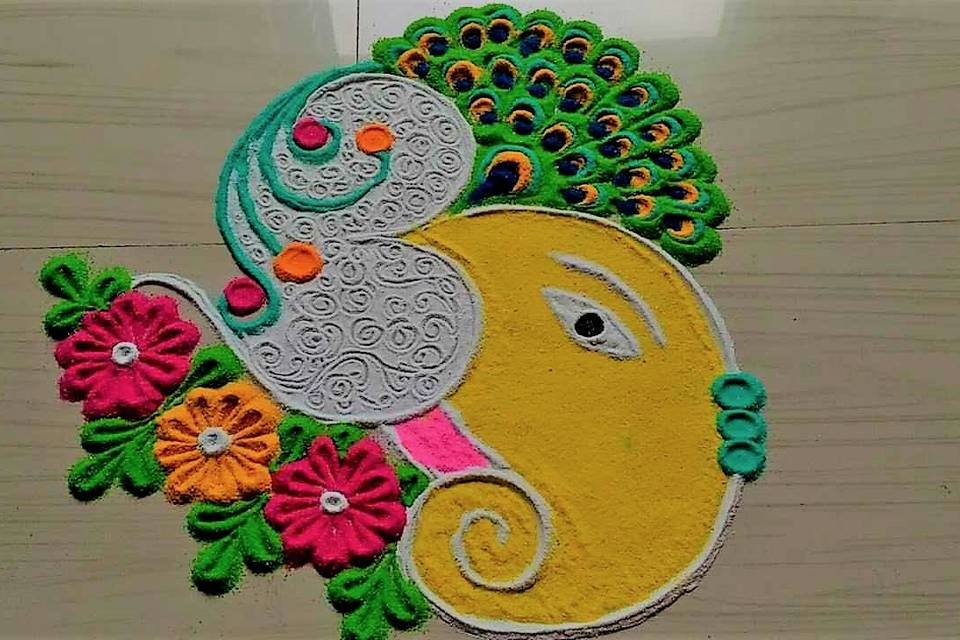 Image Courtesy: Oh My Rajasthan
When we think about creating a rangoli, some of us think that it is too complicated to even try, some think it as a new experience and the ones who do love it may rejoice at the thought of it. Nonetheless, one thing that no one can argue with is the fact that it brings people together and allows people to gel with each other.
Sometimes, it takes hours to create a rangoli design and that is more than enough time to break the ice. So, if you are thinking of creating some rangoli designs with your friends and family, then here are a few creative rangoli designs that can you can possibly try or get inspired by!
1. Truly a creative take on rangolis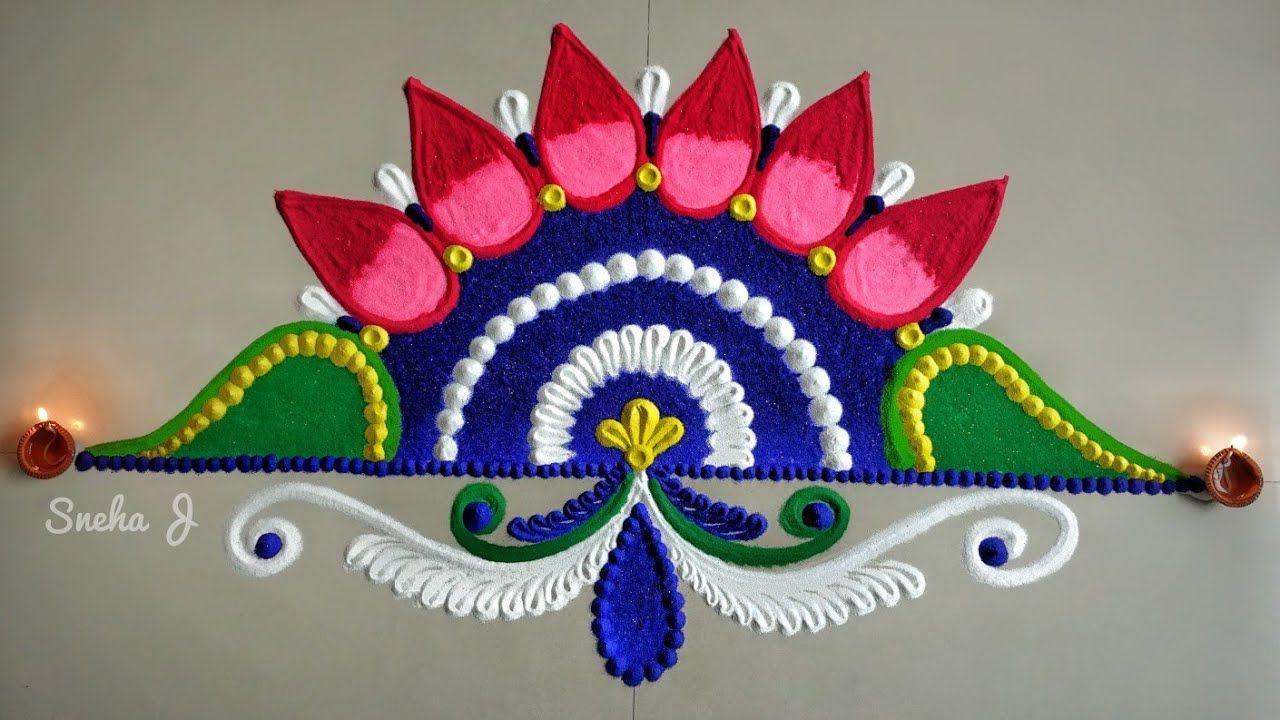 Image Courtesy: Pinterest
Who said rangolis have to be circular in shape? You can create rangolis of any shape and size. This is one of those creative rangoli designs that look more like an arched doorway. Well only if the doorways in real life were this pretty! This beautiful design uses multiple colours to give it a vibrant look. The combination of white and blue in itself is incredibly great and then add to that the mix of green, yellow, pink and red. It just looks stunning.
2. A little bit of a 3-D effect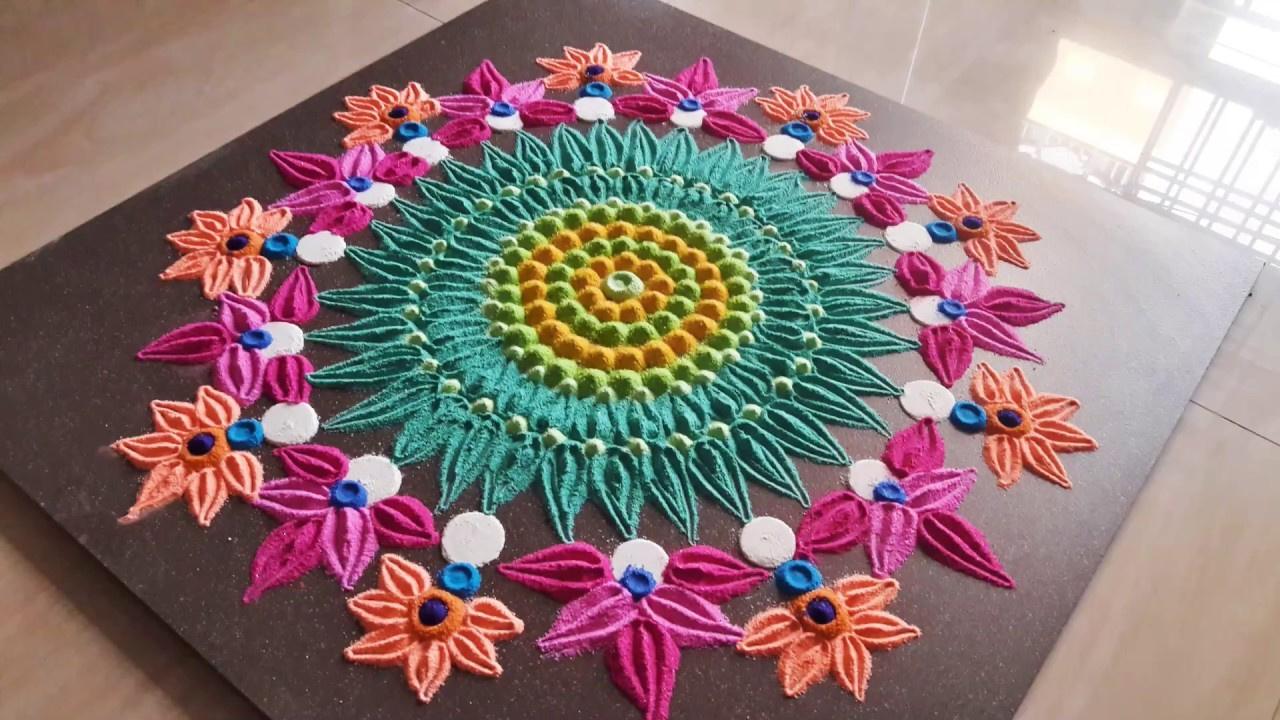 Image Courtesy: My Crafts
What makes this one of the most unique and creative rangoli designs you see is how cleverly the depth of the design has been used. Starting from the small cones at the centre, to the leaf patterns and then the flowers at the end to complete the design, every pattern follows that concept of creating some depth in it, giving the viewer a 3-D effect.
3. A peacock design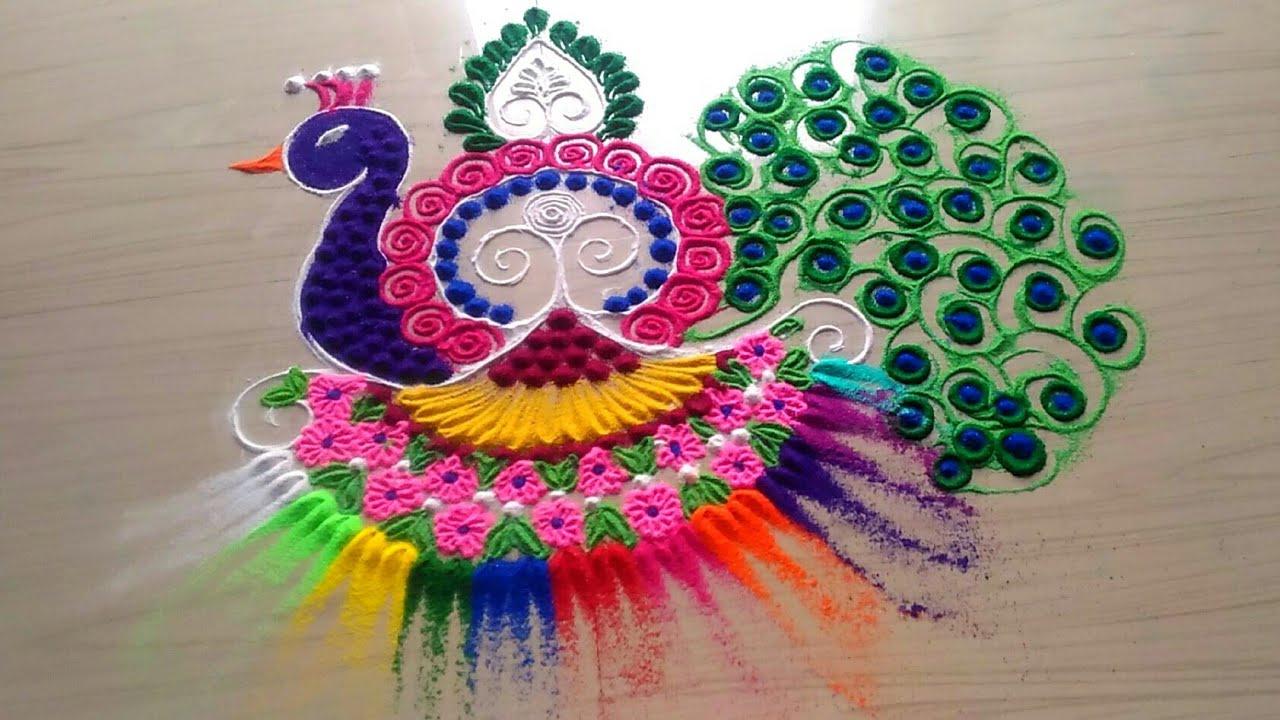 image Courtesy: Rangoli By Jyoti Rathod
Now, this is one of those creative rangoli designs that need an expert hand in it to help you out. It has a lot of intricately designed peacock feathers. For that, you need a steady hand. The chariot or the seat on which the peacock is seated looks so beautiful with the use of multiple colours. The splash of colours at the end just adds more character to the design.
4. A big circular design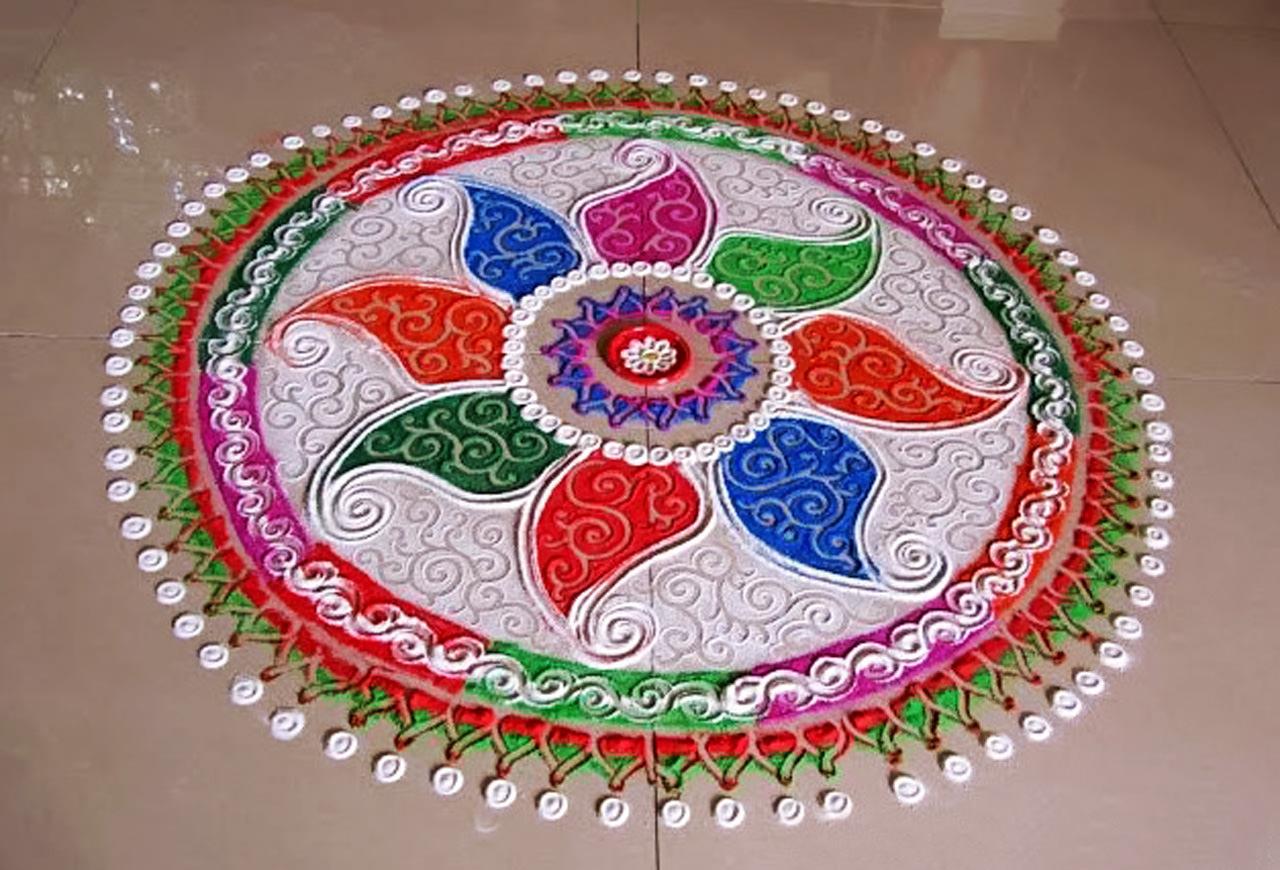 Image Courtesy: Shayari
Now, this is something that a lot of people can bond over. As the design is big, you will need a ton of people helping you out! Once you have an idea about the major design, the rest of the design is about symmetry. It is one of those creative rangoli designs that has a lot of patterns that you draw on top of the powder with your finger. So, for this too, you need a steady hand while you're at it.
5. A geometric design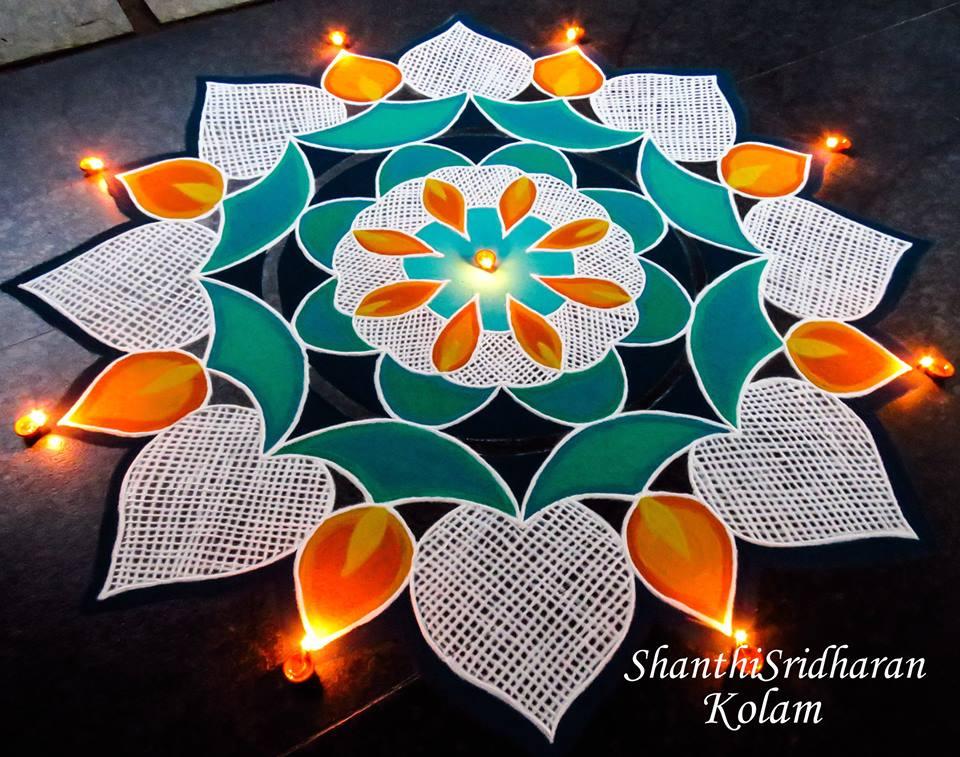 Image Courtesy: Kolam Shanthi Sridharan
Moving on from a circular design, here is an example of creative rangoli designs that follow a hexagonal outline and has several other geometric shapes to complete the look. This will require you to use big rulers or even stencils in some cases. Go with different colours to create contrast.
6. A simple design for beginners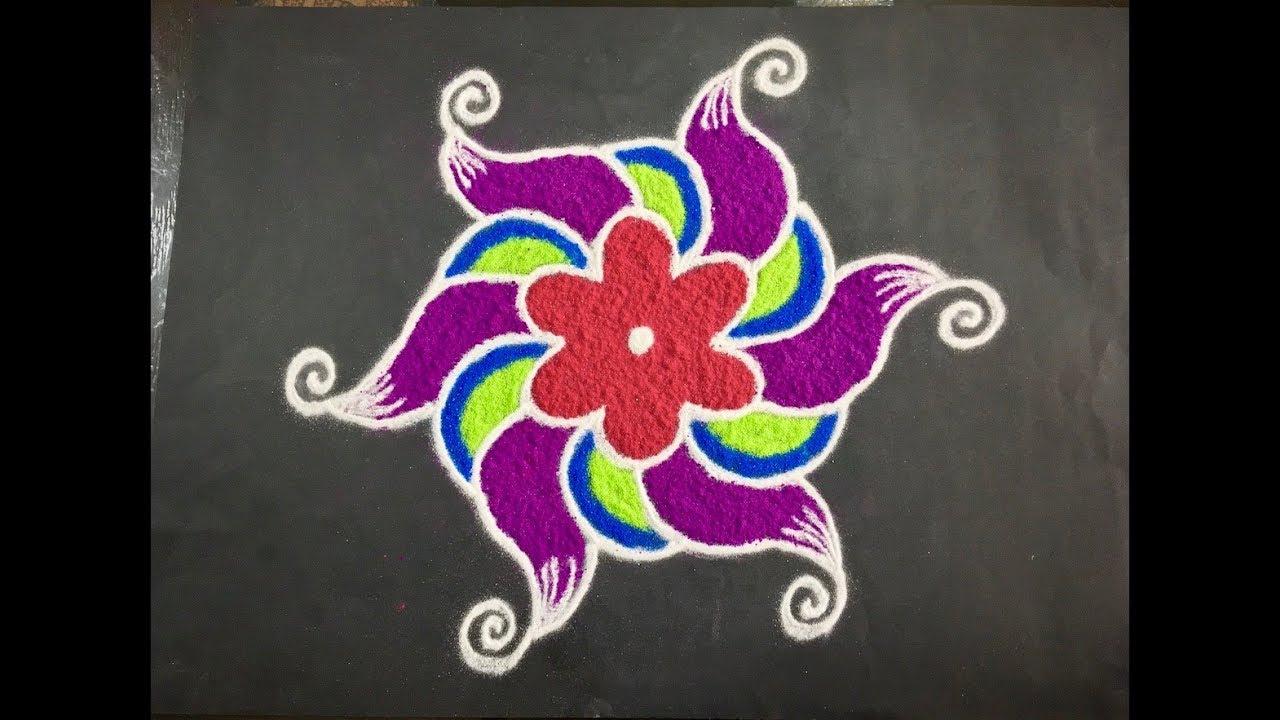 Image Courtesy: RMPV Creations
Now, this is a design almost anyone can pull off. It has a simple pattern with a few curves circling around a flower in the centre. Use different colours to fill in the spaces demarcated by the white borders.
7. A Diya design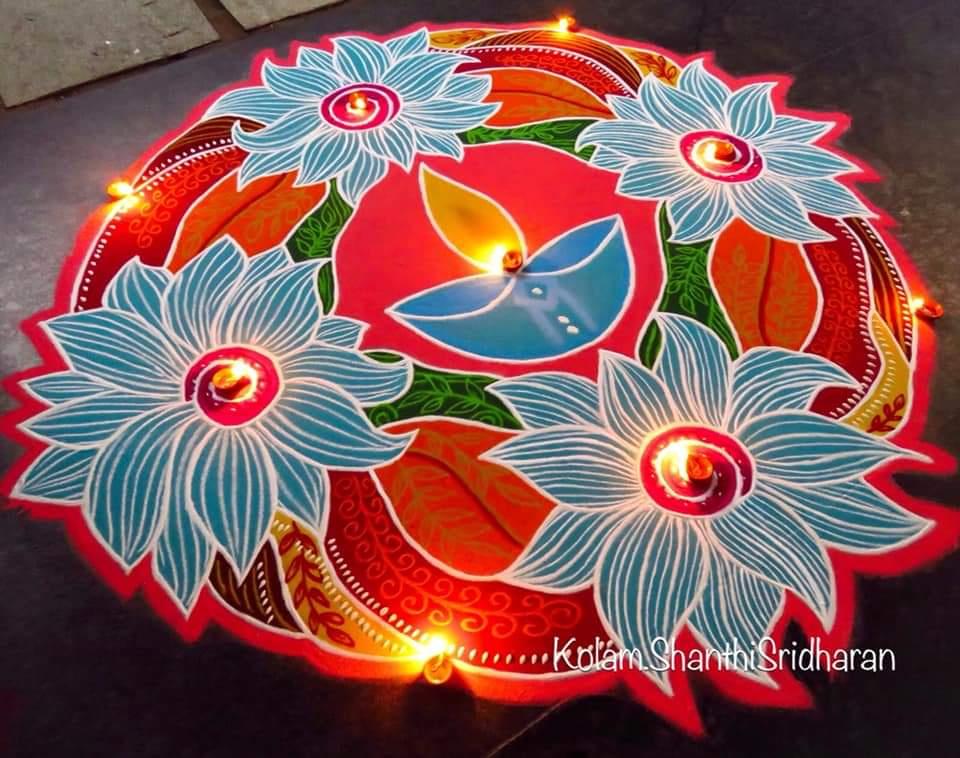 Image Courtesy: Kolam Shanthi Sridharan
A Diya is again an auspicious thing in Indian culture, so this design is one of those creative rangoli designs that can go well with any kind of event. However, this requires a professional touch as it involves some great designs that may be too intricate for beginners. With the Diya at the centre and the flowers on four directions following a similar colour pattern, it is the rest of the design that has multiple colours in it.
8. A peacock with a white head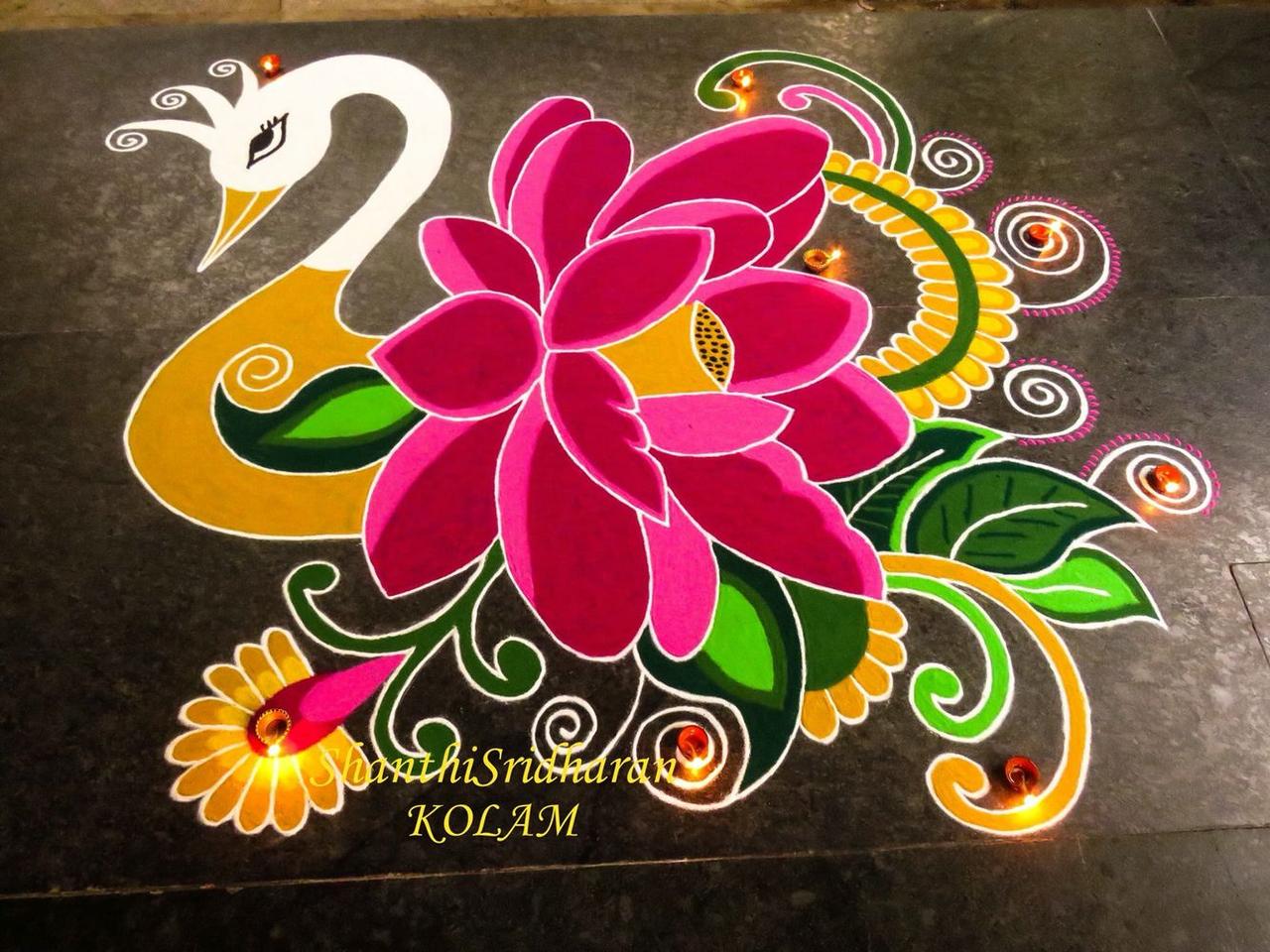 Image Courtesy: Kolam Shanthi Sridharan
This design is perfect in every sense as it has the perfect patterns and the perfect mix of colours that have been used. The pattern of the peacock is a bit tough to draw and to draw with this precision needs extra care. The white head of the peacock is a major attraction. Instead of the wings, a beautiful flower takes its place. It is truly one of the most creative rangoli designs in this list.
With so many beautiful and creative rangoli designs, you will surely be inspired to make one yourself in an upcoming wedding event of yours. From the Mehndi to the Sangeet, make sure that your venue's entrance is decorated with a beautiful rangoli design that you and your family or friends have drawn together! Have a blast while you do that!
Need help planning all your other wedding décor and finding the right wedding decorator? Check out these wedding planners in your city!