Opt for One of These Wedding Chairs for the Wedding Function
Wedding chairs are an essential part of family & couple's photographs at every wedding. Check these 10 wedding chairs designs to find the perfect match to the theme.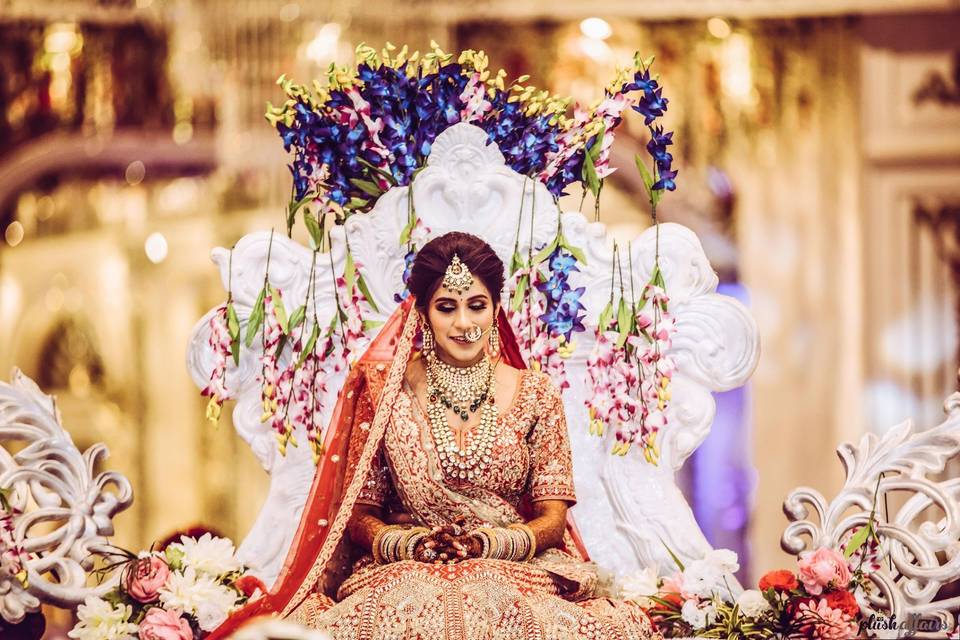 Wedding chairs are a very important part of any Indian wedding. It is where the bride and the groom get clicked alone or with friends and family the most. Which is why giving special attention to chairs is crucial and something to ponder upon while discussing the decor of your wedding with the wedding planner.
Speaking of wedding planners, they are known to customise almost everything based on the mood board of the wedding. Hence, they give special attention to deciding on chairs for every wedding that goes perfectly well with the theme of the wedding.
With the thought in place, we present to you 10 designs of wedding chairs that we have spotted in the recent Indian weddings and fell in love with.
These chairs are known to enhance the charm of the wedding decor so you might want to spend extra time deciding on the perfect seating for your own wedding celebrations! Take a look.
Multi-Coloured Sofa Chair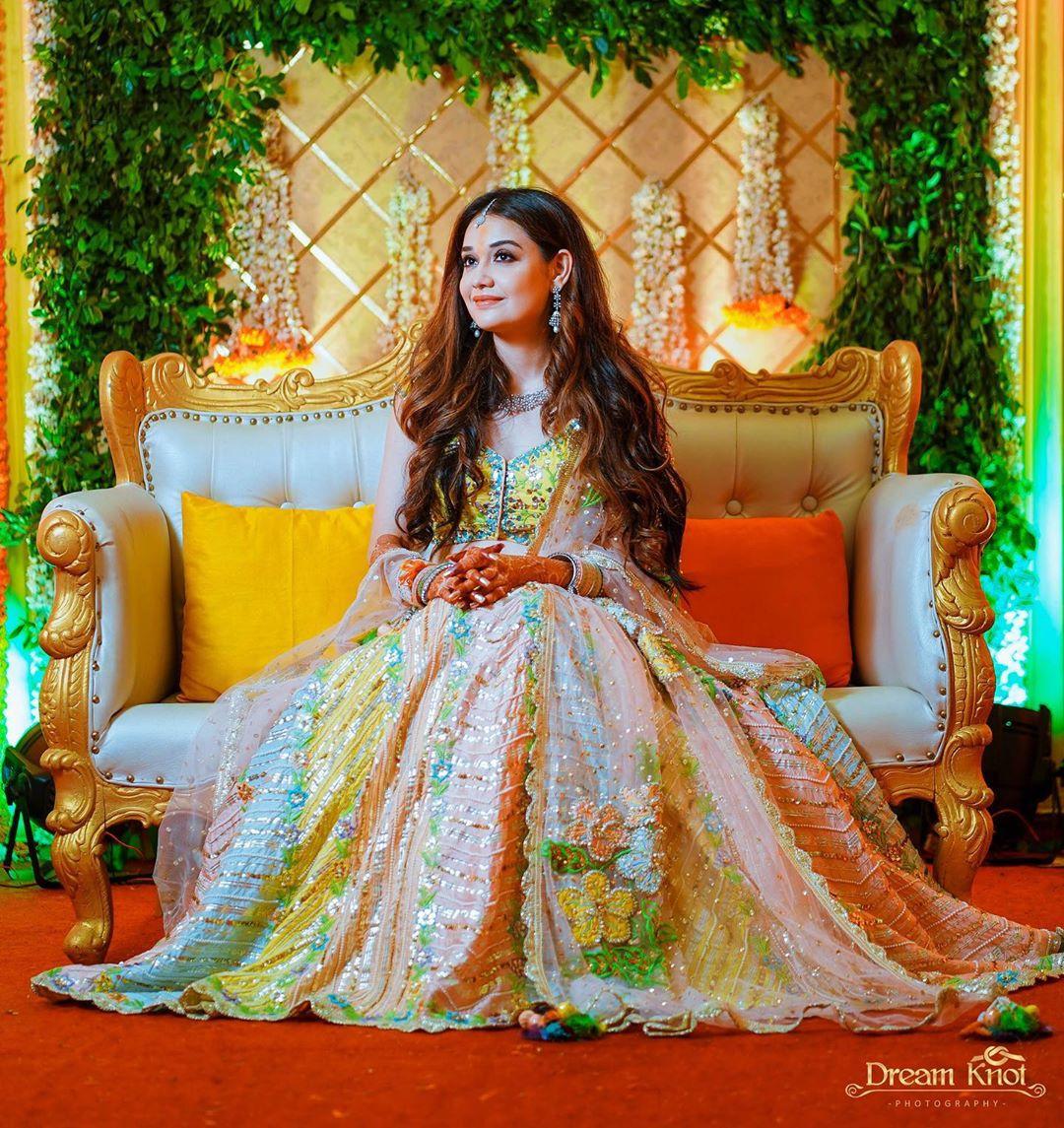 If you have multi-colours that are prominent on the mood-board of your wedding-themed decor, then such styles of wedding chairs are perfect. You can add colours to a plain white sofa chair, by accessorising it with colourful cushions. Since wedding chairs need to complement the ensembles of the couple as well, it is a great idea to match the colour palette of these chairs with that of the wedding trousseau of the couple.
Rajasthani Shesham Wood Swing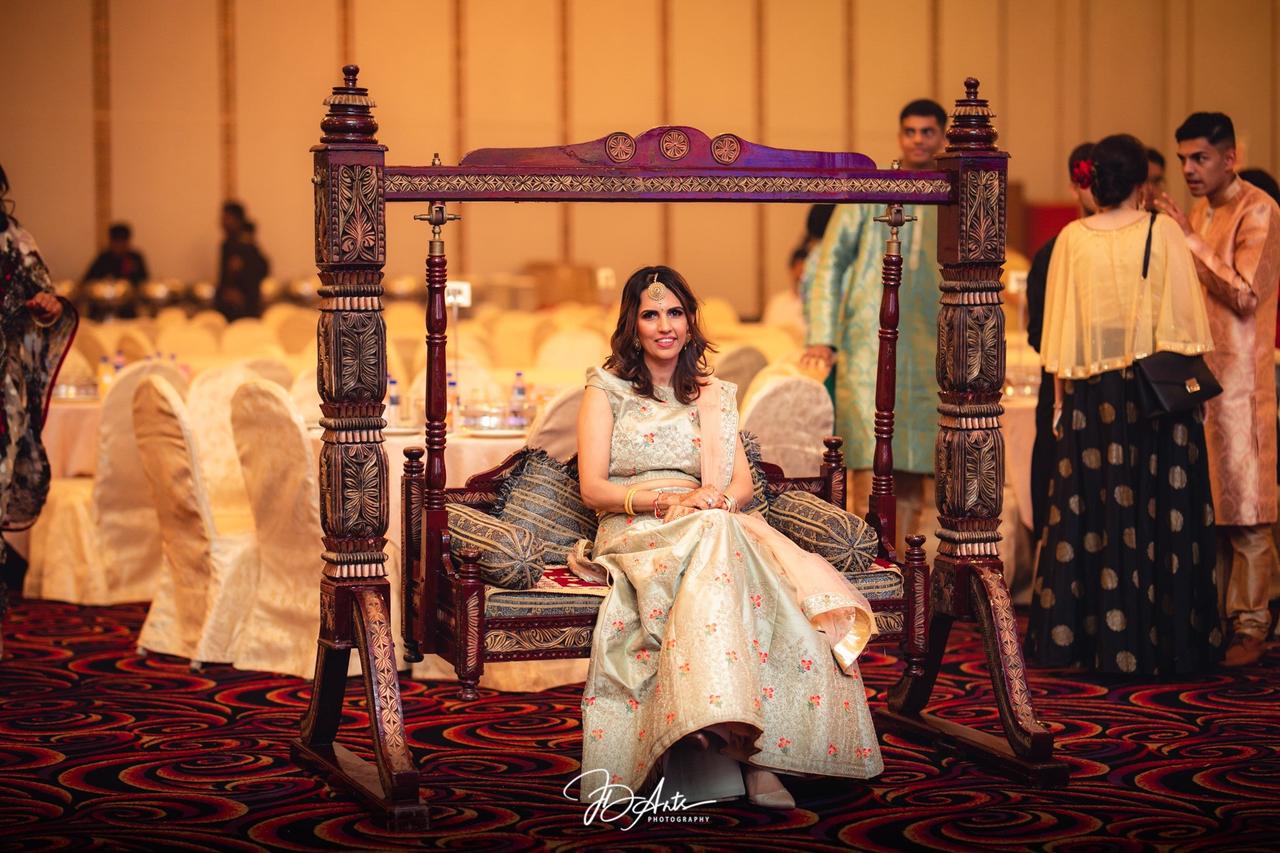 Image Courtesy: JD Arts Photography
Add a touch of royalty to your wedding decor by replacing regular wedding chairs with a richly carved Rajasthani Shesham wood swing instead. This swing style seating will be a great way to add uniqueness to your wedding setup, not to forget that the bride and the groom will have a lot of fun being seated and swinging on these in-between greeting the guests. Smiles and laughter, guaranteed!
White Floral Swing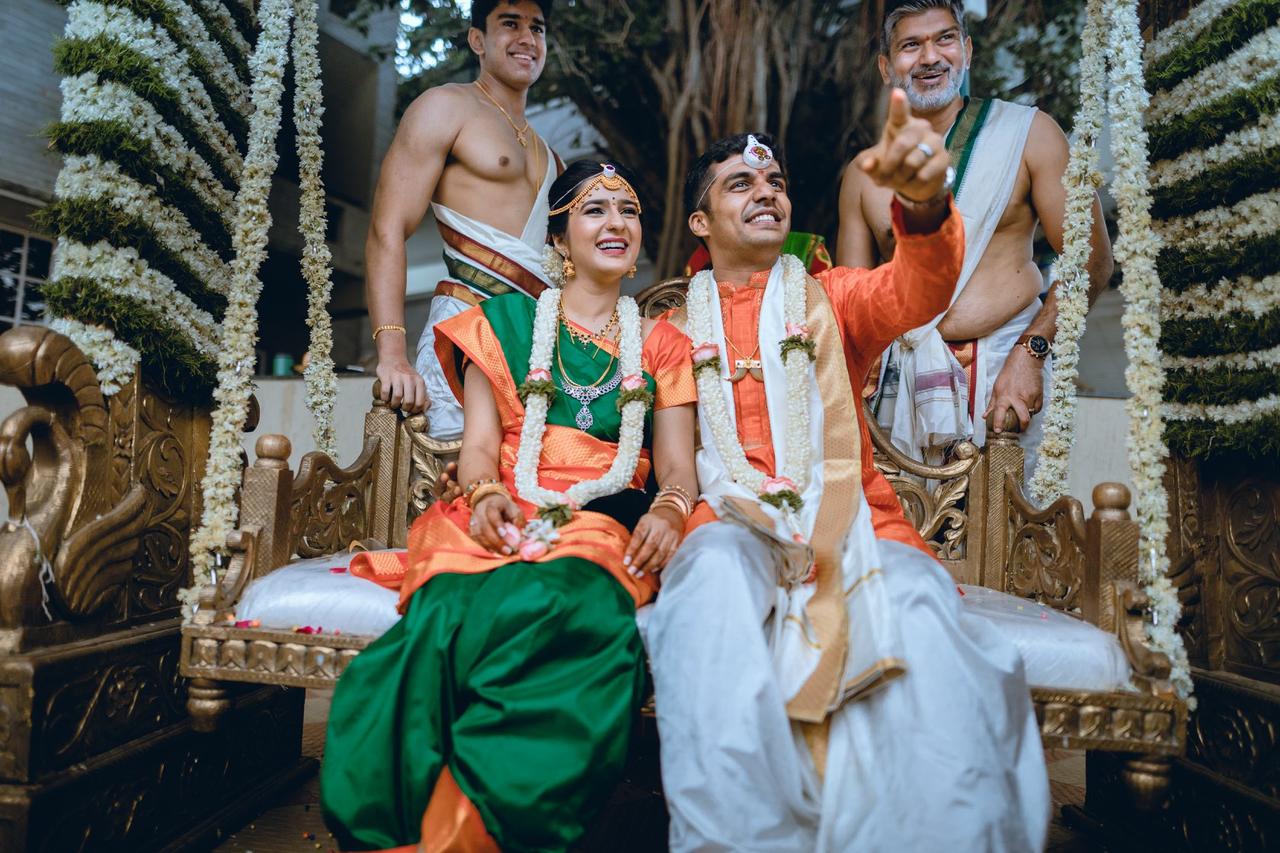 Ask the wedding planners to find a rustic looking gold swing wedding chair for your function and get it decorated with flowers all over to match the celebrations perfectly. If you happen to have a South Indian style wedding consisting of white apparels, then get the swing decorated in white flowers like a full-bloomed Jasmine that will look beautiful and smell heavenly as well!
Cosy Couch For Two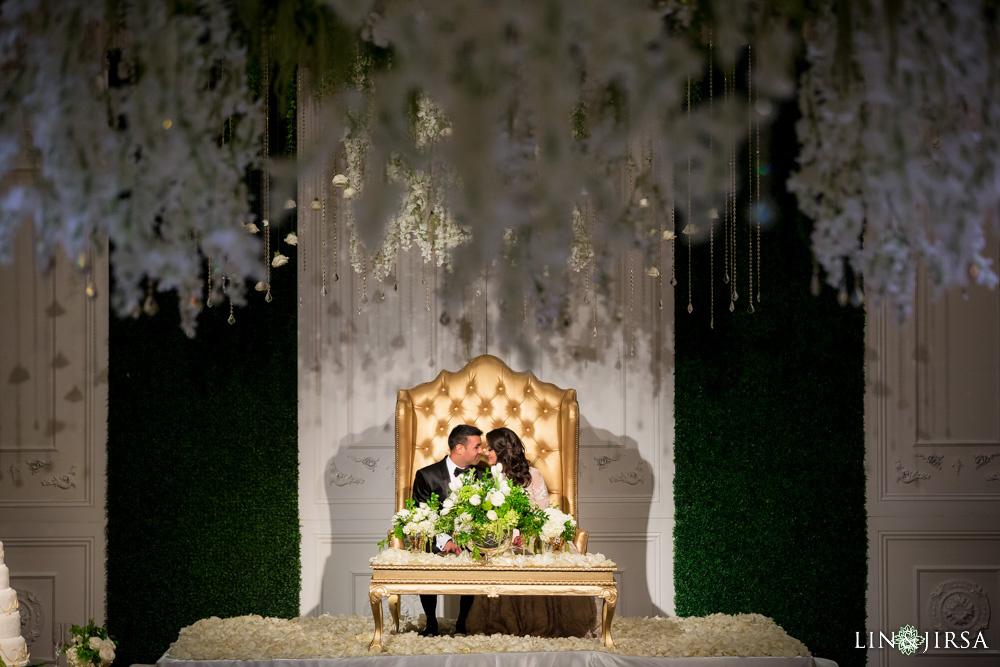 Image Courtesy: Lin & Jirsa
Opt for an intimate seating couch with an oversized backrest and a glossy quilted finish overall, to make the two love birds sit comfortably and cosily. Such wedding chairs go very well with Sangeet, Engagement, Reception as well as as the wedding stage seating. You can ask the decorator to set up a floor of flower petals all around the cosy couch or stretch faux-fur carpet in white or pearl-white to complement the seating perfectly.
Fairytale Meridienne Lounge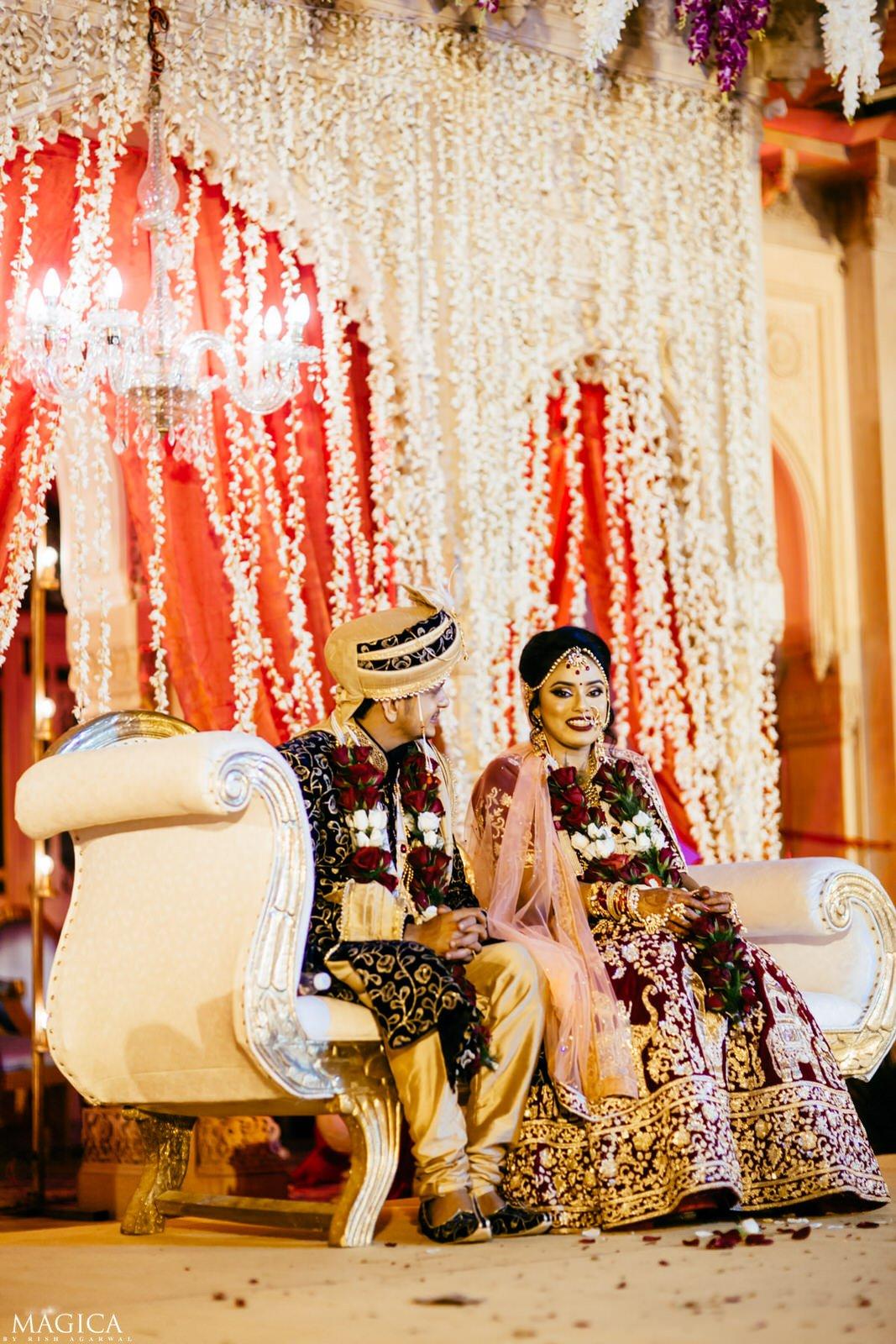 Image Courtesy: Magica by Rish Agarwal
If the bride wishes to have a fairytale-like wedding then the seating too needs to look dreamy in every aspect. The arched side handles, attendance of wood-work and soft cushioning makes such wedding chairs stand out among the rest of the lot. A Meridienne lounge looks opulent, making it perfect to be a part of the fairytale-themed wedding decoration.
Embellished Cabriole Sofa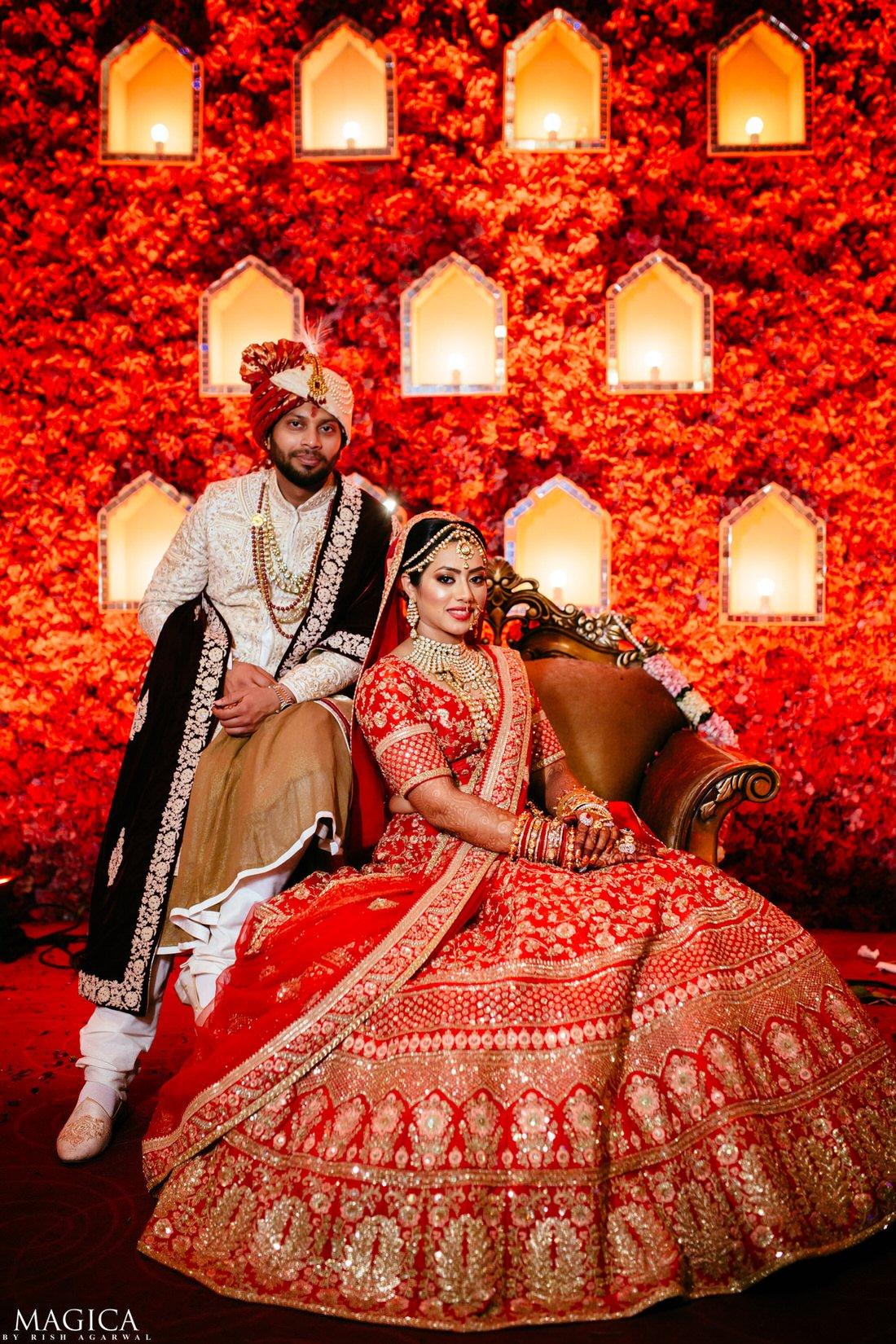 Image Courtesy: Magica by Rish Agarwal
There are many royal looking wedding chairs that are available as seating for the bride and the groom at their wedding, but nothing like an embellished Cabriole sofa to sit on. This English sofa design has been a part of the royalty since the time of King Louis XV in the 1700s, making it an absolutely vintage beauty. It is cosy and intimate for the couple to sit on and when embellished with stones, it makes for a great wedding chair for any Indian wedding.
Quilted Sofa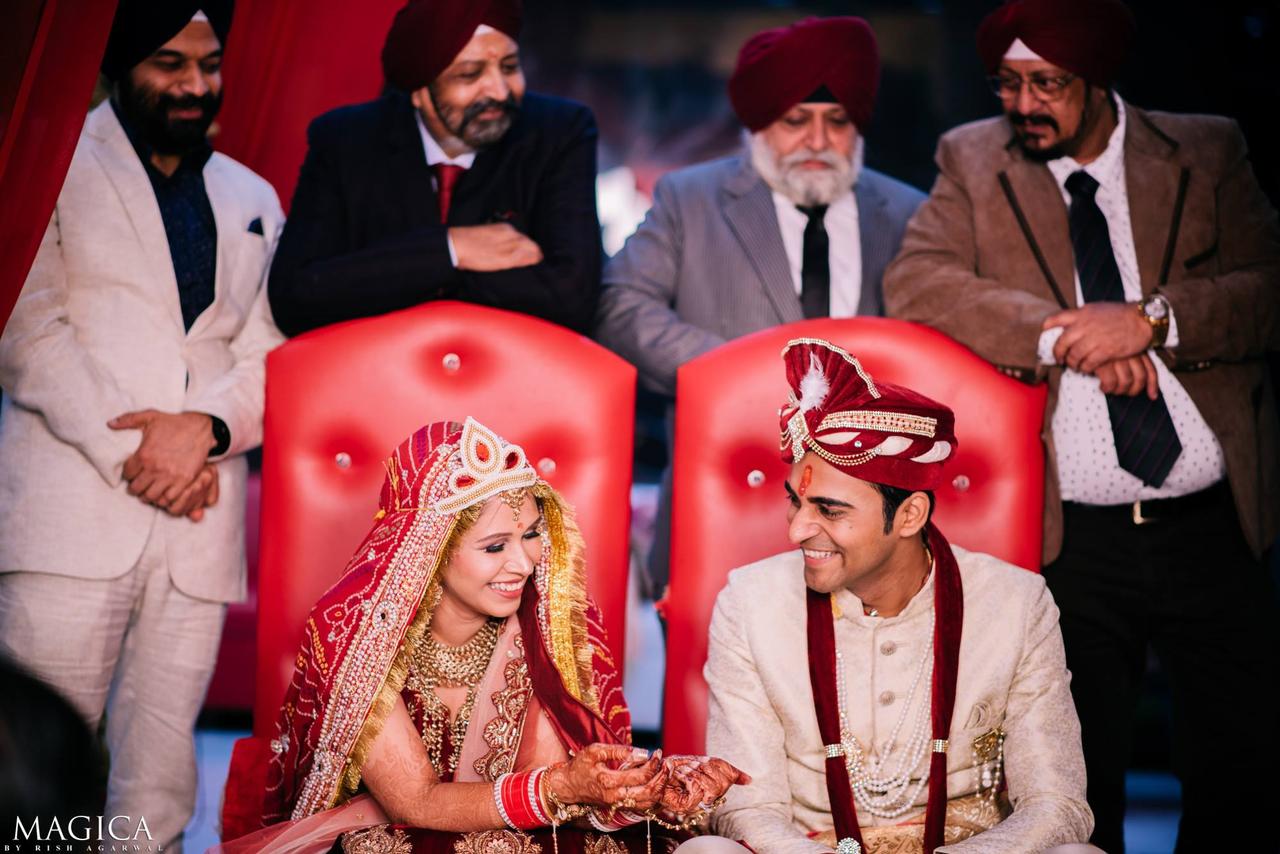 Image Courtesy: Magica by Rish Agarwal
Sofas are great furniture to have as part of any couple's wedding seating arrangements. But if we look in the category of chairs, then long quilted chairs turn out to be a great alternative as well. Two chairs for the bride and the groom, with extra-long backrests, embellished with stones and the beautifully quilted pattern is set to complement the ensemble of the couple as well as appear stunning in wedding photographs too!
Floral Iron Bench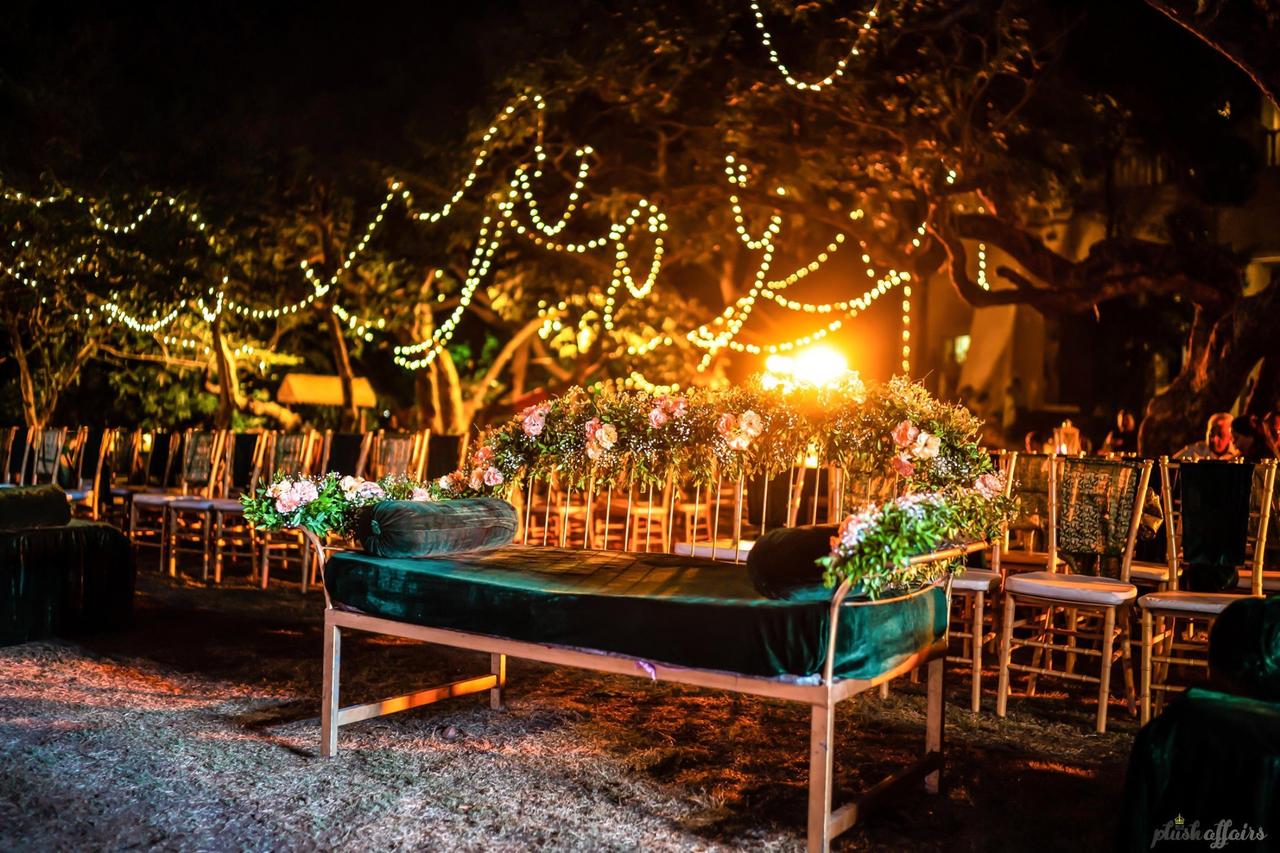 For a beach wedding or a wedding that is taking place in lush gardens of a wedding venue, ditch the sofas and the chairs and opt for a decorated iron bench instead. It looks fun, it looks romantic (might remind some couples of their secret park dates) and will be a unique take on the regular wedding chairs as well. Get the floral iron bench decorated with flowers and cushioned to make it more breathtaking and comfortable for you and your partner to sit on for long.
Wooden Chiavari Chairs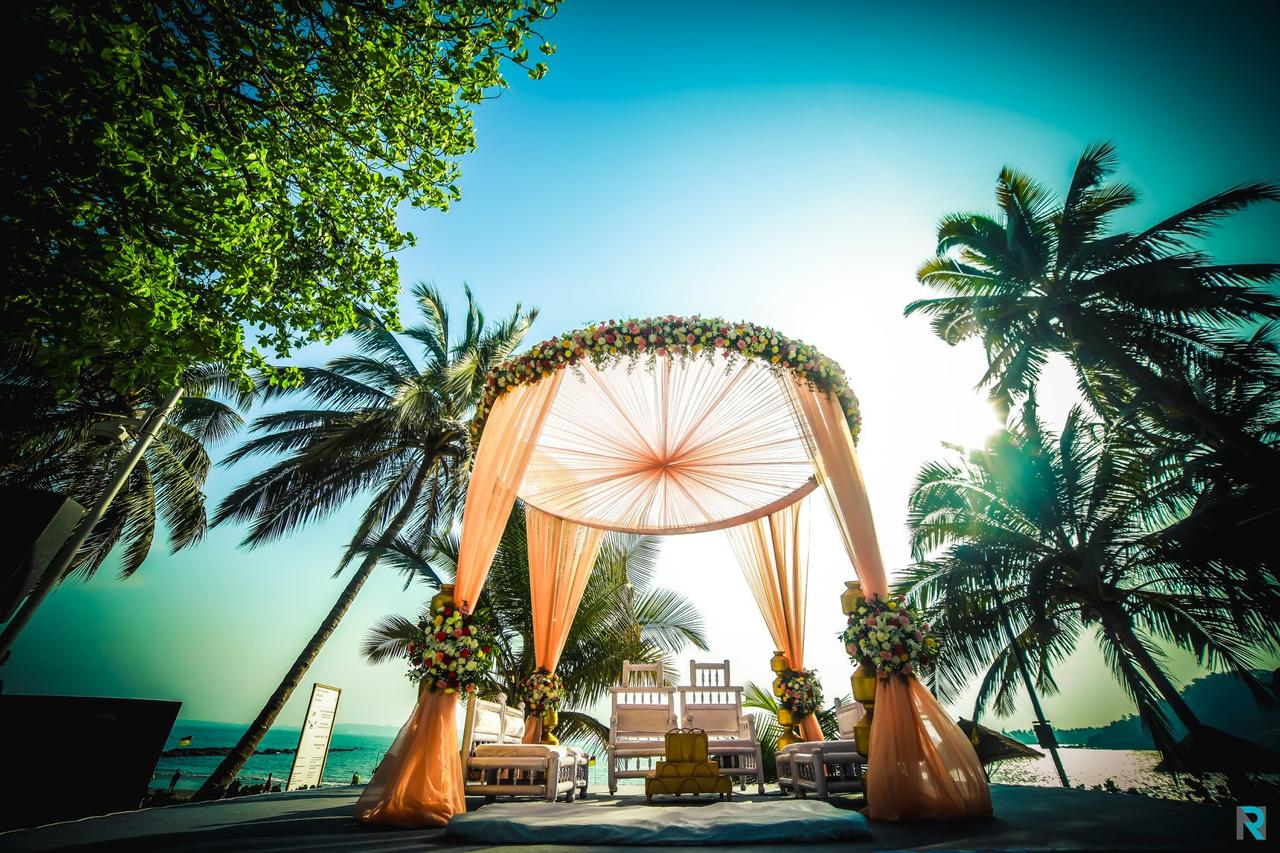 Switch floral iron bench with two wooden Chiavari chairs instead if you want separate seating for two at a beach or garden wedding. White polished wooden Chiavari chairs come in both lower and higher seating, making them perfect not just for the wedding photography setups but also as a comfortable seating option during Pheras equally.
Chaise Lounge Sofa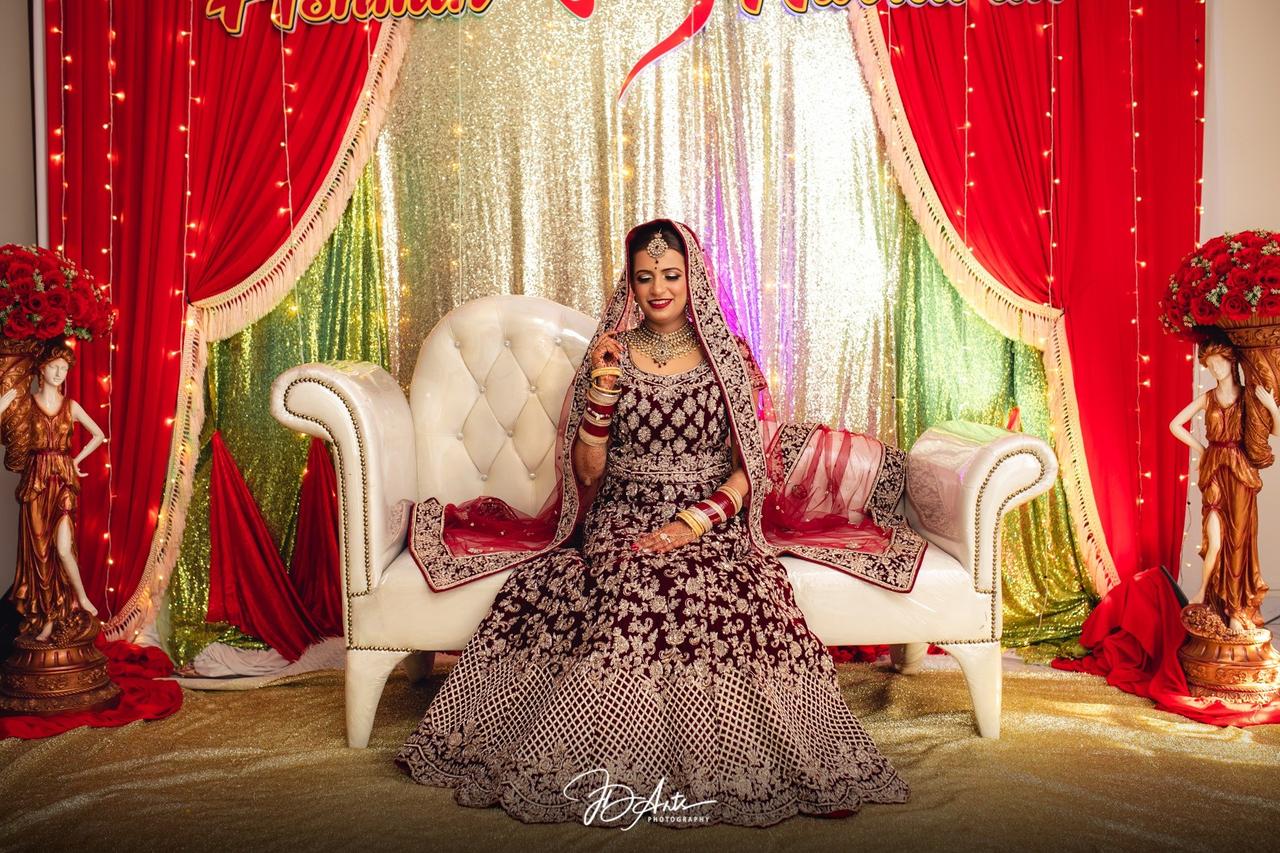 Image Courtesy: JD Arts Photography
A Chaise lounge sofa might look similar to a Meridienne lounge sofa, but both are different in design. A Chaise lounge sofa's side handles bend outwards while that of a Meridienne lounge arch and swirl inwards. Call it a simpler and more contemporary style version of a luxe Meridienne lounge, as it is a better preference in case the theme of the wedding is classic sophistication.
If you are planning on hosting big fat wedding celebrations for your guests, then you can get inspired from these wedding chairs and order a custom-made chair for your wedding function instead of going for the pre-made options.
But while finalising on the one among many options of chairs available, make sure that you decide on a wedding chair that is comfortable to sit on for longer periods of time. There are ample ways that you can get these chairs decorated with elements like flowers, tulle, stones, cushions as well as paints. The possibilities of customising wedding chairs are endless!
Tell us the kind of wedding chair you wish to have at your own wedding. Comment below and share with us!