11 Drool-worthy Designer Cakes for Engagement Ceremony
Looking for designer cake ideas to make the sweet tooth worth it? Count on these unique cakes to make your engagement ceremony perfect!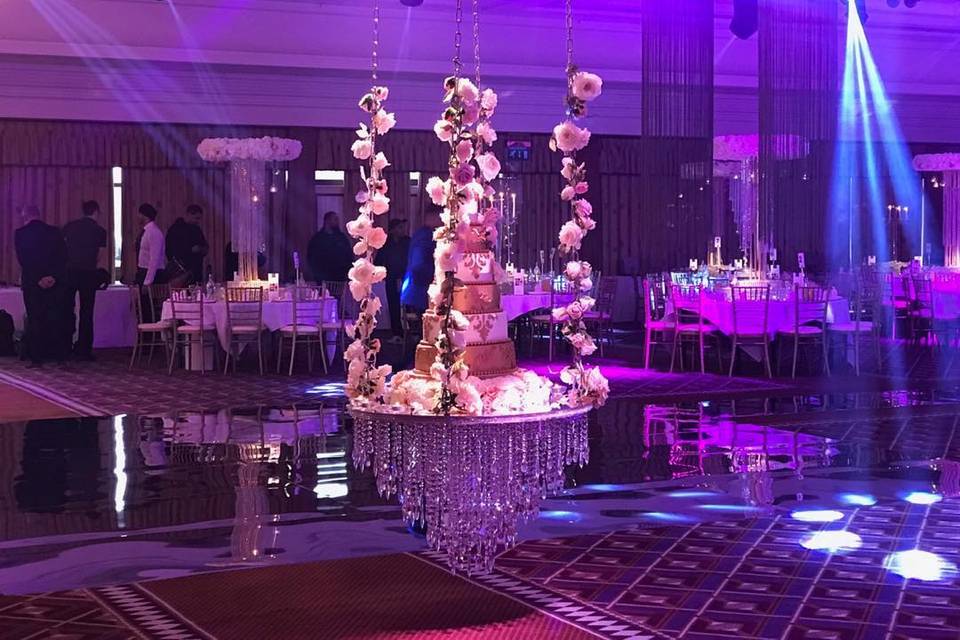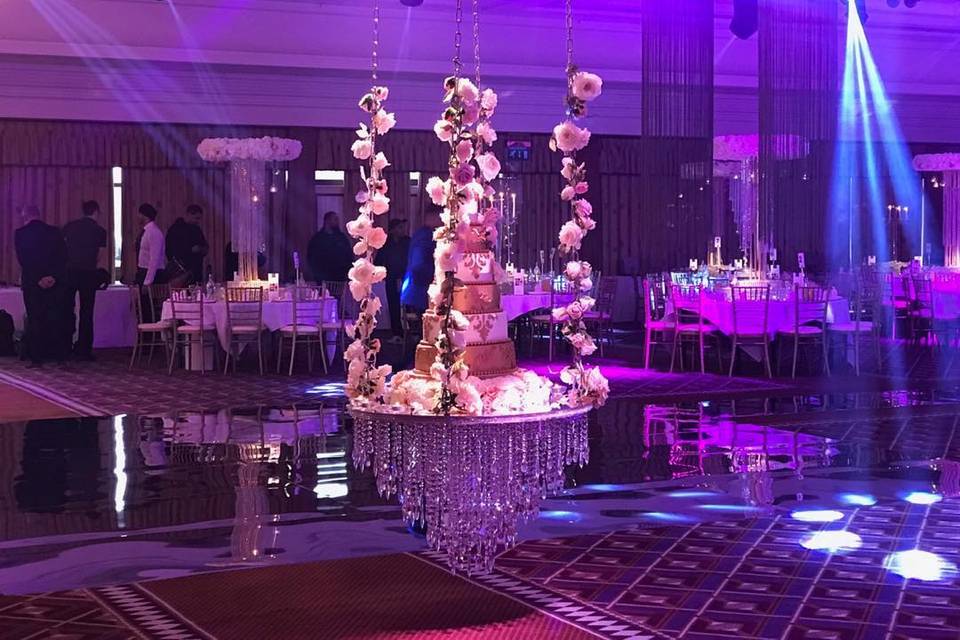 Image Courtesy: The Juci Luci Cake Company
Weddings are a one-time affair and making precious moments memorable is crucial. People these days have taken this spirit to another level by going for designer themes as well as things. Right from bridal lehengas, bridal jewellery and bridal mehendi to themes, decorations and even cakes, everything is becoming designer. Keeping the latest trends in mind I have curated a list of 11 drool-worthy designer cakes for your engagement ceremony.
Each one of these designer cakes is exceptionally beautiful and can be used to draw everyone's attention to themselves. So check out these pretty and lip-smacking cakes which are sure to make your engagement ceremony a memorable affair.
Classic Round and Tiers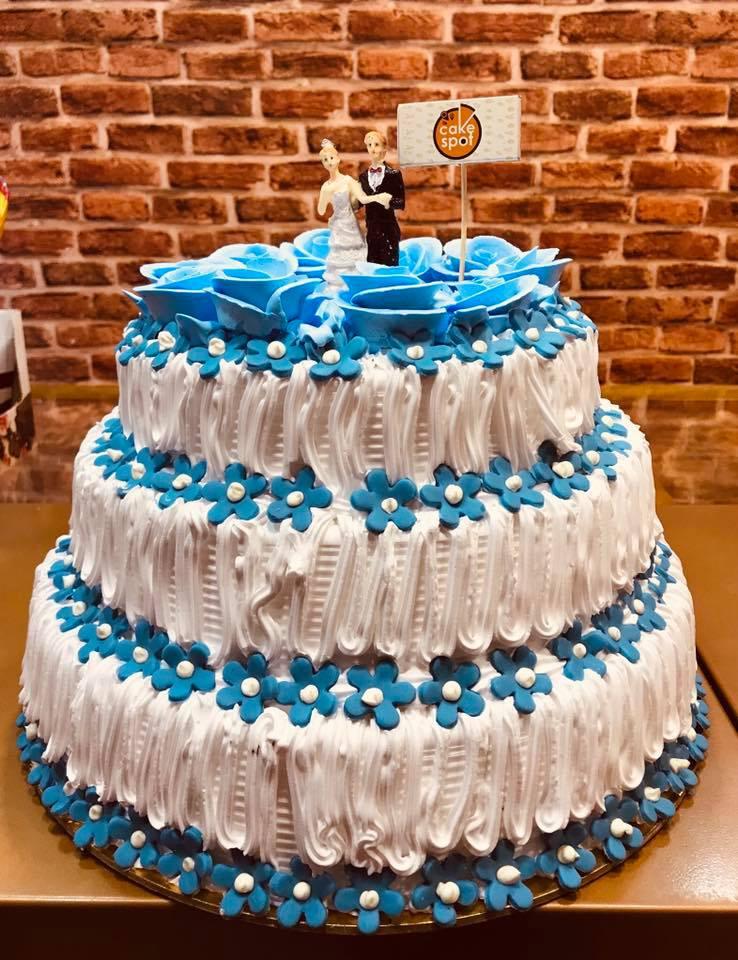 Round tiers have been in vogue ever since designer cakes came into being. It makes a classic delicacy look even more elegant. The delicate arrangement of tiers and flowers in this cake is a mark of how beautiful cakes are. The white and blue makes it perfect for the cake cutting ceremony.
Beige and White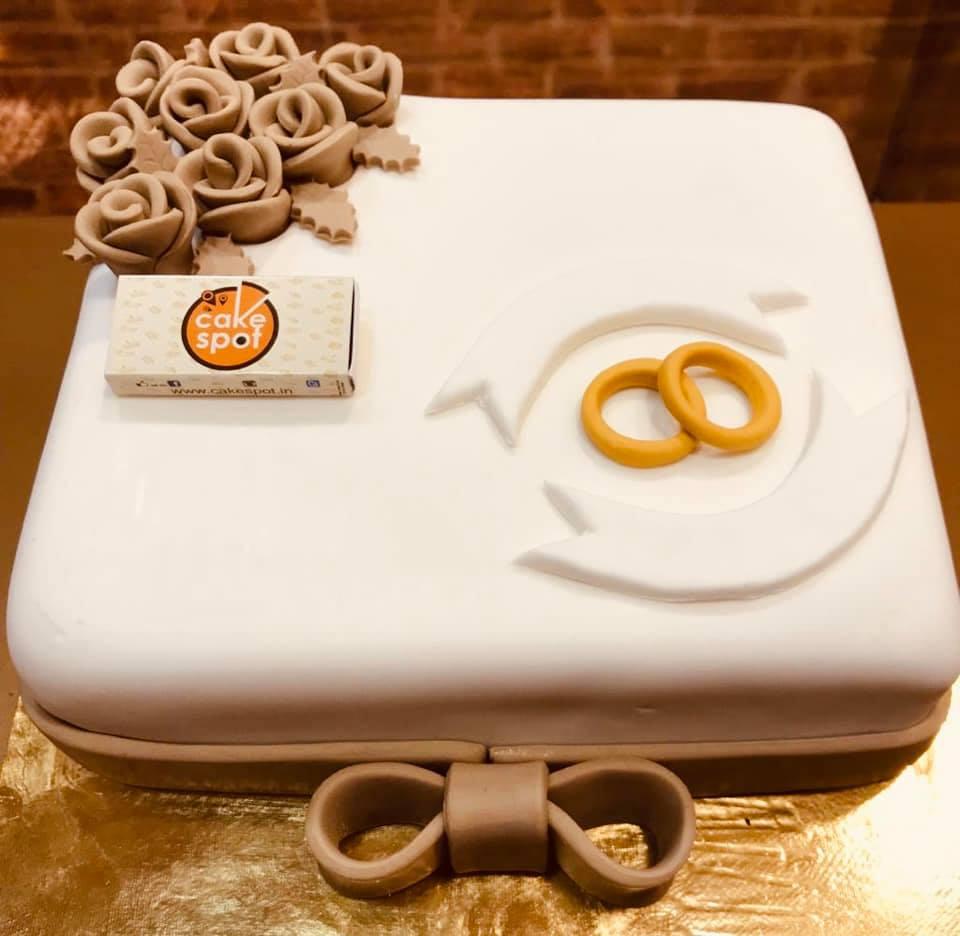 A bouquet of beige sugar flowers on top of the cake is elegantly transforming the basic white cake from simple to stunningly designer cake. You can see how nicely a balance has been created with the placement of bow. Don't miss the golden charm of the carved engagement rings. Elegance is always found in simplicity.
Mesmerising Waves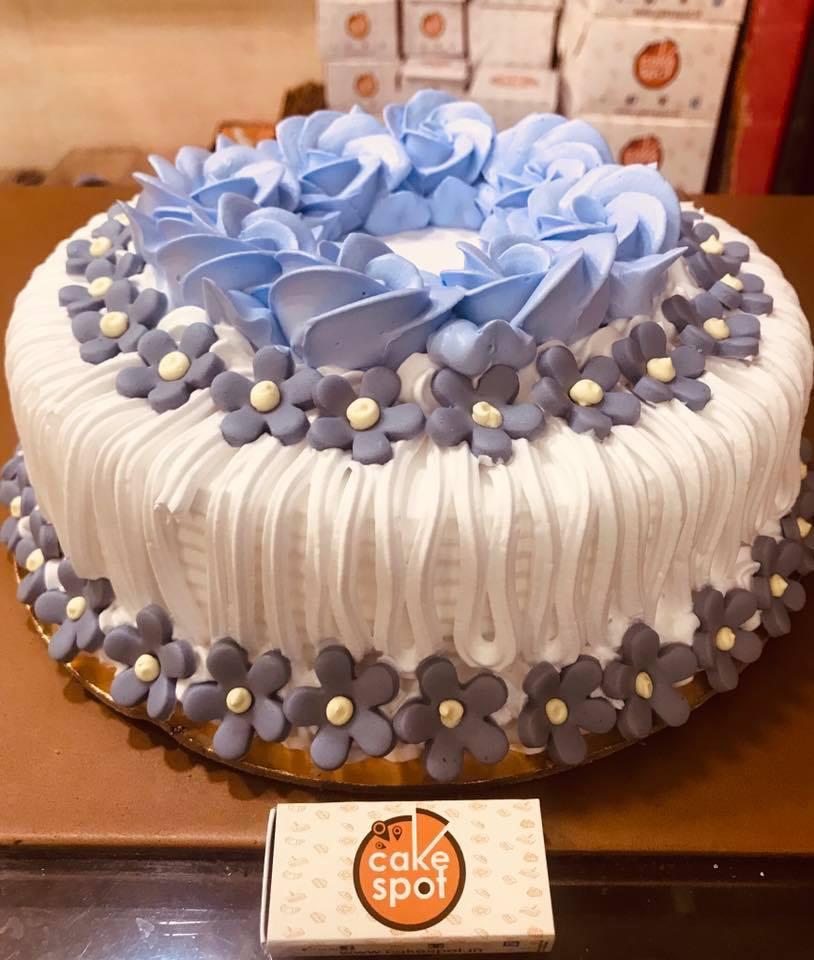 Classic white cakes to colourful confections with minimal design, engagement cakes are becoming trendier each day. This cake has beautifully paired of the gorgeousness of blue flowers with the serenity of white waves. The exceptional yet simplistic design is making this cake mesmerising to the core.
Forever Pink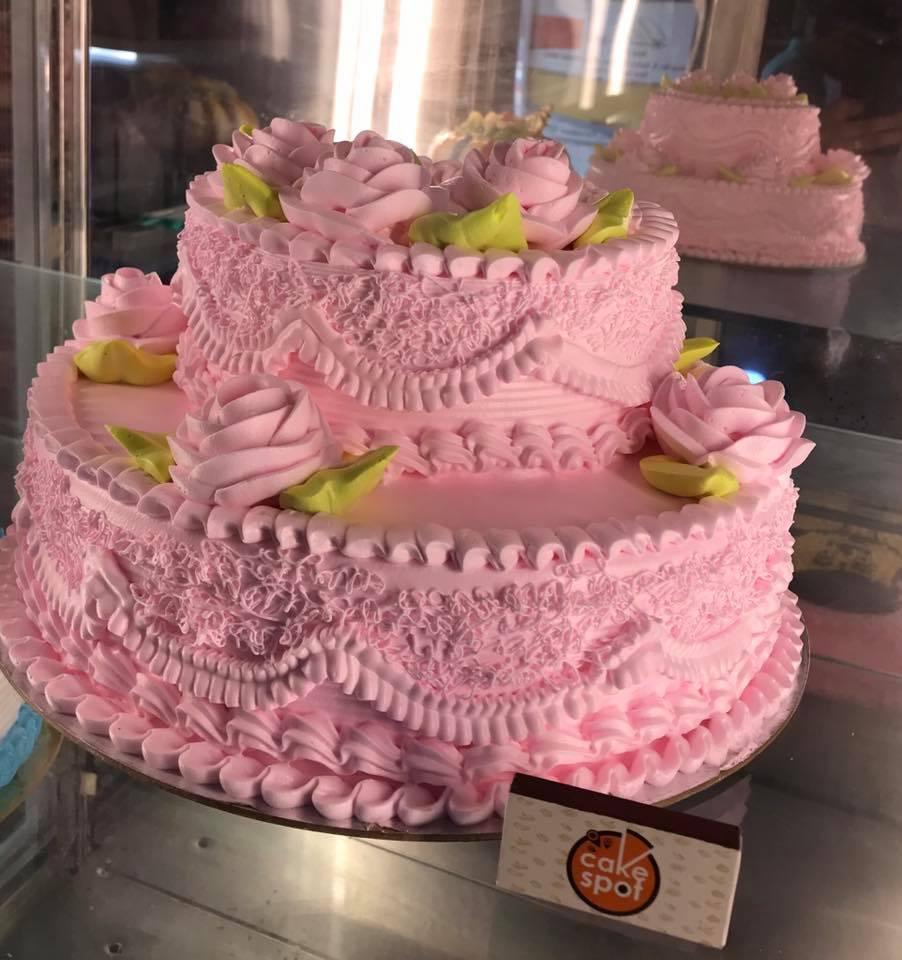 This pretty pink designer cake looks like the one from our childhood dream. With some of the most creative cakes on the list here, this one is exclusively depicting a wedding theme for an artistic Princess. the intricate designs on the top give it more royalty.
Unique Skyscraper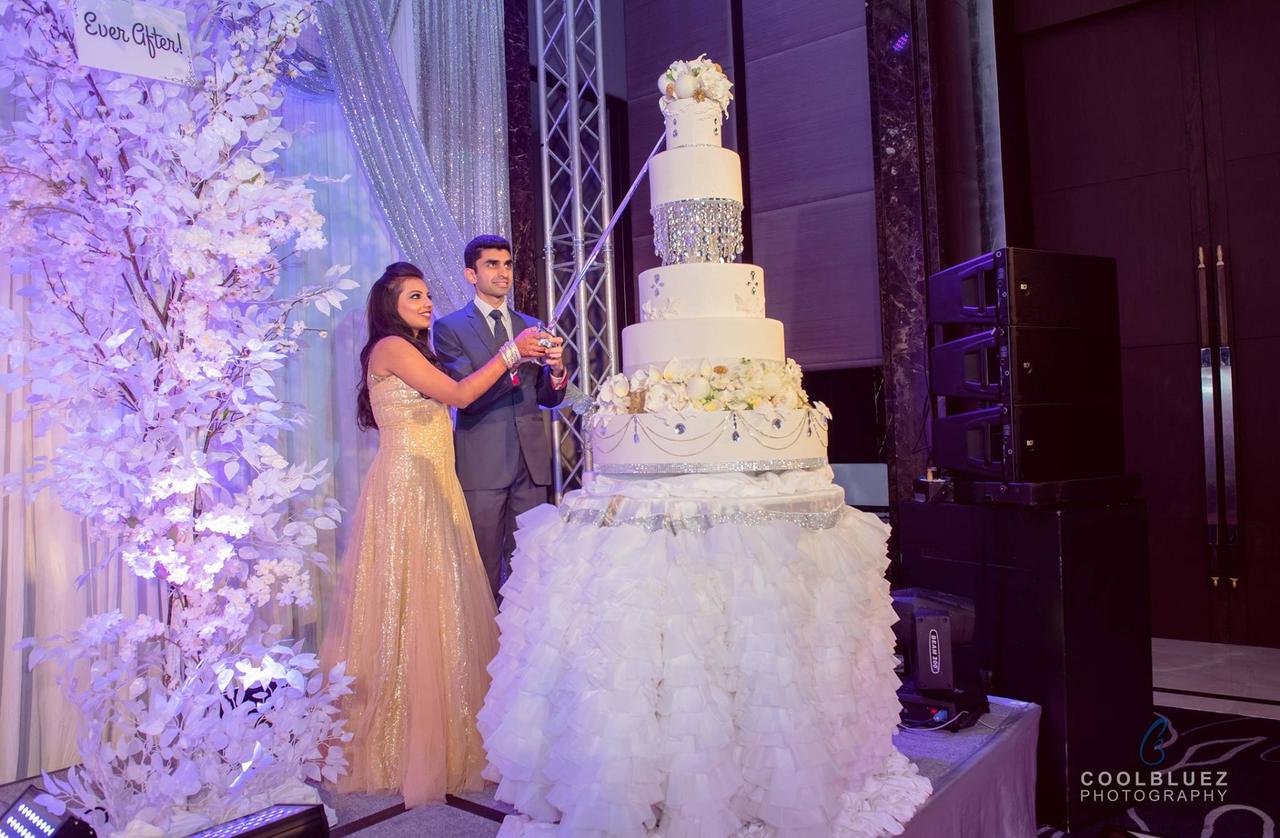 Have you ever wondered what inspires a designer cake for engagement? The unique accents of this skyscraper cake are a perfect example of how long and sky-touching an engagement can be. What a marvellous inspiration and the detailing is priceless!
Golden Couple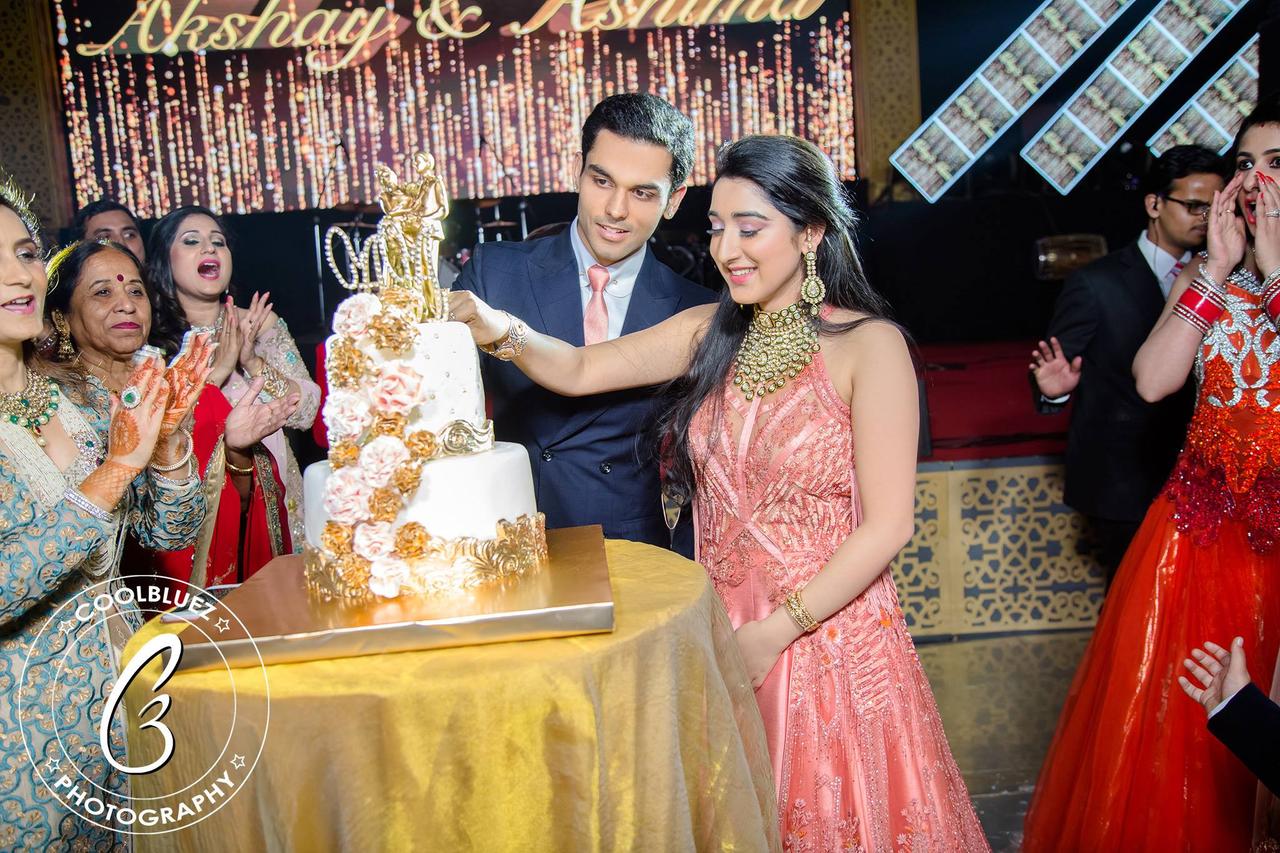 A floral-furnished designer cake is always an excellent choice for engagement ceremonies. Duochrome and appealing to the eye, this cake is perfectly adding to the beauty of the event. This floral-adorned cake with the golden couple on top is the ultimate example which portrays how beautifully a cake can be carved with fine details.
Flowers to Rescue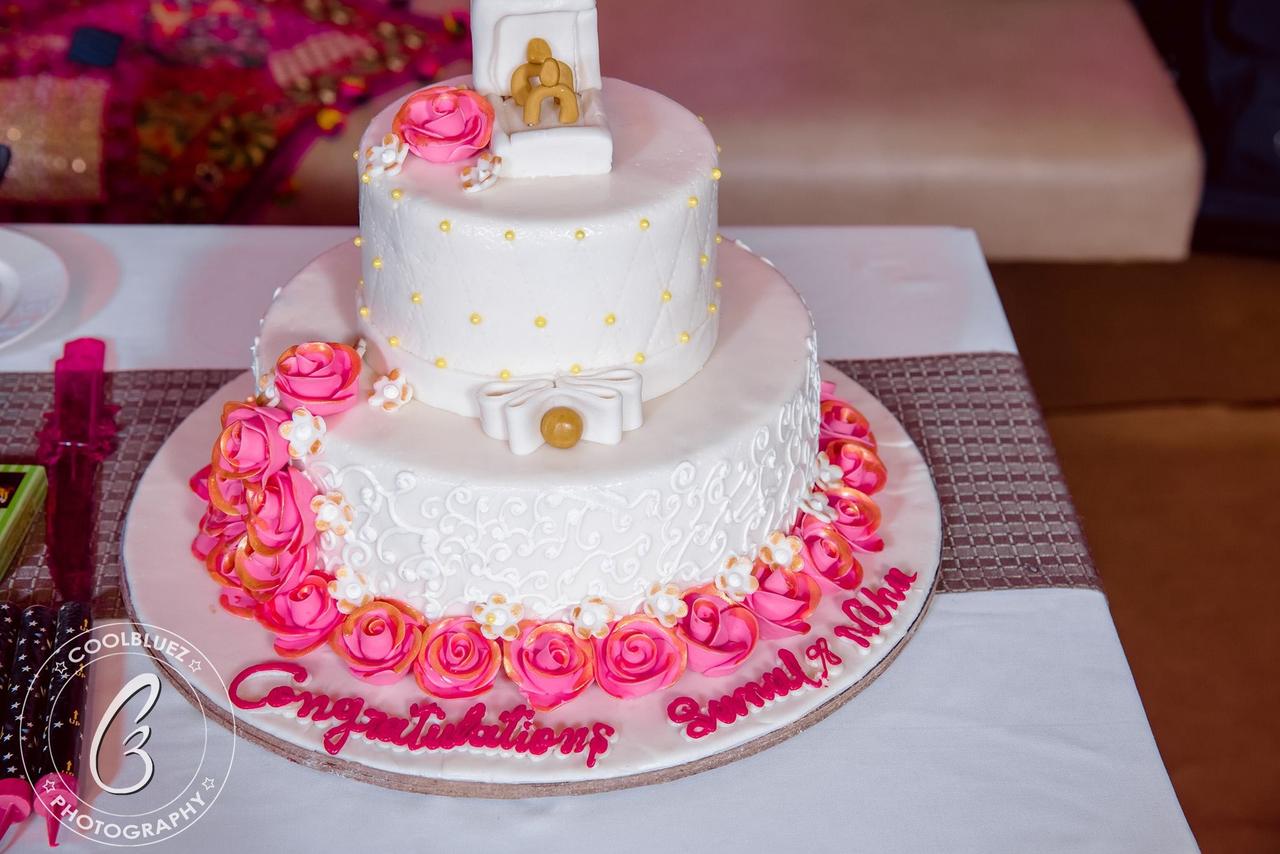 Whether real or artificial, flowers have always been a part of celebrations in our lives. Using whipped cream in white and adding a tint of pink flowers in this cake, the baker has excelled at making it look like real flowers. This designer cake is just perfect for destination-based engagement ceremonies.
Beige Beauty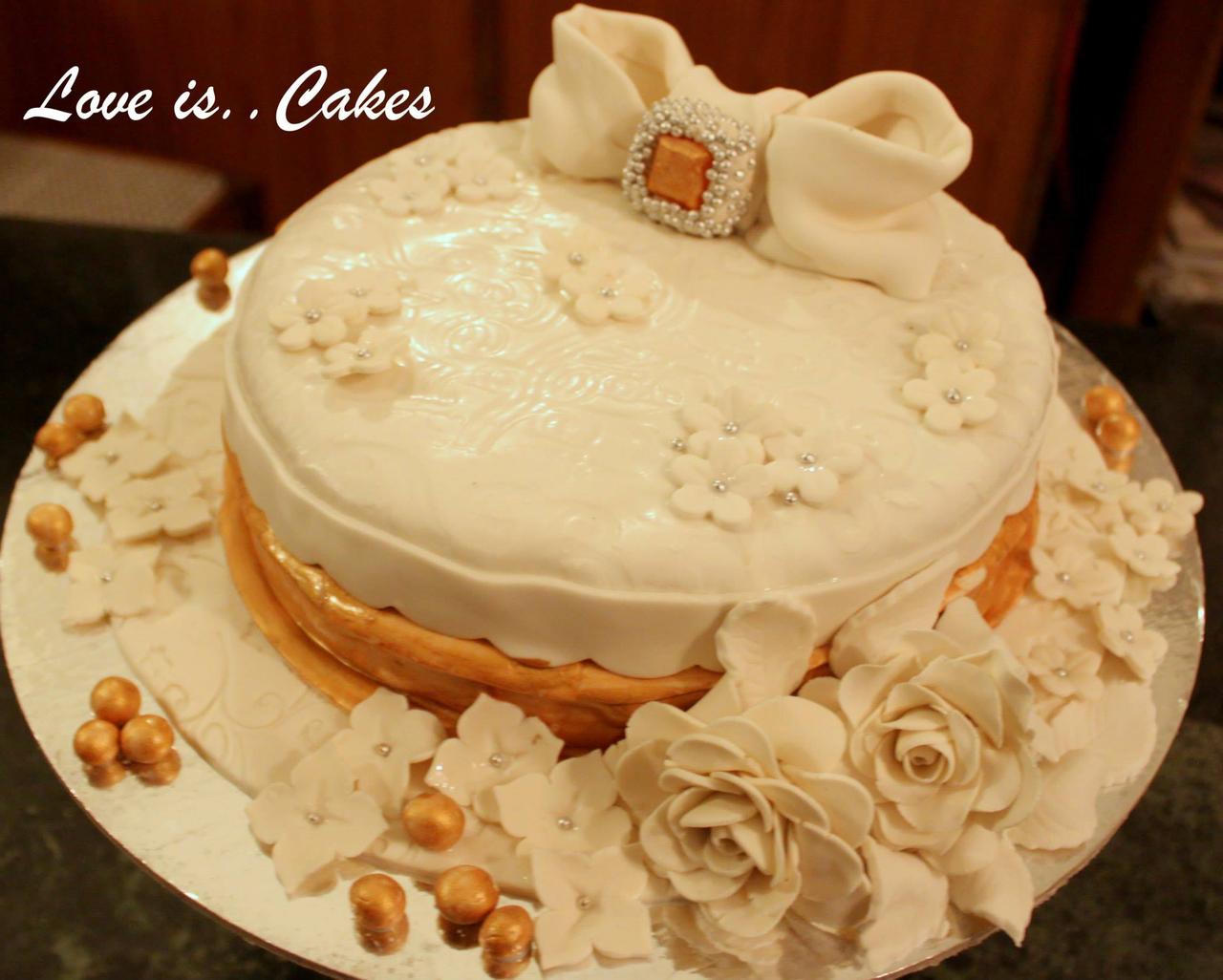 This beige beauty can definitely make heads turn. The ornamental bow and shiny finish of the cake are attractive enough to show how keenly the design has been taken into consideration. You can just imagine how mouth-watering this cake would be by glancing at it.
Creamy Rose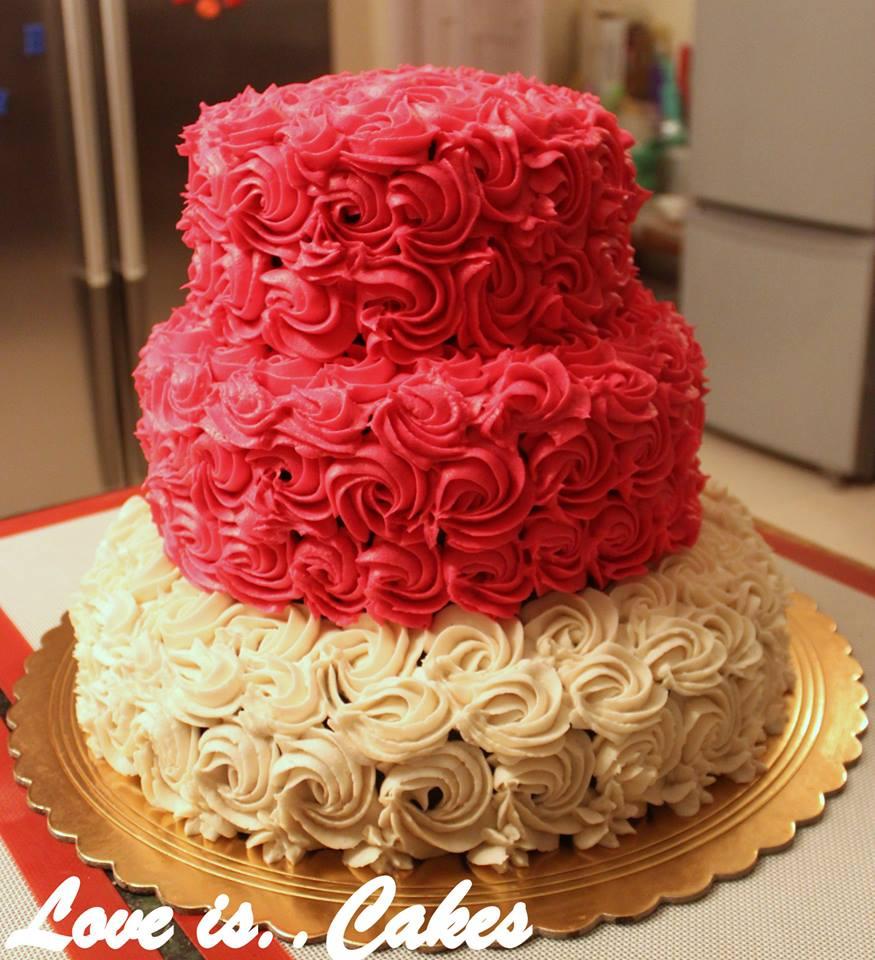 Cakes with minimal icing are so old school! Here the baker made maximum use of creamy and floral texture and it's looking pretty great. The floral decorations are never going to go out of fashion when it comes to cake, and even weddings, for that matter. The beige flowers on the base with top tiers in pink are sufficient to take a cake lover's breath away.
Cherry Blossom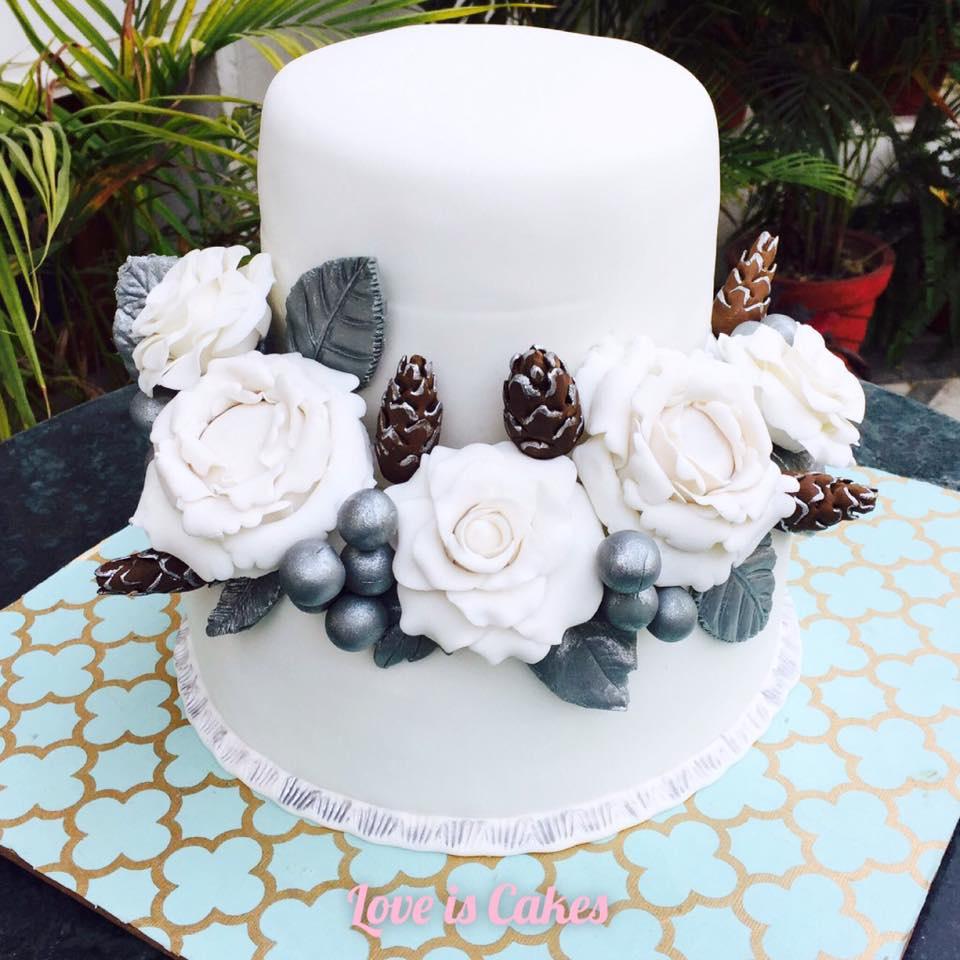 Now, this cake is the perfect showstopper for your engagement ceremony. Although there are various trends going on in the world of cakes, a basic plain white one and huge and prominent flowers will always stay in vogue. Iced with white frosting or fondant and covered with ravishing flowers and berries, this masterpiece is surely taking designer cakes to the next level.
Save The Date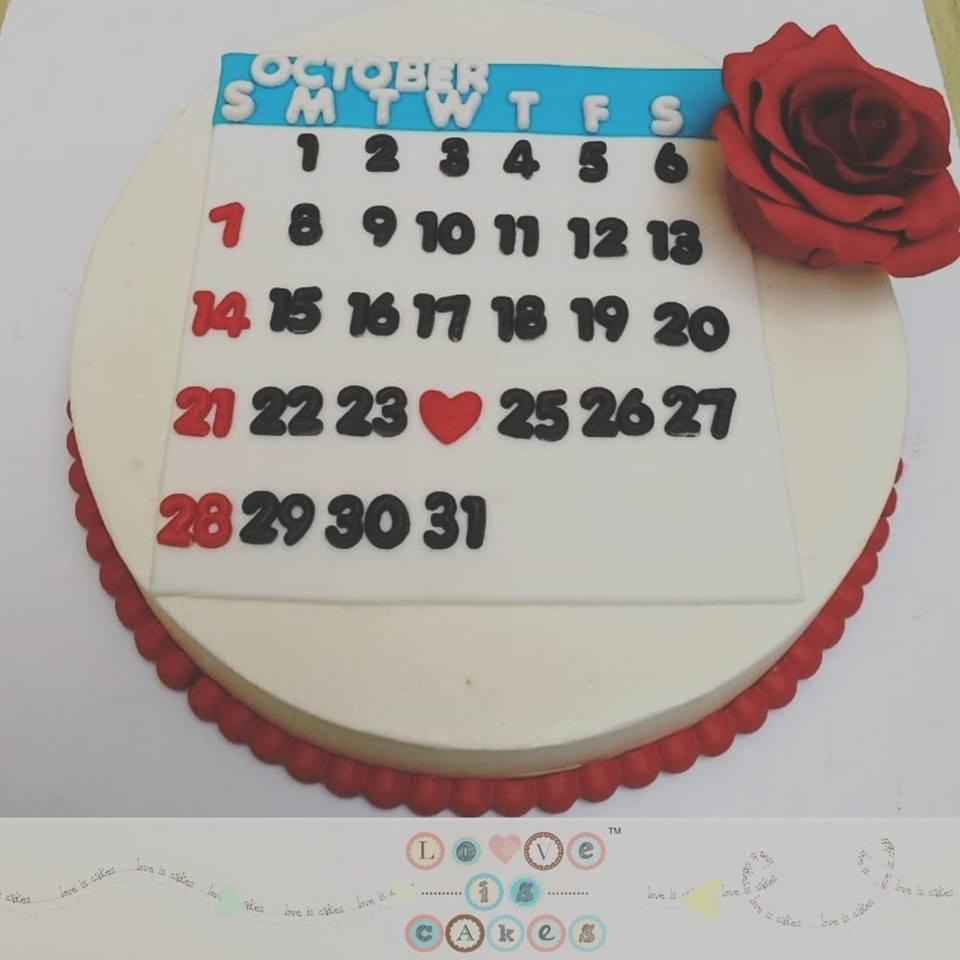 We couldn't help but notice how beautifully this cake is telling us to save the date for the big day. Fabulously designed, this cake here is just the perfect eye-candy treat for all the viewers. It is bound to add a dash of charm with the prominent red rose which is made out of sugar dough. I just can't wait to have a slice of this designer cake.
This collection of most amazing designer cakes is absolutely worthy of making it to your engagement ceremony. These cakes are not just designers but also are made with a lot of thought and effort. These masterpieces are affordable, lip-smacking and would look great!
Hence these beauties are a must to add charm to your special day and make it even more special as well as memorable. Moreover, you can flaunt it on social media and the like with great pictures! So, what are you waiting for?
Did we miss any of your favourite designer cakes? You can find diverse designer cakes with the vendors' personal catalogues.