Guide on Bridesmaid Outfits Inspired by Our Bollywood Divas
Is your BFF getting hitched? If yes, then this is your chance to become the sassiest bridesmaid with charming bridesmaids outfits for weddings inspired by our Bollywood divas!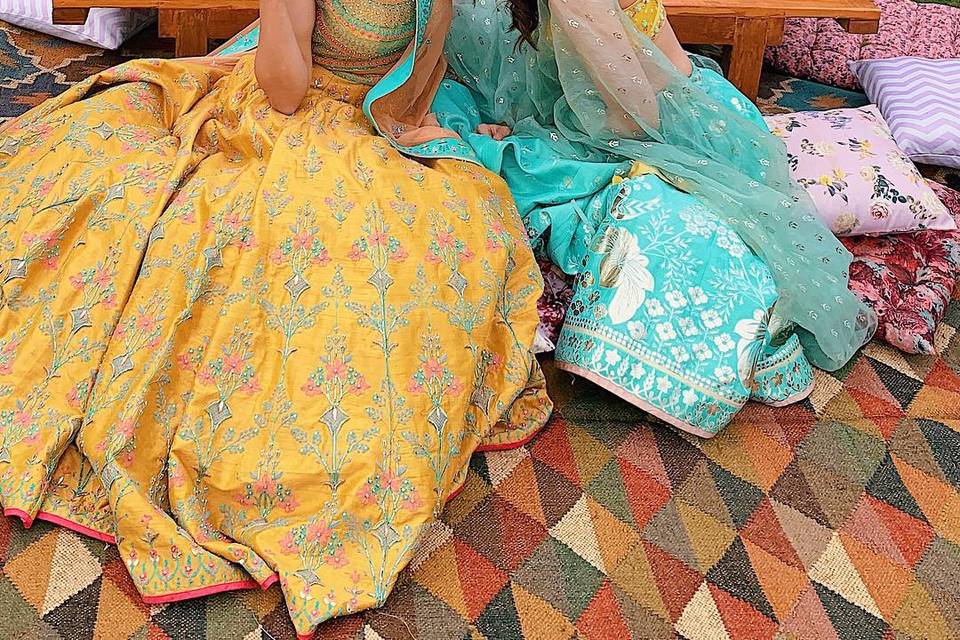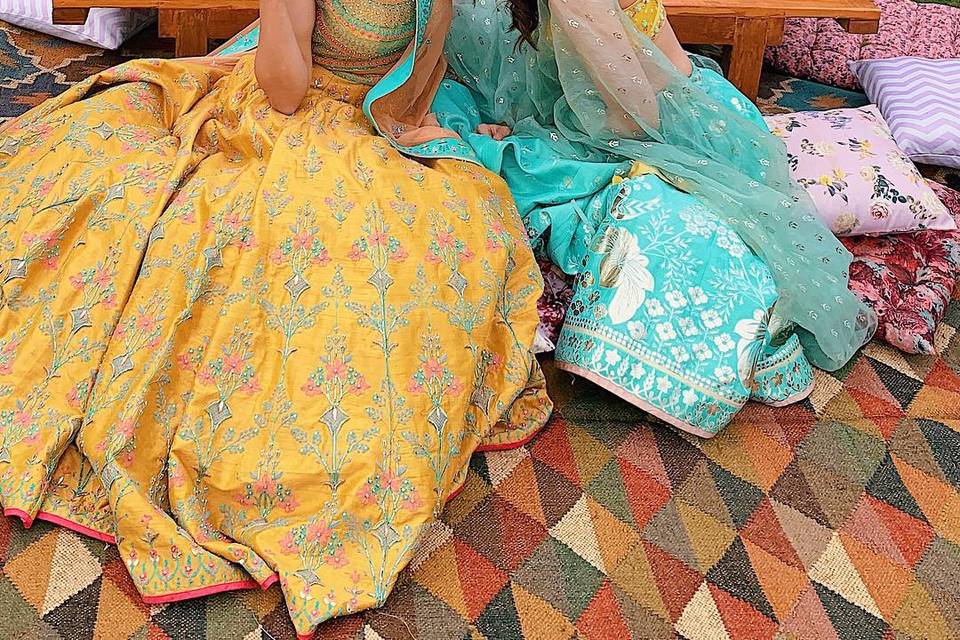 Image Courtesy: Akansha Ranjan Kapoor's Instagram
Indian Weddings are all about making gleeful memories topped with whiskey on the rocks! But nothing can break the wall of shine unless it is your sister's or best friend's wedding! Wait, did someone say, 'Best Friend's Wedding Day?' If yes, then why to keep calm when you can unlock the level of being a bridesmaid with a sassy attitude and classy outfits! The wedding of your favourite girl is the only juncture where you can flaunt your 'Pack of wolves' vibe with full grace and seize the day with truckloads of bubbly remembrances.
As a bridesmaid-to-be, the only thing which creates a ball of mayhem is the selection of attire. From the selection of sparkly engagement dress to glitzy bridal lehenga, the route of rage becomes legitimate. But why to worry when Bollywood Divas are here to remove the shade of confusion and offer gleamy outfit inspirations? From Bebo to Piggy Chops, we selected a bag full of their saucy traditional clothes for you. Remove all the fashion blues as we are here to calm your souls with bloggable and exquisite outfit inspo!
So, without any further hubbub, let us catch some eyes on the bridesmaid wardrobe inspired by Bollywood Divas so that you can hit your BFF's wedding with allure!
A list of beautiful bridesmaid wardrobe inspired by Bollywood Divas!
Designer Lehenga: A Girl's best companion during the wedding ceremony!
It's your BFF's wedding! How can you even think of not looking dreamy and marvellous? 🤩
Lehenga is the only outfit which can make you look exquisite or loosen the grip with the ordinary. Therefore, it becomes important to select a divine lehenga carefully and these beautiful outfits of the leading-ladies are proof of extraordinary! Scroll up for bright ideas so that you don't miss your 'Proper Patola' moment on your BFF's wedding!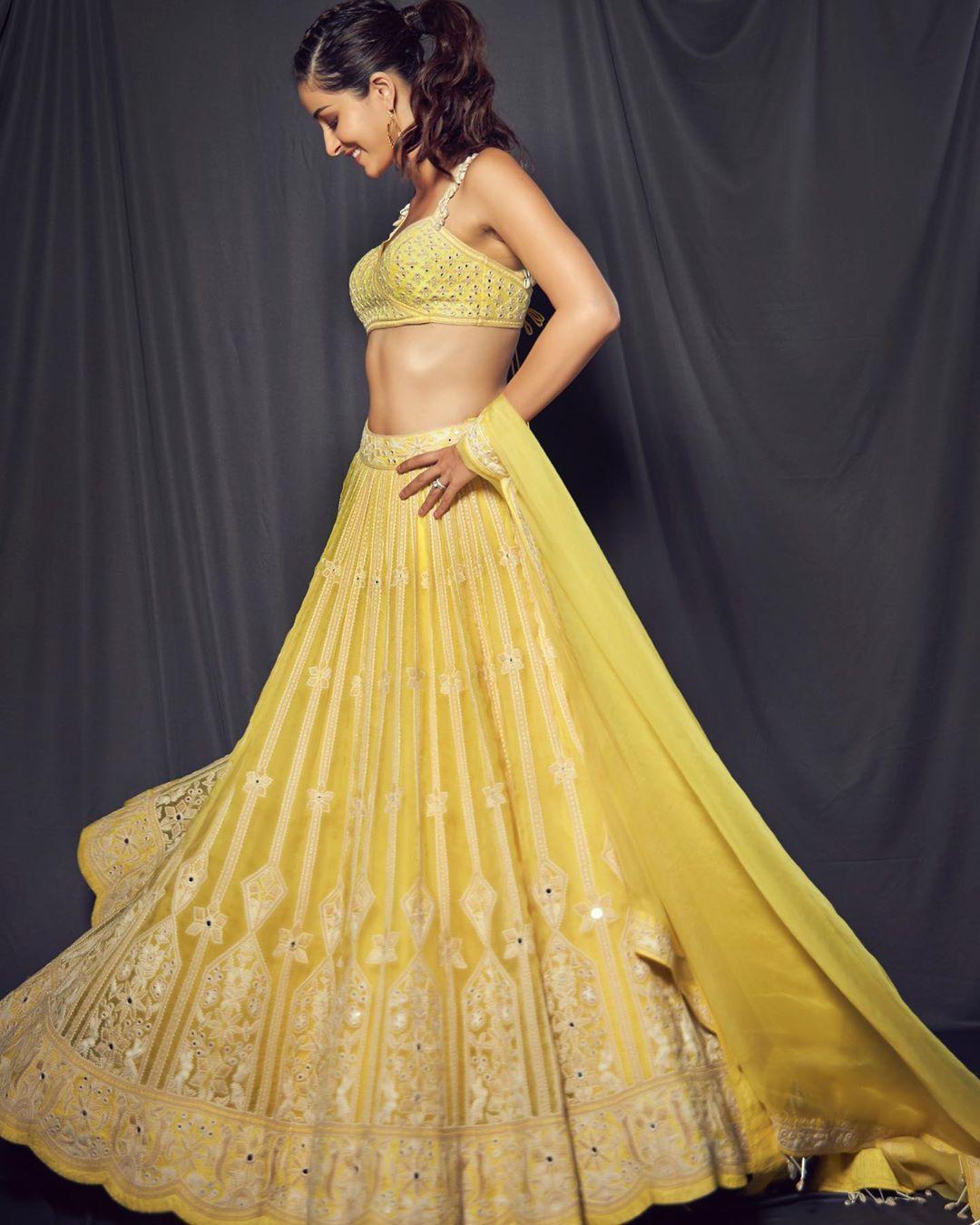 Picture Courtesy: Ananya Panday's Instagram
Pretty as ever, Ananya Pandey revealed the charm of this pineapple hand-embroidered yellow lehenga.
The enhanced Crepe blouse well-coordinated with organza lehenga and dupatta is appropriate for sundowner weddings.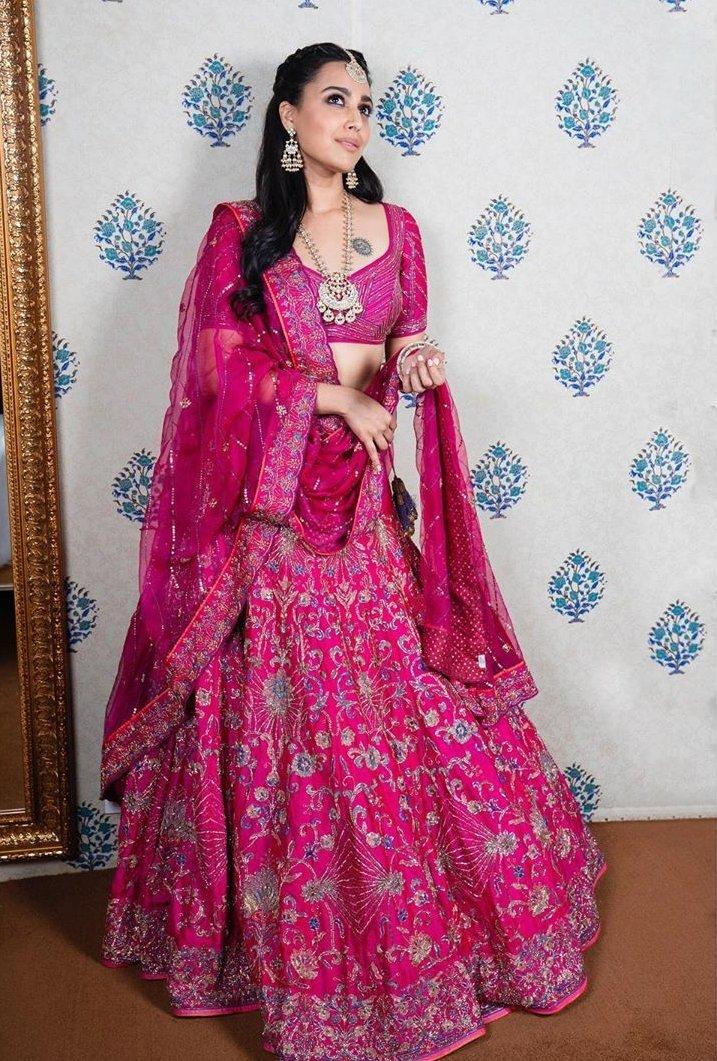 Picture Courtesy: Swara Bhaskar's Instagram
A wedding function blooms when fuchsia pink meets antique embroidery and Swara Bhaskar proves it right! This inimitable lush silk lehenga is the choice you should make for your bestie's wedding!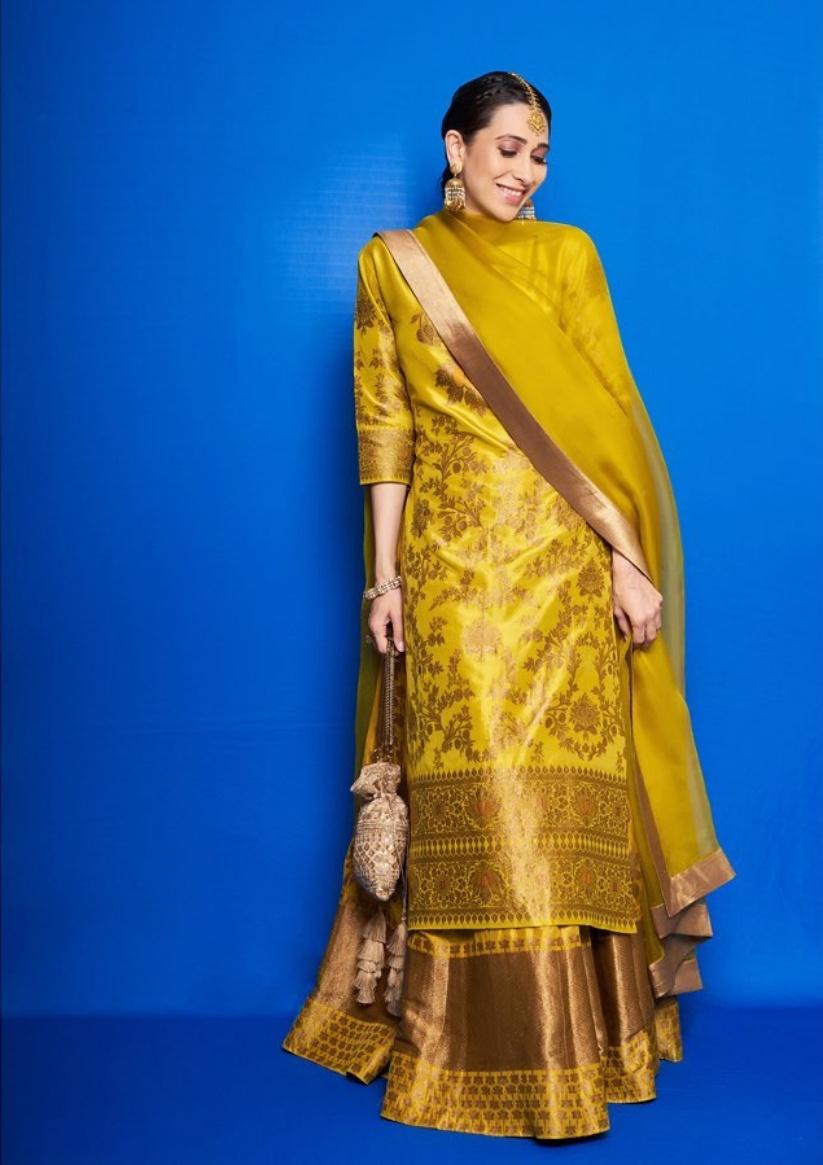 Picture Courtesy: Payal Khandwala
Our timeless beauty, Karisma Kapoor looks drop-dead gorgeous in this classical silk brocade lehenga with long kurta by Payal Khandwala! If you wish to imbibe a conventional look then this lehenga is the best pick for you!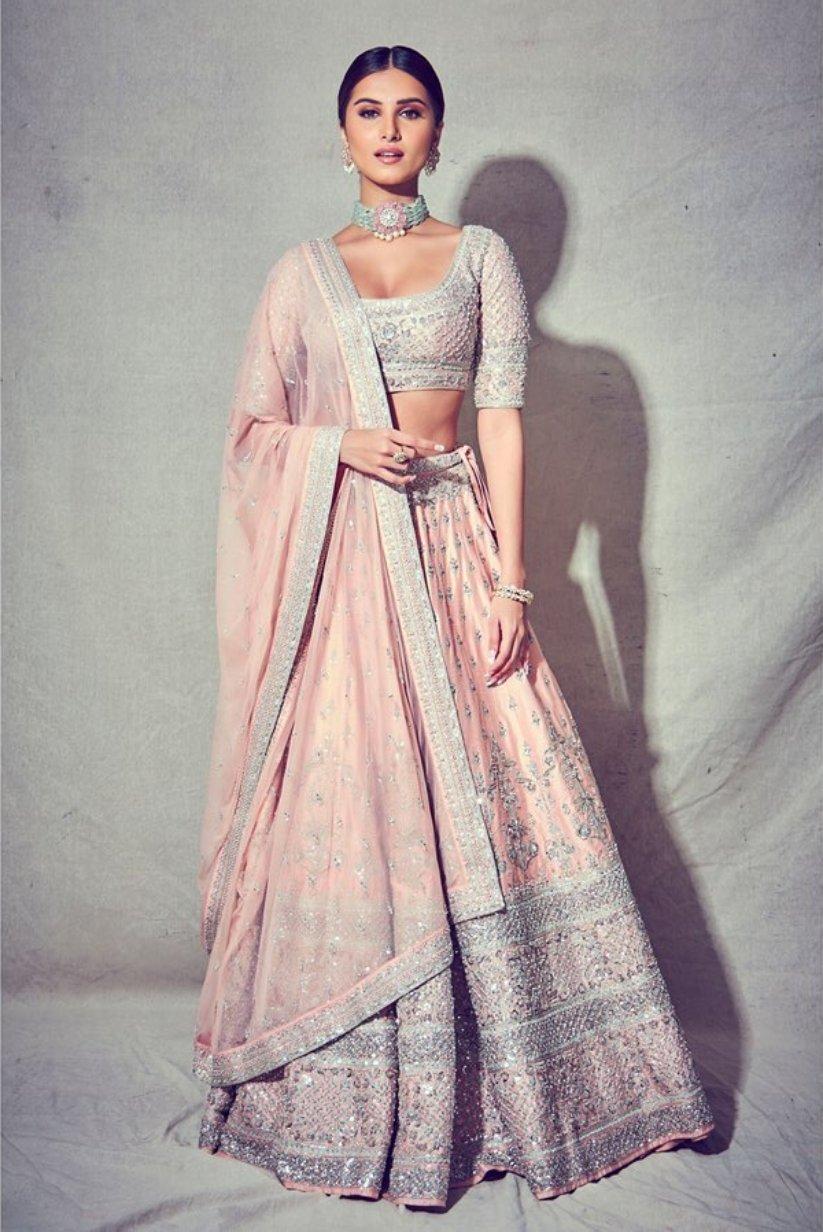 Picture Courtesy: Tara Sutaria's Instagram
Being a dazzling diva, Tara Sutaria stunned in a blend of sparkling white and pink lehenga. This handwoven lehenga adorned with silver Gotta Patti embroidery is the best-pick for all the bridesmaids who are ready to make a star-stunned impression on their BFF's D-Day.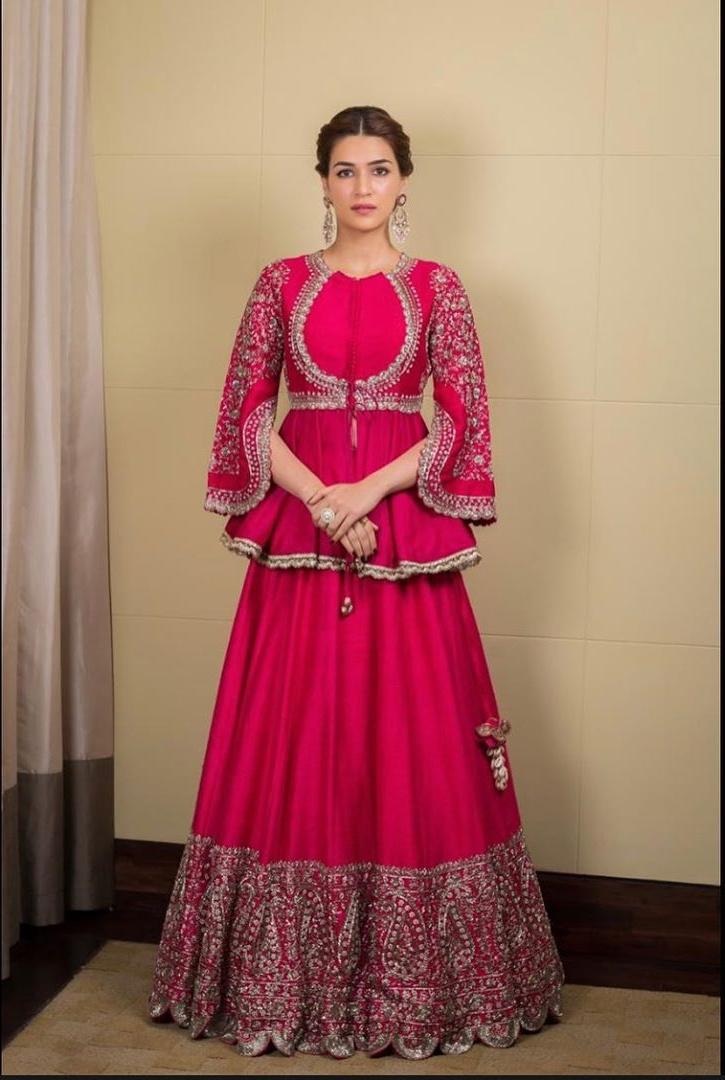 Picture Courtesy: Jayanti Reddy Label
Want an ethnic wear wardrobe as beautiful as Kriti Sanon's? This embellished fuchsia pink peplum top and lehenga set is going to bloom your look at your best friend's wedding.
Designer Saree: A Gateway to Sparkling and Sass Vibe
Sarees are perennial and hit differently in the veins of outfits! A bewitching saree gives a classy and posh vibe, especially when executed on pre-wed or post-wed functions.
To all the bridesmaids who are digging for saree inspiration. These dazzling divas are going to please your fashion souls with incredible sarees designs. What are you waiting for? Roll up with some 'Desi Girl' sensations!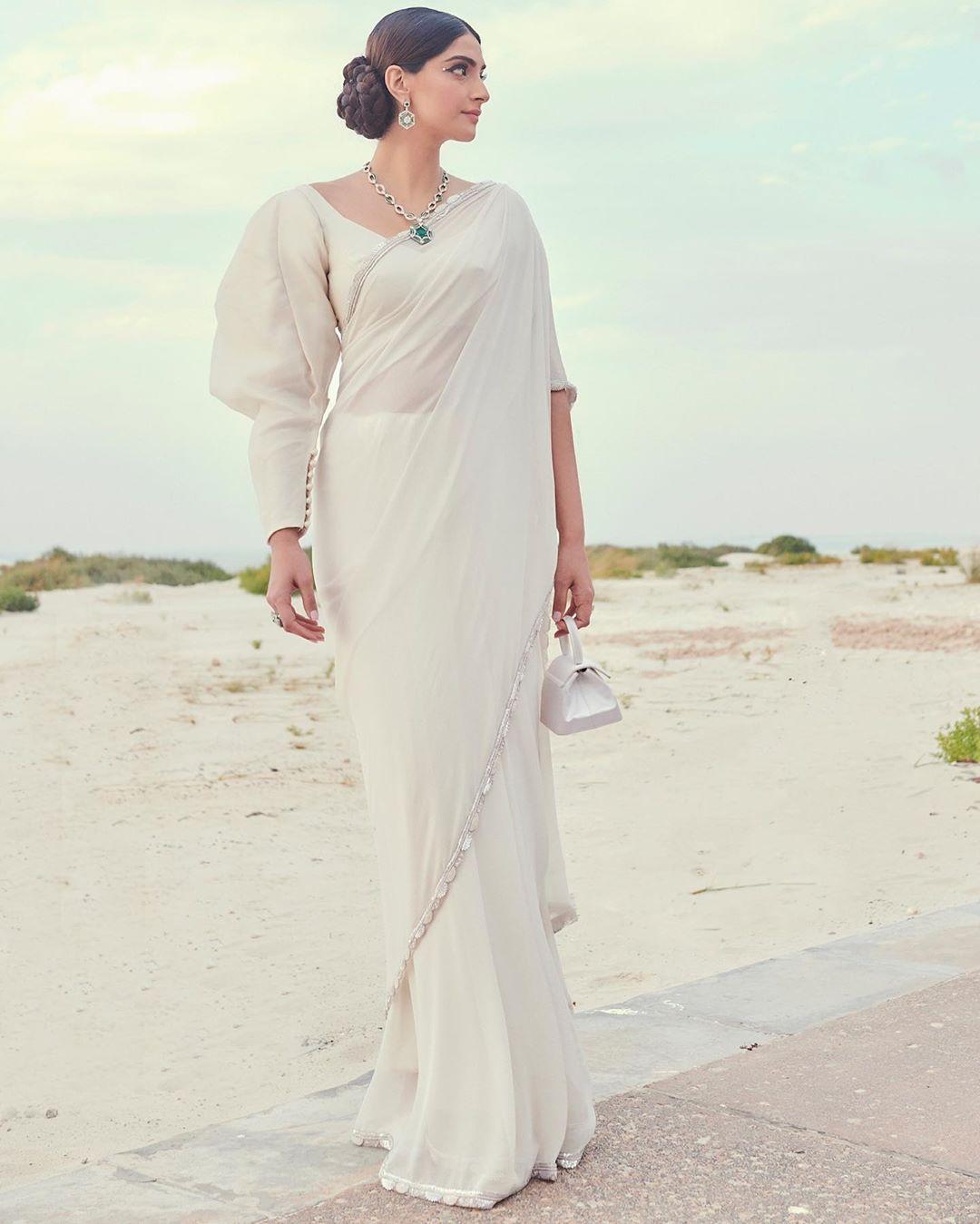 Picture Courtesy: Manish Malhotra's Instagram
Diamonds on the neck and pearls in the eyes! That is how Sonam Kapoor blows the world of fashion and we are sure you wish to whack it too. This customised ivory saree mingled with a base of gorgeous organza blouse is an ideal outfit. Don't miss out on that one-sided puffed up sleeve blouse design, which is definitely going to steal the thunder of wedding functions!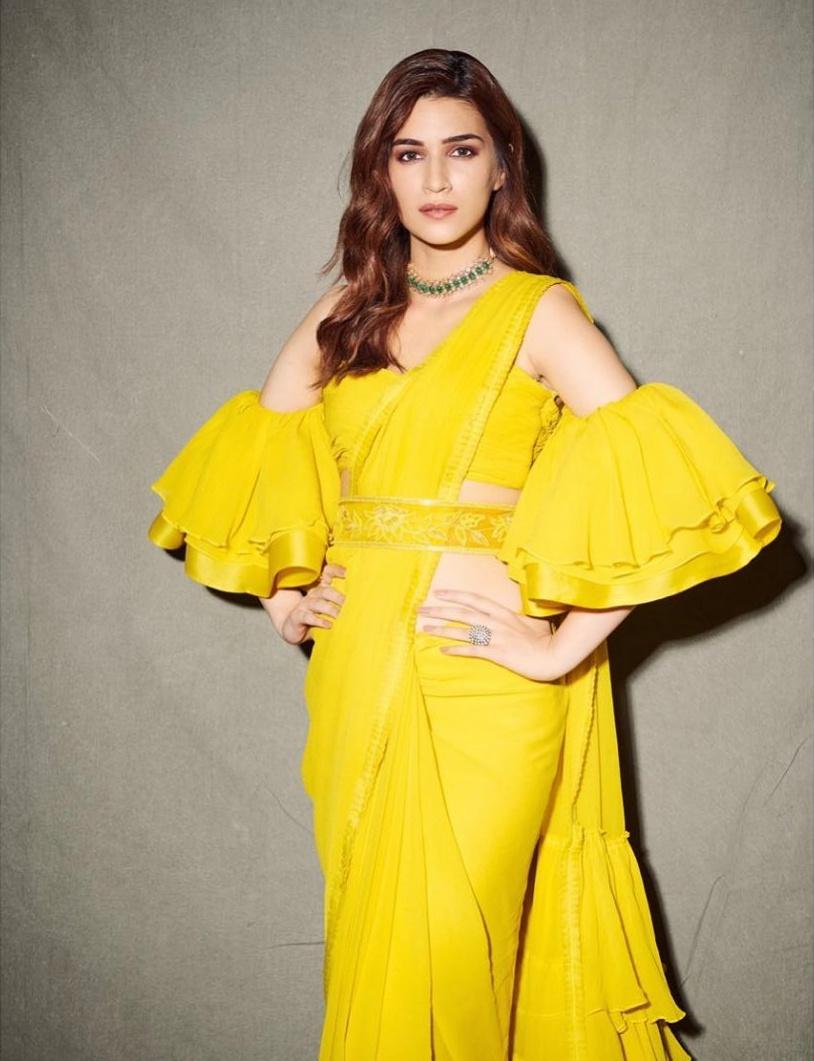 Picture courtesy: Manish Malhotra's Instagram
Gone are the days when yellow colour was kept on a lower side. The flow of pre-stitched soft chiffon saree and the gorgeousness of tantalising Kriti Sanon proved it all right. This dramatic sleeve blouse design is going to oomph up your bridesmaid look with extreme sheerness!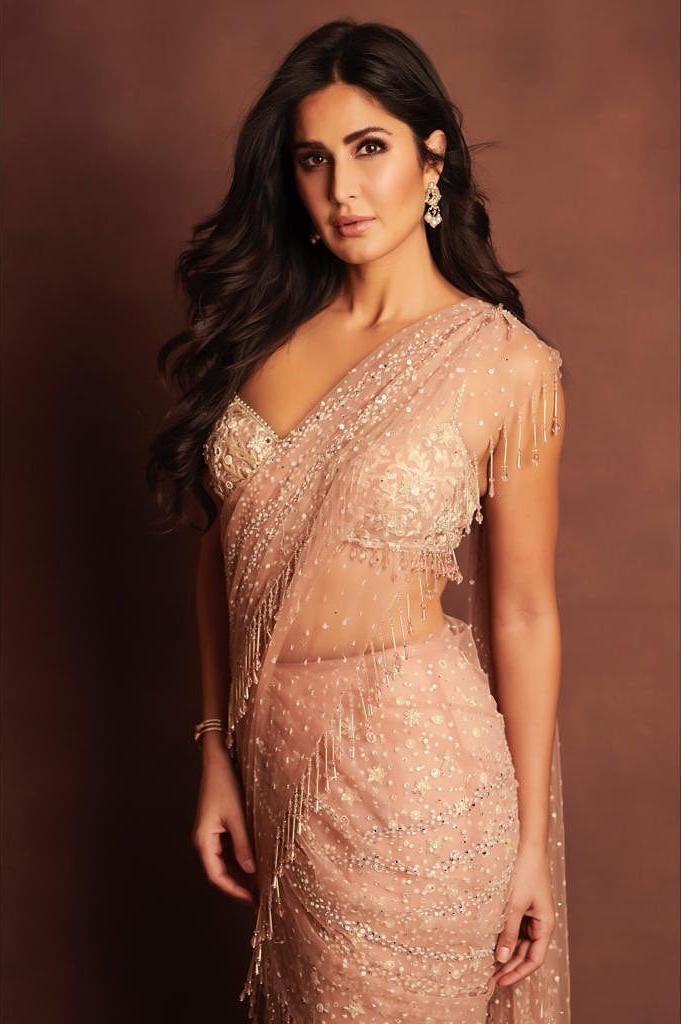 Picture Courtesy: Katrina Kaif's Instagram
The heartthrob of Bollywood, Katrina Kaif looks classy in this crystal-embellished saree paired with a fringing crystallised latest blouse design. The gorgeous outlying of the saree is to swoon over. This outfit is ideal for a reception ceremony and we are sure you are going to slay in this!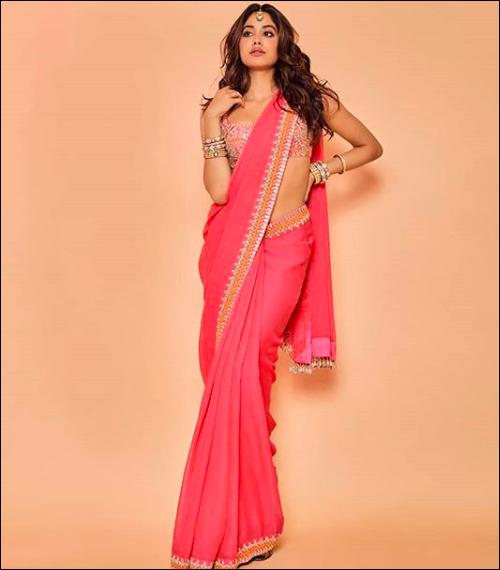 Picture Courtesy: Jahnvi Kapoor's Instagram
The pretty Jahnvi Kapoor hits the floor of elegance in raspberry pink hand embroidered saree. This pre-stitched georgette saree coordinated with sizzling crepe blouse is best suited when you want to deck yourself as a free-soul bridesmaid.
Oh, don't forget to dart on cowrie fringe detailing!!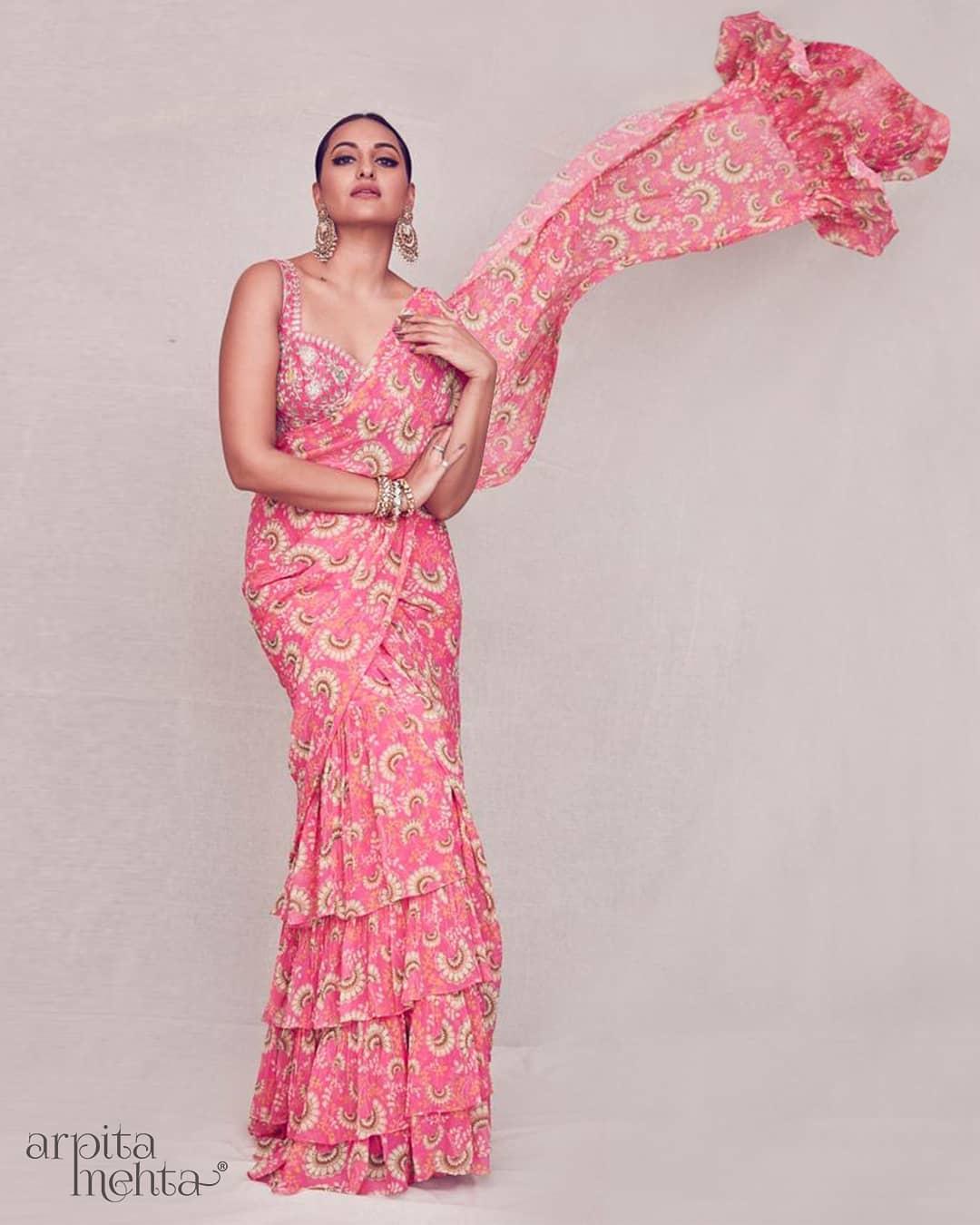 The Maximalist Bollywood diva Sonakshi Sinha is giving a legitimate retro look in this Oh-so-pink saree! This fan flower printed pre-stitched ruffle saree well-blended with an embroidered blouse and topped with hand adorned belt is perfect for the cocktail night.
Are we forgetting something? Yes, that pretty smile on your face!
Designer Suit: Every Bridesmaid's Favourite Attire to Sway in!
Designer Suits are forever, and this beautiful bridesmaid wardrobe inspired by Bollywood Divas are a witness of the blooming trend. Be it a disco shaadi or conventional function, suits can never go out of fashion. Here are some ravishing suit designs which are going to blend well with your 'Sweety Tera Drama' feels.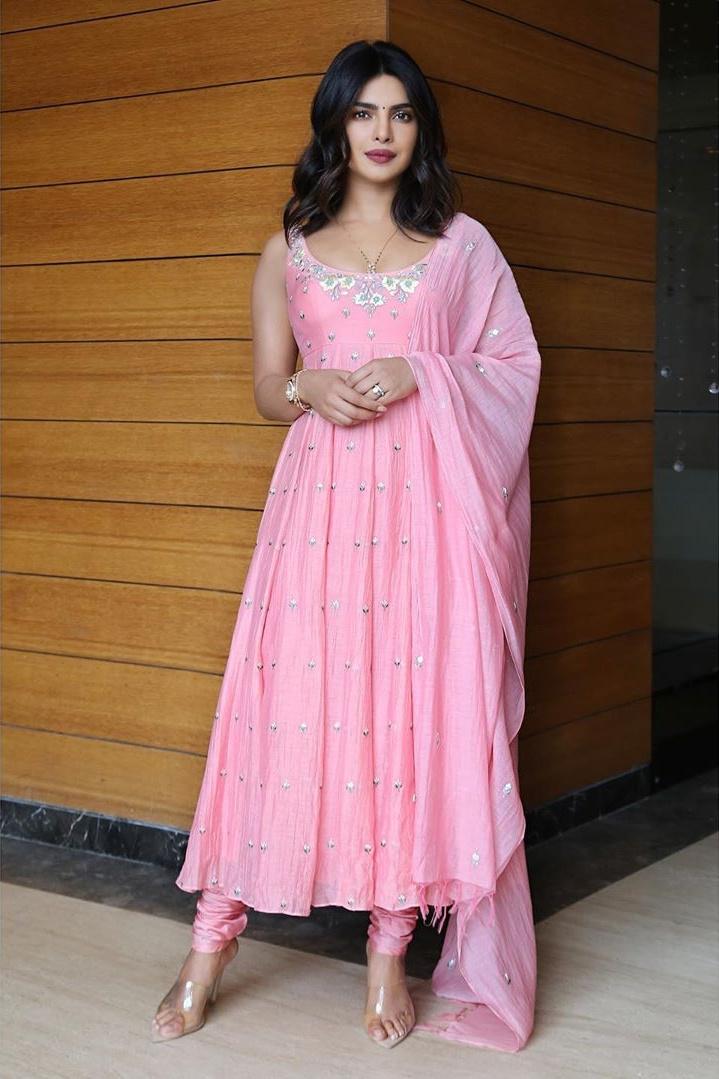 Our very own Desi Girl, Priyanka Chopra whooped in this pretty pink intricate suit and is #goals for every bridesmaid. Simplicity is the best way to level up any wedding function and this blush pink suit embellished with zardozi and thread work is matchable for any daytime event.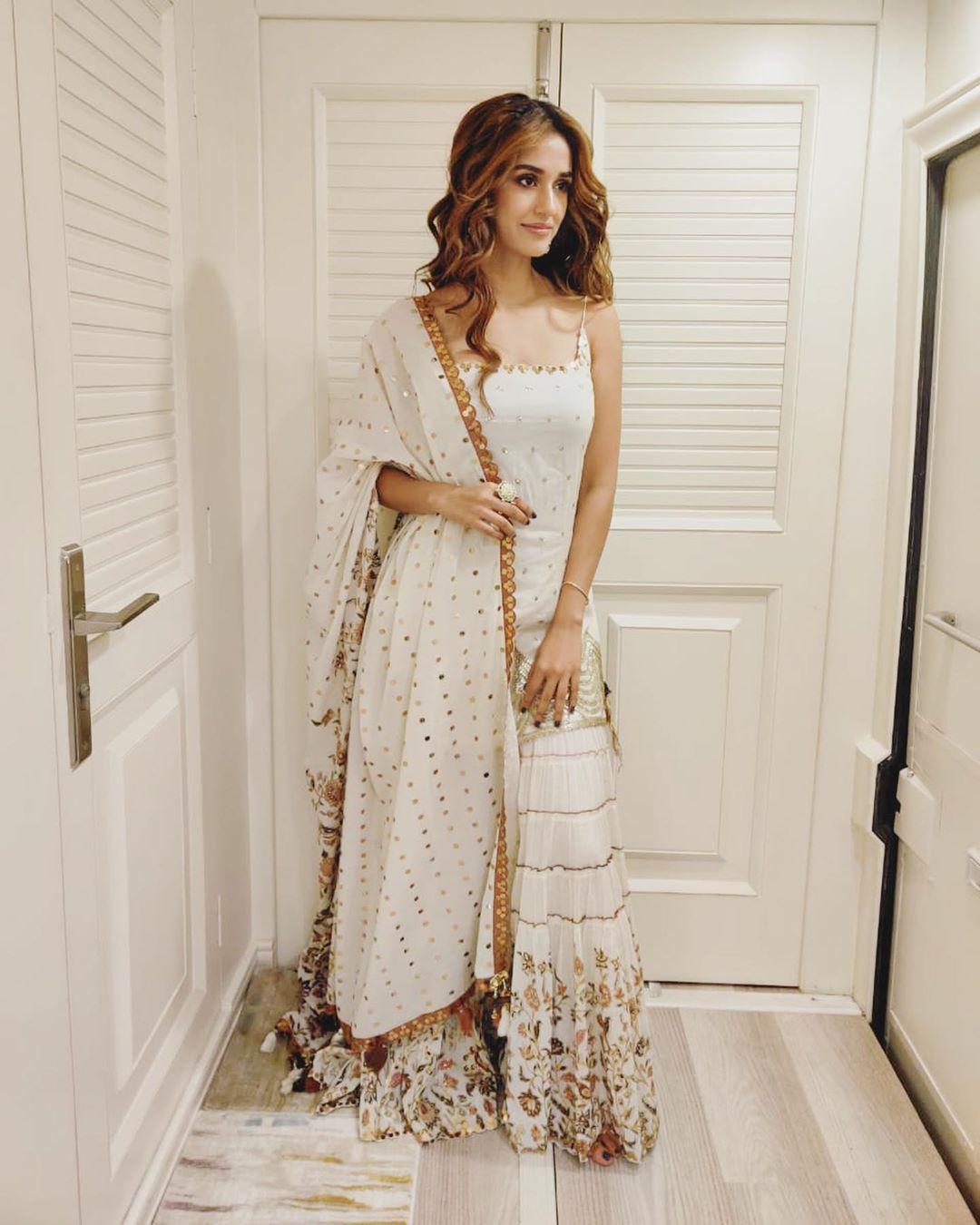 Picture Courtesy: Disha Patani
Disha Patani's sassy cream sharara is perfect for all the millennial bridesmaids. We are sure you don't wish to miss out on #ShararaSharara feels, then why not opt for one such embroidered outfit topped with a hand-woven stringy shirt and sewn dupatta?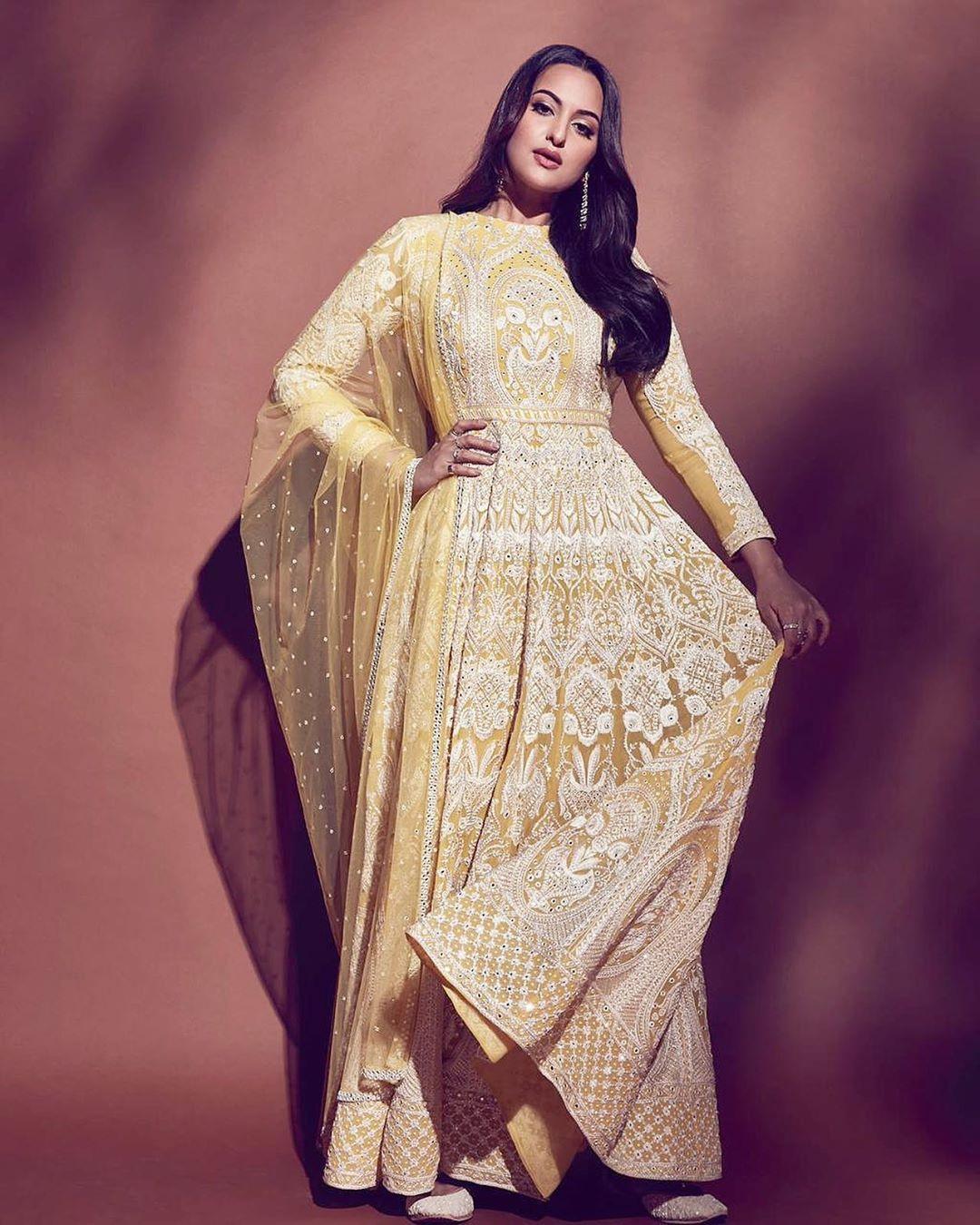 Picture Courtesy: Falguni Shane Peacock India
Lightweight Anarkalis are best for minimal functions like a fun Sangeet and Haldi ceremonies and our lovely Sonakshi Sinha has levelled the meaning of simplicity with ease. This easy-breezy peacock yellow Anarkali is best suited for your bridesmaid wardrobe!
Designer Gowns: A Ramp Of Elegance and Charm
You have counted years, weeks, days and wait, what? Your BFF's day has finally arrived! What are you supposed to do now? Lookout for ceremony-perfect outfits. And, when it comes to gowns, the selection should always be sheer and rocky! Start a lookout for a bunch of enchanting latest gowns by just scrolling up to match your vibe with your queen bee.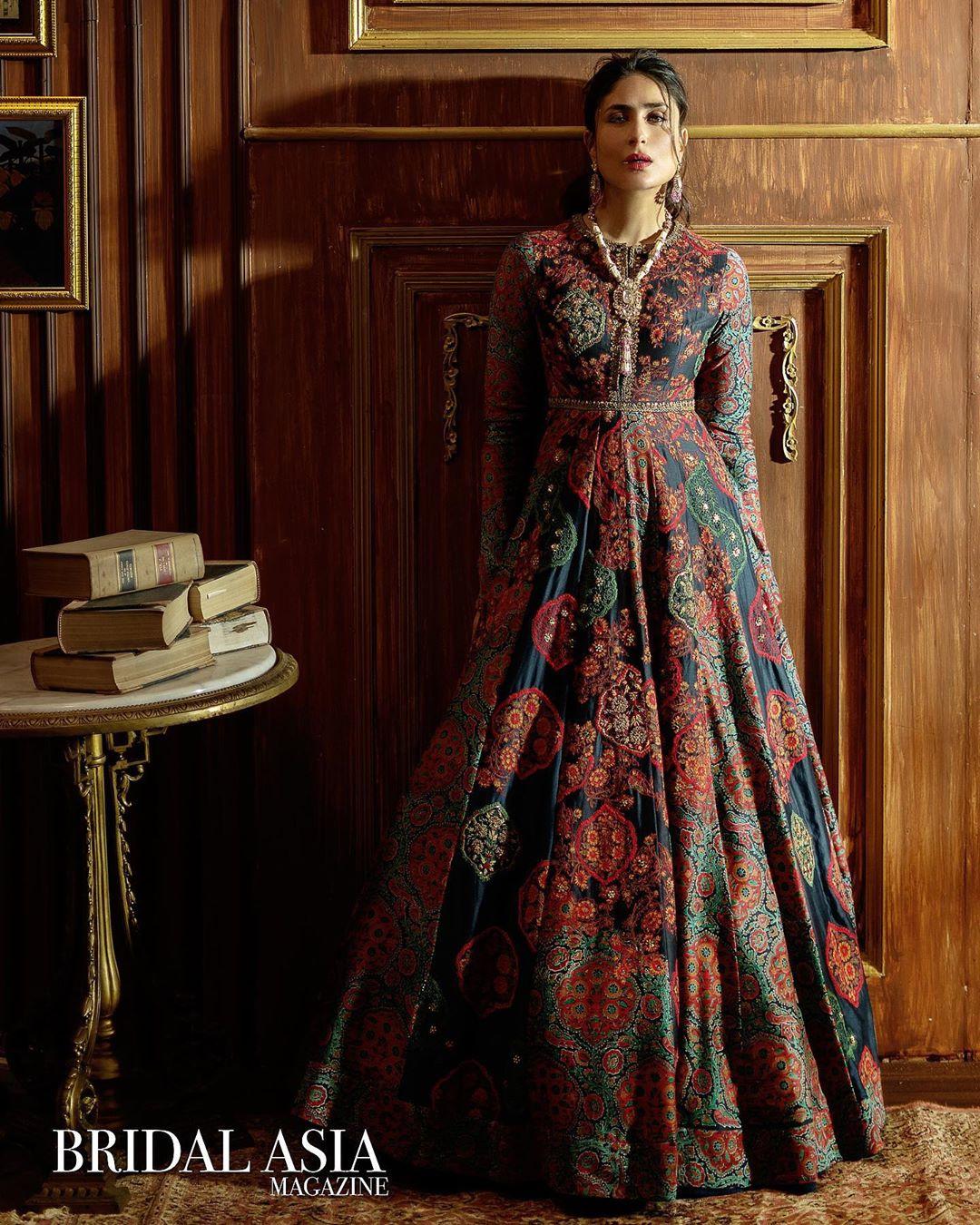 Picture Courtesy: Mohit Rai for Bridal Asia
The Begam Jaan of Bollywood and 'Bebo' for all her fans, Kareena Kapoor never fails to uplift the mood with her trendy outfits! This multi-coloured hand-woven gown can go with any wedding ceremony and can make your day a memorable one! You can even take a look at the multi-coloured lehengas in store for some inspiration.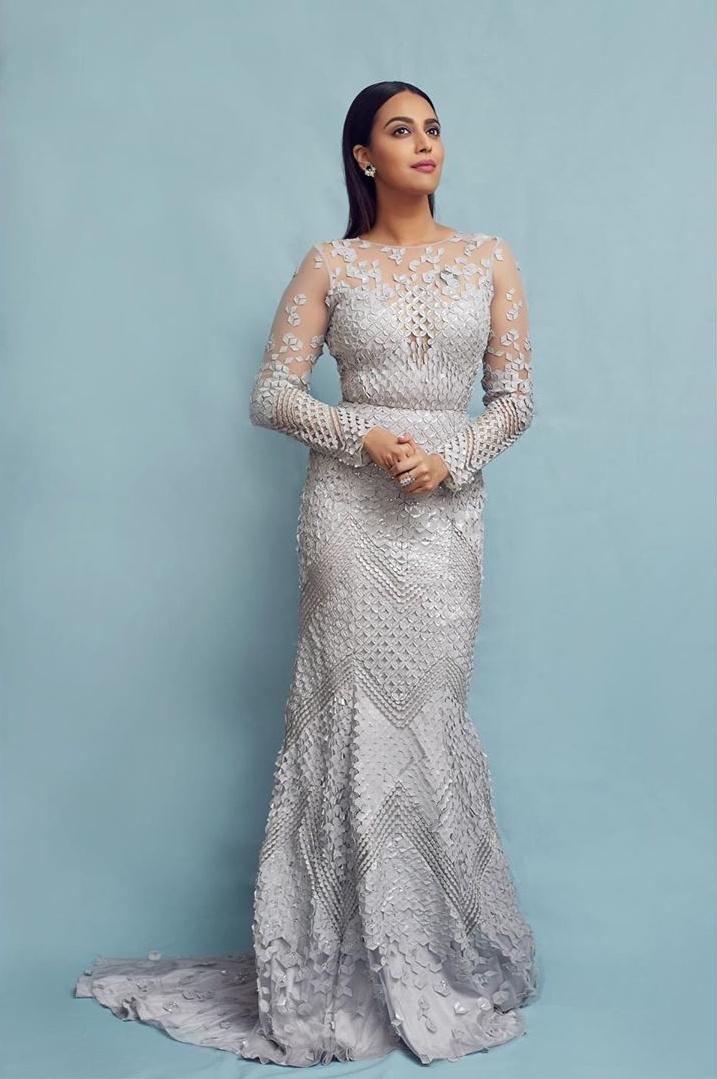 Picture Courtesy: Swara Bhaskar's Instagram
When it comes to bold and beautiful, Swara Bhaskar never fails to convince her fans with charm and naturalness. This white net ivory dress is the best pick for you and will definitely give you the over the top feel!
Make sure the wedding photographers capture the glam factor at the wedding right!
Did you find your ideal bridesmaid outfit yet? If yes, then let us know how are you going to rock your #BestieKiShadi! :)