Trending Ruffle Saree Designs for the New Age Bridesmaids
Are all the brides & bridesmaids looking for ruffle saree designs this wedding season? Here are the top designers & their take on ruffle sarees for inspiration! Stay stylish.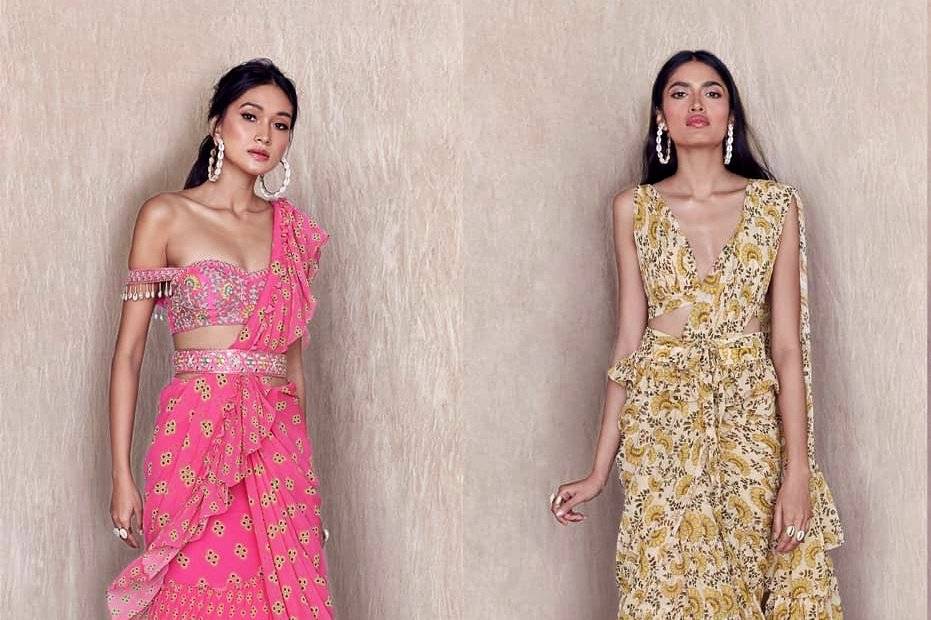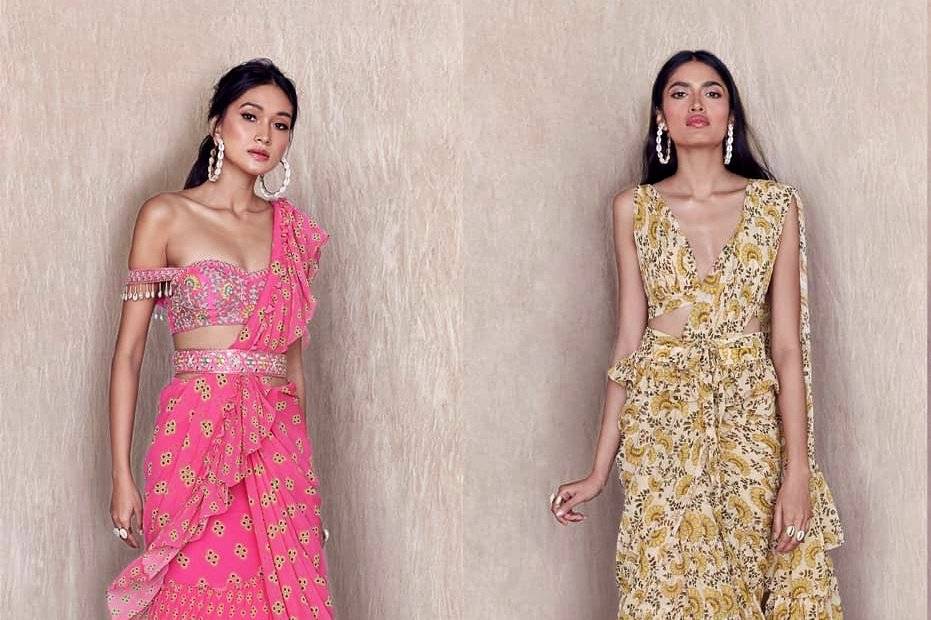 Image Courtesy: Arpita Mehta's Instagram
"I have too many sarees!" said no woman EVER! The elegant drapes of 9 yards in your mom's closets were a dream. Be it our school farewell or our college fresher's or a Diwali party to attend, we never missed a chance to flaunt the saree. In all its grace, the ethnic wear has gone through a tremendous evolution with pre-stitched drapes, newer prints and ruffle sarees too.
The ruffle saree has been the talk of the town for quite some time and women have picked it for occasions like the Cocktail party, the Reception and the Sangeet too. So for all the brides-to-be and their bridesmaids, here are some trending ruffle saree designs from the best designers of the country that you can pick for the big day!
Sabyasachi's Ruffle Sarees as seen on Deepika & Alia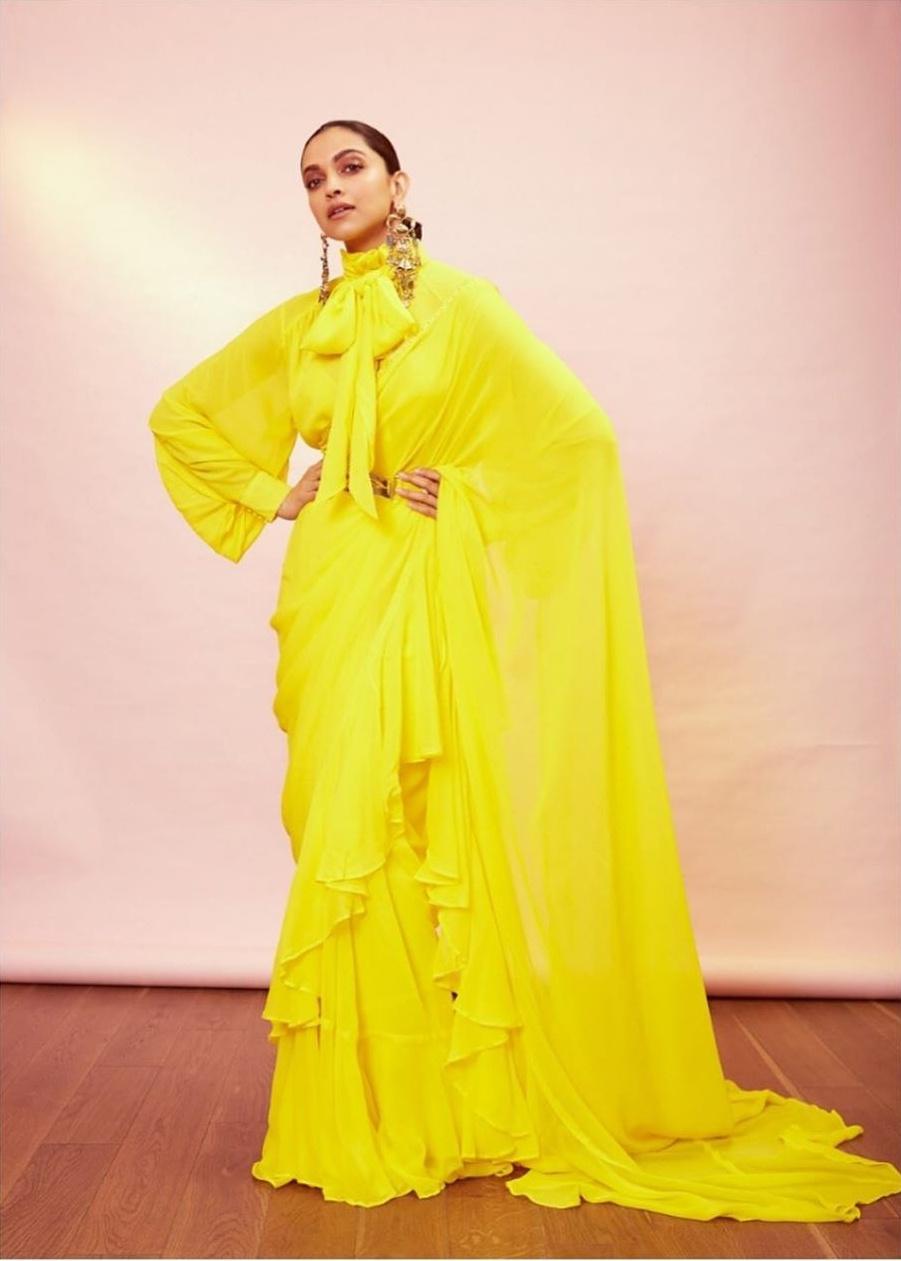 Image Courtesy: Deepika Padukone's Instagram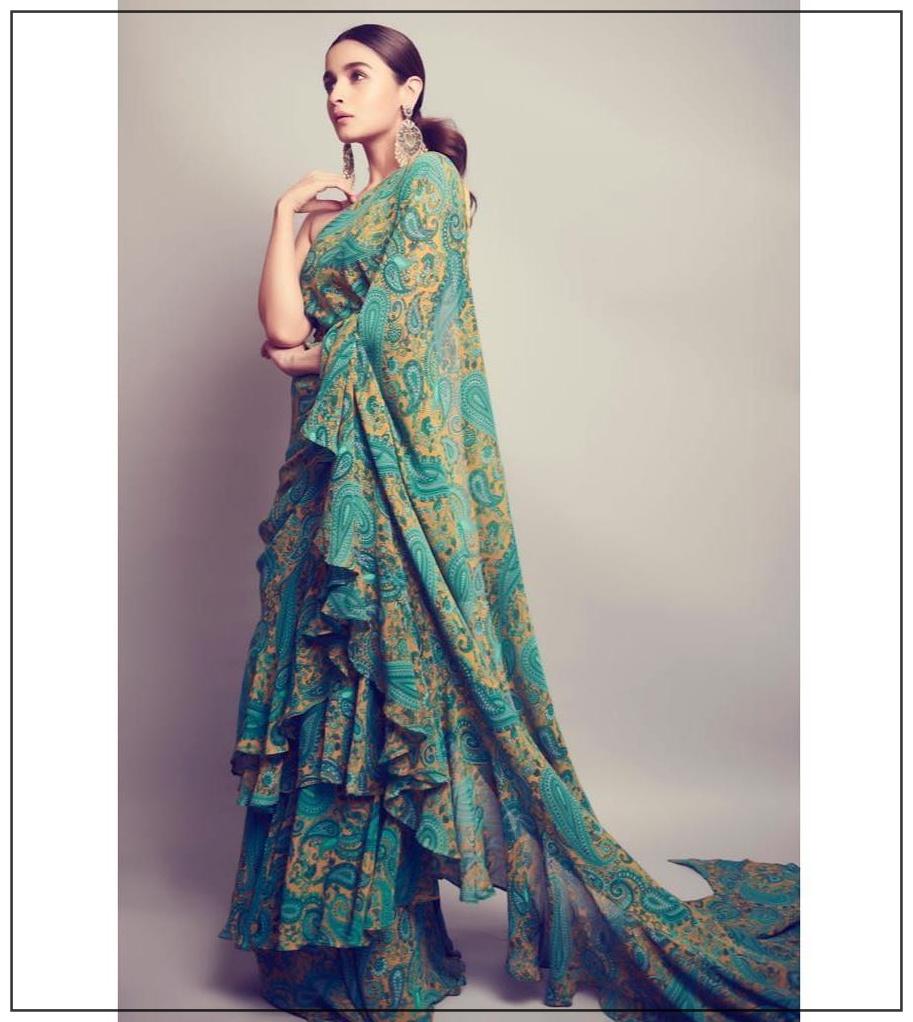 Image Courtesy: Alia Bhatt's Instagram
When it comes to traditional wear, the first name on our minds is always of the couture designer - Sabyasachi Mukherjee. His designs have left us spellbound since forever now. These ruffle saree designs that were flaunted by B-town beauties are a work of art. Deepika Padukone in the bright yellow ruffle saree with her bishop sleeve blouse and a bow tied on the neckline is everything perfect for a Sangeet night or maybe the cocktail.
Alia Bhatt, on the other hand, flaunted this one-shoulder blouse with her paisley print ruffle saree and the pretty prints in subtle teal could be your go-to pick for any day time event. The flowy fabric is light and an appropriate pick for the Spring Summer wedding season. Brides-to-be can pick their dreamy Sabyasachi lehenga from his latest collection of 2020 and his summer edit.
Esha Gupta & Sonakshi Sinha in Arpita Mehta's Ruffle Saree Designs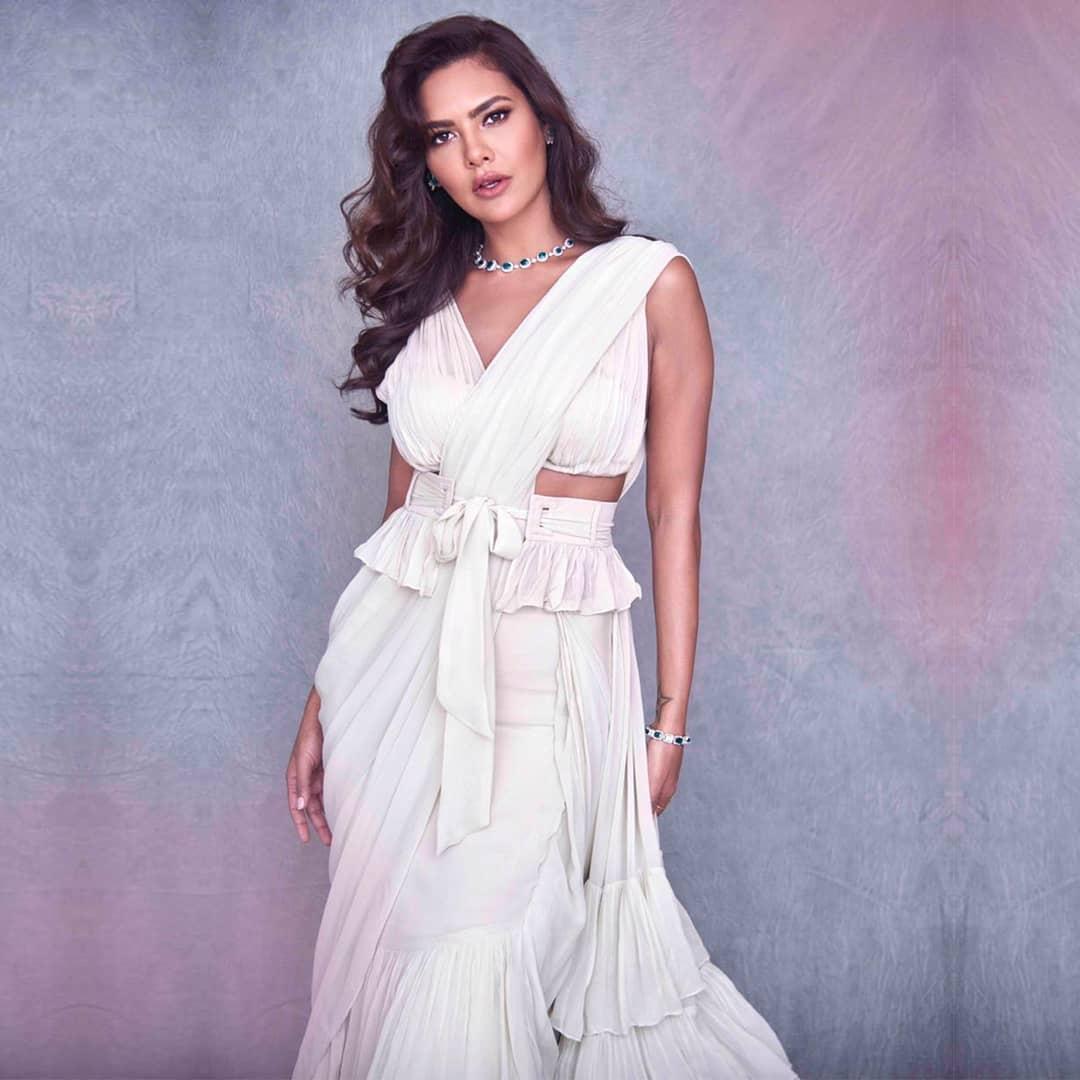 Image Courtesy: Esha Gupta's Instagram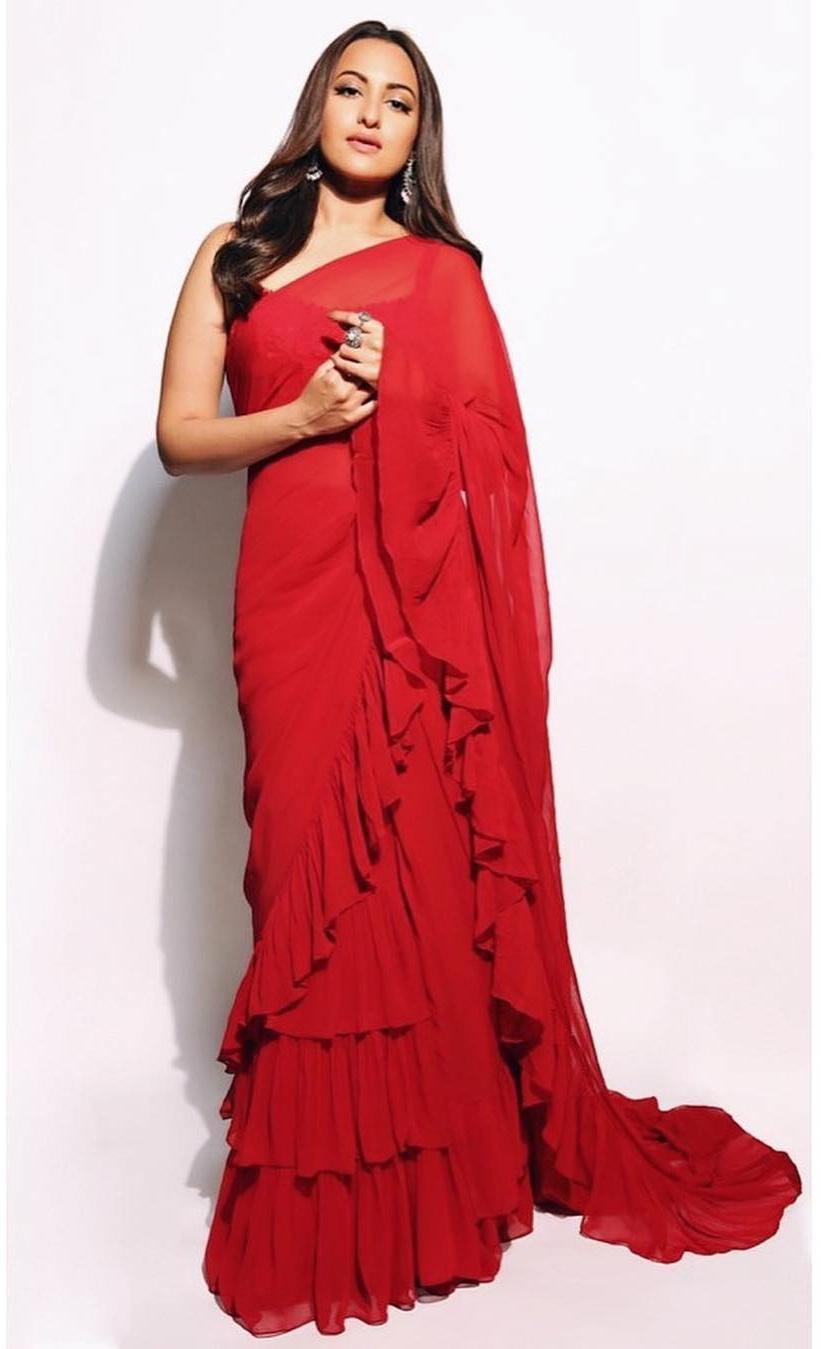 Image Courtesy: Sonakshi Sinha's Instagram
Arpita Mehta and her signature ensembles in trendy cuts and eclectic colour palettes have become the synonyms of fashion forwardness. The minimalist yet edgy cuts of her silhouettes have made her a creative visionary in the field and Esha Gupta and Sonakshi Sinha flaunting her ruffle saree designs are proofs of it. The organza or light material that she uses for her drapes make them light and the unconditional meets the traditions beautifully. The belted saree that Esha Gupta adorned is a piece of art and a sensual pick for all the bridesmaids!
Shilpa Shetty in a Ruffle Saree by VVani by Vani Vats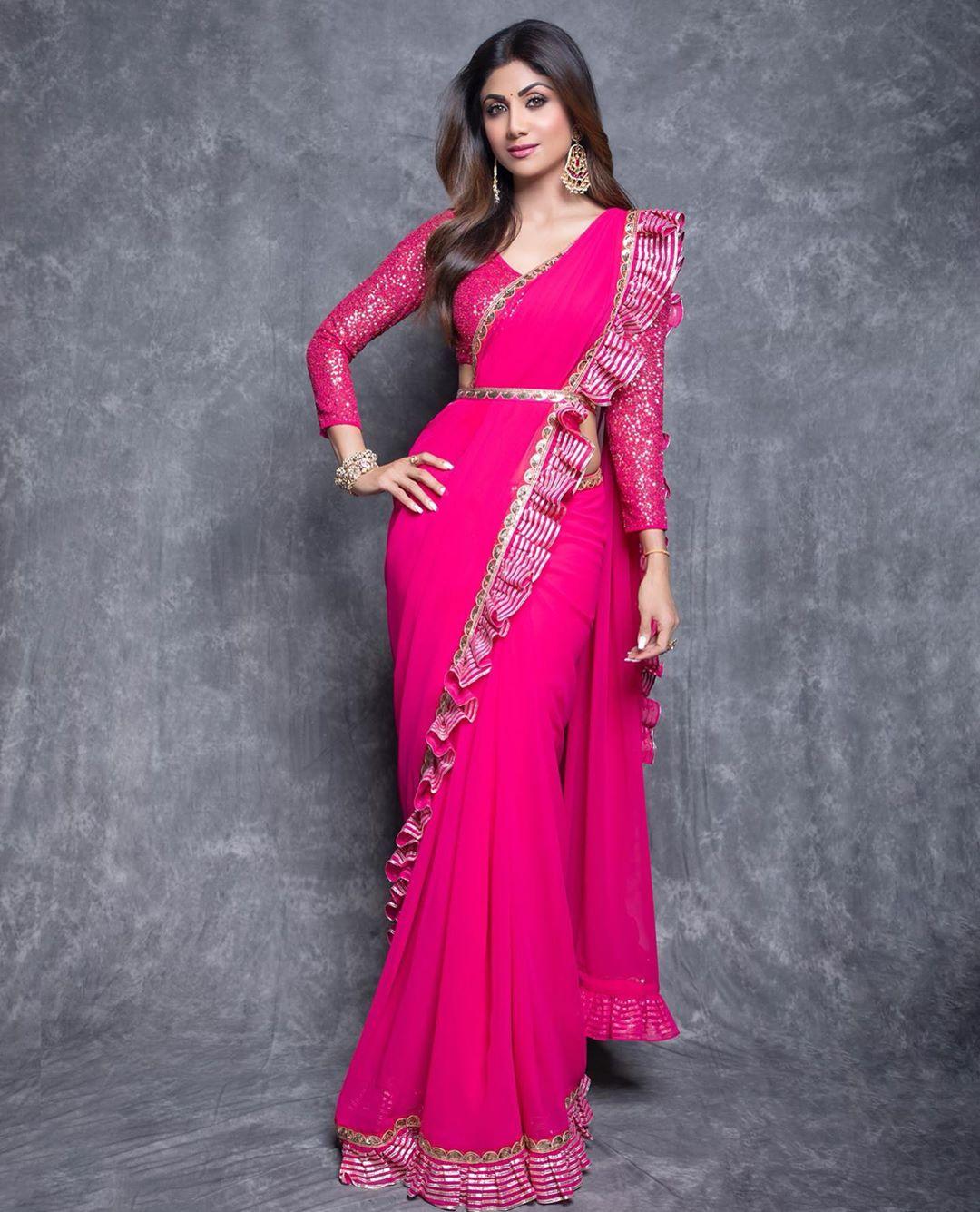 Image Courtesy: Shilpa Shetty Kundra's Instagram
When we think of ruffle sarees we sure imagine Thick ruffled borders on a saree and breaking that typical monotony, VVani by Vani Vats has designed this pretty in pink saree that was worn by Shilpa Shetty. The sequin blouse and the belted saree design makes it a simple yet gorgeous one. The hem of the saree has a striped ruffle design and the charming drape gives the 80s vibe to the entire look. The subtle sheen on the ruffles and the blouse makes it a perfect pick for the Cocktail night.
Masoom Minawala in Prints by Radhika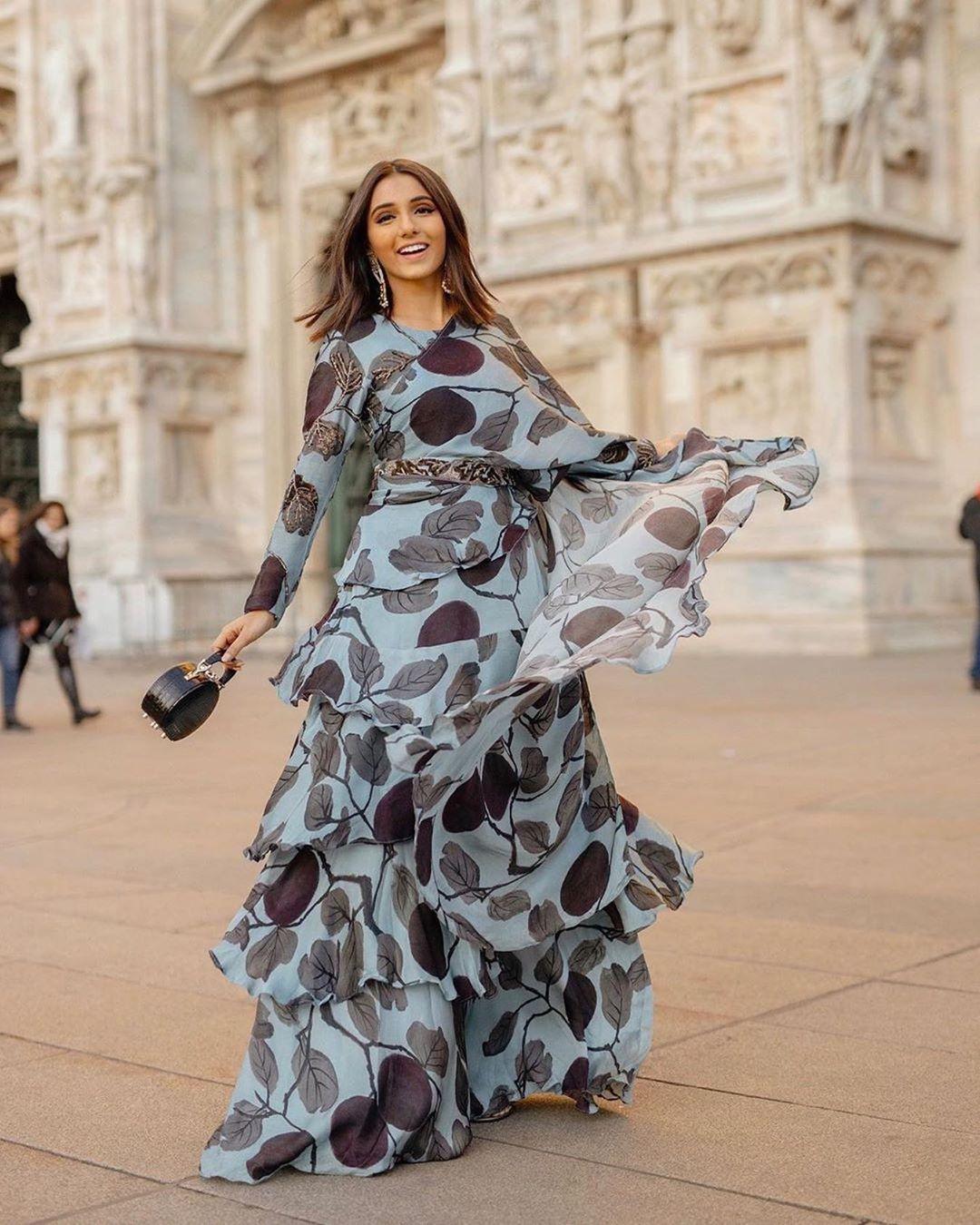 Image Courtesy: Masoom Minawala's Instagram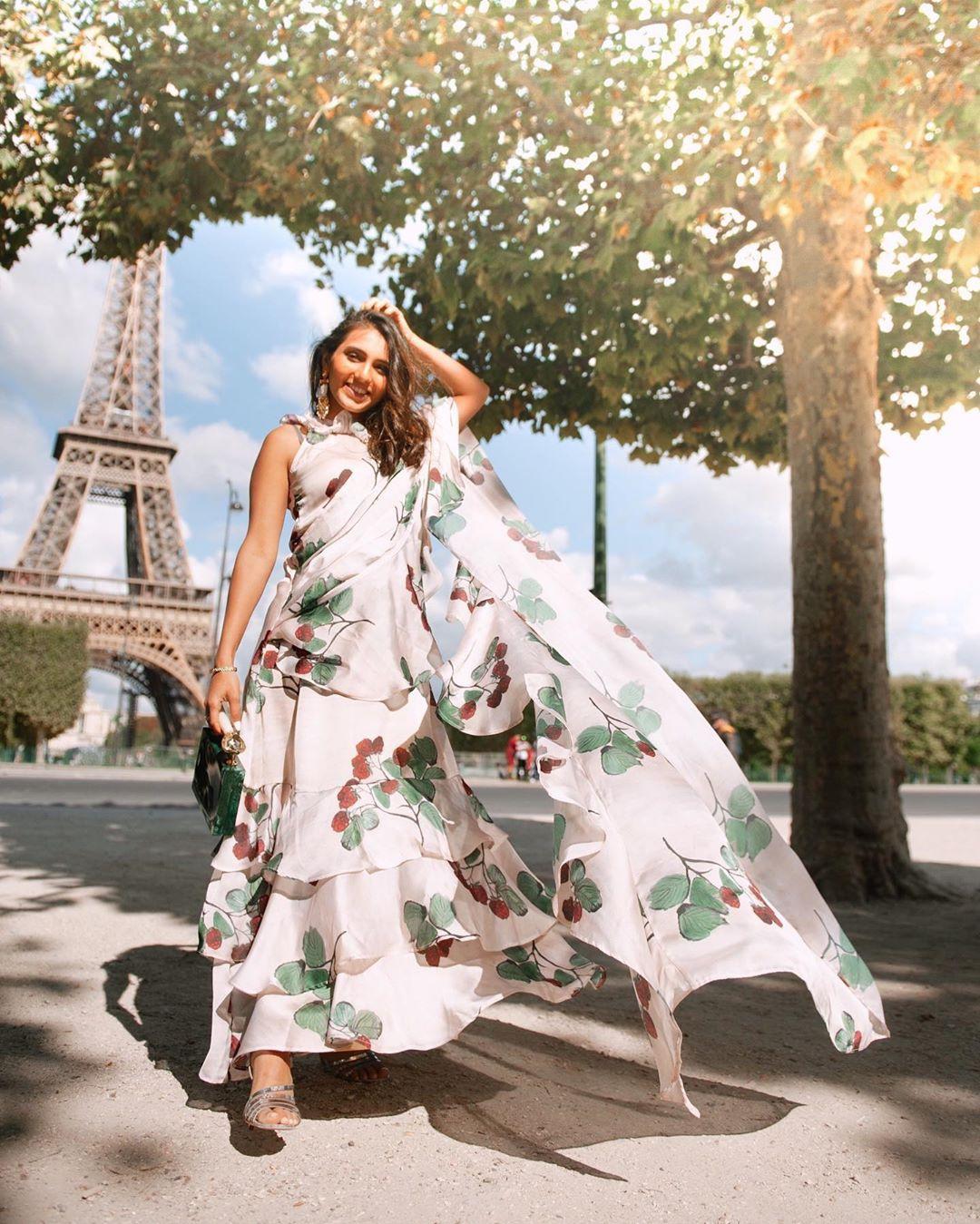 Image Courtesy: Masoom Minawala's Instagram
The new-age fashion icon and one of the best Internet influencers, Masoom Minawala was seen twirling on the streets of Paris in pretty printed drapes from the house of Prints by Radhika. It must feel so much like summer with the floral and leafy prints on the light as feather ruffle drapes. With vivid prints and prominent colours from a wide variety in the palette, these ruffle saree designs are indeed a winner! Wear it for a day wedding or wear it for the night parties, you're all ready to set the stage on fire!
Ridhi Mehra & her Ruffle Sarees Collection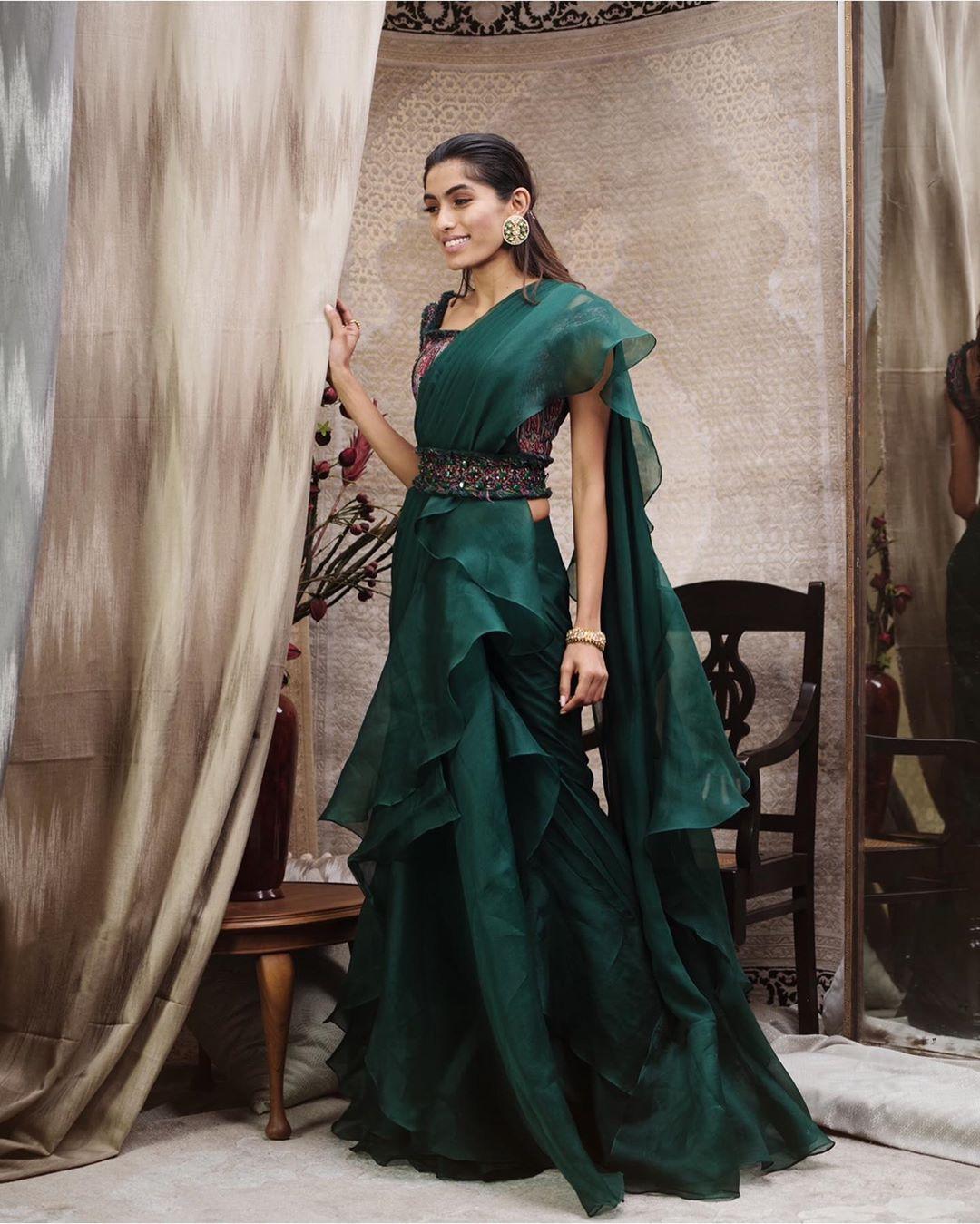 Image Courtesy: Ridhi Mehra's Instagram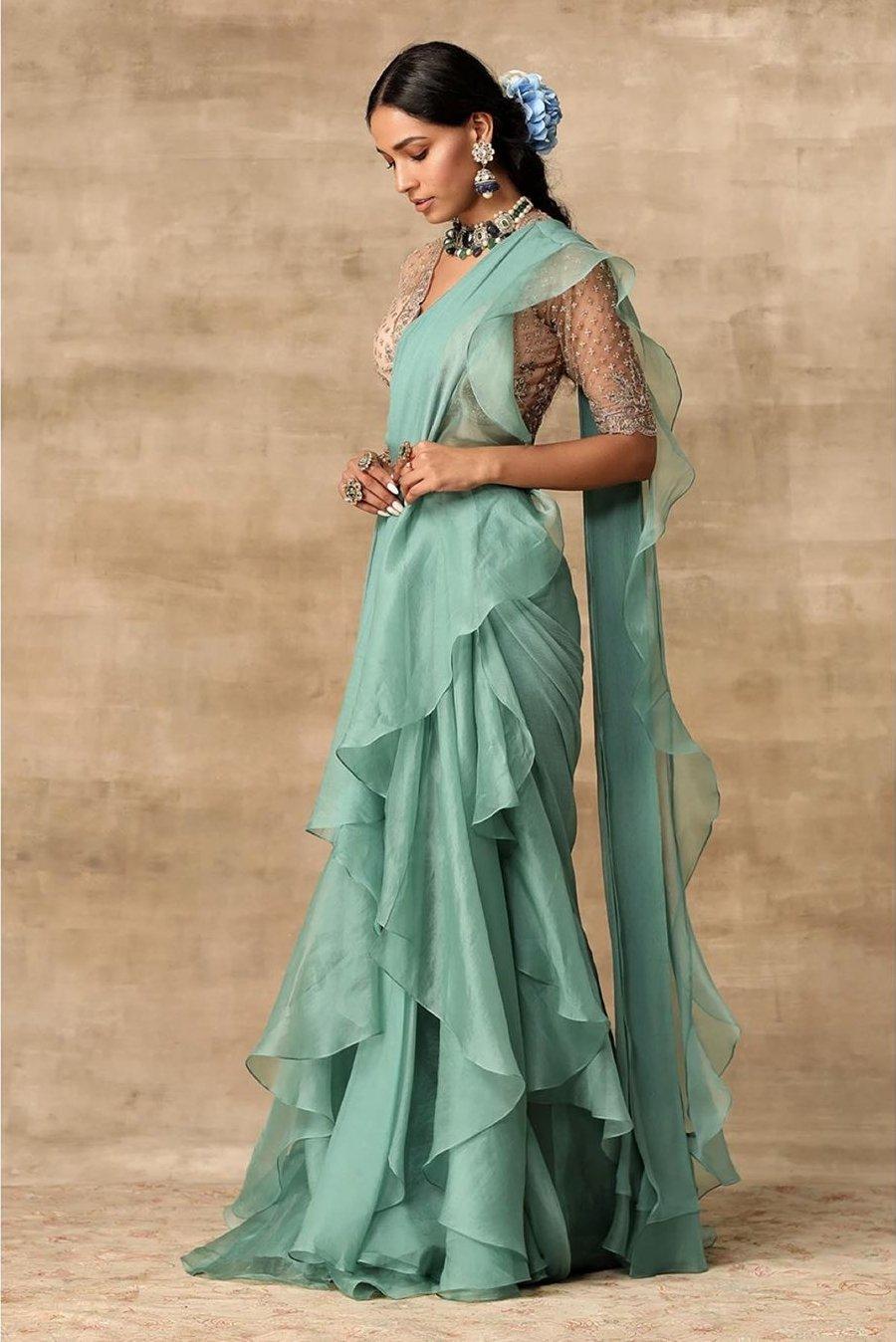 Image Courtesy: Ridhi Mehra's Instagram
Known for constantly pushing the boundaries of affordable luxury, Ridhi Mehra's label is a contemporary take on the traditions. Clean lines, delicate details, a hint of drama that is striking yet fun is her way of adding western aesthetics to the silhouettes and making them so gorgeous. Her ruffle saree collection is one that speaks of her signature style and upholds every bit of what the brand stands for. The light sheen of the fabrics used and the colours like emerald and sage are everything perfect for the bridesmaids to turn some heads!
Gaurav Gupta's Signature Structures & Ruffle Sarees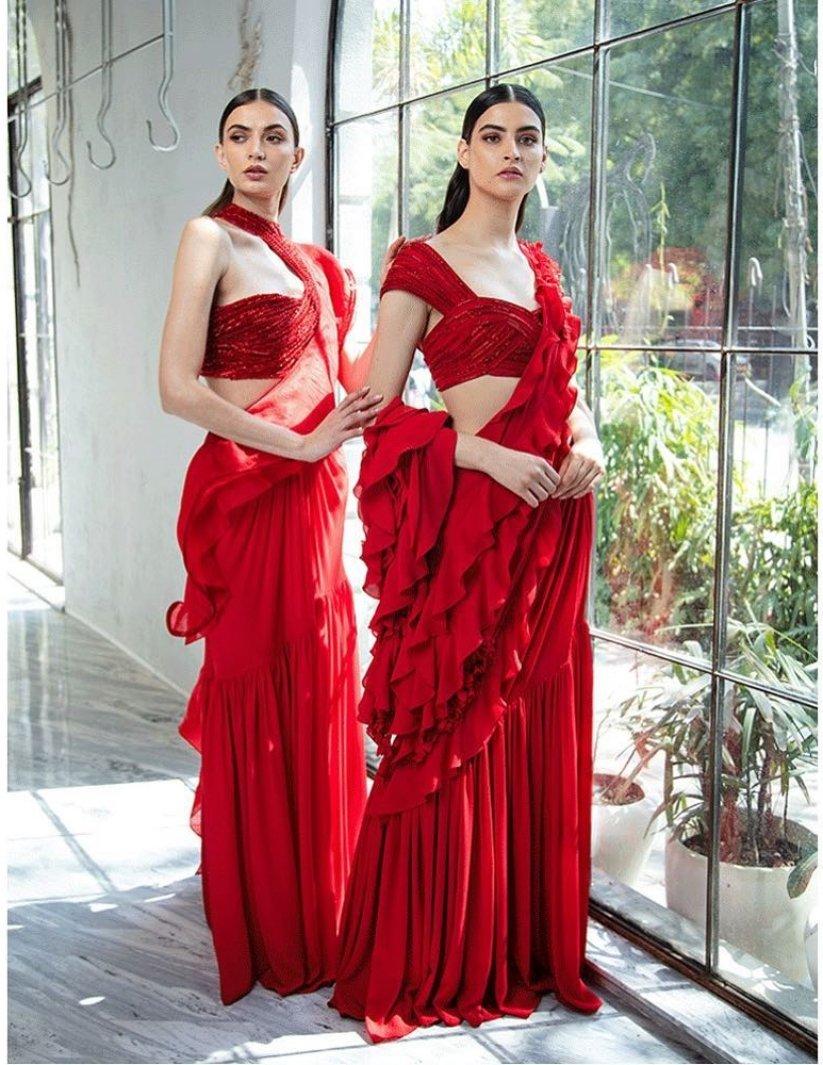 Image Courtesy: Gaurav Gupta's Instagram
Another ace couturier of the country with a rising status of his brand in the west, Gaurav Gupta is known for his eccentric structures and edgy out of the box silhouettes. With his future primitive approach of designing and a decade of merging indigenous Indian construction and embellishing techniques, his ensembles are awe-inspiring. The stunning ruffle sarees that are made with the perfect touch of magic that Gaurav Gupta is known for, makes these red ruffle sarees worth wearing! You will fall in love with your mirror and no kidding, even if you are the bride, this ruffle saree design by Gaurav Gupta is the one!
Anushree Reddy's Take on Ruffle Sarees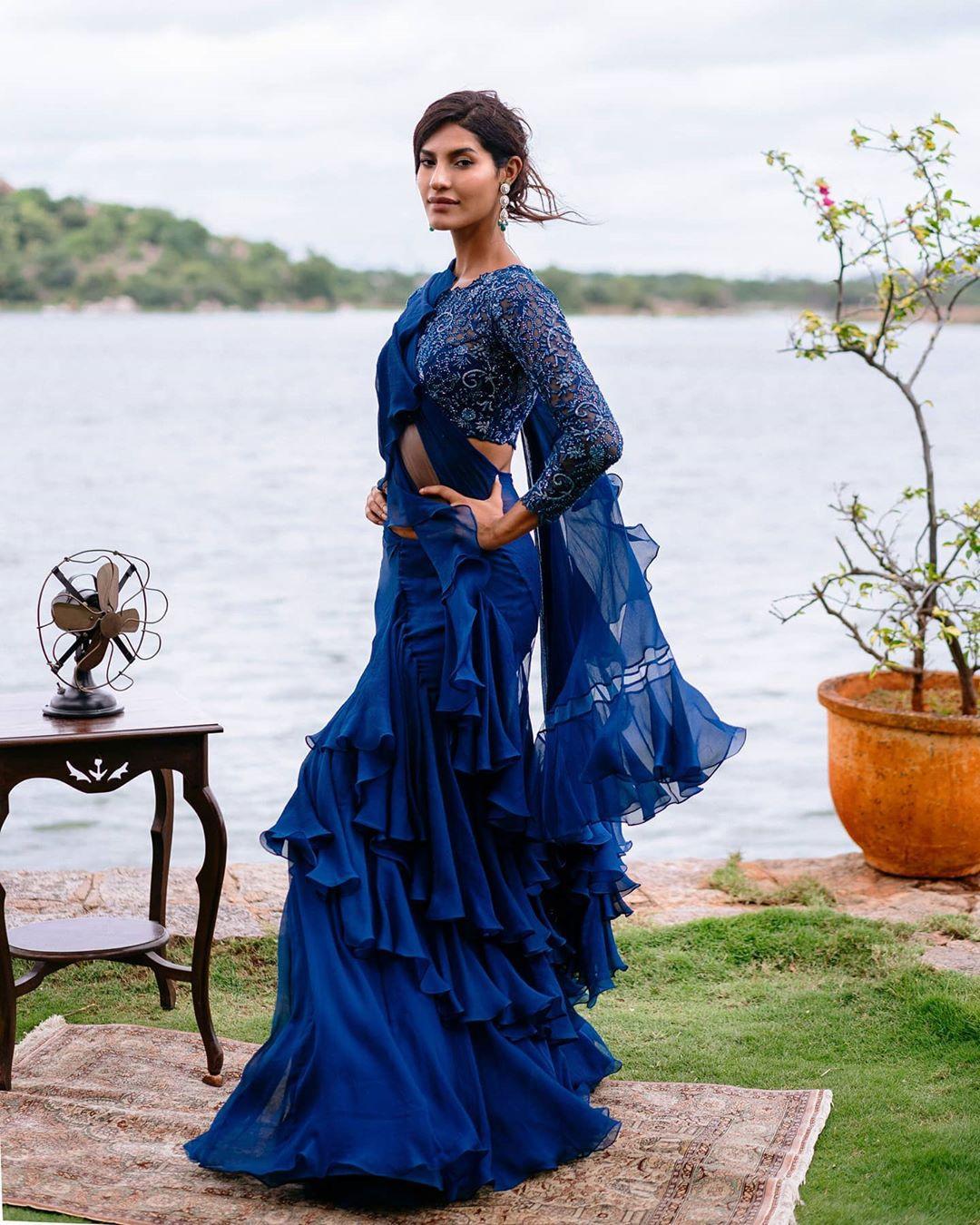 With the vivacious outburst of colours, Anushree Reddy is an ace designer based out of Telangana and keeping all her signature details in place, her ruffle saree design is one of the best picks from her Spring Summer Bridal 2020. All about elegance and fusion, this ruffle saree design is fresh, young and wearable. Elaborate silhouettes brewed with subtle prints and surprising embellishments, this is a must-wear for the bridesmaid who plans on a Badtameez Dil performance for her BFF's Sangeet night!
Sonaakshi Raaj & Ruffles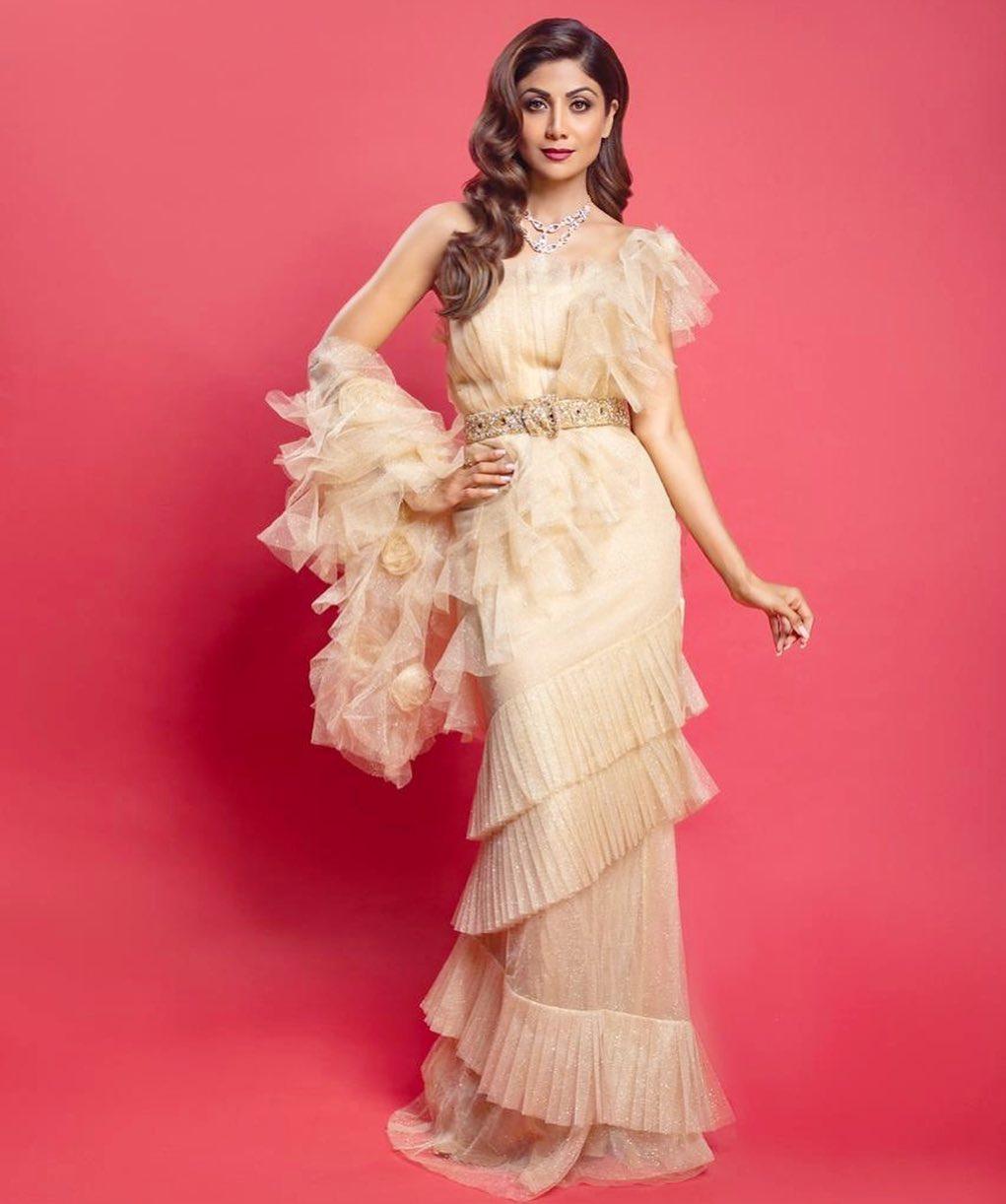 Image Courtesy: Sonaakshi Raaj's Instagram

Image Courtesy: Sonaakshi Raaj's Instagram
Vanilla Shimmer ruffle saree with an exaggerated scintillating gold buckle belt is what Shilpa Shetty is seen flaunting from the Sonaakshi Raaj label and the gorgeous pick designed by the well-known saree-gown specialist. Embarking upon soulfulness, purity and luminosity with ivory pearls, her white ruffle saree is a dreamy pick for a destination wedding. With a design philosophy that is distinctly feminine and refined. It renders to styles that are luxurious yet understated. With a strong emphasis on fabric, cut and colour, she designs silhouettes for the new age woman.
If you were looking for ruffle saree designs and designers to get it from, then this list is your go-to pick. The wedding might be a summer one or even a December wedding, but saree is never out of fashion!
Pick your favourite ruffle saree and get in touch with our professional photographers to click those beautiful candids while you twirl in your drape of perfection.